If quiche is the elite sophisticate who spends hours primping before the vanity, then this dish is her down-home cousin in a faded dress lounging in a hammock.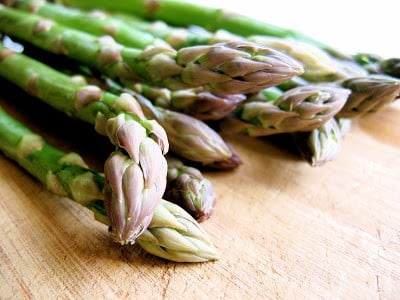 I was going to title this post 'Quiche for Lazy People' (damn you, searchability!), but since 'Bojon' connotes a laid back attitude anyway, felt it might be redundant.

All that is to say, this is a great dish to have at your fingertips for those leisurely weekend (or bojon) mornings (or afternoons) when you want something a bit special, slightly more gussied-up than a bowl of cereal or a bagel, but don't have the time or patience (or blood-sugar level) to fuss with making, chilling, rolling, chilling again, and par-baking a pie crust.

Imagine a brunch dish with the ease, but not the rubbery, can't-face-it-at-this-ungodly-hour-or-with-this-hangover egginess of a fritatta, that is ready to eat in 40 minutes and tastes of the savory side of spring. The texture is smooth and creamy, like the inside of a quiche, casual enough for a lazy Sunday brunch, but tasty enough to serve guests for a light but substantial supper. The delicate custard creates an elegant foil for grassy asparagus, pungent goat cheese and parmesan and a fresh dose of sunny lemon zest.

You could probably double the recipe and bake this in a 9 or 10″ skillet to feed a larger crowd of 6-8. Vary the vegetables, using spring onions, leeks, or chives in place of the scallions, and spinach or nettles, zucchini or mushrooms for the asparagus. (Cooking techniques and times will vary, natch.)

Serve with plenty of buttered toast to mop up the juices at the bottom of the pan, and a salad of arugula, radishes and slivered snap peas tossed with a bit of olive oil, lemon juice and flaky sea salt. A side of roasted potatoes and parsnips wouldn't be out of place either.

And perhaps a mimosa or two, if it's that sort of Sunday.
Egg-citing:
Crustless Skillet Quiche with Zucchini, Corn and Cherry Tomatoes
Migas
Decadent Eggs on Toast
Crustless Asparagus and Goat Cheese Skillet Quiche
Makes 3-4 servings
1 tablespoon butter
1/2 bunch of asparagus (about 1/2 pound), fibrous ends snapped off, sliced into 1/2″ diagonals
1/2 bunch scallions, cleaned well and sliced, including the greens
1/4 teaspoon salt
squeeze of lemon juice
2 eggs
1 cup half and half (or 1/2 cup each heavy cream and whole milk)
zest of one lemon
1/4 teaspoon salt
1 ounce freshly grated parmesean (about 1/3 cup), plus extra for grating on top
2 ounces fresh goat cheese
Position a rack in the center of the oven and preheat to 375º.
Melt the butter in a 6″ oven-proof skillet (preferably cast iron). Add the sliced asparagus and scallions, and saute until bright green and tender, about 8 minutes. Stir in 1/4 teaspoon salt and a squeeze of lemon juice and remove from the heat.
While the veggies are cooking, whisk the eggs in a 2-cup measure to break up the yolks. Whisk in the half and half, 1/4 teaspoon salt, the parmesan and the lemon zest to combine.
Crumble the chevre over the vegetables in the skillet, then pour over the custard. Top with a grating of parmesan.
Put in the oven and bake about 20 minutes, until puffed and golden. Let cool a few minutes out of the oven before serving up.