Gluten-free sponge cake that's light and airy, but made with flavorful gluten-free flours (sweet rice, oat, millet, and tapioca) and naturally sweetened! This feather-light cake soaks up all kinds of luscious flavors, from berries and cream to tres leches to tiramisù to Victoria sponge. The recipe is foolproof, the cake layers made with pantry ingredients in about an hour!
Adapted from my cookbook Alternative Baker, with dairy-free, grain-free & paleo-friendly options. Find more cake recipes here!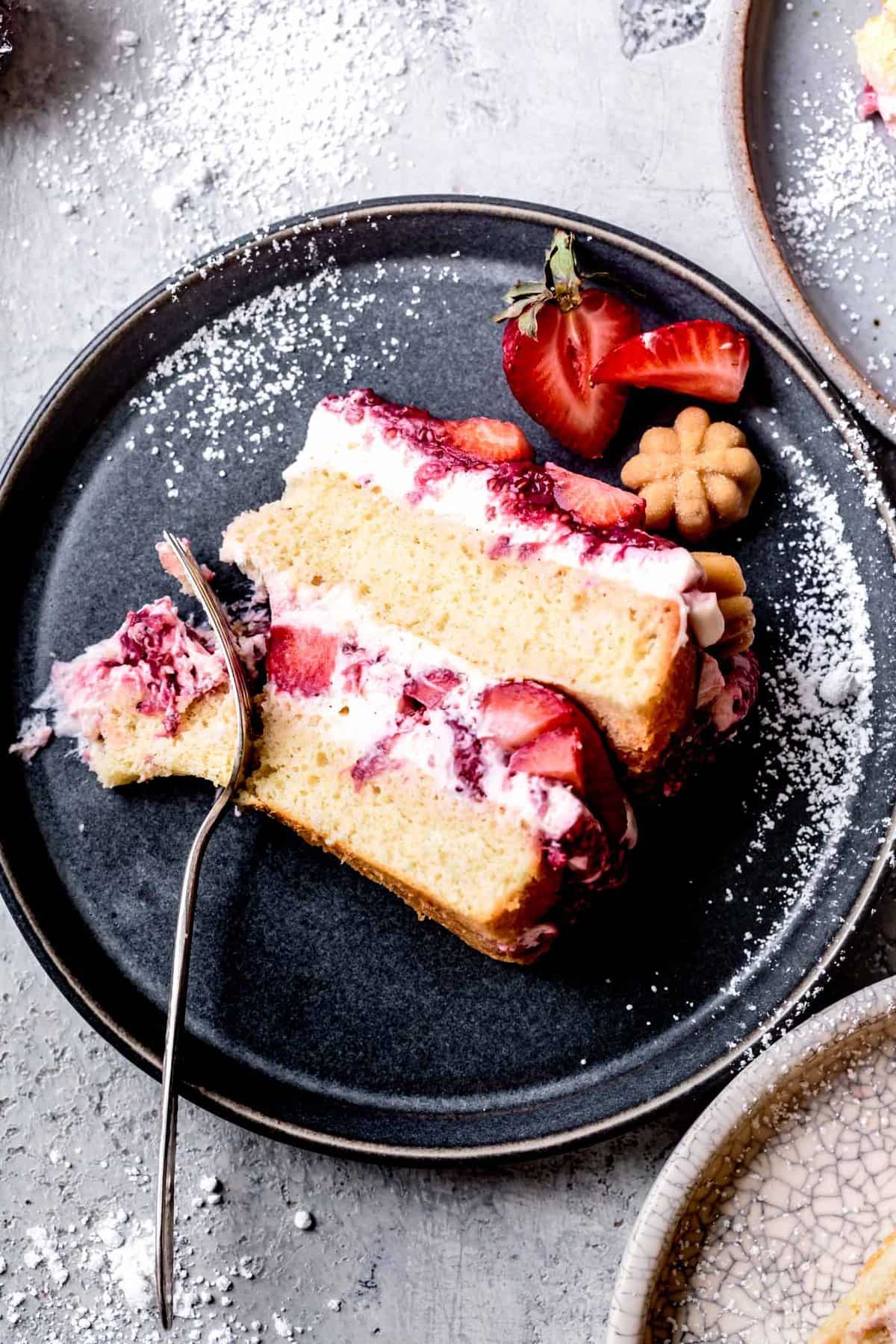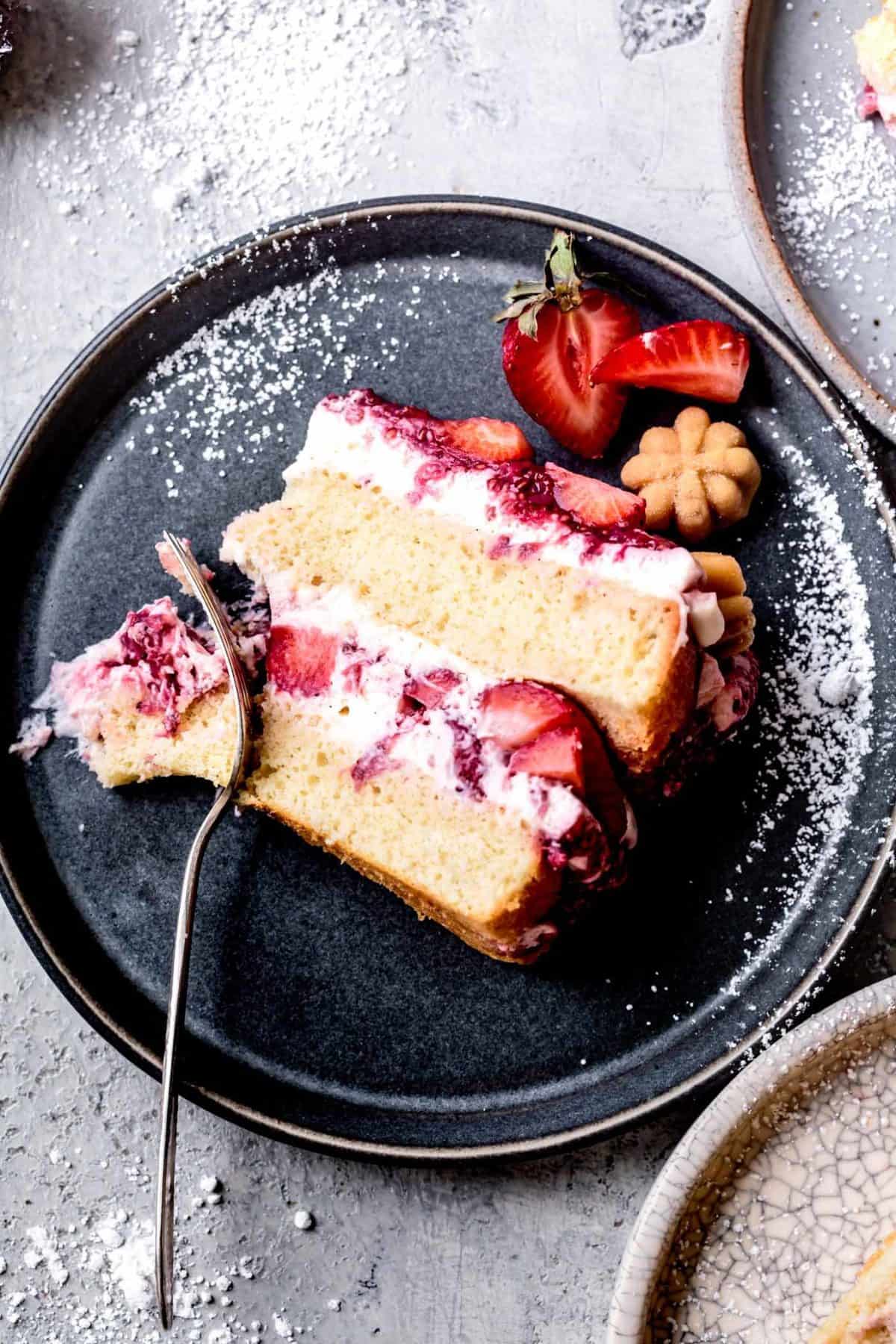 A Gluten-Free Cake for Special Occasions
This cake is very dear to me on multiple levels. I first developed the gluten-free sponge cake recipe for my book Alternative Baker, where I used it to make trifle, tiramisù, and tres leches cake. I'd been making the gluten version for several years when I worked as a pastry chef at a Peruvian restaurant in San Francisco where I doused it with tres leches mixture and served it with fresh seasonal fruit.
In 2019 I developed a maple-sweetened version for Coombs smothered in strawberry chia jam, fresh berries, and mascarpone cream. It tasted like a giant strawberry shortcake, just the dessert for the first fruit of spring. Jay and I decided to get married on a whim at City Hall with only our moms present, and this cake ended up being our wedding cake. We brought it to our favorite local restaurant Piccino and devoured it after dinner with champagne.
The day of our wedding was also our cat Catamus's birthday. We had hoped to have several more years with him to celebrate this happy occasion, but sadly 2020 would be the only year we would celebrate as a family. Our "cotton anniversary" was last week, and though we missed dear Catamus, we basked in the company of Zeppo and Hank who have made themselves right at home in our lives. You can follow their antics on Instagram in my stories and highlights.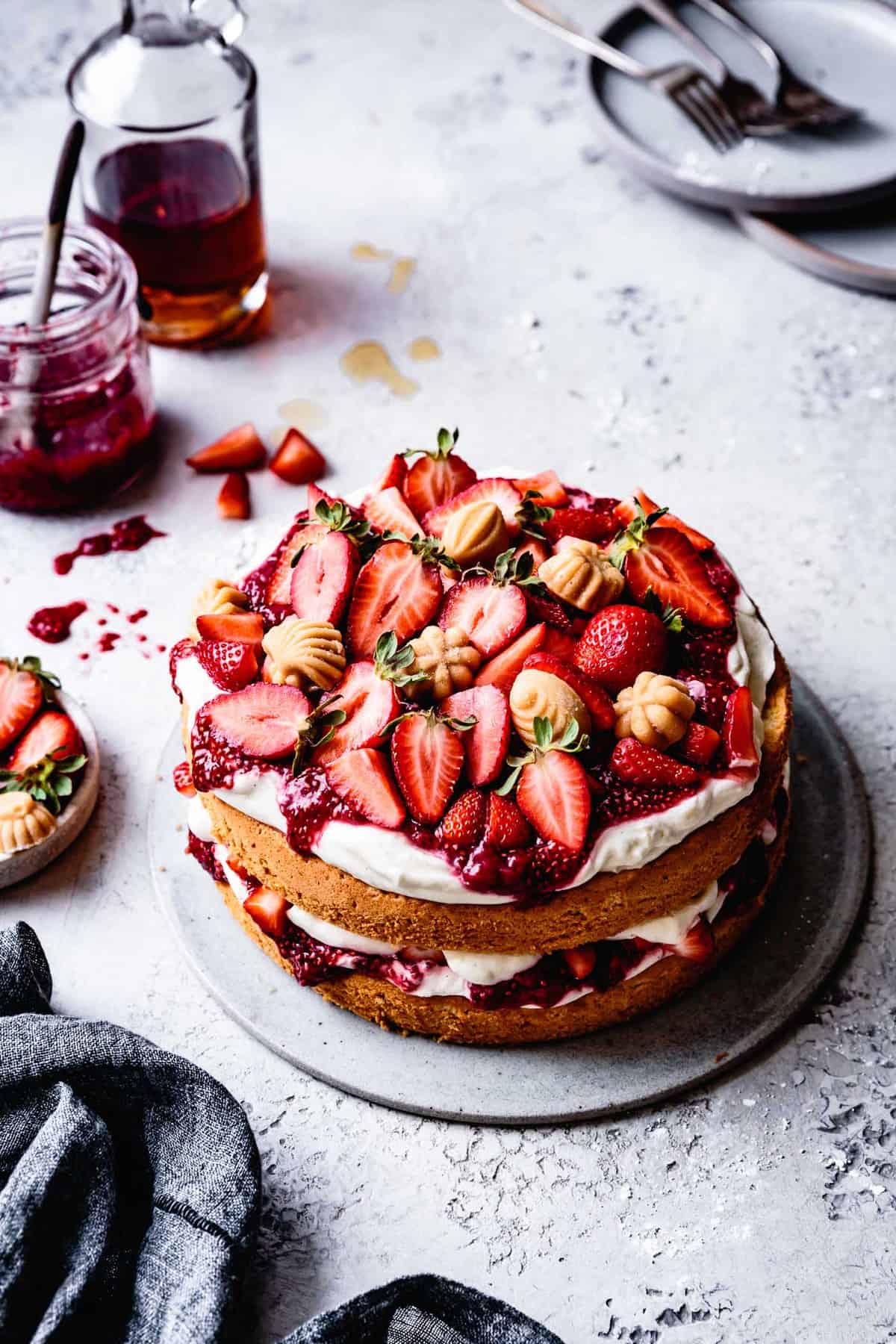 Gluten-Free Strawberry Cake
I wanted to give this gluten-free sponge cake a home on TBG since it's such a special one. Make the gluten-free strawberry cake pictured here, or use the cake as a base for other flavor combinations (see below for suggestions).
Maple syrup sweetens all components of this gluten-free layer cake (though I've included a classic vanilla version made with sugar if you prefer!) Billows of vanilla whipped mascarpone top the cake layers, swirled with strawberry chia jam and topped with loads of fresh berries. I had some pretty maple candies on hand when I first made this; edible flowers would also be lovely!
The cake itself is dairy-free so if you prefer, use whipped coconut cream or vegan cashew cream cheese frosting in the filling for a gluten-free dairy-free cake that all your guests can enjoy. I also tested a paleo-ish version using grain-free flours (cassava, coconut, and tapioca) which I've included in the notes. And, for my fellow chocophiles, I just shared a gluten-free chocolate sponge cake recipe made with cocoa powder.
If you give it a try, I hope it becomes a special recipe in your home as well.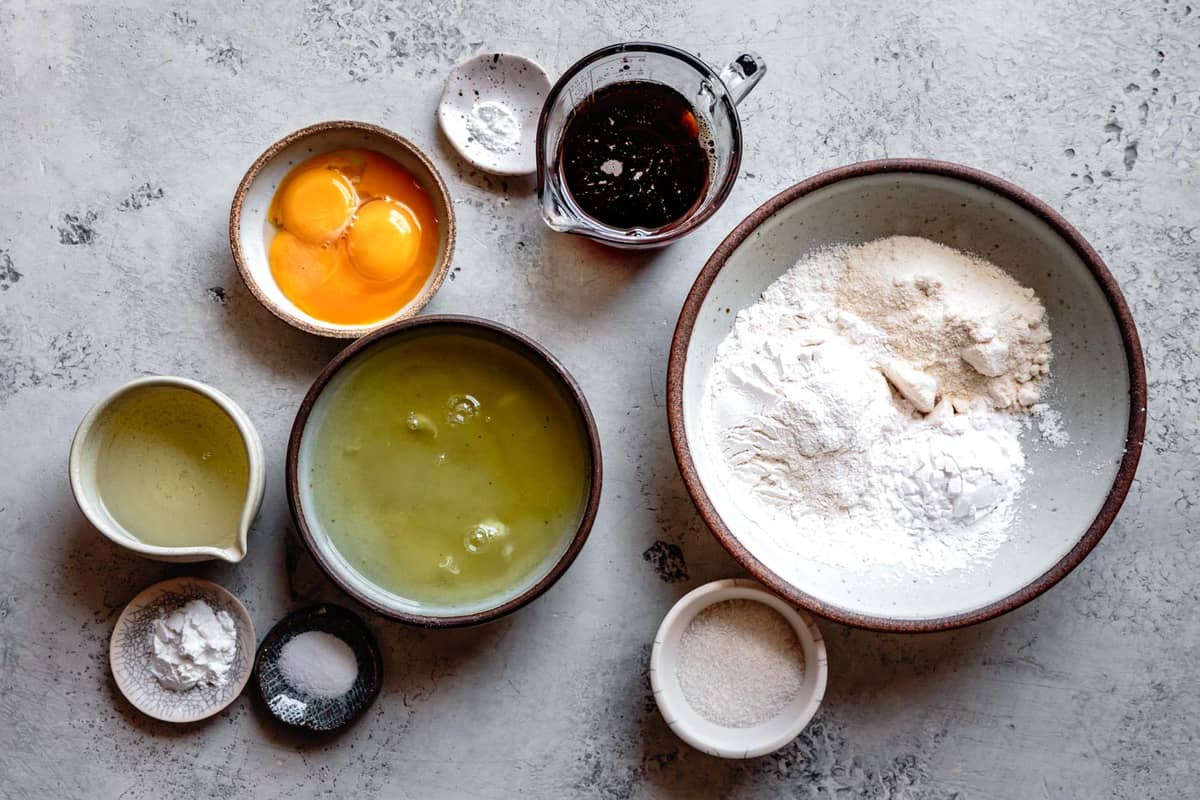 Gluten-Free Cake Ingredients & Substitution Suggestions
Just a handful of ingredients go into this lofty gluten-free cake recipe.
Best gluten-free flours for sponge cake
I tested this recipe with many different flour combinations, and my favorite was a blend of:
oat flour, for fluff and creamy depth of flavor (sub by weight teff flour or chestnut flour)
sweet rice flour, for stickiness and a neutral taste (sub by weight cassava flour or a GF AP blend such as Bob's Red Mill 1 to 1)
millet flour, for a buttery, golden crumb (sub by weight sorghum flour)
But this recipe is versatile and forgiving, so feel free to experiment with different flours. Or omit all of the flours and use a good all-purpose flour blend such as Bob's Red Mill 1 to 1 flour.
I also included a grain-free, paleo-friendly version made with cassava, coconut, and tapioca flours which is just as fluffy, moist, and tender as the original.
You can read all about how I combine gluten-free flours for baking in my gluten-free flours guide.
Other Ingredients
Neutral vegetable oil moistens the cake. I usually use sunflower oil, but other good options are grapeseed, mild olive oil, and avocado oil. You could also use a flavorful nut oil such as hazelnut.
Sugar or maple syrup sweetens the cake. I use organic granulated sugar for the classic recipe, but the version shown here uses maple syrup for added depth of flavor. I still use a little sugar to whip the egg whites, which makes them more stable for folding into the batter.
Egg whites whipped with cream of tartar and sugar gives the cake a feather-light texture. The cream of tartar acts as an acid to stabilize the egg whites, so if you don't have any on hand, it's fine to leave it out.
Egg yolks add richness and give the cake a golden crumb.
Baking powder lifts the batter along with the beaten egg whites.
How to Make Gluten-Free Sponge Cake
This gluten-free cake is surprisingly simple to make. The only tricky part is folding the whipped egg whites into the batter if you're new to this technique. But once you've done this a few times, you'll be a pro at it!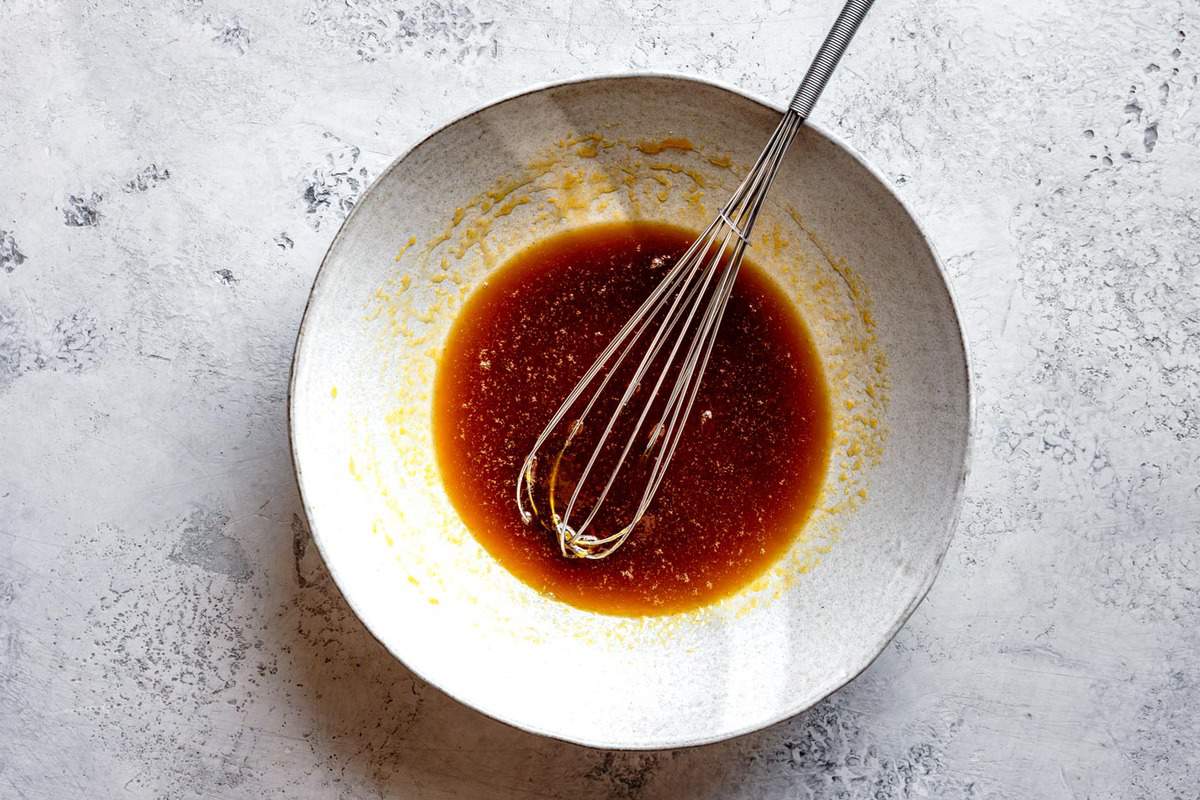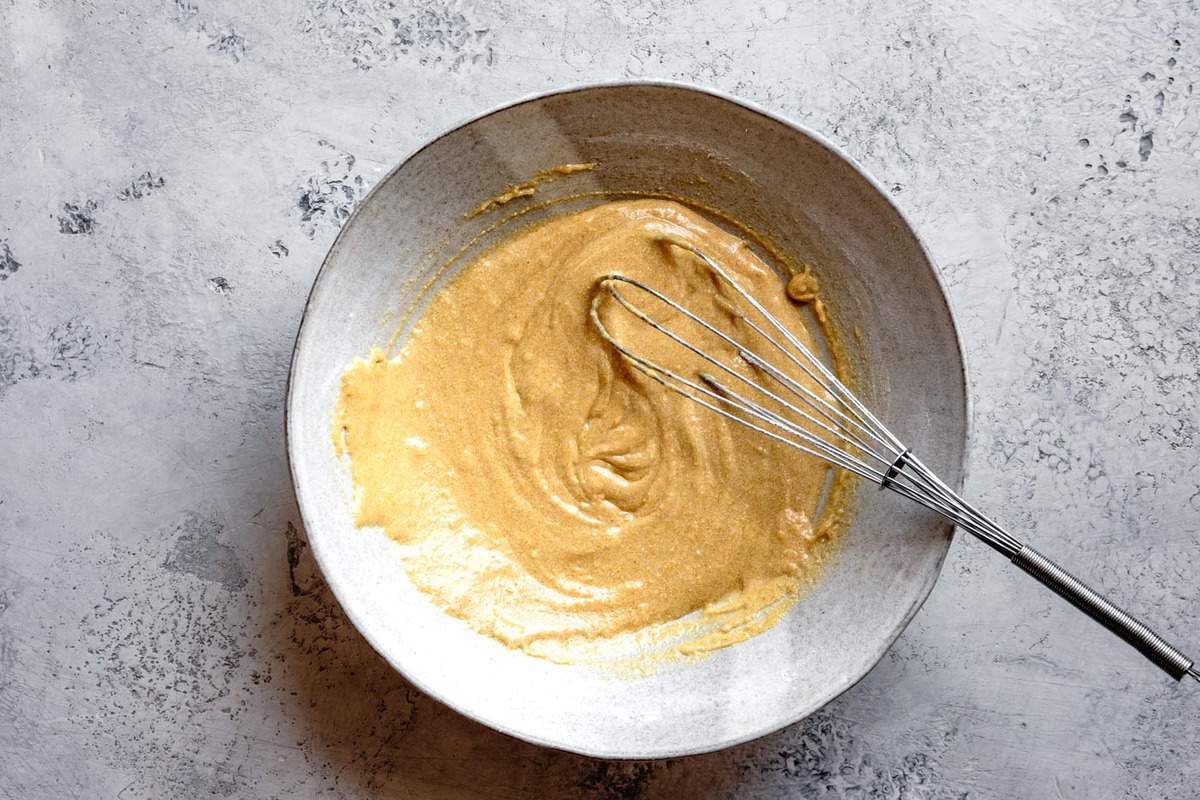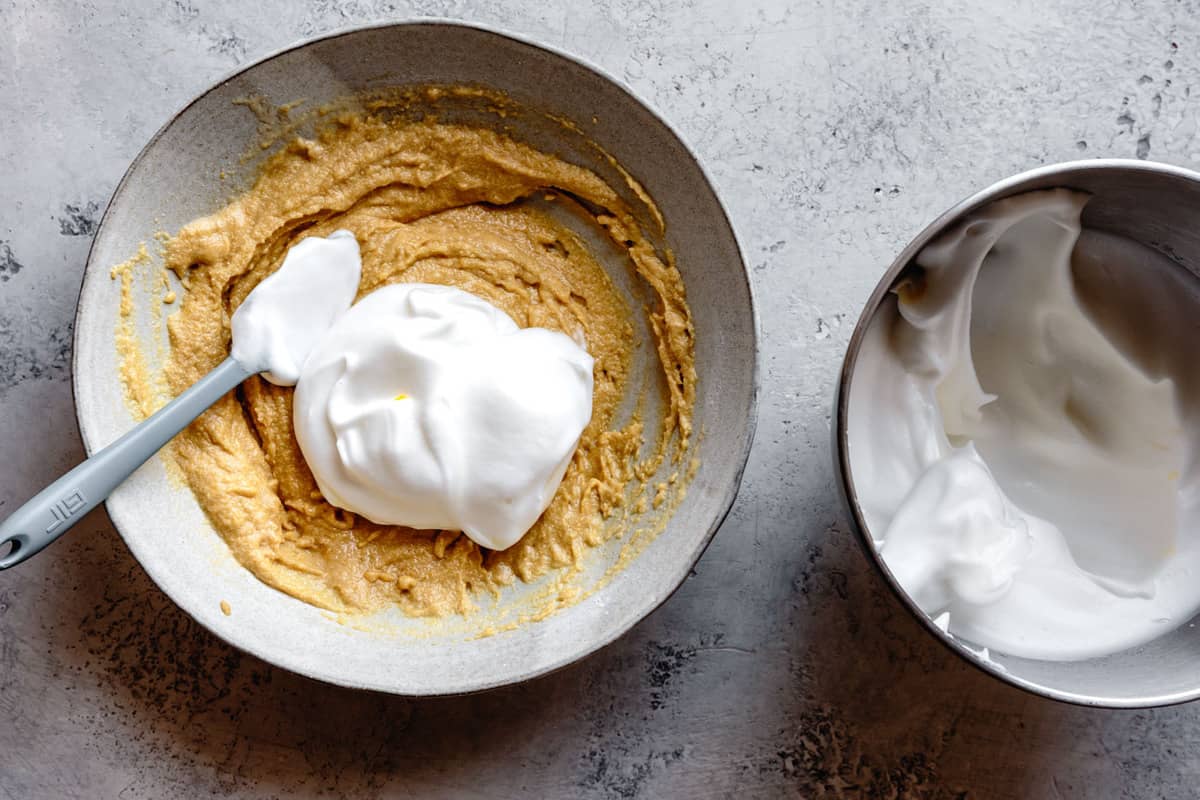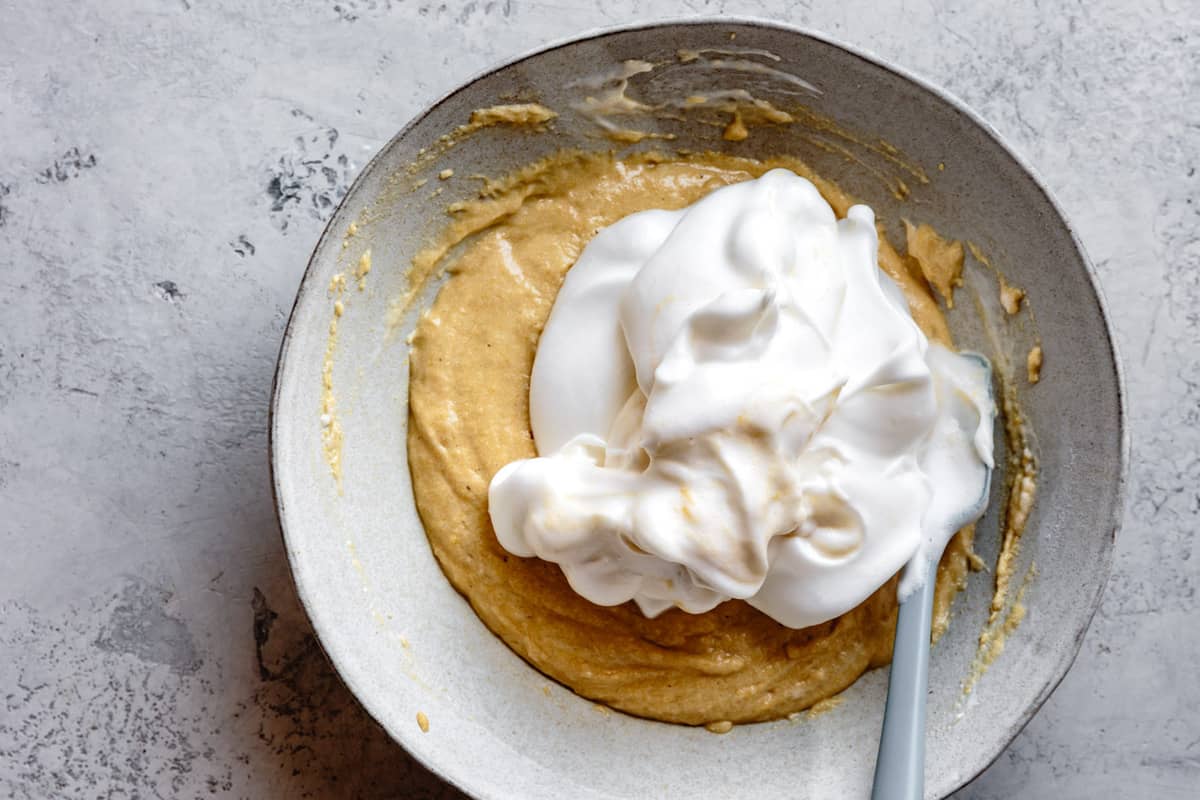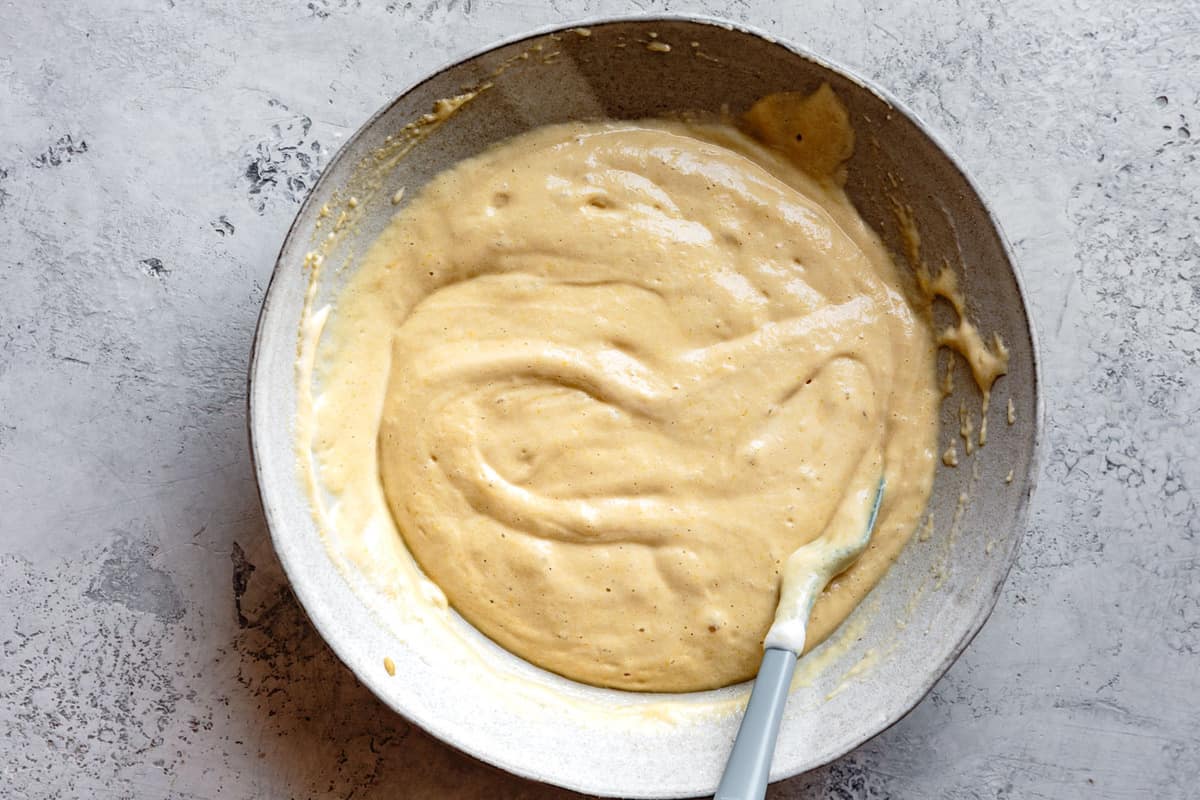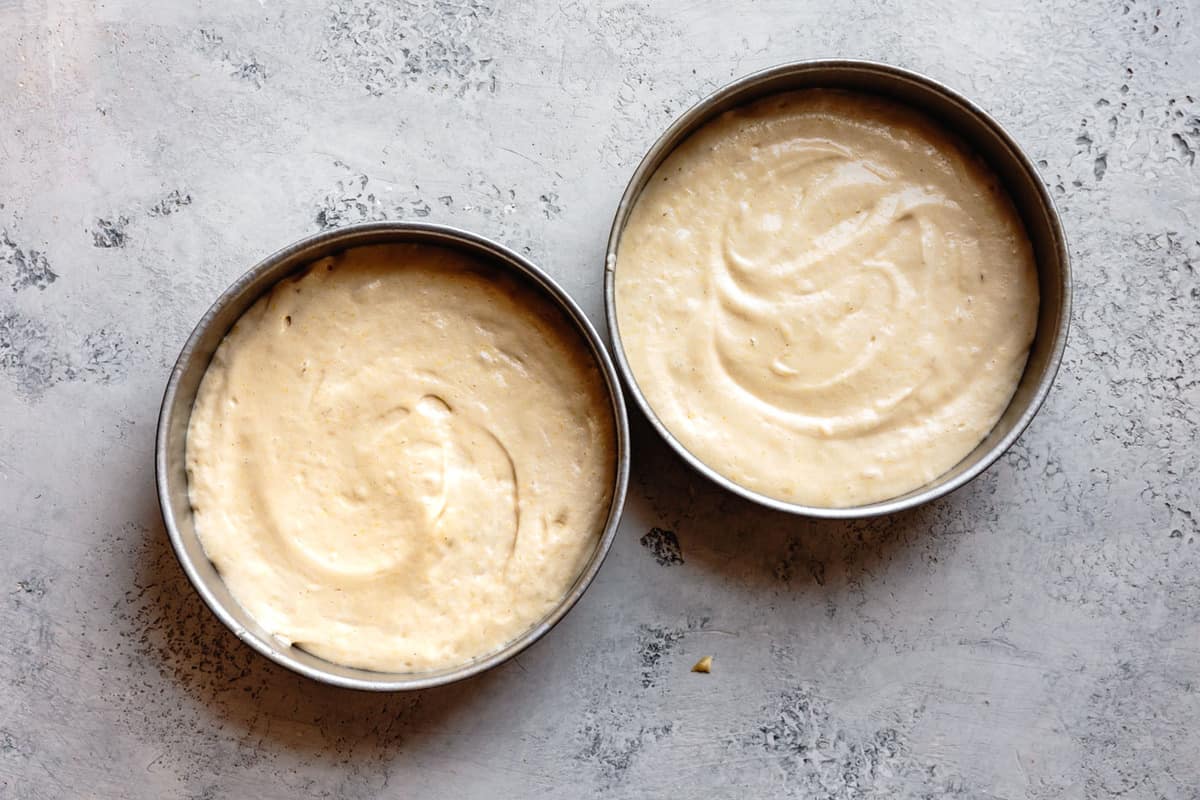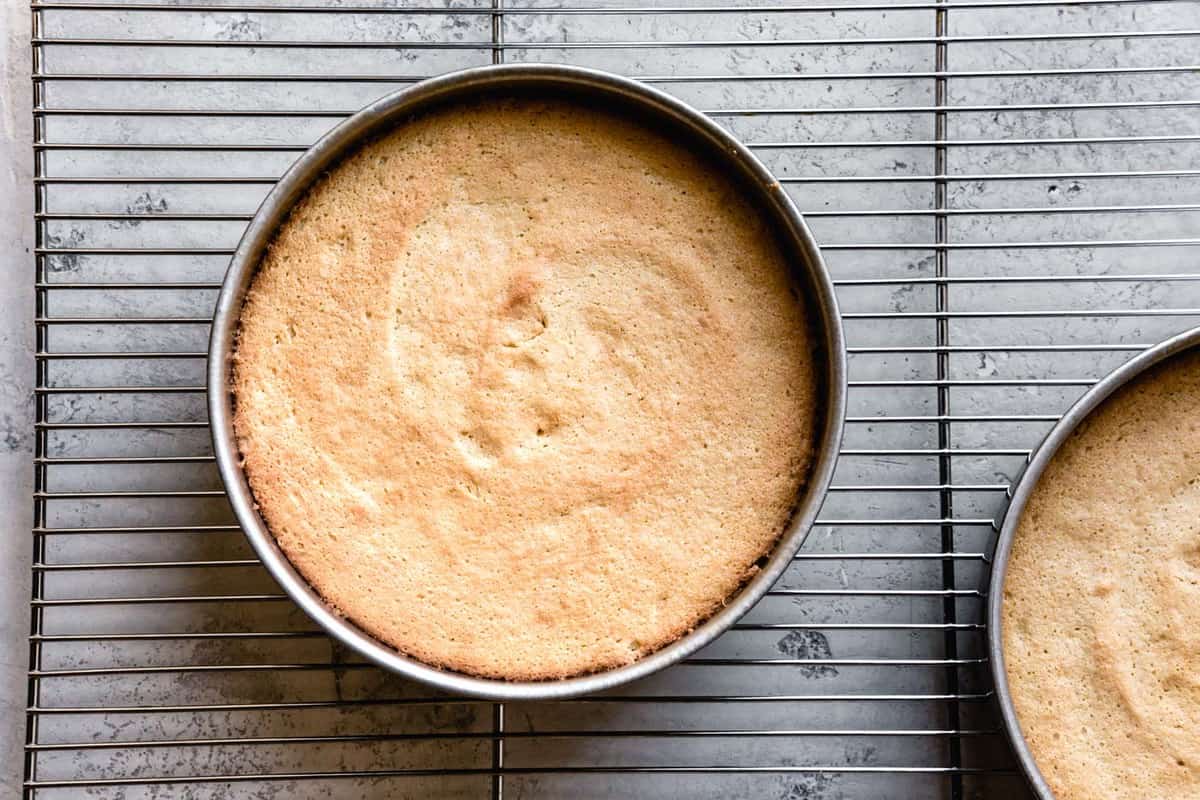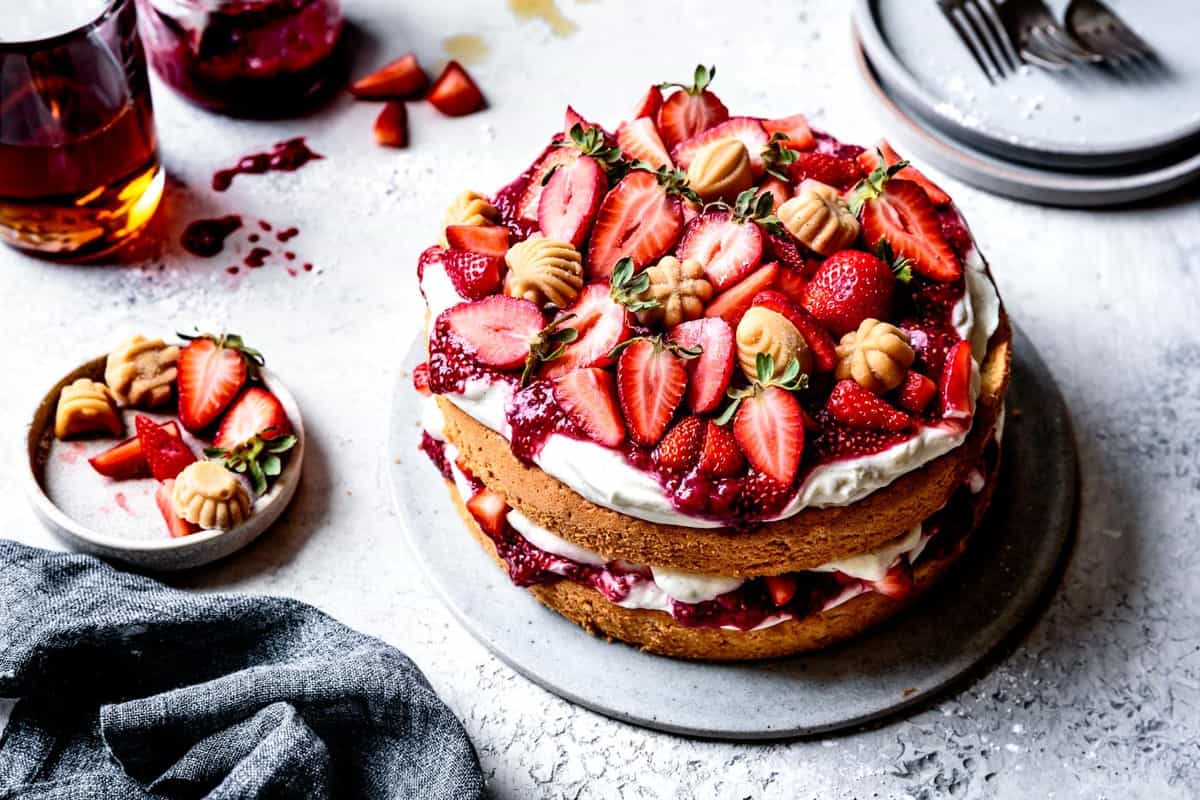 Types of Sponge Cakes
This cake is technically a gluten-free chiffon cake since it uses oil instead of butter and baking powder for lift.
Genoise is another type of sponge cake that uses melted butter instead of oil, and only whipped egg whites to lift the batter, no baking powder.
Angel food cake uses only egg whites and no yolks for an even lighter texture that makes it too delicate to layer. This is usually baked in a tube pan rather than made into a layer cake.
I've made loads of sponge cakes since my stint at pastry school back in 2006 and chiffon cake always wins by a landslide. The baking powder helps to make it foolproof, and the oil gives it a tender texture even when chilled. It has a sturdier crumb that makes it perfect for layer cakes. You can also cut it up and layer it into a trifle or tiramisù. It makes a perfect base for tres leches cake, albeit less traditional, since its open crumb soaks up liquid without becoming soggy.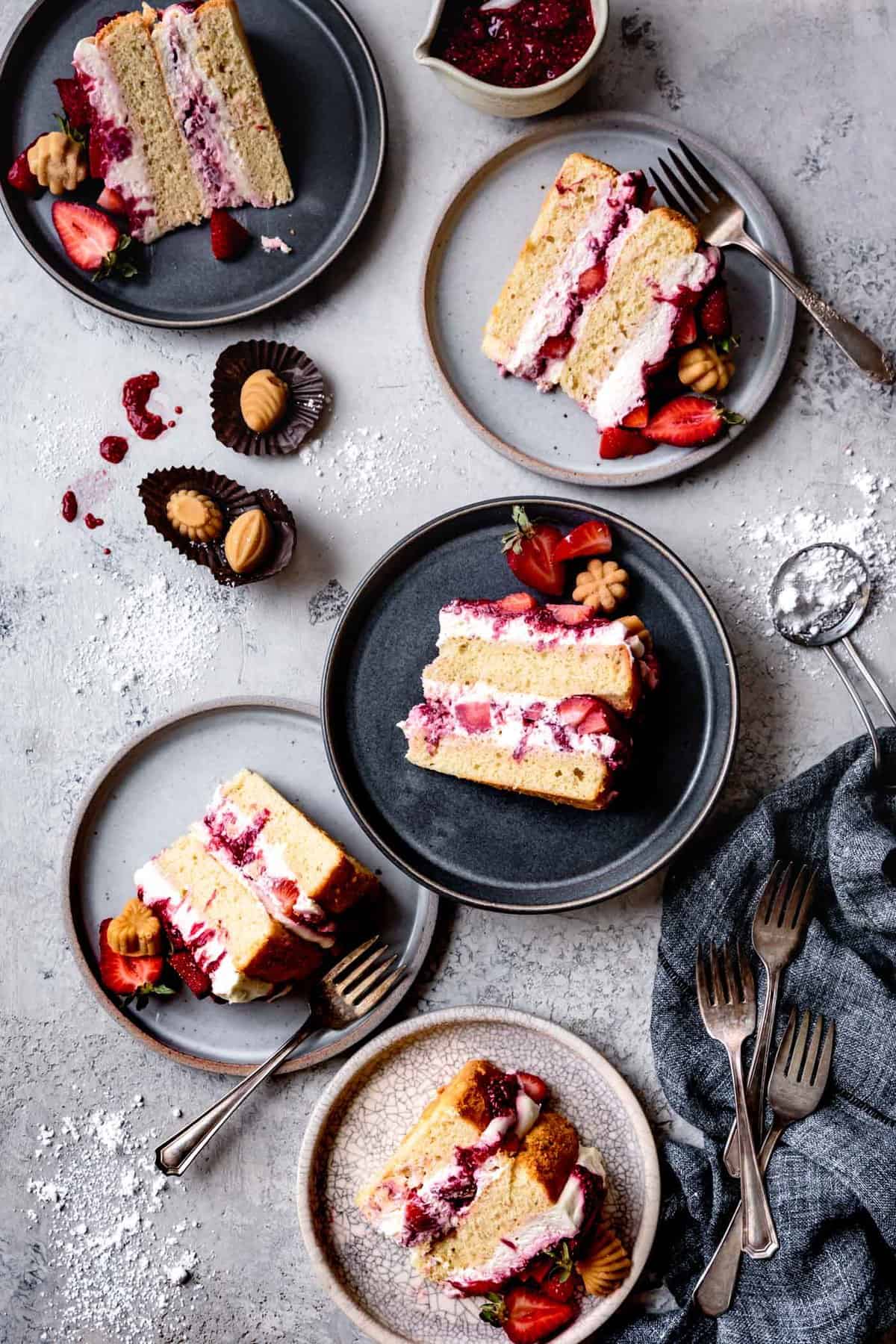 How to Use GF Sponge Cake
This gluten-free chiffon cake makes a versatile base for many types of cakes and sweet treats. Here are some ideas for how to use it:
Gluten-Free Victoria Sponge Cake
Victoria sponge cake (AKA Victoria Sandwich Cake) has risen in popularity lately thanks to The Great British Bake-Off. Here's how to turn this recipe into a classic gluten-free Victoria sponge:
Make the classic sponge cake recipe using sugar and vanilla in the recipe card notes
Spread the bottom cake layer with 6 tablespoons store-bought raspberry jam
Whip 6 ounces heavy cream with 1 tablespoon powdered sugar to firm peaks and spread the whipped cream over the jam
Place the second cake layer on top and sprinkle with powdered sugar
Gluten-Free Cake for Everyone
You can please almost all eaters with this gluten-free dairy-free cake that can be made grain-free and paleo-friendly. However you serve it up, as a gluten-free layer cake or component of another dessert, it's sure to be a hit with its tender, open crumb and classic flavor.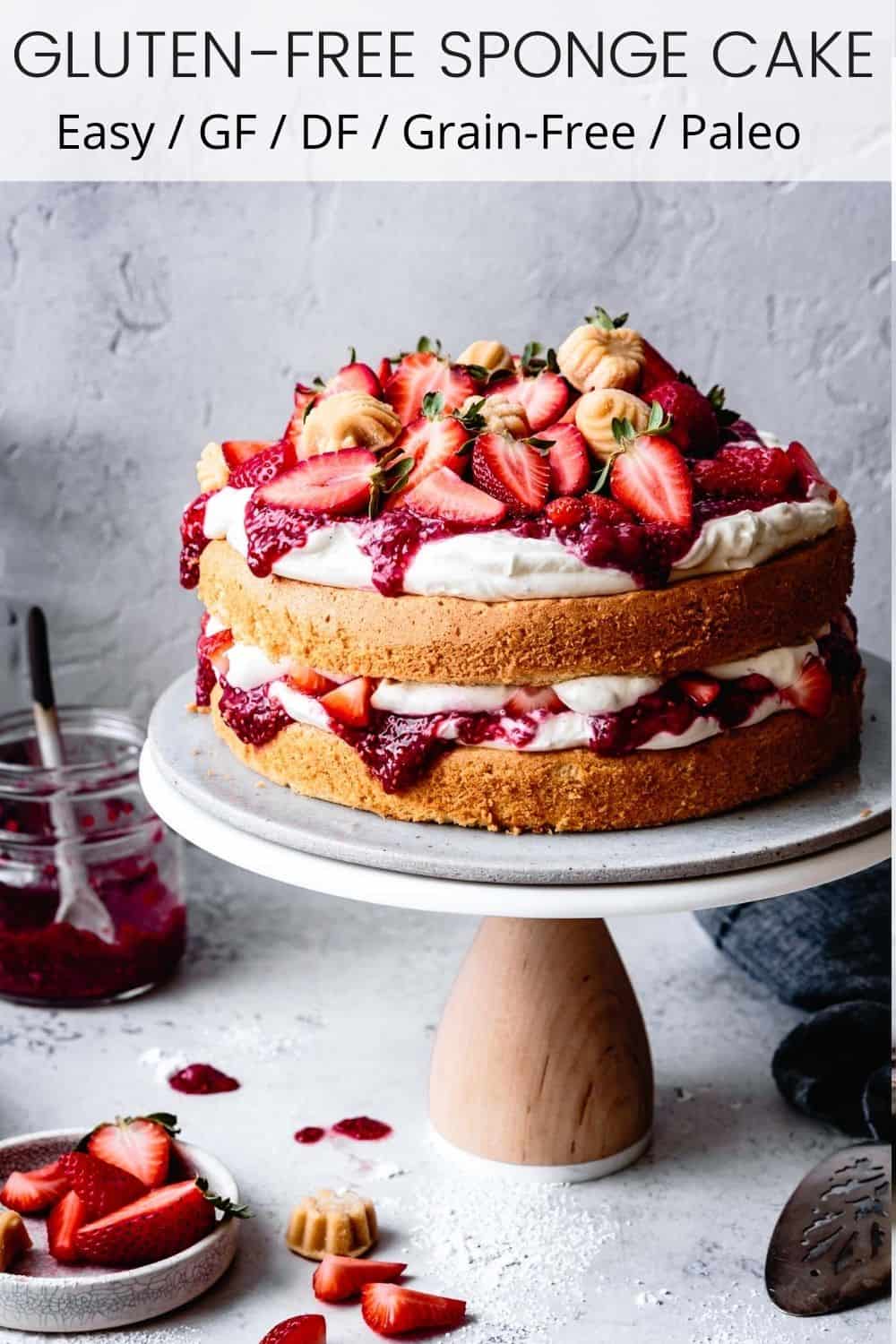 *Bojon appétit! For more Bojon Gourmet in your life, follow along on Instagram, Facebook, or Pinterest, purchase my gluten-free cookbook Alternative Baker, or subscribe to receive new posts via email. And if you make this gluten-free sponge cake recipe, I'd love to know. Leave a comment and rating below, and tag your Instagram snaps @The_Bojon_Gourmet and #bojongourmet.*
Gluten-Free Sponge Cake (Moist & Floofy!)
Print Recipe
Pin Recipe
This light and airy sponge cake has a neutral flavor and lofty crumb, perfect for soaking up layers of cream, fruit, and preserves. It's naturally sweetened with maple syrup (plus a little sugar for whipping the egg whites) which adds amazing depth of flavor. Use a lighter maple for a more classic sponge cake, or go dark if you want more earthy maple flavor. If you don't have these flours handy, feel free to try this with 145 grams of your favorite all-purpose flour blend (such as Bob's Red Mill 1 to 1 flour).
See the variations below for classic vanilla sponge cake made with sugar instead of maple, as well as dairy-free, grain-free, and paleo-friendly variations, plus gluten-free Victoria sponge cake. I've included the strawberry maple cream cake shown here, but feel free to fill this cake with whatever you like!
Ingredients
Sponge Cake:
¼

cup

(55 g) sunflower oil or other neutral oil

3

large egg yolks

½

cup

+ 2 tablespoons (200 g) maple syrup (I use Coomb's Grade A Dark Color, Robust Taste)*

¼

cup

plus 2 tablespoons (55 g) sweet rice flour (I use Koda Farms Brand)*

¼

cup

plus 2 tablespoons (50 g) millet flour (I use Bob's Red Mill)*

¼

cup

plus 2 tablespoons (40 g) GF oat flour (I use Bob's Red Mill)*

1 ¼

teaspoons

baking powder

½

teaspoon

fine sea or kosher salt

5

large egg whites, at room temperature

¼

teaspoon

cream of tartar

2

tablespoons

(25 g) granulated sugar
For Gluten-Free Strawberry Cake:
1

cup

heavy whipping cream

¾

cup mascarpone (or crème fraiche, or more cream)

1

teaspoon

vanilla paste or extract

2

tablespoons

cold maple syrup

2

pint

baskets strawberries, some hulled and quartered, some halved
Instructions
Cake:
Position a rack in the center of the oven and preheat to 325ºF. Line 2 ungreased 8-inch round cake pans with rounds of parchment paper cut to fit. The cake batter will crawl up the sides of the ungreased pan as it bakes, making the cake extra fluffy.

In a large bowl, whisk together the oil, egg yolks, and maple syrup.

Place a strainer over the bowl and sift the sweet rice, millet and oat flours with the baking powder and salt directly into the yolk mixture, adding back any bits left behind in the strainer. Whisk until very smooth.

In the clean, dry bowl of a stand mixer fitted with the whip attachment, whip the egg whites with the cream of tartar on medium-high speed until soft peaks form, 2-3 minutes.

With the mixer running, slowly add the sugar and whip until the whites are glossy and just hold a firm peak when lifted from the bowl and turned upside down, 1–3 more minutes.

Use a flexible silicone spatula to fold one-third of the whites into the batter, then gently fold in the remaining whites until just combined and no streaks remain.

Immediately pour the batter into the prepared pans and quickly but gently use an offset spatula to spread the batter into a thin, even layer.

Transfer the pans to the oven and bake until the cakes are golden, spring back to the touch, and a toothpick inserted near the center comes out clean, 20-30 minutes. Remove to a rack and let cool completely in the pan.
To finish the gluten-free strawberry cake:
Whip together the mascarpone, cream, vanilla, and maple syrup together until the mixture holds firm peaks. Chill until needed.

To assemble the cake, remove one cake layer from the pan and peel off the parchment. Place the cake layer right-side up on a serving platter and spread with a little less than half of the whipped mascarpone. Dollop half of the strawberry jam over the cream and swirl lightly. Top with a layer of quartered strawberries and dollop with a bit more whipped mascarpone (this helps the upper layer stick to the bottom layer).

Remove the second cake layer from the pan, remove the parchment, and place on top of the bottom layer. Top with the remaining whipped mascarpone, swirls of jam, and the remaining quartered and halved berries. Decorate with maple candy, if using.

Serve right away or chill for up to several hours before serving. To serve, use a large, sharp chef's knife dipped in hot water and wiped clean between each cut to slice the cake into wedges. Leftovers keep well in the refrigerator for up to 3 days.
Notes
The cake can also be used to make trifle, tiramisu, and tres leches cake.
*Ingredient Substitutions:
For maple syrup, use 1/2 cup granulated sugar and 1/4 cup + 2 tablespoons water
For sweet rice flour, sub by weight cassava flour or GF AP flour such as Bob's Red Mill 1 to 1
For millet flour, sub by weight sorghum flour
For oat flour, sub by weight sorghum flour or teff flour
Classic GF Vanilla Sponge Cake:
Omit the maple syrup. Whisk the egg yolks with ¼ cup + 2 tablespoons water, ½ cup granulated sugar, and 1 teaspoon vanilla extract.
Citrus Sponge Cake:
Make the version above, omitting the vanilla, and rubbing the zest from 3 lemons (or 2 oranges) into the ½ cup sugar before whisking in the other ingredients.
Grain-Free Sponge Cake:
Add 2 tablespoons water to the maple syrup mixture. Omit the flours and use ½ cup (75 g) cassava flour, ¼ cup (25 g) coconut flour, and 2 tablespoons (15 g) tapioca flour.
Paleo-Friendly Sponge Cake:
Use avocado oil or olive oil in place of the sunflower oil. (You will still need to whip the egg whites with the small amount of sugar, so this won't be 100% paleo.)
Dairy-Free Sponge Cake:
Use a double batch of my paleo vegan "cream cheese" frosting or whipped coconut cream in place of the dairy in the filling.
Gluten-Free Victoria Sponge Cake:
Make the classic GF Vanilla Sponge Cake (above). Spread the bottom cake with 6 tablespoons raspberry jam and top with 6 ounces heavy cream whipped to firm peaks with 1 tablespoon powdered sugar. Top with the second cake half and sprinkle with powdered sugar.
Do-Ahead:
This cake can be made up to 3 days ahead. Store airtight in the refrigerator, or freeze for longer storage. The assembled cake can be made up to 1 day ahead and refrigerated in a cake box.
Nutritions facts are for 1 of 10 servings of strawberry cream cake.
Nutrition
Calories:
338
kcal
Carbohydrates:
44
g
Protein:
5
g
Fat:
17
g
Saturated Fat:
7
g
Cholesterol:
91
mg
Sodium:
162
mg
Potassium:
335
mg
Fiber:
2
g
Sugar:
28
g
Vitamin A:
440
IU
Vitamin C:
57
mg
Calcium:
88
mg
Iron:
1
mg