Gluten-free rhubarb cake with almond flour and olive oil. A light, springy, and not-too-sweet cake for snacktime or anytime!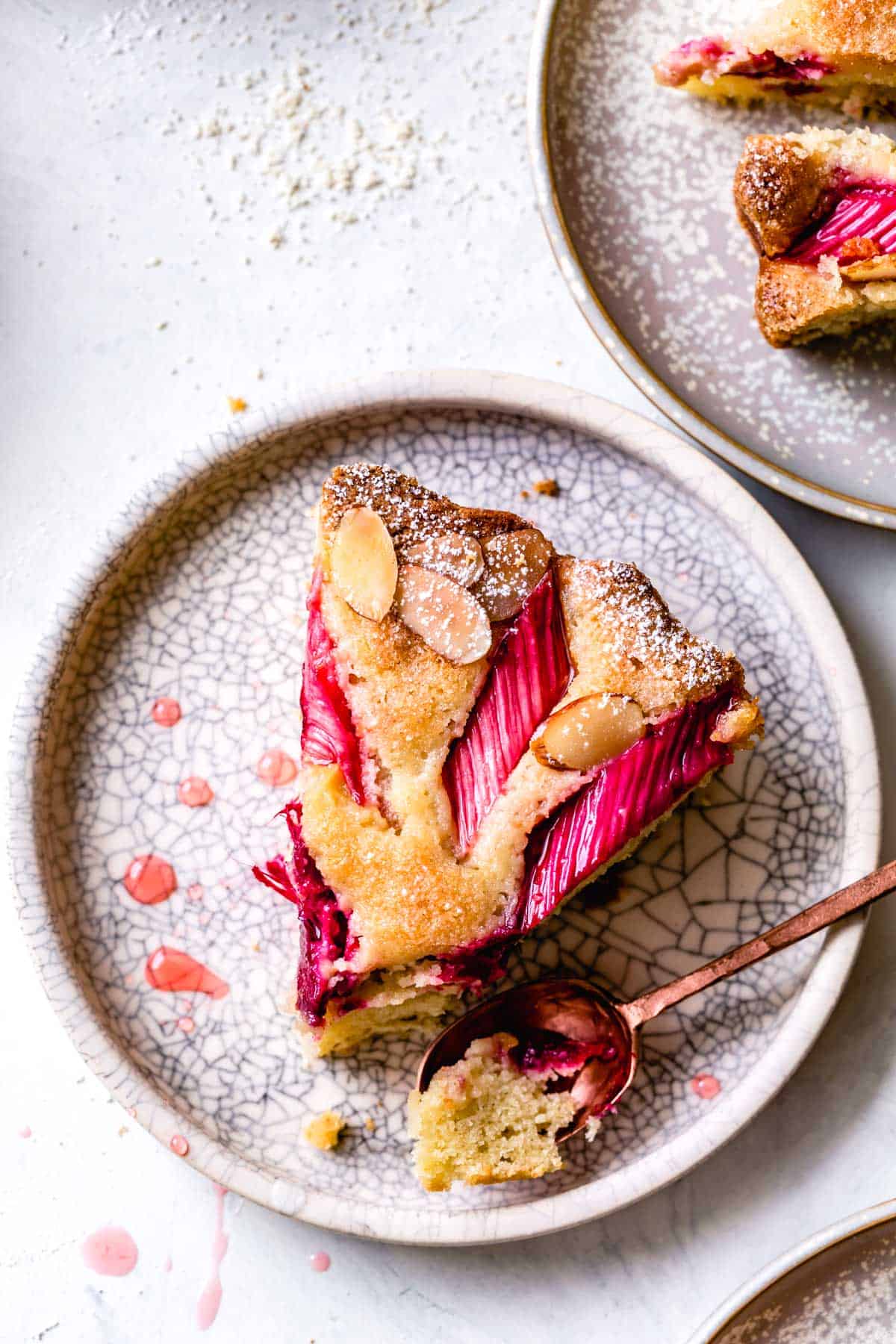 You may already know that I love all things rhubarb, and that almond flour olive oil cakes make me weak in the knees. So it was only a matter of time before I combined the two.
This gluten-free rhubarb cake recipe is adapted from Alternative Baker, where I shared a version of the same batter smothered in fresh figs. Another version was baked into little cakelets laced with rosemary, pear, and chocolate chonks.
I shared this rhubarb version on social media in 2019, and I'm pleased to finally give it a permanent home on TBG!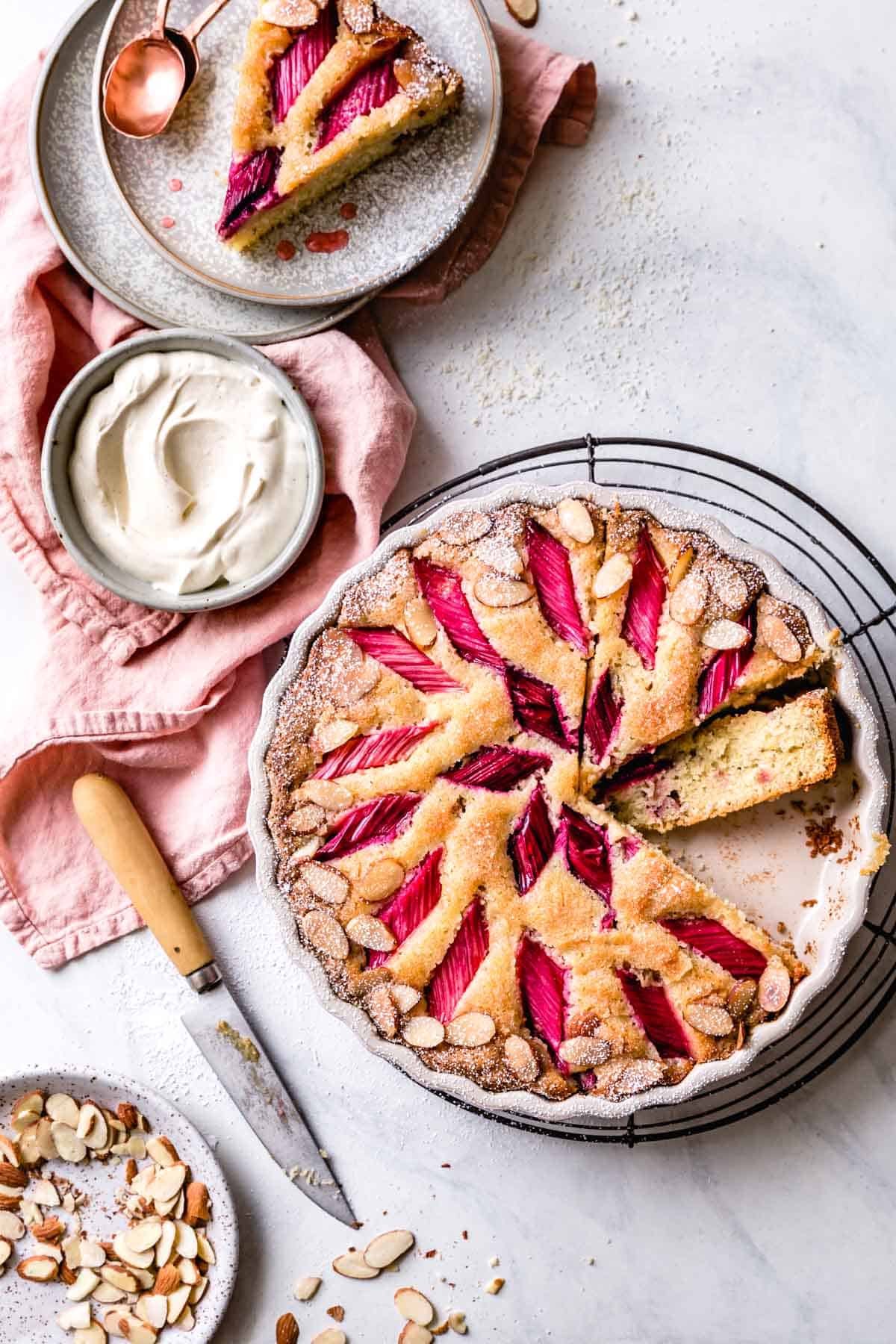 Rhubarb Snack Cake
This type of casual snacking cake is one I'll take over a fancy layered affair any day. It's simple to throw together, and not overly sweet. Rhubarb slices pretty up the top, making this appropriate for a festive Mother's Day dessert, or a cake for a rhubarb-loving Taurus.
Enjoy slices with afternoon coffee or tea. Wrap up pieces to bring on a hike, potluck, or picnic. Or dress up slices with dollops of whipped cream or crème fraiche for dessert.
I bake it in a round and cut in into wedges, but you could just as easily spread it into an 8-inch square pan and cut the cake into cubes. Or bake it in muffin cups for gluten-free rhubarb muffins.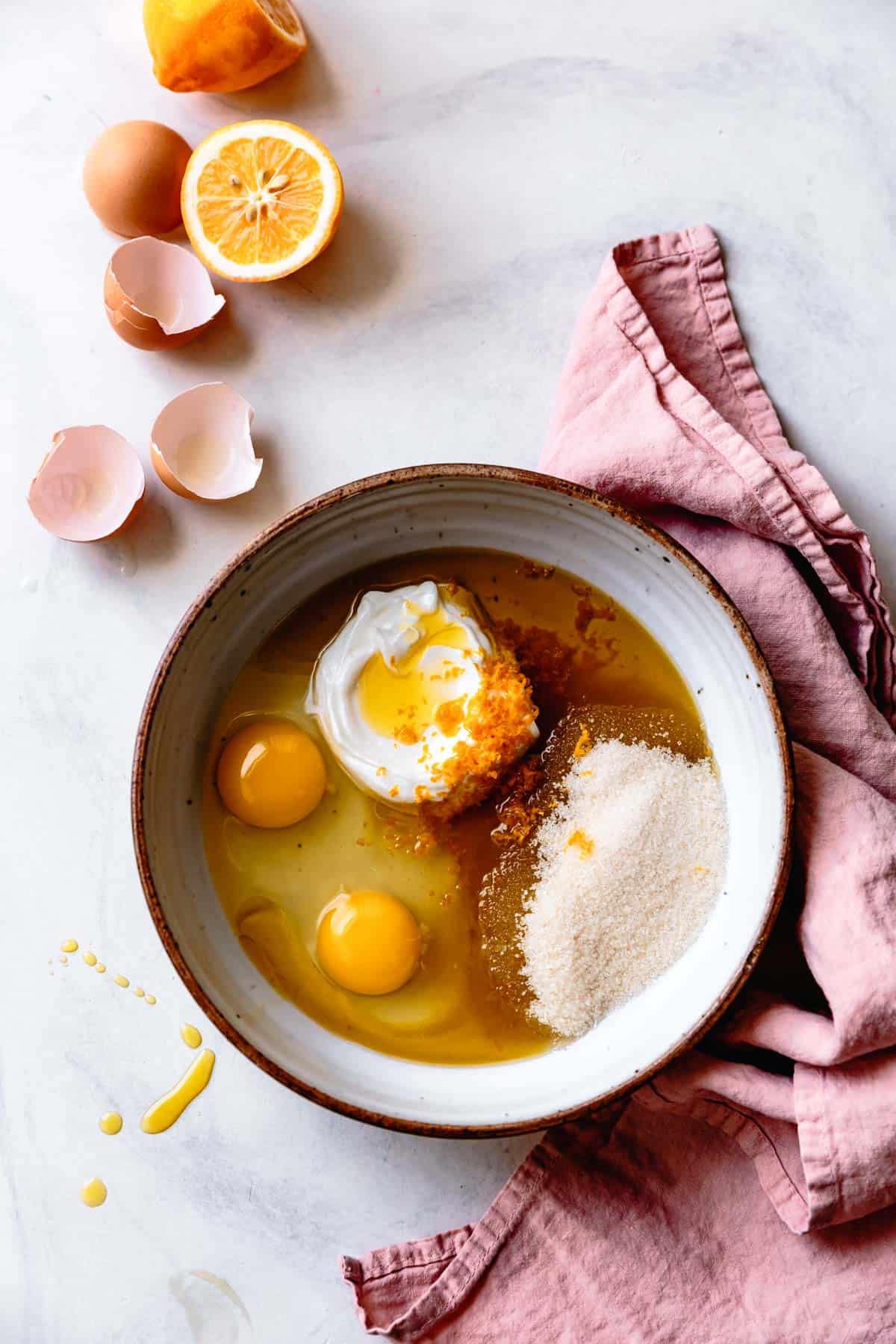 Ingredients & Substitution Suggestions:
Rhubarb is the star of this show! You can use frozen rhubarb in a pinch, or swap it out for another seasonal fruit: berries, cherries, plums, stone fruit, ripe pears, and figs would all work well.
Sugar sweetens the cake. I prefer organic granulated sugar, but white sugar will work too. I tested a version using maple sugar, but felt the flavor clashed with the olive oil and rhubarb. If you need to forgo refined sugar, use maple sugar in the cake, maple syrup in the rhubarb, and a neutral oil (or melted butter or ghee) in place of the olive oil.
Lemon zest and juice add bright, fresh notes that complement the olive oil, tangy rhubarb, and yogurt. Use Meyer lemons if you've got 'em for extra floral tones. Orange or tangerine zest would be equally delicious.
Eggs fluff up the batter, and yogurt adds moisture. I tested this with plain, whole-milk Greek yogurt, but I think sour cream, crème fraiche, or a rich plant yogurt (such as coconut yogurt) would work.
Olive oil adds richness and complex, fruity notes. Don't be afraid to use a flavorful olive oil here – the other mild ingredients make it taste like dessert!
Gluten-free flours give this cake a springy texture and tender, slightly nubby crumb. I use almond flour primarily, and add in sweet rice, oat, and millet flours for layers of flavor. You could sub a GF AP blend such as Bob's Red Mill 1 to 1 in place of the grain flours. I also tested a grain-free version using cassava and tapioca flours; see the version in the recipe notes!
Baking powder and baking soda lift the batter.
Salt sharpens the flavors.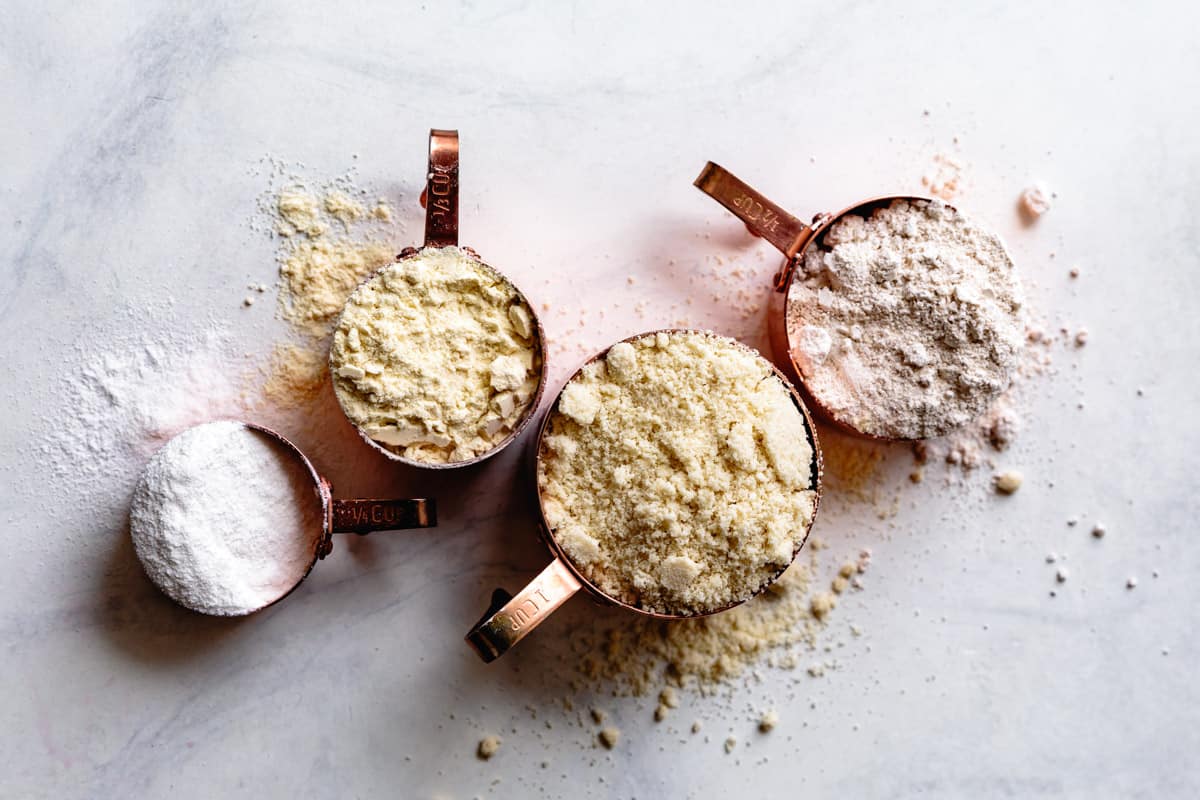 How to Make Gluten-Free Rhubarb Cake
This cake looks fancy, but it's actually quite simple to make.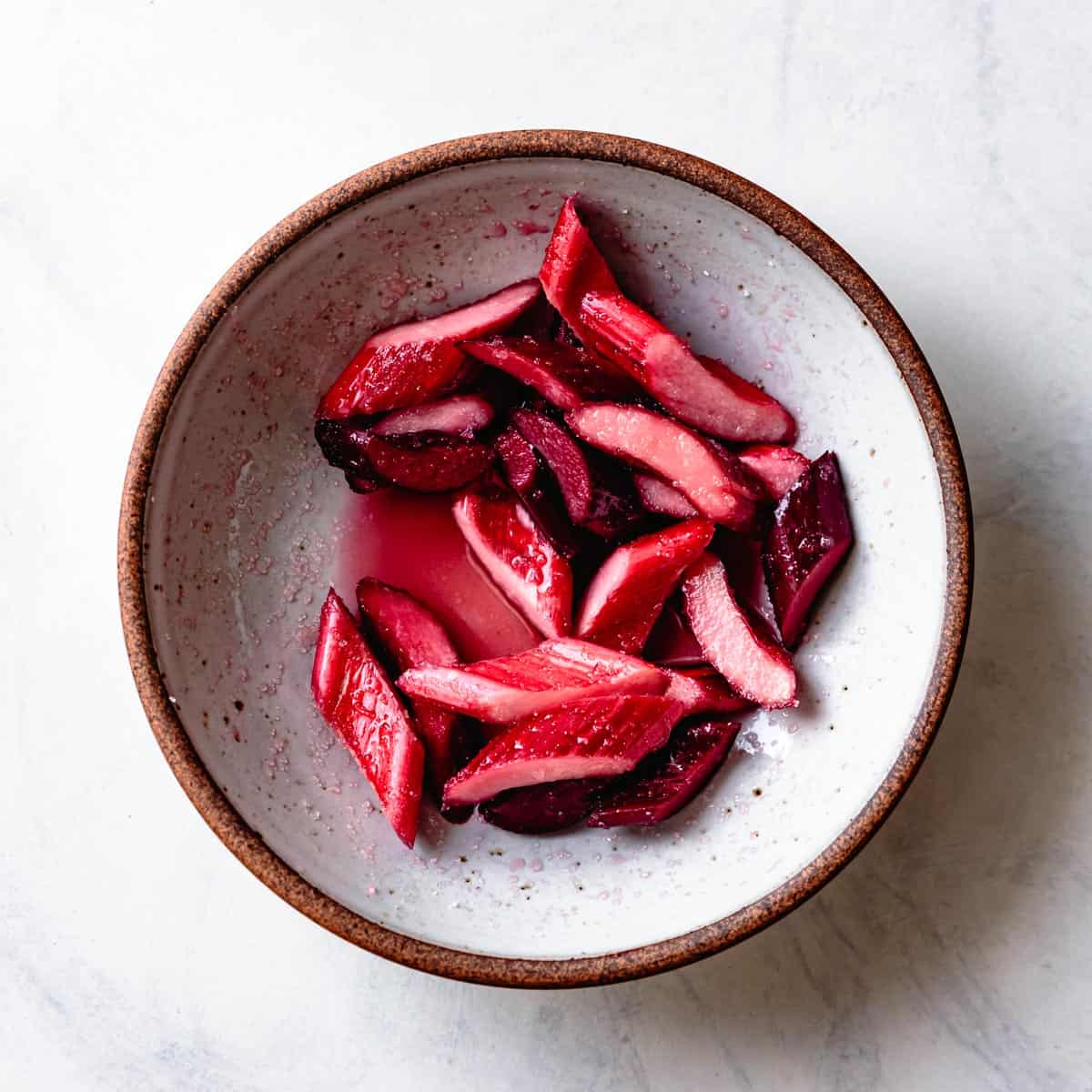 First we dice some of the rhubarb to fold into the batter, and slice the rest to decorate the top. Both get tossed with a little sugar and lemon juice to draw out the juices. Next we rub lemon zest into sugar. This brings out the oils in the zest to perfume the batter. Into this we whisk eggs, yogurt, and olive oil.
Then we sift the flours and leavening into the egg mixture and stir to combine. The diced rhubarb gets folded into the batter, the batter gets spread into the pan, and the sliced rhubarb is arranged on top.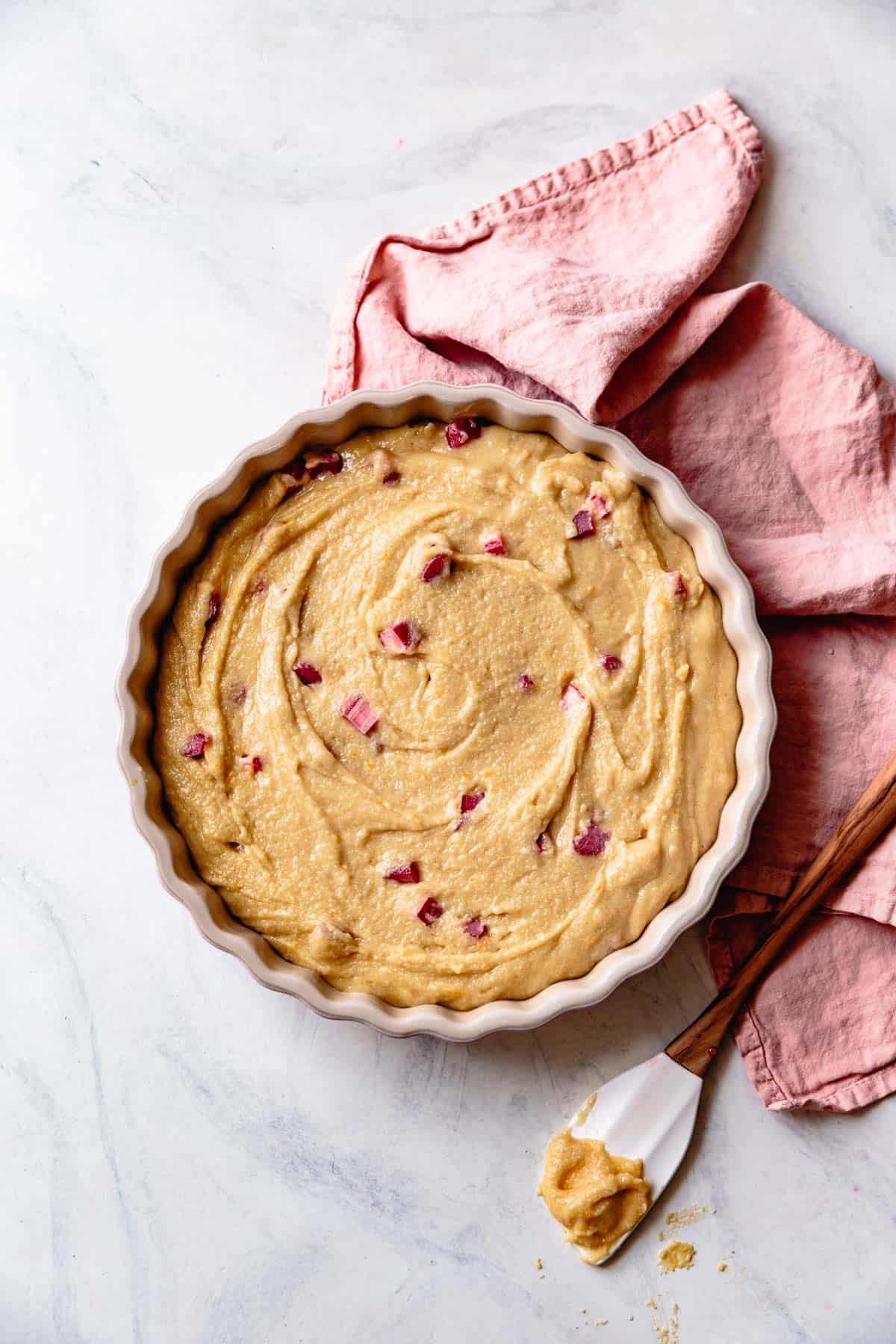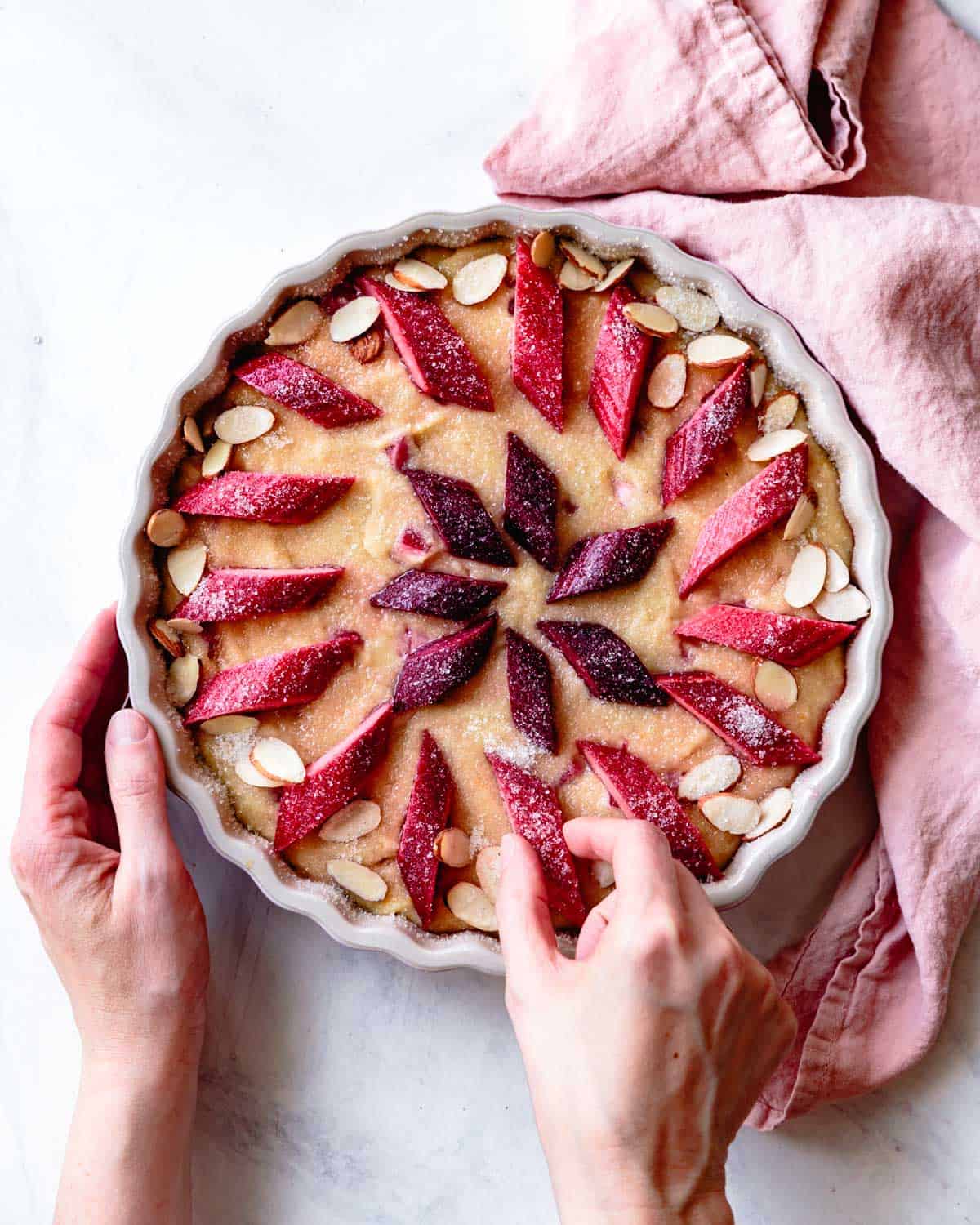 With some sliced almonds and a last sprinkle of sugar, the cake goes into the hot oven and emerges, 45 minutes later, a glorious, rhubarb-crowned beauty.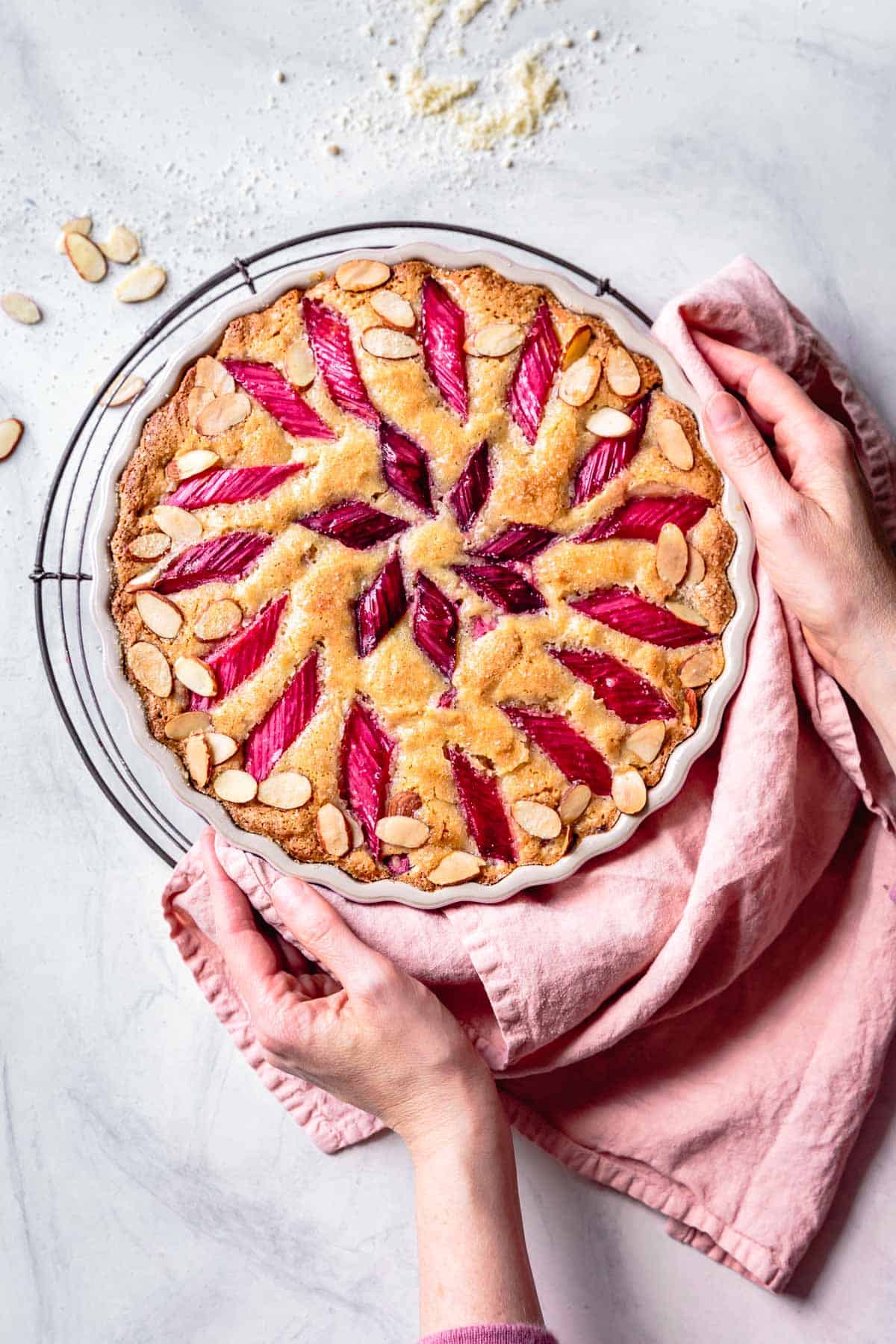 Healthy Rhubarb Cake + Grain-Free / Dairy-Free Options
Whole grain flour and good fats from olive oil and yogurt give this healthy rhubarb cake nutritional value. I've provided some additional options for different dietary preferences too.
Make it dairy-free by using plant yogurt instead of Greek yogurt.
Make it grain-free by using cassava and tapioca flours instead of the grain flours.
I tested a version sweetened with maple sugar in the batter and maple syrup in the rhubarb, but I thought the flavor clashed with the olive oil. However, for a refined sugar-free variation, you could pair the maple with a more neutral oil (or even melted butter or ghee) in place of the olive oil and I bet it would be delicious!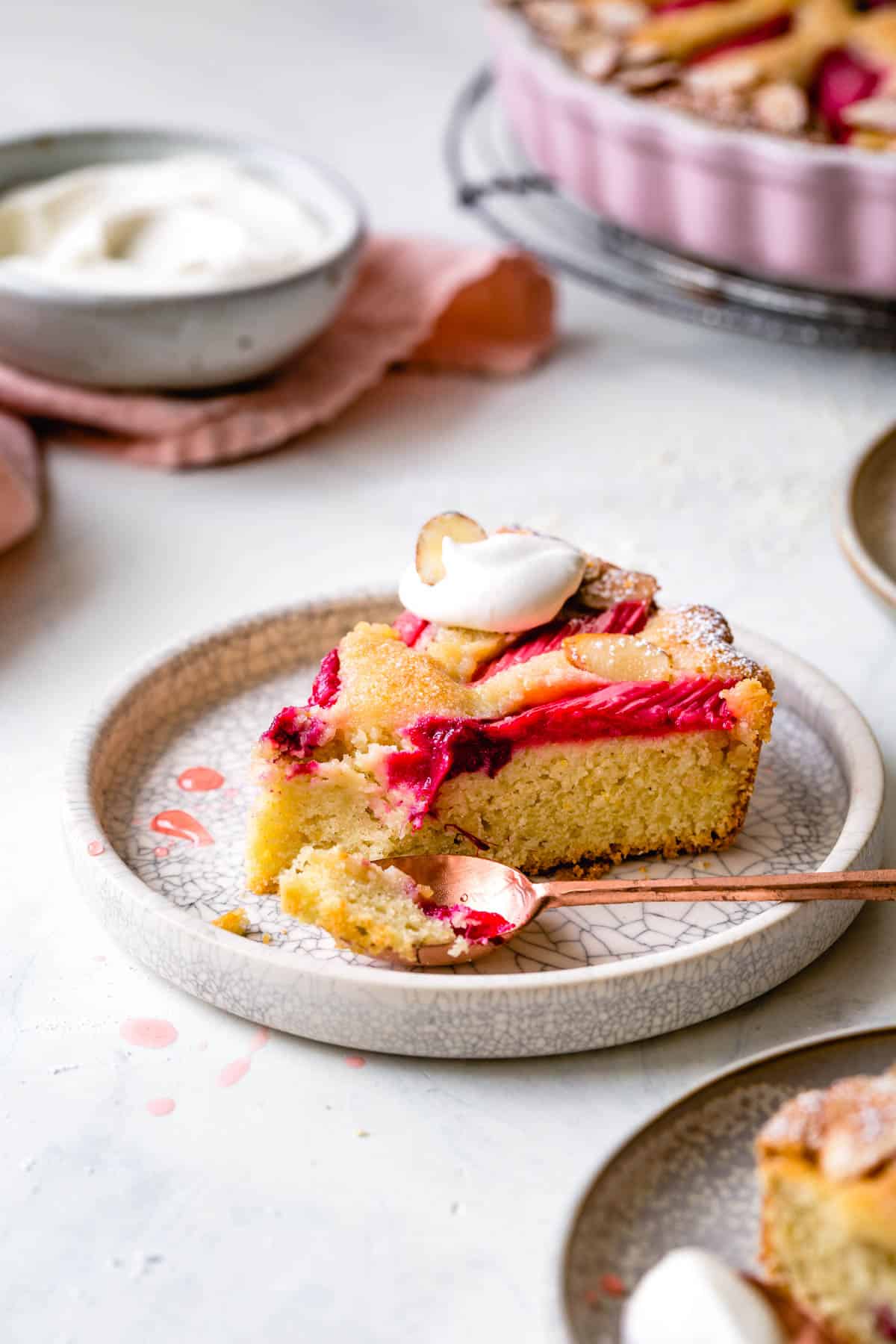 No rhubarb? No problem!
This almond flour cake batter is super versatile and pairs beautifully with other seasonal fruits. Try swapping in berries, cherries, plums, figs, or ripe pears for the rhubarb.
Please let me know what you try!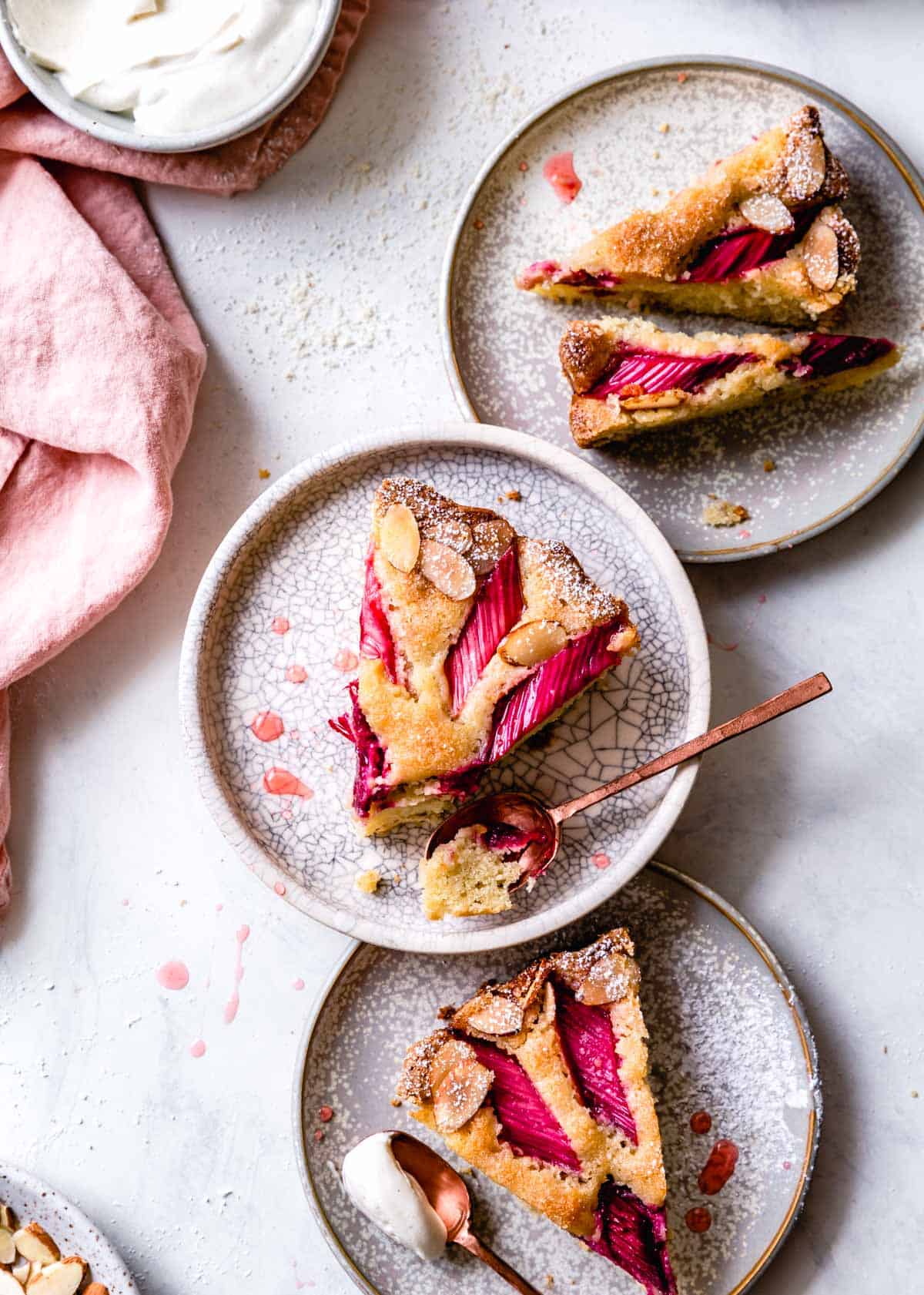 *Bojon appétit! For more Bojon Gourmet in your life, follow along on Instagram, Facebook, or Pinterest, purchase my gluten-free cookbook Alternative Baker, or subscribe to receive new posts via email. And if you make this gluten-free rhubarb cake recipe, I'd love to see. Tag your Instagram snaps @The_Bojon_Gourmet and #bojongourmet.*
More Rhubarb Love
More Gluten-Free Cake Recipes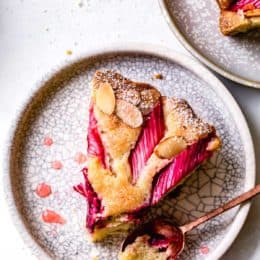 Gluten-Free Rhubarb Cake with Almond Flour & Olive Oil
Print Recipe
Pin Recipe
Ingredients
1

teaspoon

room-temperature butter, ghee, or coconut oil for the pan

12

ounces

rhubarb (3-4 large stalks), divided use

1

scant cup organic granulated sugar, divided use

Finely grated zest from 1 medium lemon, plus a squeeze of lemon juice

2

large eggs

1/3

cup

whole-milk plain Greek yogurt (or plant yogurt)

¼

cup

+ 2 tablespoons (90 ml) extra-virgin olive oil

1 ¼

cups

(120 g) blanched almond flour

½

cup (80 g) sweet white rice flour

½

cup (55 g) GF oat flour

¼

cup (35 g) millet flour (or sorghum flour)

2

teaspoons

(8 g) baking powder

½

teaspoon

baking soda

½

teaspoon

fine sea salt

Handful sliced almonds, for decorating

softly whipped cream, yogurt, or crème fraiche, or for serving
Instructions
Position a rack in the center of the oven and preheat to 350ºF.

Rub a 10-inch round solid tart pan, or 9-inch cake pan or springform pan, with the butter and place on a rimmed baking sheet to catch any drips.

Trim away any leafy bits from the rhubarb. Slice the stalks diagonally 1-inch thick, then dice any less attractive pieces until you have ¾ cup diced rhubarb. Toss the sliced rhubarb with 3 tablespoons sugar and a squeeze of lemon juice, and toss the diced rhubarb in a separate bowl with 1 tablespoon sugar and squeeze of lemon juice. Set these aside while you prepare the cake batter or up to 30 minutes.

In a large bowl, rub the lemon zest into ½ cup of the sugar until moistened and clumpy. Whisk in the eggs, yogurt, and olive oil until combined.

Place a strainer over the bowl (if your bowl is tall enough, otherwise do this into another bowl) and sift in the almond, sweet rice, oat and millet flours along with the baking powder, baking soda and salt, adding in any bits that get caught in the sifter.

Stir the flour mixture into the egg mixture until smooth and homogenous. Drain the diced rhubarb and stir it in until combined. (The rhubarb juice makes a nice "soda" with fizzy water and ice!)

Scrape the batter into the prepared pan, and smooth into an even layer. Top with the sliced rhubarb in concentric circles if you like (or just drop them willy-nilly over the batter – that looks fun too!) Leave behind any rhubarb juice and add it to fizzy water for a little treat if you like!

Sprinkle all over with the remaining 2 tablespoons (20 g) sugar

Bake the cake until golden on top and a tester inserted near the center comes out clean, 40–50 minutes.

Remove the cake from the oven and let cool completely, 45 minutes, then remove the sides from the pan. Slide the cake onto a serving platter and cut into wedges to serve.

The cake is best within the first 2 days of baking. Store, covered, at room temperature the first day, then pop in the fridge to keep it fresh if storing longer.
Notes
Grain-Free Rhubarb Cake:
Omit the sweet rice, oat, and millet flours and use ½ cup + 2 tablespoons (95 g) cassava flour and ¼ cup (30 g) tapioca flour.
Dairy-Free Rhubarb Cake:
Use plant yogurt instead of Greek yogurt. A rich coconut yogurt such as Culina, Coyo, or Cocojune would be good choices.
No rhubarb? No problem! Swap it out for any seasonal fruit: berries, cherries, plums, stone fruit, ripe pears, and figs would all work well.
Nutrition
Calories:
152
kcal
Carbohydrates:
5
g
Protein:
5
g
Fat:
13
g
Saturated Fat:
2
g
Trans Fat:
1
g
Cholesterol:
33
mg
Sodium:
272
mg
Potassium:
120
mg
Fiber:
2
g
Sugar:
1
g
Vitamin A:
82
IU
Vitamin C:
3
mg
Calcium:
118
mg
Iron:
1
mg