My friend and yoga teacher Megan Windeler says that sometimes when she's cooking pork shoulder in olive oil instead of butter, her brain tells her that it's vegan. I tend to do the same thing with gluten-free baked goods, thinking they're healthy even though they may be comprised of refined starches, gums, sugar and fat.
This was a particularly dangerous phenomenon when I worked at Crave bakery several years ago. I would spend hours cutting brownies into irregular shapes to be packaged as "brownie favors," putting one in the bag, one in my mouth… two in the bag, five in my mouth… My teeth ache just thinking about it. (On the other hand, those were some damn good brownies.)
So when I set out to brave gluten-free pie dough the other night, I tried to make it a little healthy, while still getting the sturdy structure and flake of a wheat-based dough. I've been scared to attempt gluten-free pie dough, since there's nothing inherently sticky in the dough aside from the usual gluten, and because my last attempt, 10 or so years ago, was a huge disaster. But Helene's gluten-free puff pastry recipe gave me hope, and I came up with a formula based on what I had in the house.
To a base of sweet rice flour and cornstarch, I added some millet and oat flours for a bit of the whole-graininess that I like in my regular pie dough. I added as little xanthan gum as I thought I could get away with, and a bit of sugar and salt. I worked in slices of cold butter (less than for my usual recipe, since gluten-free flours tend to absorb moisture differently than wheat), and sprinkled in just enough ice water to make the dough clump when squeezed. I usually add buttermilk to my wheat-based pie dough, but that is for the purpose of tenderizing the glutens, and wouldn't be necessary here.
I expected the dough to feel brittle and grainy, but instead, it was surprisingly soft when I gave it a squeeze. I used the fraisage method (in which bits of dough are scraped across the counter with the palm of your hand) to bring the dough together, work it a bit to encourage stickiness from the xanthan gum, and create more buttery layers. Fraisage is an old-school method of getting more flake in a pie dough or pâte brisée that I don't see used very often; a shame, since it makes a big difference and takes little effort. You do want to work very quickly, and use a metal bench scraper like the one shown here.
After a brief chill (30-60 minutes in the fridge) I rolled the dough into a round on a counter dusted with millet flour. The dough was a tad more delicate to roll out than regular pie dough, but not by much, and it felt every bit as supple beneath my fingertips. I stuck the dough in a skillet and folded it around apricots and mascarpone for a rustic galette (recipe here). "Sure it looks fine now," I thought, the eternal pessimist, "but it'll probably crack and split in the oven, lose all the filling, and make a huge mess." But it defied me, and remained resolutely sturdy, flaking and puffing, containing its filling, becoming burnished on top.
The crust shattered in all the right ways, tender and flaky at the same time. You wouldn't know it was gluten-free except for a very slight sticky texture on your teeth from the rice flour, and then only if you're really looking for it. I tried decreasing the rice flour and
cornstarch, but this made the dough brittle and hellish to roll out. The cornstarch and sweet rice flour – the sticky type used to make mochi – are necessary to mimic the gluten that, with chunks of cold butter, allow layers to form. In fact, I would bet that this combination of flours, cornstarch, and xanthan gum would make a good all-purpose mix for other baked goods. The flavor is just right – mild, a little sweet, and a little complex.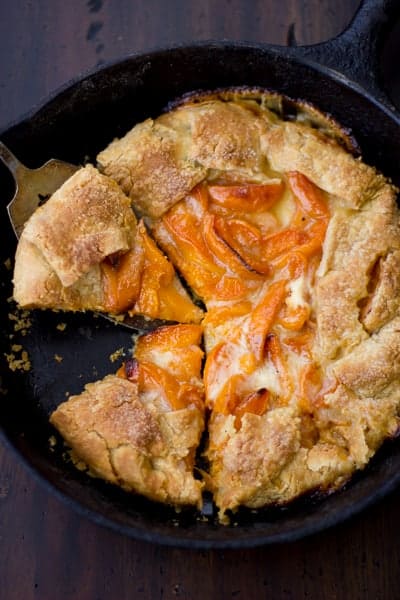 (Don't miss this variation, made with buckwheat flour in place of the oat and millet flours. I filled it with pureed, roasted quince and sliced apples; recipe here.)
I'm so elated to share this recipe, and my mind is spinning with all the uses for it, from pandowdies to pasties to pies. In fact, I've already made a savory galette with pesto, goat cheese and zucchini, and another sweet galette with peaches, berries, and cardamom. I'll try not to eat them all myself just because they're healthy (a.k.a. gluten-free). But no promises.
Pie Maintenance:
Strawberry Rhubarb Crème Fraîche Crumble Pie
Meyer Lemon Buttermilk Pie
Necterine Crème Fraîche Pie
Gluten-Free Pie Dough
This is the flour combination that worked for me. Others might work, too (for instance, sorghum flour instead of oat), but I would keep the sweet rice flour, such as Mochiko brand (regular rice flour probably won't work the same way), cornstarch and xanthan gum as they mimic the glutens in wheat flour. I've also made a version with buckwheat flour and have posted that variation below. I like using the fraisage method (scraping portions of the dough across the counter with your palm) to bring the dough together, but if that freaks you out, you can just give the dough a quick knead in the bowl until it sticks together in a ball.
This dough is a bit more delicate to roll out than a wheat-based pie dough, so be gentle with it, use plenty of flour, and keep a metal bench scraper or spatula nearby to help you turn and flip the dough as you roll it out. I like to get it started by using a pressing motion with the rolling pin. If it cracks or tears, smush it back together with your hands, or use dough scraps to repair tears in the final dough.
The dough is pictured here made into an Apricot Mascarpone Galette, and Apple Quince Tart with Buckwheat Crust.
All ounce measurements are by weight.
Makes enough for one (single-crust) 9″ pie or a 10″ galette
For the dough:
about 6 tablespoons ice water
1/2 cup (2 3/4 ounces) sweet rice flour
1/4 cup (1 1/4 ounces) millet flour
1/4 cup (1 ounce) oat flour
1/4 (1 ounce) cup cornstarch
1 teaspoon sugar
1/2 teaspoon xanthan gum
1/4 teaspoon fine sea salt
6 tablespoons (3 ounces) cold, unsalted butter, sliced thinly
Make your ice water by filling a small cup with ice and topping it with cool water. Set aside while you get on with the recipe.
In a large bowl, combine the flours, cornstarch, sugar, xanthan gum, and salt, and stir to combine. Scatter the butter slices over the top, and work with a pastry blender until the butter it in almond-sized chunks. Tablespoon by tablespoon, dribble in the ice water, tossing with a rubber spatula and/or your hands after each spoonful, until the dough is just damp enough to hold together when you give it a squeeze. Add drops of water directly to the floury bits if needed; you may need more water, or less, depending on how warm and worked-in your butter is. When finished, the dough should look like a pile of fat crumbles. We'll bring it together in the next step.
Dump the dough out onto the counter, and quickly fraisage it by scraping an eighth of the dough at a time across the counter beneath your palm. Scrape it up with a bench scraper, and gather it into a ball. Place on a piece of plastic wrap, flatten it into a 6″ diameter disc, wrap, and chill for at least 30 minutes or up to 2 days. (The dough can be slipped into a freezer bag and frozen for up to a month or two. Defrost in the refrigerator before proceeding.)
When you're ready to use the dough, let it soften at room temperature for 5-10 minutes. The dough is a touch more delicate than regular pie dough, so it benefits from slightly softer butter. Gently roll it out on a surface dusted lightly with millet flour, dusting the pin, your hands, the dough, and the work surface with just enough flour to keep it from sticking. Proceed with your recipe from here. If the dough tears, pinch it back together, or use a scrap of dough to patch it up.
Variation: Flaky Gluten-Free Buckwheat Pie Dough
This dough is more brittle than the original, but it carries the bold flavor of buckwheat, and bakes up crisp and sturdy. It works well rolled out and pressed into a pie or tart pan. Try it with fall fruit, such as pears, apples, figs or quince, or in this Apple Quince Tart, pictured below.
Omit the oat and millet flours, using 1/2 cup (2 1/4 ounces) buckwheat flour in their place.