With a tender, buttery gluten-free crust and sweet cherry pie filling, this gluten-free cherry pie is the ideal dessert to make when you find yourself with a glut of cherries! It's equally good made with fresh or frozen sweet cherries, both of which bake into a chunky, ruby red filling.
The ratios are spot-on: you'll get gooey roasted cherries and buttery crust in every bite. Plus, I'll also show you how to make an effortless double crust pie, no lattice-weaving required!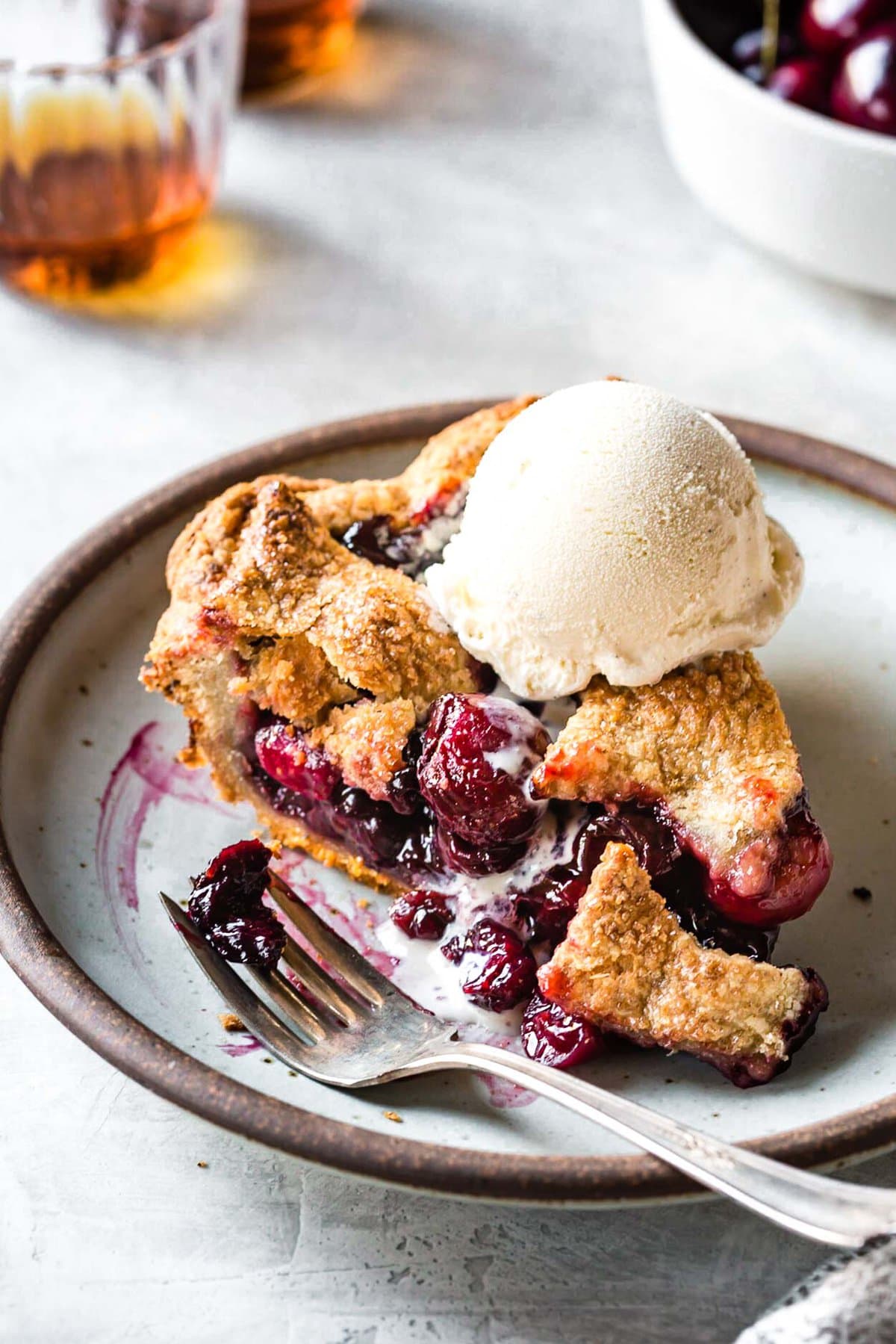 This gluten-free cherry pie recipe is dedicated to my niece, Cierra, who's one of my favorite people on the planet. My sister and I recently visited Cierra in New York City and we all went to see Waitress together on Broadway, starring Sara Bareilles. After we dried our eyes, the show left us all with a massive craving for pies and tarts!
Aside from the phenomenal singing, dancing, acting, and songwriting, the thing that impressed me the most about the show was when Sara Bareilles MADE PIE CRUST ONSTAGE. This gifted goddess casually rolled out the dough, pressed it into the pan, trimmed and crimped it, all while reciting lines in a southern accent in front of hundreds of people.
Not gonna lie: if I had to make my pie dough in front of hundreds of people, I would cry even harder and longer than I did after Waitress's stirring finale.
She's my Ins-PIE-ration
My niece has a fierce love for cherry pie, so I decided to make this boozy, spice-kissed cherry pie recipe in her honor. It's got a kick of booze because Cierra is a connoisseur of craft cocktails, and a hit of spice because so does she. And it's topped with stars because that's what she is.
We call her Diva. (My niece that is. But, well, this pie is also a bit of a diva I suppose!)
Gluten-Free Crust for Cherry (and other) Pie
This gluten-free cherry pie recipe starts with my favorite gluten-free pie crust. which I originally developed for my cookbook Alternative Baker. While I love this crust's abundance of flavor, lack of xanthan gum, and fabulously flaky finish, it's undeniably a bit of a beast to make. It uses 3 gluten-free flours, 2 starches, and ground chia or flax seed in addition to butter, sugar, salt, and ice water.
While all of these ingredients add up to big flavor and flake, putting it together can be as daunting as singing karaoke to a 3-octave Sara Bareilles song (which is something I did *not* attempt while in NYC despite having the opportunity).
Rest assured that if you've never made pie crust before, my gluten-free pie tutorial will walk you through the process as painlessly as possible.
Sweet Cherry Pie Ingredients & Substitution Suggestions
This cherry pie filling uses just 5 main ingredients and comes together in about 20 minutes.
Sweet cherries star of this filling. Use any variety you like, or a combination, such as Bing, Chelan, or Rainier. A cherry pitter makes quick work of them; this is the one I like. Frozen cherries work just as well; no need to defrost them first, the filling will just take a little longer to bake (bonus that frozen cherries are already pitted!)
Sugar sweetens the pie. I like organic granulated sugar for the filling, and coarse Demerara sugar for sprinkling the top crust. For refined sugar-free, sub by weight coconut sugar or maple sugar.
Cornstarch thickens the filling. For corn allergies, try using tapioca or arrowroot flour, or use a gluten-free all-purpose flour; you may need to adjust the amount.
Whiskey (or lemon juice) adds depth of flavor, giving the pie a boozy kick. Be sure to source a gluten-free whiskey if need be, or use brandy or gold rum instead. Or nix the booze and use a little lemon juice to sharpen the flavors.
Cinnamon adds a hint of spice, and salt sharpens the flavors. You can also add 1/8 teaspoon cayenne if you'd like a little extra kick! Omit the cinnamon for a more traditional gluten-free cherry pie.
How to Make Gluten-Free Cherry Pie with Sweet Cherries
This recipe makes one 9-inch pie, serving 8-10 people. With its pretty cut-out top that's easier than weaving a lattice, you'll feel like a pro when you slide it into the oven!
Gluten-Free Cherry Pie for Everyone
A few options for different dietary needs.
Vegan Gluten-Free Cherry Pie
Make the crust using a good vegan butter such as Miyoko's.
Grain-Free / Paleo Cherry pie
Make this recipe using a double batch of my cassva and almond flour pie crust. The almond flour goes especially well with the cherry filling!
To make it paleo, use coconut sugar or maple sugar to sweeten the pie instead of sugar. Swap the cornstarch for arrowroot or tapioca flour (you may need 1-2 tablespoons more to thicken the filling). Use grass-fed butter in the crust, or vegan butter such as Miyoko's.
Gluten-Full Cherry Pie
If gluten isn't a problem, make this recipe using my laminated pie crust (which can also be made with spelt flour).
The Dreamiest Gluten-Free Cherry Pie
Here, sweet, dark cherries bake into a chunky jam studded with juicy fruit. The bourbon and cinnamon add beguiling depth of flavor while letting the fruit hog the limelight, and just enough sugar and cornstarch thicken it into a sliceable consistency. All of this burgundy goodness contrasts flavorful, flaky gluten-free pastry.
Bite into a slice of this spiced bourbon cherry pie topped with a drippy scoop of vanilla ice cream, and you'll soon forget all the effort that went into making it.
*Bojon appétit! For more Bojon Gourmet in your life, follow along on Instagram, Facebook, or Pinterest, purchase my gluten-free cookbook Alternative Baker, or subscribe to receive new posts via email. And if you make this gluten-free cherry pie, I'd love to see! Tag your Instagram snaps @The_Bojon_Gourmet and #bojongourmet.*
Gluten-Free Sweet Cherry Pie
Print Recipe
Pin Recipe
Gluten-free cherry pie made with fresh (or frozen) sweet cherries. Just 5 main ingredients in the filling and no lattice-weaving!
Servings:
8
servings, makes one 9-inch pie
Ingredients
Filling:
6

cups

pitted sweet cherries (fresh, or frozen and not defrosted; about 2 ½ pounds [1,120 g])

¾

cup

(150 g) organic granulated sugar*

¼

cup

(30 g) cornstarch*

½

teaspoon

ground cinnamon

⅛

teaspoon

fine sea salt

3

tablespoons

(45 ml) GF whiskey, brandy, or 1 tablespoon lemon juice
For Finishing:
1

tablespoon

(15 ml) milk or cream

1

tablespoon

(15 g) coarse sugar or granulated sugar
Instructions
Make the crust
Prepare the gluten-free pie crust dough as directed. Form half of the dough into a 9-inch pie crust as directed, and chill until needed, at least 30 minutes and up to 2 days if covered.

On a surface dusted lightly with oat flour, roll the remaining pie dough to a 12-inch round, it will be about 1⁄4-inch thick or a little thicker. Use a cookie cutter, biscuit cutter, or small glass to cut out shapes measuring about 2-inches in diameter.

Place the dough shapes on a small baking sheet lined with parchment paper and chill until firm, 20 minutes and up to 2 days if covered. Optionally, press the dough scraps together, wrap and chill until firm, and repeat the rolling/cutting process once more. You may not need all the cut-outs, and extras can be baked alongside the pie for a snack.
Make the pie
Position a rack in the lower third of the oven, top with a baking stone if you've got one and preheat to 425ºF (220ºC). Line a rimmed baking sheet with parchment paper for easy cleanup.

To make the filling, in a large bowl, whisk together the sugar, cornstarch, cinnamon, and salt to combine. Add the cherries and bourbon, tossing to combine, and let sit 10-20 minutes to draw out the juices a bit.

Spoon the fruit and juices into the chilled crust, smoothing it flat. Place the chilled dough shapes over the top of the fruit, overlapping them slightly and leaving lots of windows for steam to escape. Brush the rounds with the cream or milk and sprinkle with the coarse sugar.

Place the pie on the lined baking sheet and slide into the oven on the baking stone. Bake at 425ºF (220ºC) for 15 minutes, then decrease the oven temperature to 375ºF (190ºC) and continue baking until the crust is golden and the fruit is bubbling thickly, 35–50 more minutes. (Err on the side of overbaking lest you wind up with soupy filling that doesn't set.)

Let the pie cool completely to set the fruit, at least 2 hours, then cut into wedges and serve at room temperature with ice cream. The pie is best shortly after baking and will keep at room temperature for up to 1 day, or refrigerated for up to 3 days.
Notes
*In place of the sugar, sub by weight coconut sugar or maple sugar
*In place of cornstarch, sub by weight tapioca or arrowroot flour (you may need to use 1-2 tablespoons more to set the pie)
This pie is adapted from my cookbook Alternative Baker and it boasts a crust made with whole grains and no gums. That said, feel free to swap in your favorite pie crust if you prefer; you'll need enough for 1 ½ single crust 9-inch pies. See step-by-step photos of how to make this gluten-free pie crust here.
In these photos, I used a mix of fresh and frozen cherries which works well; the frozen cherries break down into more of a chunky jam, while the fresh ones hold their shape. Feel free to use all fresh or all frozen cherries, or a combination.
The pie dough can be made up to several days in advance, and I recommend making it at least one day ahead to ease prep on the day of baking, and to allow the dough to absorb moisture which results in a nicer texture once baked.
Be sure to source a certified gluten-free whiskey or other spirit if you or your guests are sensitive to potential trace amounts of gluten lurking therein. You can also use brandy or spiced rum. If you prefer to leave off the alcohol altogether, replace the whiskey with 1 tablespoon lemon juice.
Nutritional values are based on one of eight servings.
Nutrition
Calories:
495
kcal
Carbohydrates:
72
g
Protein:
5
g
Fat:
21
g
Saturated Fat:
12
g
Cholesterol:
49
mg
Sodium:
269
mg
Potassium:
317
mg
Fiber:
5
g
Sugar:
36
g
Vitamin A:
645
IU
Vitamin C:
7.3
mg
Calcium:
71
mg
Iron:
1.4
mg