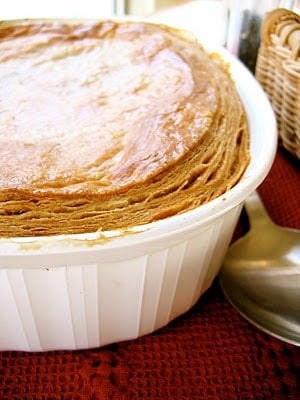 I went to pastry school for the main purpose of learning to make great croissants. Unfortunately, my croissants never turned out as well as my puff pastry did, but fortunately, the doughs utilize the same method, called laminating.
Adding ice water and lemon juice to the flour/butter mixture
The classic technique involves making a lean dough of flour, ice water, salt, and sugar (and yeast in the case of croissants), and then forming a block or slab of butter which you fold into the lean dough. The dough gets folded up like a letter and rolled out repeatedly, chilling for an hour between turns, making dozens of ultra-thin layers of butter and dough. When the dough hits the heat of the oven, the butter (which is 15% water), lets off steam, raising the layer of dough above it. The finished product's many layers flake and shatter. Despite all that butter, a well-laminated and -baked dough should taste light on the palate, rather than heavy or greasy.
The dough clumping together when squeezed
Those canny folks at Cook's Illustrated have streamlined the process as much as possible, and use the slightly simpler method of cutting butter chunks into the dough, as for a pate brisee, then fraisage-ing the dough (scraping portions of dough across the work surface with the palm of your hand), then folding and rolling the dough several times in a row, without chilling between every turn. The finished dough is almost identical to a classic puff pastry, but takes about half the time to make (3 hours as opposed to 6).
The dough, mid-fraisage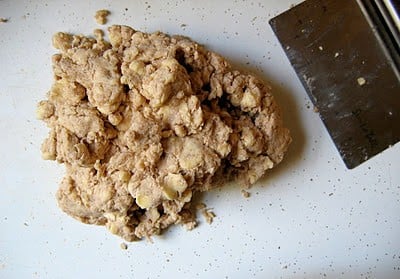 and post-fraisage
I add a bit of whole wheat bread flour to the dough because I like the flavor it adds, but feel free to use all white flour if you prefer; an all-white dough will have slightly more loft.
Fold #1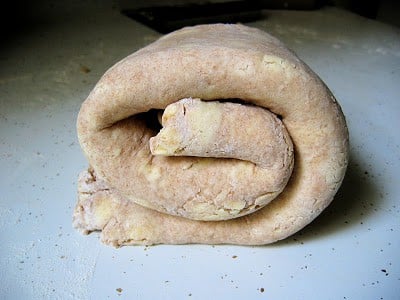 and roll #1
Puff pastry has many uses: tuck apples and quince inside for some stellar turnovers, cut it into strips and sprinkle with parmesan for cheese straws, roll it up with sugar for palmiers, or lay them over a vegetable stew thickened with bechamel for pot pie.
Fold #2 – a smoother dough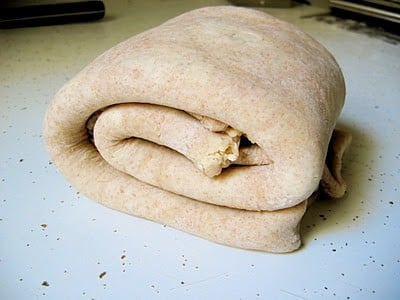 and roll #2
I always find making puff pastry to be a magical experience; one of those things that goes into the oven looking unremarkable and emerges transformed into something magnificent. If only I could make my croissants look good, too…
The finished dough and its many layers
Quick(er) Whole Wheat Puff Pastry
Adapted from Baking Illustrated
Makes 2 pounds (enough for twelve 5″ turnovers, or two large pot pies)
The whole wheat bread flour here gives the dough a nutty flavor without interfering with the lightness of the layers. I would not substitute whole wheat pastry flour, as it might not contain enough gluten to create strong layers of dough. Lacking a food processor, you can probably make this by rubbing in the butter with your fingers or a pastry blender. Bear in mind that the butter doesn't get incorporated as much as in a pie dough.
A couple of simple tools will be helpful: a metal scraper to assist in the fraisage process, and a pastry brush for sweeping off excess flour as you roll out and turn the dough.
As you work with the dough, return it to the fridge to chill for 10 minutes or so if it begins to either get sticky, or if it starts to spring back as you roll it. Stickiness is a sign of the butter softening, which will decrease the number of distinct layers of dough you have and will prevent your finished dough from rising high and flakily. Springiness is a sign of the glutens in the flour being activated, and will result in tough, bready dough if you don't let them rest. So listen to your dough, and give it a break when it asks.
This dough takes about 2 1/2 – 3 hours to complete (more if your kitchen is warm and the dough requires more chilling), but most of this time is inactive – resting the dough in the refrigerator.
1 1/2 cups all-purpose flour
1 1/2 cups whole wheat bread flour
1 1/2 tablespoons sugar
1 1/2 teaspoons salt
12 ounces (3 sticks/1 1/2 cups) cold, unsalted butter, cut into 1/4″ cubes and chilled again until firm
9 tablespoons ice water
2 teaspoons lemon juice
Combine the flours, sugar and salt in the bowl of a food processor, pulsing once to combine. Add 1/4 of the butter chunks and pulse 4 times until the dough is in dime-sized pieces. Add the remaining butter and process 2 times just to coat the butter cubes with flour. Transfer the mixture to a large bowl.
Combine the ice water and lemon juice in a small bowl. Drizzle half of the liquid over the flour/butter mixture and toss with a rubber spatula until just combined. Add more liquid, 1 tablespoon at a time, until the dough clumps together when squeezed. Turn the dough – which will be very shaggy – out onto your work surface. Fraisage the dough by dragging small portions of it across the counter under the heel of your hand (see photo in post above). The motions should be quick and brisk so that the butter stays as cold as possible. This action creates many thin layers of dough and butter, and begins to bring the dough together.
Gather the dough up into a ball (a metal pastry scraper is helpful here), press it into a disc, wrap it in plastic and chill it for 1 hour.
Remove the chilled dough from the fridge, unwrap it, and place it on a lightly floured surface. Dust the dough lightly with flour, sweep off any excess with a pastry brush, and roll out the dough to a 15×10″ rectangle. Fold the dough lengthwise into thirds, like folding a letter, then, starting from a short end, loosely roll up the dough into a spiral. (See photos in post, above.)
If the dough is sticky or springy at this point, wrap it in plastic and chill it for 30 minutes.
Press down on the dough to form a small rectangle, and again roll it out into a 15×10″ rectangle, and again roll it up into a spiral. Flatten it out a bit to make it easier to roll once it has chilled. Wrap the dough in plastic and chill for at least 1 hour.
Your puff pastry is now ready to be used. You can store it in the fridge for a day or two, or freeze it, double-wrapped, for many months.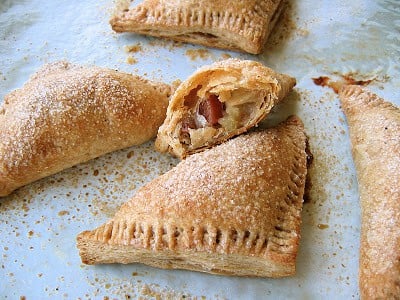 Apple-quince turnovers