Family gatherings can be stressful. That's why one of the things that I'm thankful to have in my life is Bernal Yoga. Every year, BY offers a pre-feast class on Thanksgiving day, which I gratefully take to muster up some calm before a lively, familial evening.
Last year's class was gloriously unconventional for a couple of reasons. The first was that Ann Lam, studio assistant manager, editor of Untapped San Francisco, and accomplished violinist serenaded the practice with ecstatic music throughout class.
The second occurred when Megan Windeler, favorite teacher and über yoga babe, asked each yogi to state their name and favorite Thanksgiving food.
As we went around the room, dishes were shouted out – mashed potatoes and apple pie being the most popular. (Unsurprisingly, no one mentioned turkey.) When my turn came, I told my fellow yogis that my name was Alanna and I couldn't BELIEVE no one had chosen pumpkin pie. Pumpkin pie, in my opinion, was the whole point of Thanksgiving. The rest of the meal – the spuds, breads, sauces, meat and veg – were merely a prelude, an excuse, a quagmire to wade through before gratefully throwing one's body upon the shores of pumpkin pie.
I expected my fellow students, and Megan, to slap their foreheads and say, 'Of course! Pumpkin pie! THAT'S my favorite Thanksgiving food!' But instead, everyone just shrugged apologetically as if to say, 'You're nuts. Namaste.' (Jay's turn was next, and he loyally chose pumpkin pie AND mashed potatoes.)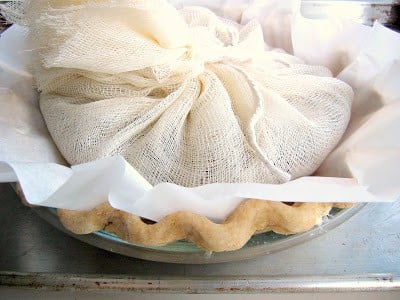 Perhaps the reason pumpkin pie isn't better-loved has more to do with the execution than the concept. (At least, I can hope.) What could be unlikeable about creamy pumpkin and sweet spices bound up in a custard and baked in a buttery pie shell?
According to Cook's Illustrated, plenty can go wrong when making this American classic (but then, they say that about everything).Cook's points out that most pumpkin pie gets over-baked, causing the solid proteins in the eggs to clump together, separating from the liquid, and resulting in a grainy texture. Anyone who has ever over-cooked a custard knows this phenomenon. Care must also be taken to avoid sogging up the crust from the moisture of the custard, and the spices should be a subtle backdrop rather than an overpowering mask for bland squash.
The wonderfully anal cooks at Cook's developed a superb recipe (and if you don't have a subscription to their site, you should – it is well worth the small annual fee). They add sweet potato to their pie (a trick which I happen to know Nancy Silverton came up with many years ago in Pastries from the La Brea Bakery) to give the filling more density and flavor. They also use maple syrup as a sweetener, and fresh ginger and judicious amounts of cinnamon and nutmeg for spice. They par-bake their crust, to which they add vodka for tenderness, and cook the pie just until the center reaches 170º, the temperature at which the eggs are cooked, but not curdled.
Cook's recipe is fabulous, but it calls for a can each of pumpkin puree and candied sweet potatoes, and since I like to make things as labor-intensive for myself as possible, I roasted and pureed my own vegetables. Also, since the usual pumpkin pie recipe calls for only one can of pumpkin puree, or 2 cups, Cook's recipe yielded enough filling for 1 1/2 pies. I know this because last year I made a double batch, and ended up with enough for three pies. (Not that we minded.) So I cut the recipe back by 1/4 and ended up with just the right amount of filling for a tall, full pie.
I made a few other tweaks, too, like increasing the maple syrup and decreasing the sugar, and using half and half in place of milk and cream. I considered trying their vodka-ed pie dough, but was relieved to read Deb's post on pate brisee in which she admitted to preferring a standard, all-butter dough, which is almost identical to Martha Stewart's, which is the recipe on which I base mine. She's posted step-by-step photos of how to make an all-butter crust by hand, which happens to coincide with my own method. (She rocks.)
I will spare you the saga of the dozens of pumpkin pie recipes I've tried throughout the years – from Cafe Gratitude's raw pumpkin pie to a bizarre pumpkin crostata I had in Italy, and even a variation of this recipe 2 years ago in which I used too much sweet potato and overbaked the pie– and cut to the chase about what makes this recipe the best I've found yet. First, the crust is par-baked – an annoying but necessary step to keeping it crisp. Then the squash puree (I used a combination of butternut and kabocha) and sweet potato are combined with the spices and sweeteners and cooked on the stove to evaporate excess liquid and dry out the mixture. This also seems to meld the spices together nicely. The dairy and eggs are whisked in, and the mixture is passed through a mesh sieve for the silkiest texture possible. Then the pie is baked until almost set, and allowed to cool at room temperature, where the residual heat solidifies the filling. (I'm always too chicken to cut into it before chilling it, so I recommend putting it in the fridge for a few hours after it has cooled completely to further firm it up.)
Despite the multitudes of recipes out there, I've finally found my ideal pumpkin pie.
Now I just need to bring five of them to yoga next Thursday to test out my theory.
Peter, Peter:
Pumpkin Cheesecake Squares
Pumpkin Flan
Pumpkin Ice Cream
High on Pie:
Pecan-Topped Sweet Potato
Pink Pearl Apple Custard Tart
Roasted Winter Squash and Sage Tart
One year ago:
Two years ago:
Silky Smooth Pumpkin Pie
Adapted generously from Cook's Illustrated and Smitten Kitchen
Makes one 9″ pie, 8-10 servings
To save time, you can certainly use canned pumpkin, and even canned sweet potatoes. Otherwise, to roast your own: Preheat the oven to 400º. Slice a large (2 pounds or more) winter squash in half lengthwise (I prefer butternut or kabocha to pumpkin for their consistently dense, flavorful flesh). Leave the seeds in. Place the squash halves, cut-sides down, on a lightly oiled, rimmed baking sheet. Prick a large (1 pound) garnet or jewel sweet potato several times with the tines of a fork. Place it on the baking sheet with the squash. Roast until the vegetables are collapsed and very tender when squeezed with a pair of tongs, about 45 minutes to 1 hour. Let cool until handleable. Scoop out and discard the seeds and strings of the squash, and measure out 1 1/2 cups. Scoop out the sweet potato flesh and measure out 3/4 of a cup. Puree together in a food processor until completely smooth. (Extras are delicious with butter and salt for a snack, or saved for another pumpkin recipe.)
For comprehensive photos, see Deb's post on making pie dough by hand; I take the extra step of fraisage-ing the dough (dragging portions of dough across the counter with the heel of your hand), which helps to create flaky layers, but you can omit this step and still end up with a tender, flaky dough.
Pouring hot filling into a hot crust helps to keep the crust crisp, so make the filling while the crust is baking (or make the crust up to a day ahead and re-heat it before pouring in the filling). This pie requires cooling at room temperature for 2-3 hours (to fully bake the pie from residual heat), and chilling for another 1-2 hours, so do plan accordingly.
All-butter crust:
3/4 cup all-purpose flour
1/2 cup whole spelt (or whole wheat pastry) flour
1 teaspoon sugar
1/2 teaspoon salt
4 ounces (8 tablespoons/1 stick) cold, unsalted butter, in 1/2″ dice
about 4 tablespoons ice water
Creamy Pumpkin Filling:
1 1/2 cups roasted squash puree (see headnote)
3/4 cup roasted sweet potato puree (see headnote)
1/4 cup maple syrup
1/2 cup granulated sugar
1 teaspoon packed finely grated fresh ginger
1/2 teaspoon cinnamon
1/4 teaspoon freshly grated nutmeg
1/8 teaspoon allspice
3/4 teaspoon salt
3 eggs
1 1/2 cups half and half
1 teaspoon vanilla extract
For serving:
whipped cream sweetened with maple syrup (and a splash of whiskey)
freshly grated nutmeg
Make the crust:
In a large bowl, stir together the flours, sugar and salt. Scatter the butter pieces over the flour, and rub in with your fingertips until the mixture resembles sand with lots of pea-sized butter chunks. Drizzle the ice water over, 1 tablespoon at a time, tossing with a rubber spatula, until the dough will hold together when you give it a squeeze. Dump the dough out onto a counter, divide it roughly into 6 portions, and fraisage by dragging a portion of dough across the counter using the heel of your hand. Scrape up the dough, gently press it into a ball and flatten into a disc. Slip it into a plastic bag, and chill for at least an hour or up to 2 days.
Remove the dough from the fridge, unwrap, and place on a lightly floured surface. Roll out the dough into a 12″ circle, dusting the dough lightly with flour as needed, rotating and flipping it to prevent it from sticking. Ease the dough into a 9″ pie plate, fit it into the corners, and trim it to a 1″ overhang. Fold the overhang under, and flute the crust by pressing it between the thumb of one hand and the index finger and thumb of the other hand.
Chill the crust for 20 minutes, then freeze it for 20 minutes.
Position a rack in the lower third of the oven and preheat to 400º. Remove all other racks from the oven.
Place the frozen crust on a rimmed baking sheet. Line it with a piece of parchment paper, and top with pie weights, dry beans, or clean pennies. (I keep my weights in a cheesecloth bag for easy handling; see photo in post, above.)
Bake the crust for 20 minutes, then remove the weights and parchment and bake until the bottom is lightly golden, 15 – 18 minutes longer.
While the crust bakes, make the filling:
Combine the squash and sweet potato purees, maple syrup, sugar, spices and salt in a medium, heavy-bottomed saucepan. Place over a medium flame and bring to a sputtering simmer, stirring frequently with a heat-proof silicone spatula, 5-7 minutes. Continue to cook the mixture, stirring constantly, until thick and shiny, 10-15 minutes longer.
Whisk together the eggs, dairy and vanilla in a large measuring cup, then slowly whisk the dairy mixture into the hot squash mixture until combined. Pour the custard through a fine-mesh sieve and into a large bowl or measuring cup, and use a spatula or ladle to work the mixture through. (I have two strainers: one is super-fine, and one is medium-fine. The superfine one makes for the smoothest filling, but takes forever; this time, I gave up and used the medium one.) Re-whisk the mixture.
Place the hot, par-baked crust on its rimmed baking sheet in the lower rack of the oven (still set to 400º), and carefully pour in the hot filling.
Bake the pie at 400º for 10 minutes, then decrease the temperature to 300º and bake for another 20-35 minutes. The outer edges should be set and slightly puffed, the center should wobble like jello, and an instant read thermometer inserted in the center should register 175º. The pie will seem under-baked, but will continue to cook from residual heat; for this reason, the pie must cool at room temperature and not in the refrigerator.
Cool the pie at room temperature, 2 – 3 hours, then chill in the fridge for another 1-2 hours. (Cook's says you can cut the pie at room temperature, but I am always too chicken to do so, and chill mine first.) Slice into wedges and serve with whipped cream and a grating of nutmeg.
This pie is best the day it is made, but will keep in the fridge for up to 5 days.