When I got to pastry school, I expected to be handed a binder of "the best" recipes in existence. Finally I would be able to bake definitively fudgy brownies, the softest, chewiest chocolate chip cookies, and pie dough that flaked effortlessly.
Unfortunately, my teacher, Claire had other ideas.
"I'm not giving you my recipes!" she said, after I found out that the croissant recipe she'd given us wasn't her favorite. Instead, the recipes we received from Claire's pastry schooling several years earlier resulted in genoise that was flat as a pancake, ice cream that was overly eggy, and croissants that were hard.
When I specifically asked Claire for her insanely good pie dough recipe, which, she intimated, contained a secret ingredient that was not vinegar, she said solemnly, "No. Pie dough is sacred." She then added, "Some things, you have to work for."
But over the years, with inspiration from many different sources, I've learned to make beautifully flaky pie dough. It isn't exactly effortless, but after a few tries you'll be fraisage-ing and rolling out layers of dough like a pro. These few extra steps, detailed below, are well worth the lovely layers.
The science behind pie dough is this: sheets of butter layer with sheets of water and flour. When the the dough hits the oven, the butter releases steam, which elevates the layer of dough above it. The more defined layers you have, the more flaky, puffy and layered your dough is.
The key to getting these layers involves leaving big chunks of cold butter in the dough that can become sheets, and creating multiple, stacked layers of these butter sheets. Additionally, keeping the dough tender ensures a finished product that will flake delicately at the touch of a fork.
Ways to keep the dough tender are:
1) Keep the dough on the dry side, since water activates the glutens which toughen the dough.
2) Don't overwork the dough, as this not only develops the glutens, it also makes the butter chunks disappear into the dough, resulting in fewer and less-well-defined layers.
3) Add something acidic to the dough to help tenderize the glutens, such as sugar, lemon juice, vinegar, sourdough starter (recipe here) or cultured dairy. Buttermilk seems to give me the best dough, but sour cream or plain yogurt will work, too. (And Heidi Swanson uses beer for her liquid.)
I like to use some whole grain flour in my dough for depth of flavor, usually spelt as it is low in gluten and full of healthy fiber and vitamins. I primarily like the flavor, but it also makes me feel a little less guilty about eating all that butter. However, using all white flour will create an even lighter and puffier dough, but it will taste more bland, in my opinion. Feel free to experiment with other flours, such as rye, barley, cornmeal, whole wheat, graham, or kamut. And this looks like a good gluten-free variation.
Below is a step by step pictorial for making the flakiest and most flavorful all-butter pie dough that I know how to make. (If you're already a pie dough making fool, skip to the recipe and short version of the instructions below.)
1) Start with good ingredients. Fresh, European-style butter with a higher fat content than the standard stuff will make the richest and most flavorful crust. Use sea salt or kosher salt, which tastes milder than harsh table salt. And be sure your flours are fresh, too.
2) Make ice water. Fill a 1 cup measuring pitcher with ice, then top with water. Let it do its thing while you...
3) Incorporate the butter. Cut the butter into 1/4" slices, re-chill for 10 minutes if they have softened, then add the butter to the other ingredients. I like to use a stand mixer fitted with the paddle, as it quickly breaks up the butter pieces, and I have more control than with a food processor. Alternately, use your fingertips, a pastry cutter, or two butter knives. Break up the butter until the texture looks like gravel, with many large chunks of butter that are the size of peas or almonds (about 1/4").
4) Add the liquid. In another measuring pitcher, combine the buttermilk and ice water, 1/4 cup of each. It is best to incorporate the liquid by hand until you get a feel for it; then you can dribble it right into the mixer running on the slowest speed. For now, use a sturdy silicone spatula to toss the dough around as you slowly dribble in the liquid. Add the liquid directly to the dry bits, which like to hang out at the bottom of the bowl. When the dough has enough moisture, you can squeeze a bit in your hand and it will stay clumped together. You want enough moisture so that the dough holds together and rolls easily, but if you add too much, you will get a tough dough, and your dough will spring back when you roll it out.
Now you have a choice: you can stop here, and have a tender dough that is mostly crumbly with some flake. In this case, gather the dough into a ball, flatten it into a disc, slip it into a plastic bag, and chill it for an hour.
For a flakier dough, proceed to the next step.
5) Voulez-vous fraisage avec moi? Fraisage is the fancy French term for scraping the dough across the counter with the heel of your hand. This step starts to create a network of layers and bring the dough together; I now always fraisage. Divide the dough roughly into 12 portions, and scrape each across the counter with the heel of your hand. This flattens the butter chunks into sheets. As you fraisage, work quickly so that the butter stays cold. (If at any point the butter starts to feel sticky, no worries - just stick it back in the fridge for 10 minutes or so.) Use a plastic or metal bench scraper to scrape up the dough into a ball. Flatten the ball into a disc and slip in into a plastic bag to chill in the fridge. You can stop here for a pretty flaky, tender crust, or continue to the next step for the flakiest dough of all.
6) Roll, fold roll. This is the technique used to make croissant dough, danish dough, and puff pastry, and it creates more and thinner layers for dough that is super flaky and tender. On a lightly floured surface, roll the dough out into a large rectangle that is about 18x 12", and 1/4" thick. Use just enough flour on the counter, rolling pin, and your hands to prevent the dough from sticking. Roll in long strokes, starting in the center and pushing away from you to the outer edge. Flip and turn the dough as you work, trying to keep it as even as possible. Use a dry pastry brush to brush off excess flour from the dough as you work.
Fold the dough into thirds lengthwise, like folding a letter, then start with a skinny end and roll the dough up into a loose spiral. Work quickly, and if the dough starts to get sticky or springy at any point, place it back in the fridge for 15 minutes or so. For the ultimately flaky dough, similar to puff pastry, repeat the roll, fold, roll process a second time. Flatten the dough slightly, slip into a plastic bag, and chill.
7) Now that you have beautiful, layered dough, you can use it now, or save it for later. The dough will keep for up to 2 days in the fridge, but it will oxidize and turn an unappealing grey if left for much longer. Alternately, double wrap the dough in freezer-safe bags and freeze for up to several months. (In this case, defrost in the fridge for 12 hours before using.) If using the dough now, chill it for an hour to relax the glutens and chill the butter.
8) Put it in a pie pan. Roll the dough out into a rough rectangle, then cut it in half. Put one half on a lightly floured counter and roll the dough out into a 12" round. This dough will want to be rectangular, but that's ok - we have enough to cut off the corners and still have enough in the pan. See directions in step 6 for tips on rolling out dough.
When the dough has been rolled out, pick it up and put it in your 9" pie pan. (Note: the material of your pan will conduct heat differently, making for different baking times. I use a glass pie pan, and the baking times here are for glass. Metal pans will probably have shorter baking times.) If your dough has been properly moistened, fraisaged and folded, it should be easy to move. If the dough tears, don't worry - just press it back together, or use dough scraps to patch the holes. Ease the dough into the pie pan. Try not to stretch the dough, rather cram it in the pan so that there's enough excess as possible to allow for shrinkage, which will occur in the oven. If you're making a double crust pie, our work here is done; see instructions in your recipe. If making a single crust pie, proceed to step 9.
9) Make it pretty. Once the dough is in the pan, trim the overhang to 1 inch. Tuck the overhang under the lip of the dough.
Flute the edge by using the thumb and forefinger of your left hand and the thumb of your right hand to press the dough into a pretty shape. Save the scraps in case you need to patch the dough after it parbakes. (Or press them together, roll them into a rectangle, sprinkle them with cinnamon sugar, and slice them into mini cinnamon swirls. Bake these alongside the crust for a pre-pie treat.)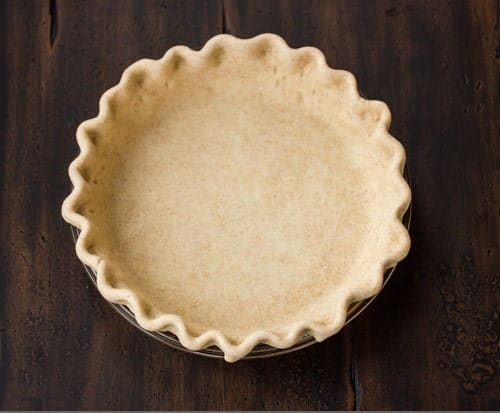 10) Chill. Once the dough is in the pan, it is very important to let it chill. Chilling relaxes the glutens and allows the starches in the dough to absorb moisture; both help prevent the dough from shrinking. Nothing sucks more than shrunken dough after all this hard work! Chill the dough in the fridge for 20 minutes, then freeze it for 20 minutes. The first chilling allows the dough absorb moisture and relax the glutens, and the freezing makes the crust sturdier and helps it better hold its shape.
11) What's up, dock? Docking the dough means pricking it all over with the tines of a fork. This will prevent it from puffing and bubbling up in the oven. Don't worry about the tiny holes, they'll seal themselves up as the dough bakes. Continue on to the next step if you need to blind bake (bake the crust by itself) your crust. Parbaking is usually a good idea as it gives the dough a head start in creating a crisp barrier for moist pie fillings, which will otherwise make it soggy.
11) It ain't heavy, it's my pie weights. You need something in your crust to help hold the sides up so they don't slip down when the butter in the dough melts in the oven. Line the dough with a sheet of parchment paper (my preference) or aluminum foil, and fill to the top with pie weights (my preference), dried beans, or clean pennies, pressing them into the corners and sides. Pie weights are little ceramic balls that are heavy and expensive, but they last indefinitely and work the best for keeping your dough aloft. I use a combination of pie weights and garbanzo beans that have been around for longer than I want to think about.
12) Get baked. Position a rack in the lower third of your oven and preheat to 400ºF. If you have a baking stone, put it on the rack; it will help get your dough bottom hot ASAP. Place the pie pan on a rimmed baking sheet to catch any butter drips. Bake the crust until the edges are golden and the bottom is dry; you'll have to peek under the parchment to find out. Err on the side of overbaking here, as underbaked edges will slump down once you remove the weights. When the bottom is dry, remove the weights, and bake the crust until lightly golden, another 5-10 minutes (for a parbaked crust that will get baked more once filled) or until deeply golden, another 10-15 minutes (for a fully baked crust).
13) Protect the edges. If your parbaked dough needs a long bake once filled, say more than 45 minutes, you can easily protect the edges from burning. Cut two 15" long rectangles of foil and place them on the counter in a criss-cross. Place the pie pan in the center of the cross, and fold up the edges of foil, crimping and folding them so that they cover just the edges. (Note: this is easier to do when the crust is cool.)
Congratulations, you did it!
Here are some uses for your beautiful pie dough (a.k.a. Ins-pie-ration):
Meyer Lemon Buttermilk Pie
Cranberry Apple Crumble Pie
Creamiest Pumpkin Pie
Pecan-Topped Sweet Potato Pie
Maple Bourbon Pecan Pie
Berry Crumble Pie
Nectarine Crème Fraîche Pie
Apricot Cherry Foldover Pie
Apple Huckleberry Pie
Huckleberry Fig Crumble Tart
Roasted Eggplant Tomato Tart
Zucchini Tomato Tart
Bacon, Leek and Fennel Quiche
Roasted Winter Squash and Sage Tart
Pear, Blue Cheese and Hazelnut Tart
Apple Custard Tart
Persimmon Galettes
Rhubarb Chèvre Galettes
Apple Rhubarb Pandowdy
*Bojon appétit! For more Bojon Gourmet in your life, follow along on Instagram, Facebook, or Pinterest, purchase my gluten-free cookbook Alternative Baker, or subscribe to receive new posts via email. And if you make this all butter pie dough recipe, I'd love to know. Leave a comment and rating below, and tag your Instagram snaps @The_Bojon_Gourmet and #bojongourmet.*
Flakiest All-Butter Pie Dough
Print Recipe
Pin Recipe
The only pie crust recipe you will need!
Servings:
12
servings (2 single crust pies, or 1 double crust pie).
Ingredients
1 1/2

cups

all-purpose flour

(7 1/2 ounces)

1

cup

whole spelt (or whole wheat pastry) flour

(4 1/2 ounces)

2

teaspoons

sugar

1

teaspoon

fine sea or kosher salt

8

ounces

cold, unsalted butter, sliced 1/4" thick and chilled

(16 tablespoons/2 sticks)

1/4

cup

well-shaken buttermilk

(2 ounces)

1/4

cup

ice water, more as needed

(2 ounces)
Instructions
Make the crust:
In a large bowl (or in the bowl of a stand mixer fitted with the paddle attachment), stir together the flours, sugar and salt to combine. Scatter the butter slices over the flour, and rub in with your fingertips until the mixture resembles sand with lots of pea- and almond-sized butter chunks. Stir together the buttermilk and ice water. Drizzle this mixture over the flour mixture, 1 tablespoon at a time, tossing with a rubber spatula, until the dough will hold together when you give it a squeeze, adding more ice water by the teaspoon directly to the dry bits as needed.

You can call it here, or you can do either or both of the steps below for extra flake:
Option 1 - fraisage:
Dump the dough out onto a counter, divide it roughly into 12 portions, and fraisage by dragging a portion of dough across the counter using the heel of your hand. Scrape up the dough (a metal bench scraper works well here), gently press it into a ball and flatten into a disc. Slip it into a plastic bag, and chill for at least 30 minutes or up to 2 days.
Option 2 - roll, fold, roll:
On a lightly floured surface, roll the chilled dough out into a rough square that is about 1/4" thick. Fold it in thirds like you're folding a letter, then roll up from a skinny end into a loose spiral. Gently press to flatten it slightly, and chill for 30 minutes to 1 hour.

Remove the dough from the fridge, unwrap, and place on a lightly floured surface. Roll out the dough into a 12" circle, dusting the dough lightly with flour as needed, rotating and flipping it to prevent it from sticking. Ease the dough into a 9" glass pie plate, fit it into the corners, and trim it to a 1" overhang.

If making a double-crust pie, stop here and consult your recipe. For a single crust pie, proceed as directed.

Fold the overhang of the crust under, and flute the crust by pressing it between the thumb of one hand and the index finger and thumb of the other hand.

Chill the crust for 20 minutes, then freeze it for at least 20 minutes, until solid.

Position a rack in the lower third of the oven and preheat to 400º. Remove all other racks from the oven. If you have a baking stone, put it on the rack.

Place the frozen crust on a rimmed baking sheet. Line it with a piece of parchment paper, and fill to the top with pie weights, dry beans, or clean pennies, pressing the weights into the sides and corners of the crust.

Bake the crust for 15-20 minutes, until the dough will hold its shape when you lift off the parchment, then carefully remove the weights and parchment and bake until the bottom is dry and lightly golden, about 5 minutes longer (for a parbaked crusor until deeply golden, 10-15 minutes (for a fully baked crust).
Notes
With inspiration drawn from Smitten Kitchen, Martha Stewart, Baking Illustrated, and Heidi Swanson.
If you lack buttermilk, substitute sour cream, plain yogurt, or just more ice water.
You can make the pie dough in a stand mixer, with a paddle attachment, on low speed if you prefer. If only making a single crust pie, keep the extra portion of dough double-wrapped in the freezer for up to a couple of months. (Defrost in the fridge overnight, then roll it out and proceed with any single-crust pie recipe.)
I use a glass pie pan, and the baking times here are for glass. Metal pans will likely have shorter baking times, as metal conducts heat better than glass, so keep an eye on your pie if using a metal pan.
I haven't braved gluten-free pie dough yet, but these are two recipes that look like good ones to try.
Nutritional values are based on one of twelve servings.
Nutrition
Calories:
238
kcal
Carbohydrates:
20
g
Protein:
3
g
Fat:
16
g
Saturated Fat:
10
g
Cholesterol:
41
mg
Sodium:
202
mg
Potassium:
28
mg
Fiber:
2
g
Sugar:
1
g
Vitamin A:
480
IU
Calcium:
13
mg
Iron:
1.2
mg
Strawberry Rhubarb Crème Fraîche Crumble Pie