Moist and lofty gluten-free pumpkin muffins made in 45 minutes. This well-tested, foolproof recipe bakes up with a floofy, tender crumb, not-too-sweet taste, and just the right amount of pumpkin spice.
These healthy pumpkin muffins use whole-grain gluten-free flours and no refined sugar, xanthan gum, or nuts. I've also included several allergy-friendly variations that I've personally tested: dairy-free, vegan, and low-FODMAP.
Thanks to Bob's Red Mill for sponsoring this post! All opinions are my own.
These gluten-free pumpkin muffins officially hold the title of most tested recipe on TBG. Guess how many times I tested them ?
Fourteen. Fourteen times. It even bested the cookie recipe in my cookbook that took 10 tries to get just right. I thought I was going to turn into a pumpkin muffin. Thankfully they're so delicious that even the textural fails were happily devoured warm from the oven.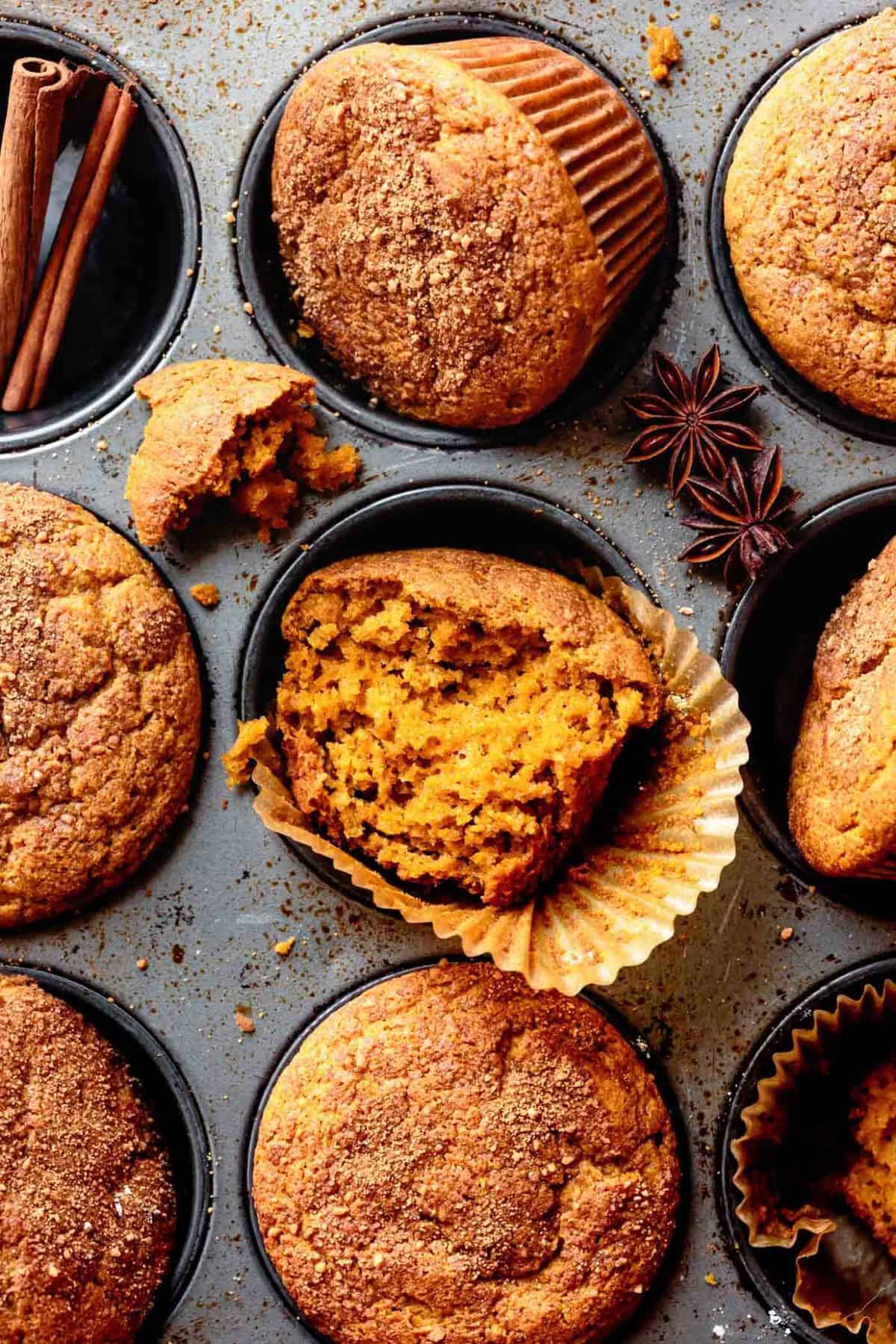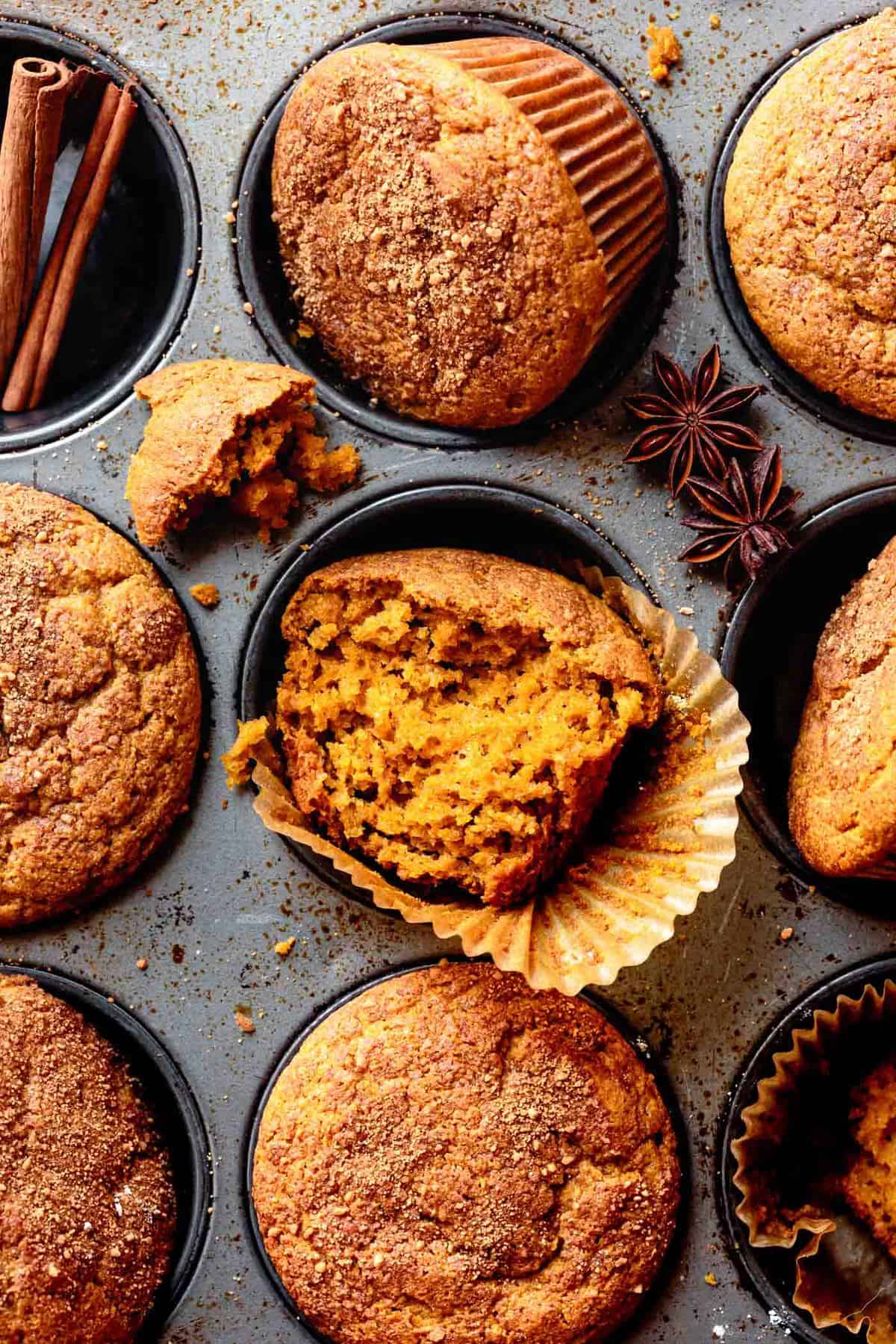 In Search of the Best Gluten-Free Pumpkin Muffin Recipe
A quickbread recipe wouldn't normally take me so many tries, but I wanted the recipe to be accessible to as many folks as possible. I adapted the recipe from one of my favorite pumpkin recipes – this gluten-free pumpkin bread – which uses a good number of eggs to help fluff up and set the crumb.
But I know that many of my readers also have egg allergies. So I set out to find a formula that would work equally well with flax egg, my preferred egg substitute since I always have flaxseed meal on hand. I also wanted these muffins to be naturally sweetened with unrefined sweeteners.
So I experimented with different gluten-free flours, flax egg ratios, sweeteners, and mixing methods. I finally landed on this formula, which I'm so excited to share with you!
I'm so excited to share the results. These GF pumpkin muffins are everything I'm craving right now. They're:
Here's what some happy bakers had to say about them:
Legitimately the best pumpkin muffin I have ever made. Not too sweet, texturally super fluffy and perfect, just YUM! Also it's so hard to believe they're free of refined sugar, gluten, and dairy -- you'd never know it. These will be on repeat ALL fall (and winter...and spring...and probably summer because who am I kidding).

-Emma
Another winner! Light and moist and flavorful and I'm afraid I'm going to eat too many if someone doesn't stop me!

-Trish
Most of the photos shown here are of the eggy, dairy-y muffins, but keep scrolling for a side-by-side comparison of the vegan gluten-free pumpkin muffins!
Ingredients and Substitution Suggestions
This recipe comes together with a handful of baking ingredients. I use these ingredients in lots of recipes, so it's totally worth seeking them out to make the most gloriously delicious pumpkin muffins.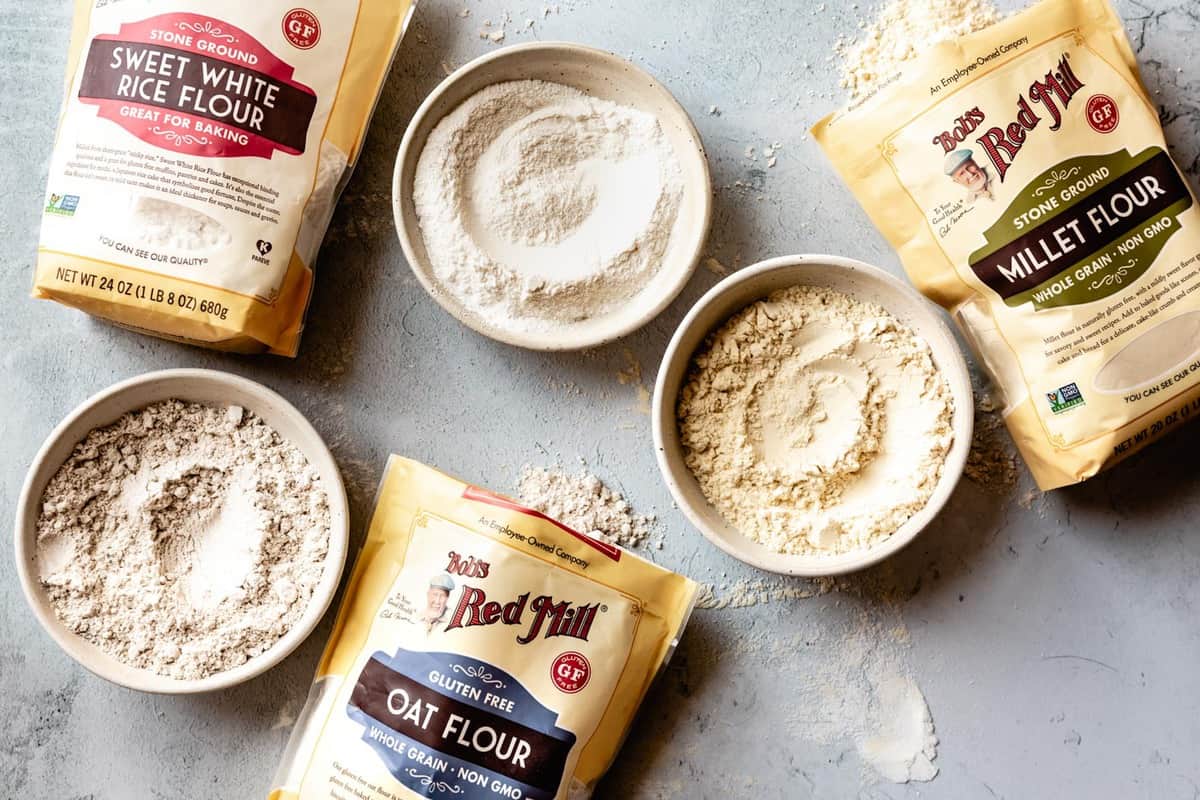 The best flours for gluten-free muffins
A few gluten-free flours work together to create an airy, springy crumb with some hearty whole-grain flavor. I use Bob's Red Mill flours which are milled in a certified gluten-free facility.
How to Make Pumpkin Muffins
Once you've gathered your ingredients, gluten-free pumpkin spice muffins will be yours in under an hour! These are so easy to make.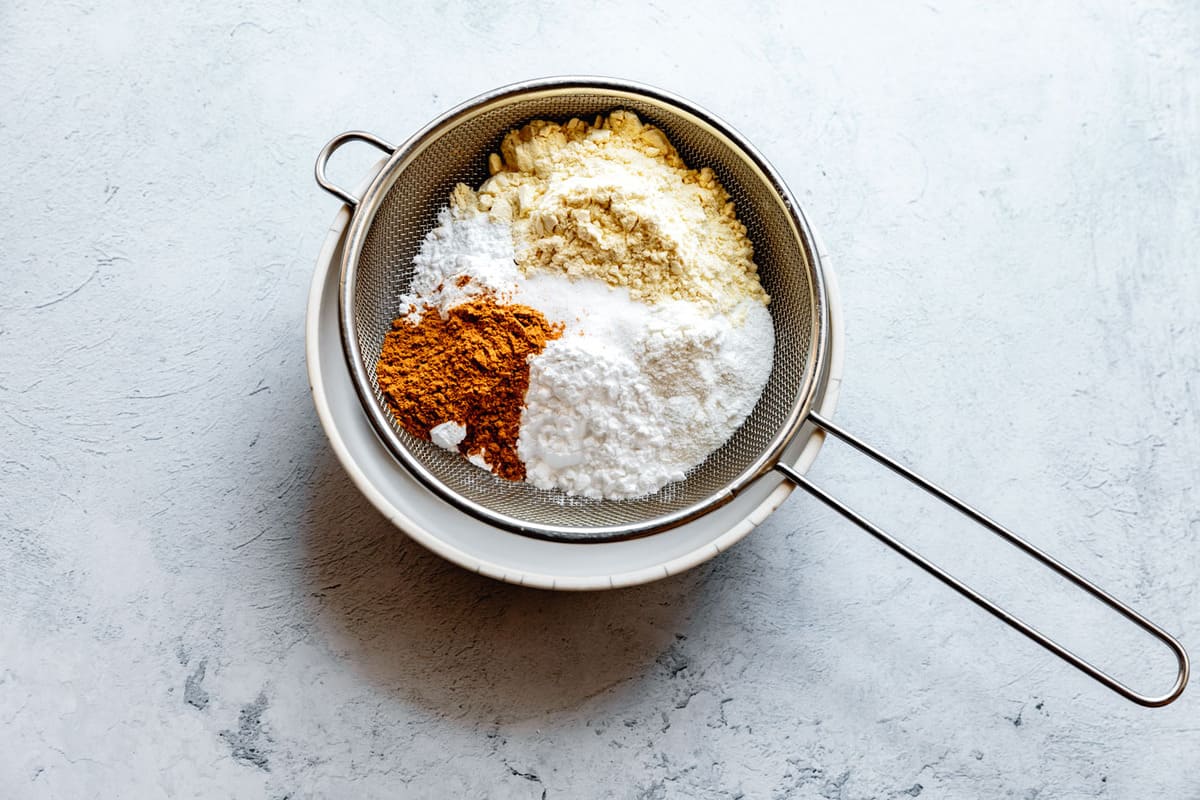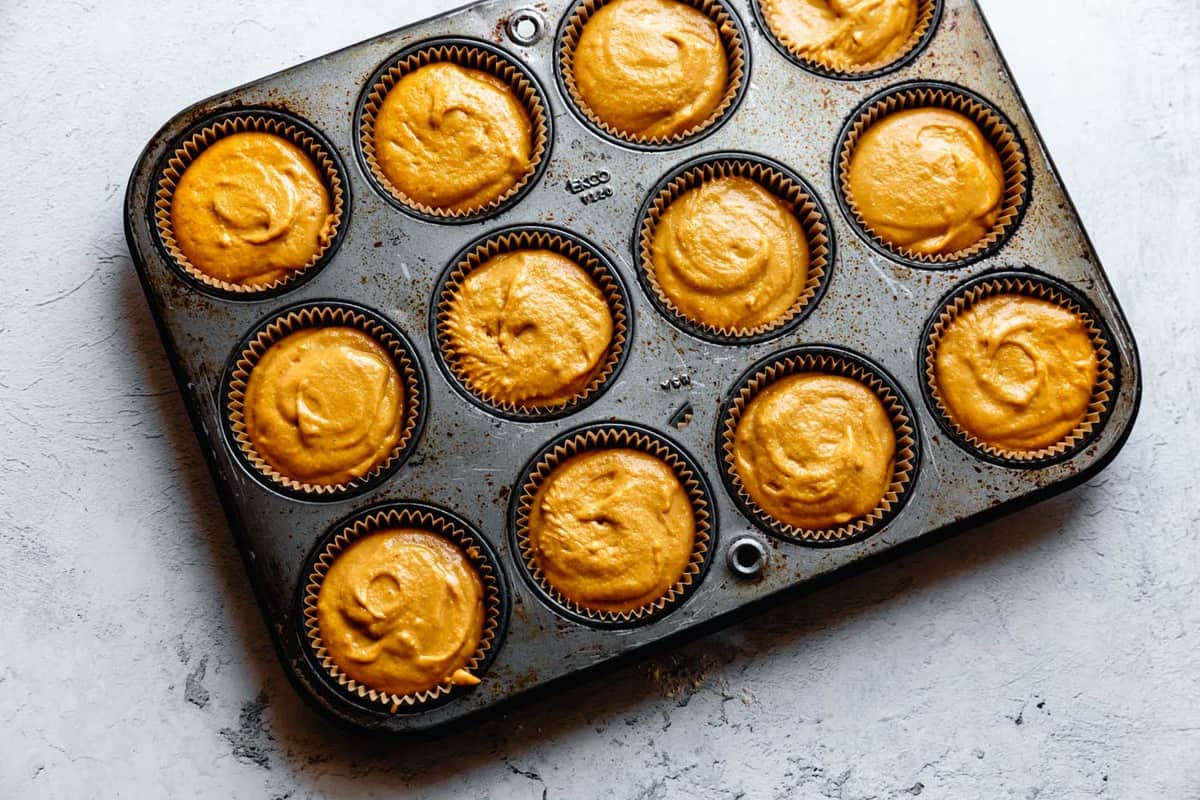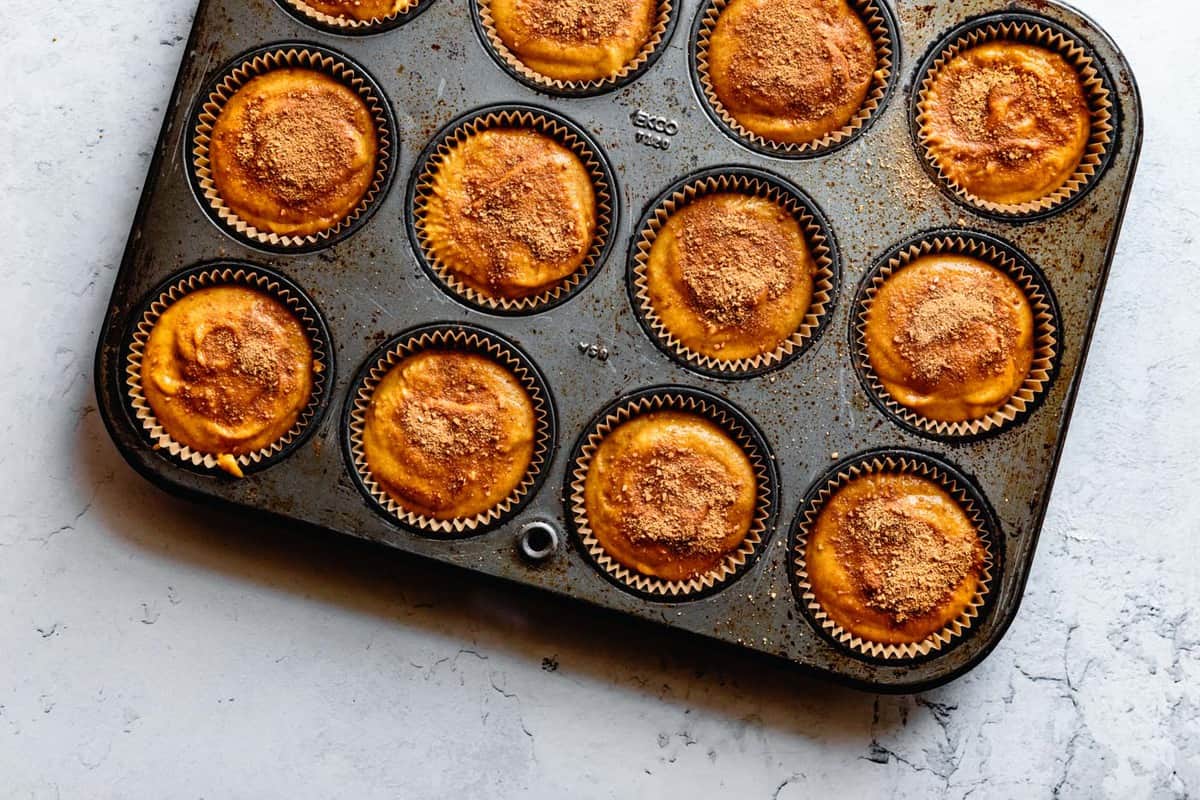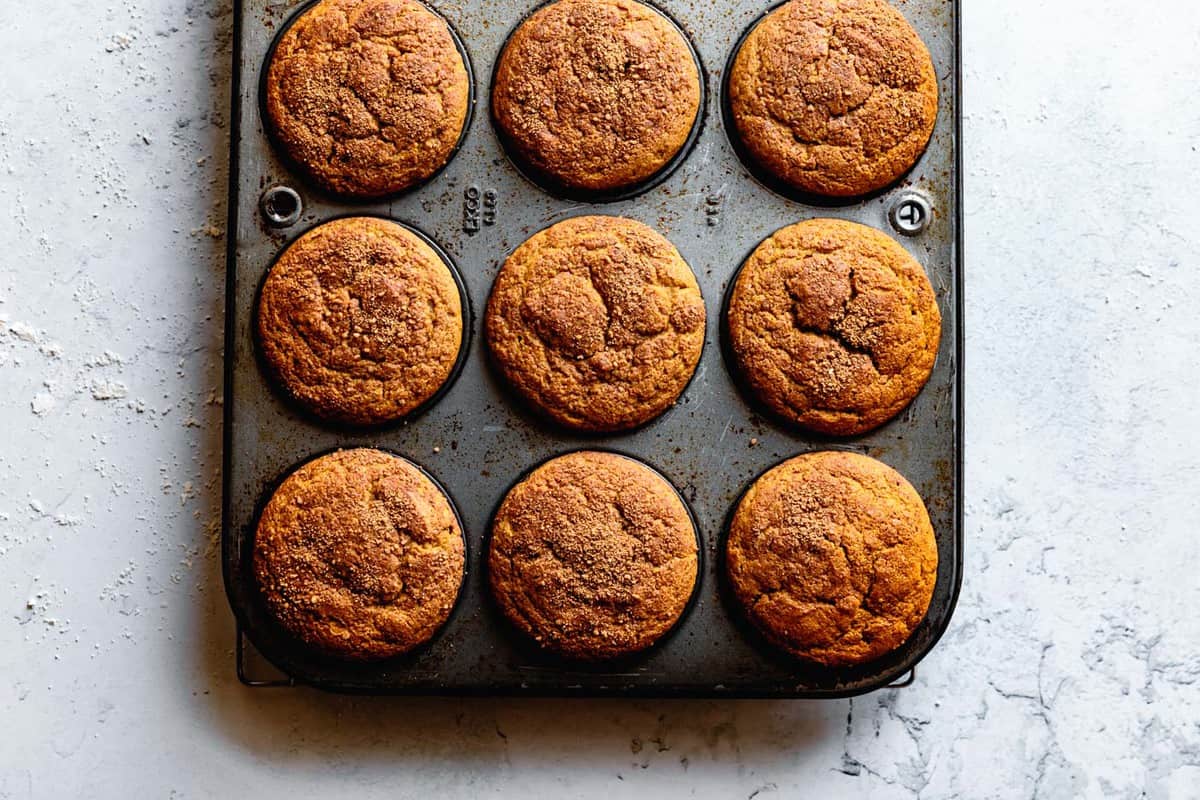 Gluten-Free Pumpkin Muffins for Everyone: Allergy-friendly options
These healthy gluten-free pumpkin muffins are refined sugar-free, nut-free, and gum-free. I've tested the following versions to make them even more allergy-friendly.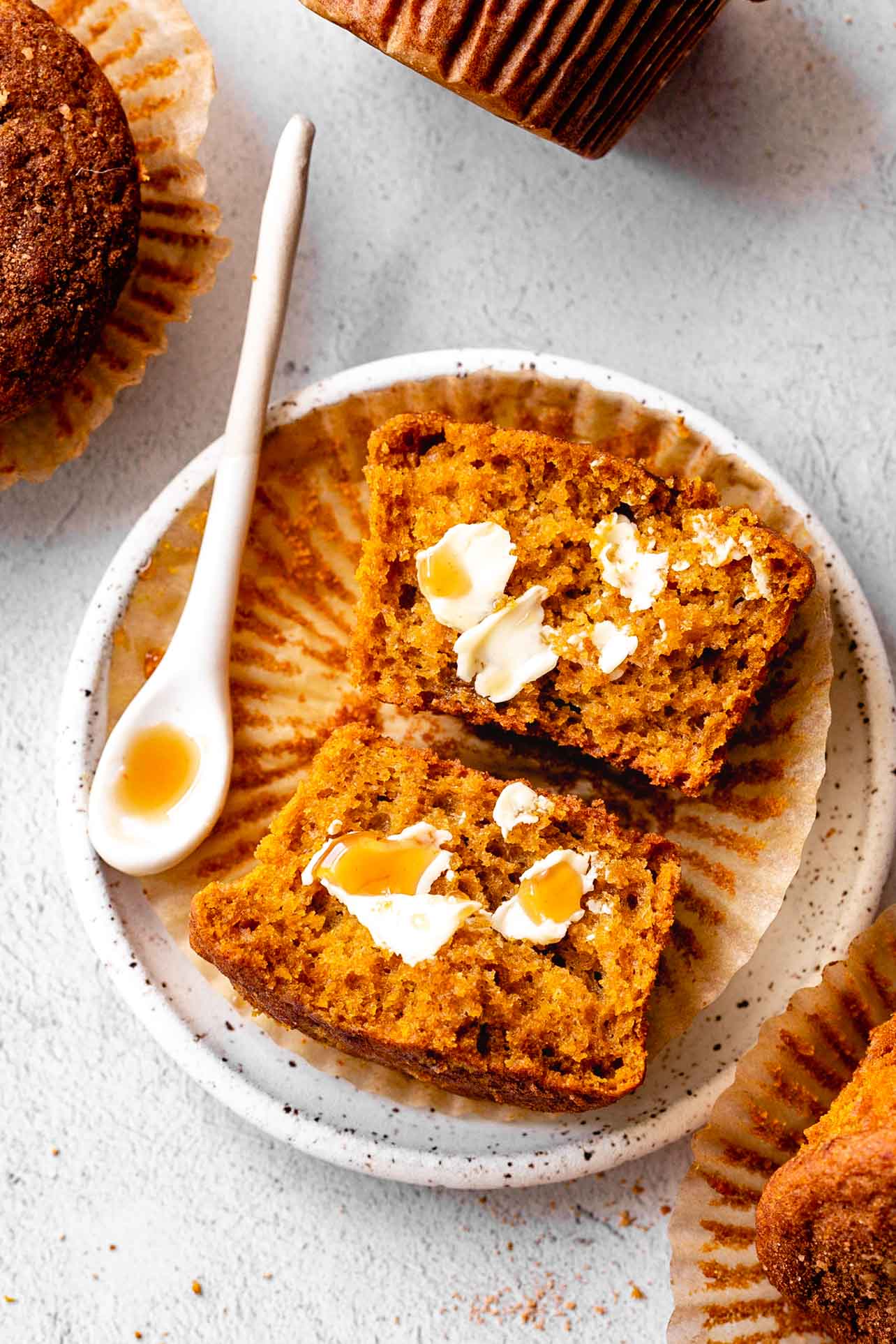 Dairy-Free Pumpkin Muffins
Use plant-based sour cream, Greek yogurt, or rich coconut yogurt in place of the sour cream. I tested these with Cocojune plain yogurt, which is made with just coconut, cassava root, and cultures. My other favorite brand is Culina.
Egg-Free Pumpkin Muffins
Make flax eggs by combining 2 tablespoons flaxseed meal with 6 tablespoons hot water and let sit until thick.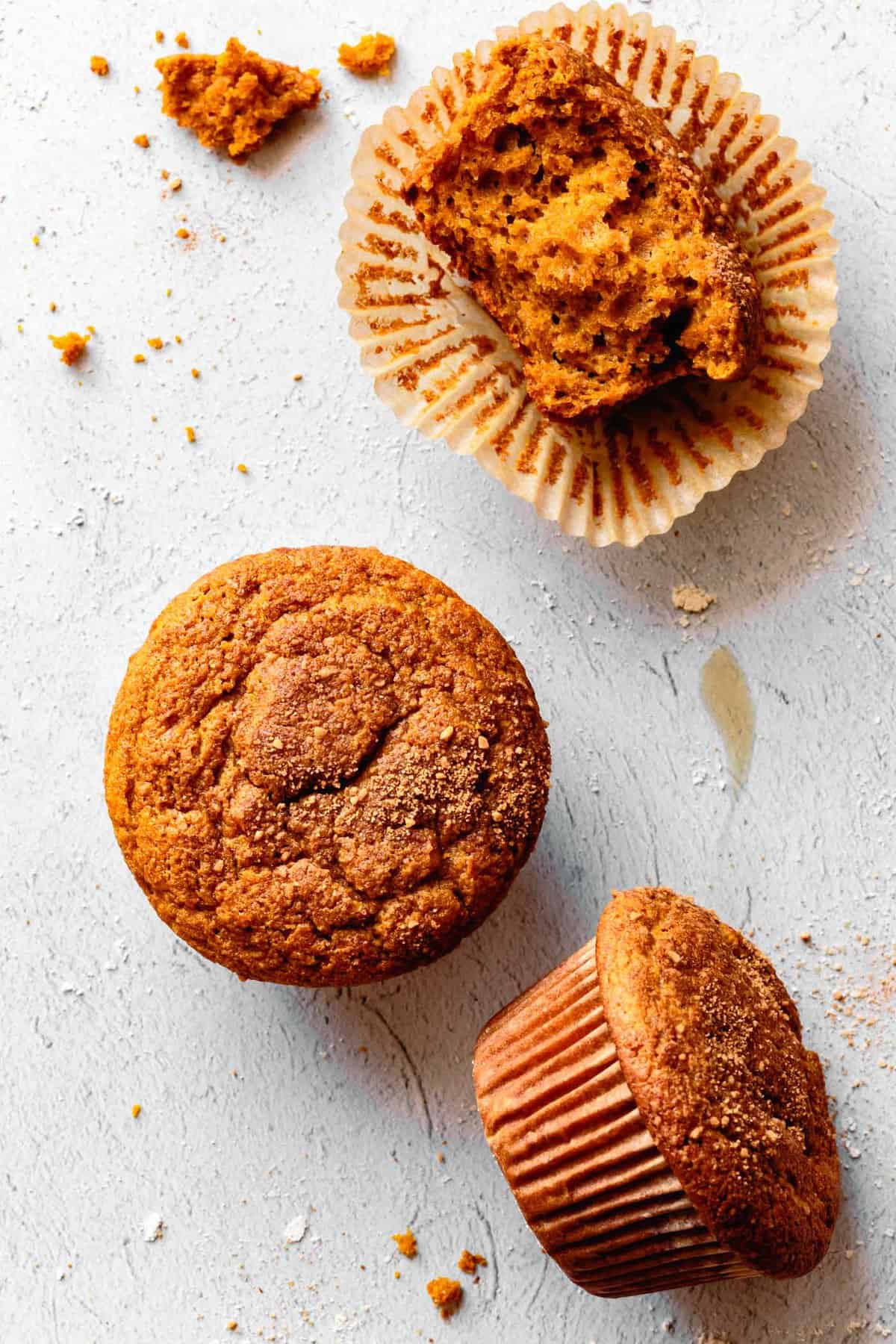 Vegan Pumpkin Muffins
Use plant-based dairy and flax eggs.
Here's a side-by-side comparison of the regular recipe (left) next to the vegan recipe (right). The vegan muffins are a little more delicate and slightly more dense, but still completely delicious.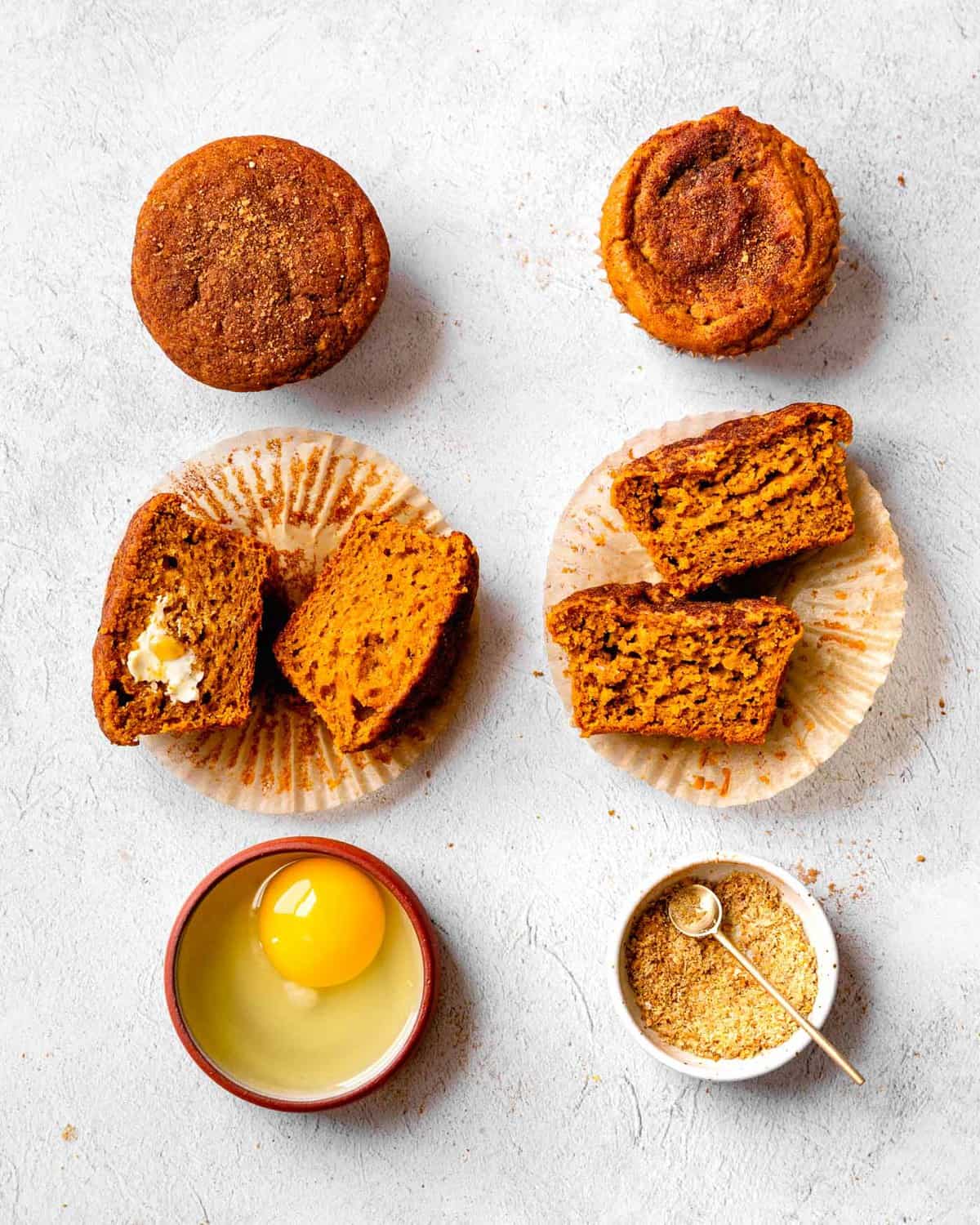 Low-FODMAP Pumpkin Muffins
These muffins also happen to be low-fodmap, for those following a low-fodmap diet for medical reasons. For fewer fermentable carbs, use lactose-free sour cream and swap the coconut sugar for maple sugar or organic granulated sugar.
Variations
A few ideas to play with!
Gluten-Free Pumpkin Chocolate Chip Muffins
Stir 1/2 cup dark chocolate chips or chopped bittersweet chocolate into the batter.
Gluten-Free Cheesecake Muffins
Back in my first year of blogging, before I had a good camera or any photography experience, I shared a glutenous pumpkin cheesecake muffin recipe. Use that cheesecake filling and method with this batter and you'll have yourself some gluten-free pumpkin cheesecake muffins! I'd recommend making the batter into 14 muffins since the cheesecake filling will add extra volume.
Gluten-Free Pumpkin Cupcakes
Omit the cinnamon sugar sprinkle and top the baked muffins with low-sugar cream cheese frosting, vegan cream cheese frosting, or paleo cream cheese frosting for healthier gluten-free pumpkin cupcakes.
GF Pumpkin Streusel Muffins or Pumpkin Crumb Muffins
Make a batch of gluten-free streusel and use it to top the muffins instead of cinnamon sugar.
Gluten-Free Pumpkin Coffee Cake
Spread the batter in a 9-inch springform pan and top with gluten-free streusel for pumpkin coffee cake dreams. You could fold some fresh cranberries into the batter if you liked!
Serving Suggestions
These tender oat flour pumpkin muffins need little accompaniment, but here are some ideas for how to enjoy them even more:
Can I Freeze These Muffins?
Yes, these gf pumpkin muffins freeze beautifully. Here's how:
Place the cooled muffins on a small baking sheet and place in the freezer until they're firm.
Transfer to a freezer-safe container or zip-top bag and store for up to 2 months.
To enjoy, place a frozen muffin in a 325ºF oven or toaster oven until heated through, 10-15 minutes.
However you serve up these gluten-free pumpkin muffins, I hope you enjoy them as much as we do!
*Bojon appétit! For more Bojon Gourmet in your life, follow along on Instagram, Facebook, or Pinterest, purchase my gluten-free cookbook Alternative Baker, or subscribe to receive new posts via email. And if you make this vegan gluten-free pumpkin muffin recipe, I'd love to know. Leave a comment and rating below, and tag your Instagram snaps @The_Bojon_Gourmet and #bojongourmet.*
Gluten-Free Pumpkin Spice Muffins with Oat Flour
Print Recipe
Pin Recipe
Moist & lofty gluten-free pumpkin muffins made in 45 minutes with whole-grain flours and unrefined sweeteners. Well-tested, foolproof recipe, with tested dairy-free and vegan options too.
Ingredients
Topping:
1

tablespoon

maple or coconut sugar

½

teaspoon

ground cinnamon
Instructions
Position a rack in the upper third of the oven and preheat to 350ºF. Line 12 standard-sized muffin cups with paper liners or rub with room temperature butter or coconut oil.

In a large bowl, whisk together the egg, pumpkin puree, olive oil, coconut sugar, maple syrup, and sour cream until smooth.

Place a strainer over the bowl and sift in the oat, sweet rice, millet, and tapioca flours with the baking powder, baking soda, salt, and spices.

Whisk the batter until smooth. Let sit for a few minutes to thicken (this makes it easier to scoop into the cups) and use a large spoon or spring-loaded ice cream scoop to fill the muffin cups almost to the top. Gently smooth the tops.

Mix together the maple sugar and cinnamon and sprinkle over the tops of the muffins.

Bake the muffins until the tops are domed, spring back when poked, and a toothpick inserted in the middle of a muffin comes out with moist crumbs, 20 – 30 minutes.

Let the muffins sit for a few minutes to firm up, then carefully remove them to a wire rack to let them cool.

They are most delicious within a few hours of baking, but will keep, covered, at room temperature for a day or too. Refrigerate or freeze for longer storage.
Notes
*Ingredient Subs:
For eggs, sub 2 tablespoons flaxseed meal (14 g) mixed with 6 tablespoons (90 g) hot water. Let sit until thick, 10-20 minutes.
For olive oil, sub an

other neutral oil such as sunflower or grapeseed

For coconut sugar, sub by weight

maple sugar, date sugar, or granulated or brown sugar.

For dairy-free, use rich coconut yogurt, vegan sour cream, or dairy-free Greek yogurt in place of the sour cream
For oat flour, substitute by weight sorghum flour, teff flour, or chestnut flour.
For sweet rice flour, substitute by weight GF AP flour (such as Bob's Red Mill 1 to 1) or cassava flour.
For millet flour, substitute by weight sorghum flour, teff flour, or buckwheat flour.
For golden pumpkin spice blend, substitute store-bought pumpkin pie spice or use the following quantities for a single batch of muffins:
1 1/8 teaspoons ginger
1 teaspoon cinnamon
1/4 + 1/8 teaspoon nutmeg
1/4 + 1/8 teaspoon turmeric
1/8 teaspoon allspice
Vegan GF Pumpkin Muffins:
Omit the egg and use 2 tablespoons flaxseed meal (14 g) mixed with 6 tablespoons (90 g) hot water. Let sit until thick, 10-20 minutes, stirring once or twice, and add to the wet ingredients. Use rich coconut yogurt, vegan sour cream, or dairy-free Greek yogurt in place of the dairy sour cream.
To Freeze:
Place muffins on a small baking sheet and freeze until firm, 1-2 hours. Transfer to a freezer-safe container or zip-top freezer bag and store for up to 2 months. To serve, heat in a 325º oven or toaster oven until warmed through.
Nutrition values are for 1 of 12 servings.
Nutrition
Calories:
220
kcal
Carbohydrates:
26
g
Protein:
3
g
Fat:
12
g
Saturated Fat:
2
g
Polyunsaturated Fat:
2
g
Monounsaturated Fat:
7
g
Trans Fat:
1
g
Cholesterol:
30
mg
Sodium:
216
mg
Potassium:
201
mg
Fiber:
2
g
Sugar:
8
g
Vitamin A:
3248
IU
Vitamin C:
1
mg
Calcium:
66
mg
Iron:
1
mg