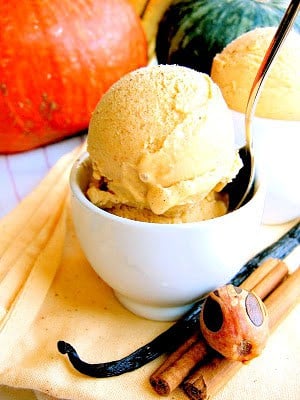 What's the antidote for when the Indian Summer Blues encroach upon the Pumpkin Dessert Window?
Pumpkin Ice Cream, of course!
Pumpkin ice cream conveys all the toasty flavors of pumpkin pie in a chilly ice cream, which refreshes on the warmest Indian Summer day. But creating a pumpkin ice cream which is smooth in texture, but still orange in color and pumpkin-y in flavor, can be difficult, as the starch and water in pumpkin can give the ice cream a pasty and/or icy consistency. Getting the balance of spices right can pose a challenge, too.
I tried making pumpkin ice cream several years ago, but, sadly, never got to taste the end result. Unable to find a recipe that looked just right, I worked to create one of my own. I researched several recipes and combined the things I liked about each into one. I then roasted and pureed the flesh of a winter squash, steeped whole spices in warm cream, separated eggs, stirred the custard, chilled the base, and (finally!) spun the ice cream. I scraped the ice cream into a container, and hurried off to work.
A good friend from college, who I'll refer to as Utah, was staying with me, and after work, we met up at the Hardly Strictly Bluegrass Festival in Golden Gate park, after which we went directly to the renowned SF restaurant Jardiniere, where a friend was working as a pastry cook. We returned home very late, stuffed. But that did not deter Utah, who, upon learning of the pumpkin ice cream in the freezer, enthusiastically accepted a taste. I handed him the whole container, then passed out in a butter- and booze-enhanced coma. I awoke early to see Utah off to his next destination, and excitedly anticipated finally getting to taste the pumpkin ice cream. People eat pumpkin pancakes, slathered with butter and maple syrup, for breakfast, and those have very similar ingredients, I reasoned in my hungover state, hence a breakfast of pumpkin ice cream was OK.
But when I opened the freezer, the ice cream was gone. I stared at the empty freezer, trying to fathom how Utah, who is quite svelte, and claims that chocolate is too rich and makes him feel 'disgusting,' could have sucked down an entire quart of ice cream after the huge meal and five desserts we had enjoyed not an hour before. I closed the freezer and opened the fridge, hoping to find some yogurt to absorb the alcohol which still seemed to be sloshing around in my belly. But instead I found…
the pumpkin ice cream. Or at least, it used to be pumpkin ice cream. Now it was pumpkin sludge. Utah had apparently taken one taste, then absentmindedly (or alcohol-present-mindedly) put it back in the fridge.
(Don't worry, Utah, I still love you.)
If you've ever tried, you know that re-freezing melted ice cream does not work. Not even re-churning ice cream will return it to the texture previously known as creamy. I may have put the ice cream back in the freezer for a year; I may have felt a wave of regret every time I saw it; I may have, ultimately, defrosted it and poured it down the drain a year later, when it had formed icy crystals all over the surface. The whole event must have left me pumpkin-ice-cream-shy, because, despite my love of all things pumpkin and all things icy/creamy, I didn't brave pumpkin ice cream again until just the other day.
Luckily, my ice cream/blogging guru, David L, has since posted a pumpkin ice cream recipe, which comes from The Craft of Baking by Karen Demasco, so I combined this recipe with my recipe of yore, which I found in an old notebook. The first trial tasted excellent – until I churned it and left it in the freezer for a day. It froze into a rock-hard brick. Once cold, the spices were too faint, and the consistency was slightly pasty. So I added more sugar and cream (both of which keep the ice cream softer and more plaint when frozen), and added some ground cinnamon to the already-steeped-with-cinnamon-sticks base. (Cinnamon sticks take a lot of heat and time to release their flavor, so a combination of whole and ground works well, as per Ms. Demasco's recipe.)
The second batch stayed softer when frozen, and the spices tasted warm and bright. I took a trip to the Bi-Rite creamery, which makes possibly the best ice cream in San Francisco, to see how my ice cream stacked up to theirs. Mine was slightly more orange, presumably from more squash, but the flavor and texture seemed quite similar – smooth, creamy, and spiced gingerly. Success.
Though I call this 'pumpkin' ice cream, butternut is actually my preferred squash for desserts, as it has a denser flesh and is more consistently sweet and flavorful. In Italian, all squash are referred to as 'zucca' or 'zucche' (plural), which translates to 'pumpkin' (hence 'zucchini' or 'little pumpkins'). So I feel no guilt at the false advertising.
Pumpkin ice cream needs little embellishment, though a grating of cinnamon stick makes a pretty presentation and adds a bit more spicy oomph. Here are a few more serving ideas:
Serve a scoop on pumpkin pancakes or waffles for a decadent brunch
Sandwich between snickerdoodles, gingersnaps, ormolasses spice cookies
Nestle beside a slice of warm gingerbread or pecan pie
Blend up a pumpkin shake with milk, maple syrup and bourbon
Top with warm butter-pecan sauce
Make a pumpkin float, topped with apple-molasses cider, or pumpkin or gingerbread ale
Top with candied pepitas or pepita brittle
If you lack an ice cream maker, see David L's how-to on making ice cream without one.
But if you serve this ice cream to any inebriated friends, I would recommend putting the ice cream back in the freezer yourself.
Spice up your ice cream:
Black Pepper Ice Cream
Cardamom Ice Cream
Horchata Ice Cream
One Year Ago:
Two Years Ago:
Pumpkin Ice Cream
Inspired byThe Craft of Baking, viaDavid Lebovitz
Makes about 3 cups, or 6 – 8 servings
To make your own squash puree (butternut is my squash of choice), slice a medium squash in half lengthwise, leave the seeds in, and place the squash cut-side-down on a lightly oiled baking sheet. Roast in a 375º oven until soft and collapsing, about 45 minutes. Let cool completely, scrape out the seeds and discard, then scrape out the flesh, discarding the skins. Puree the squash in a food processor until smooth. Extra puree will keep in the fridge for up to a week, or frozen for several months.
The original recipe seemed a bit fussy to me at first; adding the squash and brown sugar at the end, using both cinnamon sticks and powdered cinnamon. But I realized that there are reasons for all of this. The acids in the squash and brown sugar can curdle the dairy if added before it has been cooked into a stable custard. And I liked the flavor of both the cinnamon sticks and grounds better than either one on their own. Additionally, I like to add the cold cream at the end, to cool down the custard more quickly and remove the necessity of an ice bath, and I've found that nutmeg's flavor is more clear when it is not heated, so I add that at the end, too.

1 cup half and half (or whole milk)
2 cinnamon sticks (3″ each)
1/4 teaspoon ground cinnamon
1 generous tablespoon coarsely chopped fresh ginger
1/2 vanilla bean, split and scraped
2 tablespoons sugar
3 egg yolks
1/8 teaspoon salt
3/4 cup heavy cream
3/4 cup roasted squash puree (see headnote)
1/3 cup unrefined sugar (such as Alter Eco brand), or packed light or dark brown sugar
1/4 teaspoon freshly grated nutmeg
In a medium, heavy-bottomed saucepan, heat the half and half with the cinnamons, ginger and vanilla bean, swirling occasionally, until the mixture begins to steam and small bubbles appear around the sides of the pot. Turn off the heat, cover, and steep for 30 minutes.
Whisk the sugar, egg yolks and salt together in a small bowl, and place the bowl on a damp towel to stabilize it. Re-warm the half and half mixture to steaming, and dribble the hot dairy into the egg yolks, whisking constantly. (This is called 'tempering,' and it prevents the yolks from scrambling.)
Return the dairy-yolk mixture to the pot, and cook over medium-low heat, stirring constantly with a heat-proof silicone spatula, scraping the bottom and sides of the pot, just until the mixture begins to 'stick' (form a thin film over) the bottom of the pot, and/or registers 170º on an instant-read thermometer.
Immediately remove the pot from the heat, and whisk in the cream, squash puree, brown sugar and nutmeg.
Pour the ice cream base through a fine-mesh strainer, working the mixture through with a silicone spatula. Cover the mixture and chill for at least 4 hours, and up to 2 days.
For an extra-cold start which will lead to creamier ice cream, place the ice cream base in the freezer for 15 minutes, stirring the mixture twice during that time.
Process the ice cream in an ice cream maker, then scrape it into a container, cover, and 'cure' in the freezer until firm enough to scoop, 1-2 hours. The ice cream will keep, covered, in the freezer for up to several months, though it is best within the first few days of being churned.