Gluten-free apple cake gets an upgrade with vanilla bean browned butter, hazelnut flour, and brown sugar all loaded with tangy apples and baked in a skillet. Serve slices of this beauty with crème fraiche or ice cream for a dreamy fall dessert. Thanks to Vermont Creamery for sponsoring this post.
Entertaining with Gluten-Free Apple Cake
Maybe it's the pastry chef in me, but when I host a meal at home, I usually plan the menu around two things: dessert and what's in season. I savor those after-dinner moments when everyone's sitting around the table together, satisfied and relaxed, ending the evening on a sweet note.
Because homemade baked goods have become a luxury during these busy times, taking an hour to put a gluten-free apple cake in the oven is often extra appreciated.
This gluten-free apple cake can be baked earlier in the day and served at room temperature, leaving you free to attend to the rest of the meal before guests arrive. Bring this stunner to the table, and watch your guests bow down to you like the domestic god or goddess you are.
Best of all, nobody will guess it's gluten-free!
Ingredients & Substitution Suggestions
I adapted this recipe from a favorite base that comes from my book Alternative Baker: Reinventing Dessert with Gluten-Free Grains and Flours. In the book I use the same formula to make Chocolate Pear Tea Cakes and Fig and Olive Oil Cake. I've also used a similar base recipe for this reader-favorite gluten-free rhubarb cake here on TBG.
The cake base comes together with a bowl and a whisk, and it takes well to variations.
Here's what you'll need:
Butter is the star of this show. I use Vermont Creamery cultured butter, which now comes in handy-to-measure sticks. The culturing process adds tangy, rich flavor to this butter, with notes of buttermilk and hazelnut. This butter has a fresh, clean flavor, and it works as well slathered on toast as it does baked into a luscious cake like this.

Dairy-free butter, such as Miyoko's, can be subbed for dairy-free.

Cooking this delicious butter with vanilla bean until the milk solids gently caramelize brings out notes of butterscotch to perfume the batter.

If you don't have a vanilla bean on hand, don't fret: just add a teaspoon of vanilla paste or vanilla extract when you add the eggs to the batter.

Baking powder lifts the batter.
Baking soda helps the cake brown, and its alkalinity neutralizes acids in the batter, giving the cake a tender (never gummy) texture.
A good dose of salt offsets the sweetness.
Brown sugar gently sweetens and adds caramel notes.

Sub by weight coconut sugar or maple sugar for refined sugar-free.

Loads of tart baking apples – both folded into the batter and layered over the top – bake up tender and tangy.

This cake would be lovely made with ripe pears instead of apples.

A bit of lemon juice added to the apples prevents them from browning and helps sharpen the flavors.
Eggs help the batter bake up light and fluffy with good structure.

For those with egg allergies, one of my readers has successfully made other cake recipes using a blend of applesauce and sour cream in place of the eggs. Another option is Just Egg, a vegan egg substitute made from mung beans and other ingredients.

Crème fraiche, also from Vermont Creamery (or homemade crème fraiche) adds richness and moisture. I like to serve slices of cake with a good dollop of crème fraiche (or crème fraiche whipped cream) as well.

Can sub sour cream or greek yogurt. Or use vegan sour cream or rich coconut yogurt such as Culina for dairy-free.

Cinnamon sugar sprinkled over the top makes this cake smell like fall.
Toasted hazelnuts add a crispy finish.
A quartet of gluten-free flours makes this healthy apple cake bake up moist, delicate, and tender.
Almond flour or hazelnut flour adds tenderness and extra nutty flavor.

Can sub any other nut flour, or try tiger nut flour for nut-free.

Sweet rice flour's neutral flavor offsets the others, and the sticky texture helps the cake hold together.

Sub by weight gluten-free all-purpose flour, such as Bob's Red Mill 1 to 1.

Oat flour and millet flour add a lofty crumb and whole-grain nourishment. Unlike many gluten-free cake recipes, this doesn't need any starches or xanthan gum to help it hold together. Proteins from eggs and nut flour get the job done.

Sub by weight teff flour, buckwheat flour, or sorghum flour.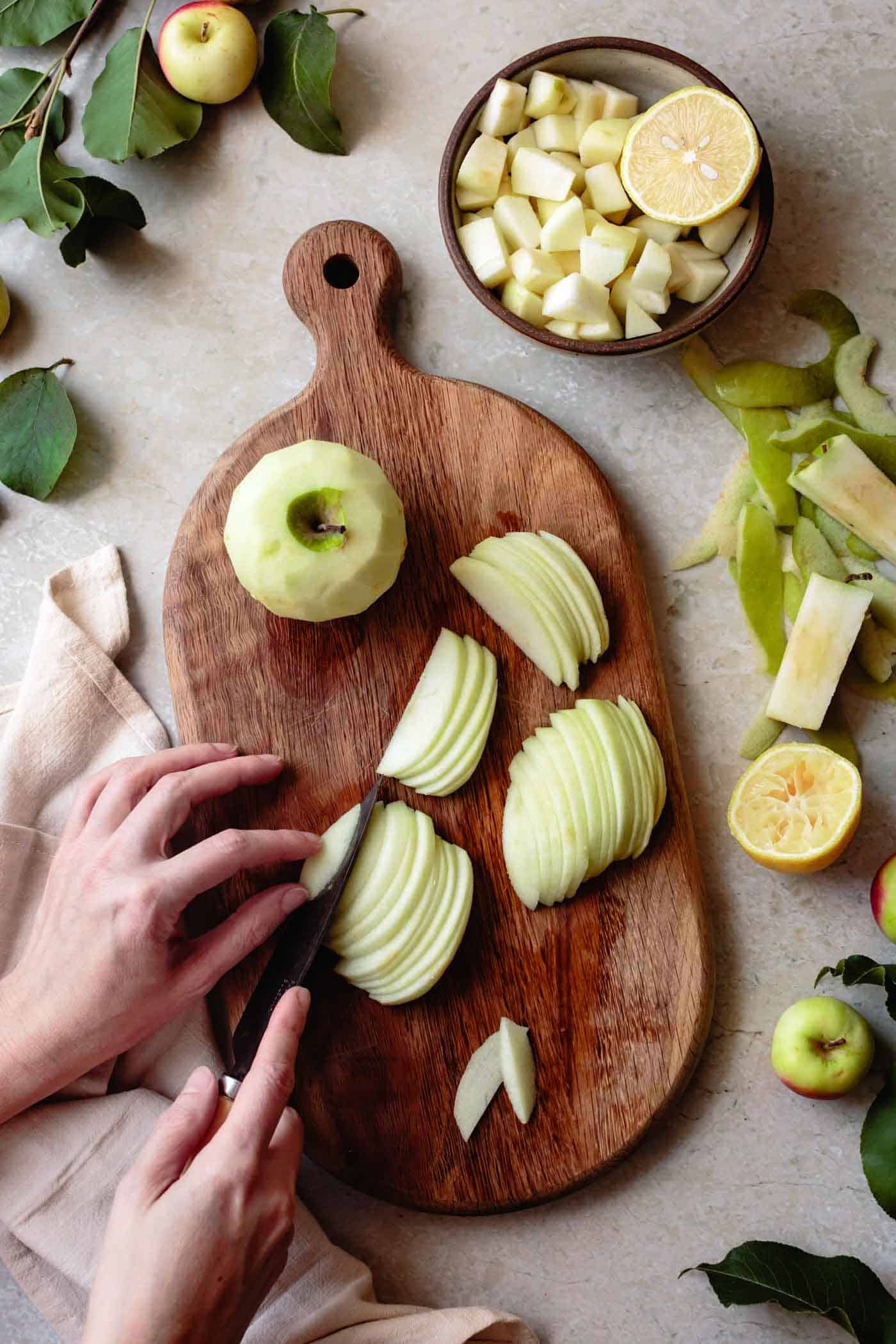 How to Make Gluten-Free Apple Cake
This cake requires a few techniques, but all are easy to achieve. First you brown the butter by cooking it in a saucepan until it turns golden and smells nutty. (See more, below.)
Next you peel the apples and slice them off the core. I like to use a T-shaped vegetable peeler to peel the apples. Then hold an apple upright on a cutting board and use a large, sharp chef's knife held about half an inch away from the core to slice downward, cutting the flesh away from the apple core.
Cut one of the apples into chunks to fold into the batter. For the other two apples, place a cut side down and thinly slice the apple piece lengthwise, keeping the slices together. You can cut them super thin or just kind of thin; I've done it both ways and it all works out great.
Now you sift the dry ingredients together. Hazelnut flour is quite clumpy and may be too coarse to go through your sifter or strainer, so just do your best. When all of the siftable ingredients have gone through, add whatever is left behind in your sifter to the bowl and use your fingers to rub out any large chunks.
Now whisk together the wet ingredients, fold in the flour mixture, and stir in the chopped apples. Spread the batter in a skillet lined with parchment paper and top with the apple slices, still together and placed cut side down. Brush and drizzle with the remaining brown butter, and sprinkle with hazelnuts and cinnamon sugar. Bake the cake until it's done, about 40 minutes. The hardest part of this entire process is waiting for the cake to cool!
How to Brown Butter
The first time I tried to brown butter, I burned butter. So don't be like me. Watch the butter closely as it starts to caramelize as it can go from brown to burnt in seconds. If you have a light-colored saucepan, all the better to see the hue of the butter as it begins to darken.
Place the butter and vanilla pod and scrapings in a small or medium heavy-bottomed saucepan. Place the pan over medium-low heat and cook, swirling occasionally, to melt the butter. After 3–5 minutes, the butter will foam up, turn golden and smell nutty, with brown flecks mingling with black vanilla bean seeds on the bottom of the pan.
It may be hard to see the color of the butter beneath the foam and in the pan. If you're unsure, spoon a little of the butter into a white, heatproof bowl. It should be golden in color and the milk solids on the bottom of the pan should be chestnut brown from caramelization, with black specks from the vanilla bean. If the butter smells burnt or acrid, discard it, clean out your pot, and start again.
When the butter is browned, remove the pan from the heat and immediately pour the butter into a heatproof measuring cup or jar to stop the cooking. When ready to use, remove the vanilla bean. You can dry the vanilla bean and use it to make vanilla extract, or put it in a jar of sugar to make it smell delicious.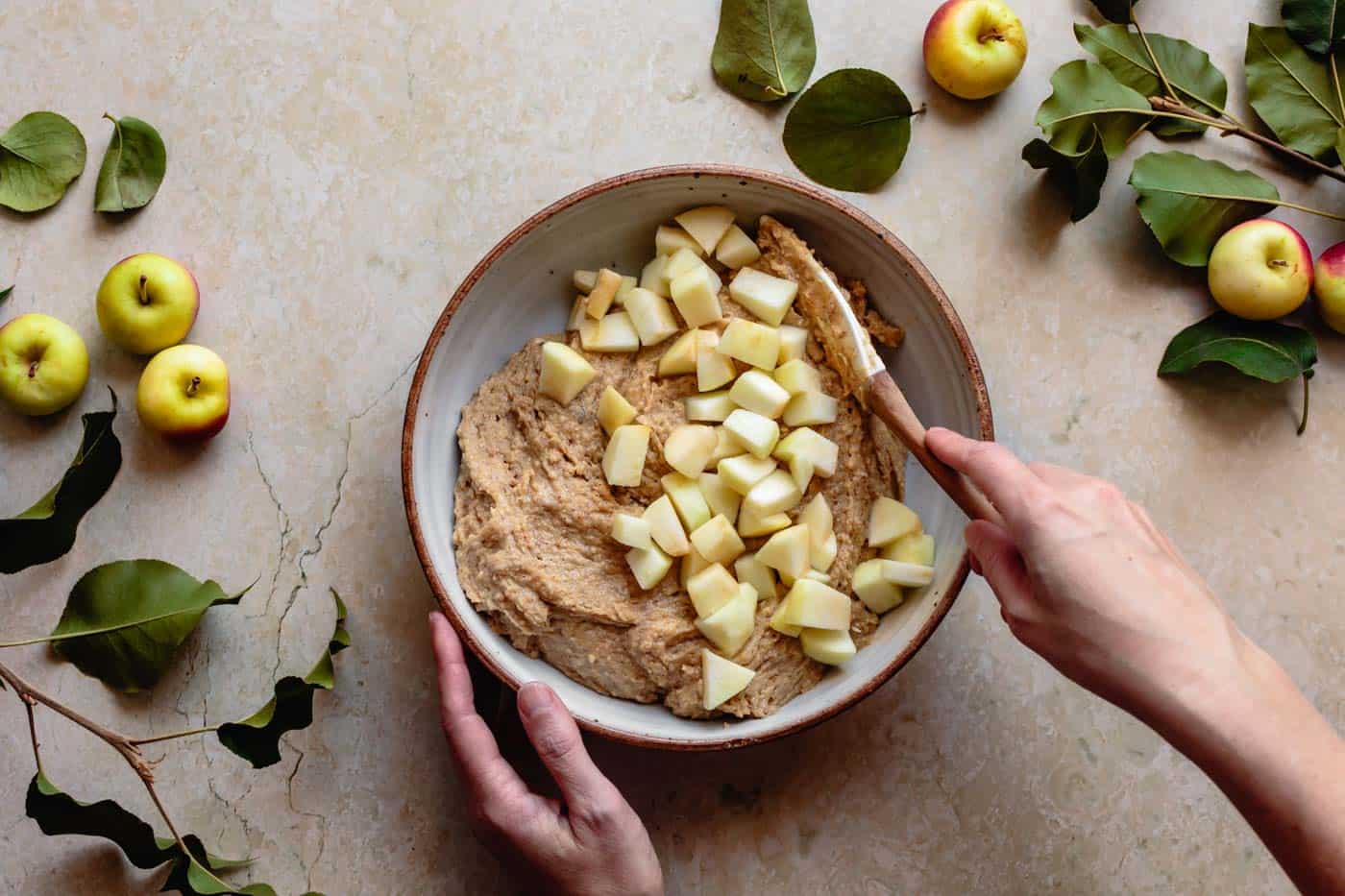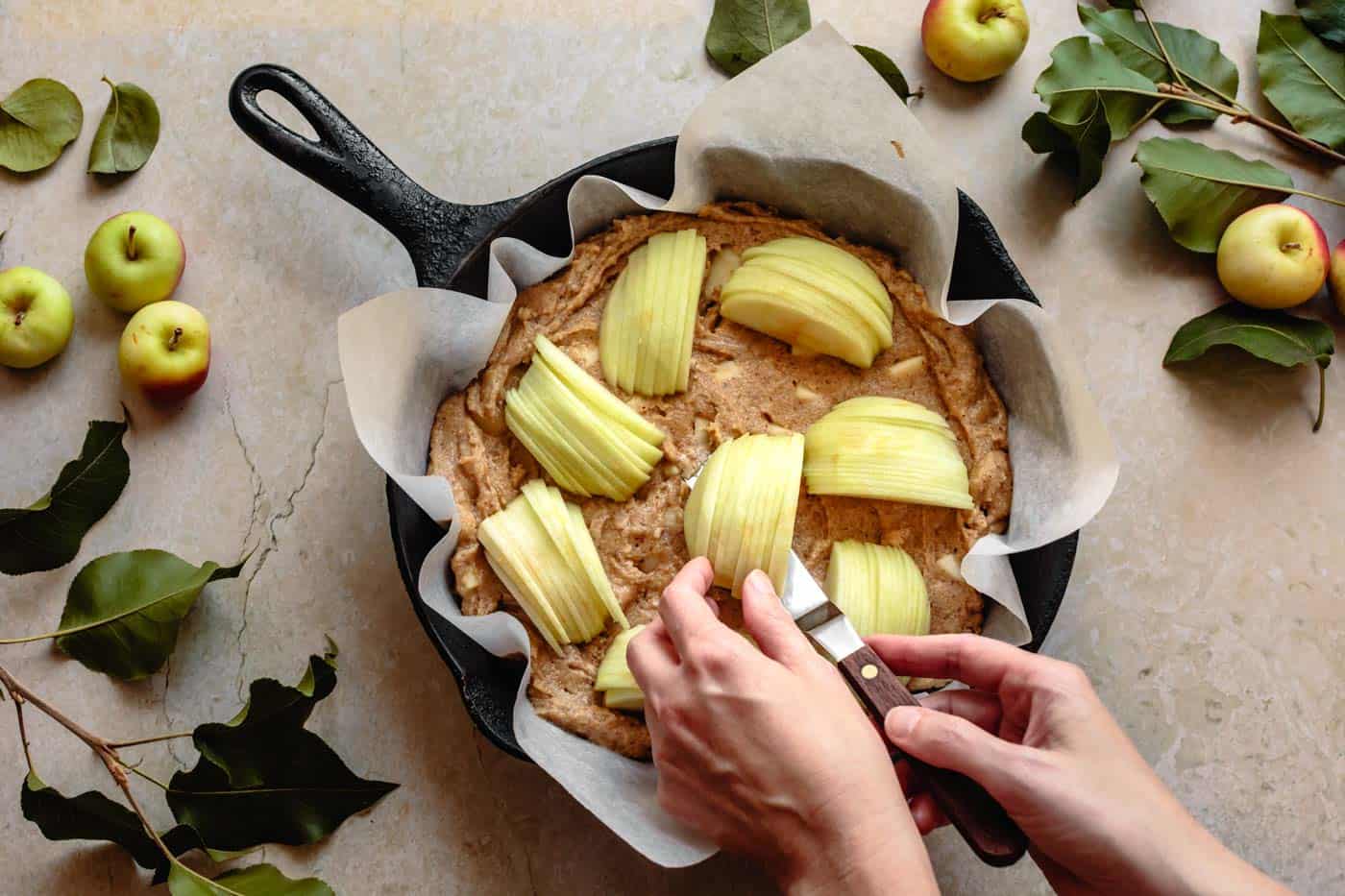 Apples for Gluten-Free Fresh Apple Cake
This gluten-free apple cake recipe is all about the apples. I prefer tart baking apples, such as Granny Smith, because they retain their shape when baked. Plus their tartness offsets the sweet apple dessert. Other tart baking apple varieties can be substituted. Just stay away from softer varieties like Gravenstein or McIntosh. These will break down too much in the oven and might make the batter watery.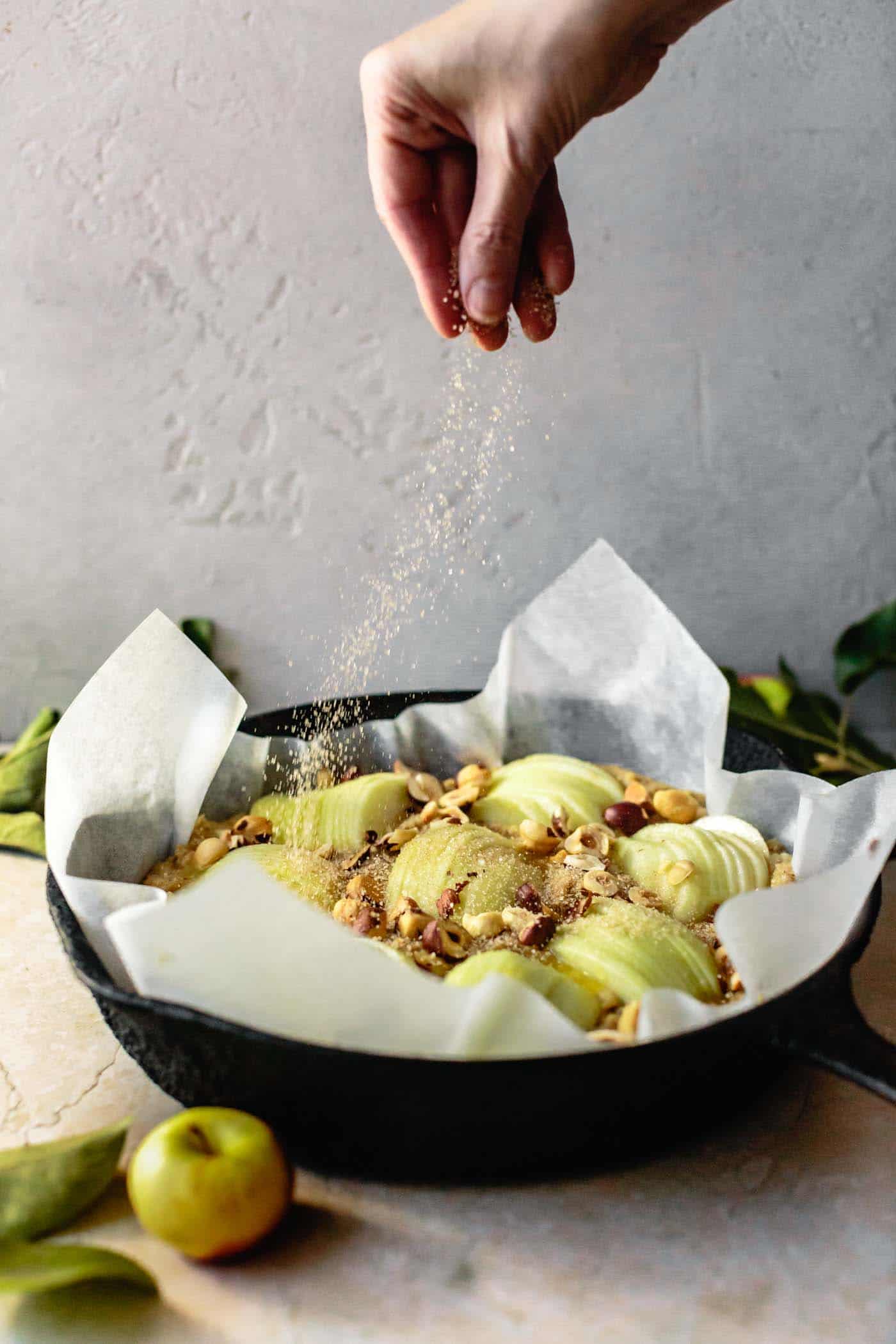 Gluten-Free Apple Cake for Everyone
I tested the base of this recipe (the one in my book) half a dozen times, and this apple brown butter version four times. It's nutty, rich, delicate, tender, moist, not-too-sweet, and full of warming flavors. You can eat it at room temperature with crème fraiche or lightly sweetened whipped cream. Or pop leftover slices in the toaster oven and top them with ice cream.
This recipe would also make a fitting dessert for Rosh Hashanah, the Jewish new year, since apples traditionally represent a sweet year ahead.
What to Serve with Apple Cake for a Fall Feast
Here are some other seasonal favorite recipes to make this into a festive vegetarian meal to celebrate harvest time:
*Bojon appétit! For more Bojon Gourmet in your life, follow along on Instagram, Facebook, or Pinterest, purchase my gluten-free cookbook Alternative Baker, or subscribe to receive new posts via email. And if you make this gluten-free apple cake, I'd love to see. Tag your Instagram snaps @The_Bojon_Gourmet and #bojongourmet.*
Gluten-Free Apple Cake with Brown Butter & Hazelnuts
Print Recipe
Pin Recipe
Gluten-free apple cake gets an upgrade with vanilla bean browned butter, hazelnut flour, and brown sugar all loaded with tangy baked apples. Serve slices of this beauty with dollops of crème fraiche all season long.
Ingredients
3

large tart baking apples, such as granny smith (1 pound / 450 g)

1-2

tablespoons

(15-30 ml) strained fresh lemon juice

9

tablespoons

(127 g) Vermont Creamery unsalted cultured butter

1

vanilla bean, split lengthwise and scraped (or 1 teaspoon vanilla paste or extract, added with the egg)

1 ¼

cup

(135 g) hazelnut flour (or almond flour or meal)

½

cup (80 g) sweet white rice flour

½

cup (55 g) GF oat flour

¼

cup (35 g) millet flour

2

teaspoons

baking powder

½

teaspoon baking soda

¾

teaspoon

fine sea salt

½

cup

+ 2 tablespoons (135 g) packed light brown sugar

2

large eggs

¼

cup

(30 g) toasted hazelnuts, cut in half (or sliced almonds)

2

tablespoons

(25 g) granulated sugar

¼

teaspoon

ground cinnamon
Instructions
Position a rack in the upper third of the oven and preheat to 350ºF. Line a 10-inch oven-proof skillet, cake pan, or springform pan on the bottom and sides with parchment paper.

Place the butter in a small, heavy saucepan. Add the vanilla bean and scrapings if using. Melt the butter over medium heat. Continue cooking, swirling the pan occasionally, until the butter turns golden and smells nutty, 3-5 more minutes. Pour the butter into a heatproof bowl to stop the cooking and let cool 5-10 minutes. When cool, remove the vanilla bean, rinse, and let dry. You can reuse the vanilla pod to make vanilla extract or vanilla sugar. Reserve 1 tablespoon of the butter for drizzling over the apples.

Peel the apples and cut them off the core in large pieces. Slice two of the apples thinly, keeping the pieces together, and drizzle with lemon juice to prevent browning. Cut the third apple into large dice, place in a small bowl, and toss with lemon juice to prevent browning. Set aside.

Sift the hazelnut, sweet rice, oat, and millet flours with the baking powder, baking soda, and salt into a medium bowl. Sift as well as you can – hazelnut flour is hard to sift – then add whatever flour is left in the sifter into the bowl. The goal is to remove any large clumps of hazelnut and oat flour and leavening, which all tend to be clumpy.

In a large bowl, whisk together the eggs and brown sugar until smooth. Whisk in 8 tablespoons of the browned butter, then the crème fraiche.

Stir the flour mixture into the butter mixture until smooth, then fold in the diced apples and any juices.

Scrape the batter into the prepared pan and spread into an even layer. Place the apple slices over the cake, keeping them together, and press them about halfway into the batter. Sprinkle with the chopped hazelnuts. Drizzle with the reserved 1 tablespoon browned butter.

Stir together the sugar and cinnamon in a small bowl and sprinkle evenly over the cake.

Bake the cake until the top is golden and a toothpick inserted near the center comes out clean or with a few moist crumbs, 35-45 minutes, rotating the cake towards the end of the baking time. Remove from the oven and let cool completely, 1-2 hours. For the cleanest cuts, chill the cake before slicing.

Use the parchment to pull the cake out of the pan and onto a cutting board. Cut into slices and serve at room temperature with dollops of crème fraiche. Or serve slices warm with ice cream.

Store leftover cake covered in the refrigerator for up to 3 days.
Notes
You can use 1 1/4 cups all purpose flour (gluten-free or wheat) in place of the sweet rice, oat, and millet flours if you prefer.
Nutrition
Calories:
353
kcal
Carbohydrates:
39
g
Protein:
7
g
Fat:
21
g
Saturated Fat:
8
g
Cholesterol:
61
mg
Sodium:
268
mg
Potassium:
231
mg
Fiber:
4
g
Sugar:
20
g
Vitamin A:
411
IU
Vitamin C:
3
mg
Calcium:
101
mg
Iron:
1
mg