These gluten-free banana buckwheat pancakes get rich flavor and whole-grain goodness from buckwheat flour. Buttermilk makes them tender and tangy, and a touch of nutmeg, vanilla, and maple give them dessert-for-breakfast vibes.
I've also included a dairy-free option. Serve these beauties up with maple syrup and toasted pecans and you'll be in breakfast heaven!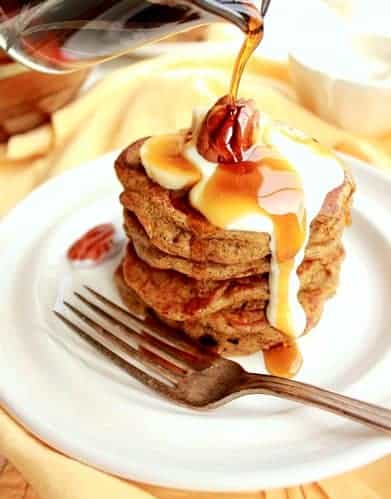 Note from Alanna, 2023: I originally shared this recipe in 2012, before I owned a dSLR camera, and the extent of my food prop collection was the yellow napkin and silver fork in this photo! But these buckwheat banana pancakes have remained a favorite over the years. It's a recipe that I never get tired of and usually have the ingredients on hand to make. I've added a DF option and buttermilk alternative to make them more accessible. I hope you enjoy it!
It takes a lot for a pancake recipe to impress me and I almost never order pancakes out. The pale griddle cakes I associate with diners are often bland and starchy, lacking in any nutritional value or staying power, and are in need of a deluge of syrup and butter to make them palatable.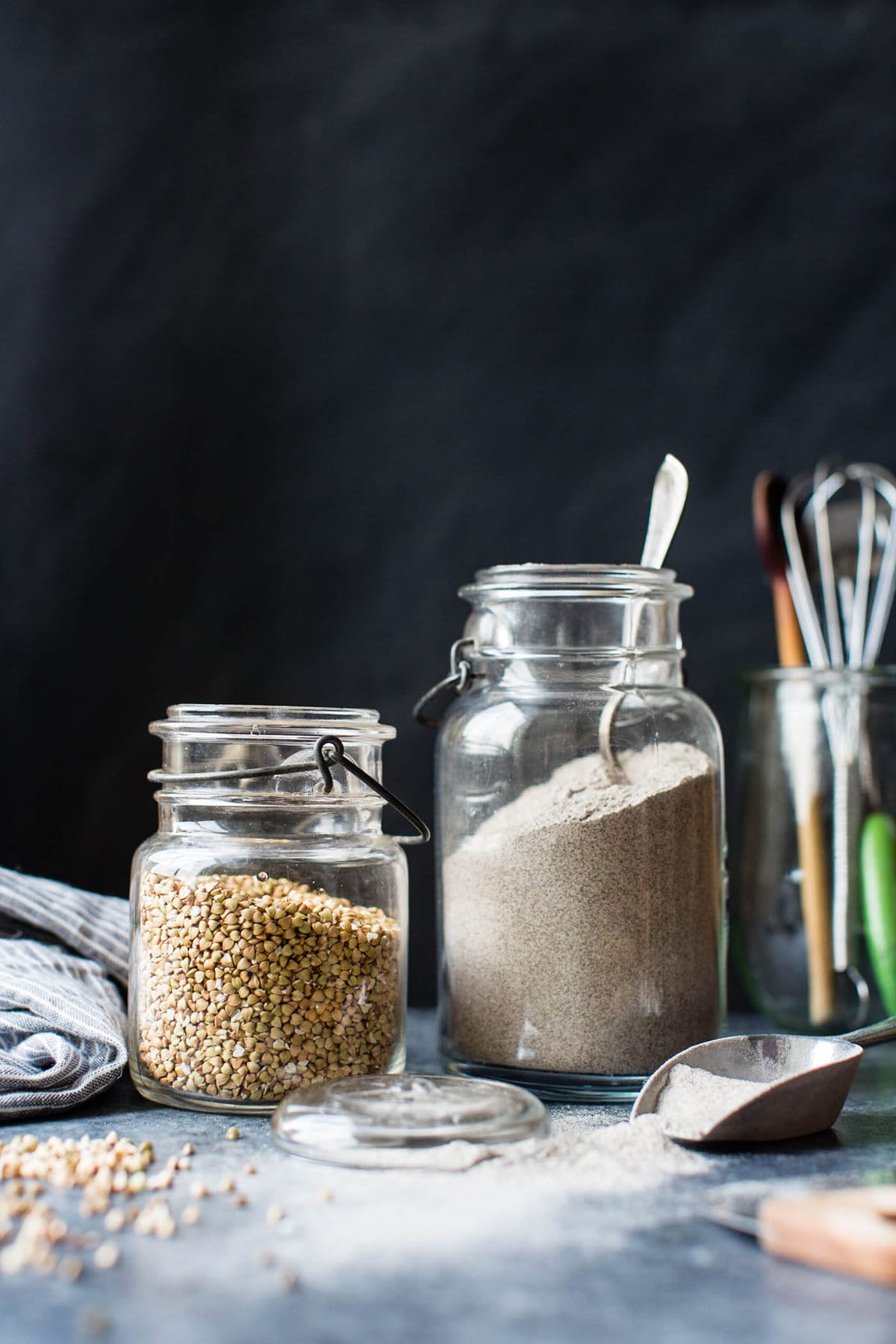 Banana Buckwheat Pancakes FTW
But these gluten-free banana buckwheat pancakes are a different story. These pancakes excite me. They cause me to get as close as I ever do to to leaping out of bed in the morning; i.e., I only groan and fall back to sleep once before throwing off the covers and stumbling, at the crack of 10:00, into the kitchen to pull out the mixing bowls and measuring cups.
This recipe came of a happy coincidence that occurred one morning. I found myself with a couple of bananas that were riper than I wished to eat plain, some buttermilk left over from making lemon buttermilk pie, and an adorable boyfriend hopping up and down with excitement, declaring, "Oh boy! Pancakes! I can't wait!"
I opened up the book I always consult for such morning favorites as poppyseed brunch cake and cornmeal pound cake: Deborah Madison's Vegetarian Cooking for Everyone, a book designed to be a vegetarian version of the Joy of Cooking. Under a recipe for basic buttermilk pancakes, she lists several variations, one of which includes sliced bananas (rather than mashed, as I'm used to seeing) and toasted nuts.
I adapted the recipe to be gluten-free, added some flavorings of my own, and this recipe became an instant favorite.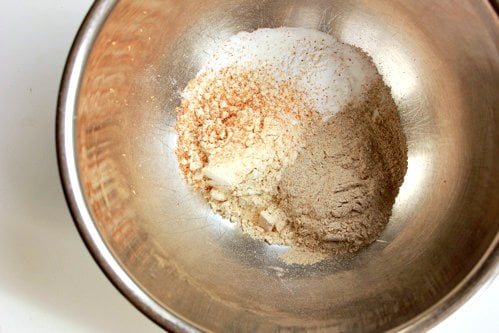 Ingredients and Substitution Suggestions:
These pancakes use a handful of ingredients that you probably have in your pantry and fridge!
Flours: a blend of buckwheat, oat, and sweet rice flours make these pancakes fluffy, flavorful, and gluten-free. Feel free to use more buckwheat flour in place of the oat and/or sweet rice flours if you want more buckwheat flavor. If gluten isn't an issue, you can swap the oat flour for whole wheat and the rice flour for all-purpose wheat flour.
Baking powder and baking soda lift and spread the pancakes, helping them brown.
Nutmeg, vanilla, salt, and a little maple syrup sharpen the flavors. I prefer freshly grated nutmeg for its bright, peppery flavor, but pre-ground works too. Or you can swap in 1/2 teaspoon or so of cinnamon if you prefer.
Butter adds richness. Feel free to use plant butter, coconut oil, or ghee instead.
Buttermilk moistens the dough and adds tangy goodness. If you don't have any (or if you want to go DF), thin some yogurt or plant yogurt with regular milk or plant milk to a buttermilky consistency.
An egg lifts and sets the batter. I've had good luck using Just Egg (1/4 cup) and aquafaba (~3 tablespoons) instead of 1 egg in other pancake recipes and I bet they would work here too for egg-free.
Sliced bananas stirred into the batter bake into jammy, sweet pockets. Blueberries would stand in nicely.
Toasted pecans add a bit of crunch. Feel free to sub walnuts or omit the nuts if you prefer.
How to Make Gluten-Free Banana Buckwheat Pancakes
These buckwheat banana pancakes come together in 30 minutes, start to finish. The recipe makes a small-ish batch – about 3 servings – so feel free to double or triple the recipe for a crowd.
To make them simply:
Combine the dry ingredients in a bowl.
Combine the liquid ingredients in another bowl.
Add the wets to the dries and whisk to form a thick batter.
Stir in the bananas and nuts.
Drop 1/4-cup scoops of batter onto a hot griddle coated with ghee or other cooking oil.
Cook and flip until both sides are golden and the centers are cooked through, about 2 minutes per side.
Serve up with the toppings of your choice!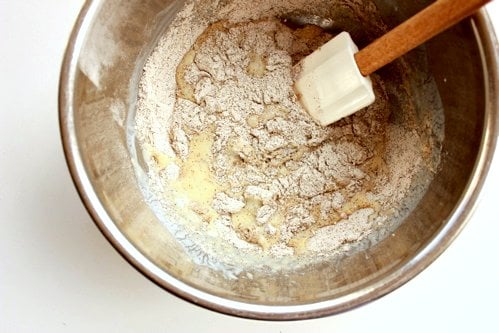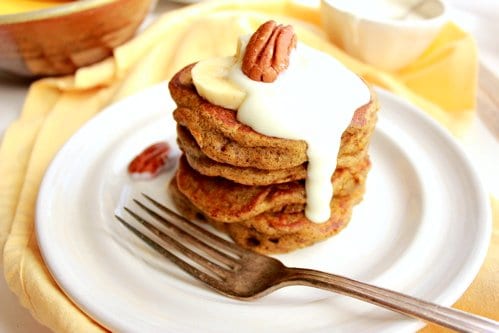 Is Buckwheat Flour Gluten-Free?
This is a commonly asked question, and the answer is yes – buckwheat flour is in fact gluten-free!
Despite its name, buckwheat isn't related to wheat at all; it's actually the seed of a plant in the rhubarb family. Most buckwheat flour is made from toasted, ground grains which is what gives the flour its distinctively nutty flavor.
Find all my favorite buckwheat flour recipes here!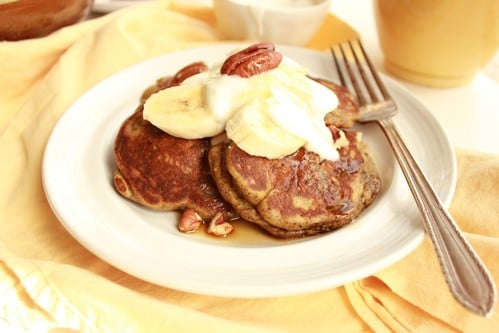 Pancake Breakfast for Everyone
These buckwheat banana pancakes are easy to mix up and even easier to nom! A bite of pancake, oozing with maple syrup and tangy, whole-milk yogurt reveals a pancake that's greater than the sum of its parts.
The edges, crisped in the buttered pan, give way to moist middles, while chunks of banana cook into warm, jammy pockets. The earthy buckwheat, nutmeg, vanilla, and maple all pack the dough with flavor, and the oat and rice flours create a tender texture that you'd never know was gluten-free. Buttermilk adds tenderness and a bit of tang, and nubs of nutty pecans add bite and healthy fats.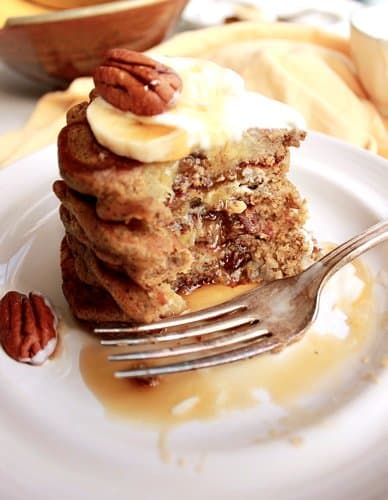 *Bojon appétit! For more Bojon Gourmet in your life, follow along on Instagram, Facebook, or Pinterest, purchase my gluten-free cookbook Alternative Baker, or subscribe to receive new posts via email. And if you make these gluten-free banana buckwheat pancakes, I'd love to see. Tag your Instagram snaps @The_Bojon_Gourmet and #bojongourmet.*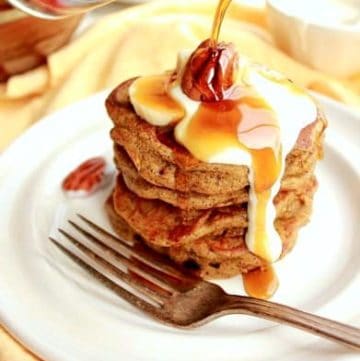 Fluffy Banana Buckwheat Pancakes (GF)
Print Recipe
Pin Recipe
These gluten-free banana buckwheat pancakes get rich flavor and whole-grain goodness from buckwheat flour. Buttermilk makes them tender and tangy, and a touch of nutmeg, vanilla, and maple give them a dessert-for-breakfast vibe.
I've also included a dairy-free option. Serve these beauties up with maple syrup and toasted pecans and you'll be in breakfast heaven!
Servings:
2
large servings
Ingredients
Dry Ingredients:
¼

cup

(35 g) sweet white rice flour

¼

cup

(25 g) oat flour

¼

cup

(30 g) buckwheat flour

1

teaspoon

baking powder

½

teaspoon

baking soda

¼

teaspoon

fine sea salt

⅛

teaspoon

freshly grated nutmeg
Wet Ingredients:
1

large egg

1

tablespoon

maple syrup, plus more for serving

2

tablespoons

melted butter

¾

cup

(175 ml) well-shaken buttermilk (or yogurt thinned with milk)

½

teaspoon

vanilla extract

1

large, ripe banana, quartered lengthwise and cut into ½-inch pieces (plus more for serving)

¼

cup

toasted pecans, coarsely chopped (plus more for serving)

butter or ghee, for cooking the pancakes
Instructions
In a large bowl, sift together the sweet rice, oat, and buckwheat flours with the baking powder and baking soda, salt, and nutmeg.

In a medium bowl, whisk together the egg and maple syrup to combine. Whisk in the melted butter until smooth, then whisk in the buttermilk and vanilla.


Stir the buttermilk mixture into the flour mixture until just combined, then gently fold in the banana chunks and chopped pecans. The batter will be thick.


Heat a wide skillet (or two; or a griddle, if you've got one) over medium-low heat and add about a teaspoon of butter to coat the pan. The pan is ready when a drop of batter sizzles on contact.

Drop ¼-cup scoops of batter into the hot skillet (a spring-loaded ice cream scoop works well), spaced about 2-inches apart as the batter will spread, and cook for about 2 minutes on each side, until well browned and cooked throughout (the bananas will be soft and gooey, and make it a bit tricky to tell.)

Serve the pancakes with maple syrup, yogurt, sliced banana and pecans. Extras can be kept in the fridge for up to 3 days and reheated in a skillet.

Notes
To make these dairy-free, use plant yogurt thinned with a little plant milk or water in place of the buttermilk, and vegan butter or coconut oil in place of the butter. For GF Banana Teff Pancakes, replace the buckwheat flour with an equal amount of teff flour. If gluten isn't a concern for you, you can swap in all-purpose and whole wheat flours for the rice and oat flours; if you do, be very gentle when stirring the batter, and err on the side of under-mixing. If making these for a crowd, slip them onto a plate or baking sheet in a low oven to keep them warm while you cook the rest. For GF Persimmon Pancakes, optionally use the puree from 1 ripe hachiya persimmon in place of some of the buttermilk (about 1/4 cup). Add 1/2 teaspoon cinnamon and 1/8 teaspoon allspice to the flour mixture with the nutmeg. Use 1 large peeled and diced fuyu persimmon in place of the banana. Optionally serve with pomegranate arils, cranberry compote, and/or more diced fuyu persimmons along with the toasted pecans and yogurt. Nutritional values are based on one of two servings.
Nutrition
Calories:
542
kcal
Carbohydrates:
64
g
Protein:
13
g
Fat:
28
g
Saturated Fat:
11
g
Cholesterol:
122
mg
Sodium:
798
mg
Potassium:
781
mg
Fiber:
6
g
Sugar:
19
g
Vitamin A:
655
IU
Vitamin C:
5.1
mg
Calcium:
236
mg
Iron:
2.2
mg