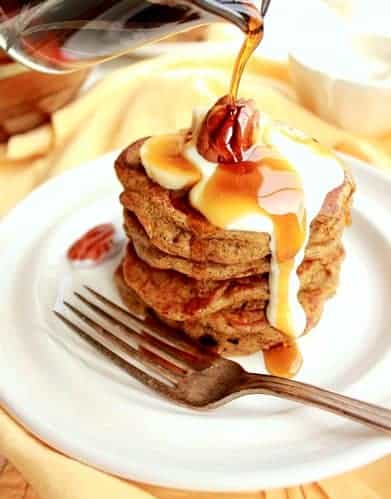 It takes a lot for a pancake to impress me. Unless I'm at Plow, I almost never order them for breakfast or brunch. The pale griddle cakes I associate with diners are often bland and starchy, lacking in any nutritional value or staying power, and in need of a deluge of syrup and butter to make them palatable.
But these pancakes; they are a different story. These pancakes excite me. They cause me to get as close as I ever do to to leaping out of bed in the morning; i.e., I only groan and fall back to sleep once before throwing off the covers and stumbling, blinking, at 10 am, into the kitchen to pull out the mixing bowls and measuring cups.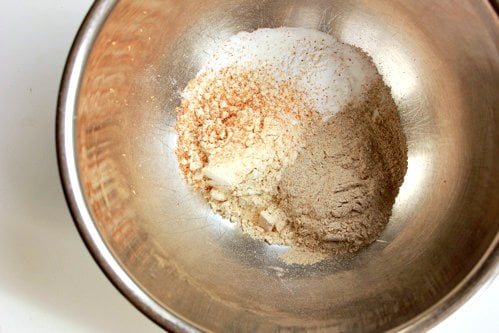 A happy coincidence occurred the other morning when I found myself with a couple of bananas that were riper than I wished to eat plain, some buttermilk left over from making this pie, and an adorable boyfriend hopping up and down with excitement, declaring, "Oh boy! Pancakes! I can't wait!"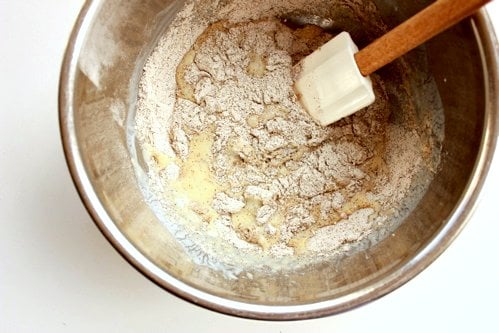 I opened up the book I always consult for such morning staples as poppyseed brunch cake, migas,and cornmeal pound cake :Deborah Madison's Vegetarian Cooking for Everyone, a book designed to be a vegetarian version of the Joy of Cooking. Under a recipe for basic buttermilk pancakes, she lists several variations, one of which includes sliced bananas (rather than mashed, as I'm used to seeing) and toasted nuts.
Since pancakes are easy to turn gluten-free (all that egg sticks them together nicely, requiring no scary gums or weird substitutions), I mixed up a batter using oat and sticky rice flours, and a bit of buckwheat flour for its toasty, hefty flavor to which I have become an addict. I added a grating of fresh nutmeg and a splash of vanilla, and I used maple syrup in place of the sugar within the cakes, since maple and buckwheat are a match made in gastronomical heaven. I folded in chopped banana chunks and toasted pecans. The batter seemed too thick, but I went with it, sizzling scoops onto the butter-coated pan and waiting as the batter spread and puffed elegantly, and our apartment filled with an aroma that sighs, "Breakfast."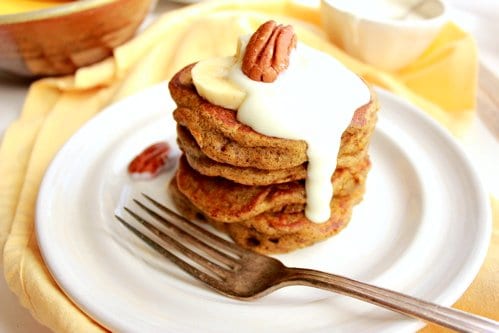 A bite of cake, oozing with maple syrup and tangy, whole-milk yogurt revealed a pancake that was greater than the sum of its parts.The outsides, crisped in the buttered pan, give way to moist middles, while chunks of banana become pockets of goo trapped within. The earthy buckwheat, nutmeg, vanilla and maple all pack the dough with flavor, and the oat and rice flours create a neutral backdrop with a tender texture that you'd never know was gluten-free. Buttermilk adds tenderness and a bit of tang, and nubs of nutty pecans add toothsome texture.
I didn't think that two foods toward which I am rather neutral – bananas and pancakes – could come together in culinary matrimony to create a breakfast that I cannot wait to share with the world, and to make and eat again and again.
But they did.
So there you have it: banana buckwheat pancake love.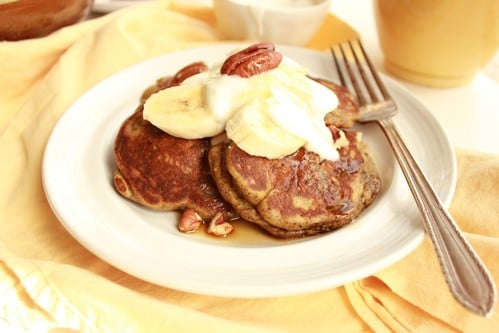 Breakfast in a pan:
Plow's Ricotta Pancakes
Baked Pancake with Pear and Cardamom
Berry-Peach Oven Pancake
Buck Up:
Buckwheat Crepes, Any Which Way
(Gluten-Free) Buckwheat Hazelnut Brown Butter Cake
Buckwheat Chocolate Chip Cookies
One year ago:
Tangerine Olive-Oil Pound Cake
Irish Soda Scones
Two years ago:
(Gluten-Free!) Buckwheat Banana Pancakes
Adapted fromVegetarian Cooking for Everyone
A bonus to using gluten-free flours is that you don't have to worry about over-mixing, which activates the glutens in wheat flour and can make for gluey, tough pancakes.If gluten isn't a concern for you, you can sub all-purpose and whole wheat flours for the rice and oat; if you do, be very gentle when stirring the batter, and err on the side of under-mixing.
Since I don't like to wait too long for breakfast, I have a couple of tricks up my sleeve to make the cooking process go faster: I use a spring-loaded ice cream scoop to scoop scoops of batter in the pan, and I keep two wide frying pans going so I can cook twice as many pancakes at once. If you're lucky enough to own a griddle, all the better.
If making these for a crowd, slip them onto a plate or baking sheet in a low oven to keep them warm while you cook.
Makes 2-3 servings (ten fluffy 3″ pancakes)
1/4 cup sweet (sticky) white rice flour
1/4 cup oat flour
1/4 cup buckwheat flour
1 teaspoon baking powder
1/2 teaspoon baking soda
1/4 teaspoon fine sea salt
1/8 teaspoon freshly grated nutmeg
1 large egg
1 tablespoon maple syrup
2 tablespoons melted butter
3/4 cup shaken buttermilk
1/2 teaspoon vanilla extract
1 large, ripe banana, quartered lengthwise and cut into 1/2″ pieces
1/4 cup toasted pecans, plus extra for garnish, coarsely chopped
For serving:
maple syrup (grade B has the deepest flavor and color)
plain, whole-milk yogurt
sliced banana
In a large bowl, sift together the flours, baking powder and soda, salt and nutmeg.
In a medium bowl, whisk together the egg and maple syrup to combine. Whisk in the melted butter until smooth, then whisk in the buttermilk and vanilla.
Stir the buttermilk mixture into the flour mixture until just combined, then gently fold in the banana chunks and chopped pecans. The batter will be thick.
Heat a wide skillet (or two; or a griddle, if you've got one) over medium-low heat and add about a teaspoon of butter to coat the pan. The pan is ready when a drop of batter sizzles on contact. Drop 1/4 cup scoops of batter into the hot skillet, spaced about 2″ apart as the batter will spread, and cook for about 2 minutes on each side, until well browned and cooked throughout (though the bananas will be soft and gooey, and make it a bit tricky to tell.)
Serve the pancakes with maple syrup, yogurt, sliced banana and pecans. Extras can be kept in the fridge and reheated in a skillet.