These gluten-free banana buckwheat pancakes get rich flavor and whole-grain goodness from buckwheat and oat flours. Buttermilk makes them tender and tangy, and a touch of nutmeg, vanilla, and maple give them a dessert-for-breakfast vibe.
Serve these beauties up with maple syrup and toasted pecans and you'll be in breakfast heaven!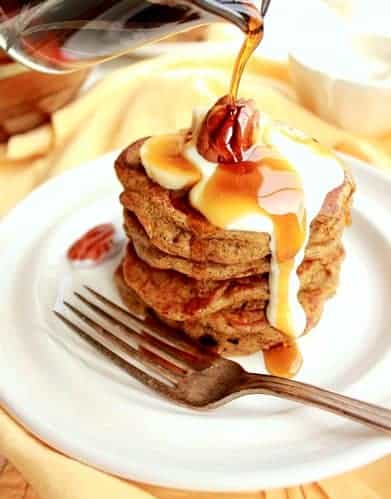 It takes a lot for a pancake to impress me unless I'm making my own GF pancakes, almond flour pancakes, or dining at Plow, a fabulous breakfast spot in my neighborhood that's known for its pillowy ricotta pancakes. I almost never order pancakes out. The pale griddle cakes I associate with diners are often bland and starchy, lacking in any nutritional value or staying power, and in need of a deluge of syrup and butter to make them palatable.
Banana Buckwheat Pancakes FTW
But these gluten-free banana buckwheat pancakes are a different story. These pancakes excite me. They cause me to get as close as I ever do to to leaping out of bed in the morning; i.e., I only groan and fall back to sleep once before throwing off the covers and stumbling, at the crack of 10:00, into the kitchen to pull out the mixing bowls and measuring cups.
This recipe came of a happy coincidence that occurred one morning. I found myself with a couple of bananas that were riper than I wished to eat plain, some buttermilk left over from making lemon buttermilk pie, and an adorable boyfriend hopping up and down with excitement, declaring, "Oh boy! Pancakes! I can't wait!"
I opened up the book I always consult for such morning staples as poppyseed brunch cake, migas, and cornmeal pound cake: Deborah Madison's Vegetarian Cooking for Everyone, a book designed to be a vegetarian version of the Joy of Cooking. Under a recipe for basic buttermilk pancakes, she lists several variations, one of which includes sliced bananas (rather than mashed, as I'm used to seeing) and toasted nuts. I adapted the recipe to be gluten-free, added some flavorings of my own, and this recipe became an instant favorite.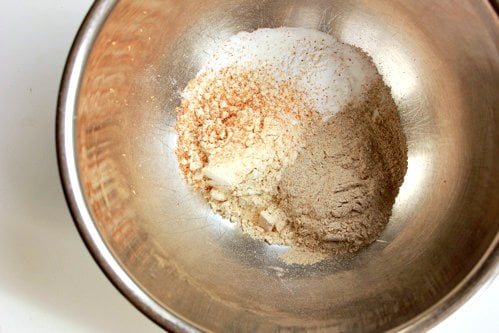 Flours for Gluten Free Pancakes
Pancakes are fairly easy to turn gluten-free since the high ratio of egg sticks them together nicely, requiring no scary gums or weird substitutions. This batter uses a trio of gluten free flours, each serving a specific purpose. Sticky sweet rice flour holds the cakes together. Gluten free oat flour makes them tender and fluffy. Buckwheat flour adds protein in addition to its toasty flavor to which I have become addicted. These flours can usually be found in health foods stores (check the bulk section as well as the flour section) or you can order them from Bob's Red Mill. Do be sure to source certified gluten-free flours if you or your pancake eaters are highly sensitive.
One bonus of gluten free pancake batter is that, unlike glutenous pancake batter, you don't have to worry about aggressive mixing overworking the glutens and leading to tough pancakes. Gluten free pancakes are more tender than glutenous pancakes can only dream of being.
This gluten free pancake batter may seem too thick at first, as it did the first time I made these. But the thick batter makes for fluffy pancakes. Sizzle scoops onto the butter-coated pan and watch as the batter spreads and puffs elegantly. Your kitchen will fill with an aroma that sighs, "Breakfast."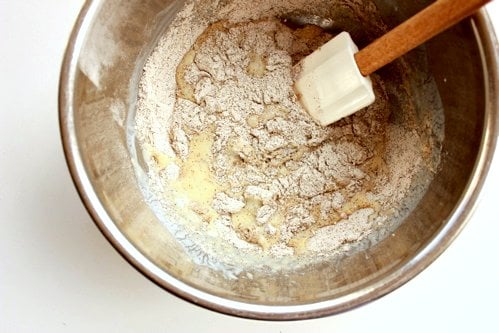 Flavoring Gluten-Free Pancakes
A grating of fresh nutmeg, a splash of vanilla, and a pour of maple syrup all complement the toasty taste of oat and buckwheat in these gluten free pancakes. Chopped banana chunks and toasted pecans add additional layers of flavor and a bit of toothsome texture.
A bite of cake, oozing with maple syrup and tangy, whole-milk yogurt reveals a pancake that's greater than the sum of its parts. The outsides, crisped in the buttered pan, give way to moist middles, while chunks of banana cook into warm, jammy pockets. The earthy buckwheat, nutmeg, vanilla, and maple all pack the dough with flavor, and the oat and rice flours create a tender texture that you'd never know was gluten-free. Buttermilk adds tenderness and a bit of tang, and nubs of nutty pecans add bite and healthy fats.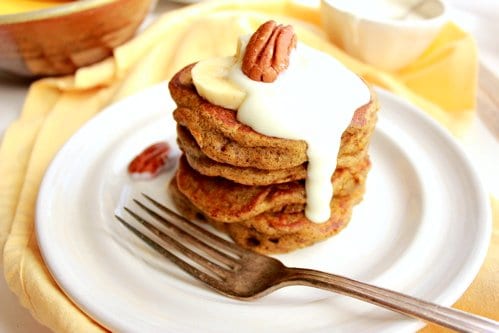 Does Buckwheat Flour Have Gluten?
This is a commonly asked question, and the answer is no – buckwheat flour is in fact gluten-free!
Despite its name, buckwheat isn't related to wheat at all; it's actually the seed of a plant in the rhubarb family. Most buckwheat flour is made from toasted, ground grains which is what gives the flour its distinctively nutty flavor. Buckwheat flour is most commonly used in the US in pancakes or flapjacks where its robust taste adds dimension. Similarly, buckwheat flour is often used in France to make savory crepe batter. But buckwheat works beautifully in desserts too. See below for more buckwheat flour recipes!
Gluten Free Banana Buckwheat Pancakes = Love
What started out as a happy accident ended up becoming one of my favorite breakfasts of all time. I didn't think that two foods toward which I am rather neutral – bananas and pancakes – could come together in culinary matrimony to create a breakfast that I'm thrilled to share with the world, and to make and eat again and again. But they did.
So there you have it: gluten-free banana buckwheat pancake love.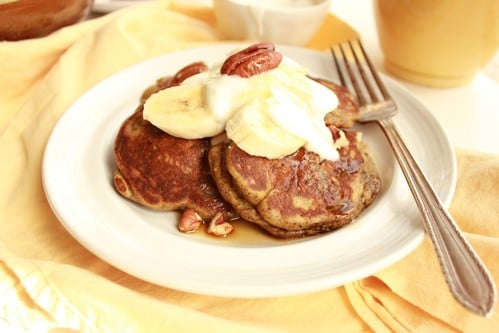 Looking for more buckwheat flour recipes? Try these:
GLUTEN-FREE
WITH GLUTEN:
More Gluten-Free Pancake Recipes:
*Bojon appétit! For more Bojon Gourmet in your life, follow along on Instagram, Facebook, or Pinterest, purchase my gluten-free cookbook Alternative Baker, or subscribe to receive new posts via email. And if you make these gluten-free banana buckwheat pancakes, I'd love to see. Tag your Instagram snaps @The_Bojon_Gourmet and #bojongourmet.*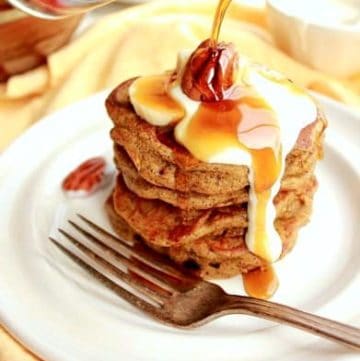 Gluten-Free Banana Buckwheat Pancakes
Print Recipe
Pin Recipe
These gluten-free banana buckwheat pancakes get rich flavor and whole-grain goodness from buckwheat and oat flours. Buttermilk makes them tender and tangy, and a touch of nutmeg, vanilla, and maple give them a dessert-for-breakfast vibe. Serve them up with maple syrup and toasted pecans and you'll be in breakfast heaven. Do be sure to source certified gluten-free flours if you or your pancake eaters are highly sensitive. This recipe makes about 10 fluffy 3-inch pancakes, serving 2-3. Double or triple the recipe to feed a crowd.
Servings:
2
large servings
Ingredients
Pancakes:
1/4

cup

sweet white rice flour

1/4

cup

oat flour

1/4

cup

buckwheat flour

1

teaspoon

baking powder

1/2

teaspoon

baking soda

1/4

teaspoon

fine sea salt

1/8

teaspoon

freshly grated nutmeg

1

large egg

1

tablespoon

maple syrup

2

tablespoons

melted butter

3/4

cup

shaken buttermilk

1/2

teaspoon

vanilla extract

1

large, ripe banana, quartered lengthwise and cut into 1/2" pieces

1/4

cup

toasted pecans, coarsely chopped

butter or ghee, for cooking the pancakes
For serving:
maple syrup

plain, whole-milk or Greek yogurt

sliced banana

toasted pecans
Instructions
In a large bowl, sift together the flours, baking powder and soda, salt and nutmeg.


In a medium bowl, whisk together the egg and maple syrup to combine. Whisk in the melted butter until smooth, then whisk in the buttermilk and vanilla.


Stir the buttermilk mixture into the flour mixture until just combined, then gently fold in the banana chunks and chopped pecans. The batter will be thick.


Heat a wide skillet (or two; or a griddle, if you've got one) over medium-low heat and add about a teaspoon of butter to coat the pan. The pan is ready when a drop of batter sizzles on contact. Drop 1/4 cup scoops of batter into the hot skillet (a spring-loaded ice cream scoop works well), spaced about 2" apart as the batter will spread, and cook for about 2 minutes on each side, until well browned and cooked throughout (the bananas will be soft and gooey, and make it a bit tricky to tell.)

Serve the pancakes with maple syrup, yogurt, sliced banana and pecans. Extras can be kept in the fridge for up to 3 days and reheated in a skillet.

Notes
To make these dairy-free, use plant yogurt thinned with a little plant milk or water in place of the buttermilk, and vegan butter or coconut oil in place of the butter. For GF Banana Teff Pancakes, replace the buckwheat flour with an equal amount of teff flour. If gluten isn't a concern for you, you can swap in all-purpose and whole wheat flours for the rice and oat flours; if you do, be very gentle when stirring the batter, and err on the side of under-mixing. If making these for a crowd, slip them onto a plate or baking sheet in a low oven to keep them warm while you cook the rest. For GF Persimmon Pancakes, optionally use the puree from 1 ripe hachiya persimmon in place of some of the buttermilk (about 1/4 cup). Add 1/2 teaspoon cinnamon and 1/8 teaspoon allspice to the flour mixture with the nutmeg. Use 1 large peeled and diced fuyu persimmon in place of the banana. Optionally serve with pomegranate arils, cranberry compote, and/or more diced fuyu persimmons along with the toasted pecans and yogurt. Nutritional values are based on one of two servings.
Nutrition
Calories:
542
kcal
Carbohydrates:
64
g
Protein:
13
g
Fat:
28
g
Saturated Fat:
11
g
Cholesterol:
122
mg
Sodium:
798
mg
Potassium:
781
mg
Fiber:
6
g
Sugar:
19
g
Vitamin A:
655
IU
Vitamin C:
5.1
mg
Calcium:
236
mg
Iron:
2.2
mg