This homemade granola tastes like a giant, crisp oatmeal cookie, with huge clusters that you can break into whatever size you like. No stirring required! Featured in Food52 Genius Recipes Column and in Genius Desserts.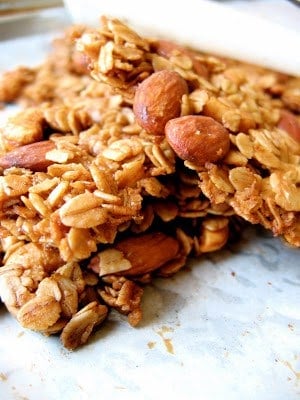 I went to pastry school for two reasons. The first was to learn to make croissants. I had given it a go once or twice, the first time in woodland hills in 100º heat, and the second with spelt flour, and both attempts had turned out less than spectacular: leaden and heavy.
The second was to collect some killer recipes: the perfect brownie, chocolate chip cookie, ice cream base, etc. My teacher, Claire Legas, a tough cookie (sorry) who had worked at Absinthe, Moose's and the French Laundry, made it evident that while the former requirement could be met (my croissants turned out flaky and light under her tutelage) the latter never would.
In the third week or so, when I asked her if the croissant recipe in our packets was her favorite go-to, she exclaimed indignantly, 'Of course not! I'm not giving you my recipes!' During the custard portion of our class, a classmate expounded on the deliciousness of Delfina's buttermilk panna cotta. 'Oh, I have that recipe,' Claire said casually. 'Can I have it?' the classmate asked eagerly. 'No!' came the reply. 'Some things you have to work for.'
When school was over, Claire kindly let me do my internship with her at her new place of work, Cafe Cacao in the Scharffen Berger building. When she had me make the best granola I'd ever tasted, I didn't even consider asking for the recipe. Instead, I repeated the quantities over and over in my head until I'd committed them to memory, and wrote them down as soon as I got home from work.
When I emailed Claire a few years later to confess, I feared she would be cross. But instead she said, 'Good for you! Half the battle is just knowing which recipes to steal.' Then she told me that the recipe isn't even hers; she stole it from chef Casey Hayden at Moose's many years ago. So I plucked up the courage to ask after her insanely flaky pie dough recipe. 'No,' she told me. 'Pie dough is sacred.'
I'm always wary of recipes that claim to be 'The Best', so, while I have never experienced a superior granola in the wide world, I have refrained (barely) from calling it that.
I will, however, tell you what makes this granola so special:
1) an unconscionable amount of butter
2) brown (or unrefined) sugar and maple syrup
3) a mixture of seasonings (cinnamon, freshly grated nutmeg, orange zest and a hefty amount of salt) that blend together seamlessly to create fullness of flavor without tasting like one particular thing
4) large, whole almonds and cashews for crunch, texture and good-for-you-ness
5) a brilliant baking technique which results in large sheets of crispy, golden granola, almost like a delicate granola bar, which can be crumbled into clumps and clusters
Jay and I know it's summer when we eat fresh berries and stone fruit topped with creamy yogurt and a dusting of crispy, oaty loveliness every morning for breakfast. We take it with us on trips, such as the music camp we'll be at this coming week. It is quick to put together and bake, and it keeps well for at least a month. You will need two rimmed baking sheets and some parchment paper, but this granola doesn't need to be stirred every 10 minutes like most others, thus it is mostly hands-off.
I've made many, many batches of this granola over the years. I've come to tweak it very slightly, reducing the butter from 8 tablespoons down to 6, and the salt from 1 1/2 teaspoons down to 1. It is pretty fabulous as is, but sometimes I switch it up with equally lovely results, adding a bit of chopped candied ginger, wheat germ, or sesame seeds to the mix. Once I browned the butter with a vanilla bean, and this made a gorgeous topping for maple bourbon ice cream. I've included a honey-cardamom variation below. Feel free to go crazy; just don't add any dried fruit before baking as it may burn.
And unlike Claire, I won't make you work too hard for the recipe.
For more granola recipes:
*Bojon appétit! For more Bojon Gourmet in your life, follow along on Instagram, Facebook, or Pinterest, purchase my gluten-free cookbook Alternative Baker, or subscribe to receive new posts via email. And if you make this stolen granola recipe, I'd love to know. Leave a comment and rating below, and tag your Instagram snaps @The_Bojon_Gourmet and #bojongourmet.*
Stolen Granola
Print Recipe
Pin Recipe
This homemade granola tastes like a giant, crisp oatmeal cookie. It gets big flavor from maple, cinnamon, nutmeg, orange zest, and brown sugar. The baking technique ensures giant clusters of oats that you can break apart with your hands. Unlike most granola recipes, it doesn't need to be stirred as it bakes.
Servings:
6
to 8 servings (makes 3-4 cups).
Ingredients
2 1/2

cups

whole oats

(1/2 pound)

1/2

cup

whole, raw almonds

(2 ounces)

1/2

cup

whole, raw cashews

(2 ounces)

1/3

cup

light brown (or unrefined) sugar

(2 ounces)

zest of 1 small orange

1/2

teaspoon

cinnamon

1/2

teaspoon

(approx.) freshly grated nutmeg

3

ounces

unsalted butter

(6 tablespoons / 3/4 stick)

1/4

cup

maple syrup

(2 ounces)

1

teaspoon

salt (yes, 1 teaspoon)
Instructions
Position a rack in the center of the oven and preheat to 325º. Line a rimmed baking sheet with parchment paper. Have a second rimmed baking sheet and piece of parchment ready.

Combine the oats, nuts, sugar, orange, cinnamon, and nutmeg together in a large bowl. In a small saucepan, melt together the butter, maple syrup and salt, stirring to dissolve the salt. Pour over the oat mixture, tossing to combine thoroughly.

Dump the mixture onto the lined baking sheet, and spread it into a thin sheet no thicker than an almond. Ideally, the edges will be slightly thicker than the center as they will bake faster. Lay the second piece of parchment over the granola, and place the second sheet pan on top, right-side up, making a little granola sandwich.

Slide the whole thing into the oven and bake for 20 minutes. Rotate and continue baking another 10 - 20 minutes, peeking under the parchment to make sure the edges aren't burning, until the granola is a rich golden brown. It will still be soft, but will crisp up as it cools.

Let the granola cool completely in the sheet pan sandwich, then break up and store in an airtight container for up to a month (or possibly more.) Enjoy over fruit and yogurt for breakfast, alone for a crunchy snack, or over ice cream for a decadent dessert.
Notes
Adapted slightly from Casey Hayden of Moose's via Claire Legas.
VARIATION: Seeded Granola (nut-free)
Omit the cashews and almonds and use 1/2 cup pumpkin seeds, 1/2 cup sunflower seeds, and 1/4 cup hemp hearts.
Nutritional values are based on one of six servings.
Nutrition
Calories:
442
kcal
Carbohydrates:
50
g
Protein:
9
g
Fat:
24
g
Saturated Fat:
8
g
Cholesterol:
30
mg
Sodium:
397
mg
Potassium:
323
mg
Fiber:
5
g
Sugar:
21
g
Vitamin A:
355
IU
Vitamin C:
1.3
mg
Calcium:
81
mg
Iron:
2.7
mg