Gluten-free sugar cookies (aka gluten-free cut-out cookies) that you can roll, cut out, and decorate to your heart's content! These holiday-friendly cookies are flavorful, buttery, and not overly sweet. With tested vegan and paleo options. With a few tweaks, these become gluten-free linzer cookies.
Thanks to Bob's Red Mill for sponsoring this post!
Gluten-Free Cookies for the Holidays
Being Jewish, Christmas cookies were not much a part of my family's holiday traditions. Rugelach we had, but Santa hats decorated with sugar and sprinkles, not so much. We did, however, often keep a big, blue tin of buttery shortbread stashed in the kitchen come December.
When a few different readers requested a gluten-free cut-out cookie recipe recently, I decided to try converting my favorite gluten-free tart crust – which tastes like buttery shortbread – to a GF sugar cookie recipe. I doubled the recipe and added an egg. I chilled the dough, rolled it out, cut it with biscuit cutters, and baked.
When I popped a cookie in my mouth, I couldn't believe how much I loved the results. The familiar taste of those buttery cookies in the blue tin flooded my senses. Vanilla, a hit of salt, butter, and cookie dough kissed my palate. They were so addicting that we had to hide the cookies in the cupboard so we wouldn't munch them all in one sitting. (Jay's motto is "out of sight, out of snout" when it comes to addictive foods like these cookies.)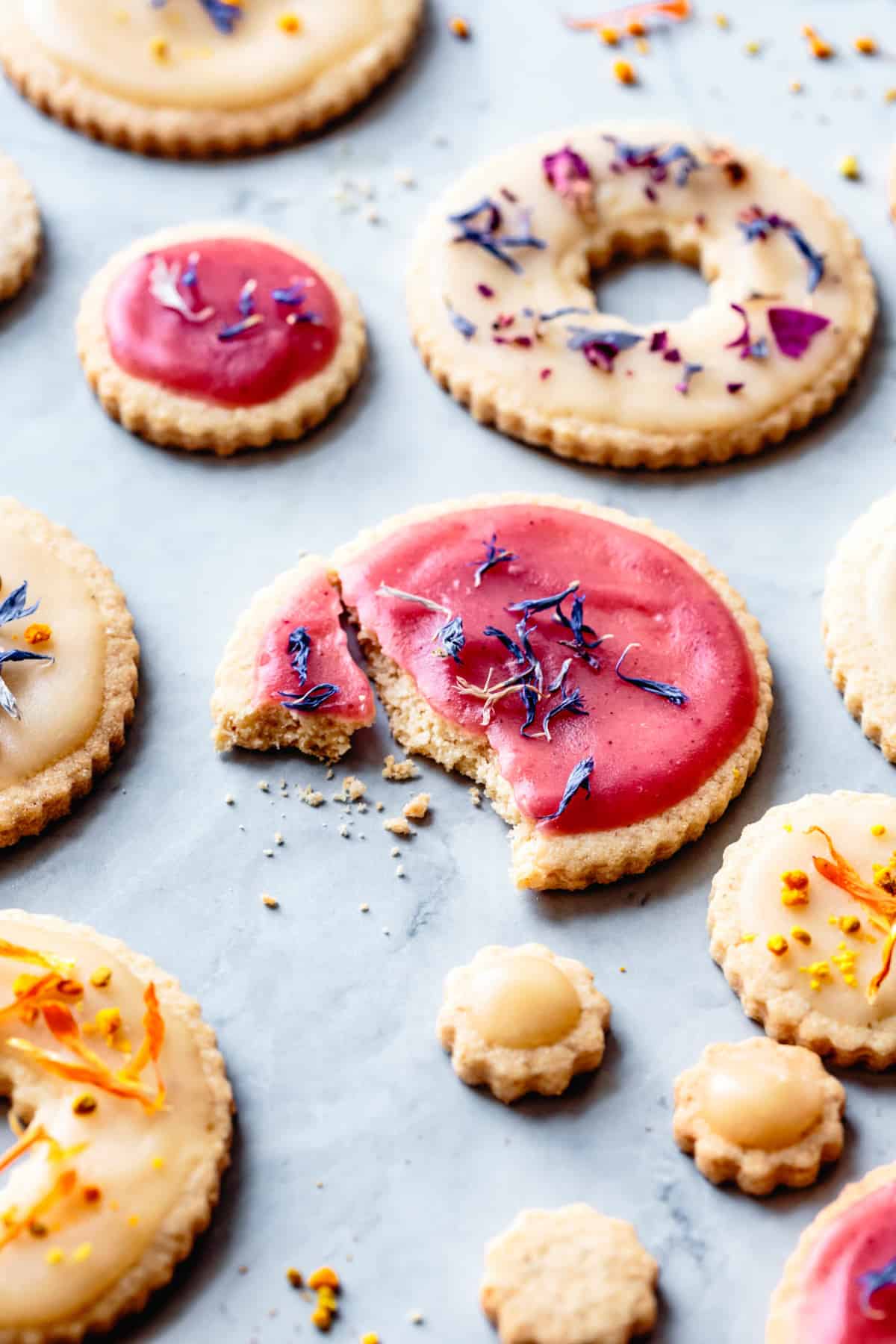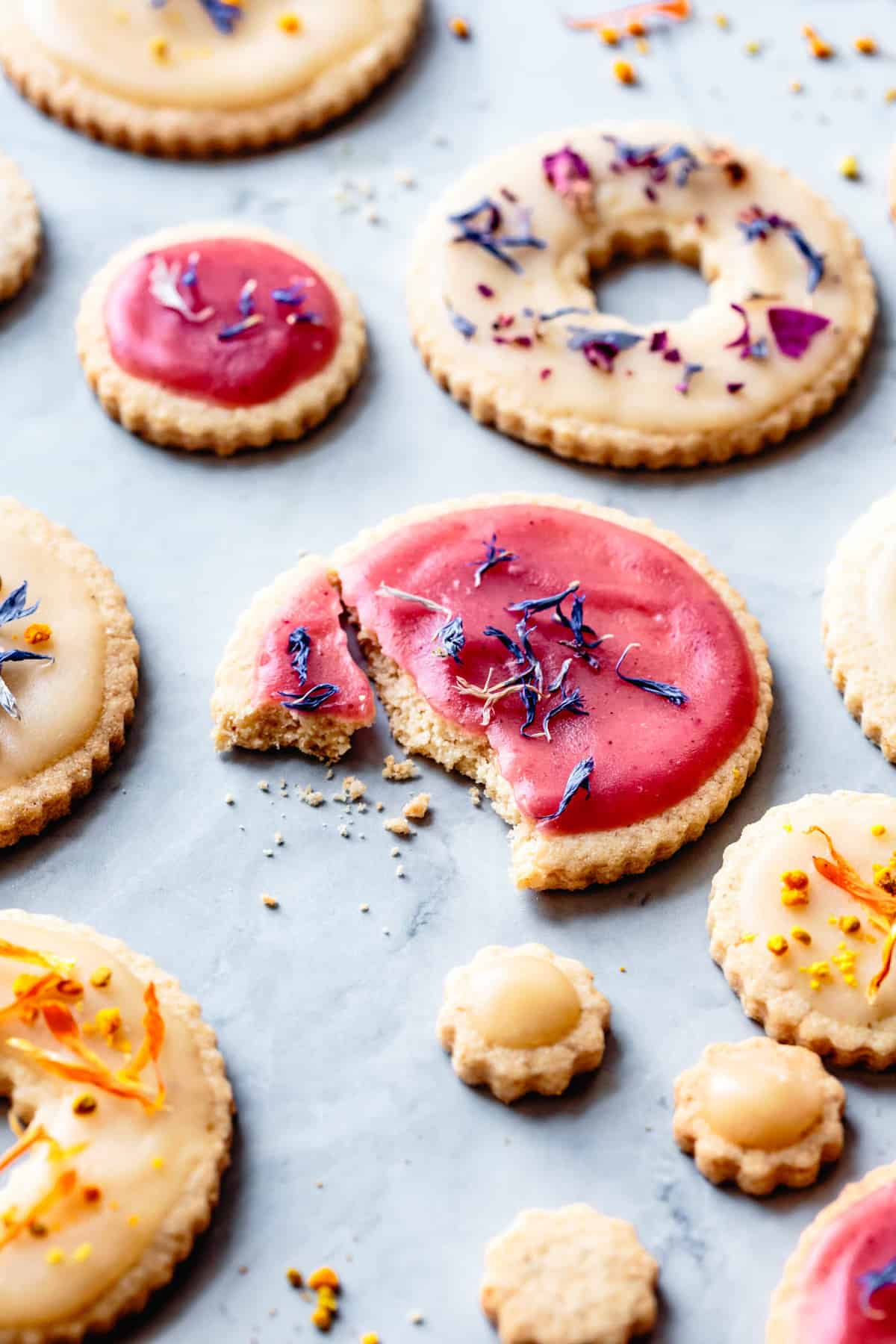 This recipe turns out an easy-to-handle dough that gets big flavor from vanilla, butter, tasty flours, and a good hit of salt. I tested a vegan version and a paleo version, both of which turn out beautiful sugar cookies, details below and in the recipe notes.
These almond flour sugar cookies are even more of a treat when decorated with coconut butter icing and naturally pretty toppings like bee pollen and edible dried flower petals. I found these at my co-op and I've and given more natural deco suggestions below. I've also shared my recipe for a more traditional powdered sugar icing.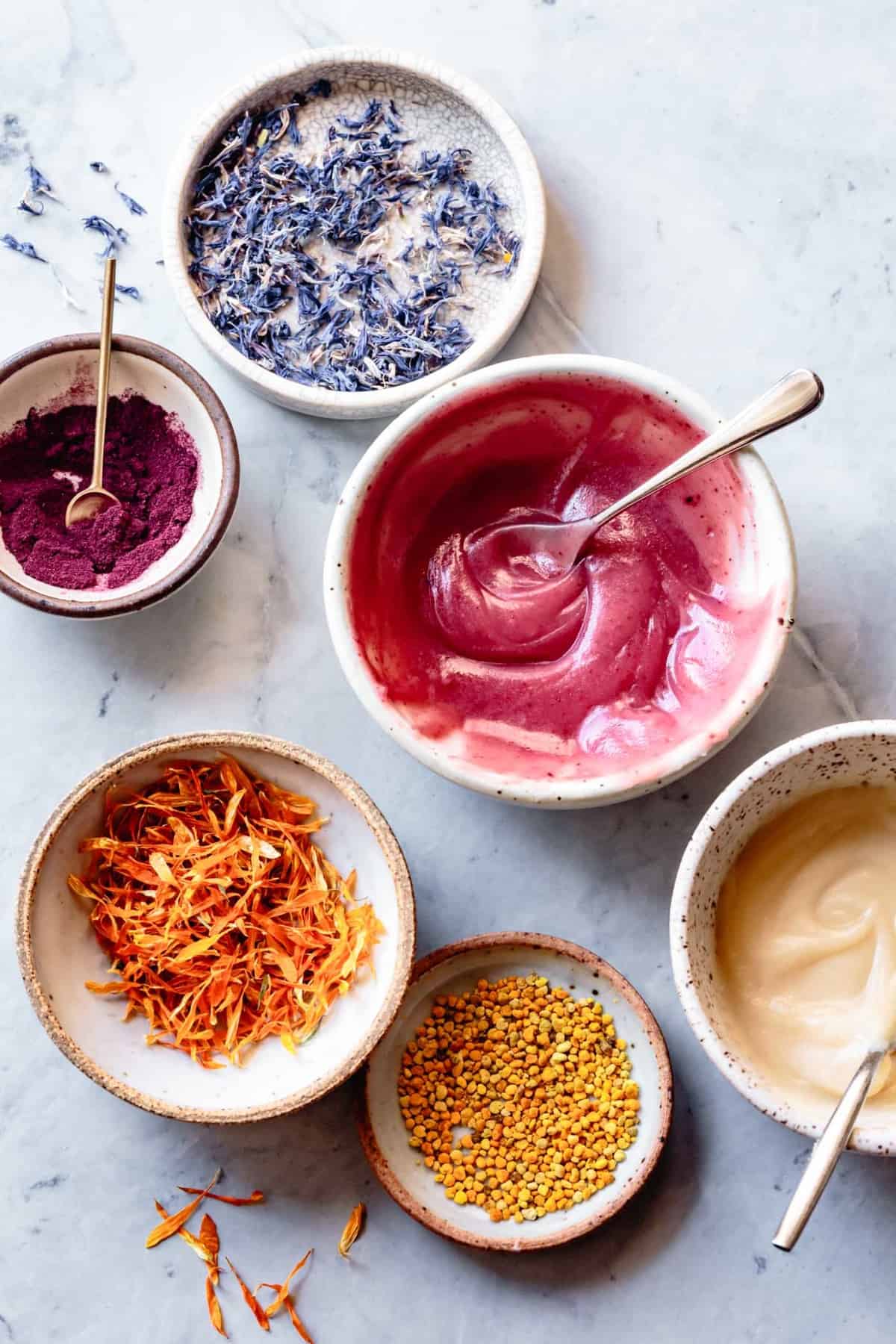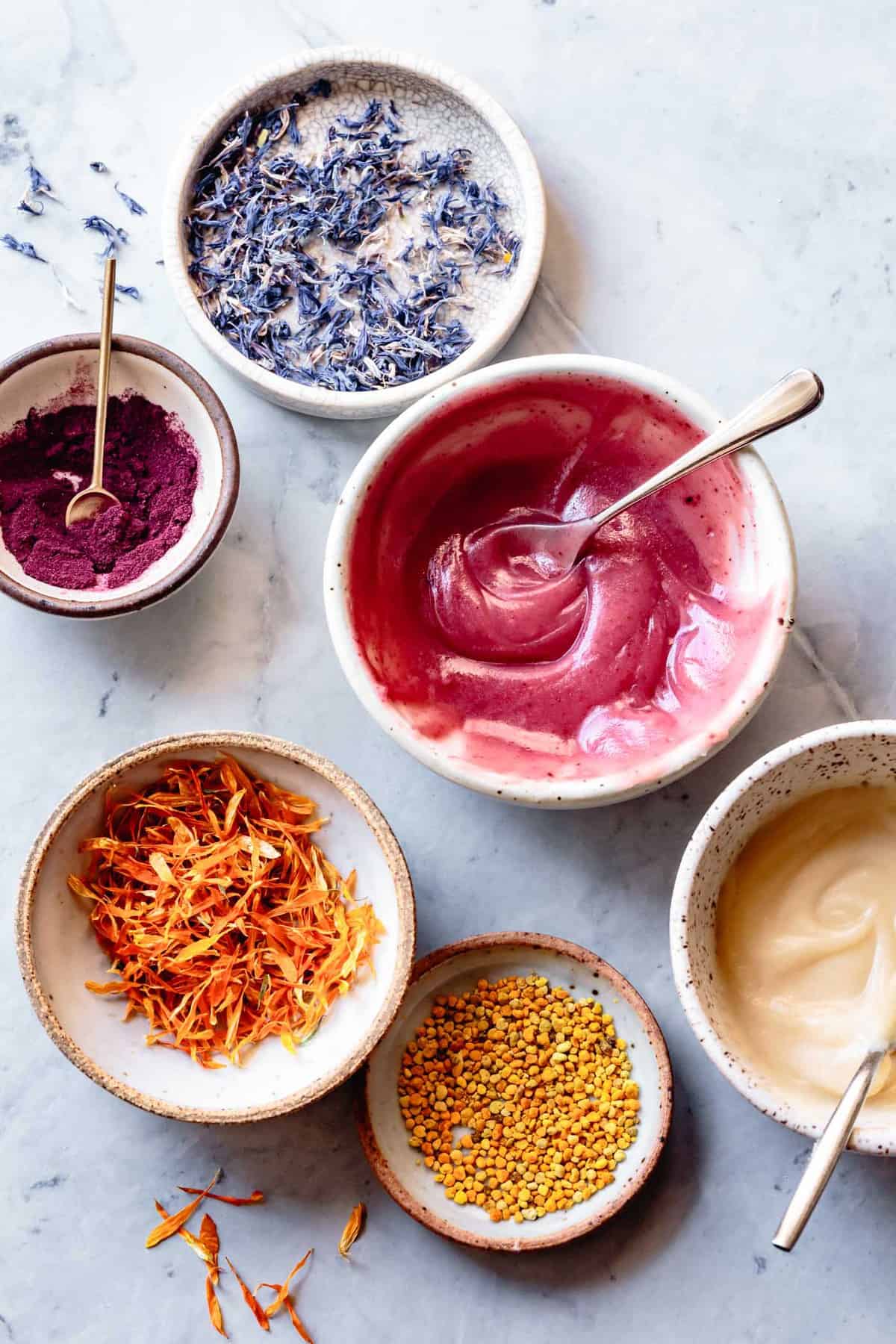 Healthy Sugar Cookies
These gluten-free sugar cookies use less sugar than most, and they get some good stuff from whole-grain oat flour and almond flour.
Since many of my lovely readers have food sensitivities in addition to gluten, I tested GF sugar cookies that are also:
refined sugar-free
dairy-free, egg-free, and vegan
grain-free and paleo
I've also included two icing options:
a classic powdered sugar icing
paleo-friendly coconut butter icing sweetened with maple syrup
I experimented with different natural food powders to color the icings, including:
turmeric (yellow)
matcha (green)
beet powder (pink, shown here)
And I topped these healthy sugar cookies with "nature's sprinkles":
dried edible flower petals (calendula, cornflower, and rose)
bee pollen
hibiscus powder
Other pretty toppings for healthy sugar cookies could include:
chopped pistachios or other nuts
crumbled freeze-dried raspberries or other fruit
cacao nibs
hemp seeds
Ingredients and Substitutions
These gluten-free sugar cookies are made with just a handful of pantry-friendly ingredients.
Butter makes the cookies moist and tender. Use vegan butter if you like to make gluten-free dairy-free sugar cookies.
Sugar adds sweetness. I prefer organic cane sugar, which is pale tan in color, but any white sugar will work. Use brown sugar for richer color and flavor, or use maple sugar or coconut sugar for refined sugar-free gluten-free sugar cookies.
Egg sticks the dough together. Use a flax egg for egg-free or vegan gluten-free sugar cookies (see recipe notes).
Vanilla extract adds luscious flavor. Use vanilla paste if you want extra vanilla-y gluten-free vanilla cookies.
Baking powder gives the cookies a little lift.
Salt sharpens the flavors.
Gluten-Free Flours for Almond Flour Sugar Cookies
A trio of flours, plus some starch, gives these gluten-free holiday cookies a divine melt-in-your-mouth texture. I use Bob's Red Mill flours which are certified gluten-free. You can order them all online or find them at a grocer near you using their store locator.
How to Make Gluten-Free Sugar Cookies
Gluten-Free Sugar Cookie Dough
Combine the butter, sugar, and salt in a large bowl or stand mixer bowl.
Beat until smooth. Add the egg and vanilla.
Beat until combined.
Sift in the flours and baking powder.
Stir until combined.
Divide the gluten-free sugar cookie dough in half, flatten into disks, wrap, and chill until firm.
Baking and Decorating Gluten-Free Cut-Out Cookies
Place the dough on a lightly floured surface.
Roll out to an oval 1/8-inch thick.
Cut out shapes. I went simple with fluted biscuit cutters, but do you!
Bake until golden. Let cool completely. Store for up to 1 week.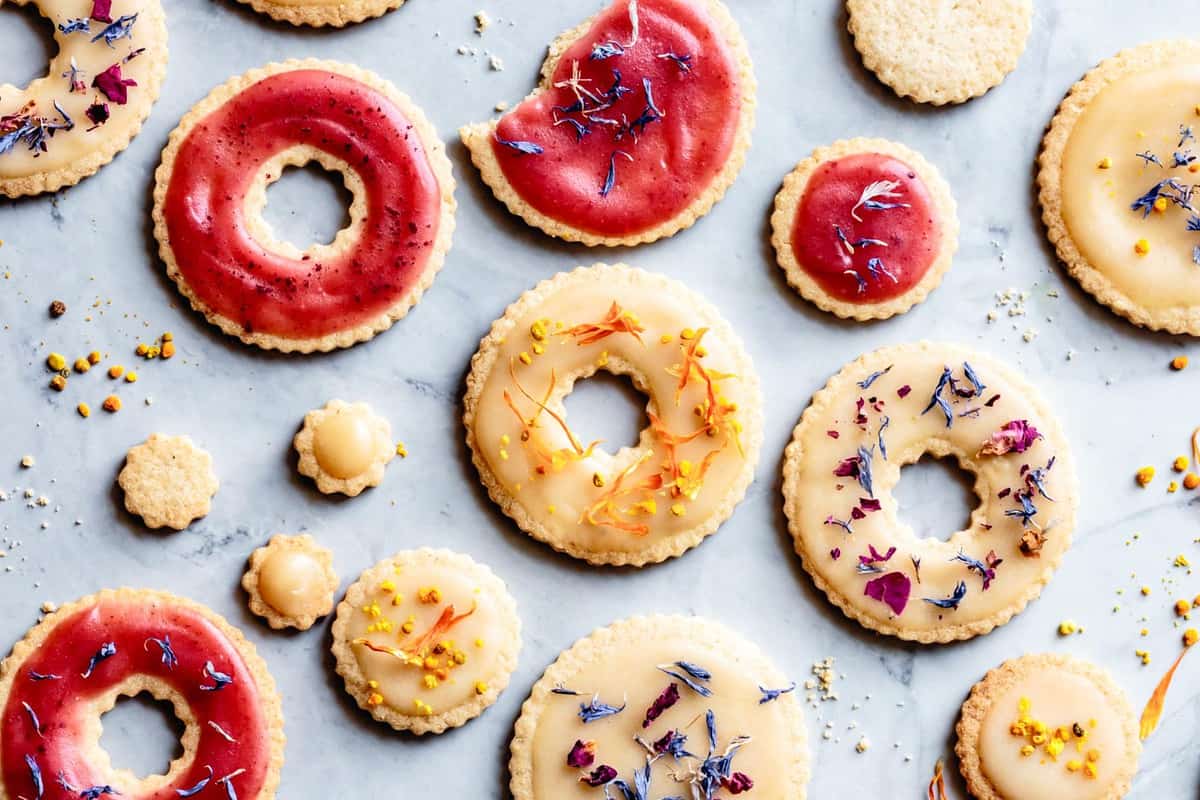 Decorate with powdered sugar icing or coconut butter icing.
GF Sugar Cookies for Everyone
Bake up a batch of these gluten-free holiday cookies, and invite friends or family to decorate them with you. These cookies pack well in gift boxes once the icing has set and make a welcome treat for everyone – whether they're GF, vegan, paleo, or not.
However you make them, I hope you find these gluten-free sugar cookies as satisfying to make and eat as we do!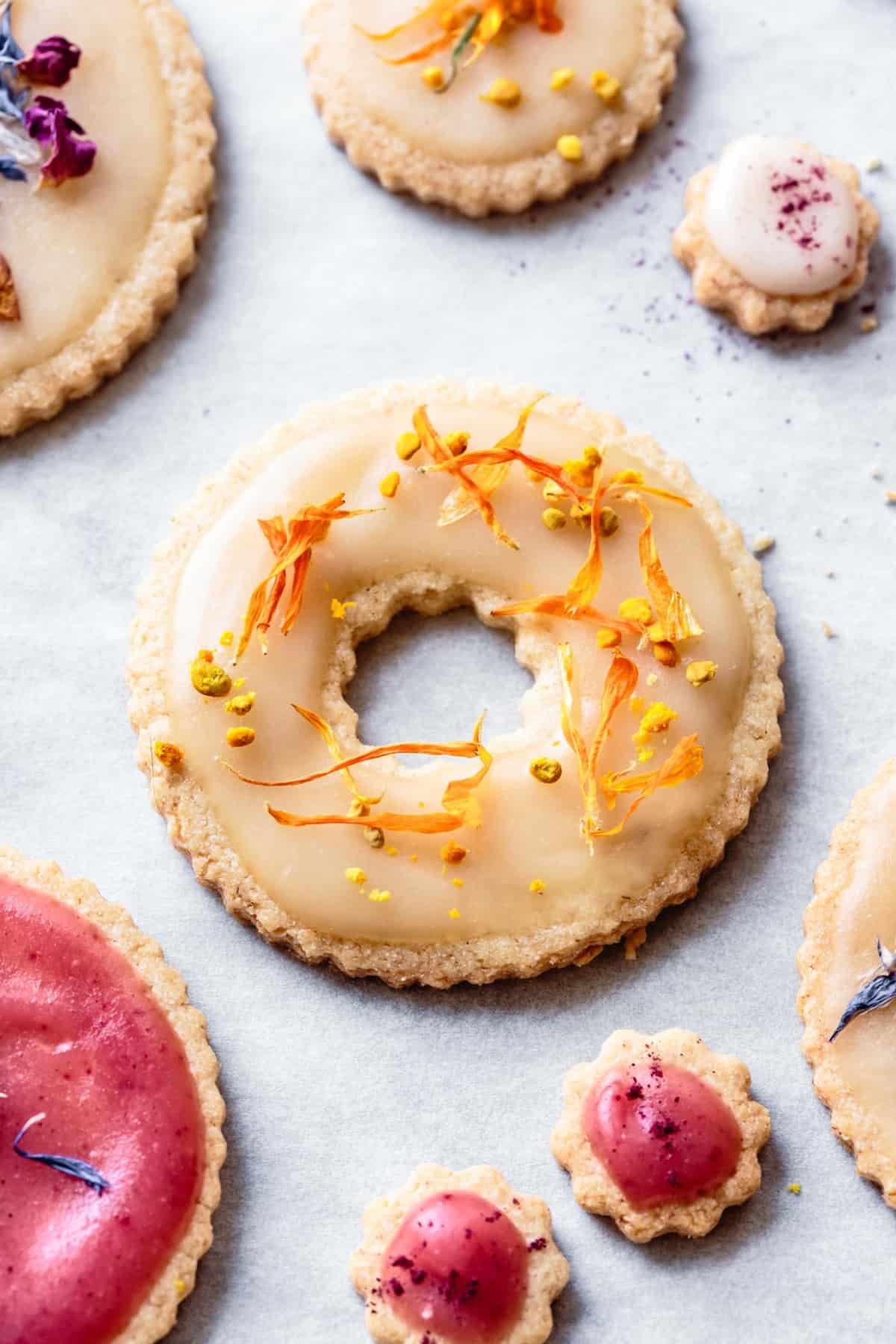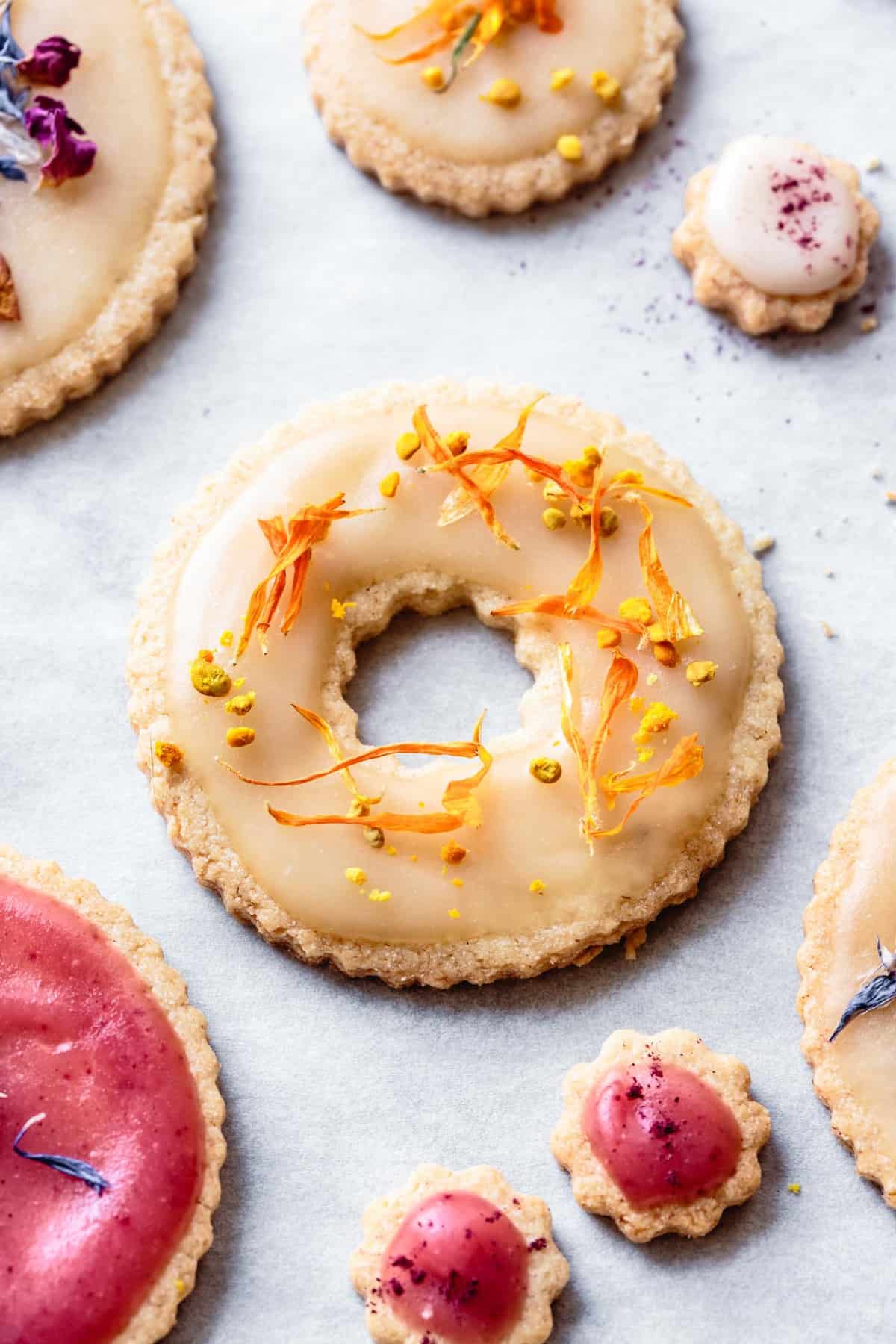 More Favorite Gluten-Free Holiday Cookies
Bojon appétit! For more Bojon Gourmet in your life, follow along on Instagram, Facebook, or Pinterest, purchase my gluten-free cookbook Alternative Baker, or subscribe to receive new posts via email. And if you make these gluten-free sugar cookies, I'd love to know. Leave a comment and rating below, and tag your Instagram snaps @The_Bojon_Gourmet and #bojongourmet.