Gluten-free sugar cookies (aka gluten-free cut-out cookies) that you can roll, cut out, and decorate to your heart's content! These holiday-friendly cookies are flavorful, buttery, and not overly sweet. With tested vegan and paleo options.
Thanks to Bob's Red Mill for sponsoring this post!
Gluten-Free Christmas Cookies / Gluten-Free Holiday Cookies
Being Jewish, Christmas cookies were not much a part of my family's holiday traditions. Rugelach we had, but Santa hats decorated with sugar and sprinkles, not so much. We did, however, often keep a big, blue tin of buttery shortbread stashed in the kitchen come December.
When a few different readers requested a gluten-free cut-out cookie recipe recently, I decided to try converting my favorite gluten-free tart crust – which tastes like buttery shortbread – to a GF sugar cookie recipe. I doubled the recipe and added an egg. I chilled the dough, rolled it out, cut it with biscuit cutters, and baked.
When I popped a cookie in my mouth, I couldn't believe how much I loved the results. The familiar taste of those buttery cookies in the blue tin flooded my senses. Vanilla, a hit of salt, butter, and cookie dough kissed my palate. They were so addicting that we had to hide the cookies in the cupboard so we wouldn't munch them all in one sitting. (Jay's motto is "out sight, out of snout" when it comes to addictive foods like these cookies.)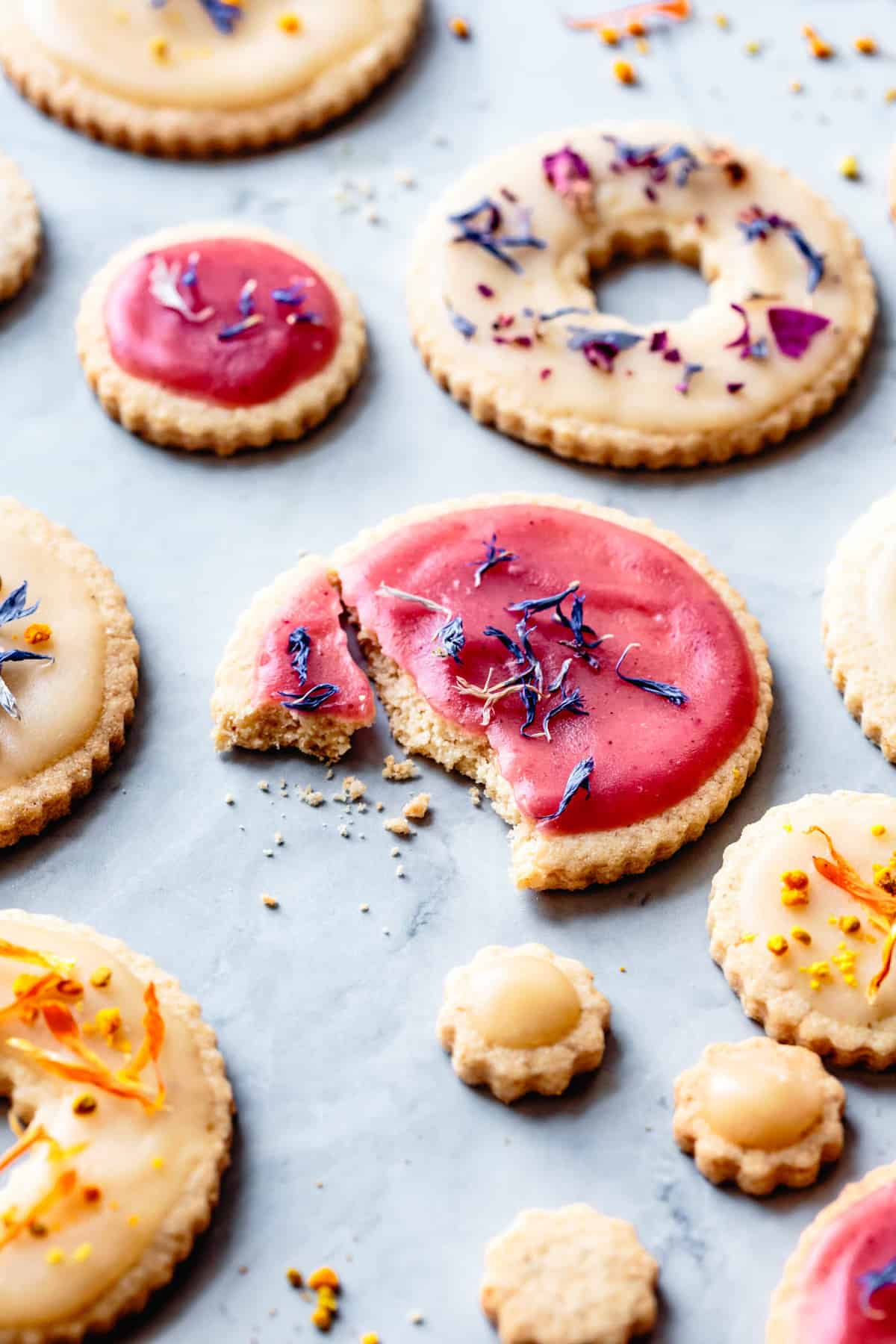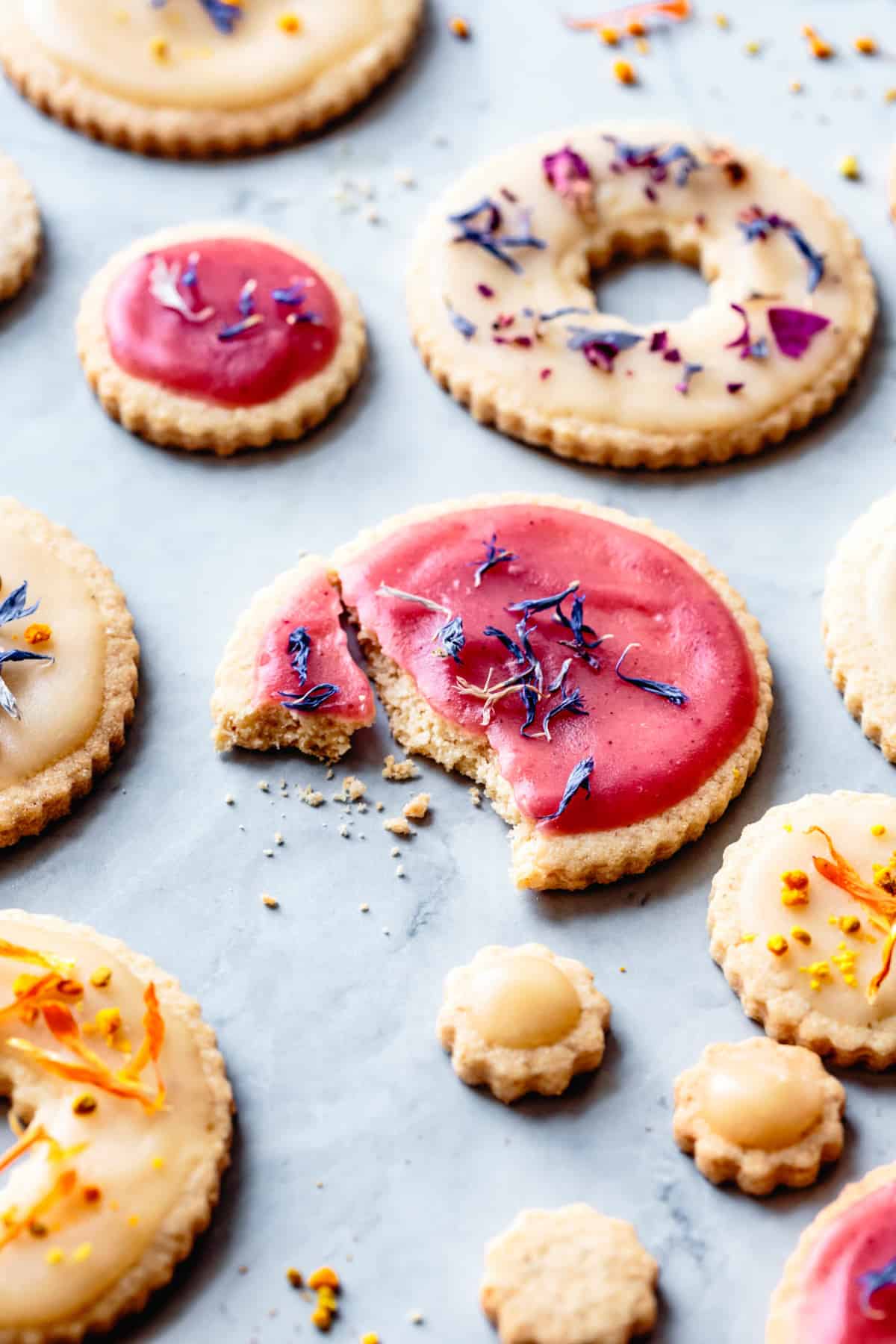 My Best Gluten-Free Sugar Cookies
This recipe turns out an easy-to-handle dough that gets big flavor from vanilla, butter, tasty flours, and a good hit of salt. I tested a vegan version and a paleo version, both of which turn out beautiful sugar cookies, details below and in the recipe notes.
These almond flour sugar cookies are even more of a treat when decorated with coconut butter icing and naturally pretty toppings like bee pollen and edible dried flower petals. I found these at my co-op and I've and given more natural deco suggestions below. I've also shared my recipe for a more traditional powdered sugar icing.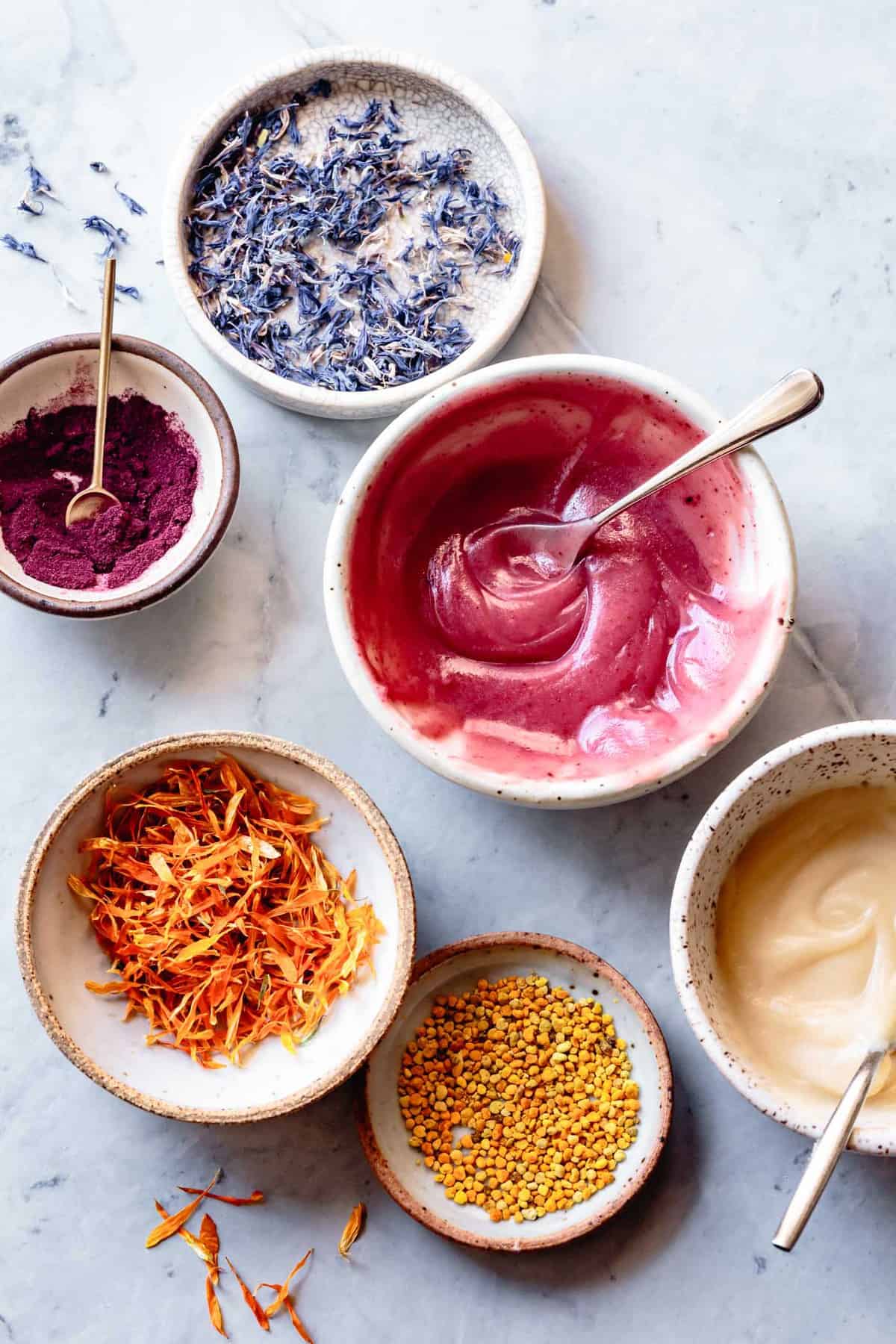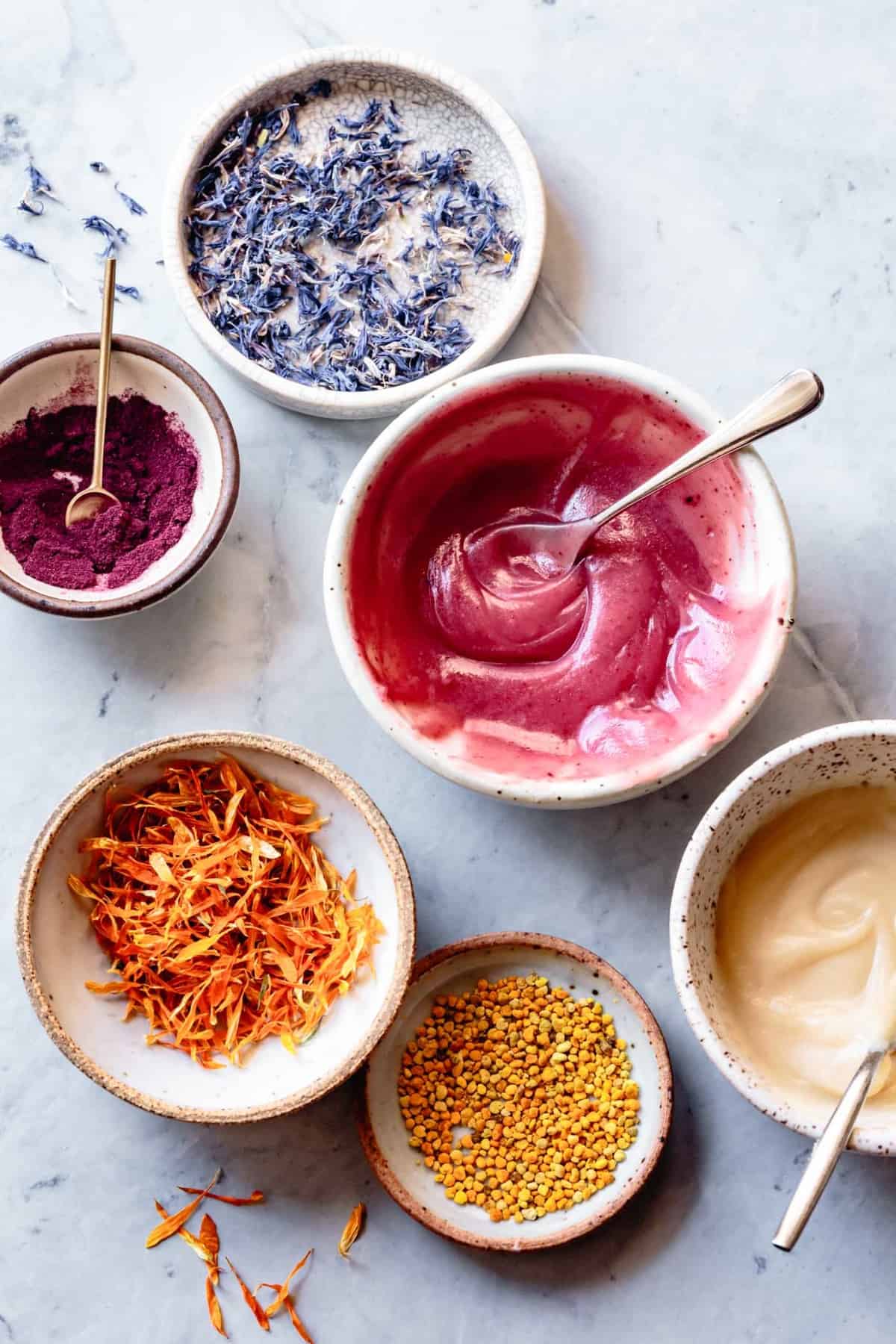 Healthy Sugar Cookies
These gluten-free sugar cookies use less sugar than most, and they get some good stuff from whole-grain oat flour and almond flour.
Since many of my lovely readers have food sensitivities in addition to gluten, I tested GF sugar cookies that are also:
refined sugar-free
dairy-free, egg-free, and vegan
grain-free and paleo
I've also included two icing options:
a classic powdered sugar icing
paleo-friendly coconut butter icing sweetened with maple syrup
I experimented with different natural food powders to color the icings, including:
turmeric (yellow)
matcha (green)
beet powder (pink, shown here)
And I topped these healthy sugar cookies with "nature's sprinkles":
dried edible flower petals (calendula, cornflower, and rose)
bee pollen
hibiscus powder
Other pretty toppings for healthy sugar cookies could include:
chopped pistachios or other nuts
crumbled freeze-dried raspberries or other fruit
cacao nibs
hemp seeds
Ingredients and Substitutions
These gluten-free sugar cookies are made with just a handful of pantry-friendly ingredients.
Butter makes the cookies moist and tender. Use vegan butter if you like to make gluten-free dairy-free sugar cookies.
Sugar adds sweetness. I prefer organic cane sugar, which is pale tan in color, but any white sugar will work. Use brown sugar for richer color and flavor, or use maple sugar or coconut sugar for refined sugar-free gluten-free sugar cookies.
Egg sticks the dough together. Use a flax egg for egg-free or vegan gluten-free sugar cookies (see recipe notes).
Vanilla extract adds luscious flavor. Use vanilla paste if you want extra vanilla-y gluten-free vanilla cookies.
Baking powder gives the cookies a little lift.
Salt sharpens the flavors.
Gluten-Free Flours for Almond Flour Sugar Cookies
A trio of flours, plus some starch, gives these gluten-free holiday cookies a divine melt-in-your-mouth texture. I use Bob's Red Mill flours which are certified gluten-free. You can order them all online or find them at a grocer near you using their store locator.
How to Make Gluten-Free Sugar Cookies
Gluten-Free Sugar Cookie Dough
Combine the butter, sugar, and salt in a large bowl or stand mixer bowl.
Beat until smooth. Add the egg and vanilla.
Beat until combined.
Sift in the flours and baking powder.
Stir until combined.
Divide the gluten-free sugar cookie dough in half, flatten into disks, wrap, and chill until firm.
Baking and Decorating Gluten-Free Cut-Out Cookies
Place the dough on a lightly floured surface.
Roll out to an oval 1/8-inch thick.
Cut out shapes. I went simple with fluted biscuit cutters, but do you!
Bake until golden. Let cool completely. Store for up to 1 week.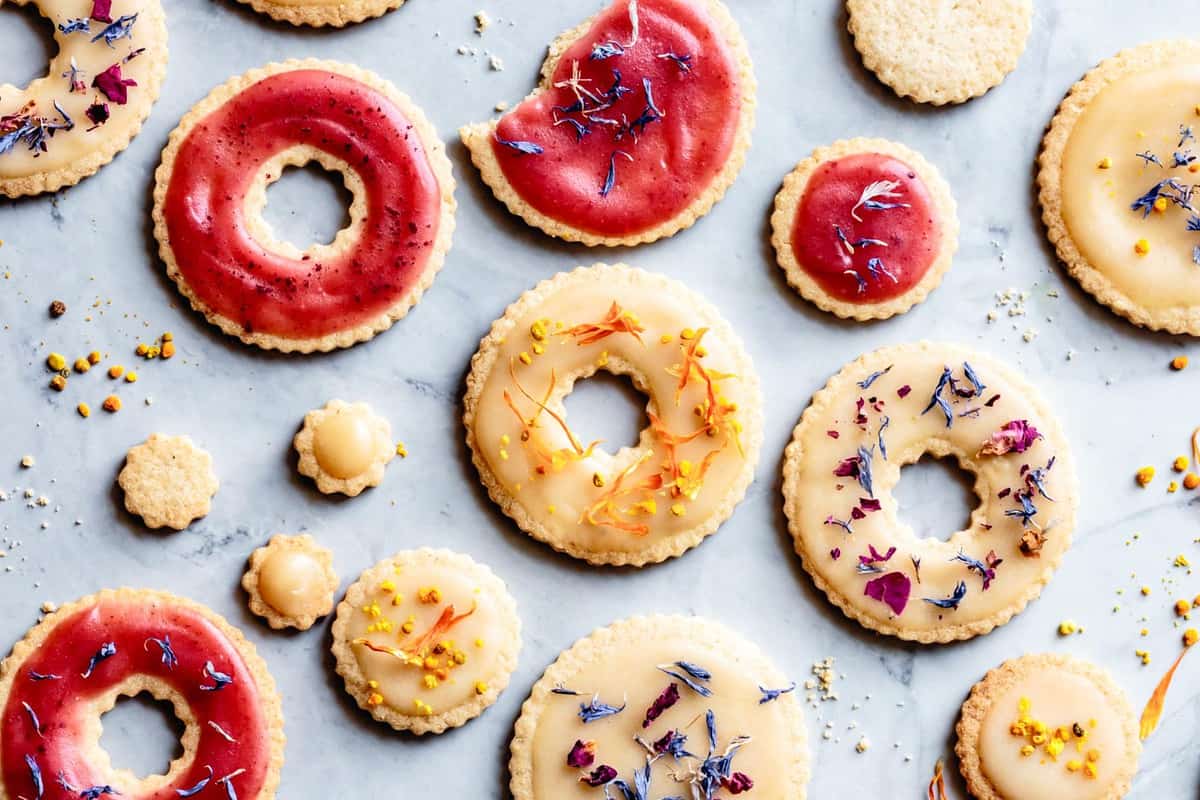 Decorate with powdered sugar icing or coconut butter icing.
GF Sugar Cookies for Everyone
Bake up a batch of these gluten-free holiday cookies, and invite friends or family to decorate them with you. These cookies pack well in gift boxes once the icing has set and make a welcome treat for everyone – whether they're GF, vegan, paleo, or not.
However you make them, I hope you find these gluten-free sugar cookies as satisfying to make and eat as we do!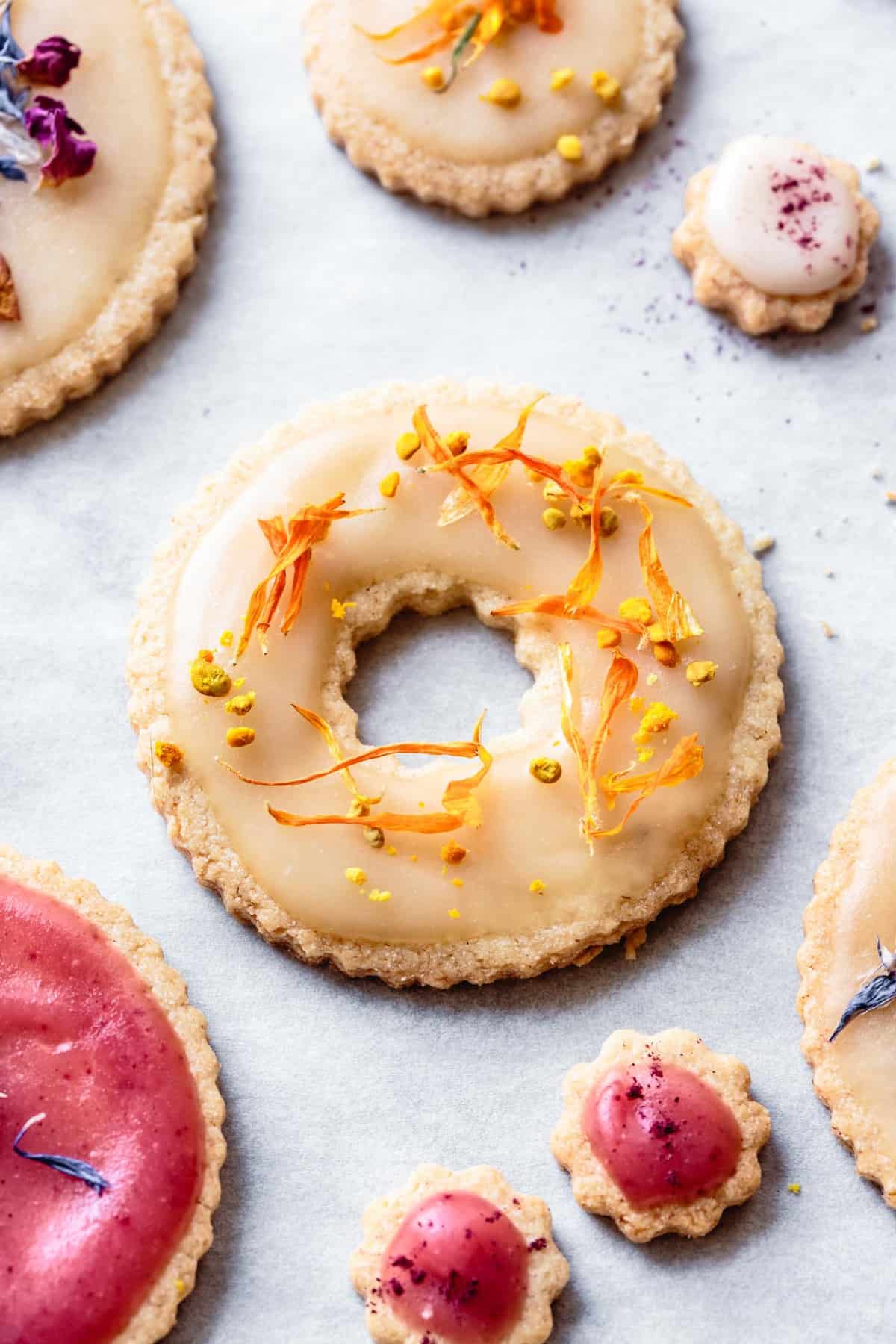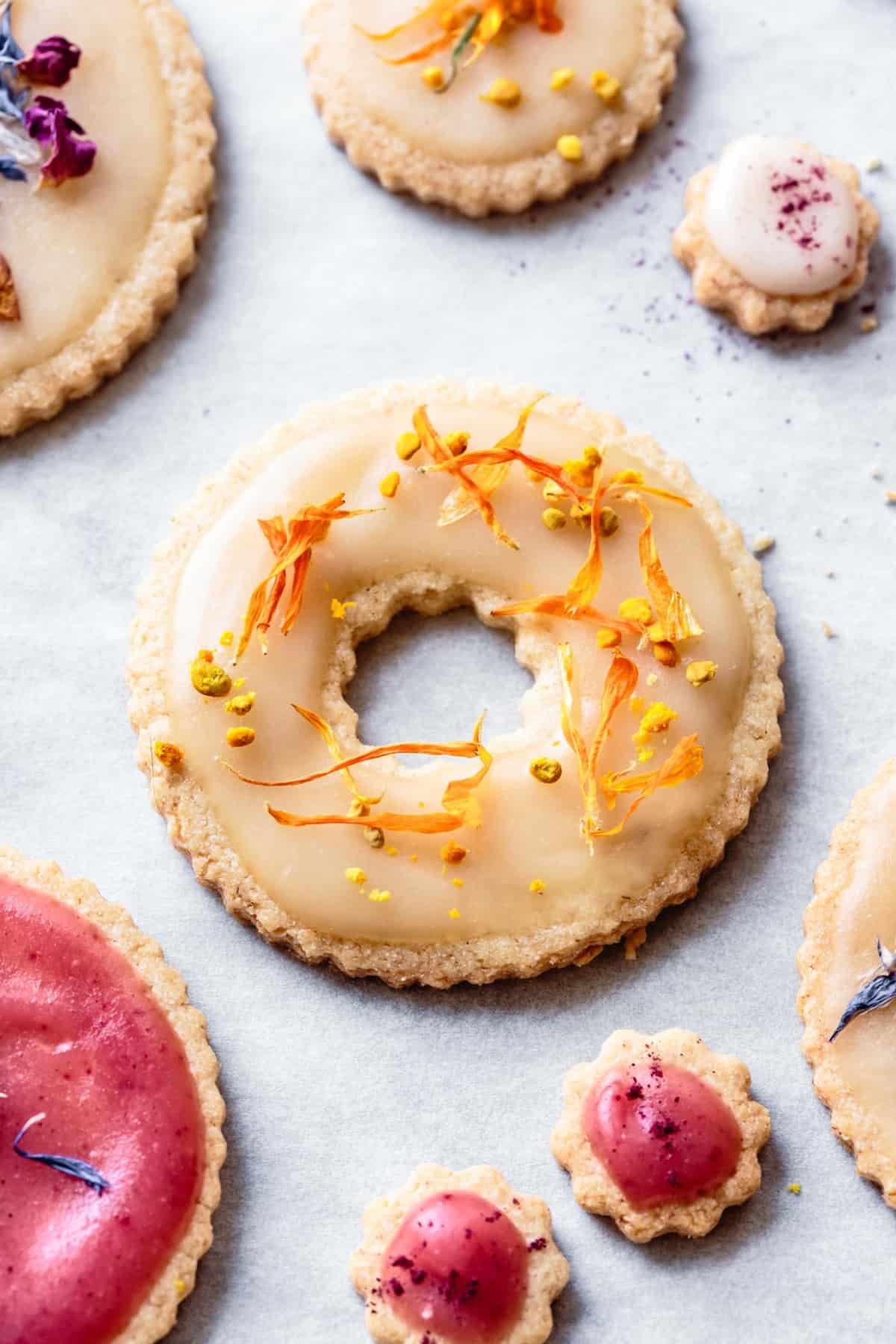 More Favorite Gluten-Free Holiday Cookies
Bojon appétit! For more Bojon Gourmet in your life, follow along on Instagram, Facebook, or Pinterest, purchase my gluten-free cookbook Alternative Baker, or subscribe to receive new posts via email. And if you make these gluten-free sugar cookies, I'd love to know. Leave a comment and rating below, and tag your Instagram snaps @The_Bojon_Gourmet and #bojongourmet.
Gluten-Free Sugar Cookies (refined sugar-free, vegan & paleo options)
Print Recipe
Pin Recipe
Gluten-free sugar cookies that you can roll, cut out, and decorate! Flavorful, buttery, and not overly sweet. See the notes for substitutions and paleo/vegan options.
Servings:
40
2-inch diameter cookies
Ingredients
12

tablespoons

(170 g) unsalted butter, at room temperature*

½

cup

(100 g) organic granulated sugar**

¾

teaspoon

fine sea salt

1

large egg***

2

teaspoons

GF vanilla extract

½

teaspoon

baking powder

icing or paleo icing, recipes below
Instructions
Make the gluten-free sugar cookie dough:
In the bowl of stand mixer fitted with the paddle attachment (or in a large bowl), combine the butter, sugar, and salt. Beat (or stir with a wooden spoon or electric egg beater) on medium speed until combined, about 1 minute. We don't want to aerate the dough in this case as that will make the cookies spread more.

Scrape down the sides of the bowl and add the egg and vanilla. Beat on medium speed or stir to combine. The mixture will look curdled at this point, but it will come together once the flours are added.

Sift in the almond, sweet rice, and oat flours with the tapioca starch and baking powder. Beat on low speed until just combined, scraping down the sides of the bowl once or twice.

Divide the dough in half and shape each half into a ball. Flatten the balls into disks (the thinner you make them, the easier it will be to roll them out), wrap in beeswax wrap or plastic wrap, and chill until firm, at least 30-60 minutes and up to several days. Or freeze for longer storage.
Shape and bake the cookies:
Unwrap one of the dough rounds and place it on a piece of parchment paper dusted lightly with oat flour. If the dough has been chilled for a while, you may need to let it soften for 5-10 minutes to make it easier to roll.

Dust the top of the dough with oat flour, using a dry pastry brush to sweep away excess flour. Roll the dough into a large oval that's 1/8-inch thick or a little thicker.

When the dough starts to stick to the bottom, dust the top with a little oat flour, place a piece of parchment on top of the dough, and flip the whole thing over, parchment and all. Carefully peel away the now top piece of parchment, dust the dough with more flour, and continue rolling, sweeping away excess flour with a dry pastry brush.

Cut the dough into shapes using cookie cutters, biscuit cutters, or an inverted glass. Place the cuts as close together as you can to maximize the dough. Or just cut it into squares with a knife or pastry wheel.

Gather up the dough scraps and save them to combine with the dough scraps from the next dough round. You can gently smush these together, chill them for 20 minutes, and roll this dough to make more cookies.

Transfer the cut-outs to a cookie sheet lined with parchment and chill while the oven preheats, 20-30 minutes.

Position a rack in the upper third of the oven and preheat to 350ºF.

Repeat the rolling/cutting process with the other dough round.

Bake the cookies one at a time in the upper third of the oven until set and slightly golden around the edges, 12-16 minutes. Rotate the cookie sheet halfway through for even baking. I like my cookies crispy and baked longer, but if you prefer softer cookies, go with the shorter time.

Let the cookies cool on the cookie sheets or transfer to a cooling rack. Once cool, ice and decorate.

The cookies keep well, airtight at room temperature, for up to a week or two. Cookies iced with coconut butter icing will soften if stored, covered, overnight.
Notes
*or plant butter such as Miyoko's unsalted cultured butter
**or ½ cup + 1 tablespoon (100 g) coconut sugar or maple sugar
***or 1 flax egg: 1 tablespoon flaxseed + 3 tablespoons hot water, let sit until thick, 10-20 minutes.
****or almond or hazelnut meal. Sub tiger nut flour for nut-free.
*****sub by weight cassava flour or 1 to 1 GF all-purpose flour
****** sub by weight sorghum, millet, teff, buckwheat, or corn flour (not cornmeal or cornstarch)
*******or try cornstarch or arrowroot powder
Paleo sugar cookies: Use maple sugar or coconut sugar instead of granulated sugar. For the flours, omit the rice and oat flours and use 1 ½ cups almond flour (180g) and 1 ¼ cups (190 g) cassava flour, plus the tapioca starch.
Nutrition facts are for 1 of 40 cookies. 
Nutrition
Calories:
87
kcal
Carbohydrates:
9
g
Protein:
1
g
Fat:
5
g
Saturated Fat:
2
g
Polyunsaturated Fat:
1
g
Monounsaturated Fat:
1
g
Trans Fat:
1
g
Cholesterol:
13
mg
Sodium:
76
mg
Potassium:
22
mg
Fiber:
1
g
Sugar:
3
g
Vitamin A:
111
IU
Calcium:
12
mg
Iron:
1
mg
Powdered Sugar Icing
Print Recipe
Pin Recipe
A classic powdered sugar icing for cookies that dries hard with a satiny sheen.
Ingredients
2

cups

(200 g) powdered sugar, sifted

2

tablespoons

milk or plant milk (more as needed)

2

teaspoons

maple syrup or honey

¼

teaspoon

vanilla extract

⅕

teaspoon

fine sea salt
Instructions
In a medium bowl, whisk together the powdered sugar, milk, maple syrup, vanilla, and salt until smooth.

If the icing is too thick, thin with a few more drops of milk.

Spread or pipe over cookies, or tint with your preferred colors.
Coconut Butter Icing (paleo, refined sugar-free)
Print Recipe
Pin Recipe
Coconut butter forms the base of this easy icing for cookies (or cinnamon rolls, or coffee cake, or spoons). Be sure to start by melting your whole jar of coconut butter to combine the solids with the oil that often separates.
Ingredients
¼

cup

+ 2 tablespoons (90 g) well-stirred, melted coconut butter

2

tablespoons

(30 g) coconut oil

3

tablespoons

(55 g) maple syrup

¼

teaspoon

vanilla extract

⅛

teaspoon

fine sea salt

¼

cup

(60 g) milk or plant milk
Instructions
In a small saucepan, combine the coconut butter, coconut oil, maple syrup, vanilla, salt, and milk.

Place over low heat and whisk constantly until the icing is smooth.

Drizzle over cakes or spread over cookies. If it's too runny, let cool for a bit before using. Or let cool completely for a thickly spreadable icing.