Light, crisp, and buttery. Cinnamon, brown sugar, vanilla, and honey all complement earthy teff and oat flours, making these homemade gluten free graham crackers extra addictive.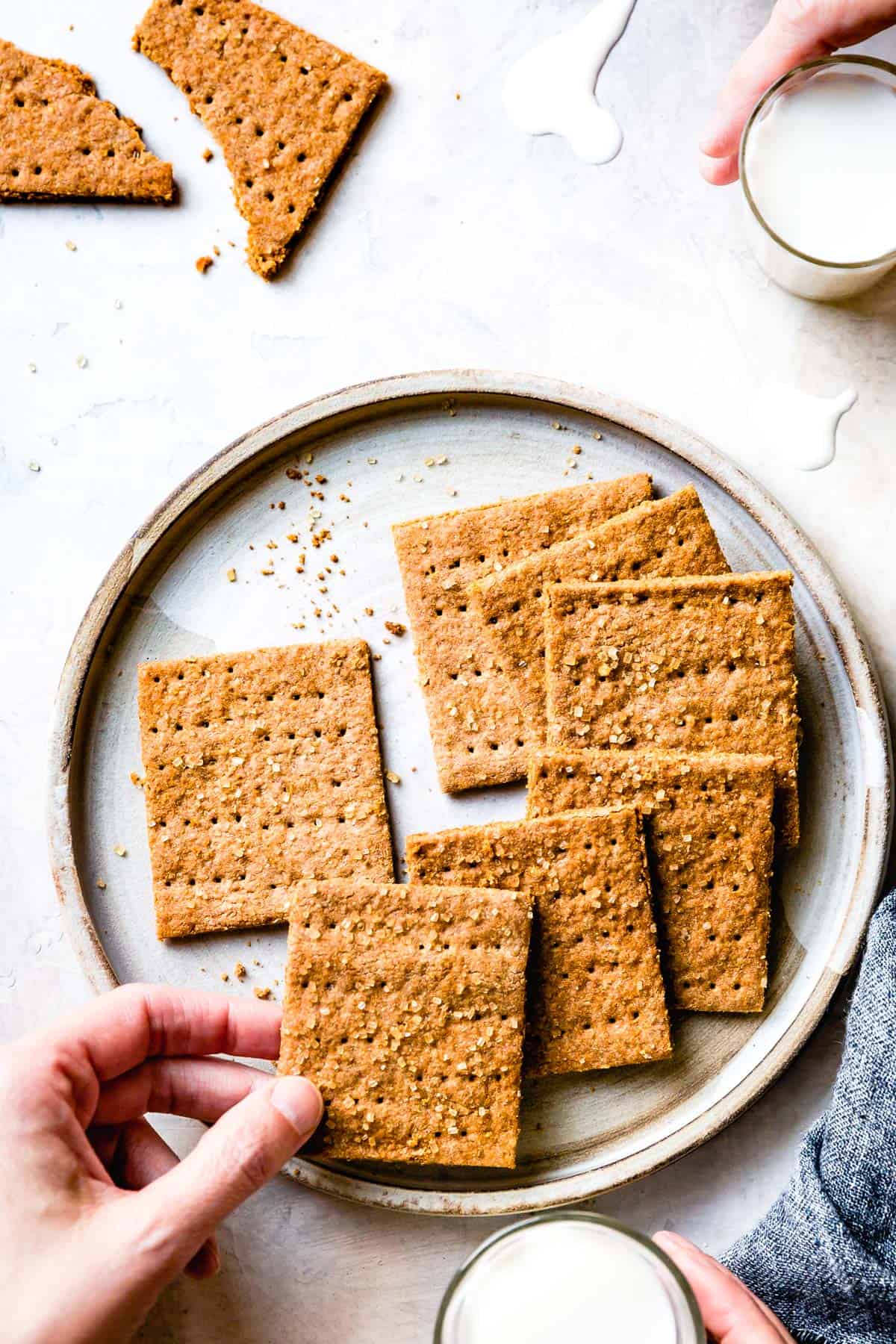 I grew up in the '80's, when fat was evil and carbs were a-ok. Graham crackers were regularly doled out at snacktime, both at school and at home, always accompanied by glasses of apple juice or milk. I always felt meh about the cardboardy little buggers, dreaming of chocolate covered ice cream bars or gooey chocolate chip cookies to satisfy my ever hangry sweet tooth. But recently I tried my hand at homemade graham crackers and everything changed.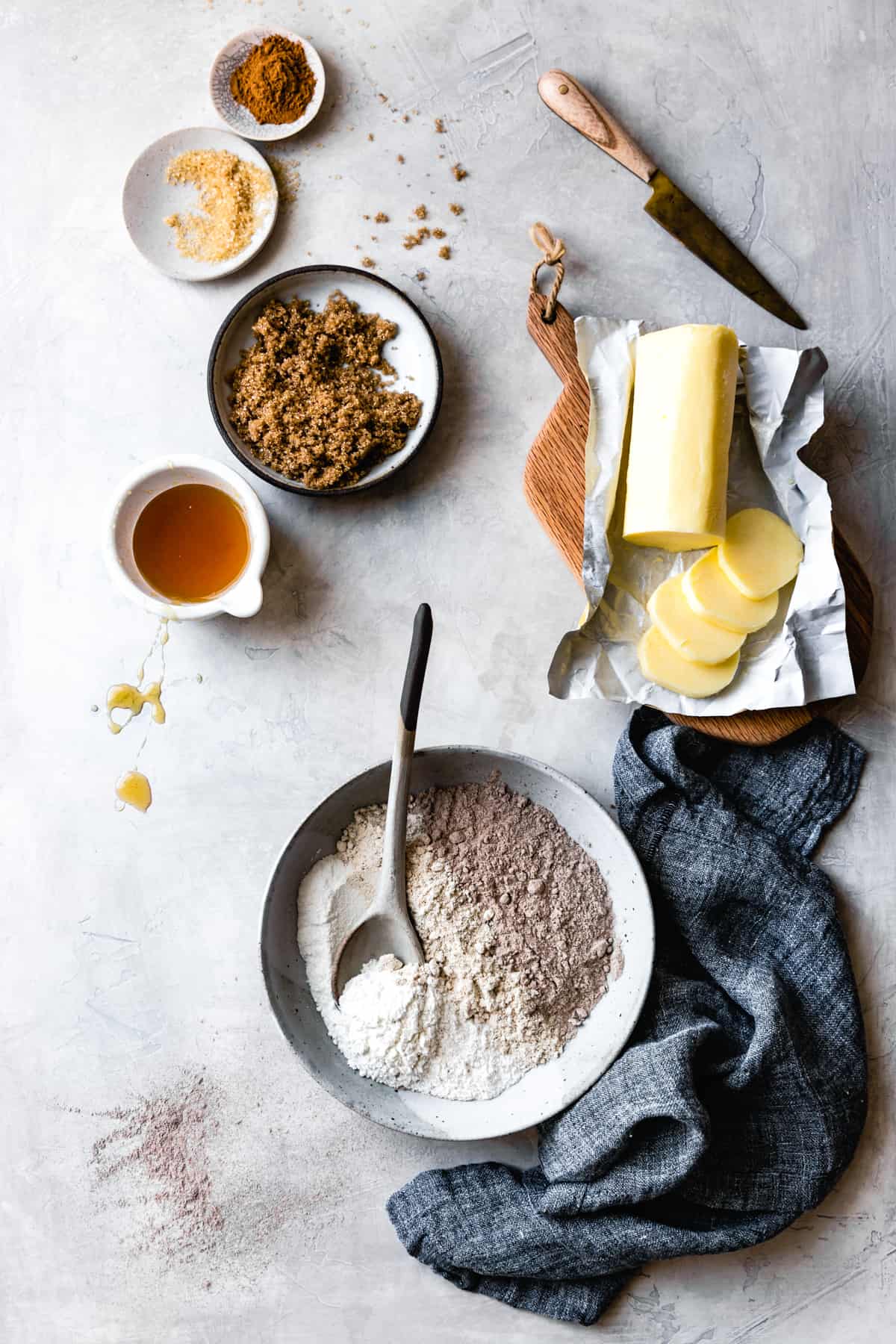 Homemade graham crackers are worlds away from their dry, packaged counterparts. These buttery babes boast a crisp, almost shortbread-like vibe, and they burst with flavor from nutty teff and oat flours kissed with cinnamon, honey, and brown sugar. They're perfectly satisfying eaten plain, next to a cup of tea or oat milk, and they can also play a supporting role in the form of a graham cracker crust or s'more. Bake up a batch of these and you'll never go back to store bought.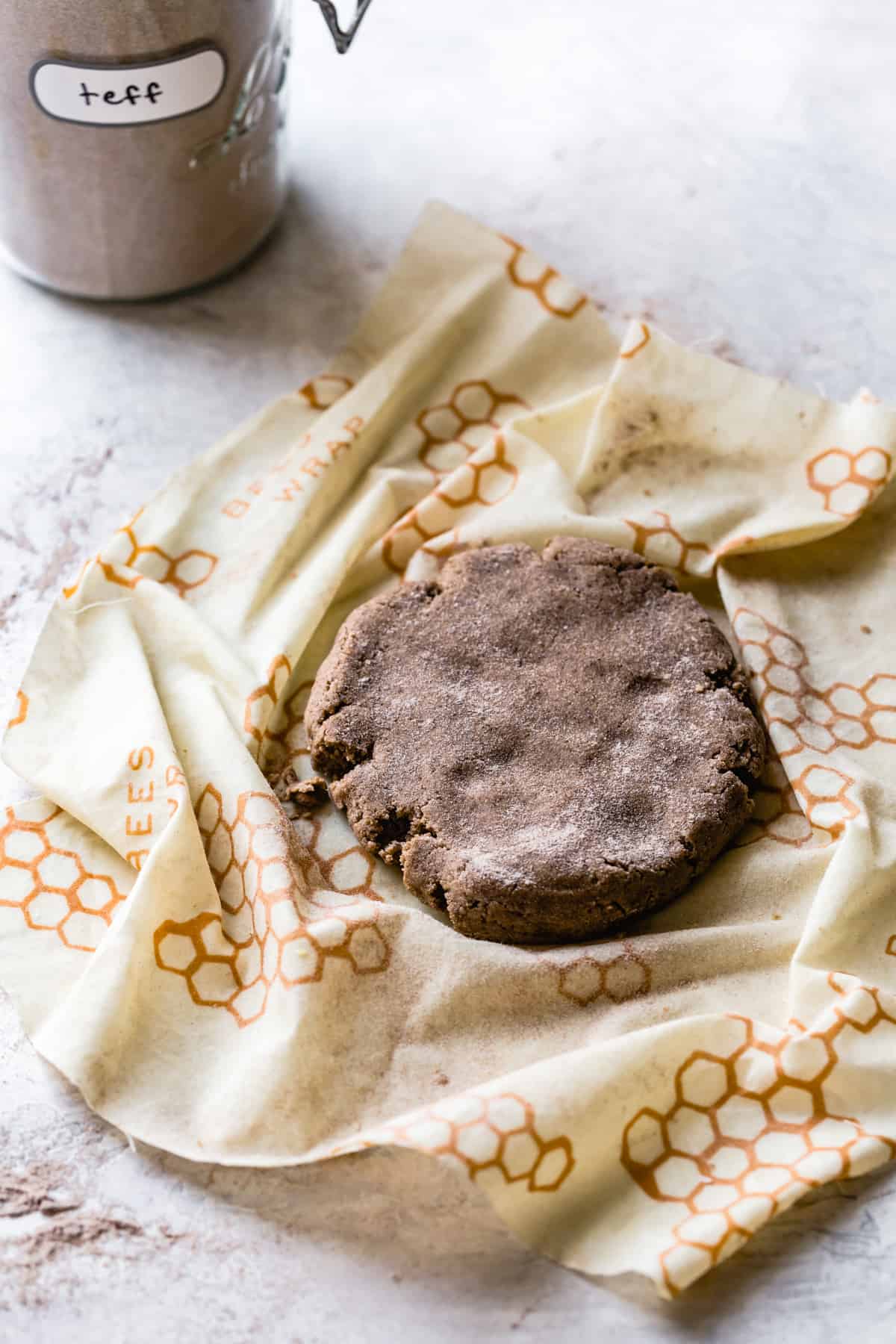 Which flours make the best gluten-free graham crackers?
Inspired by a wheat and teff flour graham cracker recipe in Good to the Grain by Kim Boyce, I use a mix of teff, oat, and sweet rice flours in my gluten free graham crackers. Teff is rich in protein (as well as fiber, vitamins, and minerals) and that protein helps baked goods hold together, just like gluten does. Soft, starchy oat flour helps these bake up light and tender, adding a creamy, mellow taste similar to whole wheat. Sweet rice flour (aka mochi flour or sticky rice flour) is stickier than regular white rice flour and creates structure, while cornstarch keeps them crisp and delicate. All of these flours can be found at natural food stores or ordered online, but I've given suggestions for alternatives in the recipe headnote below.

Who invented graham crackers anyway?
Sylvester Graham was a presbyterian minister who believed that eating a vegetarian diet rich in whole grains and living a lifestyle abstinent of pleasure brought one closer to god. I picture Sylvester Graham as a lean, mean man with thin lips and permanent RBF, perpetually scowling at those around him enjoying their lives. An extra-hearty form of whole wheat flour – graham flour – was named for Mr. Graham and used to make breads and crackers that he and his followers devoured.
Sylvester Graham was onto something when it came to the health benefits of whole grains, but he got the whole self-deprivation thing wrong in one glaring respect. Whole grain flours taste BETTER than their bland, white counterparts. Delicious, in fact. Once you taste baked goods made (properly) with flavorful flours such as oat, teff, buckwheat, chestnut, and sorghum, you'll become spoiled and snobby like I did when I wrote Alternative Baker. You'll find conventional, refined baked goods lacking.
Here's hoping Sylvester Graham knew exactly what he was up to, and secretly savored his tasty carbs. Otherwise, he's definitely rolling over in his grave at this luxurious version of his precious crackers.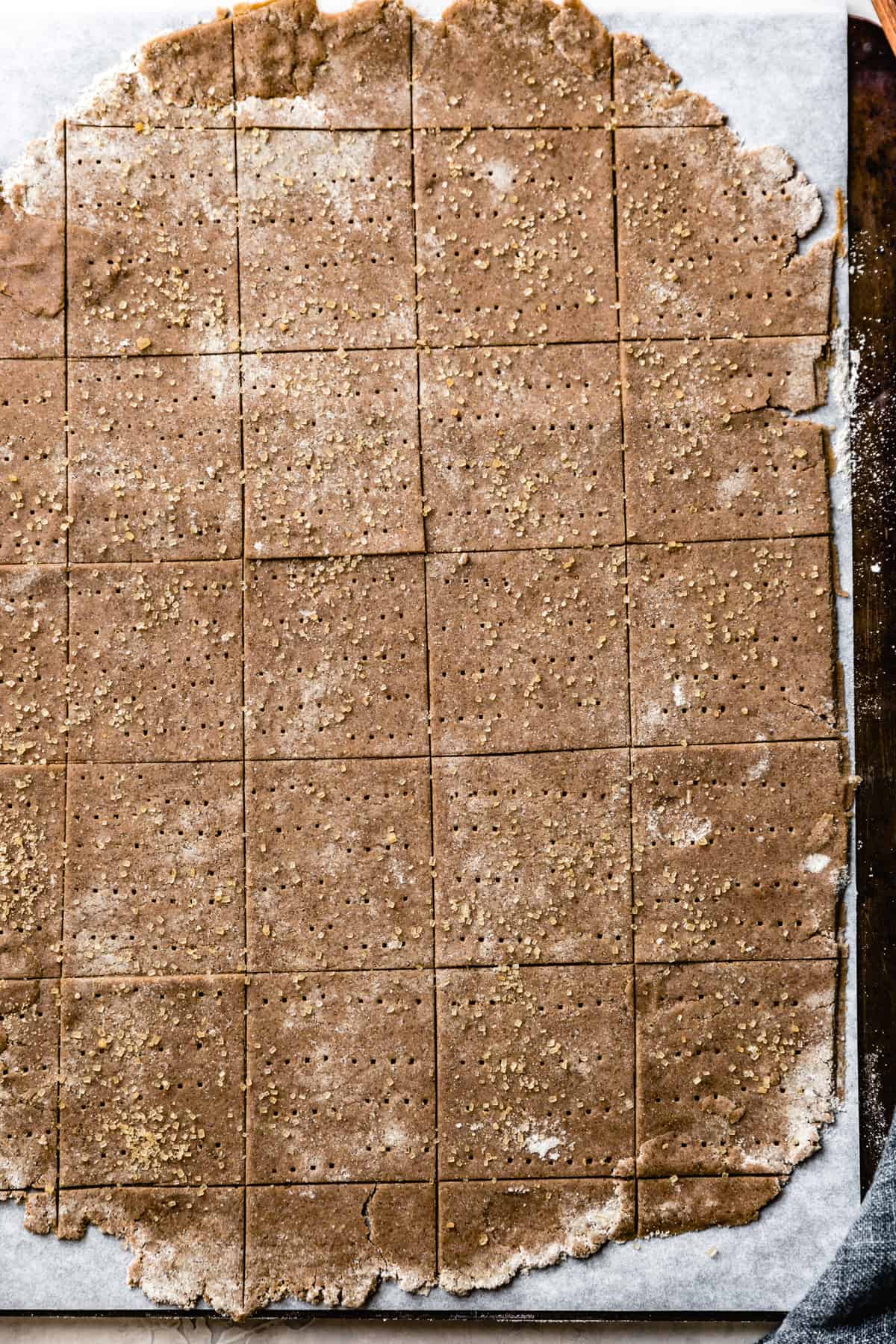 How to use your perfect gluten free graham crackers?
Anywhere you'd use regular grahams!
Grind them into a graham cracker crust:
Sandwich them around chocolate and marshmallows for s'mores:
Crush them up and put them in/on: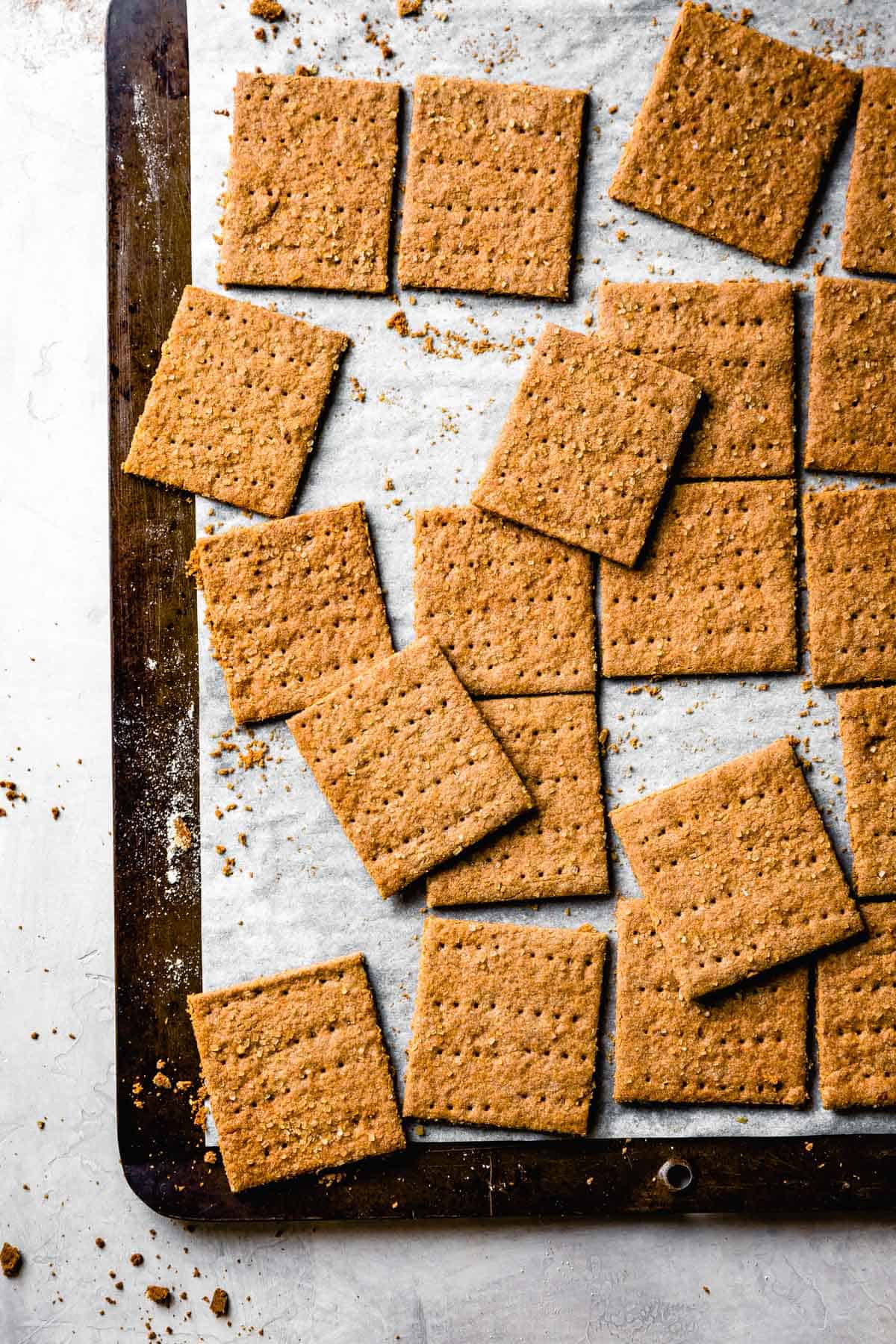 Can I make dairy free or vegan graham crackers?
Heck yeah! For dairy free graham crackers, just use a good vegan butter in place of the dairy butter (I prefer Miyoko's cultured vegan butter), decrease the salt in the recipe by about half if the vegan butter is salted. For vegan graham crackers, use a different liquid sweetener in place of the honey such as maple syrup, corn syrup, date syrup, or coconut nectar.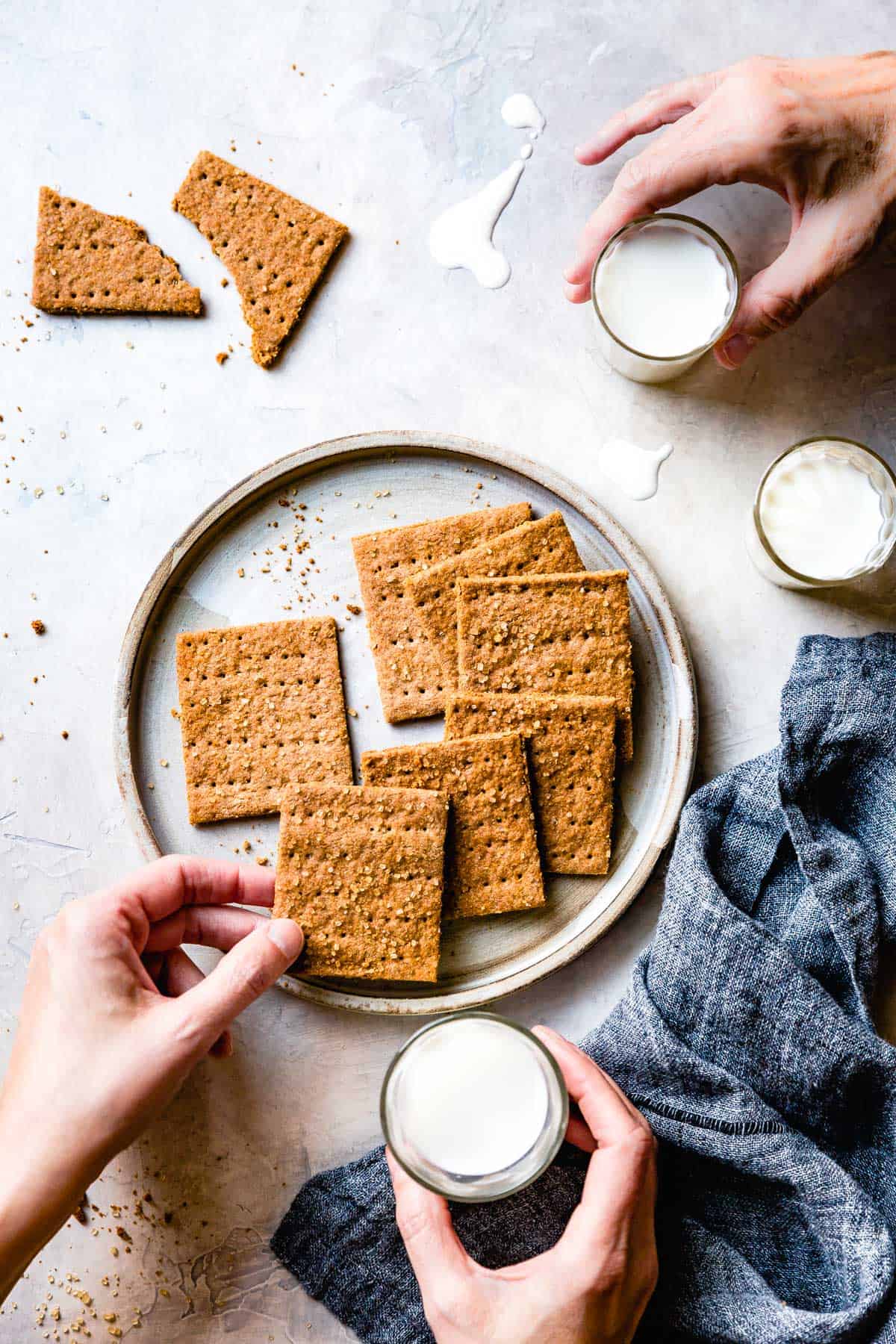 What to do with the rest of that teff flour?
*Bojon appétit! For more Bojon Gourmet in your life, follow along on Instagram,  Facebook, or Pinterest, purchase my gluten-free cookbook Alternative Baker, or subscribe to receive new posts via email. And if you make these gluten free graham crackers, I'd love to see. Tag your Instagram snaps  @The_Bojon_Gourmet  and  #bojongourmet.*
Gluten Free Graham Crackers
Print Recipe
Pin Recipe
Light, crisp, and buttery. Cinnamon, brown sugar, vanilla, and honey all complement earthy teff and oat flours, making these homemade gluten free graham crackers extra addictive.
Servings:
24
(2-inch) grahams
Ingredients
1/3

cup

(50 g) sweet rice flour

1/3

cup

(45 g) teff flour

1/3

cup

(35 g) oat flour (plus more for rolling out the dough)

2

tablespoons

(11 g) cornstarch

¼

cup

(55 g) packed light brown sugar

½

teaspoon

cinnamon

½

teaspoon

baking powder

¼

teaspoon

baking soda

¼

teaspoon

fine sea salt

4

tablespoons

(55 g) salted or unsalted butter, diced

1 ½

tablespoons

cool water (add a few drops more if needed until dough just starts to come together)

1 ½

tablespoons

honey

½

teaspoon

vanilla extract

coarse sugar such as demerara, for sprinkling
Instructions
In the bowl of a food processor (or in a large bowl), combine the sweet rice flour, teff flour, oat flour, cornstarch, light brown sugar, cinnamon, baking powder, baking soda, and salt. Scatter the butter pieces over the top and pulse in (or rub with your fingertips) until the butter is incorporated and the mixture resembles the texture of polenta. Drizzle the water, honey, and vanilla over the flour mixture and pulse (or toss with a flexible spatula or your hands) until the dough just comes together, adding more water a few drops at a time if needed.

Knead the dough lightly in the bowl and gather it into ball. Flatten the dough ball into a disc and wrap in beeswax wrap or plastic wrap. Chill until firm, 20-30 minutes.

On piece of parchment paper dusted with oat flour, roll the dough into a rectangle to about 1/8- inch thick. As you work, when the dough begins sticking to the parchment, dust the top with more oat flour, sweep the excess away with a dry pastry brush, place a second piece of parchment on top, flip the whole thing over, and peel away the parchment. Dust the top with more flour and continue rolling.

Slide the dough, parchment and all, onto a rimless cookie sheet. Use a sharp chef's knife or pastry cutter to cut the dough into squares or rectangles. Leave the crackers where they are and prick them all over with a fork. Chill until firm, 20 minutes.

Position a rack in the upper third of the oven and preheat to 325º F.

Sprinkle the cookies with the coarse sugar and bake until deep golden brown and fairly firm to the touch, 15-22 minutes. Cut the crackers again with a knife and let them cool. If the cookies aren't fully crisp when cool, put them back in a low oven to further dry them out. Store airtight at room temperature for up to a week or two.
Notes
Teff flour adds its distinctive, whole grain flavor here. But if you can't find any, try subbing another GF flour such as buckwheat, sorghum, millet, brown rice, or more oat flour. Or try a gluten-free all-purpose blend in place of one or all of the flours.
This makes a smallish batch of cookies – and they go quick – so feel free to double the recipe if you like.
Adapted from Genius Kitchen.
Nutritional values are based on one of twenty-four servings.
Nutrition
Calories:
55
kcal
Carbohydrates:
9
g
Protein:
1
g
Fat:
2
g
Saturated Fat:
1
g
Cholesterol:
5
mg
Sodium:
37
mg
Potassium:
19
mg
Fiber:
1
g
Sugar:
4
g
Vitamin A:
60
IU
Calcium:
10
mg
Iron:
0.2
mg
More Gluten-Free Cookie Recipes: