This homemade Irish cream liqueur is made without sweetened condensed milk and flavored with toasted almonds, cacao nibs, coffee beans, and vanilla. An elevated version of the classic!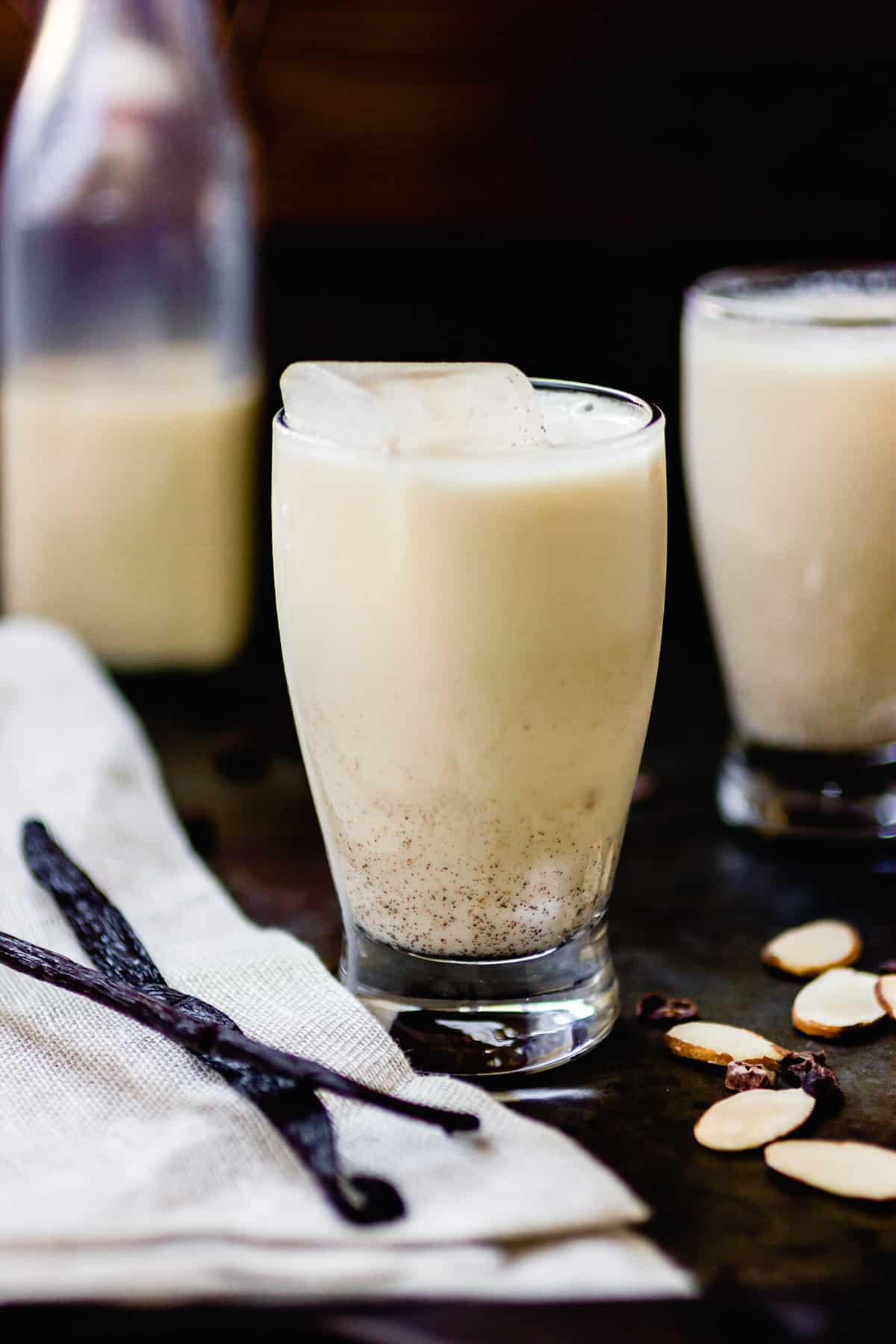 Irish Cream was my gateway liquor, and I drank entirely too much of it as a teen. You'd think that gorging on mudslides in a hotel room at my senior prom after-party and subsequently getting my drunk self dissed by my straight-laced sophomore date (who had braces and was named Spencer) would have put me off the stuff, but no such luck. My love for Baileys was only strengthened a month later by a hot, British bartender who introduced me to the Slippery Nipple at a bar in London (that is, the Baileys and vodka cocktail).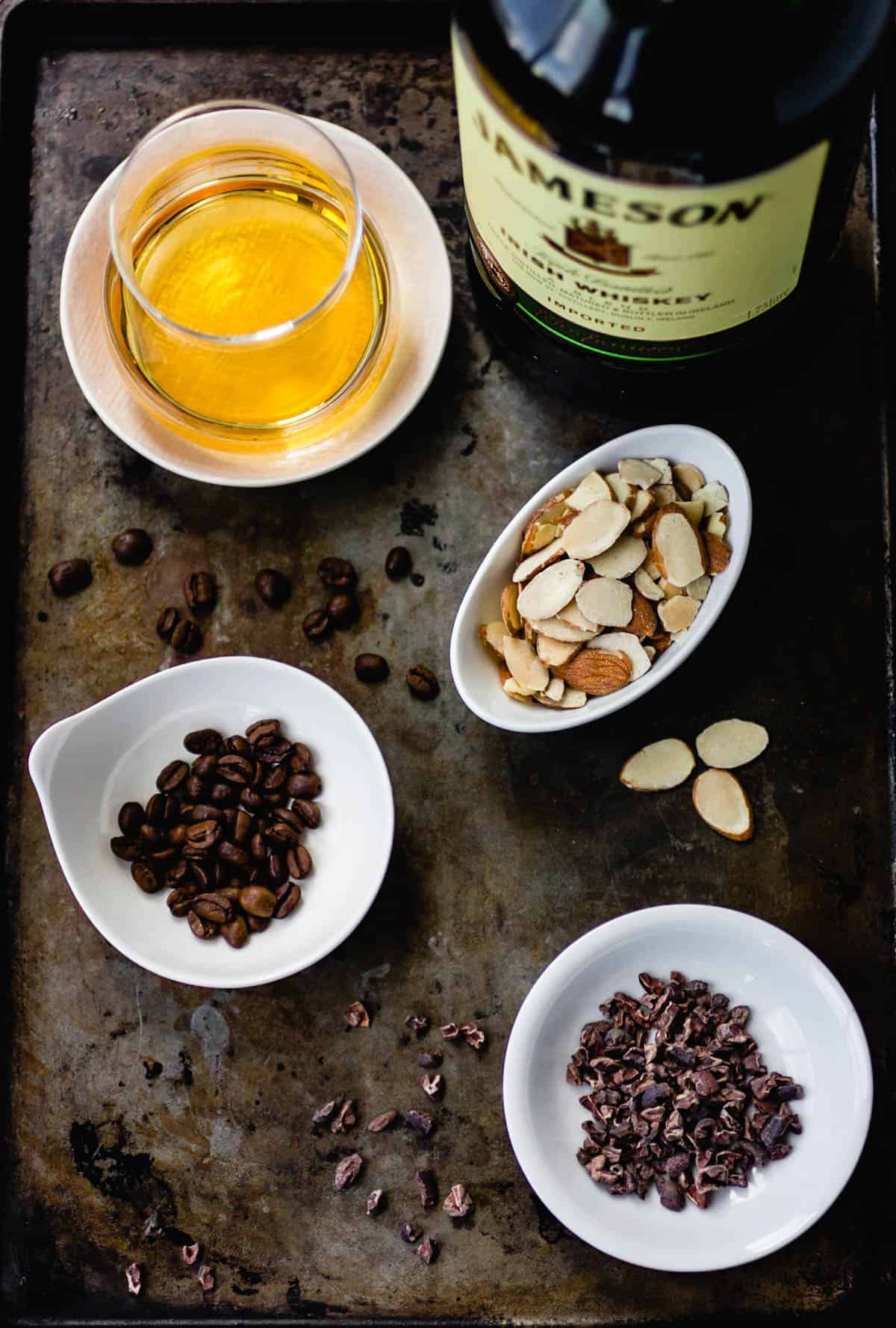 But Baileys fell from grace when, in a lapse of judgement, I decided to go on the Atkins diet while living in Italy. Though that unfortunate event only lasted a few months, I never got back on the Baileys train as I realized that sugary, shelf-stable cream liqueurs probably contained horrible ingredients that I didn't wish to pour into my body-temple. (I'd moved to Santa Cruz at this point.)
This past December, after ten Bailey's-free years, Jay and I found ourselves at a wintertime music camp where a friend offered me a cup of tea. I poked around his kitchenette and, finding no sugar or cream, grabbed the bottle of Baileys and added a tipple to my cup. I realized then that Irish Cream is the most brilliant beverage to bring camping, as you have all your coffee/tea accoutrements (booze, sugar and dairy) in one bottle.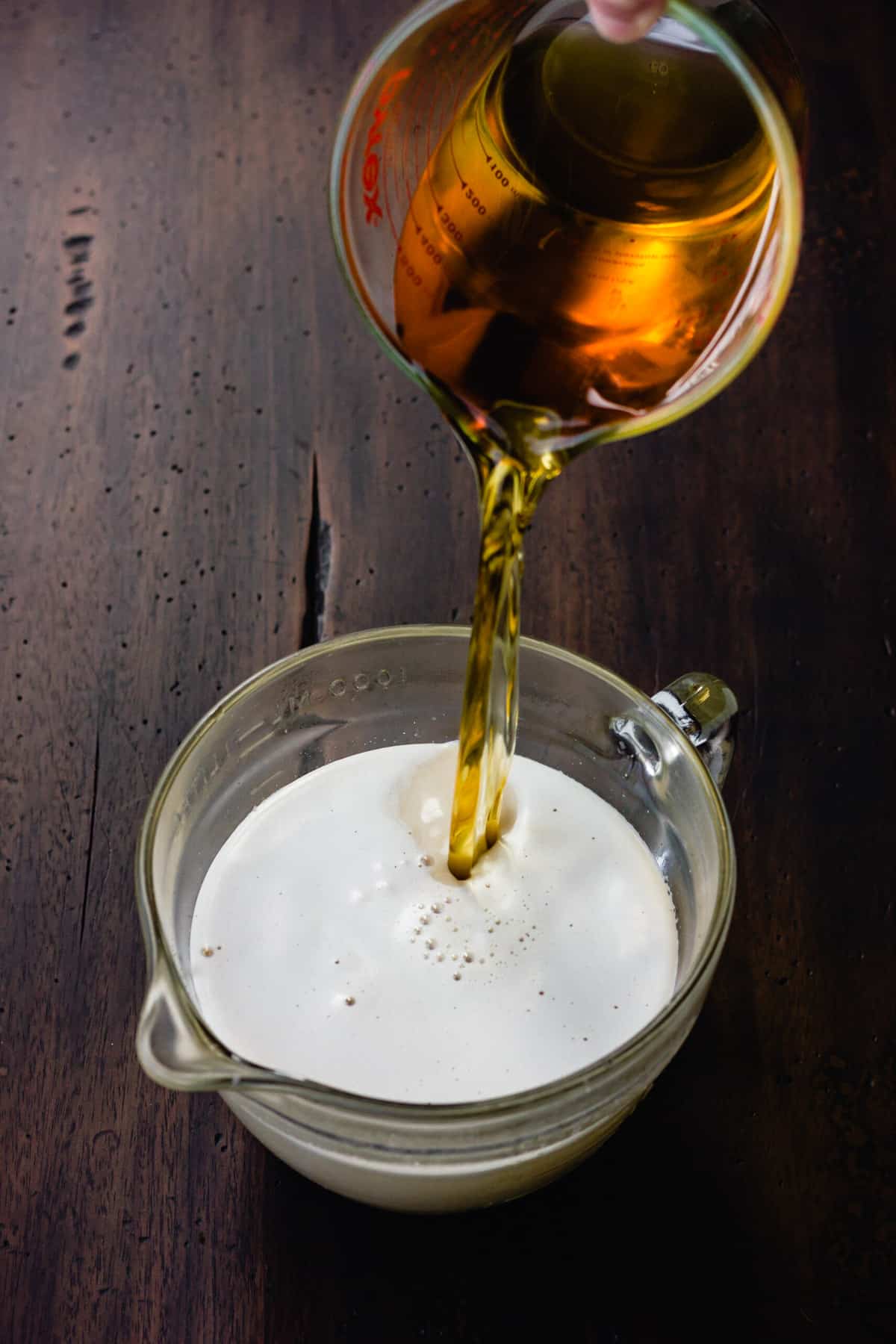 An All-Natural Homemade Bailey's Irish Cream Liqueur Recipe
When I returned home, I set to work making my own homemade Irish Cream. Most recipes called for sweetened condensed milk, Hershey's chocolate syrup, instant coffee, and almond and vanilla extracts. With those sketchy ingredients, I wondered, why not just buy the ready-made stuff?
Inspired by a more natural recipe from Design Sponge, I decided to distill the recipe into its rawest form. I first tried making a version with no sweetened condensed milk at all – just sugar, vanilla bean, cacao nibs, cream and whiskey. Though this mixture tasted good (re: incredible) in a cup of rooibos tea, its mouthfeel when drunk plain was too fatty, and the flavor wasn't quite right. Making a lighter version with milk and cream didn't help; it just made the drink watery (though still good in coffee).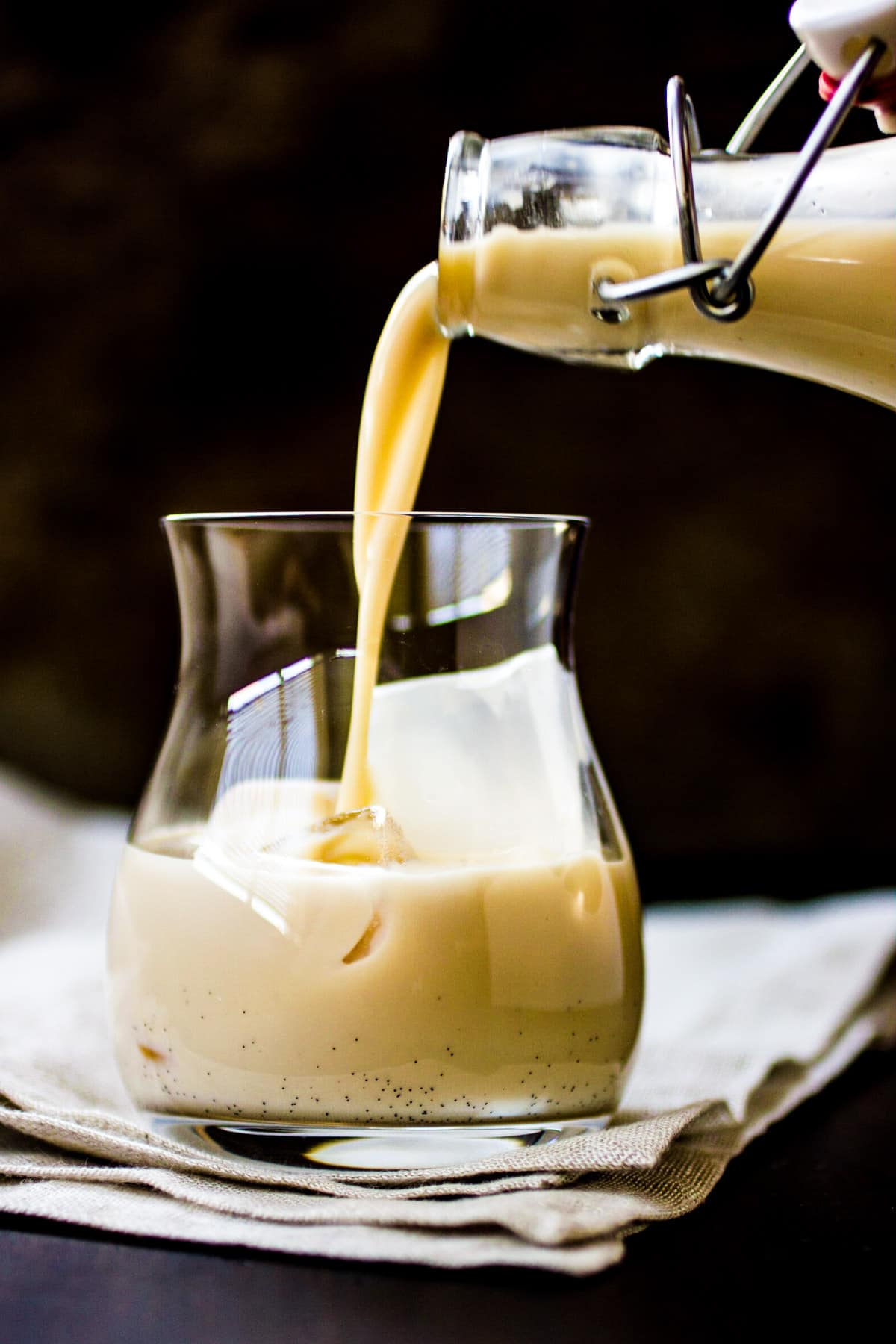 Homemade Sweetened Condensed Milk
Inspired by a recipe for homemade sweetened condensed milk from Kitchen Stewardship, I next tried cooking the milk down with sugar and vanilla bean until it was reduced by half, then adding heavy cream and infusing the mixture with coffee beans, toasted almonds, cacao nibs, and a pinch of salt. The condensed milk turned out to be essential for not only that characteristically viscous Baileys texture, but it also lent a warm, vaguely caramelized flavor to the drink.
How to Use Homemade Irish Cream Liqueur
This homemade Irish cream tastes a lot like the real deal, with its voluptuous mouthfeel and warm, earthy flavors. Here's how I like to use it:
Serve it chilled, over ice, for a sweet after-dinner beverage
Pour it into hot beverages: coffee, black tea, chai, or rooibos
Bring it camping and you'll have all your coffee accoutrements right in one bottle
Pour it into a shake with ice cream, banana, and cocoa powder
Gift bottles for hostess gifts or holiday giving
More DIY drink recipes:
More whiskey recipes:
*Bojon appétit! For more Bojon Gourmet in your life, follow along on Instagram, Facebook, or Pinterest, purchase my gluten-free cookbook Alternative Baker, or subscribe to receive new posts via email. And if you make this homemade Irish cream liqueur, I'd love to see. Tag your Instagram snaps @The_Bojon_Gourmet and #bojongourmet.*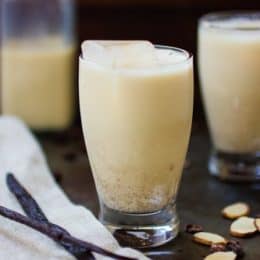 Homemade Irish Cream Liqueur
Print Recipe
Pin Recipe
Serve this dreamy homemade Irish cream liqueur chilled over ice, or stir it into coffee, black tea, rooibos, or chai. Or pour it into a tasty shake along with vanilla ice cream, cocoa powder, and a banana. The ratios of sweet to cream to booze may be different from standard Irish Creams, so add it to taste in cocktails and other recipes. If you don't wish to condense your own milk, don't substitute the canned stuff, as your ratios will be off; rather, try this recipe from Design Sponge. This is a boozy beverage, whose flavor comes through when mixed, so feel free to dial down the whiskey if you prefer.
Servings:
16
servings (4 cups).
Ingredients
1

quart

whole milk

1/2

cup

sugar (preferably organic cane sugar)

1

plump vanilla bean, split lengthwise and scraped

1/2

cup

heavy cream

1/4

cup

toasted, sliced almonds

1/4

cup

cacao nibs

3

tablespoons

coffee beans

1/8

teaspoon

sea salt

1 1/2

cups

Irish whiskey (such as Jameson)
Instructions
Combine the milk, sugar and vanilla bean in a large, heavy-bottomed saucepan. The more surface area, the faster the milk will reduce, so use a large saucepan or even a soup pot if you like. The heavier the pot, the less likely the milk is to scorch. Bring the milk to a simmer over medium heat, stirring very frequently, scraping the bottom and sides of the pot to prevent the milk from burning. When the milk has reached a simmer, reduce the heat to low and continue to cook, stirring frequently, until the mixture has reduced to between 2 1/4 and 2 1/2 cups. You can speed the process up to about half an hour by keeping the heat at medium and stirring constantly, or you can reduce the heat to very low and give it a stir every few minutes, which will make the process take a couple of hours.

When the milk has reduced (pour it into a heatproof measuring pitcher to check), stir in the cream, almonds, nibs, coffee beans and salt. Continue to heat the mixture until steaming, stirring occasionally, then remove from the heat, cover, and steep for 10 minutes.

Strain the milk mixture through a fine mesh strainer and let cool slightly for 5-10 minutes, stirring occasionally to release the heat (this prevents the whiskey from curdling the mixture when you add it). Optionally whiz the mixture with an immersion blender (this helps prevent the fat from the dairy from clumping up in the fridge). When the mixture has cooled slightly, stir in the whiskey.

This liqueur is not shelf-stable, so pour it into jars or bottles and store in the fridge. It should keep for at least a month. (If I can make it last that long, I'll update this post with an official shelf life!) Cheers.
Notes
Nutritional values are based on one of sixteen servings.
Nutrition
Calories:
165
kcal
Carbohydrates:
10
g
Protein:
3
g
Fat:
7
g
Saturated Fat:
4
g
Cholesterol:
16
mg
Sodium:
47
mg
Potassium:
99
mg
Fiber:
1
g
Sugar:
9
g
Vitamin A:
205
IU
Calcium:
78
mg
Iron:
0.1
mg