Creamy-smooth hot cocoa laced with fresh mint, vanilla bean, and homemade matcha marshmallows – whiskey is optional!
It may just be our new political climate, but lately whenever someone wishes me Merry Christmas, it really rankles. I'm always tempted to trill "Happy Hanukkah!" in response, which would seem equally ludicrous to them, or burst into a full on rant about how not everyone in this country is exactly the same as you, bro. But I usually just settle for a tight smile and mutter "Happy Holidays."
So when Sarah and I hatched the plan for a festive hot cocoa collaboration crowned with matcha-green pine tree marshmallows, I grappled with the implications. My parents are both Jewish, but only identify with the culture and none of the religion. Growing up, we had both a menorah and Christmas tree with all the trimmings each December. (I wish I could smugly say I got double the presents, but everyone knows Hanukkah gifts suck – I'm looking at you, dreidels and waxy, gold foil-covered milk chocolate coins.) Hanukkah isn't even the most significant of Jewish holidays, but it's been elevated as a sort of consolation prize – Christmas's redheaded step-sibling that will never be quite as cool.
So while tree-shaped green marshmallows were perfectly festive, did they have a place on this not-very-good Jew's blog? Could I pretend they were Hanukkah bushes?
The truth is, I've never felt particularly connected to either holiday. (Though I do feel connected to latkes and rugelach, especially when they're connecting with my mouth.) Add to that a loathing of crowds, a dislike of pressure-shopping, anxiety around children, and a competing birthday (it was last Friday), and the main emotion I feel around the winter holidays is annoyance that my favorite dance teacher is away in Cuba for a month and how will I possibly survive this bleak winter full of post-truth politics and decadent meals at every turn without my weekly salsa workout to whip my mind, body, and soul into shape?!
Sarah felt my angst, and let us cut some of the 'mallows into inoffensive squares. (Although perhaps it would have been more apt to cut them into Grinches.)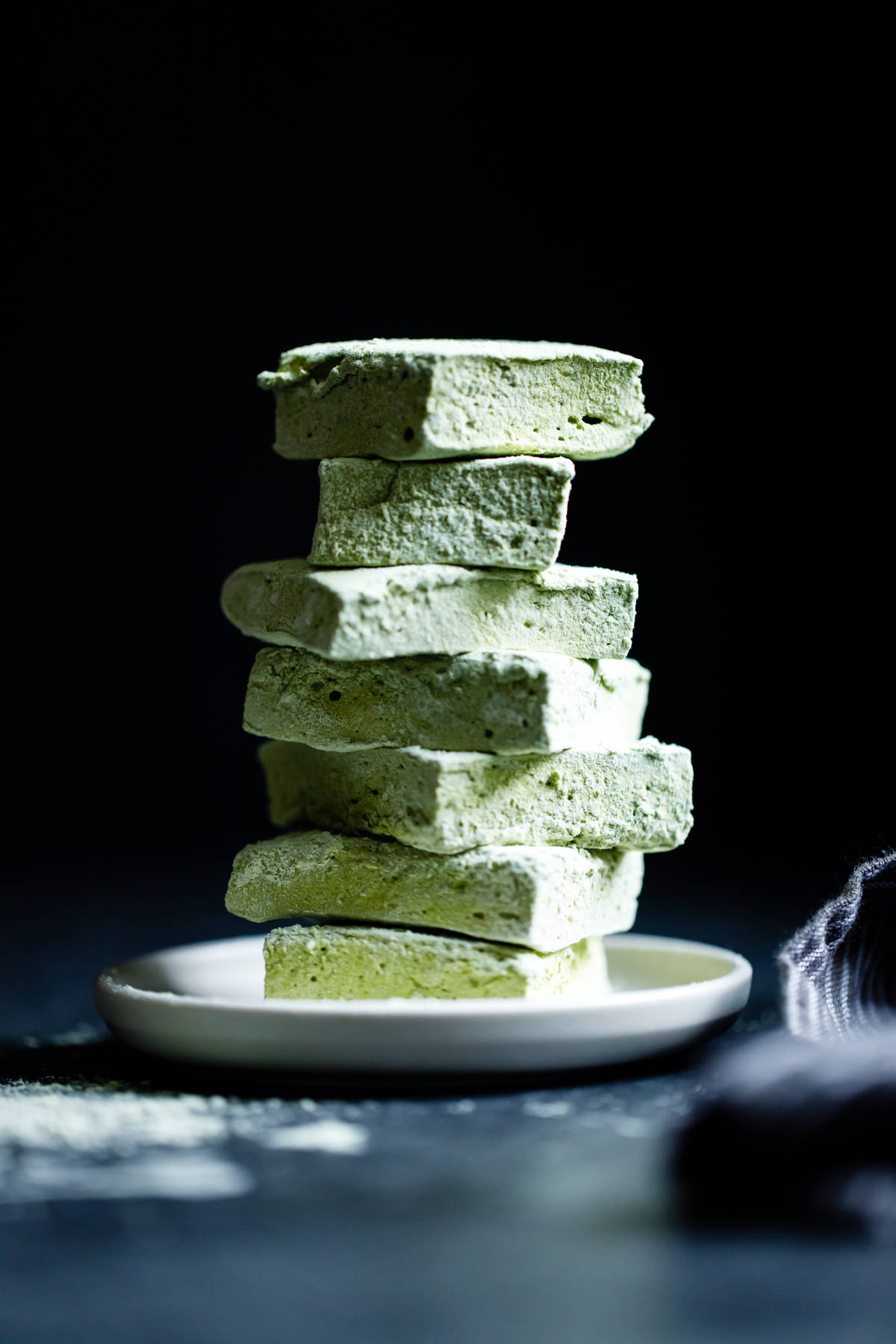 But once the trees were in the cups, I realized that they didn't remind me of two monotheistic celebrations, but rather of one holiday I can completely get behind: Winter Solstice, the indisputable, scientifically-proven shortest day of the year and Pagan celebration of the coming of winter. Another thing we get behind? TREES. They help slow climate change and they're pretty.
So while there may not be all that much to celebrate this year, one little personal positive in a sea of badness is that Sarah and I made our working relationship even more official this year by launching Storied Provisions. We teamed up with a few great brands to create recipe videos for your viewing pleasure, with more deliciousness in the works. It's early days, but if you want to see what we've been up to, subscribe to our YouTube channel and follow along on Facebook. There are even fancy latkes. You're welcome.
This hot cocoa recipe is a riff on one that Sarah and I created for Rodelle and KitchenAid (with a nifty video to go with!). It features Rodelle's new organic baking cocoa, which is deep reddish-brown in color and powder-fine, with a creamy chocolate flavor. It makes a delicious crust for tarts, cheesecakes, and more cheesecakes. When blended with hot milk and sugar, it turns out a rich and creamy hot cocoa, no chocolate necessary. We spiked ours with molassesy brown sugar and gingerbread spices and topped it with homemade gingerbread marshmallow people. You can get the recipe here and here.
Craving more cocoa, and everything matcha and mint, we whipped up this variation flavored with steeped fresh mint leaves and green matcha marshmallows. Fresh mint steeped in the hot milk adds a burst of freshness to the creamy cocoa, delicately sweetened and sharpened with a few drops of peppermint extract. The bitterness of the matcha tempers the marshmallows' sweetness (Sarah made a version sans corn syrup like the wizard she is!) and the grassy flavor is perfectly pitched with chocolate and mint. Jay and I spiked ours with a slug of bourbon and it was as though we'd died and gone to (the Christian version of) heaven.
As a bonus, this hot cocoa makes an easy gift (see instructions in the recipe below). And everybody likes those.
Get the recipe for Sarah's amazing Matcha Marshmallows (and more positive holiday attitude!) here.
More Hot Drinks Recipes:
*Thanks for reading! For more Bojon Gourmet in your life, follow along on Instagram, Facebook, or Pinterest, purchase my gluten-free cookbook Alternative Baker, or subscribe to receive new posts via email. And if you make this mint hot cocoa recipe, I'd love to see! Tag your Instagram snaps @The_Bojon_Gourmet and #bojongourmet.*
Fresh Mint Hot Cocoa with Matcha Marshmallows
Print Recipe
Pin Recipe
Creamy-smooth hot cocoa laced with fresh mint, vanilla bean, and homemade matcha marshmallows – whiskey is optional!
Ingredients
4

cups

(950 ml) whole milk

1

large bunch fresh spearmint leaves (about 2 cups lightly packed)

1

vanilla bean, split lengthwise and scraped

½

cup

(45 g) dutch-process cocoa powder (such as Rodelle)

½

cup

(100 g) organic granulated cane sugar (more or less, to taste)

1/8

teaspoon

fine sea salt

¼

teaspoon

peppermint extract (more or less, to taste)

8

Matcha Marshmallows, for serving
Instructions
Place the milk, mint leaves, and vanilla pod and scrapings in a large, heavy-bottomed saucepan placed over medium heat. Slowly heat to just below a simmer, until steamy, stirring frequently to prevent scorching the milk. Remove from the heat and steep 10 minutes. Strain the milk through a fine mesh sieve and into a large bowl, squeezing all the good stuff out of the mint leaves. Discard the leaves. Meanwhile, sift the cocoa into a medium bowl with the sugar and salt. Add enough of the hot milk to the cocoa mixture and whisk to form a smooth paste (this prevents the cocoa from clumping), then whisk in the rest of the milk and return to the pot placed over medium heat. Warm the cocoa until hot to your liking, stirring to prevent scorching, and adding enough peppermint extract until you like the flavor. Ladle into mugs and top with matcha marshmallows.

The hot cocoa can be made up to several days ahead and refrigerated; heat before serving.
Notes
Add a splash of bourbon or whiskey to each cup if you want to booze it up!
If you don't have marshmallows on hand and need a quick matcha fix, whip together 3/4 cup heavy cream, 1 tablespoon sugar, and 2 teaspoons matcha powder until soft peaks form for a quick topping.
Nutritional values are based on one of four drinks.
Nutrition
Calories:
321
kcal
Carbohydrates:
58
g
Protein:
11
g
Fat:
10
g
Saturated Fat:
5
g
Cholesterol:
24
mg
Sodium:
198
mg
Potassium:
614
mg
Fiber:
5
g
Sugar:
46
g
Vitamin A:
1350
IU
Vitamin C:
7.2
mg
Calcium:
344
mg
Iron:
2.7
mg
Fresh Mint Hot Cocoa Gifts in a Jar
Print Recipe
/
Pin Recipe
Instructions
For each 2-serving jar, rub the seeds from 1/2 a vanilla bean into 1/4 cup organic granulated cane sugar and a pinch of salt. Place in a 4-ounce canning jar and top with 1/4 cup dutch-processed cocoa powder or enough to fill the jar. Cover with a lid and include the following instructions and 4 matcha marshmallows:

Whisk with 2 cups hot milk. Recommended: Steep milk with 1 cup fresh mint before adding cocoa.