This homemade gluten-free biscotti recipe gets a crunchy, buttery crumb from a few gluten-free flours studded with candied hazelnuts. Dip them in chocolate for a classy coffee break treat, or wrap them up for an edible holiday gift. Thanks to Bob's Red Mill for sponsoring this post!
A Lifetime of Biscotti Love
Biscotti hold a special place in my heart. Maybe it's because I grew up in 1990's coffee shop culture, where there was a jar of chocolate covered cookies on every counter. Or maybe it was because my paternal grandmother baked them along with rugelach every year for the holidays. Or maybe it's because they remind me of the Jewish equivalent mandelbrot that my maternal grandfather would share with me after school.
Whatever the reason, biscotti were one of the first "fancy" recipes I learned to bake as a teen from a tiny cookbook called Biscotti containing only a few dozen recipes for the Italian-style slice-and-bake cookies. I loved the process of baking biscotti – mixing the dough, shaping it into logs, baking, slicing, baking again. I always felt so professional when finishing them with chocolate.
I baked biscotti for classmates and teachers. I brought some to a job interview at an Italian restaurant where the chef exclaimed, "Ci sono sempre caldi!" – they're still warm! I baked biscotti at music camp every summer, when I worked in the camp bakery in exchange for attending. And I baked biscotti at bakeries and restaurants where I worked as a young adult.
But this week was my first time braving gluten-free biscotti, and I'm extra excited to share the recipe with you today! I've adapted my favorite wheat biscotti recipe which originally came from the aforementioned book. This post is also part of a virtual cookie swap – scroll down to the bottom to see what my friends baked up!
Ingredients for Gluten-Free Biscotti
Gluten-free flours form a base that is undetectably gluten-free. Oat flour adds fluff and earthy flavor. Sweet rice flour and tapioca flour make the dough sticky and stretchy, helping it hold together when sliced. Cornstarch adds crunch.
Eggs beaten with sugar until foamy form the base of this dough.
Vanilla adds flavor.
Butter adds moisture and richness. Note that traditional Italian biscotti don't contain any fat, but I vastly prefer the "Americanized" version with lots of delicious butter!
Baking powder lifts the dough and a good hit of salt sharpens the flavors.
Candied hazelnuts form addictive crunch and flavor offset by a dip of bittersweet chocolate. You can trade hazelnuts for almonds for more traditional biscotti, or skip the candying step altogether for a more classic biscotti recipe.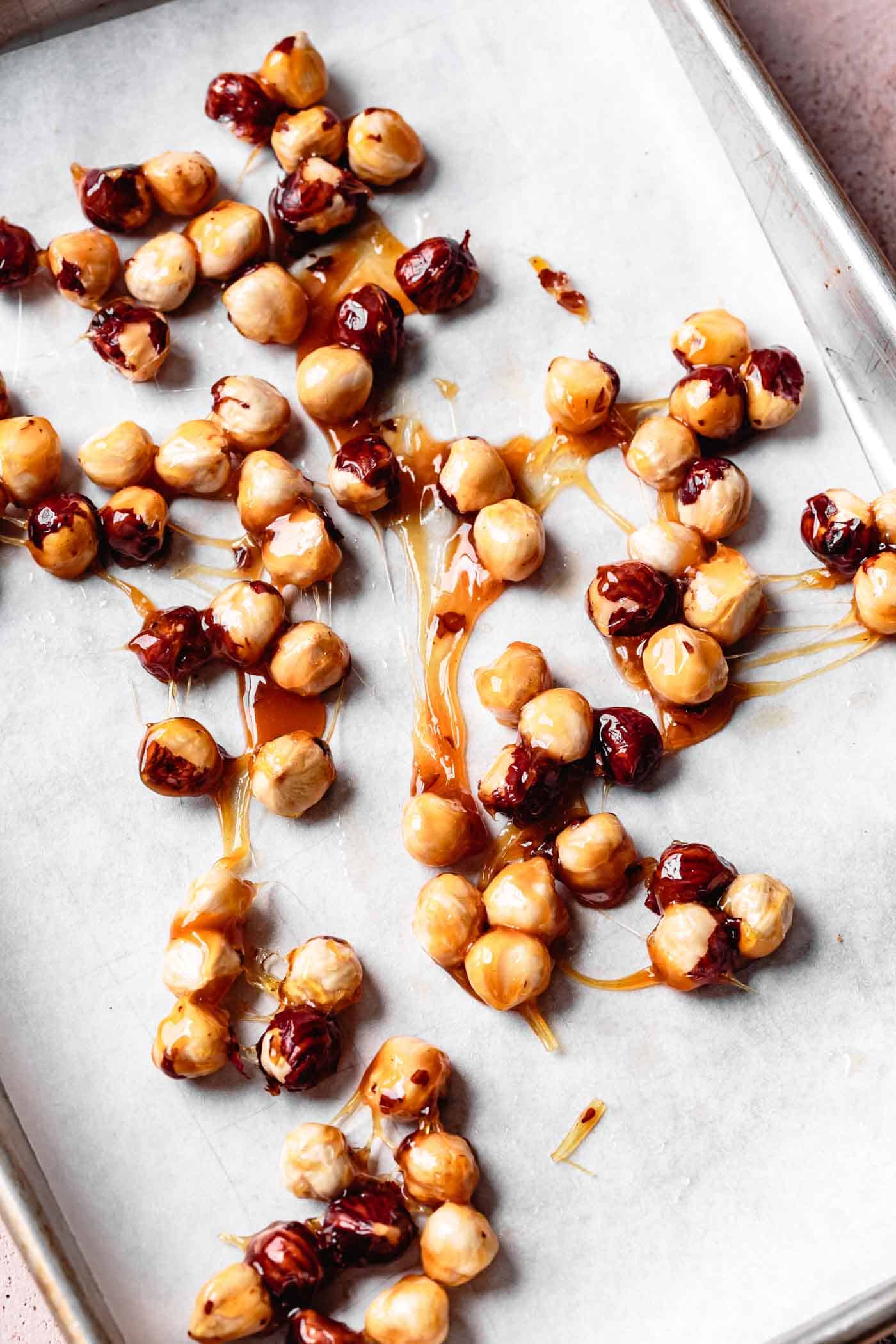 How to Make Gluten-Free Biscotti
My gluten-free biscotti recipe uses a couple of less-traditional methods. First, I caramelize the nuts for extra flavor. The original recipe from Biscotti has you cook the nuts in a skillet with butter and sugar until the nuts are coated in a nap of caramel. I used this method here, but when I tried it this time around, my sugar kept crystallizing.
Instead, I make a simple caramel with sugar and a little butter which I quickly use to coat the nuts. When chopped up, this caramel adds a lovely depth of flavor to the biscotti. That said, you can absolutely skip this step. You'll just need to reduce the flour a little to compensate for the lack of caramel. See the note in the recipe.
Once you've prepared the nuts, it's time to make the biscotti dough. Begin by whipping whole eggs with sugar until thick and foamy. Stir in the melted butter and vanilla, then the sifted flour mixture. Unlike wheat doughs, this biscotti dough likes to be worked. So increase the mixer speed and beat the dough for 20 seconds. Stir in the nuts. The dough will be fairly soft at this point, so chill it for an hour or two until firm enough to shape into a log.
Bake the biscotti logs until golden and firm. Let these cool completely otherwise they will be crumble and hard to slice. Use a large, sharp knife to cut the log into slices. Bake the slices until golden.
If using, temper the chocolate as directed. Dip the biscotti into the melted and tempered chocolate, sprinkle with chopped hazelnuts, and enjoy!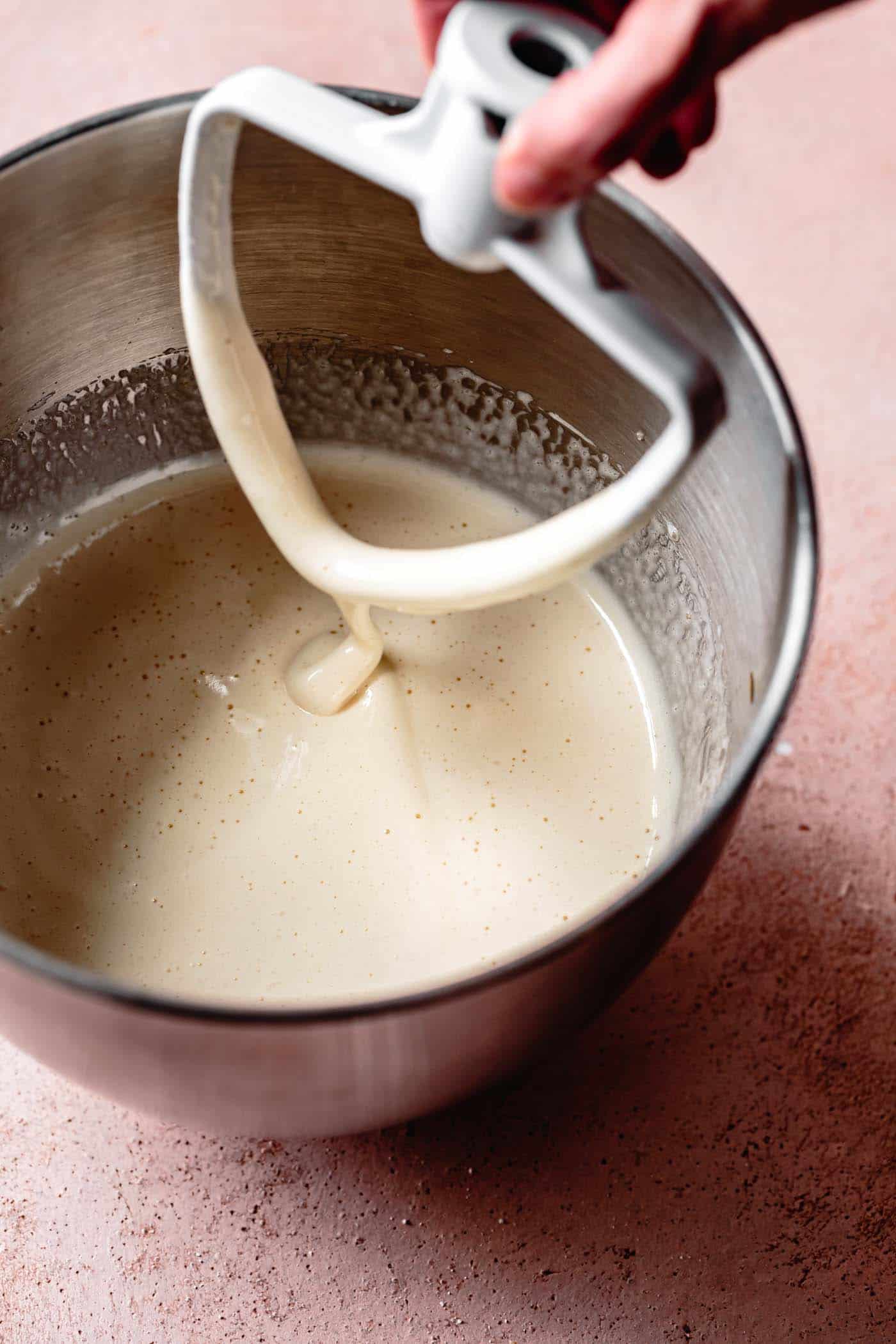 Biscotti: American vs. Italian
Most people know that the word biscotti means "twice cooked" referring to the process of baking the logs once, slicing, and baking again. But did you know that biscotti as we know them in the US are actually technically cantucci? In Italy, biscotti (plural) or biscotto (singular) refers to any type of cookie. Think: biscuit in the British sense of the word. Cantucci refers to the type of cookie shown here which hails from Tuscany. But since biscotti are what we call them in the US, I'm going with it!
Traditional Italian biscotti don't contain any fat. Their texture is dry and made to be dipped into espresso or dessert wine. I've tried multiple version for fat-free biscotti and have found that I vastly prefer the Americanized type. These biscotti are best eaten alongside a cozy beverage. But thanks to their buttery nature, you can enjoy them solo too.
Gluten-Free Biscotti Bliss
You'll be hard pressed to guess that these biscotti are gluten-free, thanks to their wheat-like texture from a sturdy flour blend and protein-rich eggs. Bite through the thin chocolate shell to crispy cookie redolent with the flavors of earthy toasted hazelnuts, vanilla, and caramel and you'll be in gluten-free biscotti heaven.
Biscotti, cantucci, Italian slice-and-bake cookies: whatever you call them, when you dunk one of these crunchy, buttery treats in a mug of hot coffee, you'll be calling it delicious!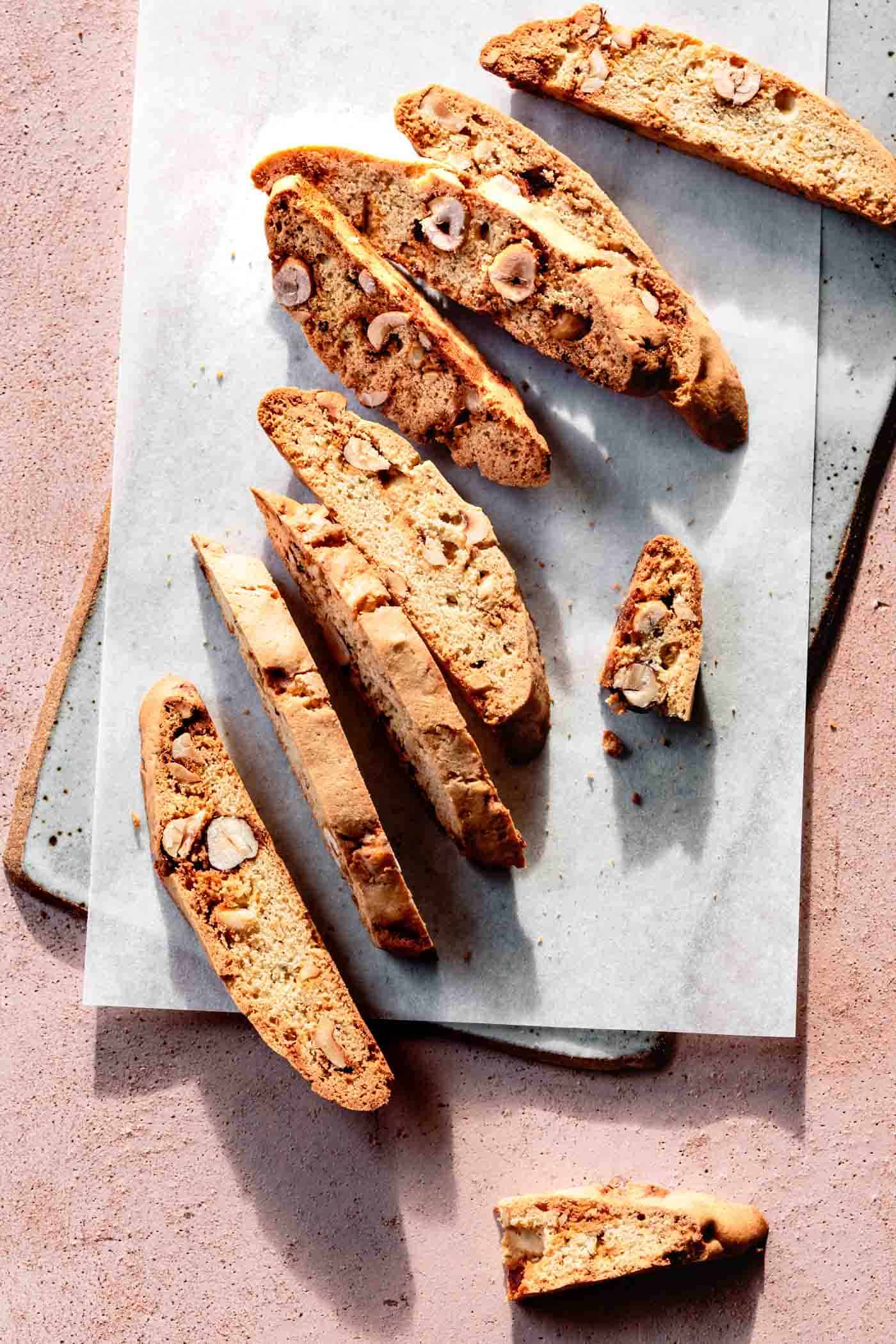 Gluten-Free Biscotti with Hazelnuts (or Almonds) and Chocolate!
Hazelnuts add an earthy bite to this gluten-free biscotti recipe, but you can use almonds for a more traditional cookie. Or go crazy and try these with pistachios, pumpkin seeds, pecans, or any nut you like!
Though these biscotti are plenty flavorful on their own, you can gild the lily and dunk them in chocolate. I like to temper my chocolate to ensure that it doesn't form any unsightly streaks when it hardens. I've given my preferred method in the recipe, but there are many ways to temper chocolate. You can also skip the tempering step if you prefer.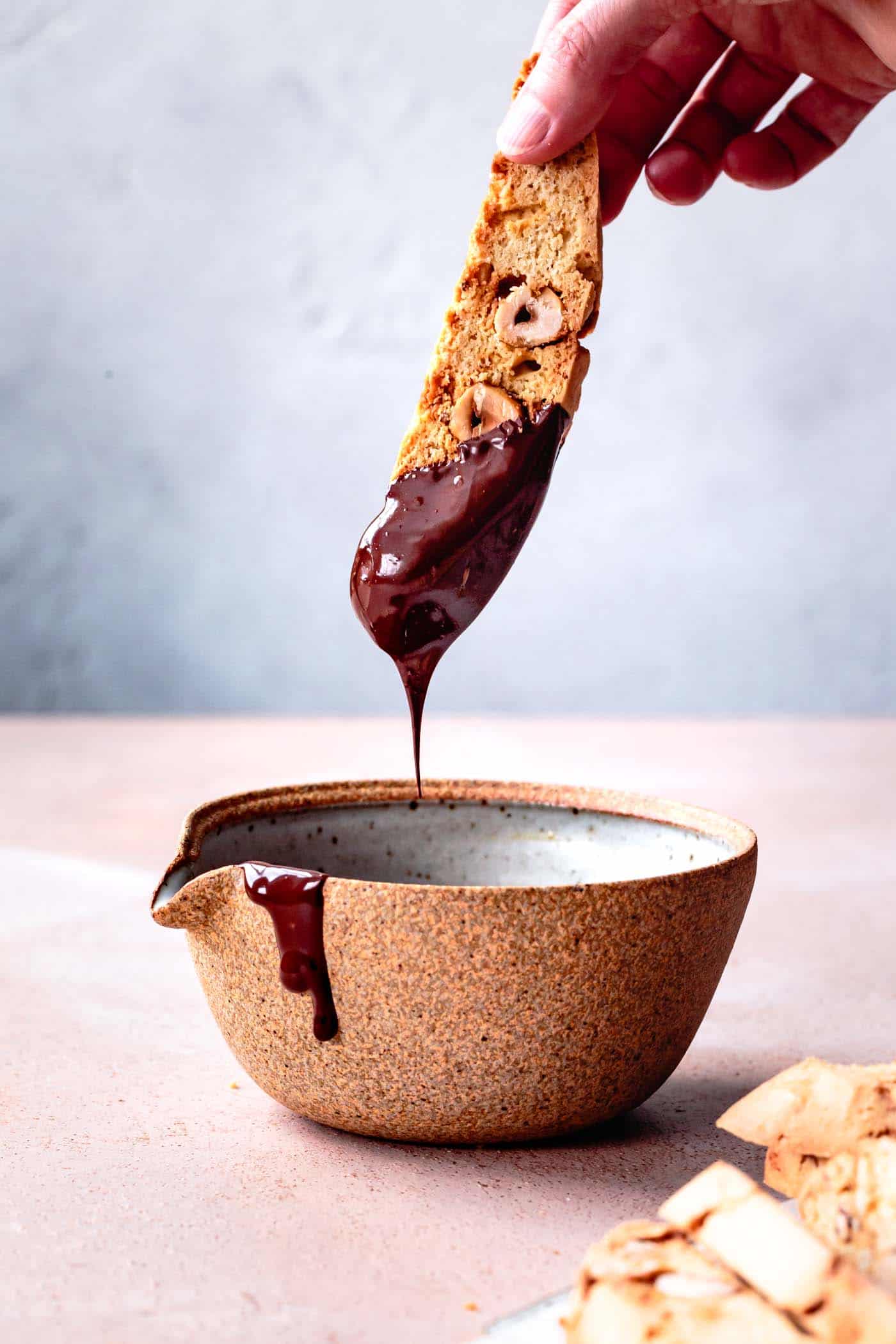 How to Serve Gluten-Free Biscotti
These gluten-free biscotti with hazelnuts and chocolate pair beautifully with a hot cup of coffee. Enjoy them with an afternoon tea or as an after dinner treat. In Italy, biscotti are traditionally served with a sweet dessert wine such as vin santo.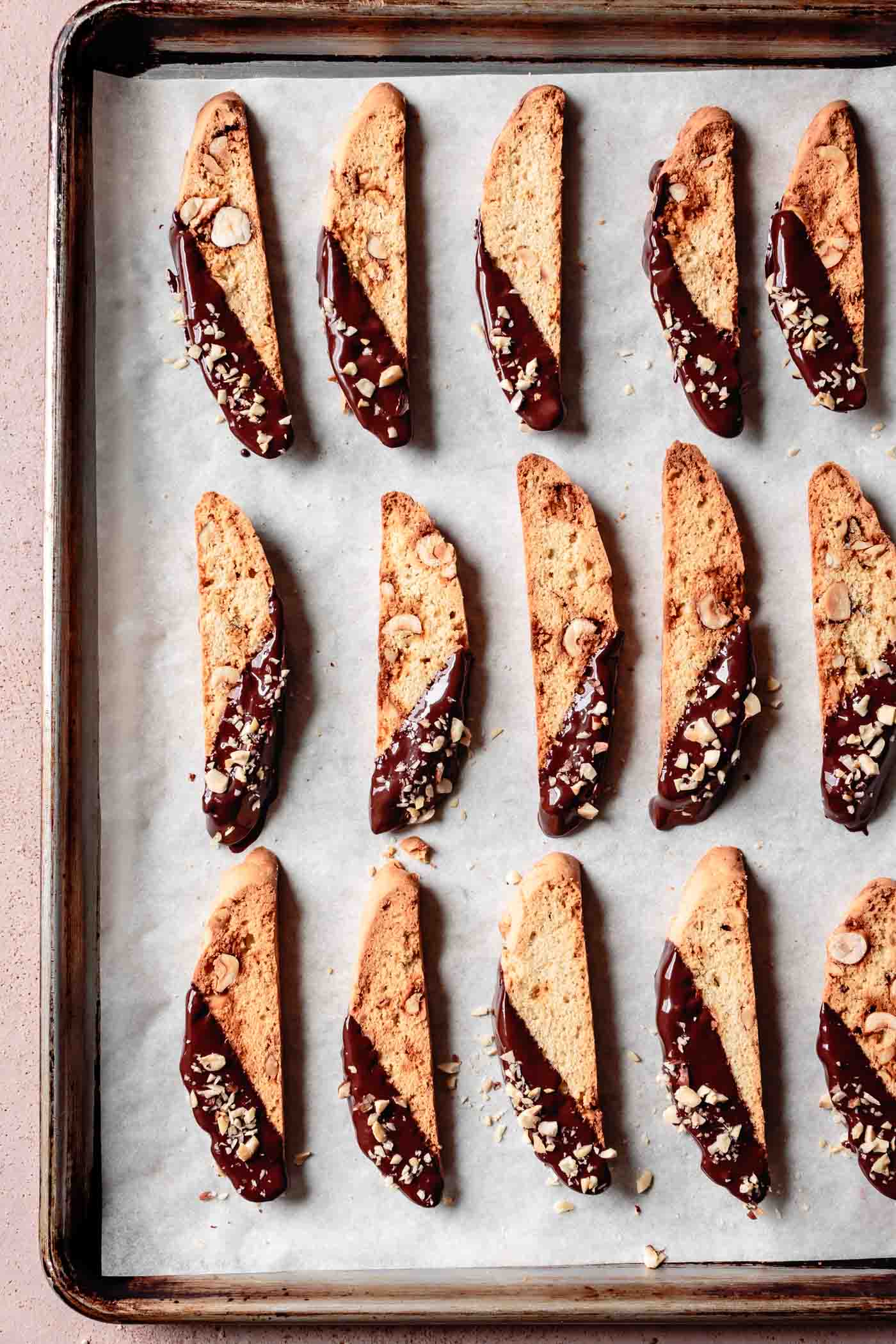 Give the Gift of Gluten-Free Biscotti
These gluten-free biscotti keep beautifully and make a fine DIY gift. Just pack a bunch into a cookie tin or mason jar tucked into some parchment paper for a sweet holiday present.
*Bojon appétit! For more Bojon Gourmet in your life, follow along on Instagram, Facebook, or Pinterest, purchase my gluten-free cookbook Alternative Baker, or subscribe to receive new posts via email. And if you make this gluten-free biscotti recipe, I'd love to see. Tag your Instagram snaps @The_Bojon_Gourmet and #bojongourmet.*
Gluten-Free Biscotti with Hazelnuts & Chocolate
Print Recipe
Pin Recipe
You'd never know that these crunchy biscotti are gluten-free! With a crunchy, buttery crumb and candied hazelnuts all dipped in chocolate, they make a classy coffee break (or anytime!) treat. If gluten isn't an issue for you, make these using the base recipe for my wheat flour biscotti.
Ingredients
Hazelnuts:
3/4

cup

(95 g) toasted hazelnuts (or almonds, pecans, pistachios, pumpkin seeds, or other nuts), plus a handful of finely chopped hazelnuts for sprinkling

1

teaspoon

unsalted butter

3

tablespoons

(37 g) granulated sugar

1

teaspoon

corn syrup, golden syrup, or honey
Biscotti:
8

tablespoons

unsalted butter, melted and cooled slightly

3/4

cup

(150 g) organic granulated sugar

2

large eggs

1

teaspoon

GF vanilla extract

2

tablespoons

(15 g) Bob's Red Mill tapioca flour

2

tablespoons

(15 g) Bob's Red Mill cornstarch

1

teaspoon

baking powder

1

teaspoon

fine sea salt

8

ounces

(225 g) bittersweet chocolate, coarsely chopped, for dipping
Instructions
Make the hazelnuts:
In a small, heavy-bottomed saucepan, add enough water to barely cover the bottom of the pan. Add the sugar to the center of the pot, moisten it evenly with the water, and wash any crystals that get on the sides of the pan down into the water. Add the syrup or honey and cover the pot with a lid. Place the pot over medium-high heat and bring to a boil until the sugar has dissolved.

Have the butter and nuts measured and at the ready, and have a sheet of parchment paper or a baking sheet ready on which to dump the candied nuts.

Remove the lid from the pot, and, without stirring, boil the syrup until it reaches an amber caramel. (If the mixture begins to crystallize, you can save it by adding more water and beginning the caramelization process again.) Remove the pot from the heat and immediately swirl in the butter, then add the nuts and stir quickly to coat with a heat-proof silicone spatula.

Dump and scrape the nuts out onto the parchment, and quickly separate the pieces with the spatula as much as possible. When the nuts have cooled, chop them coarsely. Bigger chunks of hazelnut look pretty, but small pieces make the biscotti easier to cut, so choose your own adventure!
Make the biscotti:
In the bowl of a stand mixer fitted with the paddle attachment, whip the eggs with 3/4 cup of sugar on medium-high until thick, foamy, and lightened in color, about 3 minutes.

Meanwhile, sift together the oat flour, sweet rice flour, tapioca flour, cornstarch, baking powder, and salt together into a medium bowl.

With the mixer on low, add the melted and cooled butter and vanilla. Stir until combined. Add the flour mixture and stir to combine. Increase the mixer to medium and beat for about 20 seconds; this helps activate the sticky qualities of the flour which will help the dough hold together.

With the mixer on low, stir in the candied chopped hazelnuts. Remove the bowl and give the dough a final fold with a flexible spatula, scraping the bottom of the bowl to make sure the dough is well-combined and the hazelnuts evenly dispersed.

Cover and chill the dough until firm enough to handle, 1-2 hours. You can chill the dough for up to 2 days at this point, you'll just want to let it soften a bit before proceeding with the next steps.

Position two racks in the upper and lower thirds of the oven and preheat to 350ºLine 2 cookie sheets with parchment paper.

Divide the dough in half and shape each half into a log that's about 12 inches long, 1 inch high and 2 inches wide. Place longways on the baking sheet (or sheetspaced at least 3 – 4 inches apart. (You can use one sheet for both, but you will need both sheets for the cut cookies.)

Bake the logs until golden, firm, and cooked through, 25-30 minutes, rotating once or twice. Let the logs cool completely. (At this point, you can wrap and freeze the logs to be baked later if you like.)

Use a wide metal spatula to remove a log to a cutting board. With a large, sharp chef's knife, cut the log on a steep diagonal into ½ - ¾-inch thick slices. Place the cookies on the lined baking sheets and repeat with the other log.

Bake the cookies a second time until dried and golden, about 12-17 minutes, flipping the cookies over halfway through if they are browning more on the underside. Let cool completely.
Temper the chocolate:
Tempering will prevent the chocolate from forming streaks after it cools. Bring 2 inches of water in a saucepan to a boil. Place the chocolate in a heatproof metal bowl. Remove the pot from the heat and place the bowl over the pot. Stir frequently until the chocolate is completely melted. Remove the bowl from the pot and set it aside while you do other things, stirring the chocolate vigorously every few minutes. The chocolate will cool to room temperature and the stirring keeps it in emulsion. This will take about 30-60 minutes depending on how warm your kitchen is. Note that this method doesn't work well in high humidity.

To test the chocolate, smear a little on a piece of parchment paper. It should look matte and mostly set within a minute or two. If the chocolate becomes too firm to work with, place the bowl over the pot of steamy water for a few seconds, stirring constantly, until the chocolate has just barely softened.

Dip the biscotti in the tempered chocolate and sprinkle with the chopped hazelnuts.

These biscotti keep well, in an airtight container, for up to 1 week if they last that long.
Notes
To simplify this recipe:
You can skip the candied nut step and use toasted, chopped hazelnuts, almonds, or the nuts or seeds of your choice instead. Decrease the sweet rice flour by 2 tablespoons and proceed with the recipe.
You can skip the step of tempering the chocolate or use another tempering method if you prefer. Chocolate that hasn't been tempered will likely form streaks when it hardens but it will still taste delicious.
Make-Ahead Options:
Biscotti take several steps that can be broken up over time. You can make the dough up to 2 days ahead and refrigerate until ready to use, or freeze to bake in the future. If chilled for more than 2 hours, you'll need to soften the dough at room temperature until soft enough to shape, 15-30 minutes. If frozen, defrost before using.
The baked logs can be wrapped and refrigerated for several days or frozen before slicing and baking. Baked, undipped biscotti cookies can be frozen for up to 1 month. Refresh in the oven until crispy before using.
Biscotti Troubleshooting:
Biscotti, like all cookie recipes, are sensitive to slight changes in measurement. Use the weight measurements listed here for the most accurate results. If measuring by volume, use the dip and sweet (aka scoop and swoop) method: dip a dry measuring cup or spoon into the flour or starch and use a small offset spatula or the back of a knife to sweep away the excess flour flush with the cup or spoon.
If your biscotti logs spread too much during baking, try adding an extra tablespoon or two of either flour next time. If the biscotti don't spread enough and the cookies feel dense or dry, decrease the flour by the same amount next time.
If the biscotti logs are difficult to cut or fall apart when cut, be sure to let them cool to room temperature in their middles before slicing. For extra sturdy logs, wrap and chill the logs for several hours or overnight. Chopping the nuts into smaller pieces will also make the logs easier to cut.
Nutrition
Calories:
146
kcal
Carbohydrates:
19
g
Protein:
2
g
Fat:
8
g
Saturated Fat:
4
g
Cholesterol:
19
mg
Sodium:
84
mg
Potassium:
72
mg
Fiber:
1
g
Sugar:
11
g
Vitamin A:
113
IU
Vitamin C:
1
mg
Calcium:
17
mg
Iron:
1
mg
This recipe is part of a virtual cookie swap! Check out the delicious cookie recipes my friends are sharing: