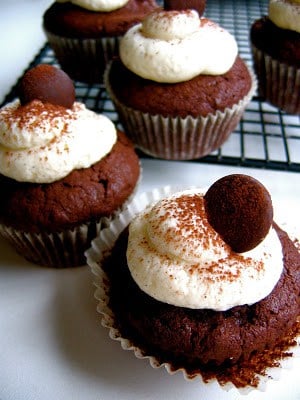 'Why don't you weigh five thousand pounds?!' people often ask me when they find out that I bake. (The secret: that IS how much I weigh; I just have really brilliant underwear.)

Just kidding about the underwear (…or AM I?) My secret is simple. I give a lot away – baked goods, of course not underwear (…or DO I?) Being partially bojon, I can't exactly fob off sweets on an office full of bored/gluttonous co-workers. So I bring treats to the people I'm closest to. You're probably thinking I mean my 'friends.' But the sad truth is, most of my friends don't want to be faced with the scores of fat and calories that my art generally contains. And the rapport is too honest for them to politely accept, then chuck the goods surreptitiously in the dumpster on their way home in an act of supreme self-restraint.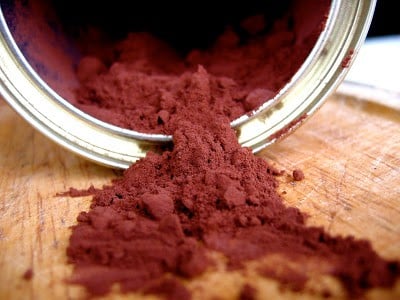 They just say no.

So I bring treats to people with whom I have a semi-formal relationship; that perfect space often created by the mutual exchange of goods and services, where said person can be certain I'm not a homicidal sociopath attempting to poison them, but knows that it would be rude and awkward to said relationship to refuse. My dance and yoga teachers. My lovely dentist. My acupuncturist. And I'm working up a little something to bring to my gyno next monday. (Oh dear, that sounded dreadfully wrong.)

Thus I often must consider portability when planning a baking session. Cookies, bars, muffins, scones and tea cakes always pack easily, in baggies, foil or an old yogurt container. Layer cakes, cupcakes, pies and tarts take a bit more finessing, often requiring a bulky box or tupperware which must be held upright lest the icing or filling end up in a state of gooey disarray.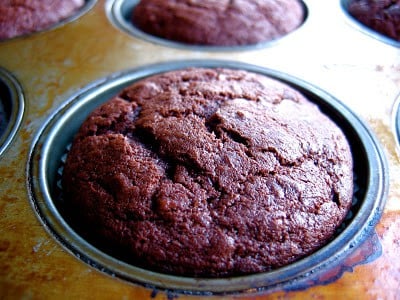 So I wanted to make cupcakes yesterday. Double Chocolate Banana Cupcakes with Cream Cheese Frosting, to be precise. But I also wanted to bring them to my acupuncturist and couldn't wrap my head around how to do it, but I thought, 'Sod it,' (been watching a lot of British comedy lately) 'I'll just make them and see what happens.' And then I did a silly thing: I tried to make cream cheese frosting using Sierra Nevada cream cheese.
Sierra Nevada makes local, organic cheese sans stabilizers, which makes it the best tasting cream cheese this side of the, er, Sierras (or is the Nevadas?) but frosting, not so much. I should have known better. We tried many times at Petite Patisserie and it always ended in tears. Not people tears, but the tears of broken and weeping (not to mention lumpy) frosting.

So I decided to hide it. Not in the trash, or my mouth à la Lucille Ball, or the fridge for Jay to find on a cleaning binge upon which he looks at me wearily and shakes his head. No.

I hid it in the cupcakes.

Shhhh!

I just shoved in the tip of a piping bag, squoze until the cake was on the verge of exploding into a dozen crumbly shards, and capped it with a handy nickle-sized chocolate wafer.

Hopefully the acupuncturist has found the frosting by now, and has stopped wondering why I stingily brought him ugly chocolate muffins. Or perhaps he has fallen victim to the self-denying, chocolate-free, weight obsessed among us, and got rid of them. If so, he will have missed the way the barely sweetened, buttery crumb of the cakes mingles with the salty tang of the frosting, urging forth the subtle, warm flavor of ripe banana and converging into an explosion of homey flavors on the tongue.

Pity.
For the remainder of the cakes, condemned to coalesce with my copious corpulence, I just piped the frosting on top, disguising the lumpish cream with a veneer of cocoa powder, distracting with a jaunty chocolate disc. You get more on, that way – frosting, not corpulence.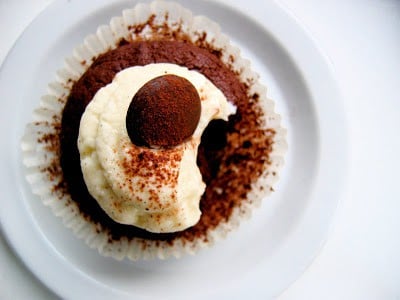 Well, that too.
Anyone fancy a cupcake?
Double Chocolate Banana Cupcakes with Cream Cheese Frosting
Adapted from Not Without Salt
Makes 16 – 18 cupcakes
4 ounces (1 stick, 1/2 cup) unsalted butter, at room temperature
3/4 cup packed brown sugar (light or dark)
1 egg
3/4 cup mashed, ripe bananas (about 2 medium)
1/4 cup sour cream
1 teaspoon vanilla extract
1 cup all purpose flour
1/2 cup cocoa powder (I used dutch-processed, but natural should work in a pinch)
1 1/2 teaspoons baking bowder
1/2 teaspoon baking soda
1/2 teaspoon salt
1 cup chopped bittersweet chocolate
Position a rack in the center of the oven and preheat to 350º. Line 18 standard muffin tins with papers.
In the bowl of a stand mixer fitted with the paddle (or by hand) cream together the butter and sugar until light and fluffy, 3-5 minutes on medium. Add the egg and mix until combined, scraping down the sides of the bowl as needed. (The mixture may look broken. That's ok.)
Meanwhile, combine the banana, sour cream and vanilla in a separate bowl or measuring cup. Sift together the flour, cocoa, baking powder, baking soda and salt into a medium bowl.
With the mixer on low, add the dries in three additions alternating with the wets, beginning and ending with the dries, mixing until just combined after each addition. Stir in the chocolate chunks. Give the batter a final fold with a rubber spatula to make sure it's all homogenous.
Divide the batter among the lined cups. (I like to use a spring loaded ice cream scoop, the one with the red handle.) The batter should mound just to the top of the mold.
(Alternately, you can bake this in a 9″ round cake pan; adjust the baking time accordingly. Double the frosting for a frosted layer cake.)
Bake the cakes about 15-18 minutes, until the tops spring back when touched. Let cool completely. Top with cream cheese frosting, below, a sprinkle of cocoa and a chunk of chocolate. Or pipe the frosting into the center of the cakes for a more portable option, and stop up the hole with a piece of chocolate.
Store the cakes in the fridge if holding for more than a few hours, but serve at room temperature for the best flavor and texture.
Vanilla-Flecked Cream Cheese Frosting
Makes about 1 1/2 cups
8 ounces cream cheese, at room temperature
4 ounces (1 stick, 1/2 cup) unsalted butter, at room temperature
1/2 vanilla bean, split and scraped (or sub 1/2 teaspoon vanilla extract)
1/2 cup powdered sugar, sifted
big pinch salt
Beat the butter and cream cheese in the bowl of a stand mixer fitted with the paddle until smooth. Add the vanilla seeds, sugar, and salt, and beat until fluffy and light, 2-3 minutes.