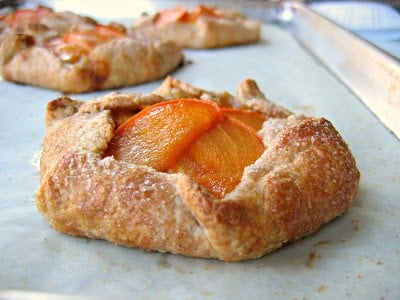 When I was five, my grandmother asked me what my favorite color was. I gave the matter a good deal of thought, then told her that it was brown.
A hachiya persimmon tree in Corralitos, California
Brown was not actually my favorite color. My real favorite color was light blue, but I felt sorry for brown since I knew that it was nobody's favorite color.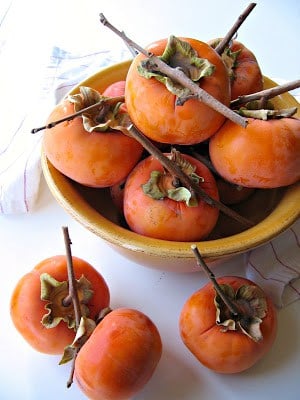 Little did I know that my grandmother simply wished to buy me a dress in my favorite color, and this little decision sent her racing around to every clothing store in town in search of a brown dress. (Thanks, Bubba!)
But when it comes to fruit, my tastes do tend toward the less popular (and I'm not just saying that to protect their imaginary feelings). Rhubarb (which is really a vegetable), figs and quince are three that I never tire of. Heck, I even like prunes.
But come December, it is fuyu persimmons that steal my heart, that I devour daily, that I spend yoga classes distracting myself from the agony of standing lunges by thinking up new ways to enjoy. I usually let fuyus ripen until they have a hint of give when squeezed. I cut the pretty stem out with a paring knife, slice the persimmon in half, then slice it into wedges and eat it straight up. I'm surprised fuyus have so few fans, given their sweet flavor, low acidity, and tender-crisp texture.
I wanted to feature their flavor in a different manner than the usual spice-laced pudding/cookie/cake, so I mixed up a batch of pâte brisée, rolled it into 6 small rounds, and topped it with the gooey flesh from hachiya persimmons and a fan of fuyu persimmon slices that had been hanging out in citrus zest and a bit of sugar.
These galettes make a sunny change to the pale fruit desserts of winter (apples and pears, I'm talking to you), with a juicy, fruity filling as pleasing as a peach pie. A crisp crust flakes against the tender, sweet fruit, its flavor boosted by the citrus zest and judicious amount of sugar.
Someone recently asked me whether a galette is like a fancy pie. I replied that galettes are more like un-fancy pies, being rustically easy to assemble and requiring no special pan, save a sheet to bake them on. Galettes are also a lovely way to make individual servings without having to buy special tart or pie pans. They are easier to transport than messy slices of pie. And they have a French name, so they sound fancy. And that's really what's important.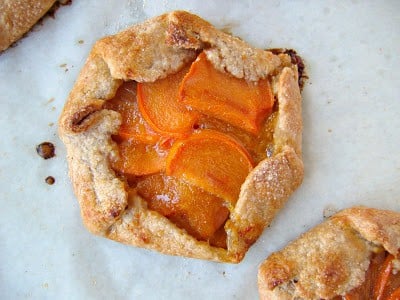 Fancy or non, these galettes make a superb breakfast or afternoon snackle, especially with a cup of good tea, as the crust contains whole spelt flour and the filling is mostly fruit. But served with a dab of whipped cream, crème fraîche, or a scoop of ice cream, they are decadent enough to count as dessert. Or cut them into wedges and serve them at a cocktail party.

You may even turn persimmons into someone else's favorite fruit.

Multiple persimmonality disorder:
Two-Persimmon Tea Cake
Strange fruit:
Rhubarb-Chevre Galettes
Quince and Apple Turnovers
Fig and Ginger Scones
One year ago:
Two years ago:
Sourdough Pizza with Chantarelles, Shallots and Chevre
Persimmon Galettes
This recipe is all about the persimmons, so be sure that yours are at the peak of ripeness when you make this. It calls for both the gooey flesh from hachiya persimmons (the heart-shaped ones that feel like water balloons about to burst when fully ripe) and squat fuyus (which should be bright orange and have a hint of give when squeezed, and whose flesh should be crisp-tender and full of flavor).
Makes six 4-5″ galettes
All-butter pate briseé:
3/4 cup all-purpose flour
1/2 cup whole spelt (or whole wheat pastry) flour
1 teaspoon sugar
1/2 teaspoon fine sea salt
4 ounces (8 tablespoons/1 stick) cold, unsalted butter, in 1/2″ dice
about 4 tablespoons ice water
Persimmon filling:
1 large or 2 small, dead-ripe hachiya persimmons (see headnote)
2 medium, ripe fuyu persimmons (see headnote)
3 tablespoons sugar, plus extra sugar for sprinkling
zest of 1/2 clementine
zest of 1/4 lemon
pinch salt
squeeze of lemon juice
2 tablespoons heavy cream (or milk, water or beaten egg) for brushing the dough
Make the crust:
In a large bowl, stir together the flours, sugar and salt. Scatter the butter pieces over the flour, and rub in with your fingertips until the mixture resembles sand with lots of pea-sized butter chunks. Drizzle the ice water over, 1 tablespoon at a time, tossing with a rubber spatula, until the dough will hold together when you give it a squeeze. Dump the dough out onto a counter, divide it roughly into 6 portions, and fraisage by dragging a portion of dough across the counter using the heel of your hand. Scrape up the dough (a metal bench scraper works well here) and gently press it into a ball. Cut the dough into 6 even pieces (they should weigh about 2 ounces each) and flatten them into small discs. Put the discs on a plate, cover with plastic wrap, and chill for at least 30 minutes or up to 2 days.
Remove the discs from the fridge, and roll them out into 5-6″ rounds on a lightly floured surface, dusting the rolling pin and surface with a little flour and rotating the dough to keep it from sticking. Stack the rounds on a plate and chill for another 30 minutes.
Prepare the persimmons:
Remove the stem(s) from the hachiya(s), slice in half lengthwise and scoop out the flesh with a spoon, keeping the gelatinous segments in tact. Discard the peel. Cut the stem out of the fuyus, slice them in half lengthwise, place the halves cut-side down, and use a sharp knife (serrated works well) to cut them into thin slices, about 3/8″ thick. Remove the brown seeds, if there are any.
In a medium bowl, rub the sugar with the zests and salt, then toss in the fuyu slices and lemon juice to combine.
Assemble and bake the galettes:
Position a rack in the center of the oven and preheat to 400º. Line a rimmed baking sheet with parchment paper.
Remove one round of dough from the fridge, trimming the edges clean if you like. Place 1 1/2 tablespoons of hachiya flesh in the center, then top with a circle of fuyu slices (about 7 slices worked for me). Fold up the edges around the fruit, pressing on the pleats to stick them together. Place the galette on the lined baking sheet. Repeat with the remaining rounds of dough and persimmons.
Brush the edges of the dough with the cream, and sprinkle the galettes with sugar.
Bake the galettes until the crust is golden brown and the fruit is bubbling, about 20 minutes, rotating the pan halfway through.
The galettes are best the day they are baked, when the crust is crisp, but they can be stored at room temperature for up to 2 or 3 days. Reheat in an oven or toaster oven before serving.