This gluten-free blueberry coffee cake gets a tender crumb from butter and sour cream and earthy flavor from brown sugar, oat, and sorghum flours. A layer of jammy blueberries and addictive salty-sweet streusel take it over the top.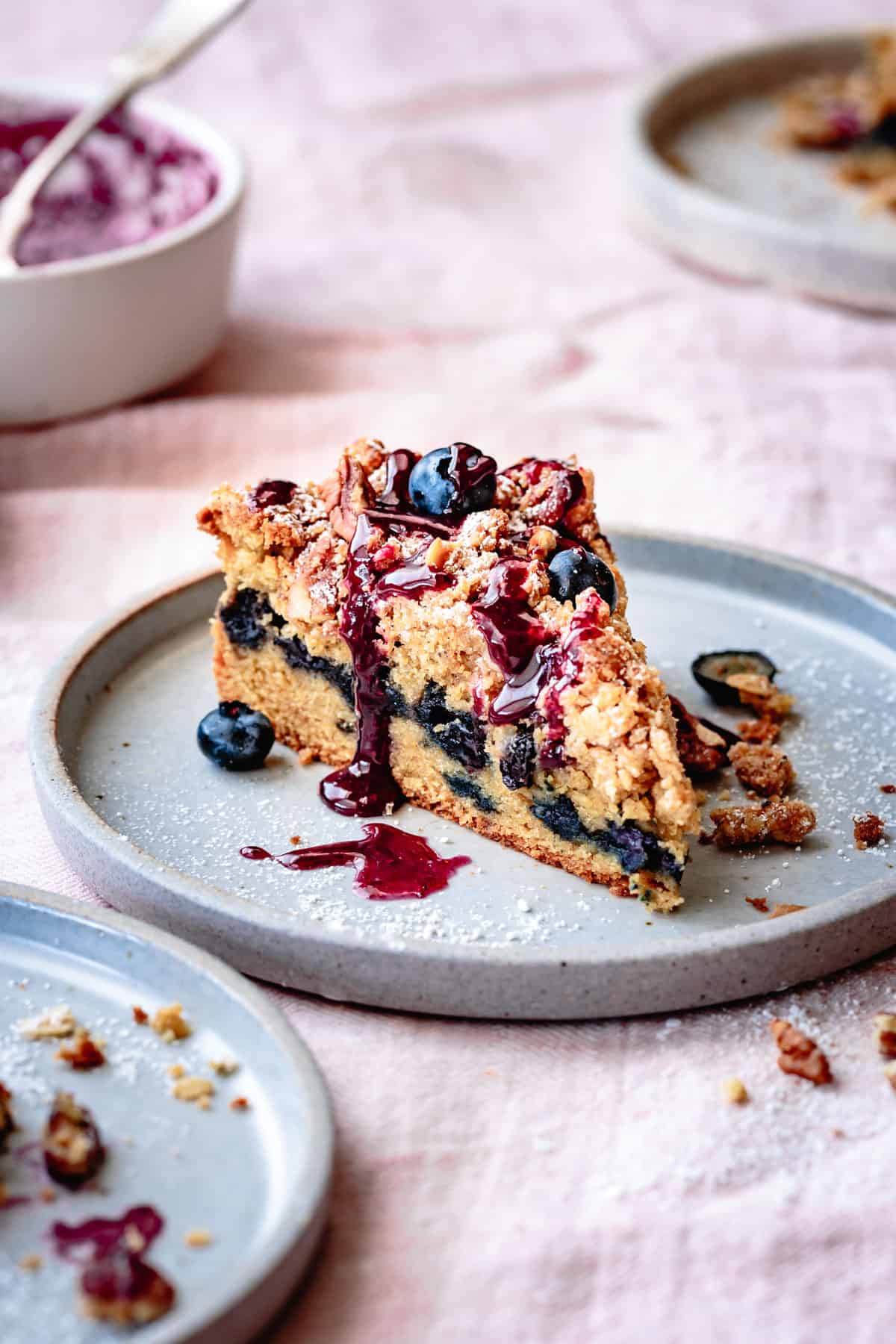 One of my most-made TBG recipes to date is this rhubarb streusel coffee cake recipe from 8 years ago! I have a seriously soft spot for coffee cakes and many strong opinions about them. Since my deep dive into alternative flours, I've made many gluten-free coffee cakes, though I have yet to share one here – until now! There was a pumpkin buckwheat number with a delicate crumb reminiscent of pudding cake. There was a rhubarb cardamom version with pistachio crumble. There are coffee cake-like muffins in my book featuring poppy seeds, pluots, and buckwheat flour.
My Best Gluten-Free Blueberry Coffee Cake Recipe
But I finally perfected my GF version of the classic blueberry coffee cake and I'm very excited to share it here today. This cake boasts an earthy crumb from oat and sorghum flours, butterscotchy brown sugar, a layer of jammy berries, and an addictively salty/sweet/nutty crumb topping. Sometimes coffee cakes are gilded with a powdered sugar glaze, so I whipped up a blueberry version. It's not strictly necessary but it adds a bright punch of fresh berry flavor, contrasting all those warm baked tastes.
This post is especially dedicated to Krista, one of my fave readers who has made countless recipes from TBG and Alternative Baker, posting beautiful photos on her Instagram. She requested a gluten-free berry coffee cake recipe, so here it is!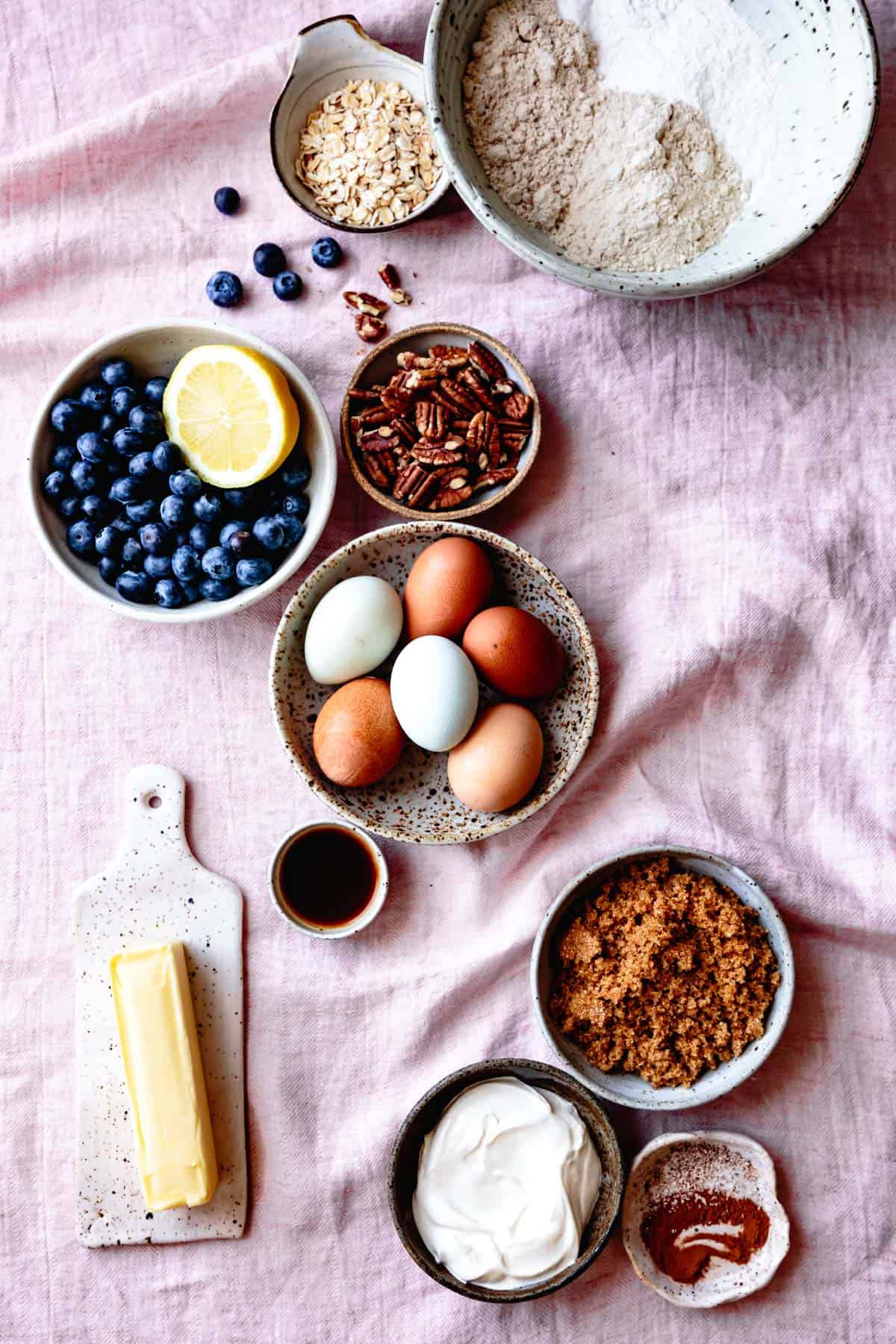 Ingredients for Gluten-Free Coffee Cake
This buttery gluten-free crumb cake starts by creaming butter and brown sugar together until light and fluffy. The sugar granules whip air into the butter which in turn makes for a fluffy, fine-crumbed cake. Next a couple of eggs help fluff up the batter.
Meanwhile the flours are sifted together. Sweet rice flour has a sticky consistency that acts similarly to the gluten in wheat flour, binding the dough together and keeping it sturdy. A bit of tapioca flour makes the batter extensible or stretchy, allowing it to trap air bubbles. Oat flour and sorghum flour add a whole-wheat flour vibe, keeping the cake delicate and tender while adding loads of flavor.
Sour cream and vanilla moisten and perfume the batter, which you'll be hard pressed to put in a cake pan rather than licking it straight out of the bowl. A load of fresh blueberries – a generous 2 cups – gets sandwiched between two layers of batter. This keeps the moisture from the berries contained allowing the streusel to stay crisp up top.
The streusel is super simple to make, and it bakes up into rich salty-sweet clusters of nutty goodness. Almond flour and tapioca flour help it hold together, oat flour keeps it delicate and sandy, and oats and pecans add heft. Melted butter, brown sugar, and a whiff of cinnamon and nutmeg give it a classic streusel flavor. If you're anything like me, you'll want to put that streusel on everything. In fact, it doubles as crisp topping for fruit desserts too.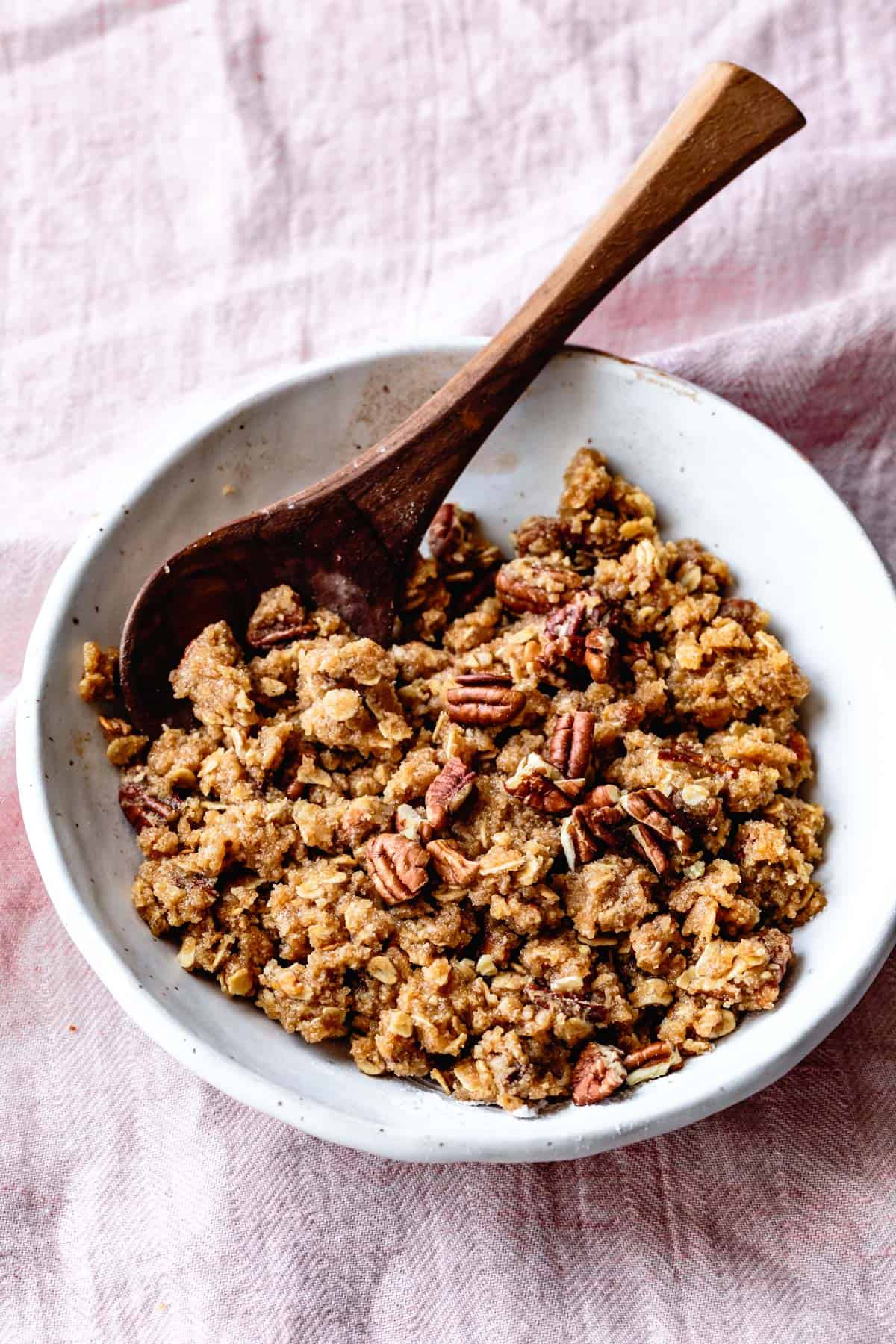 Gluten-Free Sour Cream Coffee Cake...
This cake base is adapted from one of my favorite ever cake recipes – a brown sugar peach upside-down cake that I developed for GFF Magazine a couple of summers ago. The buttery batter whips up light and fluffy and it stands up to juicy fruit with aplomb.
I tested this recipe with both sour cream and whole milk Greek yogurt, and the sour cream wins hands down. It makes the cake meltingly tender and richly flavorful. The Greek yogurt works fine too if that's what you have on hand, but it just feels like something's missing. So I recommend splurging on sour cream or crème fraîche here if you can – it's well worth the extra purchase.
...Or Gluten-Free Dairy-Free Blueberry Coffee Cake
For a dairy-free version of this gluten-free blueberry dessert, use vegan butter in place of the regular butter and vegan yogurt in place of sour cream. Coyo coconut yogurt is especially rich and similar in fat content to sour cream.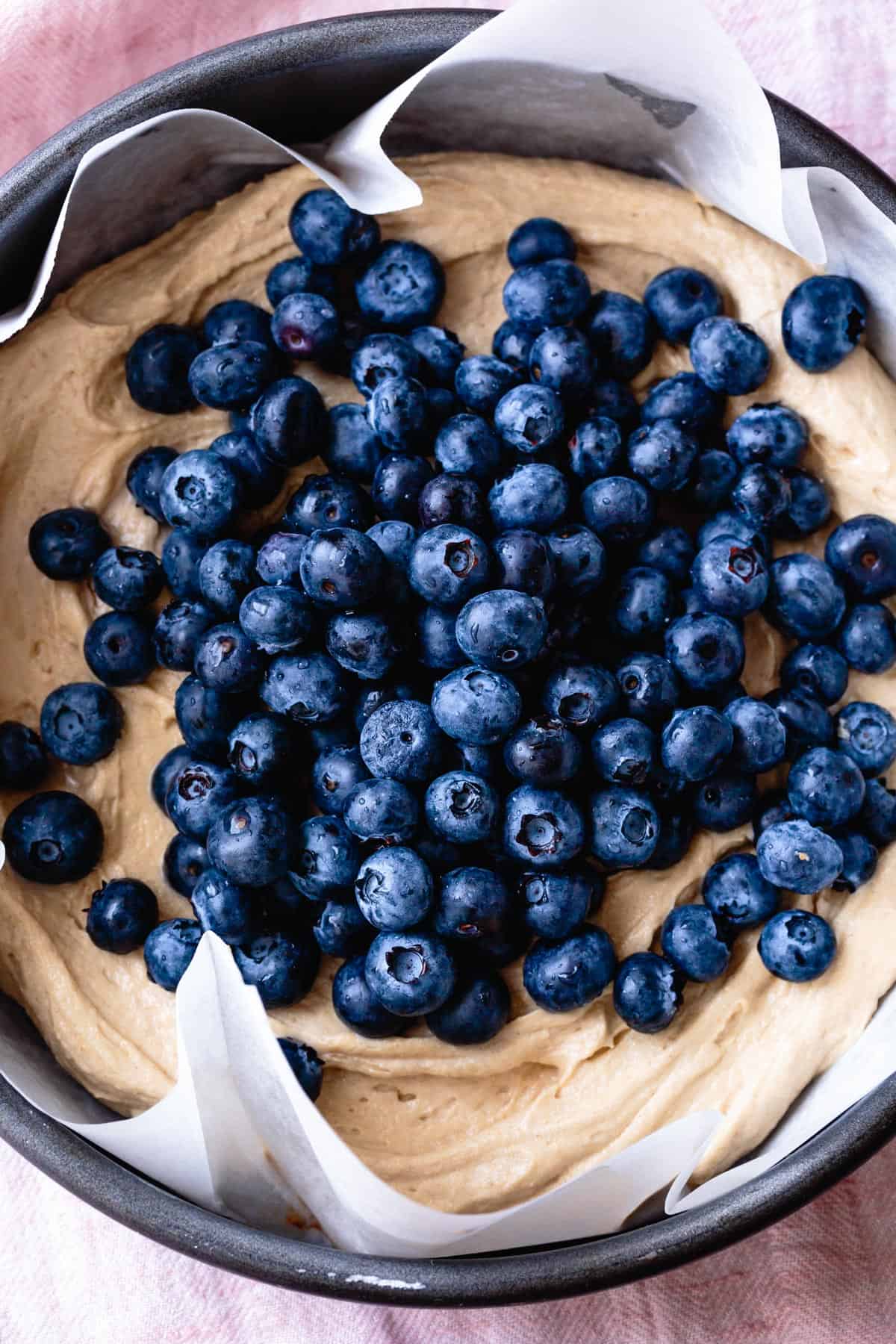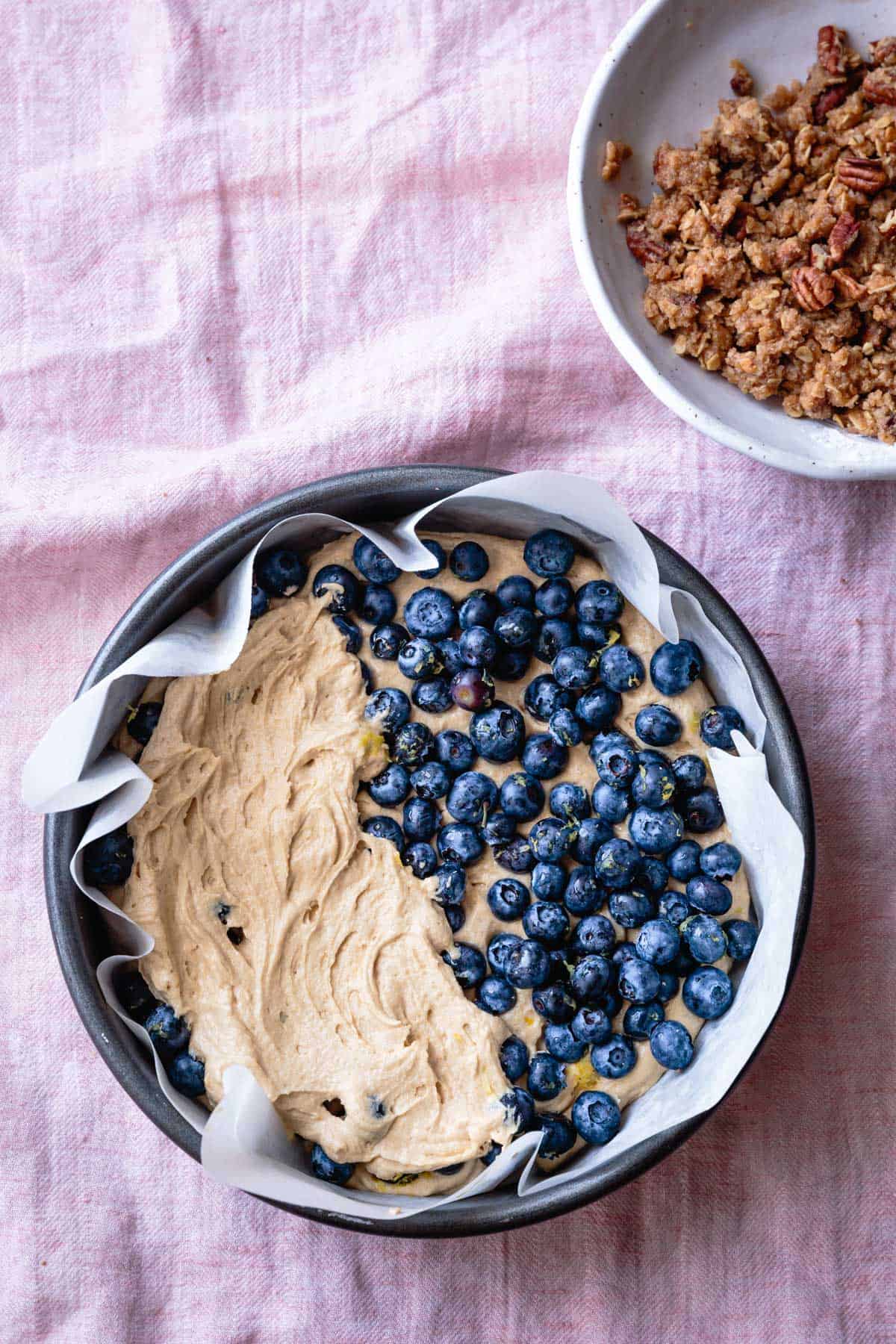 Blueberry Coffee Cake with Frozen Berries
No fresh blueberries? Make this gluten-free blueberry cake any time of the year by using frozen berries. Just increase the bake time by 10 - 20 minutes or until it passes the toothpick test.
Any Fruit Gluten-Free Coffee Cake
I've tested this recipe with rhubarb as per my original wheaty recipe and it's delicious – variation included below! Or you could try swapping in any berry or other soft fruit you like. Blackberries or raspberries would be equally delicious here. Or if you're fortunate enough to come across huckleberries, used them to make the most divine huckleberry coffee cake.
Classic Coffee Cake
If gluten isn't an issue for you or your cake-eaters, give my original wheaty rhubarb coffee cake recipe a whirl. Or try it with the seasonal fruit of your choice.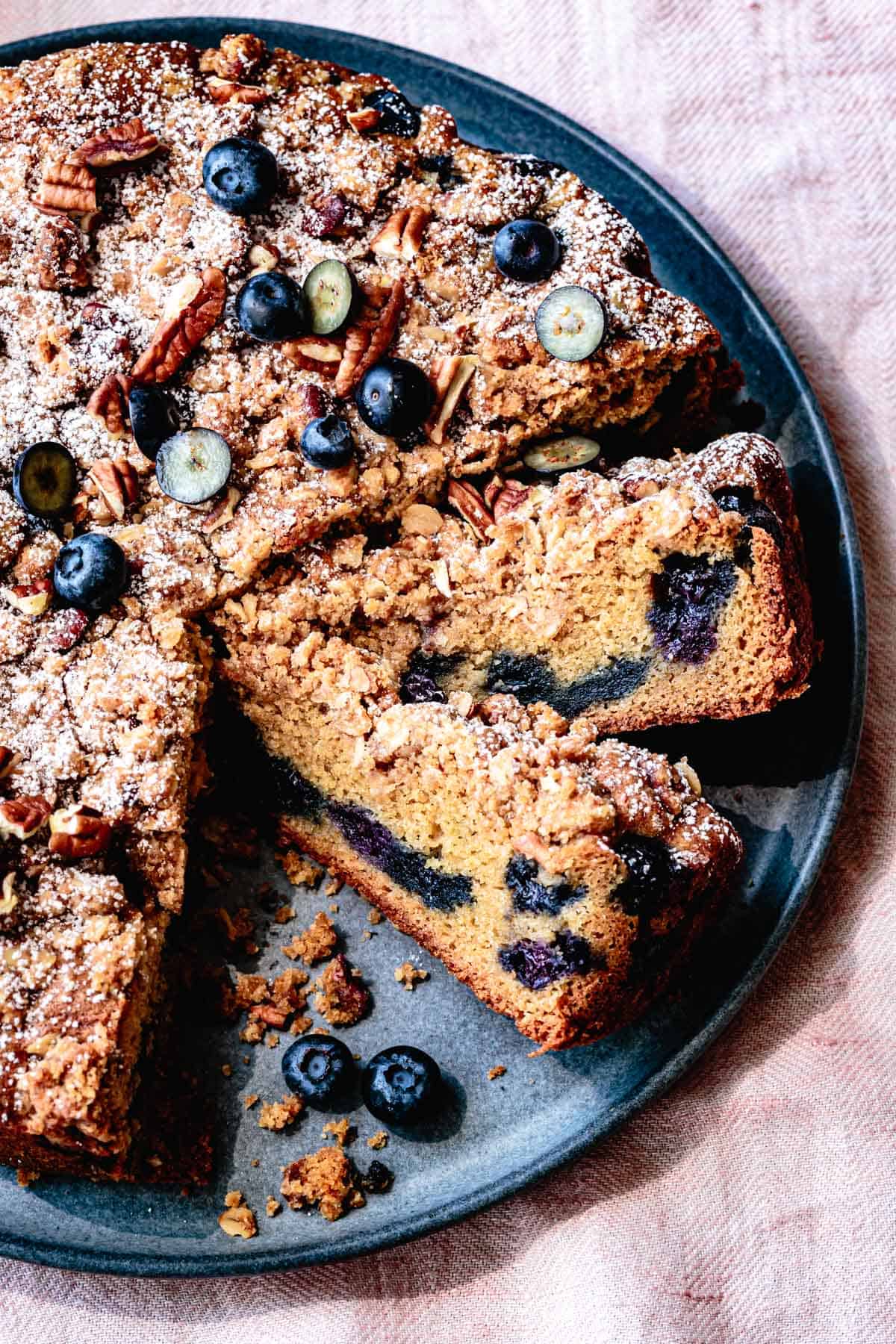 Gluten-Free Blueberry Coffee Cake Muffins
Want your coffee cake in portable, individual form? Fold the berries into the batter, divide among muffin cups, top with streusel, and adjust the baking time as needed. Use a toothpick to test for doneness.
Healthy Blueberry Coffee Cake for a Crowd
This coffee cake recipe tastes rich and decadent with a healthy twist from whole-grain flours and less sugar than most.
I had a lot of coffee cake in my kitchen after testing this recipe several times over the past few days. So I brought some to my Latin dance class to share with my fellow dancers. Eyebrows were raised, sighs and groans of contentment were uttered, fingers were licked. One taste tester asked skeptically, "THIS is gluten-free?" And then with suspicion, "what flours did you use?" Granted, these folks will eat just about anything after an hour and a half of sweaty salsa, mambo, cha cha, and son. But I still deemed it a success.
I'm looking forward to making this gluten-free coffee cake recipe with different fruit throughout the seasons. I hope it becomes as beloved in your kitchen as it is in mine. If you give the recipe a whirl, leave a note along with a star rating below!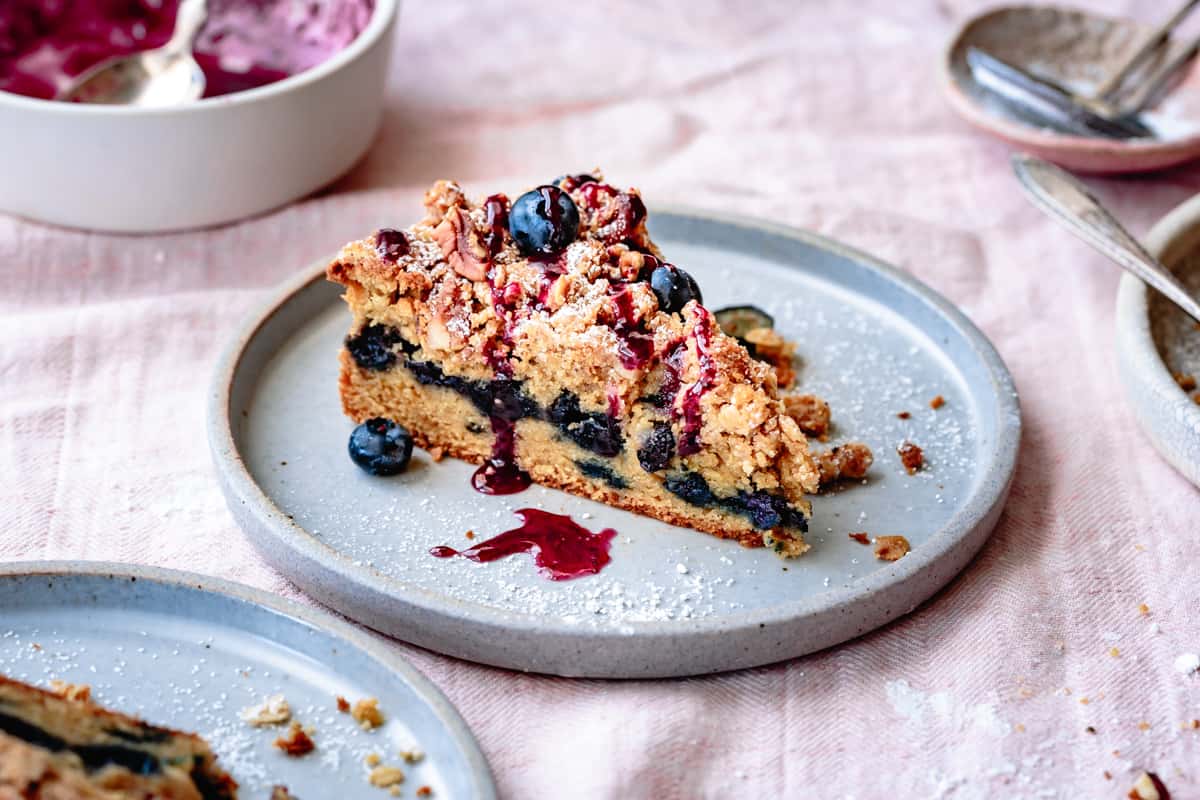 My Best Gluten-Free Blueberry Recipes:
More Gluten-Free Cake Recipes:
*Bojon appétit! For more Bojon Gourmet in your life, follow along on Instagram, Facebook, or Pinterest, purchase my gluten-free cookbook Alternative Baker, or subscribe to receive new posts via email. And if you make this gluten-free blueberry coffee cake, I'd love to see. Tag your Instagram snaps @The_Bojon_Gourmet and #bojongourmet.*
Gluten Free Blueberry Coffee Cake with Pecan Streusel
Print Recipe
Pin Recipe
This gluten free blueberry coffee cake gets a tender crumb from butter and sour cream and earthy flavor from brown sugar, oat, and sorghum flours. A layer of jammy blueberries and addictive salty-sweet streusel take it over the top. Feel free to try any soft seasonal fruit you like in place of the blueberries. If you're using frozen and not defrosted blueberries, the cake may take up to an additional 15 minutes to bake.
Ingredients
Streusel Topping:
1/3

cup

(35 g) almond flour

1/3

cup

(35 g) coarsely chopped or broken pecans

¼

cup

(25 g) old fashioned rolled oats

¼

cup

(25 g) oat flour

1

tablespoon

(7 g) tapioca flour

1/3

cup

(70 g) packed light brown sugar

1/2

teaspoon

kosher salt

1/4

teaspoon

ground cinnamon

1/8

teaspoon

freshly grated nutmeg

4

tablespoons

melted unsalted butter
Cake:
8

tablespoons

(115 g) unsalted butter, softened, plus 1 teaspoon for the pan

¾

cup

(150 g) organic light brown sugar

2

large eggs, at room temperature

1/2

cup (80 g) sweet white rice flour

1/2

cup (65 g) sorghum flour (millet and ivory teff flour can be substituted)

1/2

cup (55 g) GF oat flour

2

tablespoons

(14 g) tapioca flour

2

teaspoons

baking powder

1/2

teaspoon baking soda

1/2

teaspoon fine sea salt

1/2

cup (115 g) sour cream, crème fraiche, or Greek yogurt, plus extra for serving if desired

1 ½

teaspoons

vanilla extract

2 ¼

cups

(300 g) fresh or frozen blueberries, plus a few extras for the top

zest of half a large lemon

Powdered sugar, for dusting (optional)
Instructions
Make the streusel:
In a medium bowl, stir together the almond flour, pecans, oats, oat flour, tapioca flour, sugar, salt, cinnamon, and nutmeg. Stir in the butter until large clumps form. Set aside.
Make the cake:
Position a rack in the center of the oven and preheat to 350º.

Rub a 9-inch round cake pan or springform pan with butter and line the bottom and sides with a piece of parchment paper.

In the bowl of a stand mixer fitted with the paddle (or a bowl with a wooden spoocream the butter and sugar together on medium speed until light and fluffy, 3 - 4 minutes, scraping down the sides of the bowl once or twice.

Add the eggs one at a time, beating until combined after each addition. The mixture may look broken.

Meanwhile, sift the sweet rice, sorghum, oat, and tapioca flours into a medium bowl along with the baking powder, baking soda, and salt into a medium bowl.

Stir together the sour cream and vanilla.

With the mixer on low, add half of the flour mixture, mixing until combined. Add the sour cream mixture, beating until combined. Add the remaining flour mixture and beat until combined, then increase the mixer to medium speed and beat until the batter is light and fluffy, 20 seconds longer. (Wheat based batters shouldn't be beaten vigorously, but here it helps aerate the gluten free batter.) Give the batter a final fold with a rubber spatula to make sure it is homogenous, scraping down the sides and bottom of the bowl and beater.

Spread a little more than half the batter in the bottom of the pan. Sprinkle the berries evenly over the batter in a single layer. Sprinkle the lemon zest over the berries. Dollop the remaining batter over the berries and spread to cover. Sprinkle the streusel over the cake, squeezing it into almond sized clumps if necessary. Tuck a few extra blueberries into the streusel.

Bake the coffee cake for 45-55 minutes until it is golden brown and a toothpick inserted near the center comes out clean or with a few crumbs. Let cool completely or until just warm.

Remove the cake from the pan and cut it into wedges. Dust with powdered sugar and serve slices with a drizzle of blueberry glaze.

The coffee cake is best the day it's baked when the streusel is crisp, but leftovers keep well for up to 3 days in the refrigerator.
Notes
Variation: Gluten Free Rhubarb Coffee Cake
In place of the blueberries, use 2 cups rhubarb cut into ½ - 1 inch pieces and tossed with 2 tablespoons granulated sugar.
Gluten-Free Dairy-Free Blueberry Coffee Cake: 
Use vegan butter in place of the dairy butter, reducing the salt in the cake and streusel of the butter is very salty. In place of the sour cream, use a rich vegan yogurt such as Coyo. 
Nutrition facts are for 1 of 8 servings.
Nutrition
Calories:
400
kcal
Carbohydrates:
45
g
Protein:
4
g
Fat:
24
g
Saturated Fat:
12
g
Cholesterol:
86
mg
Sodium:
191
mg
Potassium:
230
mg
Fiber:
2
g
Sugar:
34
g
Vitamin A:
607
IU
Vitamin C:
4
mg
Calcium:
98
mg
Iron:
1
mg