This easy apple rhubarb crisp gets sweet-tart flavor from pink rhubarb, a bit of zip from fresh ginger, and oat-flecked cobbles of salty streusel. Now with gluten-free, vegan, refined sugar-free, and paleo options.
Find all of my favorite crisp and cobbler recipes here!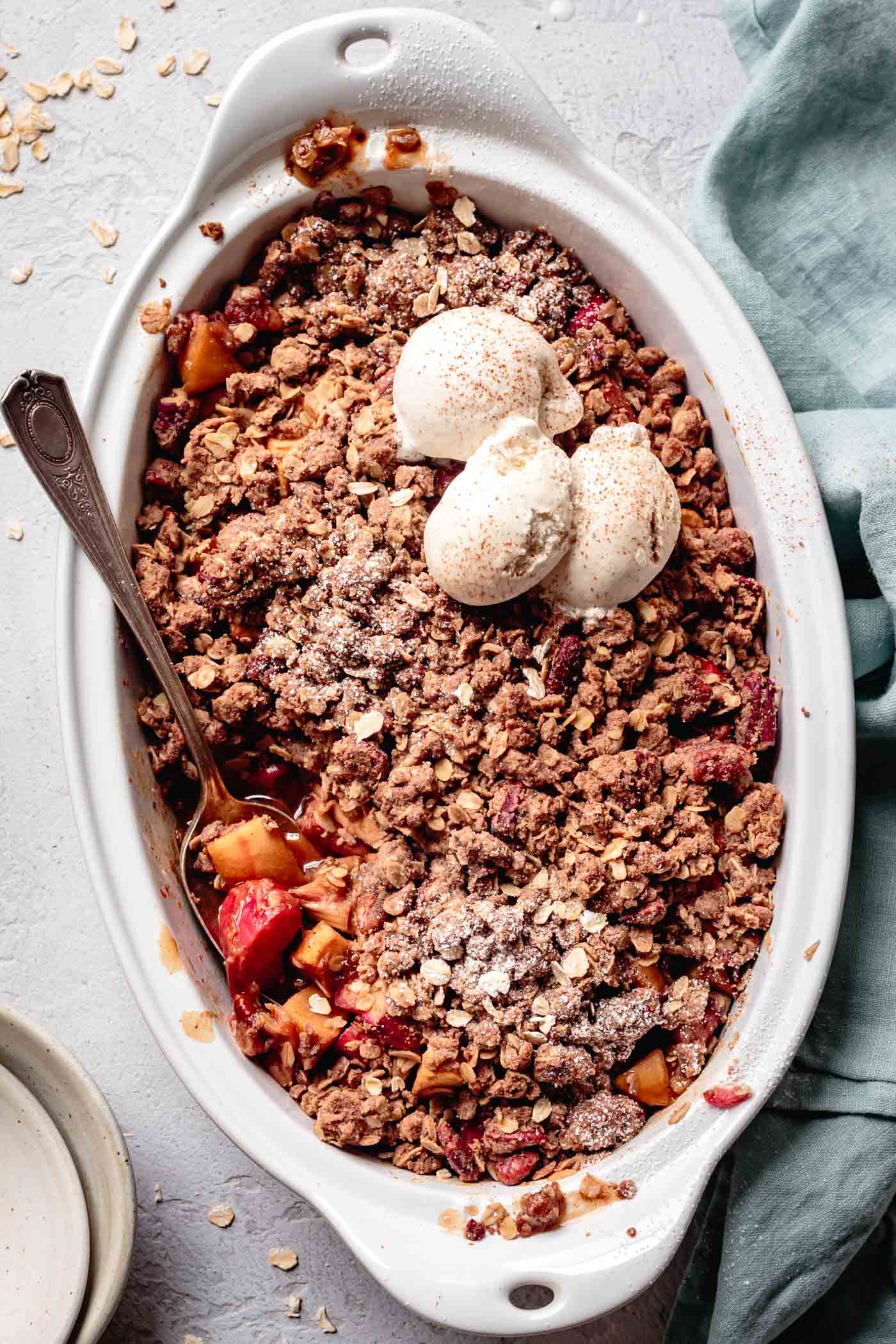 I first shared the recipe for this apple rhubarb crisp (a.k.a. apple rhubarb crumble) back in May of 2010 and it's since become a reader favorite! Brightly spiced, cozy, and lidded with a crunchy oat topping, it's so satisfying with a scoop of vanilla ice cream or ginger ice cream melting over the top.
Armed with a bunch of rhubarb plucked from my mother-in-law's garden, I revisited this apple rhubarb dessert to give it some fresh images. I used the gluten-free crisp topping that I developed for my cookbook Alternative Baker to test a GF option. My original recipe uses wheat flour from before I went fully gluten-free, and I've left it here.
When I took a bite of crispy streusel and sweet-tart fruit laced with spicy fresh ginger, I was thrilled by how well this old favorite has stood the test of time.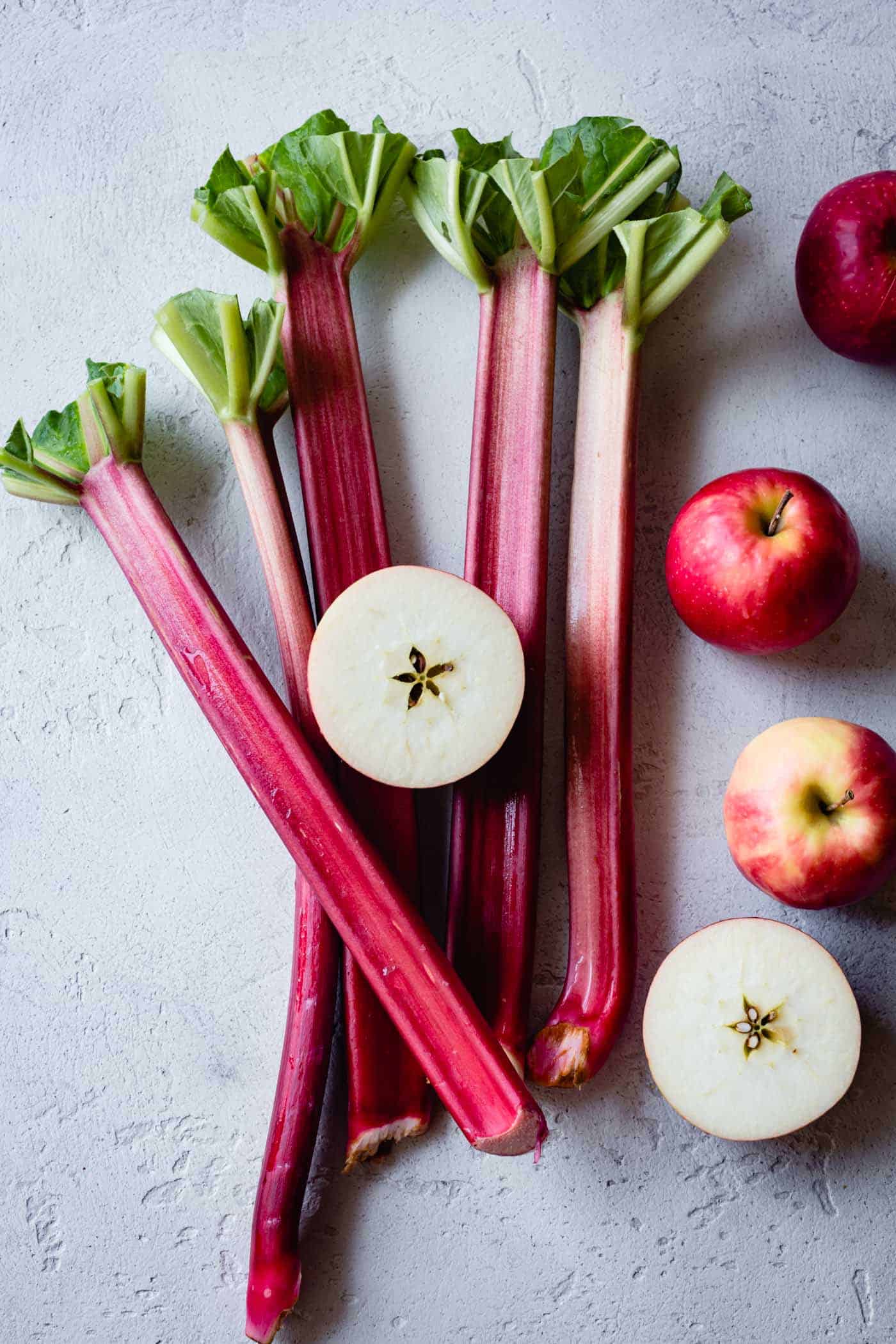 Apple and Rhubarb Desserts
I have Deborah Madison to thank for turning me on to the combination of apples and rhubarb with a pandowdy recipe in her beautiful cookbook Local Flavors (that I adapted here). Apples and rhubarb meet seasonally in the spring, when wintered over apples that have been stored since the fall coincide with fresh, field-grown rhubarb. They meet again in the fall when rhubarb grows its second cool-season crop and apples are beginning to ripen.
Though a lesser known combination than strawberry rhubarb, apples tame rhubarb's tartness the same way that berries do. Additionally, they provide structure that berry-rhubarb desserts can lack. Try this combination in any sort of baked fruit dessert with a silly name: pies, cobblers, crumbles, brown betties, pandowdies, or buckles.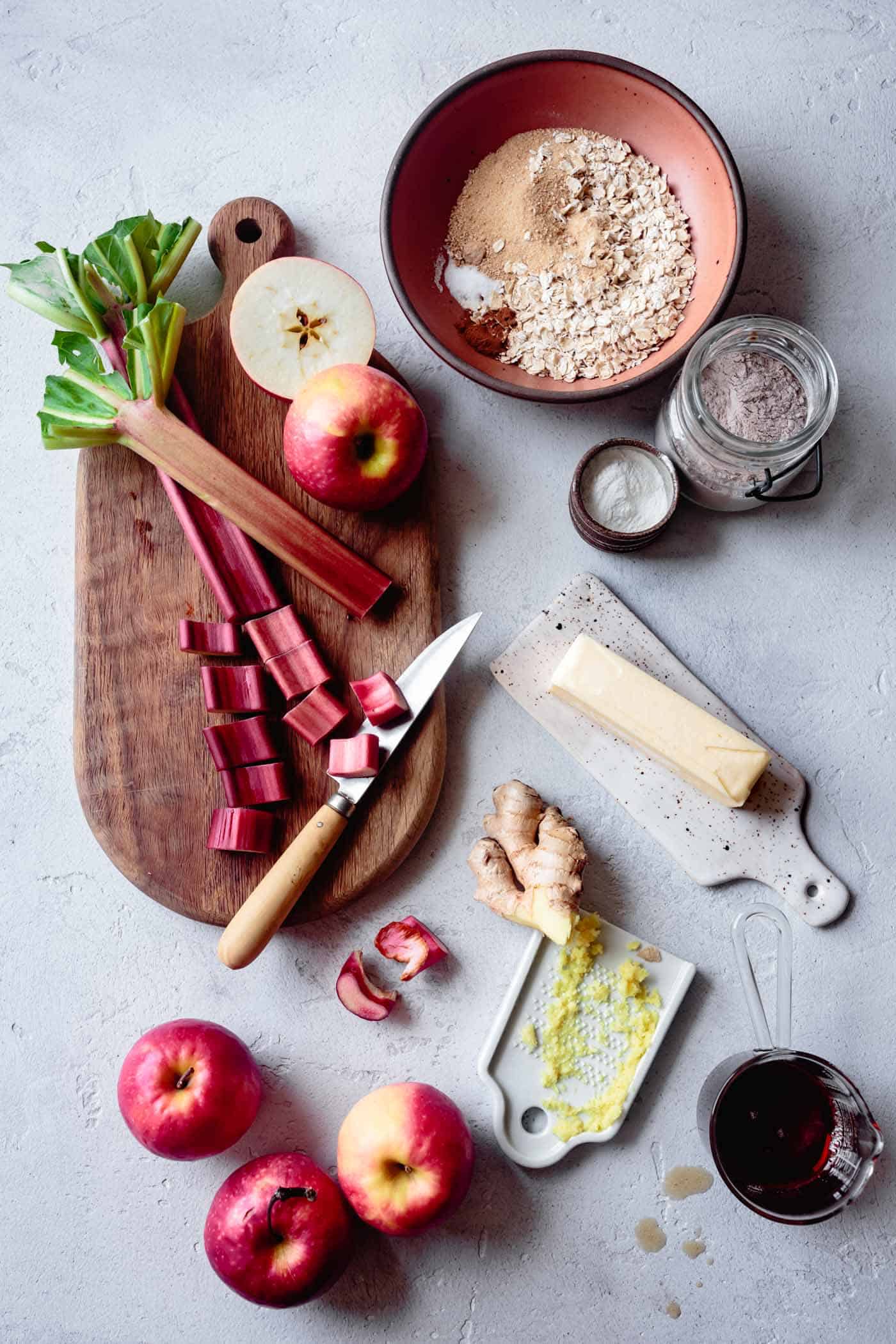 Forced Rhubarb vs. Field Rhubarb
In some regions such as the UK, rhubarb is grown in hothouses during winter months where it gets harvested by candlelight. This "forced rhubarb" is bright magenta in color, with slim, tender stalks that bake up bright pink.
Here in California, it's more common to find field-grown rhubarb during late spring and early summer. The kind shown here, field rhubarb stalks tend to be fatter and tinged with green. Both types of rhubarb work beautifully in this recipe.
I'm lucky enough to have access to rhubarb nearly all year long. It grows in hearty patches in my mother-in-law's garden in Santa Cruz county thanks to their mild winters and not-too-hot summers (and my MIL's sick gardening skills of course!). If you're patiently waiting for rhubarb in order to make this apple rhubarb crumble, try checking the freezer section of your grocer for frozen rhubarb, which should work just as well.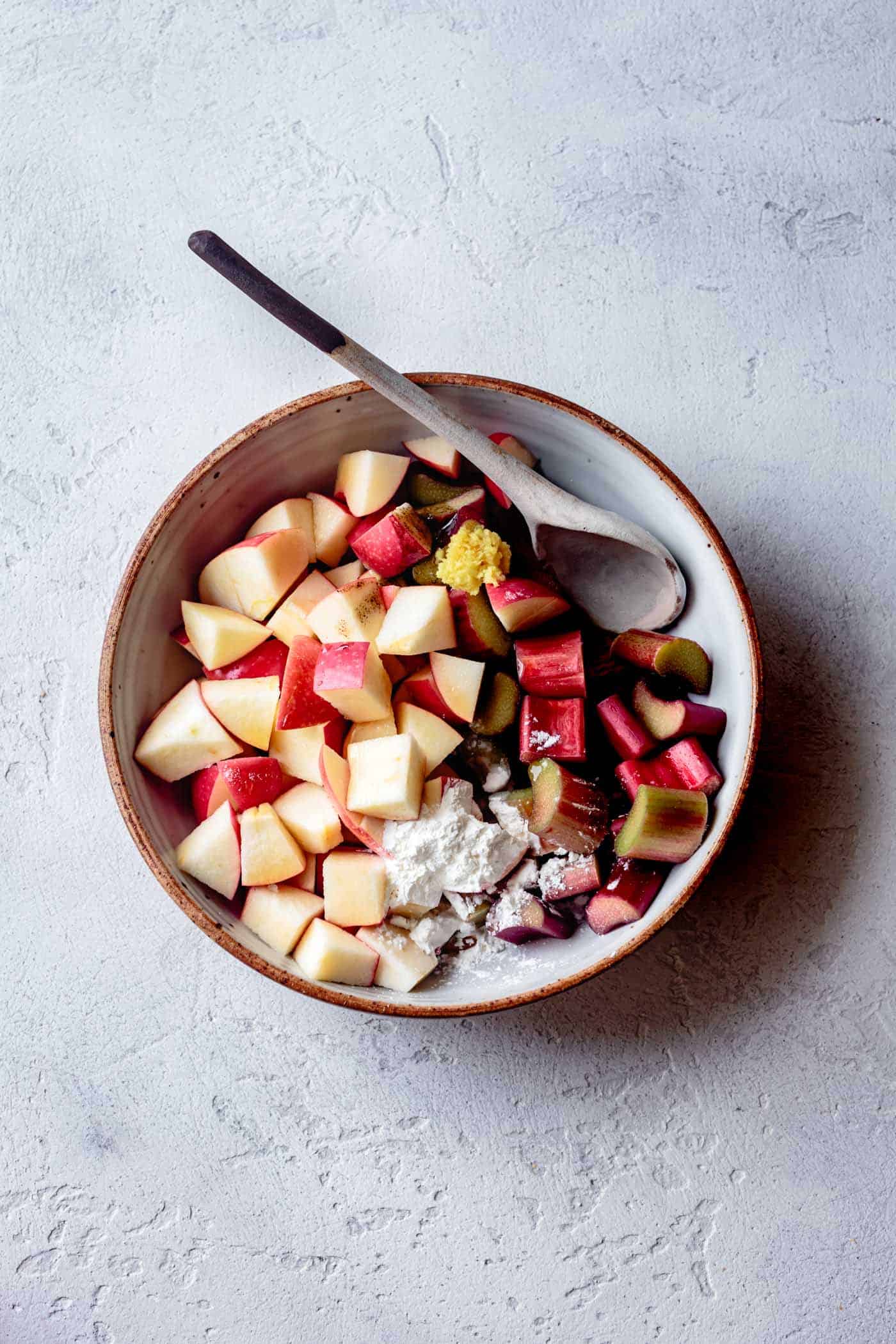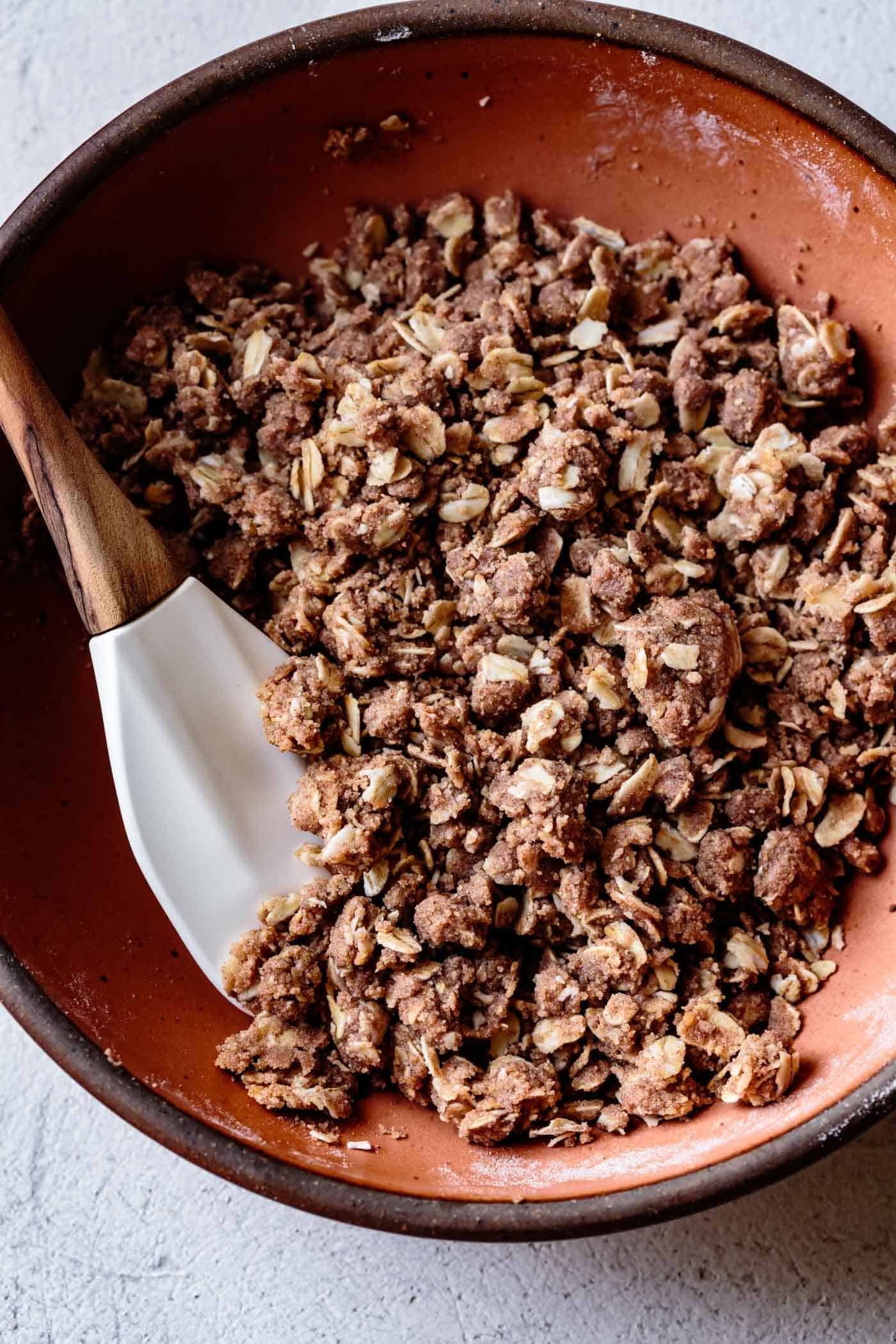 Healthy Apple Rhubarb Crisp
Though this apple rhubarb crisp tastes like dessert, it's nourishing enough to eat for breakfast – cool from the fridge with a scoop of plain yogurt if you like. Apples and rhubarb provide lots of good nutrients and fiber, and so does the whole grain topping packed with oats, optional nuts, and whole-grain flour. Maple syrup sweetens the filling, and you can use maple sugar in the topping if you'd like to avoid refined sugars altogether in this dessert.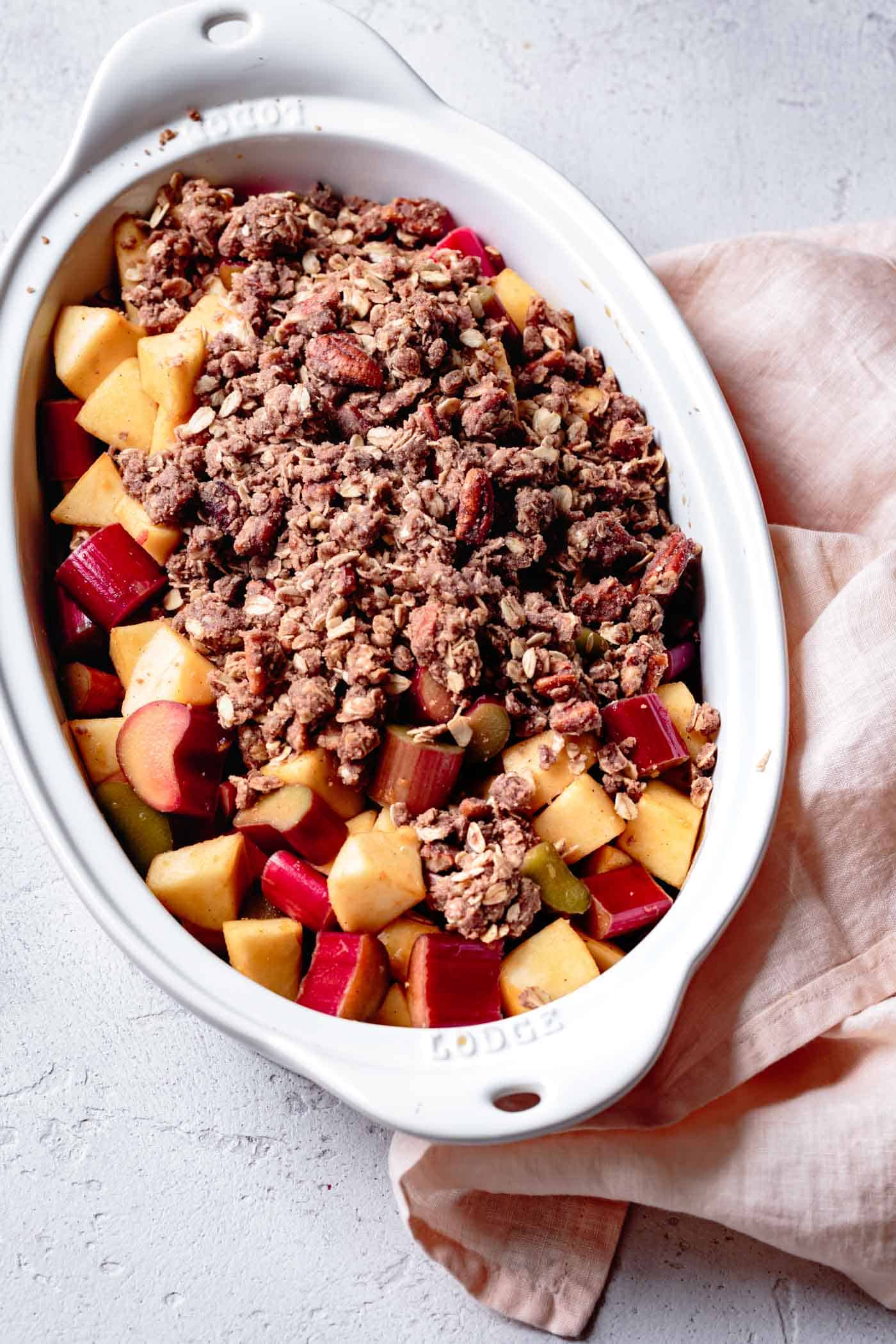 Vegan Gluten-Free Apple Rhubarb Crisp
I've updated this apple rhubarb crisp recipe with vegan and gluten-free options, so that everyone can enjoy some! I originally adapted the topping recipe from Mollie Katzen's Moosewood Cookbook. I love that it gets simply stirred together with melted butter rather than rubbing the butter into the topping, and that it forms crispy clusters of varying sizes.
In the gluten-free version, I've swapped teff flour combined with sweet rice and tapioca flours for the all-purpose flour. This is the same crisp topping I use in my cookbook for cranberry pomegranate apple crisp, a lovely fall variation that's perfect for fall feasts.
For a vegan variation, simply swap in plant butter (such as Miyoko's) for the dairy butter and serve this with your favorite dairy-free ice cream.
Looking for a paleo apple rhubarb crisp? Try this grain-free almond flour crumble topping here instead!
How to make Apple Rhubarb Crisp & Ingredients
Crisp is truly one of the easiest desserts one can make, and imminently satisfying too. Just prepare the apples and rhubarb, toss them with maple syrup, fresh ginger, thickener (flour or cornstarch), vanilla, and salt. Spread this mixture in a large baking dish. A 9x13-inch lasagna pan will make thin layers that cook well. Or for a deeper crisp, use a large oval gratin dish as shown here. You can cut the recipe in half and bake it in a 9- or 10-inch round baking dish or an 8- or 9-inch square dish.
To make the crumble topping, combine the oats, flour (or flours if making the gluten-free version), brown or maple sugar, cinnamon, salt, nuts (if using) and melted butter (or plant butter if vegan). Stir to combine until the topping forms large, moist clumps.
Sprinkle the topping over the fruit and bake the crisp in the lower third of the oven. This ensures that the fruit cooks fully without scorching the topping. If the topping is browning too quickly, lower the oven temperature. This crisp likes a nice, long bake to fully cook the fruit and crisp up the crumble, so be sure to let it go until the fruit is bubbling up vigorously around the topping.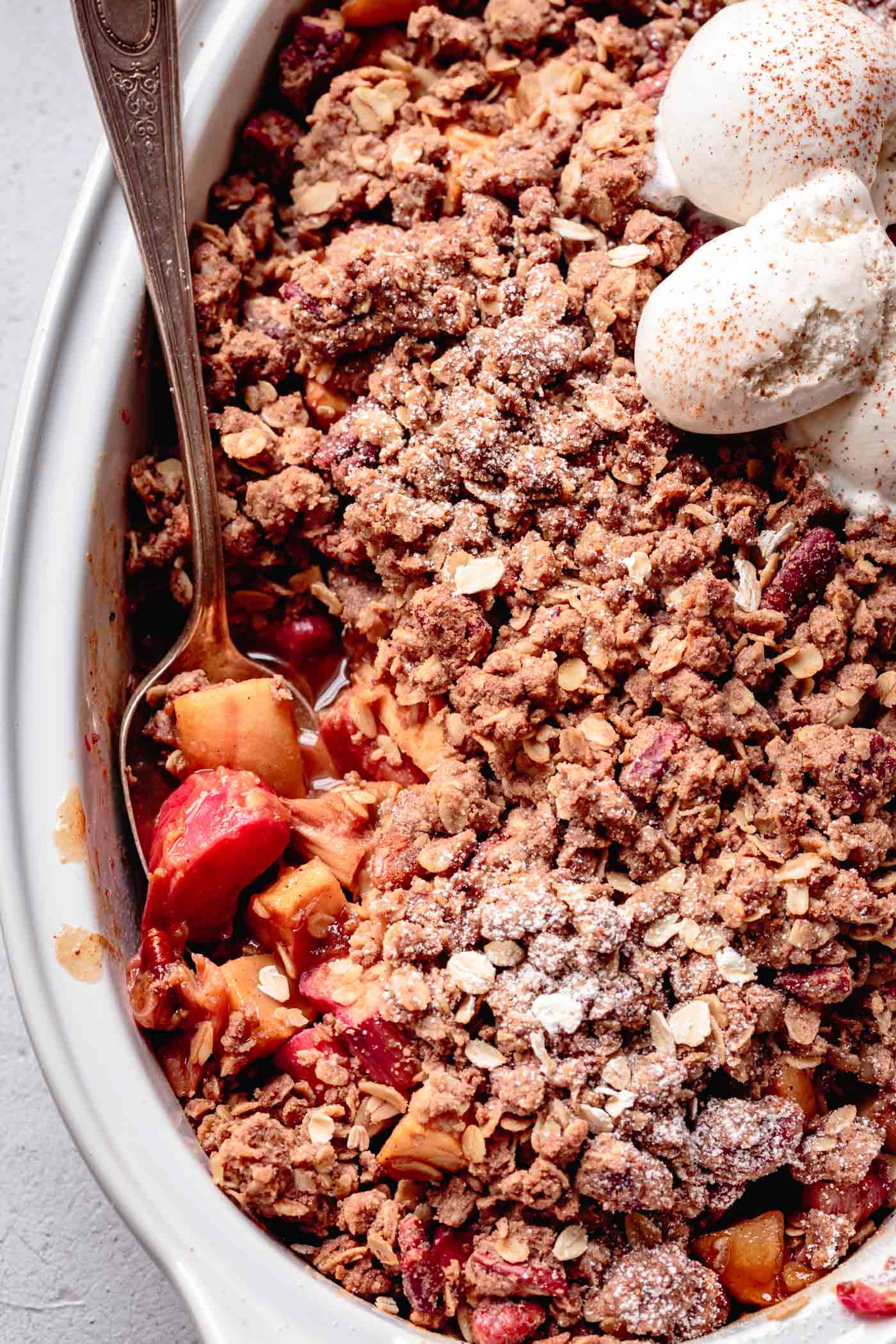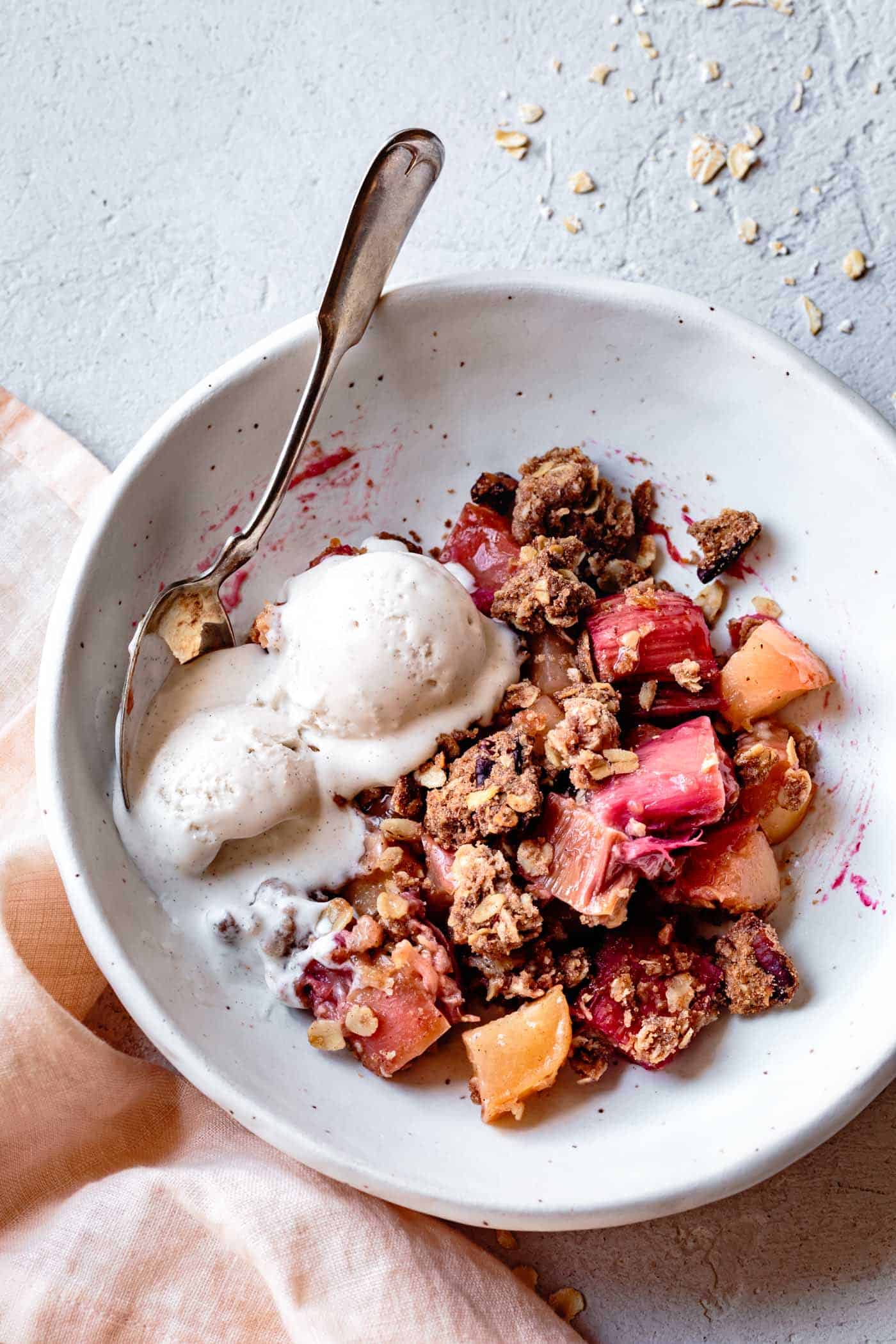 *Bojon appétit! For more Bojon Gourmet in your life, follow along on Instagram, Facebook, or Pinterest, purchase my gluten-free cookbook Alternative Baker, or subscribe to receive new posts via email. And if you make this apple rhubarb crisp recipe, I'd love to know. Leave a comment and rating below, and tag your Instagram snaps @The_Bojon_Gourmet and #bojongourmet.*
Homemade Apple Rhubarb Crisp (gluten-free option)
Print Recipe
Pin Recipe
An easy, cozy apple rhubarb crisp sweetened with maple, laced with ginger, and topped with crunchy oat streusel. See the recipe notes for how to make this gluten-free, vegan, and/or paleo-friendly!
Ingredients
The fruit:
4

large semi-tart apples, such as Pink Ladies, Honeycrisp, Cameos, or Fujis (1 1/2 pounds / 680 g, 4 cups prepared)

1

pound

rhubarb, leaves trimmed away, in 1" slices (4-5 large stalks, 4 cups prepared)

1

teaspoon

finely grated ginger root

1

teaspoon

vanilla paste or extract

1/4

teaspoon

fine sea salt

2

tablespoons

all-purpose flour

(or 1 tablespoon cornstarch)

1/2

cup

(120 ml) maple syrup

(more if your apples are very tart)
Crisp topping:
1 1/4

cups

(110 g) old-fashioned rolled oats (gluten-free if needed)

1

cup

(140 g) whole wheat, spelt, or all purpose flour

(see variation for gluten-free option)

1/4

cup

+ 2 tablespoons (70 g) maple sugar

(or brown sugar)

1/2

teaspoon

cinnamon

1/2

teaspoon

fine sea salt

8

tablespoons

(113 g) unsalted butter, melted

(Use plant butter for a vegan option. Omit salt if using salted butter.)

1/2

cup

(55 g) coarsely chopped nuts, optional

(sliced almonds, pecans, or walnuts)
Instructions
Position a rack in the lower third of the oven and preheat to 350ºF.

If the apple skins are red and pretty, leave them on; or peel them, it's your call. Cut the apples off the core and into 1-inch chunks; you should have 4 cups. Toss the apples and rhubarb in a very large bowl with the ginger, vanilla, salt, flour, and maple syrup. Scrape into a 9 x 13-inch baking dish, an 8 x 12-inch gratin dish, or the equivalent.

In another large bowl, combine the oats, flour, sugar, cinnamon and salt (and nuts, if using). Stir to combine, then add the melted butter and work with your fingers until it begins to clump into a gravelly texture. Sprinkle the topping over the fruit.

Bake the crisp for about an hour, until the crisp in golden brown and the fruit is bubbling up furiously around the sides. Remove and let stand for at least 10 minutes. Serve hot, warm, or at room temperature with scoops of vanilla ice cream.

Store leftover crisp in the refrigerator for up to four days. Reheat before serving, or enjoy cold with yogurt for breakfast.
Notes
Adapted from Local Flavors and The Moosewood Cookbook.
Gluten-Free Version:
Use 1 tablespoon cornstarch in the filling instead of flour. In the topping, increase the brown or maple sugar to 1/2 cup (80 g of maple sugar, 100 g brown sugar). Use certified gluten-free oats. Omit the flour and use:
1/2 cup (80 g) teff flour
1/4 cup (37 g) sweet rice flour or GF AP flour blend
2 tablespoons (15 g) tapioca flour
Dairy-Free Vegan Version:
Use plant butter in place of dairy butter. My favorite brand is Miyoko's.
Paleo Version:
Use this almond flour crumble topping recipe.
Nutritional values are based on 1 of 10 servings.
Nutrition
Calories:
261
kcal
Carbohydrates:
41
g
Protein:
4
g
Fat:
10
g
Saturated Fat:
6
g
Cholesterol:
24
mg
Sodium:
259
mg
Potassium:
325
mg
Fiber:
5
g
Sugar:
19
g
Vitamin A:
365
IU
Vitamin C:
7
mg
Calcium:
73
mg
Iron:
1
mg