Who knew a vegan paleo peach cobbler recipe could taste as rich, decadent, and summery as a gluten and dairy-laden one? Whip up this easy dessert and in no time you'll be topping gooey fruit and fluffy, tender biscuits with melty vegan vanilla ice cream for rustic fruit dessert bliss. Eggless, dairy-free, gluten-free, grain-free, and refined sugar-free, with a nut-free option.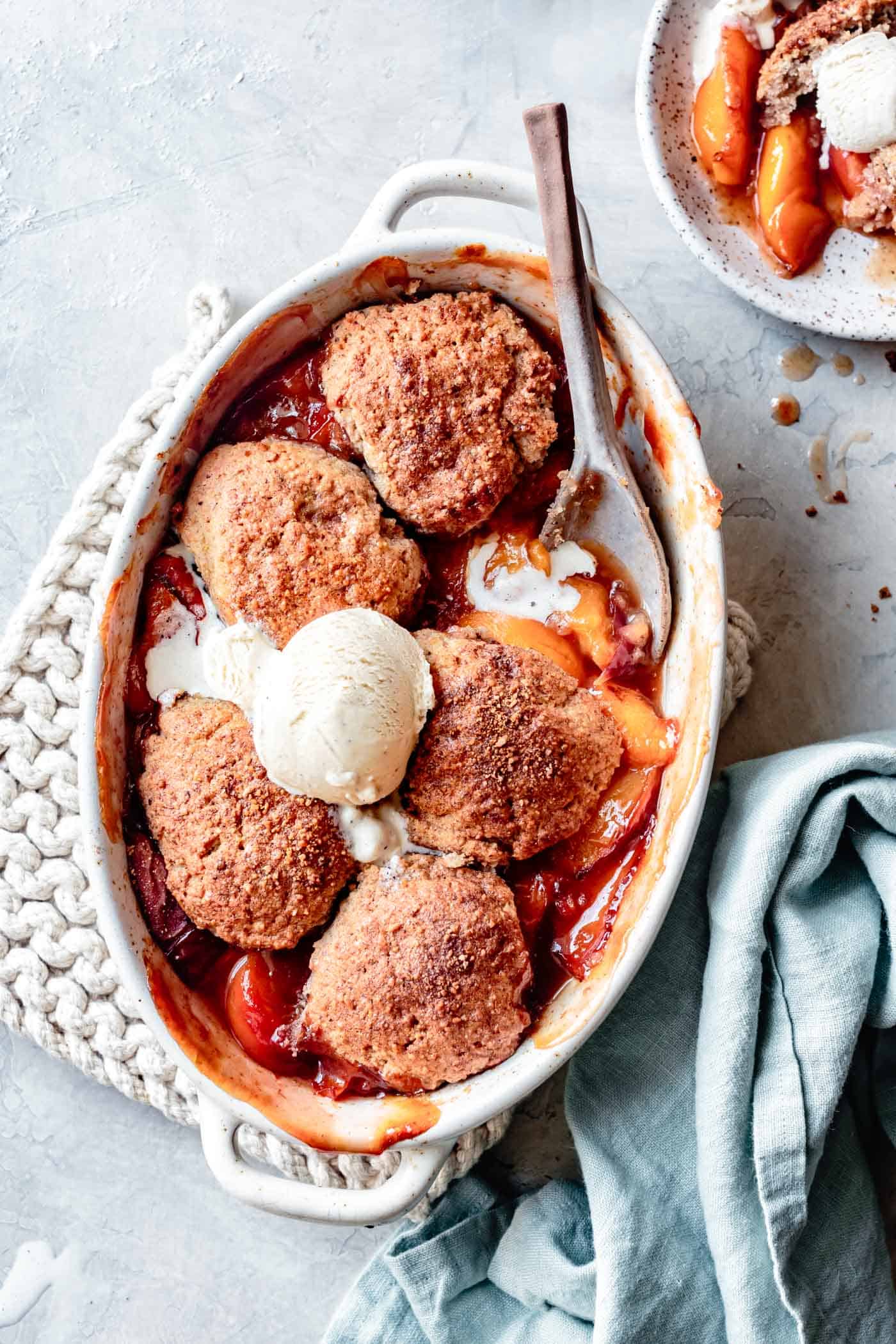 Gluten-free peach cobbler was one of my very favorite recipes from Alternative Baker, and one that took me FOREVER to get just right. After many terrible versions, including one with tight meatball-like wads of dough on top and one that looked like it was covered in pieces of feces, my recipe tester Caterina finally cracked the GF cobbler code. The trick was to heat the wet ingredients before adding them to the flour/butter mixture. This gave the biscuits an instant lift, and they baked up into dreamy, craggy-topped puffs.
Atop jammy fruit, gluten-free cobbler quickly became a favorite year-round staple.
I've shared recipes for gluten-free blueberry cobbler, plum berry cobbler, apple rhubarb cobbler, cranberry apple cobbler, and southern-style peach cobbler. Today I'm pleased to share this vegan paleo peach cobbler, a dairy-free / grain-free variation on my favorite recipe.
Vegan Gluten-Free Cobbler for Everyone
I'm on a kooky elimination diet for health reasons, but happily this is a cobbler recipe I can *actually* eat. After months of satisfying my sweet tooth with paleo chocolate chip cookies, paleo chocolate chip banana bread, and tahini chia pudding, it was such a treat to dive into a proper rustic fruit dessert. When I took my first bite of paleo peach cobbler complete with gooey fruit, buttery biscuit, and cool vegan ice cream, it felt like coming home.
So without further ado, I bring you this healthy cobbler recipe, perfect for using up sweet late-summer peaches, or whatever fruit you have on hand. More variations below!
Ingredients & Substitution Suggestions
Peaches are the star of this show. Be sure to use ripe, fragrant peaches and/or nectarines. Or swap the peaches for whatever fruit you like; variations below! You can also use frozen fruit, or canned or jarred peaches, if that's what you've got.
Maple syrup sweetens the fruit and adds caramel / butterscotch notes. You can change up the sweetener if you like. Honey, white or brown sugar, and coconut sugar would all work.
Tapioca flour thickens the fruit. You can try cassava, arrowroot, or cornstarch if you prefer.
Salt in the fruit and biscuits sharpens the flavors. Choose fine sea salt without iodine.
Cassava flour and almond flour, almond meal, or hazelnut flour form the biscuit base. If you don't have cassava flour, you can try all-purpose flour (gluten-free, paleo, or wheat, depending on dietary needs). For a nut-free version, you can try tiger nut flour or 1/4 cup coconut flour. I haven't tested the recipe with these other flours, so you may need to do some experimentation!
Maple sugar or coconut sugar sweetens the biscuits and adds rich flavor. You can also use brown or white sugar if you prefer, or try date sugar or honey granules.
Baking powder lifts the biscuits.
Cold butter or plant butter adds richness. My favorite vegan butter is Miyoko's cultured vegan butter. You could also try coconut oil if you prefer.
Plant yogurt and coconut cream moisten the biscuits. I use Forager plain cashewgurt. If you don't have coconut cream on hand, try full-fat coconut milk instead.
Cinnamon and vanilla add sweet & spicy flavor that makes these cobbler biscuits completely addictive and aromatic.
How to Make Vegan Paleo Peach Cobbler: Step-by-step instructions & photos
Fresh Peach Filling
Almond Flour Paleo Cobbler Topping
FAQs
What is peach cobbler?
Cobbler can refer to several different types of rustic fruit dessert. Biscuit cobblers, like this one, consist of baked fruit topped with soft mounds of drop biscuits. Some cobblers have firmer cut biscuits on top, while others are topped with a softer cake-like batter.
Southern-style cobblers are the inverse. These start with a cake-like batter and are topped with fruit – peaches, berries, or whatever you like. I've shared a recipe for a gluten-free southern-style peach cobbler here which can easily be made vegan by using vegan butter. I'm itching to try a paleo version of this as well!
Is peach cobbler a pie? What's the difference between peach pie and peach cobbler?
Pie is made with a flaky bottom and often top crust. The crust doesn't contain leavening and it's typically made with just flour, butter, and ice water. This is my favorite gluten-free pie crust recipe, and this is my glutenous pie crust recipe. You can also make pie crust with sourdough discard!
Looking for peach pie recipes? There's a gluten-free peach pie recipe in my book Alternative Baker. Or try this crème fraîche peach pie from the archives.
Pandowdy is somewhere between a pie and a cobbler, with pie dough cut-outs strewn atop the baked fruit. I've shared a gluten-free peach pandowdy recipe here; it's divine!
And if you're looking for a crisp or crumble, try this brown butter peach crisp with maple and bourbon, or this ginger plum crumble (which you could also make with peaches and which has a gluten-free option).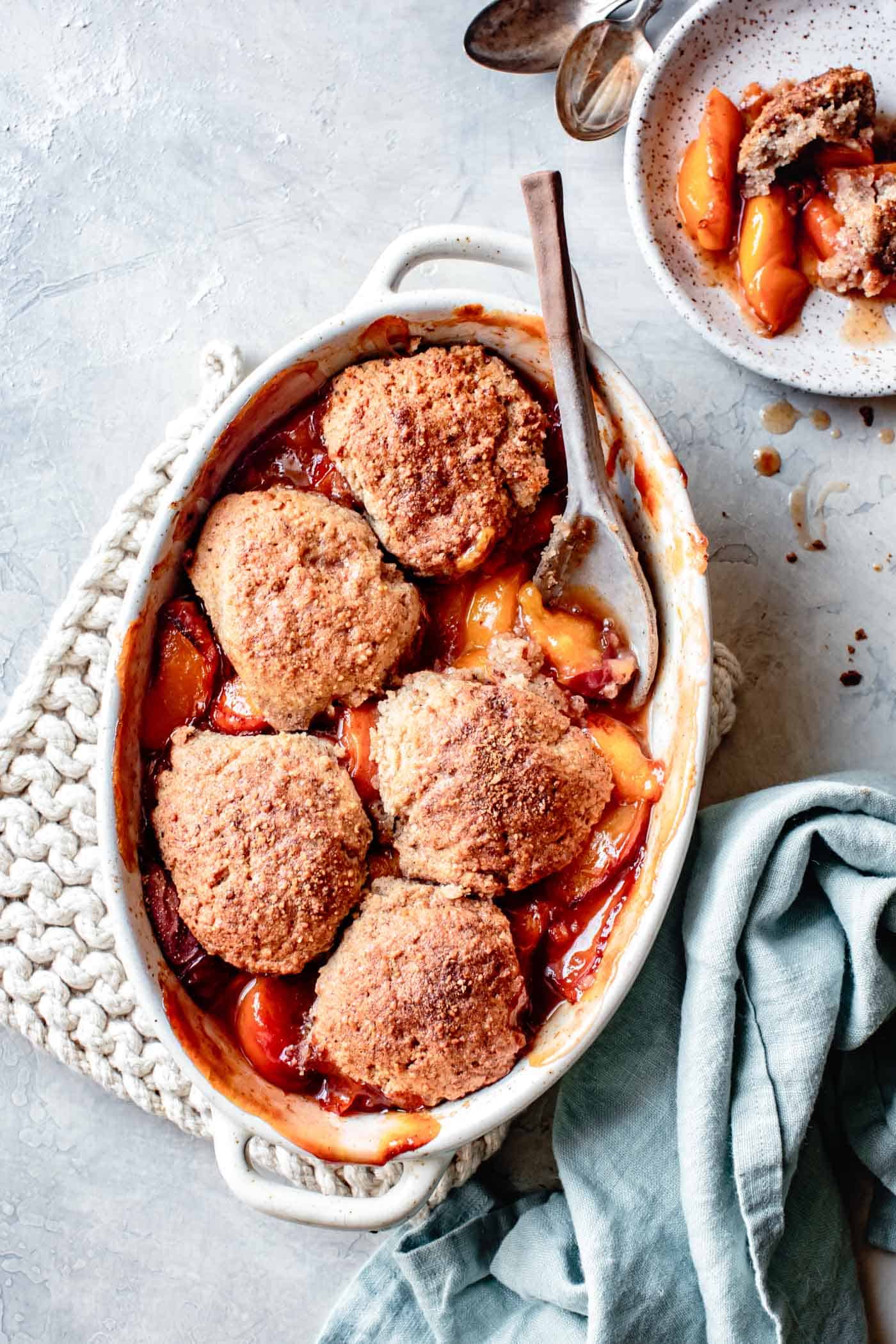 Do you peel peaches for cobbler?
Peeling the peaches is not necessary. While many recipes call for peeling your peaches, I prefer to skip this unnecessary and laborious step. Here the peach skins bake up meltingly-tender – you don't notice them in the final dish – plus they add color and nutrients. Do be sure to rinse and dry your peaches before you cut them, and always choose organic or pesticide-free peaches if possible.
Can you use frozen peaches for cobbler?
You absolutely can. There's no need to defrost the peaches first, just toss them with the other filling ingredients and extend the first bake until the peaches are heated through and beginning to release some juice. Frozen peaches may not be as flavorful as fresh, ripe peaches, so add more maple syrup and/or a squeeze of lemon to punch up the flavors if you like.
Can you use hard or unripe peaches in cobbler?
Peaches for cobbler can be firm-ripe as they will soften with cooking. But make sure they have a fragrance and some flavor and sweetness or else you'll end up with a bland cobbler. Cut one open and taste; it's it's sweet and flavorful, yet crisp, that should be fine. If it has little flavor, you're better off waiting a few days or using a different fruit. I've given lots of suggestions and variations below!
If you can, buy peaches a few days or up to a week in advance to give your peaches a chance to ripen. If they ripen unevenly, you can put the ripe ones in the fridge to stop the ripening process until all peaches are ready to bake with.
Can you use canned peaches for cobbler?
I've never tried this as I think fresh or frozen peaches would have a brighter flavor, but it appears that you can! Drain the peaches of their liquid, omit the sweetener if the peaches are already sweet, and skip the initial fruit-baking step.
Make-ahead tips to ease day-of prep:
You can prepare the peaches up through the first bake up to 1 day ahead and store covered and refrigerated until you're ready to bake.
You can prepare the biscuit topping through cutting in the butter and store refrigerated until you're ready to bake.
The cobbler can be baked up to a few hours in advance. Serve at room temperature or reheat in a 350º oven before serving.
How to Store Peach Cobbler / Does peach cobbler need to be refrigerated?
Peach cobbler is best when freshly baked. But if making this paleo peach cobbler ahead of time, you can let it cool to room temperature, then cover and store at room temperature for up to a few hours. Serve it at room temperature or pop it back into a 350º oven until warmed through before serving.
Extra cobbler keeps well, covered and refrigerated, for up to 3 days. Reheat in a 350º oven or toaster oven before serving if you like. Sometimes I enjoy a bowl of cold cobbler with a scoop of plain yogurt for breakfast the next day!
Can you freeze peach cobbler?
Why not? Store the cobbler airtight in the freezer for up to a month or two. Pop it back into a 350º oven to heat through when ready to serve. If using a glass or ceramic storage container, don't put it straight into the oven or it could shatter from the temperature change. Best to use a metal container in this case.
Vegan Gluten-Free Cobbler with Any Fruit
Try any of these variations in the recipe below!
paleo blueberry peach cobbler
paleo blueberry cobbler
paleo apple cobbler (with rhubarb or cranberries)
paleo berry cobbler
paleo apricot cobbler (or cherry, or plum)
paleo strawberry rhubarb cobbler
Whichever fruit you choose, be sure to have some good dairy-free vanilla ice cream on hand. You could also top bowls of cobbler with a scoop of rich coconut yogurt or whipped coconut cream.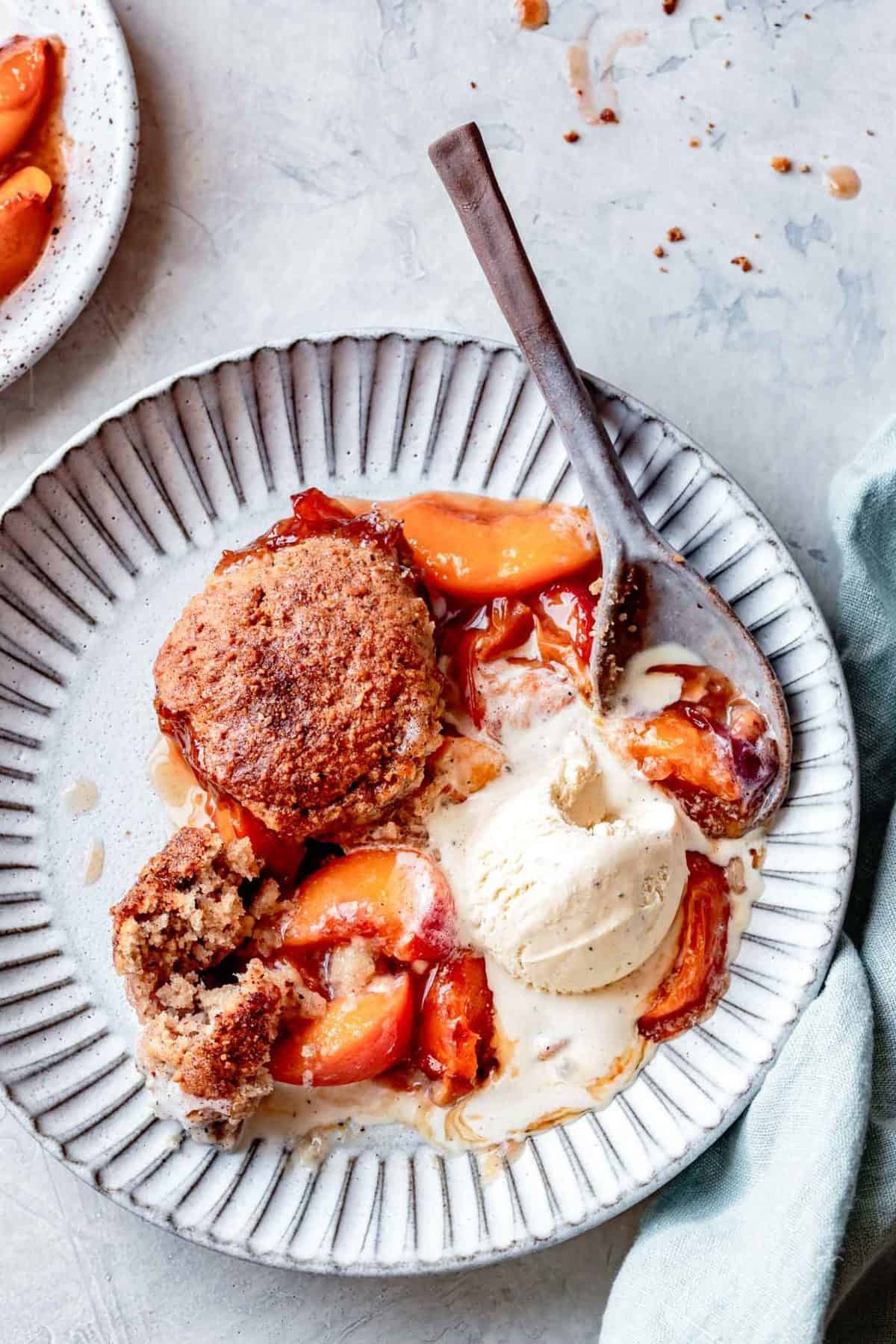 More Cobbler Recipes:
More Ways to Love Peaches:
More Vegan & Paleo Dessert Recipes:
*Bojon appétit! For more Bojon Gourmet in your life, follow along on Instagram, Facebook, or Pinterest, purchase my gluten-free cookbook Alternative Baker, or subscribe to receive new posts via email. And if you make this vegan paleo peach cobbler recipe, I'd love to see. Tag your Instagram snaps @The_Bojon_Gourmet and #bojongourmet.*
Paleo Vegan Peach Cobbler with Almond Flour Biscuits
Print Recipe
Pin Recipe
Fluffy almond flour biscuits. Gooey peaches. Melty ice cream. You won't believe this easy & healthy peach cobbler recipe is gluten-free, dairy-free, paleo & vegan.
Ingredients
Fruit:
1 ½

pounds

(680 g) peaches, pitted and cut into thick slices or wedges (about 5 cups)

3

tablespoons

(30 g) maple syrup

2

teaspoons

tapioca flour

pinch

fine sea salt
Biscuits:
½

cup

(75 g) cassava flour, or GF AP flour for non-paleo

½

cup

(60 g) almond or hazelnut flour/meal, or try tiger nut flour for nut-free

3

tablespoons

(30 g) maple sugar or coconut sugar, plus more for sprinkling

1

teaspoon

baking powder

¼

teaspoon

fine sea salt (decrease by half if using salted butter)

4

tablespoons

(56 g) cold, unsalted butter or vegan butter in 1⁄4-inch dice

¼

cup

(60 g) unsweetened plant yogurt, such as Forager cashewgurt

¼

cup

(60 g) coconut cream (or full-fat coconut milk)

1

teaspoon

vanilla extract
For Finishing:
2

teaspoons

maple or coconut sugar

1/8

teaspoon

cinnamon

1

tablespoon

coconut cream or milk

plant-based vanilla ice cream, for serving
Instructions
Position a rack in the upper third of the oven and preheat to 400ºF.

In a large bowl, toss together the peach slices, maple syrup, tapioca flour, and salt. Scrape into a baking dish (I used a 7x10" oval dish; a 9-inch pie plate would work too) and bake until the peaches are warm and beginning to release some juices while you make the biscuits, 15-20 minutes.

Meanwhile, whisk together the cassava and almond flours, maple sugar, baking powder, and salt in a large bowl. Add the cold butter bits and rub with your fingertips or cut with a pastry blender until the butter is somewhat worked in with some pea-sized bits remaining. Optionally refrigerate for 10 minutes if your kitchen is very hot or if you're working slowly.

In a small bowl, stir together the 2 teaspoons maple sugar and the cinnamon for topping the biscuits.

Place the plant yogurt, coconut cream, and vanilla in a small saucepan. Place over a low flame and heat, stirring frequently, until the mixture is hot and steamy. Don't overheat or the mixture could separate.

Pour the hot dairy mixture into the flour/butter mixture and quickly but gently stir with a flexible silicone spatula until just combined.

Remove the peaches from the oven. Working quickly, use a large spoon to scoop 6-8 lumps of dough over the hot peaches. Brush with coconut cream and sprinkle with the cinnamon maple sugar.

Bake the cobbler until the biscuits are golden on top and cooked through and the fruit is bubbling vigorously, 20-30 minutes. Let cool 5-10 minutes, then serve hot or warm, with ice cream.
Notes
You can use frozen fruit here if you prefer. No need to defrost, just increase the baking time of the fruit.
Cobbler is best when freshly baked, but extras can be stored covered in the refrigerator. Reheat in an oven or toaster oven at 350º until heated through before serving.
You can double this recipe and bake it in a 9x13-inch pan to serve a crowd.
Cold cobbler is also yummy the next day with a scoop of plain yogurt for breakfast!
Feel free to swap the peaches for any seasonal fruit you like! Nectarines, apricots, and cherries will all work in place of peaches, just add extra maple syrup if your fruit is tart, and more tapioca flour if the fruit has a high moisture content. You can add vanilla or spices to the fruit and/or biscuits if you like.
Here are some more suggestions:
Variations
Blueberry Peach Cobbler
Replace 1/2 pound of the peaches with 8 ounces fresh or frozen blueberries and proceed with the recipe.
Plum Cobbler
Replace the peaches with plums, use 1 tablespoon tapioca flour in the filling, and add more maple syrup until you like the sweetness level. Add 1 teaspoon finely grated fresh ginger if you like.
Berry Cobbler
1 ½ pounds berries (4 - 5 cups) blueberries, raspberries, blackberries, strawberries, or a combination
¼ cup maple syrup or other sweetener (more if your berries are very tart)
1 tablespoon tapioca flour
1 teaspoon vanilla paste or extract
pinch fine sea salt
Strawberry Rhubarb Cobbler:
1 pound trimmed rhubarb, sliced 1⁄2-inch thick
(about 4 cups)
12 ounces strawberries, hulled, quartered if large, halved if small (about 3 cups)
½ cup (70 g) maple sugar or syrup
1 tablespoon (7 g) tapioca flour
Cranberry Apple Cobbler:
1 pound apples, peeled, cored, cut into wedges
8 ounces fresh or frozen cranberries
1/2 cup maple syrup
1 tablespoon tapioca flour
pinch salt
Apple Rhubarb Cobbler:
3/4 pound apples, peeled, cored, cut into wedges
3/4 pound rhubarb, trimmed and sliced 1/2 inch thick
1/2 cup maple syrup
1 tablespoon tapioca flour
pinch salt
Nutrition facts are for 1 of 6 servings (without ice cream)
Nutrition
Calories:
308
kcal
Carbohydrates:
38
g
Protein:
4
g
Fat:
17
g
Saturated Fat:
6
g
Cholesterol:
1
mg
Sodium:
193
mg
Potassium:
382
mg
Fiber:
3
g
Sugar:
24
g
Vitamin A:
714
IU
Vitamin C:
8
mg
Calcium:
103
mg
Iron:
2
mg