Strained yogurt (a.k.a. skyr) whipped with heavy cream makes a fluffy base for summer berries kissed with buckwheat honey. A naturally gluten-free recipe.

Indian summer is in full swing and all I want to do is lie on the couch in my skivvies, fan turned on full blast, slipping bites of these creamy, cool fools into my maw.



San Francisco's temperature only surges into the 90s a few days every year, and these are them. Karl the Fog kindly acts as our a/c the remainder of the year, thus we spoiled brats are completely unequipped to deal with warm weather. We have no air conditioners, no ceiling fans, half of our windows don't even open. I don't even own a skirt, with the exception of a single mini skirt only appropriate for wearing over leggings. I own one pair of shorts. Sandals are not an option with the amount of broken glass (and worse) around the streets.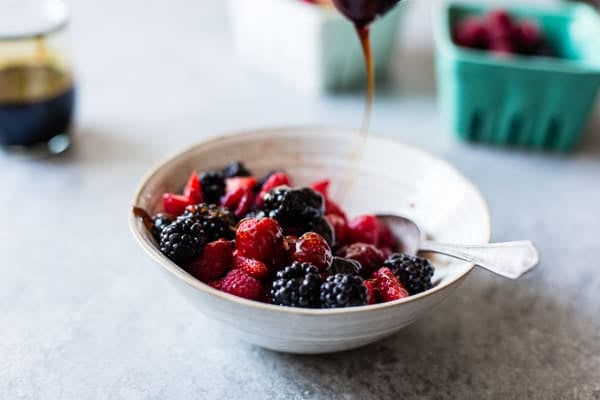 Thus the only thing to do is seek refuge in my living room before my tiny fan and cool off the way God intended: with berry fools.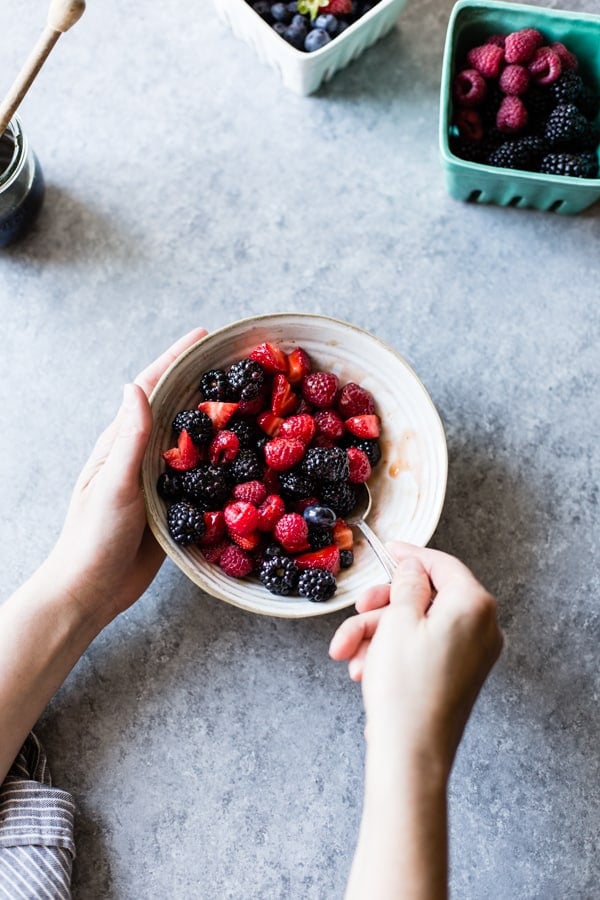 A fool is an adorably-named British dessert consisting of fruit puree folded into whipped cream. It sounds pretty basic, and yet the way the two come together creates everything I could ever want in a dessert. It's basically instant soft serve ice cream.


With how simple and delicious fools are, they should get more press. Before yesterday, I can only recall eating two fools in my life: one at Universal Cafe (one of my very favorite SF eateries) many years ago, and the other at my friend and yoga teacher Gizella's house. Gizella not only inspires stretchy hamstrings, open hips, and torturous core work, she also inspires dessert. That evening, after a delicious meal of salmon braised in coconut milk, steamed greens, roasted chicken, and fancy cheese (this woman can cook) she plopped a large glass of blueberry fool in front of me. In spite of my better intentions, I gobbled up the whole thing. The fool consisted simply of blueberries cooked with a bit of sugar, cooled, and folded into whipped cream. I have no regrets. (Well, maybe the drunken headstands I did after consuming said meal weren't such a good idea...)


Regardless, it was then that I became a fool for fool.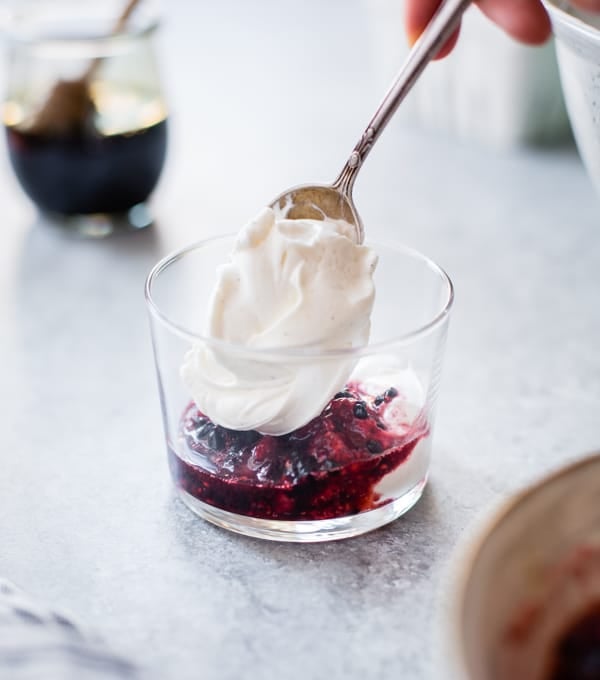 I've been working on berry crumbles for the book (good lord, those are hard to get right with gluten-free flours!) and the other day I decided on a whim to fold some of the extra berries into honey-sweetened yogurt whipped cream (because clearly what we need around here is more dessert). I skipped the usual step of cooking the berries and just mashed them up with honey. The thinner compote wasn't pretty folded into the cream, so I just layered the two in glasses and called it a day. Hopefully the fool police won't come after me.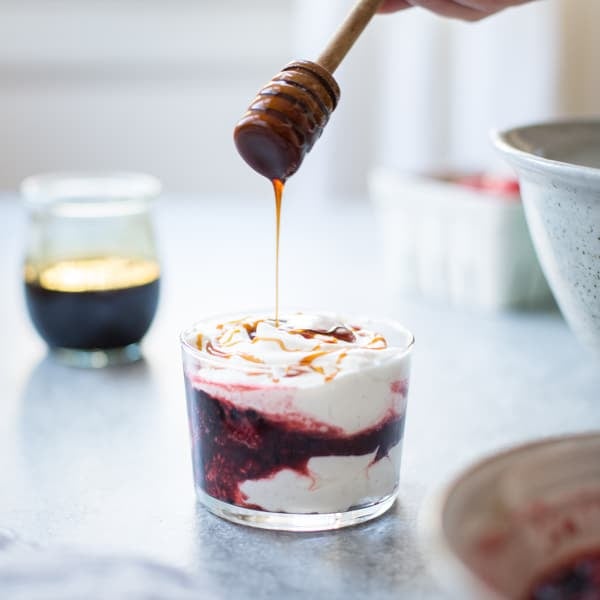 I picked up a jar of buckwheat honey while in Oregon with Sarah and Carla earlier this summer and finally put it to good use. Buckwheat honey comes from bees feasting on buckwheat pollen, and the resulting honey is dark brown and brimming with deep, dark notes of coffee, maple, and molasses. Here it adds a dreamy depth to an otherwise light, bright dessert, bridging the gap between summer and fall. A dusting of bee pollen adds sweet, bitter and floral notes, and though I initially sprinkled on some chopped pistachios for color, they add their elusive flavor to the mix and give you something to sink your teeth into.


I would normally have a big vat of Strauss whole milk Greek yogurt in the fridge to whip these up, but this time I decided to try Siggi's skyr, a strained yogurt made in the Icelandic style. It was so mild and mellow that it took all my willpower to save it for the dessert rather than putting it straight in my mouth.


If I haven't convinced you to embrace the fool, here's a last pitch: they're the perfect dessert for when it's too hot to turn on the oven, stove, grill, or any other source of heat. If you can muster the energy to stir from the couch and stagger into the kitchen, then you can make a fool. (Just don't make a fool out of yourself.) You can throw them together in a matter of minutes and chill them for several hours until ready to serve.


I will close this post with the dulcet stylings of Ella, because these foolish things remind me of her and there's no song I'd rather listen to on a sweltering hot day.


Wishing everyone a delicious and cool rest of the week.

More Berry Recipes:
*Thanks for reading! For more Bojon Gourmet in your life, follow along on Instagram, Facebook, or Pinterest, purchase my gluten-free cookbook Alternative Baker, or subscribe to receive new posts via email. And if you make this berry and honey fool recipe, I'd love to see. Tag your Instagram snaps @The_Bojon_Gourmet and #bojongourmet.*
Summer Berry, Yogurt and Buckwheat Honey Fools
Print Recipe
Pin Recipe
Strained yogurt (a.k.a. skyr) whipped with heavy cream makes a fluffy base for summer berries kissed with buckwheat honey. A naturally gluten-free recipe.
Ingredients
2

cups

mixed summer berries such as blackberries, blueberries, raspberries, strawberries, and/or huckleberries

(245 g) (strawberries hulled and cut into chunks)

2

tablespoons

buckwheat honey (or other honey), plus extra for drizzling

(30 ml)

1

cup

cold, heavy cream

(235 ml)

3/4

cup

whole-milk strained or Greek yogurt

(175 ml)

seeds from 1/2 a vanilla bean

(or 1/2 teaspoon vanilla extract)

1

tablespoon

organic granulated sugar

(or honey)
For topping the fools (optional):
a few pinches of bee pollen

a handful chopped toasted pistachios or other nuts
Instructions
Rinse the berries and drain well. Place in a medium-sized bowl, drizzle with the 2 tablespoons honey, and mash into a chunky sauce. Chill until needed, preferably not more than 10 minutes or so as the honey will continue to draw moisture out of the berries and the mixture will be harder to layer.

In a large bowl, combine the cream, yogurt, vanilla seeds and sugar. Whip until the mixture holds firm peaks.

Layer the cream and berries into 3-4 small glasses, beginning and ending with the cream. The fools can be covered and chilled for up to several hours, or served immediately. To serve, drizzle with buckwheat honey and top with a big pinch of bee pollen and a dusting of chopped pistachios.
Notes
With inspiration from Nigel Slater's blueberry yogurt fools from Ripe via Food52.
These fools will look the prettiest if served shortly after preparing, but they can be covered and chilled for up to several hours. Do add the toppings just before serving.
If you don't have buckwheat honey on hand, I think a little balsamic vinegar added to the berries and honey would add a similar oomph.
Nutritional values are based on one of three servings.
Nutrition
Calories:
416
kcal
Carbohydrates:
32
g
Protein:
7
g
Fat:
30
g
Saturated Fat:
18
g
Cholesterol:
111
mg
Sodium:
50
mg
Potassium:
186
mg
Fiber:
3
g
Sugar:
26
g
Vitamin A:
1215
IU
Vitamin C:
3.1
mg
Calcium:
115
mg
Iron:
0.2
mg