Packed with whole grains and seeds yet still springy and light, this multi-grain sandwich bread comes together with a minimum of fuss.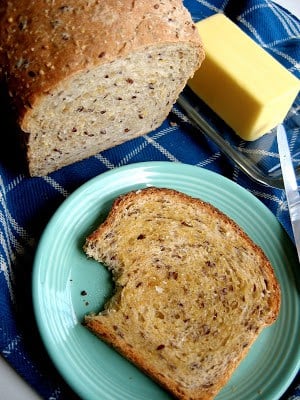 While few aromas are as tantalizing as a loaf of buttery white bread emerging from the oven (right up there with bacon frying and coffee percolating; if you do it right, you can have all three at once!) some of us who grew up with health-obsessed parents have a hard time gorging on the fluffy white stuff. But we still crave the chewy compressability of a loaf of tender pan bread.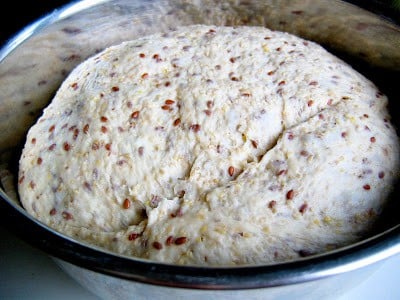 Pan Breads FTW
Though rustic, artisan-style breads are currently all the rage, pan bread is ideal for making sandwiches from its uniform slices. And although I abhorred the brown stuff my mom used to send in my (paper) lunch bag, wrapped around (nitrate-free) (organic) turkey and (canola oil) mayonnaise, I now find myself packing similar lunches for myself.
For several years I have been searching for a great whole-grain pan bread recipe. The ideal recipe would be quick and simple to put together, bake up tall in the pan, have a decent amount of butter, salt and sweetener to give it flavor, and have a light and delicate texture flecked with a hefty dose of whole grains and seeds.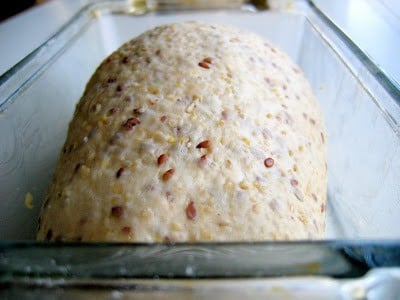 Here's a brief overview of my search:
Hollyhock bread, from The Hollyhock Cookbook
We ate this at an awesome retreat center in British Columbia. The bread is delicious, but a bit more squat, heavy, crumbly and dark in color than I was after.
Cornmeal Millet bread, from Tassajara, with tweaks mentioned in Bread Alone, A Novel
Perhaps I oughtn't have taken advice from a novel, but this bread was disastrous: leaden and sandy textured from the grains, and bland to boot.
Whole Wheat Sandwich Bread, from Nancy Silverton's La Brea Bakery Breads
This bread tasted great, but was super labor intensive and time consuming, with a bit of sourdough starter, lots of time, and a ton of ingredients. The dough was also a huge amount for the standard sized loaf pan.
Flax Bread, from Rose Levy Bernbaum's Bread Bible
Very close to perfection: light, tasty, quick, but also huge for the pan. I considered decreasing the recipe by 1/3 or so, but my mind boggled at the math required. It didn't actually call for whole grains, but whole rye flour, so it was less grainy than I wanted.
Sunflower Millet Bread, from the Moosewood cookbook
Molly Katzen, you are my hero! This was my favorite thus far, and my recipe is based on its proportions. Millet is steamed, then mixed with salt, butter and honey and allowed to cool. Meanwhile, a sponge is made. The two are combined, more water and flour are added, and the bread does its thing. It baked up soft, grainy, full flavored and golden.
Recipe Testing the Perfect Multi-Grain Sandwich Bread
I had some 10 grain cereal mix in the cupboard that needed using, so I began experimenting with the Moosewood recipe. Rather than steaming the grains, which requires cleaning an extra pot (which you know I don't enjoy doing) I covered the mix with boiling water. I added butter and honey to the mixture and let it cool down to just warm. The grains softened up nicely, leaving enough water to which I added flour, salt, yeast and flaxseed. I kneaded the dough, let it rise, rolled it into a loaf. Another rise and a bake yielded just the sort of bread I was looking for.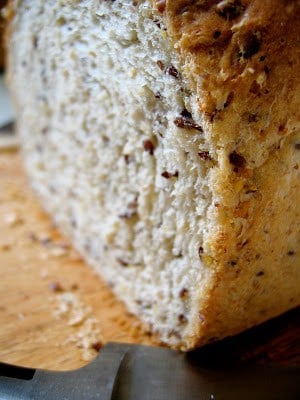 I made 5 more loaves, tweaking the flavorings, trying various grains, and using different ratios of white and whole wheat bread flours. This is the version I came up with. I don't want to use the 'p' word, but I will say that I am quite happy with it, and can't stop toasting it for breakfast, layering it with tomatoes, cheese, turkey and sprouts for lunch, or dipping it into soups for dinner.
The bread is mixed using the straight dough method which means everything goes straight into one bowl. You can easily knead it by hand, and you get only a spoon, a bowl and your counter dirty. Grainy doughs can be a bit sticky, so be sure your surface and hands are dusted with a bit of flour as you knead.The softer the dough (i.e. the less flour you add) the more open and springy your bread will be, so use the barest amount you can to prevent stickage. The dough should still be a bit tacky to the touch when you've finished kneading it, but not so wet as to be sticking gooily to your hands and the counter. A plastic bench scraper is my best friend for hand-kneading sticky doughs (or any dough).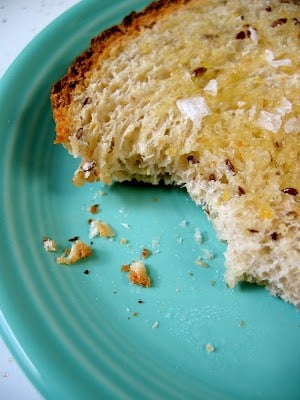 Substitutions
You can experiment with using other whole grains or a multi-grain cereal mix in place of the millet, oats and polenta; just grind anything you like to the size of a coarse meal. Try using sunflower, sesame or poppy seeds in place of the flax. I like the way the little yellow flecks of polenta add a splash of color, contrasting with the deep brown ovals of flax and the crust, and the warm beige of the bread itself.
I love using fresh cake yeast, with its bizarre, crumbly texture and rapidly rising nature. You can buy it at Rainbow Grocery in San Francisco. Instant yeast is an easy substitute; use 1/3 the volume of the fresh yeast called for. Active dry yeast will need to sit for 10 minutes after being whisked into the warm water/grain mixture, but it can be used as well.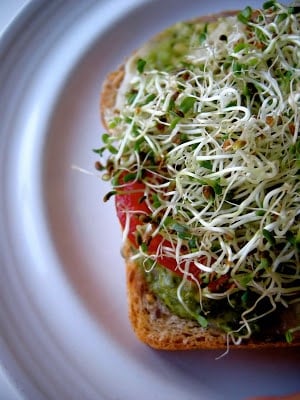 More Yeasted Bread Recipes:
Oatmeal Molasses Bread
Honey Oat Beer Buns
Pumpkin Challah
Multi-Grain Sandwich Bread
This is a straightforward, user-friendly, multi-grain bread recipe, an excellent place to start for the yeast-phobic. If you prefer, you can substitute any multi-grain hot cereal blend for the millet, oats and polenta.
Time: about 4 hours, plus 1 – 2 hours to cool the loaf
Makes one 8×4″ or 9×5″ loaf
1/4 cup millet
1/4 cup steel cut oats
1/4 cup dry polenta
2 tablespoons butter
2 tablespoons (1 1/4 ounces) honey
1 1/2 cups boiling water
1 tablespoon fresh yeast (or 2 teaspoons active dry or 1 1/2 teaspoons instant yeast)
1/4 cup whole flaxseeds
1/2 cup whole wheat bread flour
1 3/4 teaspoons salt
2 cups white bread flour, plus extra for kneading
vegetable oil for the bowl
butter for the pan
Soak the grains:
Pulse the millet and oats in a coffee grinder to the size of coarse meal or sand. Dump into a large bowl with the polenta, butter and honey. Pour the boiling water over and let sit, stirring once or twice, until the mixture feels just warm to the touch, about 30 – 45 minutes. (If the water is hotter than this, it could kill the yeast. But don't let the grains sit too long, or they may absorb too much water and throw your ratios off.)
Make the dough:
Crumble in the fresh yeast, stir, (if using active dry yeast, let the mixture sit for 10 minutes) then add the flaxseeds, whole wheat flour and salt. Begin adding the white flour 1/4 cup at a time, stirring after each addition. After about 1 1/4 cups the dough should form a rough, sticky mass. (If it is too dry at this point, sprinkle over a bit more water and continue stirring or kneading until it becomes sticky again.) Scrape down the sides of the bowl, cover with plastic wrap or a large plastic bag, and let the mixture sit for 15 – 20 minutes. (This is called autolyse, and it allows the starches in the flour to absorb the water and swell up, and the glutens to begin unfurling and forming straight lines. All of this makes the dough smoother and easier to knead, allowing you to add less flour and resulting in a wetter dough, which is what we want here.)
Uncover the bowl and scrape the dough out onto a lightly floured surface. Knead the dough, dusting your hands and surface with just enough flour to keep it from sticking, for about 10 minutes. The dough should feel smoother by the end, and should be a bit tacky but not sticking to things.
Round the dough into a boule and place in a large bowl coated lightly with oil. Turn to coat the dough with oil and leave the boule smooth side up. Cover the bowl with plastic wrap, and leave to rise until doubled in bulk, 1 – 2 hours.
Shape the loaf:
Grease an 8×4″ or 9×5″ loaf pan with butter. Turn the dough out onto a surface dusted very lightly with a bit of flour. (A plastic scraper works wonderfully for this.) Pat the dough into a rectangle roughly 8×14″, with a skinny side facing you. Roll the dough up snugly, cinnamon bun-style,and pinch the seam shut. Tuck the ends under the loafand roll the log a few times, seam side down, to smooth it out. Place the log, seam side down, in the greased pan, and put the whole shebang into a large plastic vegetable bag (or small garbage bag). Tie the end of the bag shut, leaving it inflated to give the loaf room to expand.
Let the loaf rise until doubled in bulk and 2″ above the rim of the pan, 45 – 60 minutes. Meanwhile…
Prepare the oven:
Position a rack in the lower third of the oven and preheat to 400º. If you have a baking stone, put that on the rack. Place a metal or cast iron pan that you don't care about on the floor of the oven. You will put ice cubes in it to steam the oven, and it will become rusted and nasty.
Bake the bread:
Remove the bag. Fill a 1/2 cup measure with ice cubes. Open the oven and quickly but gently place the loaf pan on the baking stone, and toss the ice cubes into the pan on the floor of the oven. Close the door and don't open it again for 20 minutes. After 20 minutes, reduce the oven to 350º. Rotate the pan and bake the loaf for 30 – 40 more minutes, for a total baking time of 50 – 60 minutes. A thermometer inserted into the center of the loaf should register 195 – 200º. Optionally, for an extra-crisp crust, remove the loaf from the pan after 45 minutes and finish baking directly on the stone.
Remove the loaf from the pan and let cool completely before cutting (the internal steam is continuing to cook the interior of the bread) 1 – 2 hours.
Store the bread in a plastic bag or other airtight container at room temperature for up to a week.