Around this time last year, I related two harrowing tales: a soggy weekend spent camping in Big Sur, and the making of ridiculously complicated brown butter rhubarb bars from the Big Sur Bakery Cookbook. (Though I actually called them rhu-bars, because, like Lara Ferroni, I can't resist a bad pun.)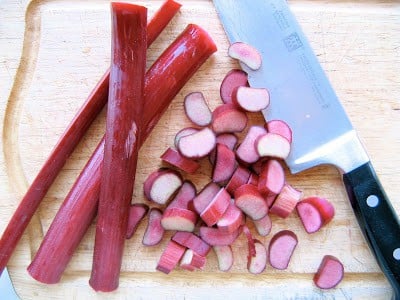 Last weekend, we went on our first camping trip with my cousin and her hubby since the Big Sur Downpour. We were to stay in non-heated tent cabins, the only over-priced lodging available, in Yosemite's Curry Village (or Ghetto Camp, we would later dub it), all arranged by my sister as a surprise birthday party for her 15-year-old daughter.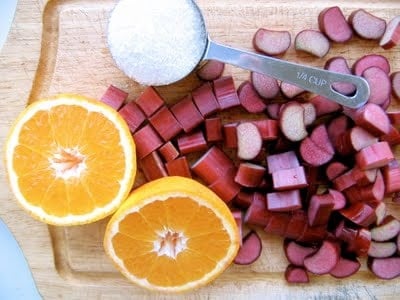 Much like the Big Sur trip, we checked the weather forecast several days in advance, and started at the pixellated snowflakes that stared back at us from Weather Underground. The Curry Village site claimed to supply their tent cabins with wool blankets, but added, seemingly as an afterthought, 'If you're concerned about being warm enough, bring a sleeping bag.' Having only 1 synthetic, 20-year-old bag, we packed a comforter as well, just to be safe.

As we drove into the park, I was shocked to see large expanses of white on the surrounding hillside; I had never seen snow anywhere in mid-May. When we 'checked in' to our tent cabin, we gave thanks for having brought bedding, as the 'blankets' consisted of two tiny fleece things which barely covered the bed.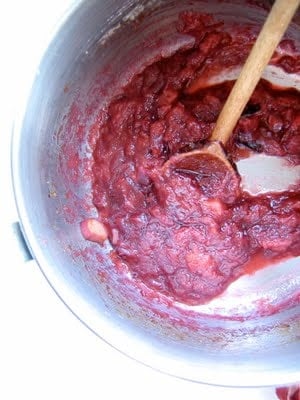 The first night dipped to a balmy 40º,and, despite my fear of being crushed in a 16,000 ton rockfall, or being snuffled by hungry bears, I slept relatively well… until 6 a.m. when the three young girls next door began sprinting around our cabin, shrieking and blowing whistles. (Yes, whistles.)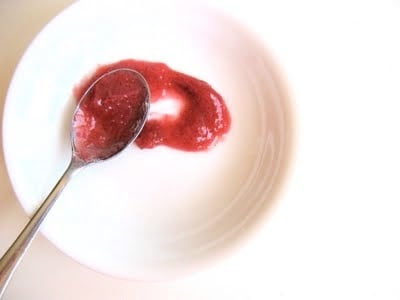 Thanks to the unintentionally early start, Jay led us up a 2,700 foot waterfall. Barely able to walk after the 6 1/2 hour vertical hike, we hobbled to the Pizza Deck for dinner and pints from Mammoth Brewing, and noted the temperature drop and gathering clouds.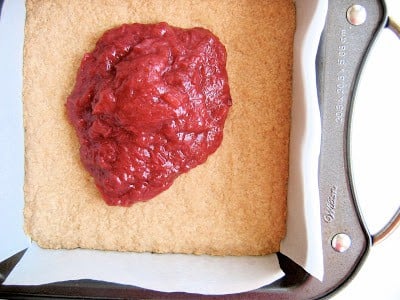 We awoke in the night to the sound of rain pelting our canvas enclosure, which continued well into the morning. Or at least I thought it was rain…

until I opened the door.

We spent the remainder of the trip huddled around the lodge's fireplace like suckling piglets, glugging whiskey-spiked hot tea. Jay noted that the only two camping trips we'd taken with my cousin had been subject to unfortunate weather. My cousin pointed out that, on the the contrary, the only two trips she'd taken with us had been less than optimal. That night the temperature dropped even further; I slept in two pairs of gloves, two pairs of socks, three pairs of pants, three sweaters and a wool trapper hat. It was so cold, it hurt to breathe.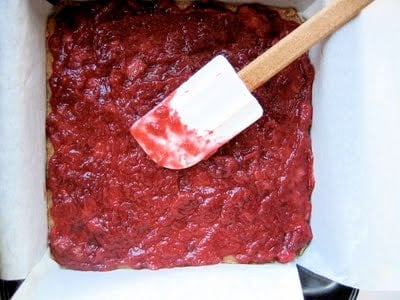 As we gratefully packed up to leave the next morning, our new neighbors asked whether we had been taking advantage of the email special, which apparently cost one fifth of the exorbitant rate we had paid.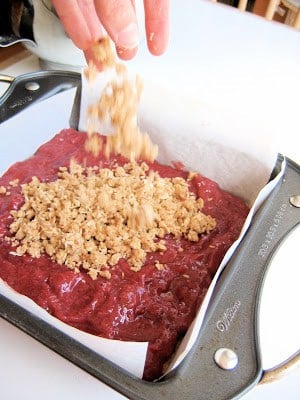 We were not.
Needless to say, we rejoiced at returning to our San Francisco apartment, where, though still frigid, at least we had a roof, and not 16,000 tons of rock, over our heads.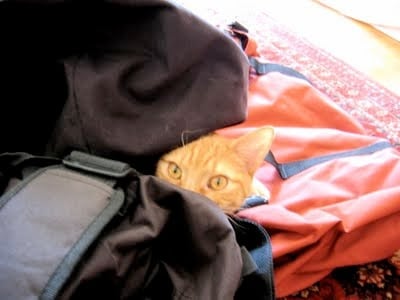 And only the threat of hungry, orange cats snuffling about in the night.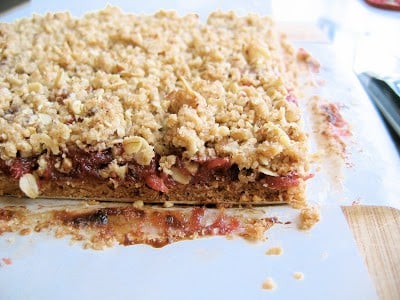 This trip got me to thinking not only about never camping again investing in a sub-zero sleeping bag, but also about rhubarb squares: how thick and full the jam from the Big Sur Bakery had tasted, and how I longed to enjoy it encased in crumbly bars with a buttery streusel topping.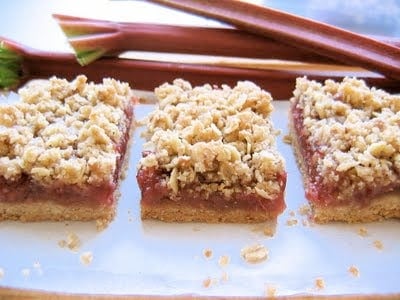 So I made some.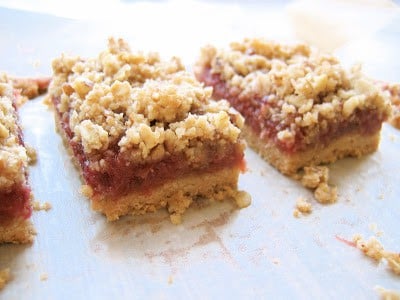 Rhubarb rapture:
Apple Rhubarb Pandowdy
Rhubarb Chèvre Galettes
Rhubarb Streusel Coffee Cake
One year ago:
(Gluten-Free, Vegan!) Hippy Crispy Treats
Rhubarb Crumb Bars
Adapted from Baking Illustrated's Raspberry Bars
Makes twelve 2×3″ bars
3/4 cup all-purpose flour
1/2 cup whole spelt (or whole wheat pastry) flour
1/3 cup sugar
1/4 teaspoon salt
4 ounces (1 stick/8 tablespoons) unsalted butter, plus 1 additional tablespoon, cut into 1/2″ chunks and softened to cool room temperature
1/4 cup oats
1/4 cup pecans, finely chopped
2 tablespoons light (or dark) brown sugar
a large pinch of flaky salt (such as Maldon or fleur de sel)
1 1/4 cups rhubarb jam (recipe below)
Position a rack in the center of the oven and preheat to 375º. Line an 8×8″ square pan with two criss-crossing slings of parchment paper (or heavy duty aluminum foil), leaving a 1″ overhang on each side.
In the bowl of a stand mixer fitted with the paddle attachment, combine the flours, sugar, and salt. Mix on low to combine, then, with the mixer running, add 8 tablespoons of the butter 1 piece at a time. Mix for a minute or two until the crust mixture resembles damp sand.
Measure out 1/2 cup plus 2 tablespoons of the crust mixture and set it aside. Dump the remaining mixture (about 1 1/2 cups plus 1/3 cup) into the parchment-lined pan, and press the crumbs firmly into an even layer in the bottom of the pan. Place the crust in the oven, and bake until firm on top and golden-brown around the edges, 20 – 25 minutes.
Meanwhile, return the 1/2 cup plus 2 tablespoons of the crust mixture to the mixing bowl. Add the oats, pecans, brown sugar, and flaky salt, mixing to combine, then add the remaining 1 tablespoon of butter, in little pieces, mixing until the streusel clumps together and no butter chunks remain.
When the crust has finished baking, spread the jam over the hot crust in an even layer. Use your fingers to press the streusel mixture into hazelnut-sized clumps, and sprinkle it over the top (don't press the streusel into the jam; it should be loose).
Bake the bars until the streusel turns a deep golden brown, 30 – 35 minutes. Remove from the oven and cool 20 minutes.
Grasp the bottom-most piece of parchment paper by its handles, and bravely lift the bar out of the pan and onto a cutting board (it may appear to crack, but will stick back together as it cools). Let cool completely.
Peel away the sides of the parchment (they may stick to the jam). Trim away the outer 1/4″ from each side, then cut into 12 bars.
The bars are best the first and second day of baking, when the crust is crisp, but will keep for a few days at room temperature, or longer in the fridge.
Rhubarb Jam
Adapted from The Big Sur Bakery Cookbook
Makes 1 1/2 cups
The jam can be made up to a week or so ahead. Store in the fridge.
1 pound (4-5 large stalks) rhubarb, sliced into 1/2″ pieces
3/4 cup sugar
zest and juice of 1 large orange (or 2 small blood oranges)
1/2 vanilla bean, split lengthwise and scraped
In a medium saucepan, combine the 3/4 cup sugar, vanilla bean pod and scrapings, orange zest and juice. Over high heat, bring the mixture to a simmer, then dump in the rhubarb. Cook, stirring frequently, until the mixture has broken down into a thick jam, about 10 minutes. Set aside to cool, and remove the vanilla bean. (You can wash it, leave it to dry at room temp, and reuse.) Measure out 1 1/4 cups of jam, and save the rest to enjoy on toast or otherwise.