Sometimes you just need a classic cheesecake. This small batch cheesecake with elderflower peaches comes together in a snap and makes an easy, elegant summertime dessert. Adapted from Sweet and Simple: Dessert for Two by Christina Lane.
Make this with homemade gluten-free graham crackers for an extra-special treat!
"Can I send you my next book – the one with all the gluten, dairy, and sugar?" Christina messaged me earlier this year. My response was a resounding yes! Even though I go easy on the gluten, I'm an equal opportunity cookbook collector and get most of my inspiration from traditional baking. Plus I've been a huge Dessert for Two fan for about as long as I've been blogging, both for Christina's tantalizing food photos and her genius methods for scaling down batch sizes of baked goods, which is no easy feat.
Christina's latest oeuvre did not disappoint.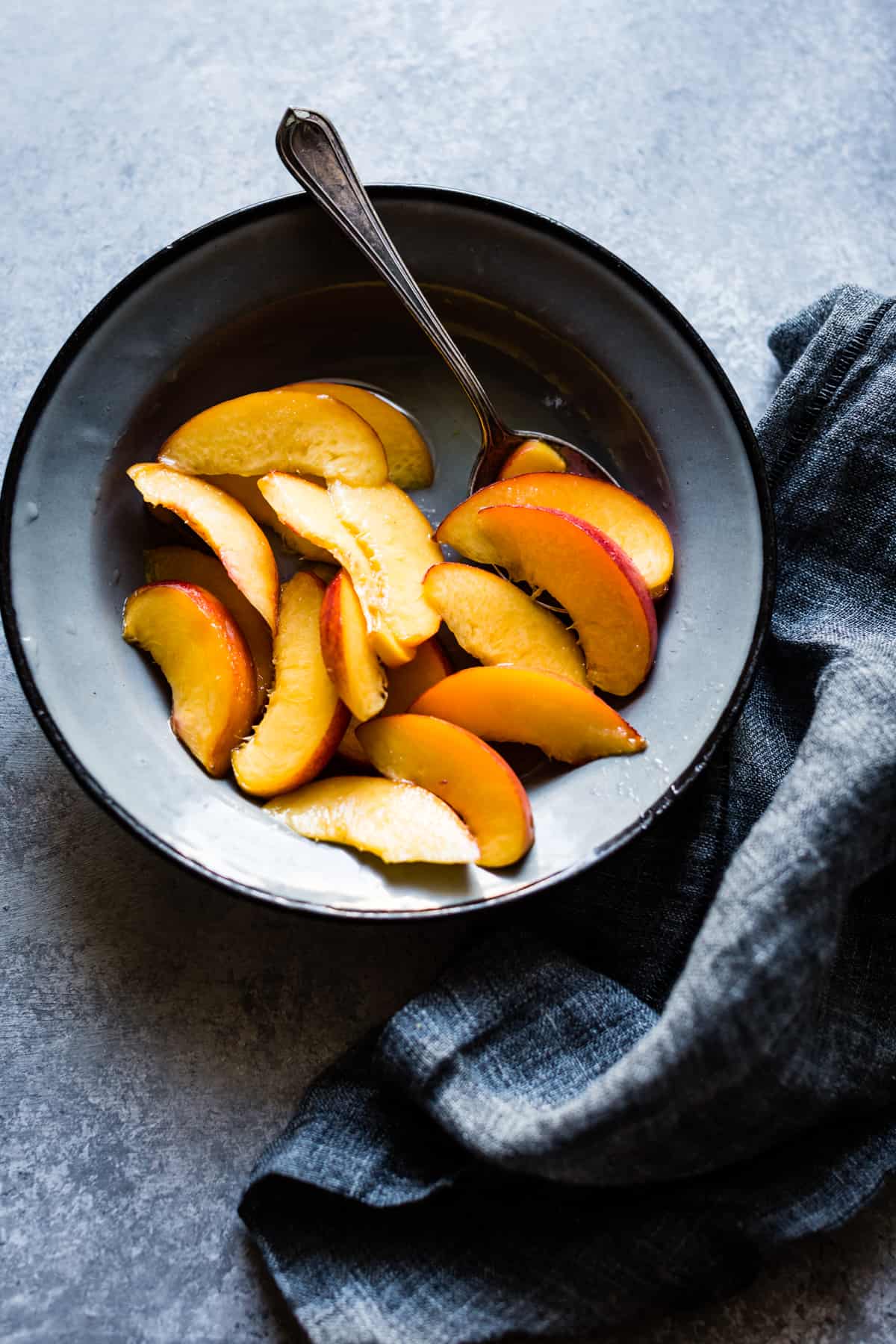 Her latest book Sweet and Simple boasts many of Christina's personal favorite recipes, the ones she makes on repeat for her family at home. To keep things extra simple, the book is organized by pan size – from a mini baking sheet to muffin pans to a loaf pan, plus a few others that you likely already have. And Christina's got you covered no matter your dessert needs. Cake free from refined sugar? The Maple Syrup Cupcakes + Coconut Whip are your guys. Dead-simple DF GF treat? Try the Coconut Panna Cotta topped with honey and figs. Pantry bare save for chocolate, eggs, and butter? One chocolate truffle cake, coming right up. Colorful treat for kiddos? Get your hot pink raspberry cake on – the cream cheese frosting is naturally colored with frozen raspberries.
While most recipes are classic in flavor and streamlined in structure, there's no shortage of interesting ingredients and innovative techniques. There's matcha lemon cake roll, gingerbread flan, chai pudding with gingersnap crumbles, and Earl Grey crème brûlée. I especially love the abundance of puddings and custards in the book, many of which are naturally gluten-free.
One lovely perk of this book is that since the batches are small and quick to make, you can try all the things. So far I've made the chai pudding, lemon matcha roll, and little brownie pots – all were winners. There are several variations on cheesecake in the book that caught me eye, and when I saw that Christina bakes her small batch cheesecake in a loaf pan, I very nearly cried. Cheesecake is one of those desserts that should be simple to make, and yet recipes scare you with talk of waterbaths, leaky springform pans, cracked tops, baking at various temperatures, leaving the cake in a cool oven post baking, etc. etc. I've solved this problem over the years by baking my cheesecake in bar form, but these aren't ideal when a plated dessert is what I'm after.
Small batch cheesecake in a loaf pan to the rescue!
This cheesecake is in and out of the oven in about an hour, and it chills down in 2-3 hours, both of which are quick in cheesecake time. It's easy to transport and slice up, making it an elegant option for potlucks and dinner parties. I first made this in May for mother's day when I had some graham crackers left over from a NYT shoot. We wrapped it, still in the pan, stuck it in the cooler, and drove it down to Jay's folks near Santa Cruz. After dinner, I tossed some berries with a bit of sugar and served up slices. It was so effortless and such a crowd pleaser, I thought, "why don't I make cheesecake for every occasion ever?!"
This classic beauty is the little black dress of cheesecakes – perfect to accessorize with whatever's in season. Christina's gets a swirl of chocolate and spoonful of cherries (swoon!) But since peaches are in full swing, I tossed slices with a big splash of St. Germain elderflower liqueur. The floral taste of the liqueur is perfectly pitched with the peaches, making them taste extra ripe and peachy, and their sweet tartness makes an ideal pairing with slices of creamy cheesecake layered with toasty graham cracker crust and a slick of tangy sour cream on top.
Christina, huge congratulations on your latest gem and thank you for sharing your small batch genius with all of us! For more small batch cooking and baking, check out Christina's other books, the original Dessert for Two and Comfort and Joy.
More Cheesecake Recipes:
*Thanks for reading! For more Bojon Gourmet in your life, follow along on Instagram, Facebook, or Pinterest, purchase my gluten-free cookbook Alternative Baker, or subscribe to receive new posts via email. And if you make these cheesecakes with elderflower pears, I'd love to see! Tag your Instagram snaps @The_Bojon_Gourmet and #bojongourmet.*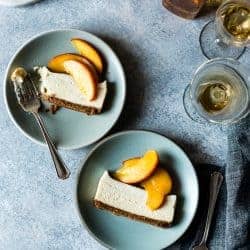 Small Batch Cheesecake with Elderflower Peaches
Print Recipe
Pin Recipe
Classic cheesecake gets dressed up with fresh peaches infused with elderflower liqueur which enhances their flavor beautifully. If you don't have any on hand, simply toss the peaches with a spoonful or two of honey.
Ingredients
Filling:
1

pound

(550 g) cream cheese, at room temperature

1/3

cup

(70 g) organic granulated sugar

1/8

teaspoon

fine sea salt

1

large egg, at room temperature

1

teaspoon

strained fresh lemon juice

1

teaspoon

vanilla paste or extract
Topping:
¾

cup

(175 ml) sour cream

2

tablespoons

(25 g) organic granulated sugar

½

teaspoon

vanilla paste or extract
Peaches:
2

large peaches, halved, pitted, sliced ½-inch thick

1

tablespoon

(12 g) organic granulated sugar

2-4

tablespoons

(30-60 ml) elderflower liqueur (such as St. Germain)
Instructions
Position a rack in the center of the oven and preheat to 325ºF. Line an 8x4 or 9x5-inch loaf pan with a sling of parchment paper, leaving the edges overhanging slightly.

Combine the graham cracker crumbs with the butter, sugar, and salt. Press evenly into the bottom of the lined loaf pan and bake until golden and toasty, 8-12 minutes. Decrease the oven temperature to 300ºF.

In the bowl of a stand mixer fitted with the paddle, beat the cream cheese on medium-low speed until smooth, 2-3 minutes, scraping down the bowl and paddle once or twice. Add the sugar and salt and beat until smooth, another 2-3 minutes, scraping once or twice. Add the egg and repeat the beating and scraping, then beat in the lemon and vanilla. Scrape the filling into the pan. Bake at 300ºF until the cheesecake is slightly puffed on top and wobbles very slightly when you give it a wiggle, 30-40 minutes; the top should look dry and set.

While the cheesecake bakes, stir together the sour cream, sugar, and vanilla. Spread the sour cream mixture over the baked cheesecake and bake until the sour cream is set when you give it a shake, 10 more minutes. Let cool to room temperature, about 1 hour, then chill until firm, 2-3 hours and up to 1 day.

To serve, combine the sliced peaches with the sugar and elderflower, adding more or less to your taste, and let sit 10 minutes to infuse. Use the parchment handles to remove the cheesecake from the pan to a cutting board (you may need to pry it out with a small offset spatula or butter knife) and use a large sharp chef's knife to slice it into 6 – 8 pieces, running the knife under hot water and wiping it dry between each cut. Serve slices of cheesecake topped with the peaches and a spoonful of their juices.

The cheesecake is best within a day or two of baking when the crust is crisp, but leftovers will keep, airtight, for up to several days.
Notes
The genius loaf pan cheesecake recipe is adapted from Sweet and Simple.
A few tips for cheesecake success: be sure to have your ingredients at room temperature lest you end up with lumpy cheesecake, and give the mixing bowl and beater a few good scrapings as specified. Keeping the mixer at medium-low prevents unsightly air pockets from creeping into your baked cheesecake.
Nutritional values are based on one of two servings.
Nutrition
Calories:
545
kcal
Carbohydrates:
41
g
Protein:
7
g
Fat:
39
g
Saturated Fat:
22
g
Cholesterol:
143
mg
Sodium:
421
mg
Potassium:
250
mg
Fiber:
1
g
Sugar:
33
g
Vitamin A:
1515
IU
Vitamin C:
3.9
mg
Calcium:
121
mg
Iron:
0.9
mg