These gluten-free pancakes get nutty flavor from whole-grain sorghum flour, tangy buttermilk, and a splash of vanilla. With tender, fluffy middles and crispy edges, these pancakes are easy to whip up for breakfast or brunch. See the recipe for dairy-free, vegan, blueberry, and other options.
You can read more about using gluten-free flours in my guide to gluten-free flours!
I've been working to develop the perfect gluten-free pancake recipe for two years (!) After making (and eating) batch after batch, making tiny tweaks each time, I'm finally 100% happy with the recipe. I'm so excited to finally share my favorite gluten-free pancakes with you! I've also developed dairy-free and vegan versions that are every bit as good.
I like to make a double batch of gluten-free pancakes on Sunday and store the extras in the fridge for a quick breakfast during the rest of the week. They make a nourishing canvas for all of the amazing late-summer fruit in season right now.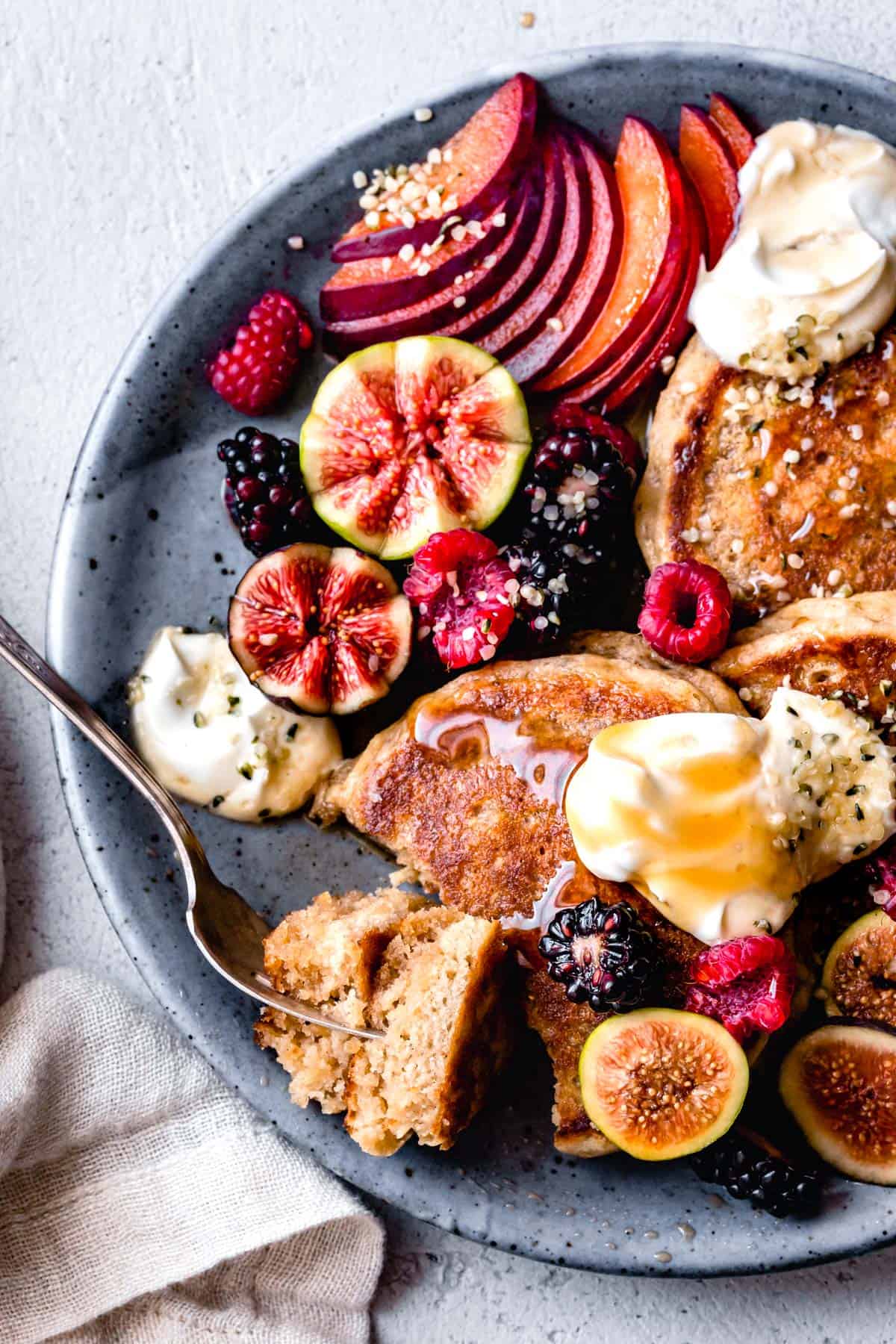 The Quest for the Best Gluten-Free Pancakes
This recipe began with one that I found on Food52 back in 2016 for extra-fluffy buttermilk pancakes. The trick, they said, was to separate the egg and stir in the egg white at the end. I was skeptical, but I swapped in gluten-free flours and took the recipe for a spin. I wasn't sure the technique would work with gluten-free flours. But the resulting pancakes were DELICIOUS – largely thanks to a whopping 10 tablespoons of butter!
I wiggled ingredients up and down to make the recipe work gluten-free as well as it could. Not that I have anything against butter, but even I couldn't pour quite so much into breakfast, so I took the butter down by 40%. And when I was happy with the results, I tried a batch with and without the egg separated. Turns out I couldn't detect a difference after all!
But these pancakes cook up thick and fluffy regardless. Their outsides are crisped in ghee, the centers are tender and delicate, and the salty/sweet levels make these gluten-free pancakes super flavorful.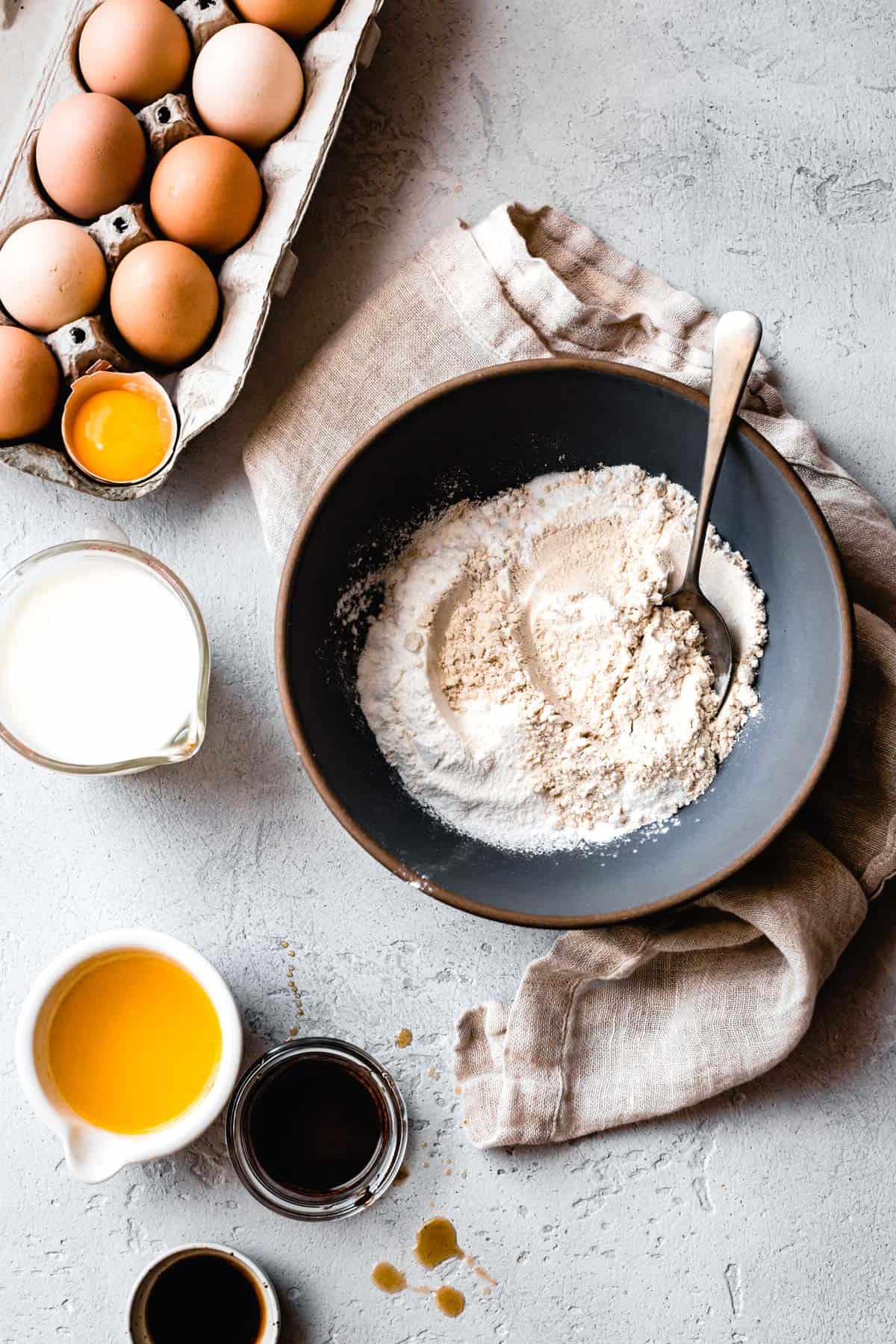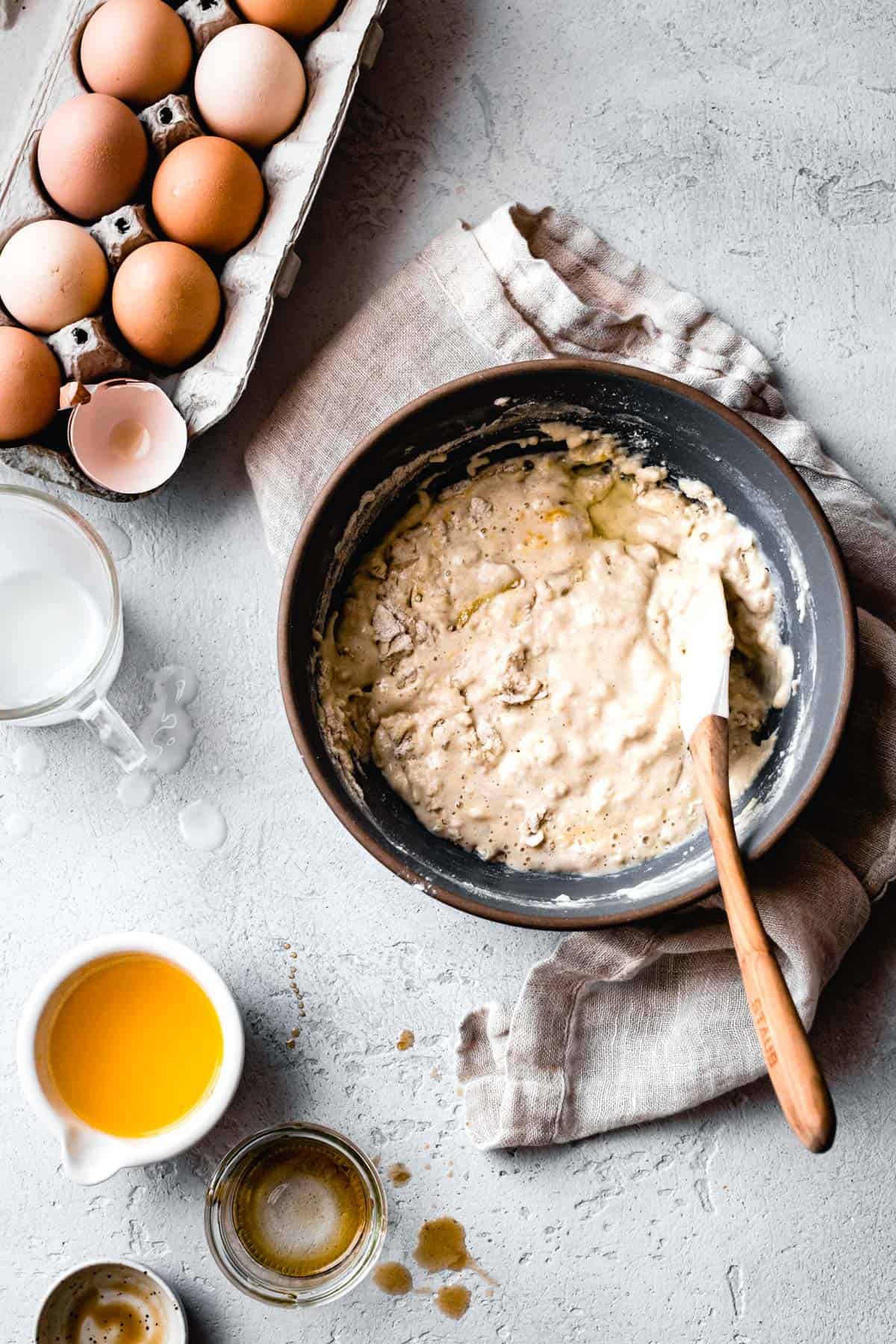 Healthy Gluten-Free Pancakes with Sorghum Flour
These gluten-free pancakes taste similar to a classic pancake recipe – mild, slightly sweet, and with a bit of tang from buttermilk. But they're a bit healthier than most.
This healthy pancake recipe starts with whole-grain goodness from sorghum flour, which is high in antioxidants, fiber, and minerals. Sticky sweet rice flour holds them together, meaning these pancakes are made without xanthan gum or starch. These sugar-free pancakes are sweetened with just a touch of maple syrup. Sorghum flour, egg, and buttermilk all add protein, which helps you feel satisfied long after breakfast.
I like to top a small serving of pancakes with a pile of fresh fruit, a scoop of Greek yogurt, and a sprinkle of hemp seed and maple syrup. This balances the decadence of pancakes with nutritious components I can feel good about eating anytime.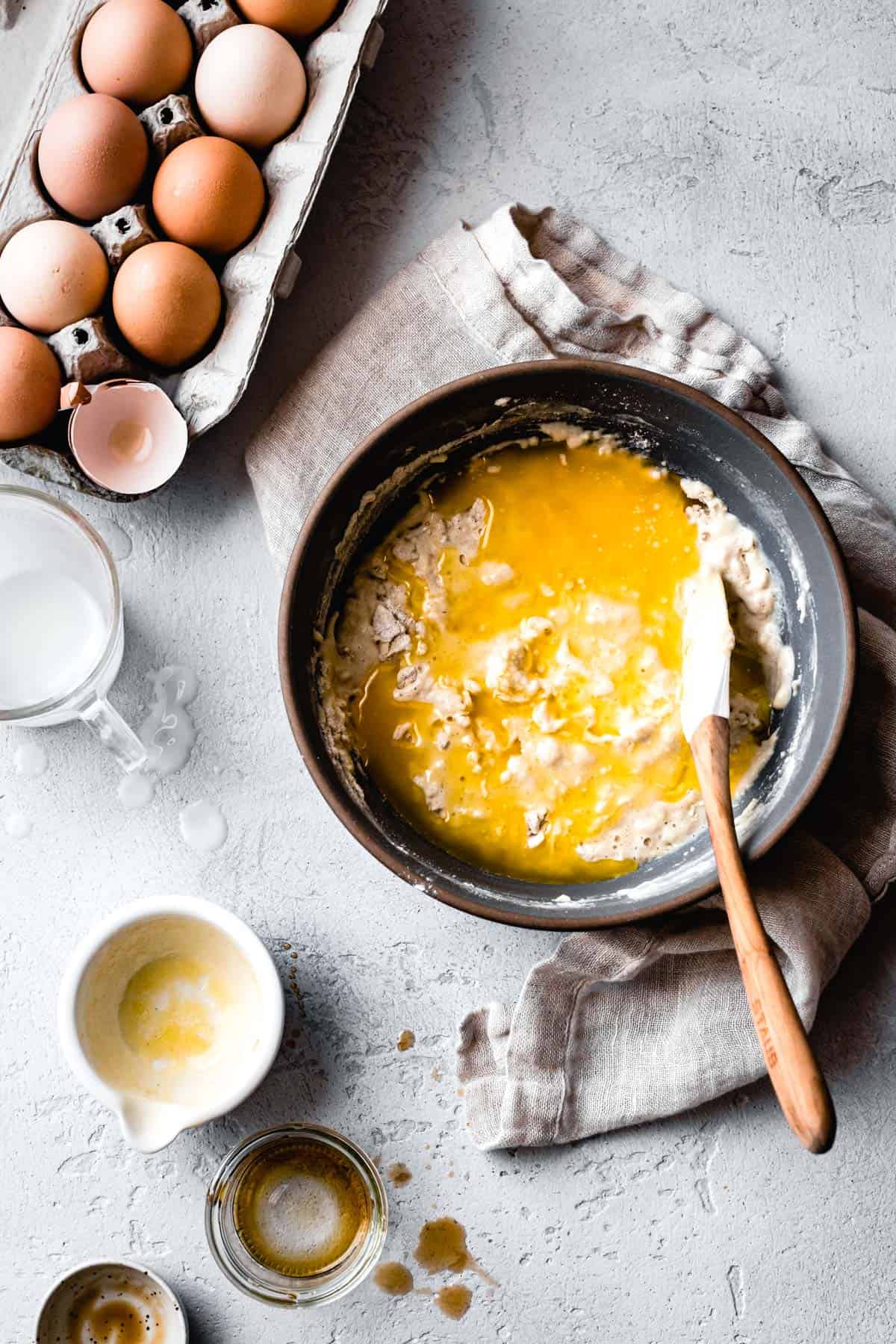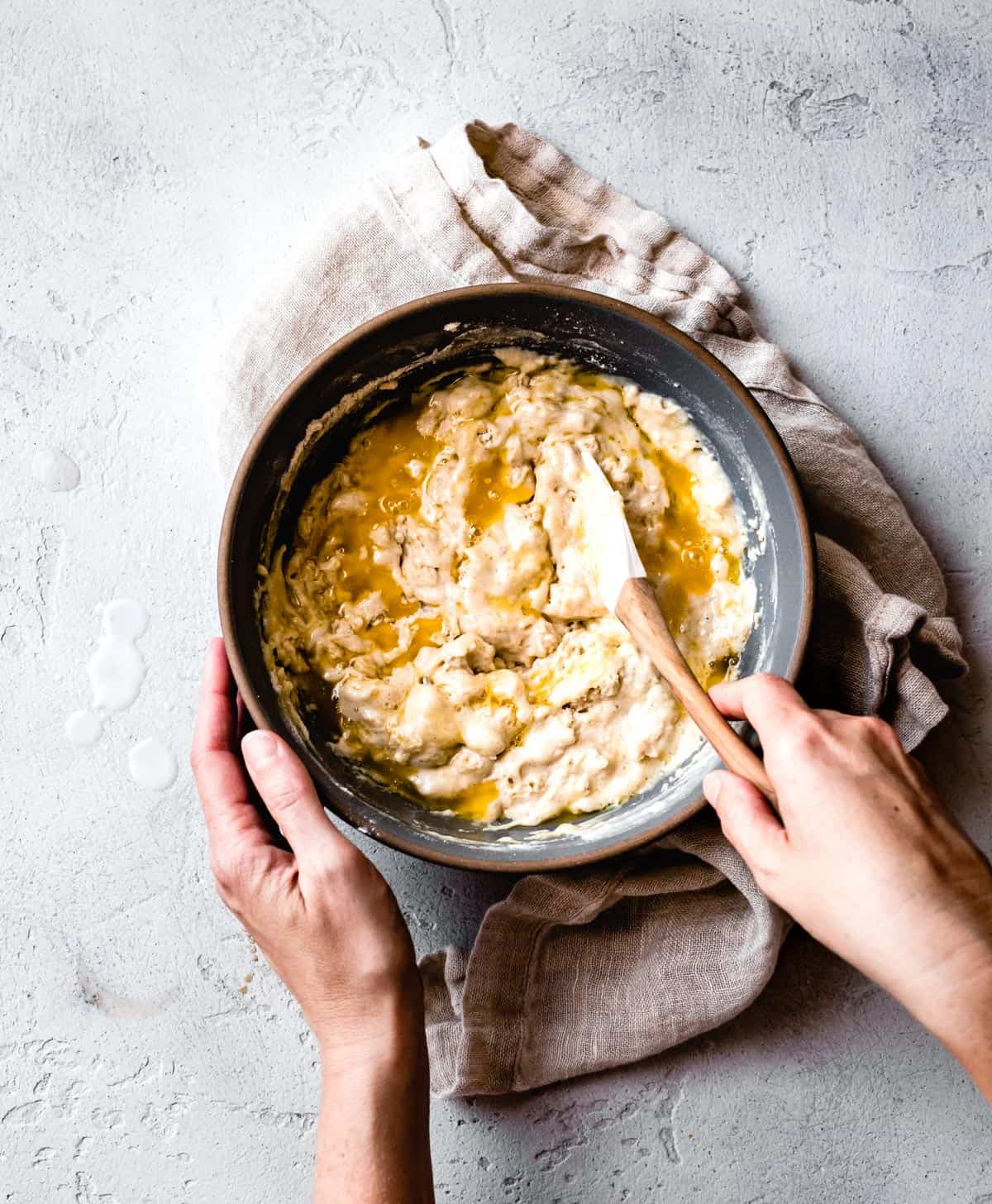 GF Pancake Ingredients
Many gluten-free pancake recipes start with a premade gluten-free all-purpose flour or pancake mixes. But I prefer creating my own flour blends for each specific recipe. This allows us to:
experience the unique tastes and textures of gluten-free flours
minimize and/or eliminate gums and starches
skip the search for a specific flour brand
avoid making a mega batch of flour mix that you may or may not like
Just two flours are needed for this GF pancake recipe, plus a handful of other ingredients:
Sorghum flour makes up the majority of this recipe. In addition to sorghum flour's health benefits listed above, it boasts a mild, nutty flavor that reminds me of Cream of Wheat.
Sweet rice flour a.k.a. glutinous rice flour is made from a sticky type of rice and helps these pancakes hold together without any additional starches or gums.
Maple syrup sweetens these pancakes, making the recipe free of refined sugar. You can also use sorghum syrup if you happen to have any on-hand for some double sorghum action.
Buttermilk moistens the batter and adds a bit of tang and tenderness. If you don't have any on hand you can thin yogurt with milk.
Egg adds proteins that help fluff up the batter as the pancakes cook and create structure.
Baking soda promotes spreading and browning.
Baking powder helps the batter rise.
Salt sharpens the flavors.
Vanilla adds sweet, floral complexity.
Butter adds richness and promotes browning.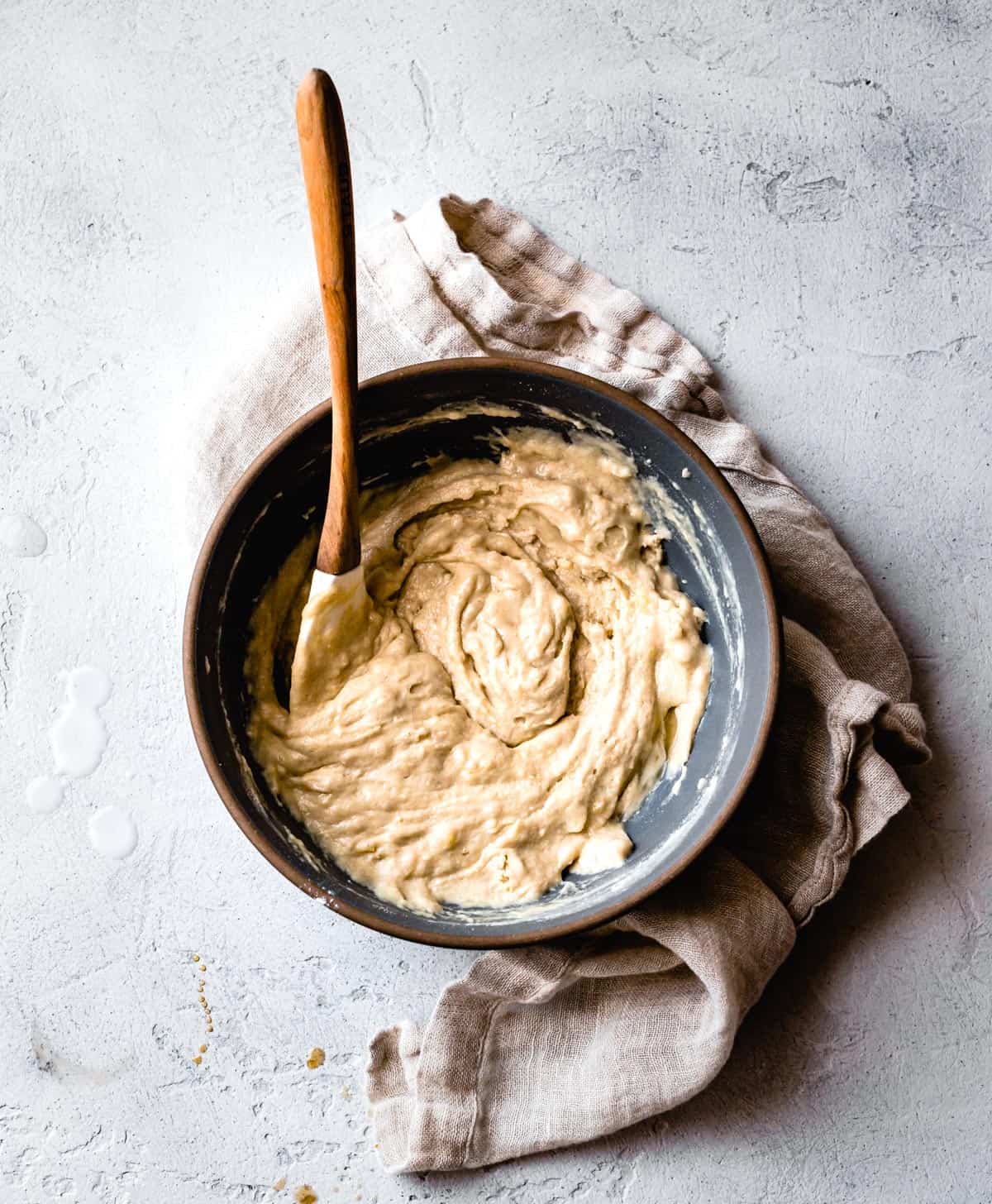 How to Make Gluten-Free Pancakes
These easy gluten-free pancakes are super simple to make, with a few mixing tricks turning out the fluffiest pancakes.
First, whisk or sift together the dry ingredients: flours, leavening, and salt. I like to sift because my leavening is always clumpy and I shudder at the thought of biting into a chunk of baking powder or soda. [Insert scream emoji]
Next, gently whisk together the wet ingredients except for the butter: buttermilk, egg, maple syrup, and vanilla. Try not to over whisk the egg; keeping the proteins in the white in tact help fluff up the pancakes.
Pour the buttermilk mixture into the flour mixture and stir a few times until they're halfway combined: about 8-10 stirs.
Add the butter and stir until just combined and no flour or butter streaks remained. You want the batter thick and lumpy for the fluffiest cakes.
While the batter sits for a few minutes getting extra thick, heat a wide skillet or griddle over medium heat. These pancakes like to cook low and slow, so decrease the heat to medium-low or low once the pan is hot.
I prefer ghee for cooking pancakes because it has a super high smoke point, but another high-heat cooking oil will work too. Coat the pan with a thin film of ghee or oil. Drop scoops of batter into the oil and cook until the bottoms brown. Flip gently to keep them as fluffy as possible and cook until golden on the second side and cooked through.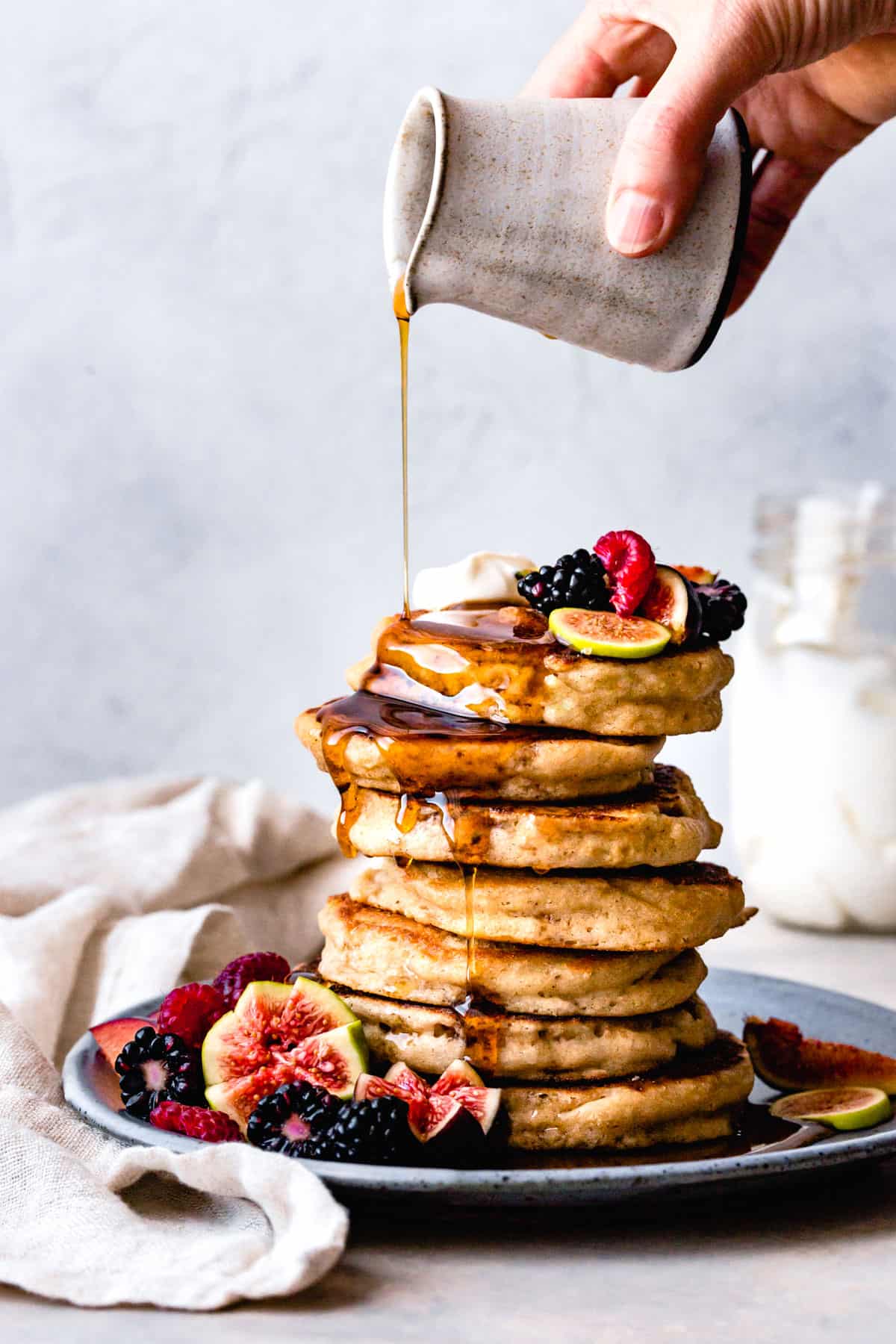 Gluten-Free Dairy-Free Pancakes
These gluten-free pancakes can easily be made dairy-free too. Just swap out the butter for plant butter (I like Miyoko's Creamery best). In place of the buttermilk, use a plant yogurt (I like Forager cashew yogurt) thinned with plant milk (I prefer fresh almond milk or oat milk). See the recipe notes for measurements!
Gluten-Free Vegan Pancakes
Update: These pancakes can be make vegan too! Use the dairy-free substitutions listed above and in the recipe notes. In place of egg, use 1/4 cup aquafaba (the liquid from canned or jarred chickpeas or white beans). Or use 1/4 cup Just Egg, which is an egg substitute made from mung bean plus some other ingredients.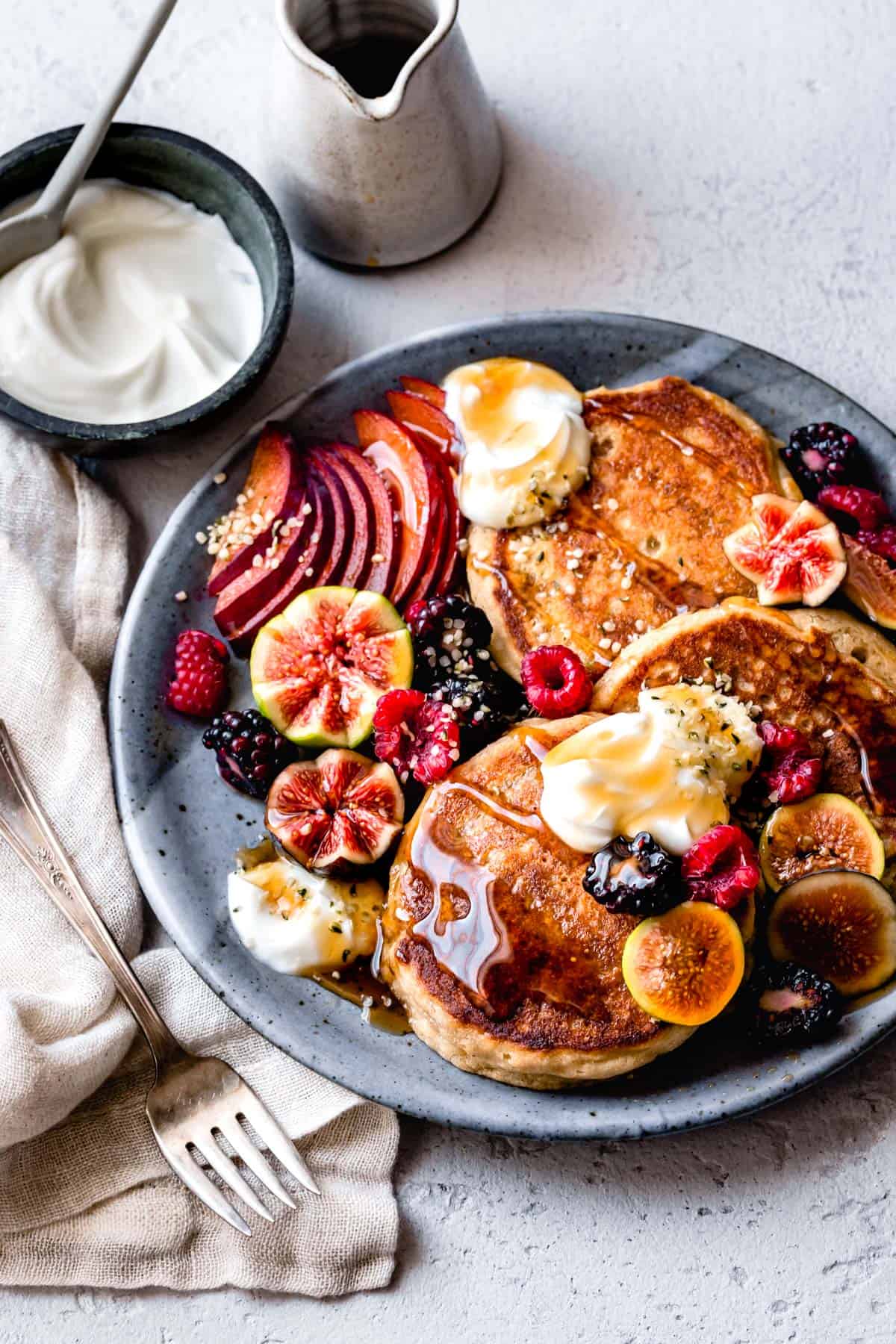 Buttermilk Substitutes
I don't recommend using the lemon juice + milk trick here as the result is not as thick as buttermilk and will produce thinner cakes. Instead, thin yogurt with milk until it's the consistency of heavy cream or buttermilk. You can use a European-style yogurt, which you won't need to thin as much. Or start with a thick Greek yogurt and add extra milk.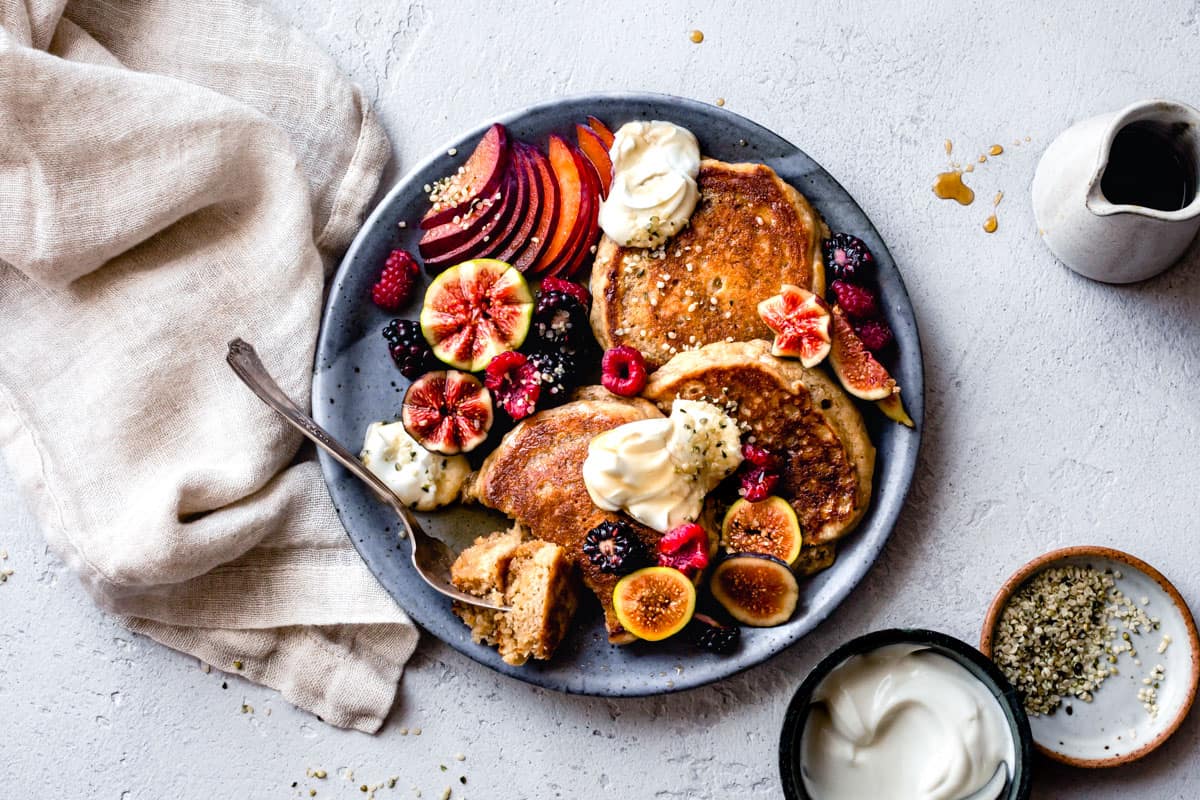 Substitutes for Sweet Rice Flour and Sorghum Flour
Look for both of these flours with other gluten-free flours at health food stores or order them directly from Bob's Red Mill. Sweet rice flour aka glutinous rice flour can often be found at Asian markets.
In place of sweet rice flour, you can use Bob's Red Mill 1 to 1 Gluten-Free Baking Flour. This is based on sweet rice flour. Or try regular rice flour mixed with a small amount of tapioca flour.
In place of sorghum flour, use an equal amount of oat, teff, or buckwheat flour – measure by weight for the best results as all of these flours weigh differently. Be sure your flours are certified gluten-free if you're highly sensitive.
How to Make Uniformly-Sized Pancakes
I like to use a spring-loaded ice cream scoop to easily scoop my batter into the pan in equal-sized globs. It makes quick work, plus it's tidy, and it ensures pancakes that are the same size. I used a heaping #24 scoop to make these.
Gluten-Free Pancake Bliss
Top these pancakes with your favorite seasonal fruit: berries in the spring, stone fruit in the summer, sauteed pears or apples in the fall, and citrus in the winter. I prefer a scoop of yogurt on my pancakes since there's enough butter in there already. A flurry of hemp seed makes a pretty finish. And don't forget the maple syrup.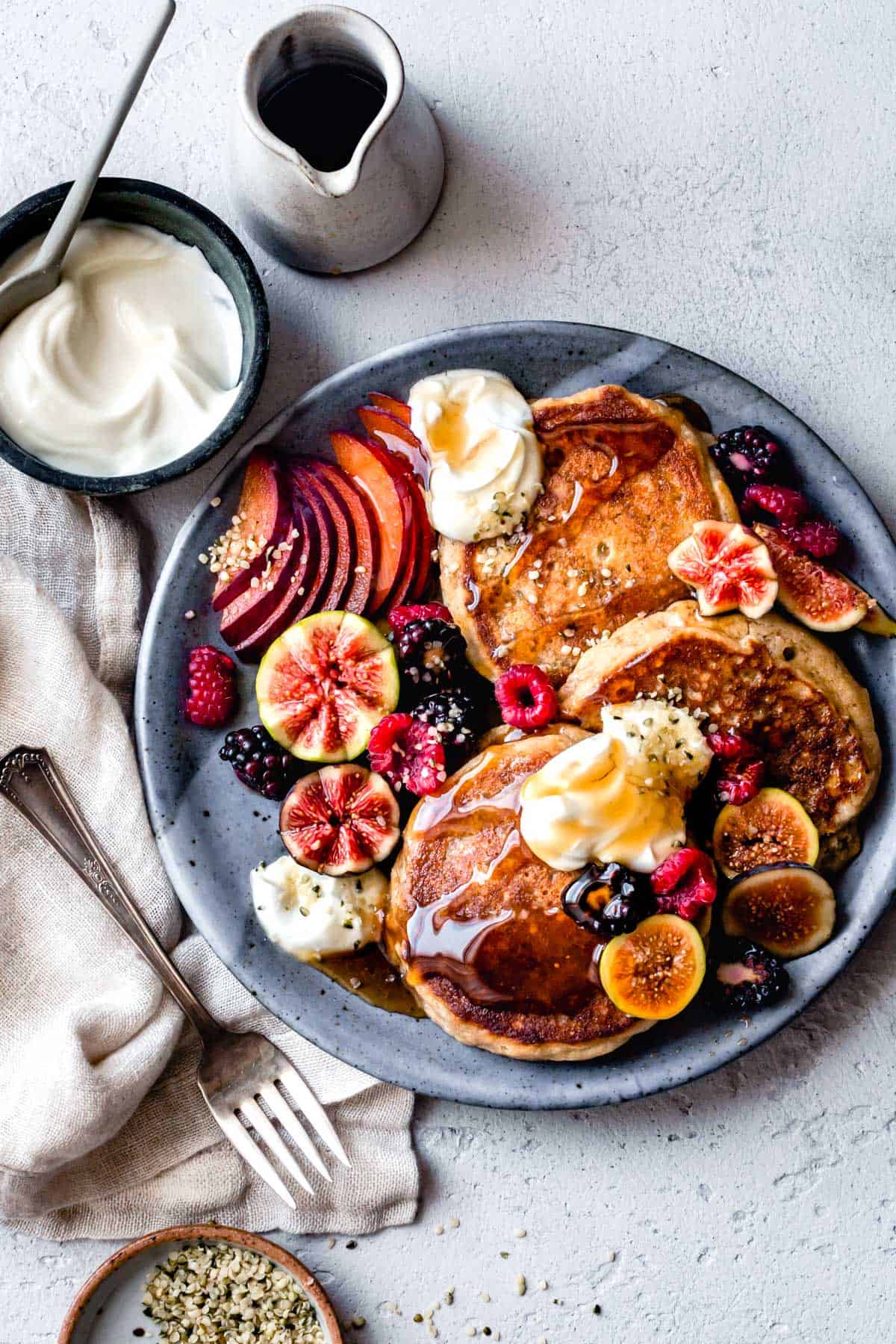 Got extra buttermilk? Try these recipes:
Got extra sorghum flour? Try these recipes:
*Bojon appétit! For more Bojon Gourmet in your life, follow along on Instagram, Facebook, or Pinterest, purchase my gluten-free cookbook Alternative Baker, or subscribe to receive new posts via email. And if you make this gluten-free pancake recipe, I'd love to see. Tag your Instagram snaps @The_Bojon_Gourmet and #bojongourmet.*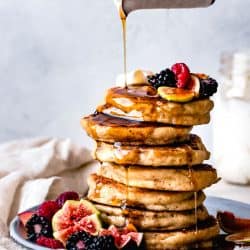 Fluffy Gluten-Free Pancakes with Sorghum Flour
Print Recipe
Pin Recipe
Start your day off right with these nourishing pancakes! They're crispy on the outside with fluffy, tender middles redolent with the flavor of nutty sorghum flour. See the variations below for dietary substitutions and other options.
Ingredients
Pancakes:
¾

cup

(90 g) sorghum flour (or try millet or oat flour by weight)

½

cup

(75 g) sweet white rice flour (or try GF AP blend such as Bob's Red Mill 1 to 1)

½

teaspoon

baking powder

½

teaspoon

baking soda

½

teaspoon

fine sea salt

1

cup

(235 ml) well-shaken buttermilk (add 2-4 more tablespoons if you want more thin, crisp pancakes)

1

large egg

1

tablespoon

(15 ml) maple syrup, plus more for serving

1

teaspoon

vanilla extract

3

tablespoons

(45 g) butter, melted

ghee or neutral high-heat vegetable oil (such as sunflower), for cooking
For serving:
maple syrup

seasonal fruit

Greek yogurt

hemp seed
Instructions
In a large bowl, whisk or sift together the sorghum and sweet rice flours with the baking powder, baking soda, and salt.

In a measuring pitcher or bowl, whisk together the buttermilk, egg, maple syrup, and vanilla.

Pour the buttermilk mixture into the flour mixture and quickly stir with a flexible spatula until halfway combined; 8 to 10 strokes. Pour in the melted butter and quickly but gently mix until the batter is just combined and no butter or flour streaks remain. Some lumps are ok. Take care not to overmix the batter or it will become thin and the pancakes will cook up flatter and more tough.

Set the batter aside for a minute or two to thicken. Meanwhile, preheat a wide skillet or griddle over medium heat. I prefer well-seasoned cast iron or ceramic nonstick. When the pan is hot, lower to medium-low or low.

Coat the hot pan with a thin layer of ghee or oil. Drop the batter by ¼ - 1/3 cups into the hot oil. Cook on the first side until the bottoms are golden, 2-3 minutes. Gently flip, taking care not to deflate the pancakes. Cook on the second side until the bottoms are golden, 2-3 more minutes.

Remove the pancakes to a wire rack. When you're ready to serve, reheat any cooled pancakes in the hot pan. Alternatively put them in a low oven while you cook the remaining pancakes.

Serve with your favorite toppings. I like mine piled high with fresh seasonal fruit, a big dollop of Greek yogurt, a sprinkle of hemp seed, and a drizzle of maple syrup.

Pancakes can be made ahead and warmed in a hot skillet or toaster oven when ready to serve. They will keep for up to 4 days airtight in the refrigerator.
Notes
VARIATIONS
Gluten-Free Blueberry Pancakes
Gently stir 1 cup fresh or frozen blueberries into the batter.
Dairy-Free Gluten-Free Pancakes
Omit the buttermilk and use ¾ cup plant yogurt and ¼ cup plant milk (or as needed to create a thick batter). Use vegan butter in place of dairy butter. Cook the pancakes in sunflower oil.
Vegan Gluten-Free Pancakes
In place of the egg, use ¼ cup aquafaba (the liquid from canned or jarred chickpeas or white beans) or Just Egg and follow the dairy-free substitutions above.
Gluten-Free Teff Pancakes
Omit the sorghum flour and use ½ cup + 3 tablespoons (90 g) teff flour.
To Freeze Pancakes:
These pancakes keep well refrigerated for up to 4 days. To freeze, place cooled pancakes on a baking sheet lined with parchment paper. Freeze until firm, 20 minutes or so. Remove from the pan and place in an airtight container. Freeze for up to 1 month.
Nutritions facts are for 1 of 3 servings.
Nutrition
Calories:
438
kcal
Carbohydrates:
54
g
Protein:
8
g
Fat:
21
g
Saturated Fat:
13
g
Cholesterol:
93
mg
Sodium:
777
mg
Potassium:
324
mg
Fiber:
3
g
Sugar:
9
g
Vitamin A:
561
IU
Calcium:
143
mg
Iron:
1
mg