This savory-sweet take on vegan caprese salad combines creamy heirloom tomatoes, juicy peaches, and peppery arugula with vegan mozzarella for an effortless starter or light main dish.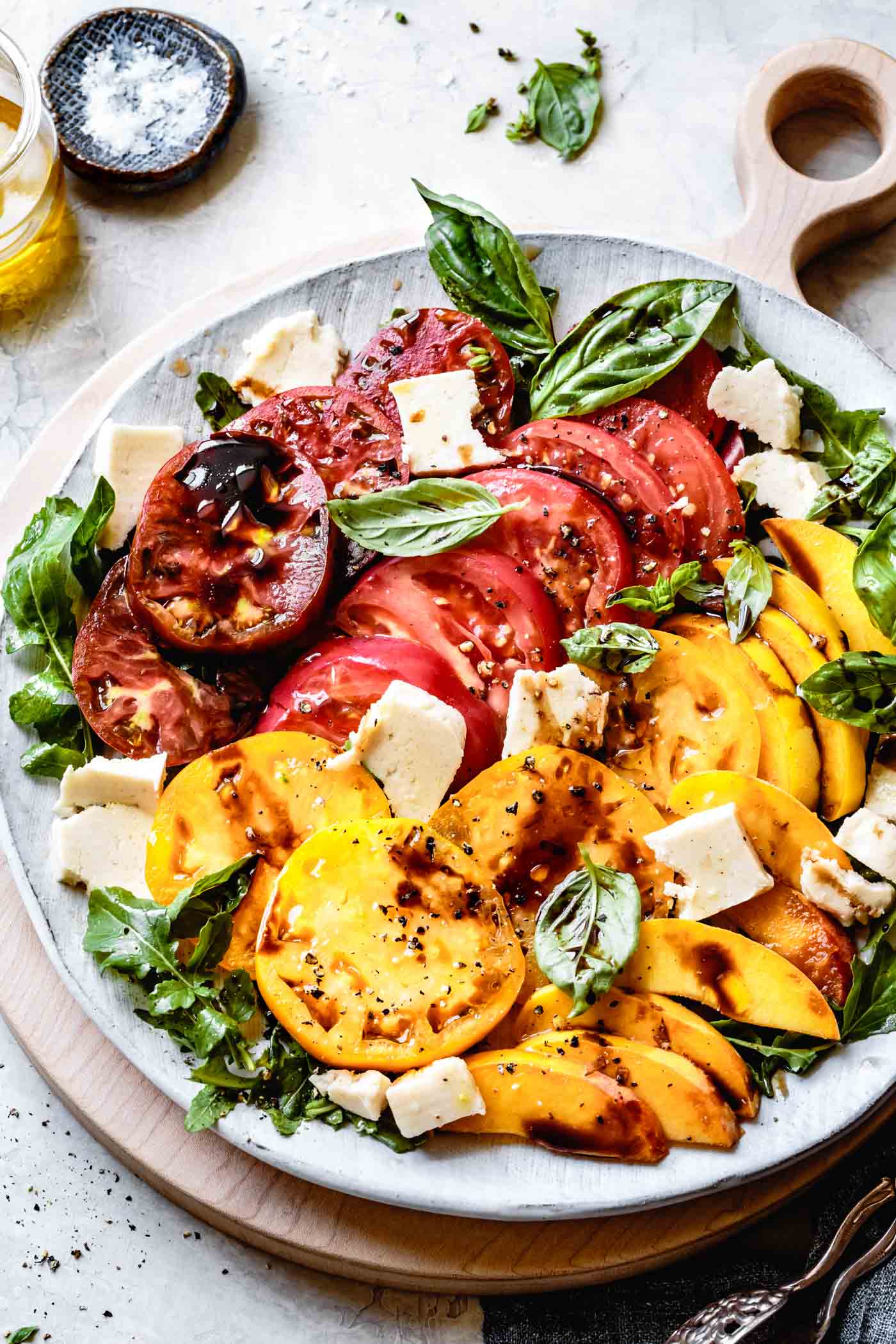 Here's a quick and easy way to enjoy summer's bounty. You hardly need a recipe for this vegan caprese salad. The measurements are loosey goosey, so feel free to riff based on what you have on hand.
Growing up, caprese salad was a staple at our dinner table. The flavors of tangy tomatoes, creamy mozz, and fresh basil, all drizzled with olive oil and balsamic were a requisite part of summer. I've shared some other takes on this traditional Italian dish over the years, including cucumber melon caprese, strawberry caprese, and caprese gazpacho. I know I'm not the only one who's pazza per caprese!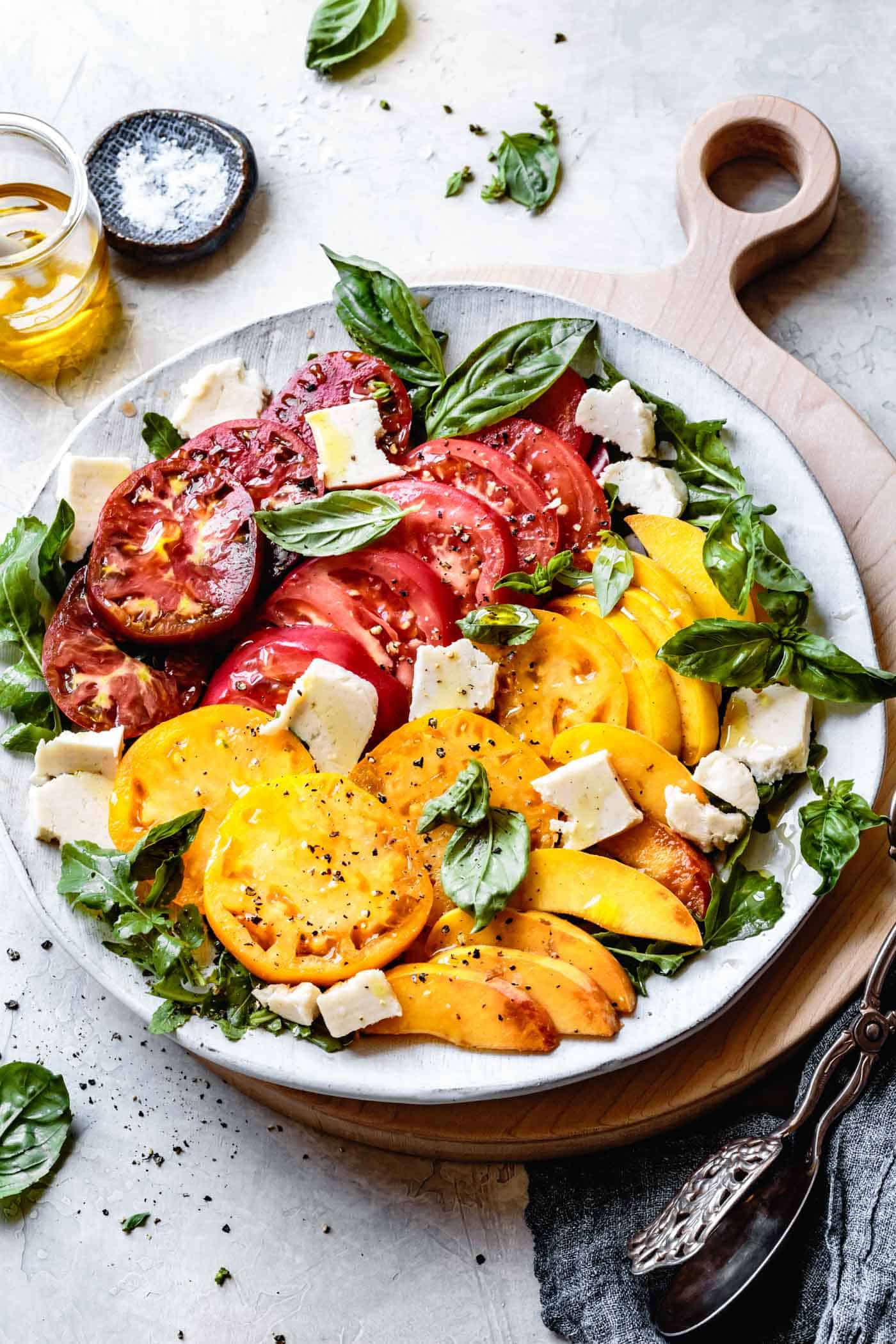 Farm Appreciation & How to Support Our Farmers
We've been getting the most glorious produce in our CSA box from Terra Firma Farm. This week our box boasted three bags of heirloom tomatoes and tart-sweet yellow peaches, not to mention corn, green beans, summer squash, fresh onions, and garlic. We are spoiled.
I look at all this produce and think how fortunate we are to have hardworking farmers spending their time and labor tilling, seeding, planting, weeding, harvesting, packing, and shipping these life-sustaining fruits and vegetables. Farming is HARD WORK and these jobs don't pay nearly what they should given that they are literally what keep us alive. Many farmers are migrant workers who risk being deported simply by going to work, and they lack basic protections of citizens. Our farms could not exist without this labor force.
These essential workers are being disproportionately effected by the pandemic. If you'd like to support our farmers in the U.S., the Farmer Relief Fund is a great organization to donate to. They seek to send aid to every farmer across the country.
Subscribing to a CSA box is another great way to support your local farmers. This gives farms a steady income stream and produce demand that they can plan for. There are loads in the Bay Area (here's a list). You can easily search online for CSAs in your town. Some farmers markets are offering CSA box pickup as well.
Tomato, Arugula & Peach Caprese Salad
In addition to my beautiful Terra Firma produce, I had some baby arugula in the fridge along with a bunch of basil and a wheel of vegan mozzarella. So I whipped up this twist on vegan caprese salad for lunch. It was so simple and so good, I wanted to share.
The peaches add a lovely sweetness that complements the tangy tomatoes, and the arugula adds some extra green goodness and peppery notes. Classic caprese needs no embellishment, but it's fun to change it up sometimes, davvero?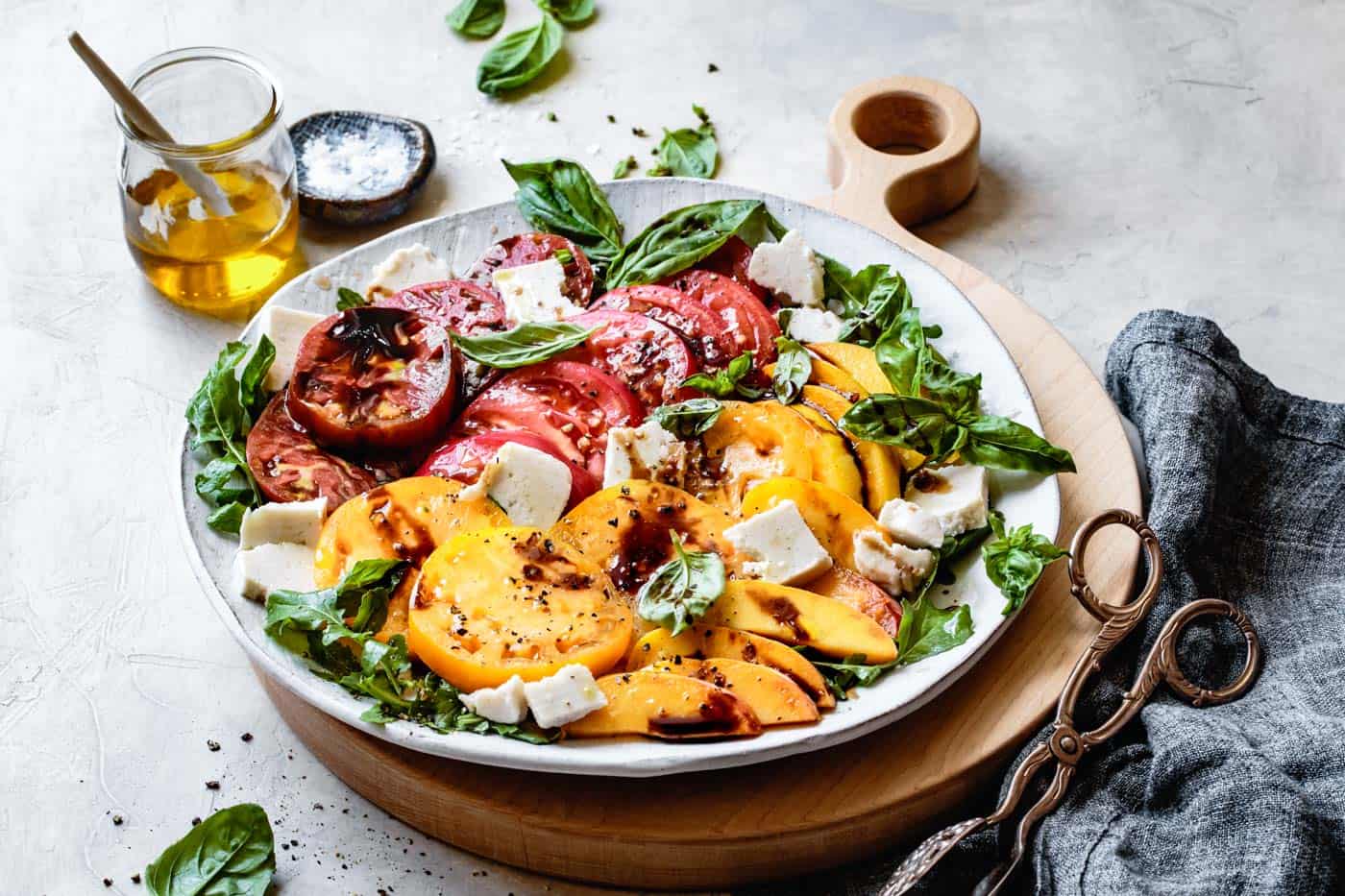 What kind of cheese do you use for vegan caprese salad?
I use Miyoko's vegan mozzarella. (This post isn't sponsored, I just love their products!) Unlike many cheese substitutes, this vegan mozzarella is made with whole ingredients - cashews, coconut cream, and cultures. It boasts a rich, clean, and slightly tangy flavor that pairs beautifully with the rest of this dish. But if you can't find any, try Violife vegan feta, which is also mild and creamy.
If you're not vegan, you can use fresh mozzarella or burrata here, certamente!
Caprese Salad Per Tutti
Do you love caprese as much as I do? Let me know if you give this one a go! If you serve it with a piece of crusty bread, you'll have something to sop up the juices afterward. Or you could do what I did today and shamelessly lick the plate. I won't judge.
More ways to love tomatoes:
More savory-sweet summer salads:
*Bojon appétit! For more Bojon Gourmet in your life, follow along on Instagram, Facebook, or Pinterest, purchase my gluten-free cookbook Alternative Baker, or subscribe to receive new posts via email. And if you make this vegan caprese salad recipe, I'd love to see. Tag your Instagram snaps @The_Bojon_Gourmet and #bojongourmet.*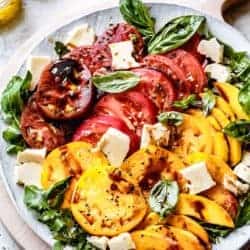 Vegan Caprese Salad with Peaches & Arugula
Print Recipe
Pin Recipe
A savory-sweet riff on classic caprese made with vegan mozzarella. This recipe serves 1 as a light lunch or 2 as an appetizer. If you don't have access to Miyoko's vegan mozzarella, try another soft vegan cheese such as Violife vegan feta, or you could go with a vegan ricotta. If you eat dairy, go ahead and enjoy this with fresh mozzarella or burrata.
Ingredients
a big handful baby arugula leaves

extra-virgin olive oil

good balsamic vinegar

flaky salt

freshly ground black pepper

3

medium-sized ripe tomatoes, sliced

1

large ripe peach or nectarine, pitted and sliced

2-4

ounces

sliced vegan mozzarella (I like Miyoko's)

handful basil leaves, torn if large
Instructions
Toss the arugula with a bit of olive oil, vinegar, and salt to coat. Spread it on a large plate. Top with the tomatoes, peaches, and mozzarella. Scatter the basil leaves over the top.

Sprinkle with flaky salt, drizzle with olive oil and balsamic, and grind a little pepper on top. Serve right away.
Notes
Nutrition information is for 1 of 1 servings.
Nutrition
Calories:
554
kcal
Carbohydrates:
37
g
Protein:
9
g
Fat:
46
g
Saturated Fat:
10
g
Sodium:
826
mg
Potassium:
1196
mg
Fiber:
10
g
Sugar:
27
g
Vitamin A:
4011
IU
Vitamin C:
62
mg
Calcium:
89
mg
Iron:
2
mg