This gluten-free, vegan bread recipe uses no leavening, and it bakes up into a dense, toothsome loaf that makes killer toast. Easy peasy and über-healthy, what's not to love?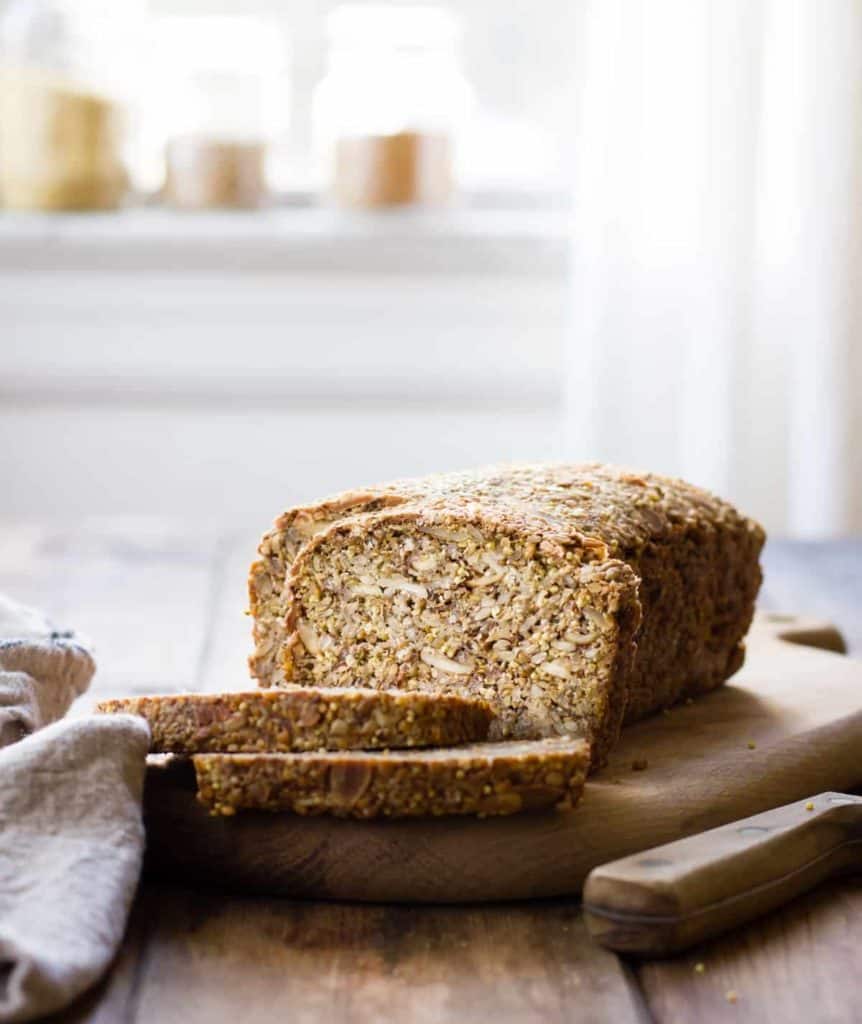 My holistic chiropractor, Ann Brinkley, is always on at me to eat more protein. "What did you have for breakfast today?" she'll ask as she digs her thumbs viciously into my IT band. I'd always answer, "a smoothie" or "fruit with yogurt and granola" or "cake", knowing she'd never be satisfied with my answer.
Then I made Josey Baker's Adventure Bread. In fact, I made it six times. I ate it every morning. Knowing that it was waiting to be sliced, toasted, and topped with cream cheese, avocado and sprouts was what got me out of bed some mornings. This time, I was ready when Ann asked after my breakfast.
"I've been making this bread that's all nuts and seeds. It's really healthy. So I had a slice of that with cream cheese and avocado." She gave a noncommittal grunt, and I could imagine her picturing conventional "whole wheat" bread with a smattering of seeds in a matrix of refined white flour, and subsequently praying for my blood sugar level. I considered trying to convince her, but thought better of arguing with a woman who was about to crack my neck.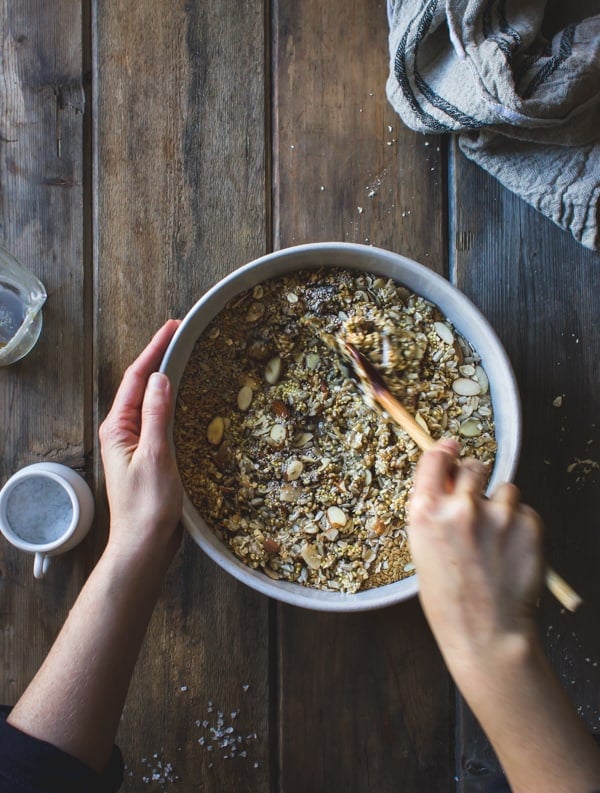 So I just went about my adventure bread baking quietly. Sometimes I'd use olive oil, sometimes coconut. Honey in place of maple syrup. Or I'd add some pumpkin puree or play with the seed combo. But my favorite addition was a smattering of buckwheat groats and millet seeds. The millet adds crunch, and some bites leave you with buckwheat's deep flavor to which I'm kind of addicted. I think it's fair to say that I'm addicted to this bread as well. It's got a lovely, nubby texture that you can really sink your teeth into, and toasting it yields a crunchy crust. The flavor is mild enough to go with whatever sweet or savory toppings you like.
This bread has quite the pedigree. Josey Baker is the founder of The Mill, home to the infamous thick slabs of toast made from house-milled grains. He adapted his adventure bread from Sarah Britton's Life-Changing Loaf of Bread which, I must say, quite lives up to its name. I've seen this type of bread popping up at various places around town, such as at a tasting of Seed + Salt that I went to with Phi and Sarah, and served with smoked onions, sauerkraut and goat cheese at Verbena. Once you try it, I wager you'll be hooked, too. (I'm looking forward to trying the crackers of the same name, too!)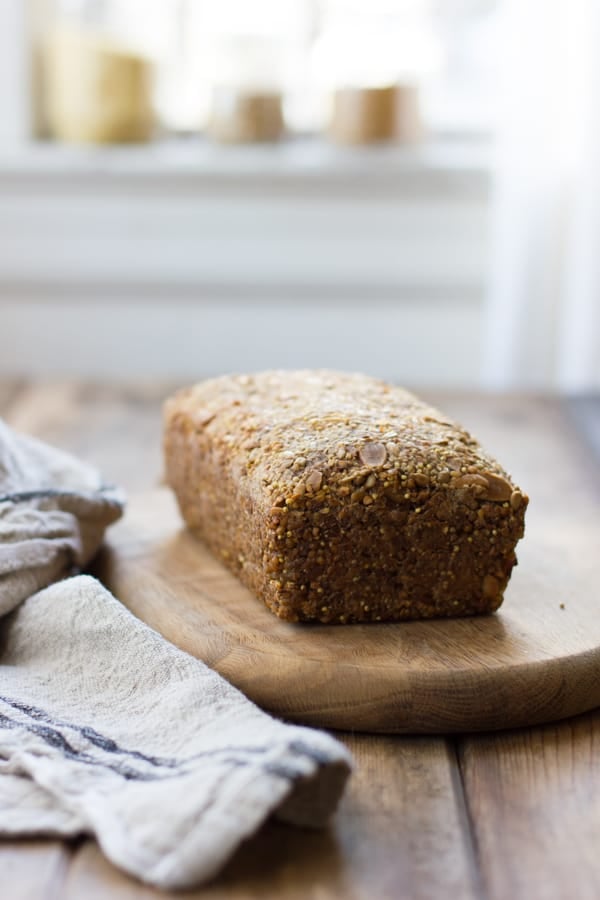 A month or two later, Ann told me she was on a cleanse that forbade gluten, dairy and eggs. I again sang the praises of Adventure Bread and this time, she was all ears. The following week she enthused, "I LOVE that adventure bread. I've made it six times!"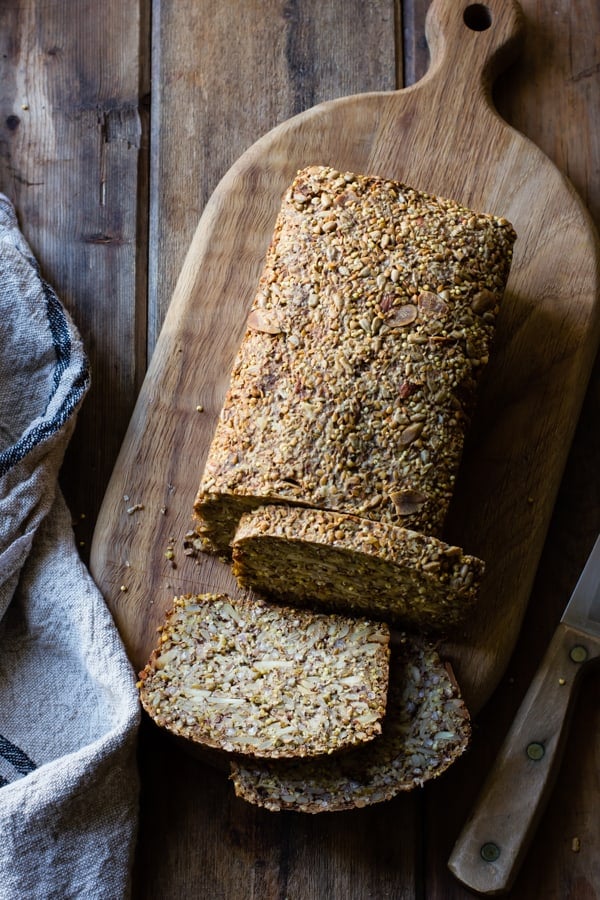 After the initial trip to the co-op to stock up on psyllium husks, nuts, seeds, and grains, this loaf comes together in no time. Letting it hang out in the pan prior to baking helps to hydrate the grains and nuts, making for a more cohesive loaf, but the time is completely hands-off.


I hope this bread is as lovely an addition to your routine as it has been to ours. If you give it a go, I'd love to hear about it!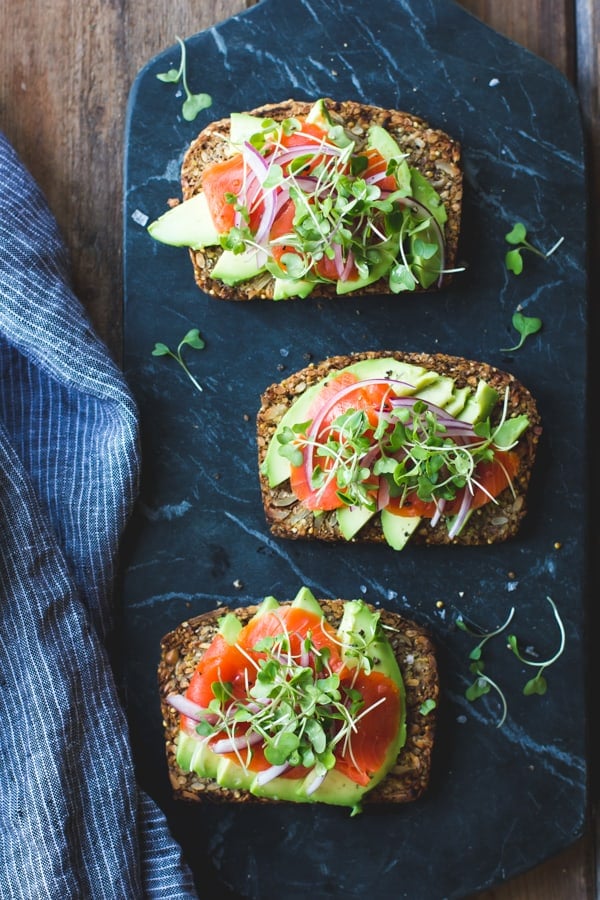 More Bread Recipes:
*Bojon appétit! For more Bojon Gourmet in your life, follow along on Instagram, Facebook, or Pinterest, purchase my gluten-free cookbook Alternative Baker, or subscribe to receive new posts via email. And if you make this multi-grain nut and seed bread recipe, I'd love to know. Leave a comment and rating below, and tag your Instagram snaps @The_Bojon_Gourmet and #bojongourmet.*
Multi-Grain Nut + Seed Bread (gluten-free + vegan)
Print Recipe
Pin Recipe
This gluten-free, vegan bread recipe uses no leavening, and it bakes up into a dense, toothsome loaf that makes killer toast. Easy peasy and über-healthy, what's not to love?
Servings:
16
to 18 servings (makes one 8x4" or 9x5" loaf)
Ingredients
1

cup

sunflower seeds

(5 ounces / 145 grams)

1

cup

sliced almonds

(3.5 ounces / 100 grams)

1/3

cup

buckwheat groats

(2 ounces / 60 grams)

1/3

cup

millet seed

(2 ounces / 60 grams)

2 1/4

cups

GF old-fashioned rolled oats

(6.75 ounces / 195 grams)

1/2

cup

whole flax seed

(3 ounces / 85 grams)

1/3

cup

psyllium husk flakes

(1 ounce / 30 grams)

1/4

cup

whole chia seed

(1.25 ounces / 35 grams)

2

teaspoons

fine sea salt

2

tablespoons

maple syrup

(1.25 ounces by weight / 40 grams)

1/4

cup

coconut oil, melted (or olive oil)

(1.5 ounces by weight / 45 grams)

2 3/4

cups

water
Instructions
Position a rack in the center of the oven and preheat to 325ºF.

Spread the sunflower seeds, almonds, buckwheat groats, and millet seed on a rimmed baking sheet. Toast in the oven until golden and fragrant, 8-12 minutes.

Meanwhile, in a large bowl, combine the oats, flax seed, psyllium husk, chia seed, and salt. When the sunflower seed mixture has toasted, add it to the bowl and stir to combine. Add the maple syrup, melted coconut oil, and water, and stir to combine well, using your hands if need be.

Line a loaf pan (8x4 or 9x5") on all sides with parchment paper. Scrape the dough into the pan and use damp fingers to smooth the top, creating a slight dome. Cover the dough and let sit at room temperature at least 2 hours and up to 24 hours.

When ready to bake, position a rack in the center of the oven and preheat to 400ºUncover the bread and bake until deeply bronzed, about 1 1/2 hours (but check it at 1 1/4 hours). Remove the bread from the oven and let cool completely, at least 2 hours, then remove from the pan and discard the parchment.

The bread keeps well, refrigerated airtight, for up to a week or even two. Slice and toast for best results.
Notes
Adapted from Josey Baker's Adventure Bread via David Lebovitz and The Life-Changing Loaf from My New Roots
Be sure to source certified gluten-free ingredients (especially oats) if you or your bread-eaters are highly sensitive.
Feel free to trade the maple syrup for honey, the coconut oil for olive or sunflower. Sarah answers a lot of substitution questions in her post, so check it out if you have some!
I like this bread best toasted and slathered with cream cheese, avocado, red onion, sprouts, and lox if I'm feeling festive, but go wild with your favorite toast toppings. I've got my eye on this kimchi grilled cheese from Karen at Honestly Yum (and the corresponding cocktail [!] by Todd).
Nutritional values are based on one of sixteen servings.
Nutrition
Calories:
267
kcal
Carbohydrates:
26
g
Protein:
7
g
Fat:
16
g
Saturated Fat:
4
g
Sodium:
297
mg
Potassium:
242
mg
Fiber:
10
g
Sugar:
2
g
Vitamin A:
5
IU
Vitamin C:
0.1
mg
Calcium:
86
mg
Iron:
2.1
mg