Gluten-free cake recipes to satisfy your every whim. Whether you're in the mood for chocolate, fruit, nuts, layers, or loaves, these unique gluten-free cake recipes are sure to please. Dairy-free, egg-free, sugar-free, grain-free, vegan, and paleo options.
Plus tips and tricks for baking the best gluten-free cakes with alternative flours!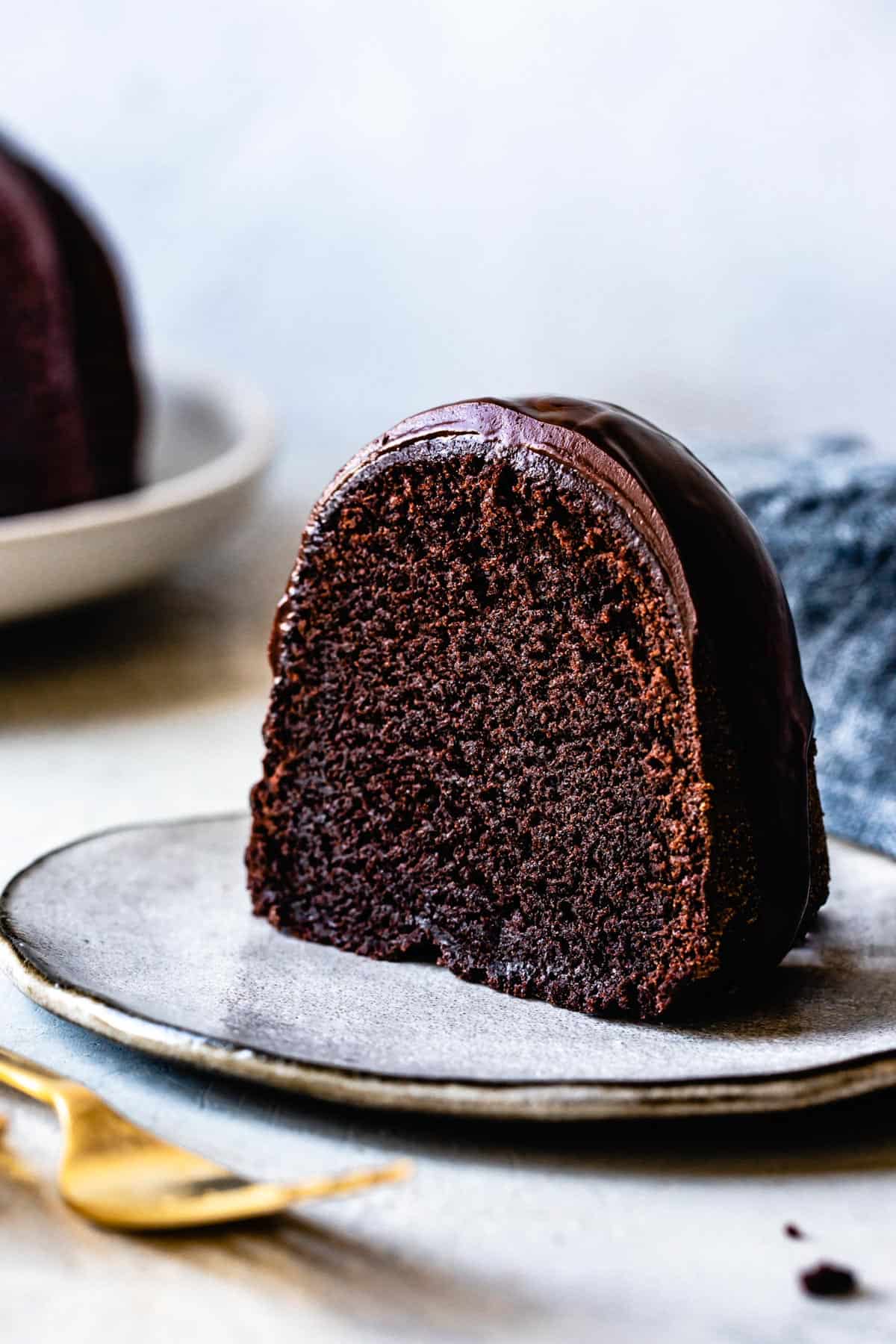 When it comes to cake, I prefer mine moist, tender, and loaded with flavor. I've rounded up a host of favorites from 11 years of TBG for your baking pleasure. Read on for gluten-free cake!
Best Gluten-Free Flours for Lofty Cakes
Gluten-free flours have the ability to create moist and tender cakes that gluten-ful recipes can only dream of. Their lack of gluten – the sticky, stretchy proteins found in wheat – help gluten-free cake recipes bake up with pillowy, melt-in-your mouth crumbs. Best of all, you needn't worry about overmixing the batter!
Here are some of my favorite flours to use in GF cake, and suggestions for substitutions. When swapping GF flours in any recipe, it's always best to sub them out by equal weight.
Blanched almond flour adds protein, richness, a neutral nutty taste, and meltingly tender texture. Sub hazelnut meal, almond meal, or other finely ground nuts.
Oat flour adds whole-grain flavor reminiscent of whole wheat, while its protein structure helps to fluff up the batter. Sub sorghum for the closest flavor, or chestnut, teff, or buckwheat for more earthy flavor.
Sweet rice flour, with its sticky, starchy consistency, helps cakes hold together. Sub gluten-free all-purpose flour such as Bob's Red Mill 1 to 1 or cassava flour.
Millet flour adds buttery notes, and its soft grind creates a neutral backdrop for other flavors to star. Sub sorghum flour or ivory teff flour.
Sorghum flour has a sweet flavor that reminds me of cream of wheat cereal. Some brands can be slightly sandy or gritty. Sub millet, oat, or ivory teff flour.
Buckwheat flour has a deliciously earthy flavor that tastes like roasted hazelnuts and cinnamon. Sub teff flour or oat flour.
Teff flour tastes like malted chocolate milk. Its high protein content bakes sturdy cakes. Sub oat or hazelnut flour.
Coconut flour is the most absorbent flour and it will soak up 2-3 times the moisture of other flours. It gives cake a sweet, neutral flavor and springy texture. I don't recommend substituting it.
Cassava flour is made from a tuber vegetable. Its fine, starchy texture is similar to wheat flour. Sub sweet rice flour or try a paleo flour blend such as Bob's Red Mill paleo all-purpose flour.
Tapioca flour or starch (same thing) gives cakes a fluffy, pillowy crumb. Sub arrowroot starch.
If you lack any of these flours and their suggested replacements, try using a good GF AP blend in their places, such as Bob's Red Mill 1 to 1 flour.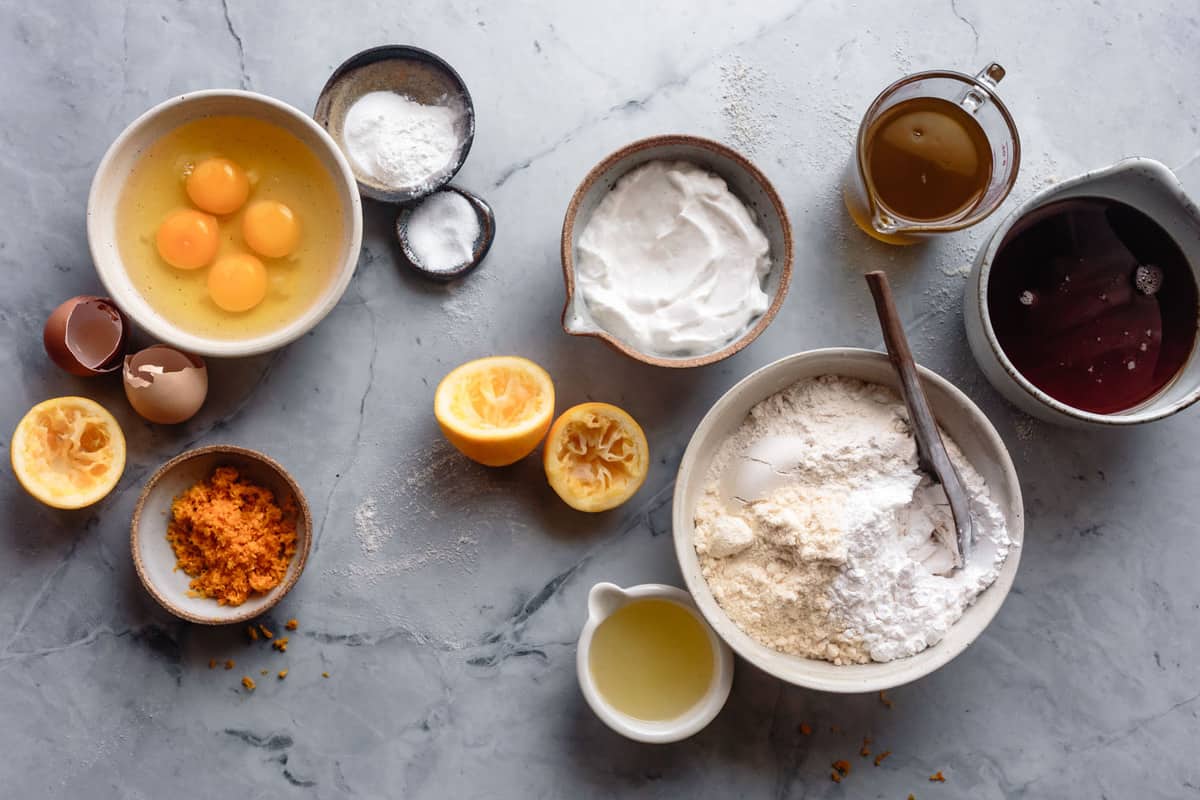 Tips for baking great gluten-free cakes
Make the recipe as written the first time around if you can! Then you'll have a better sense of whether you want to switch up the ingredients or not.
Weigh ingredients when possible for the most accurate results.
If measuring by volume, use the proper measuring vessels. Use dry measuring cups and spoons for flours and leavenings, and use the scoop and swoop (or dip and sweep) method for measuring. Dip the measuring cup or spoon into the bag or container, then use the back of a knife or a small offset spatula to scrape away excess flour from the top. (See image above!)
Make sure your oven is properly calibrated. An external oven thermometer costs around $10 and is a helpful investment for those of us who love to bake.
If substituting, it's most accurate to sub ingredients by weight. Please don't hesitate to ask if you're looking for substitution suggestions!
After baking, let your cake cook completely before cutting into it. Often the cake is still cooking from residual heat. This helps lock in moisture, keeping your cake fresh.
Now onto the cake recipes!
Chocolatey Cakes
Is chocolate your love language? If so, these deep, dark, chocolatey cakes are for you (and me!)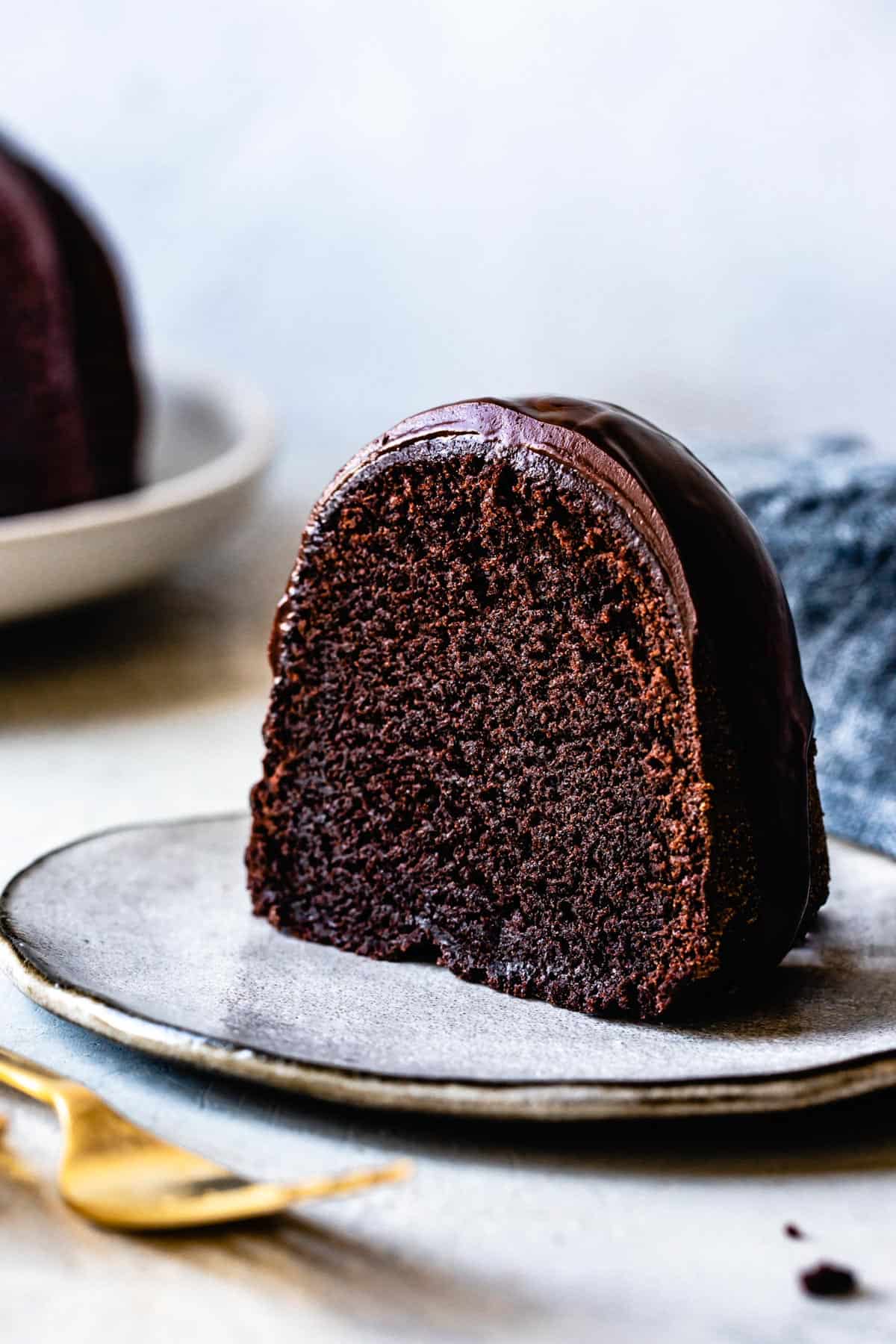 Gluten- and dairy-full cakes *wish* they could be as moist and tender as this easy one-bowl coconut flour chocolate cake. This super-moist cake keeps beautifully for days. You'd never guess that it's free of dairy, gluten, grains, nuts, and refined sugar because it tastes like the most perfectly decadent chocolate cake ever. Top it with my creamy vegan 5-minute chocolate ganache for an extra-chocolate treat.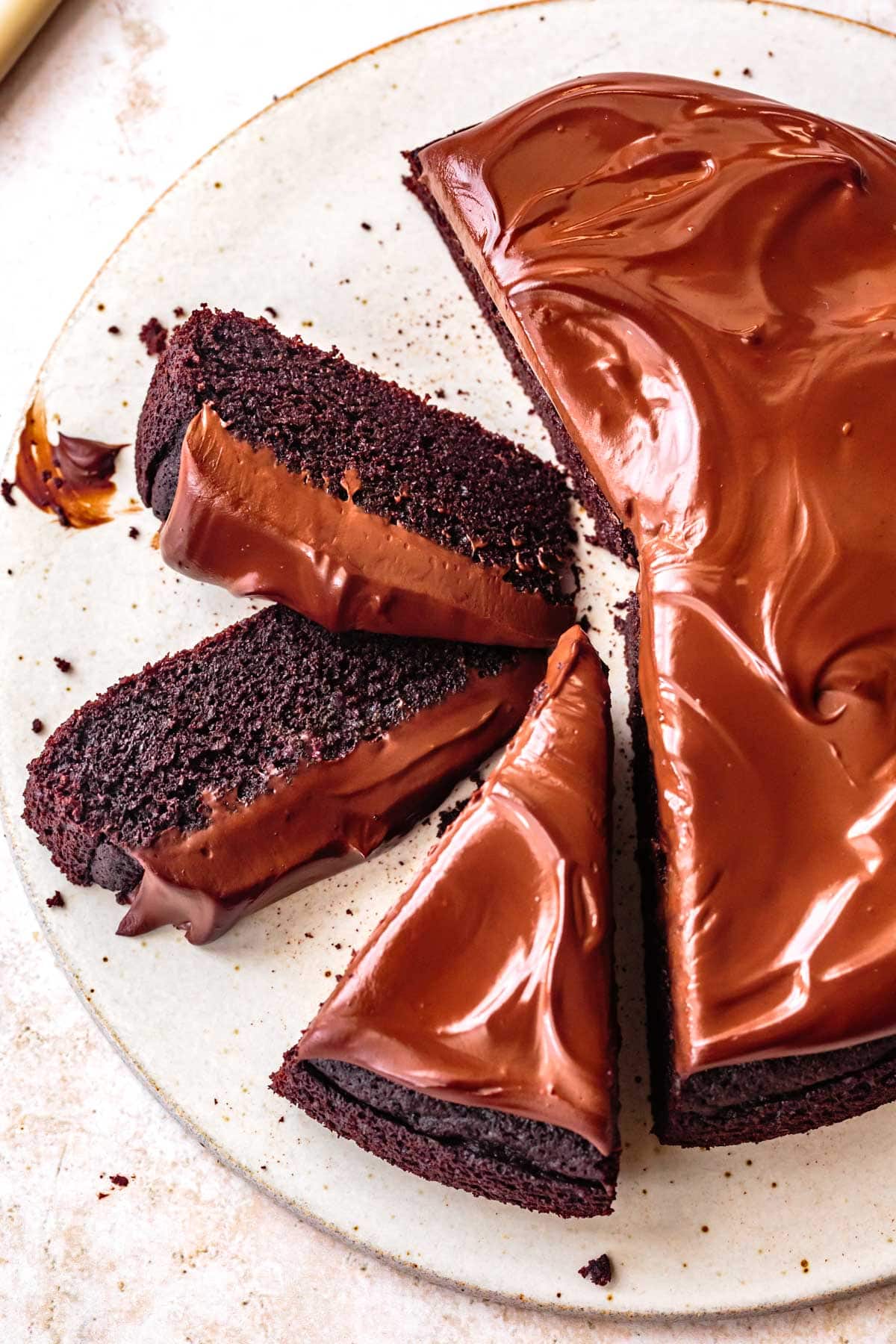 This gluten-free chocolate bundt cake recipe uses malty teff flour, molassesy brown sugar, and loads of cocoa for big chocolate flavor. Creme fraiche and butter lend a moist, fudgy crumb all drenched in luscious chocolate ganache.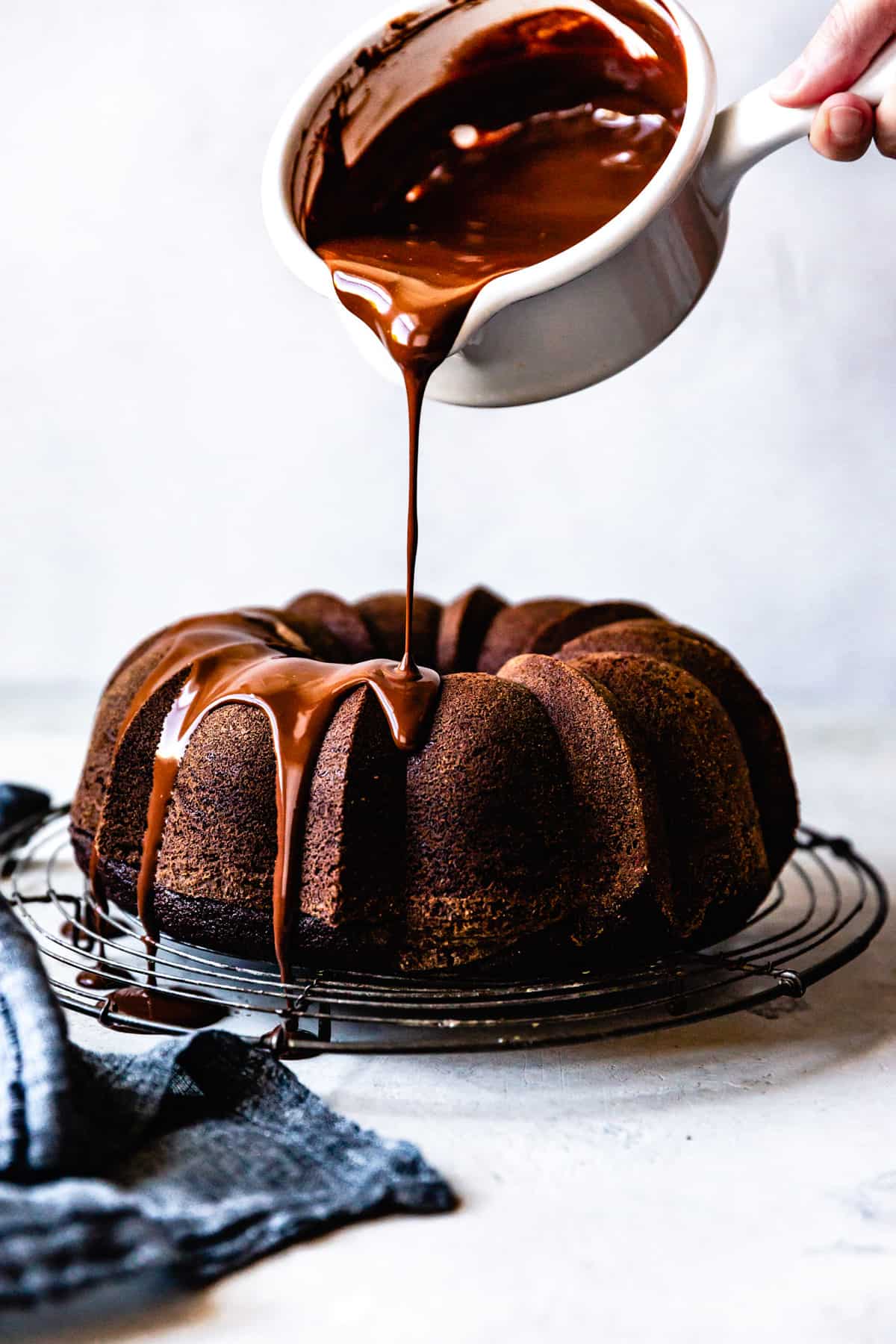 Chocolate peanut butter lovers rejoice! This cake tastes like a giant chocolate peanut butter cup thanks to roasted peanut oil in the cake and a salty-sweet peanut butter frosting. Change up the flavors by using other flavorful oils in the cake and any smooth nut or seed butter in the frosting.
Technically a chocolate torte, this sophisticated dessert gets bold flavor from olive oil, loads of bittersweet chocolate, and ground almonds. Dress up slices with seasonal berries and whipped cream, or enjoy them plain alongside tea or coffee. Either way this gluten-free cake is sure to wow your guests.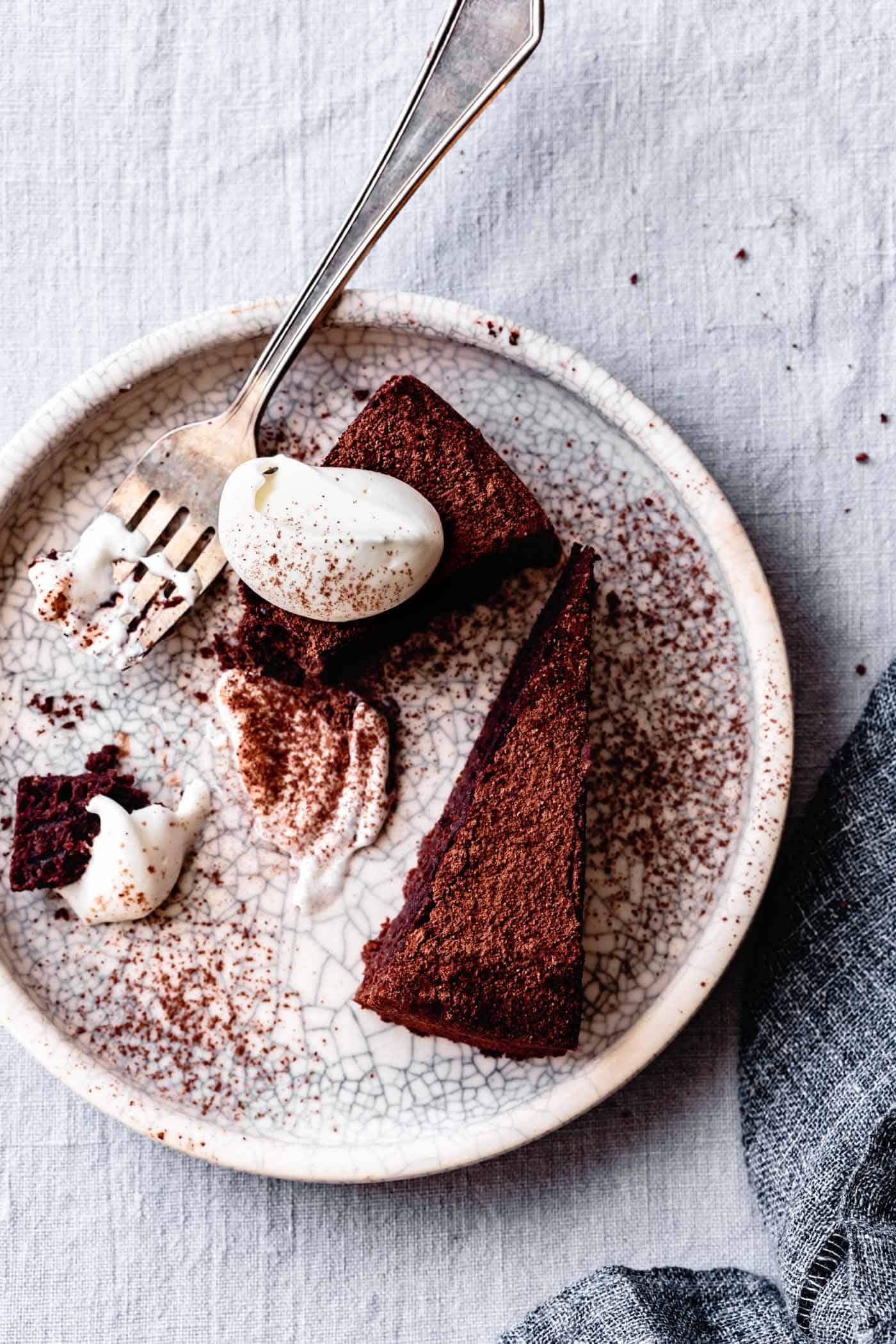 This healthy "nutella" tiramisù combines gluten-free chocolate sponge cake, boozy coffee, whipped mascarpone, and a layer of chocolate hazelnut spread for a luscious gluten-free chocolate dessert.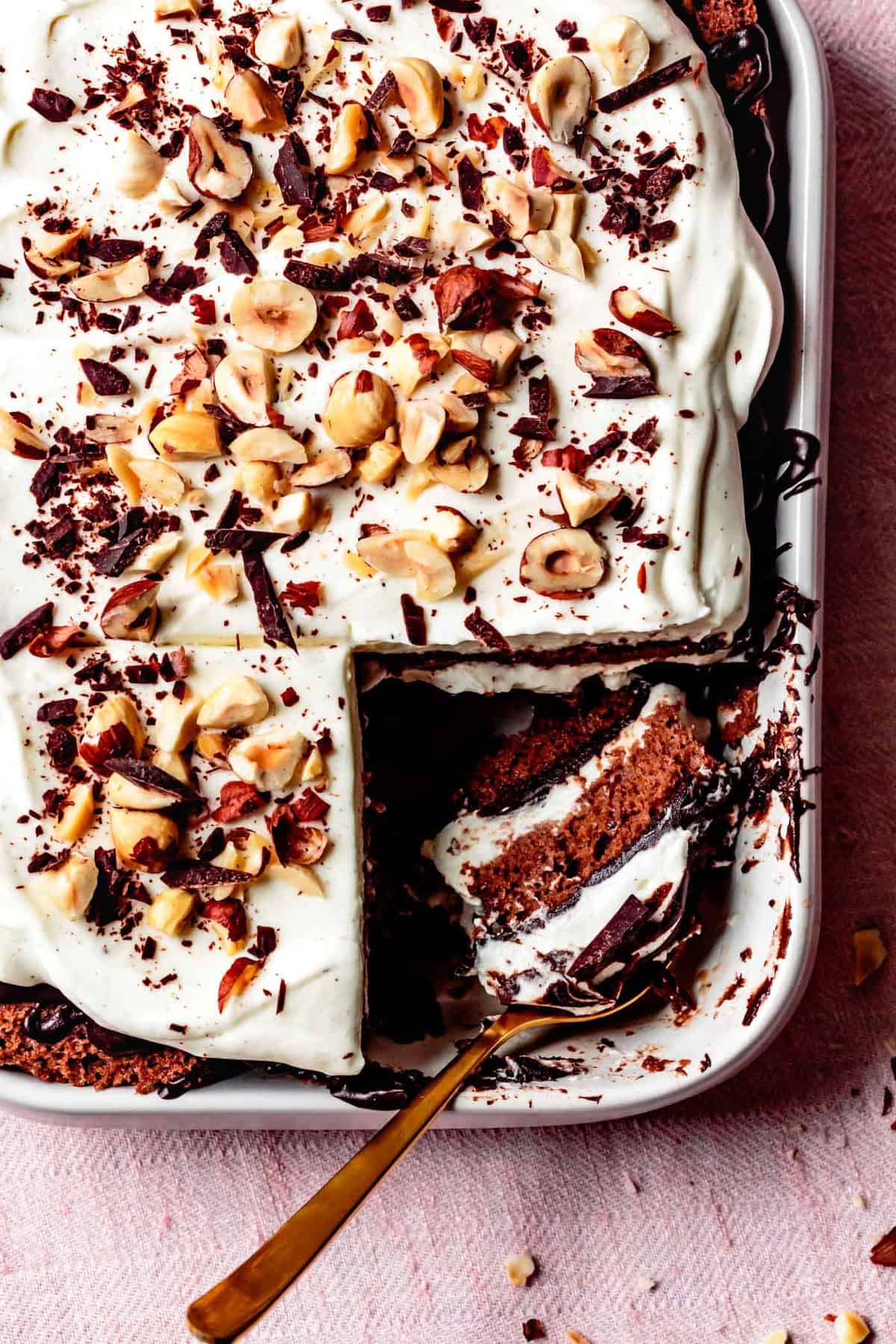 Au naturel red velvet cake tinted with cocoa, pureed beets, and beet powder. Pipe a pretty ombré frosting that's easier than it looks, or use my classic low-sugar cream cheese frosting for a tangy GF cake topping.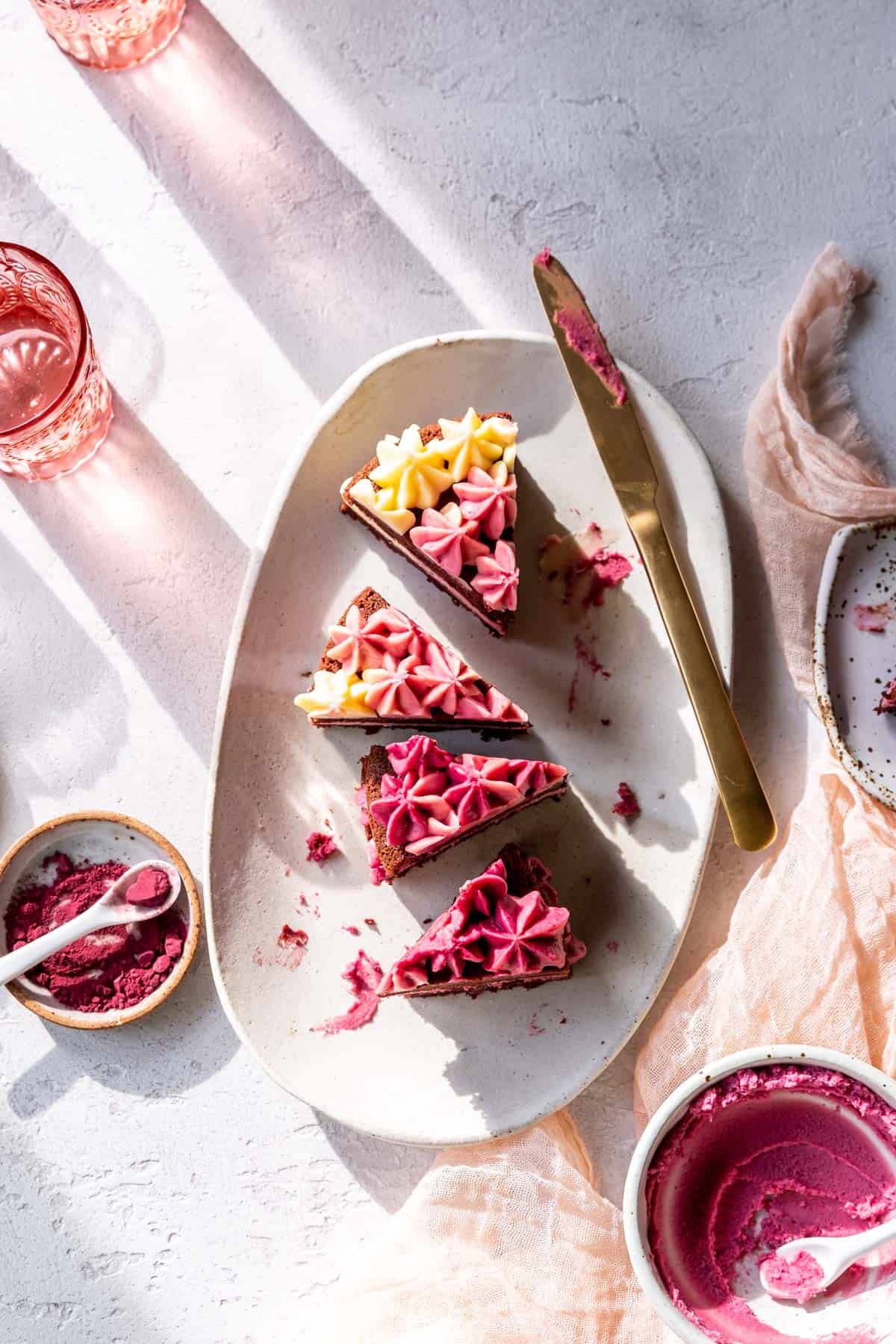 Tiramisù vibes meet cocoa chestnut layers, boozy coffee syrup, mascarpone whip, and shaved chocolate in this holiday-ready GF cake.
Matcha cream cheese frosting plays up the grassy notes in this GF cake loaded with grated zucchini, cocoa, and sorghum flour. Adapted from Alternative Baker. Use vegan cream cheese frosting or paleo cream cheese frosting to make it dairy-free too.
Need a vegan paleo option? Try this paleo zucchini bread recipe instead.
No dairy? No problem! This gluten-free vegan chocolate cake is pure chocolate bliss and refined sugar-free to boot.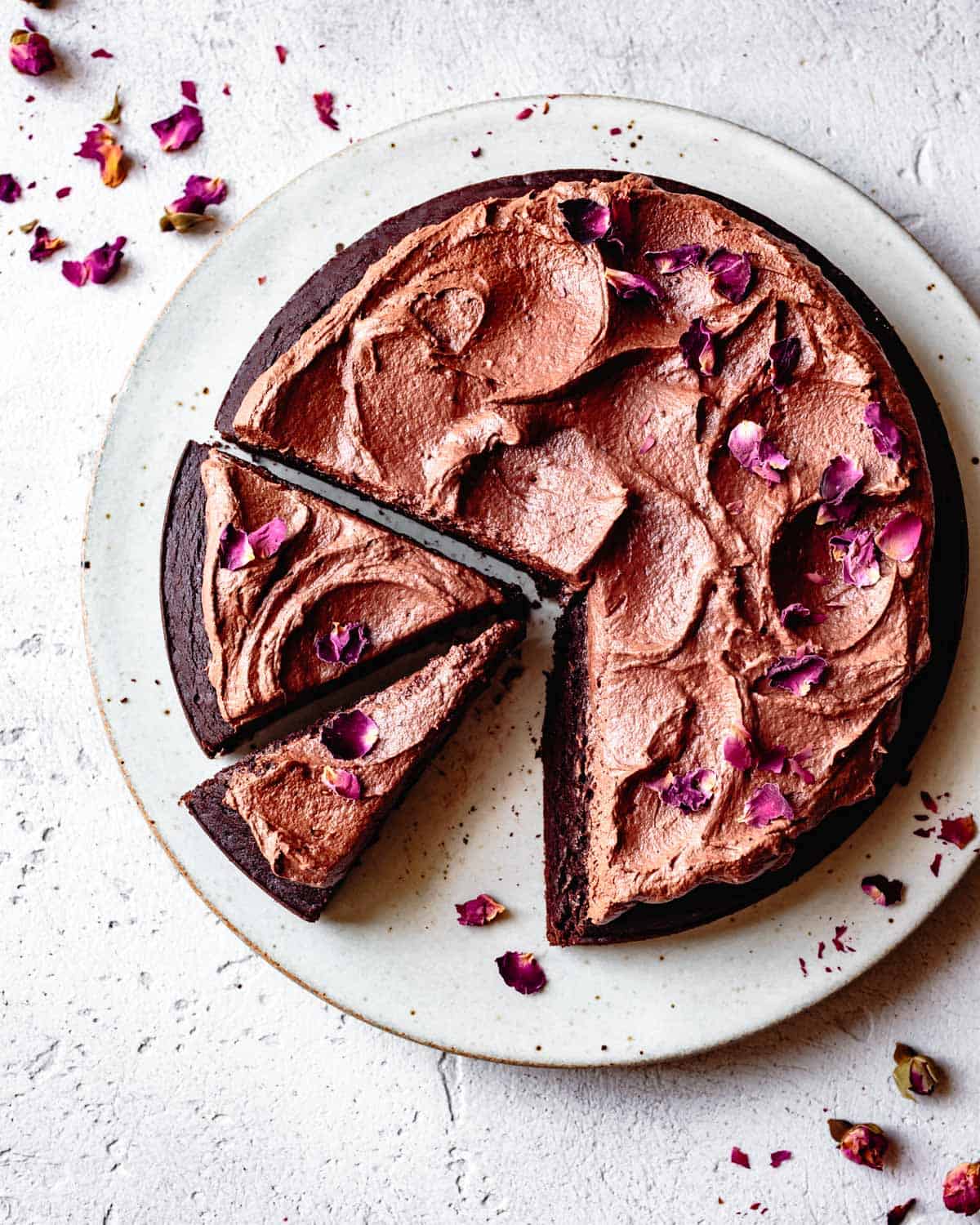 Grated chocolate graces layers of tender gluten-free sponge cake soaked with boozy coffee syrup and whipped mascarpone. With paleo and dairy-free options.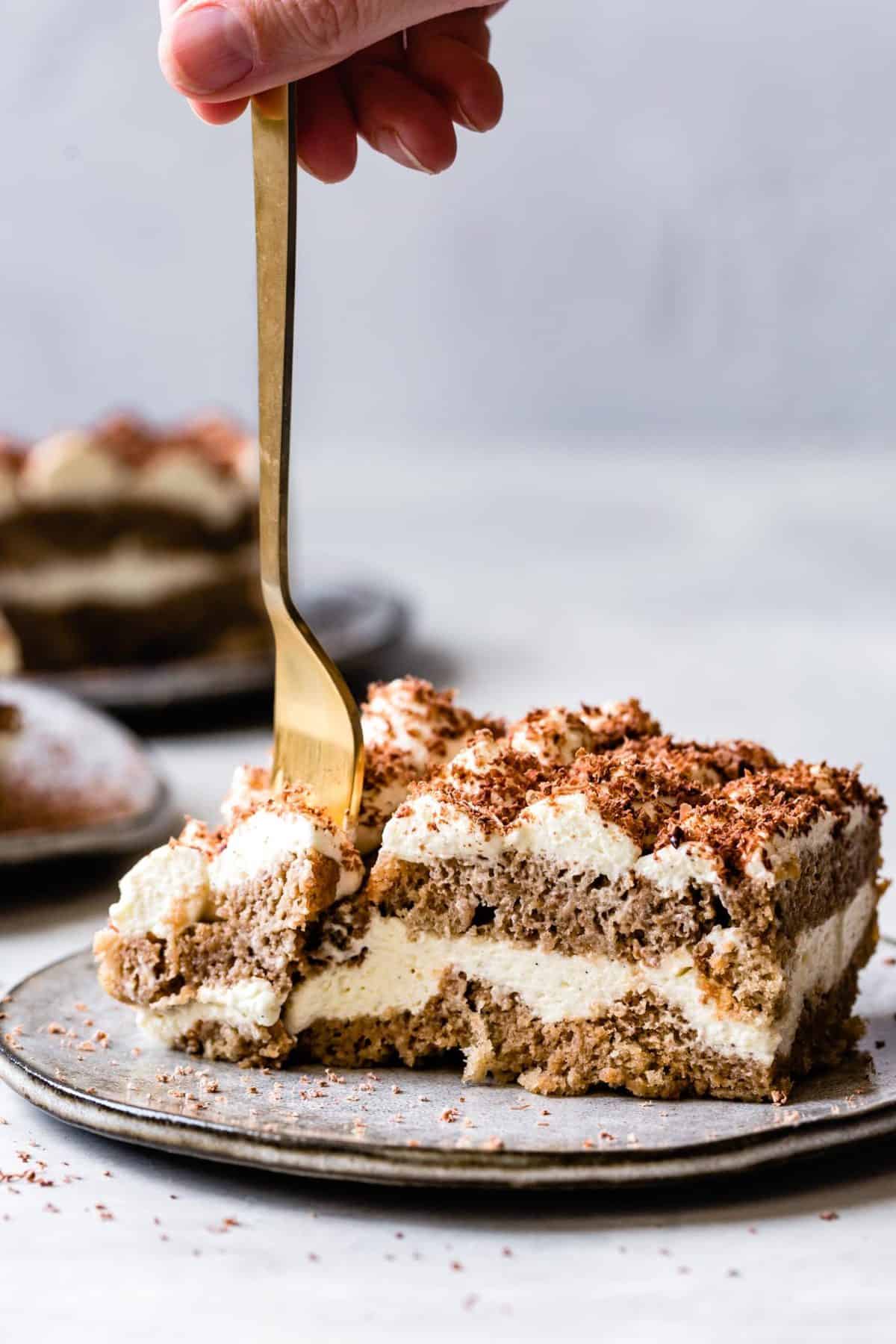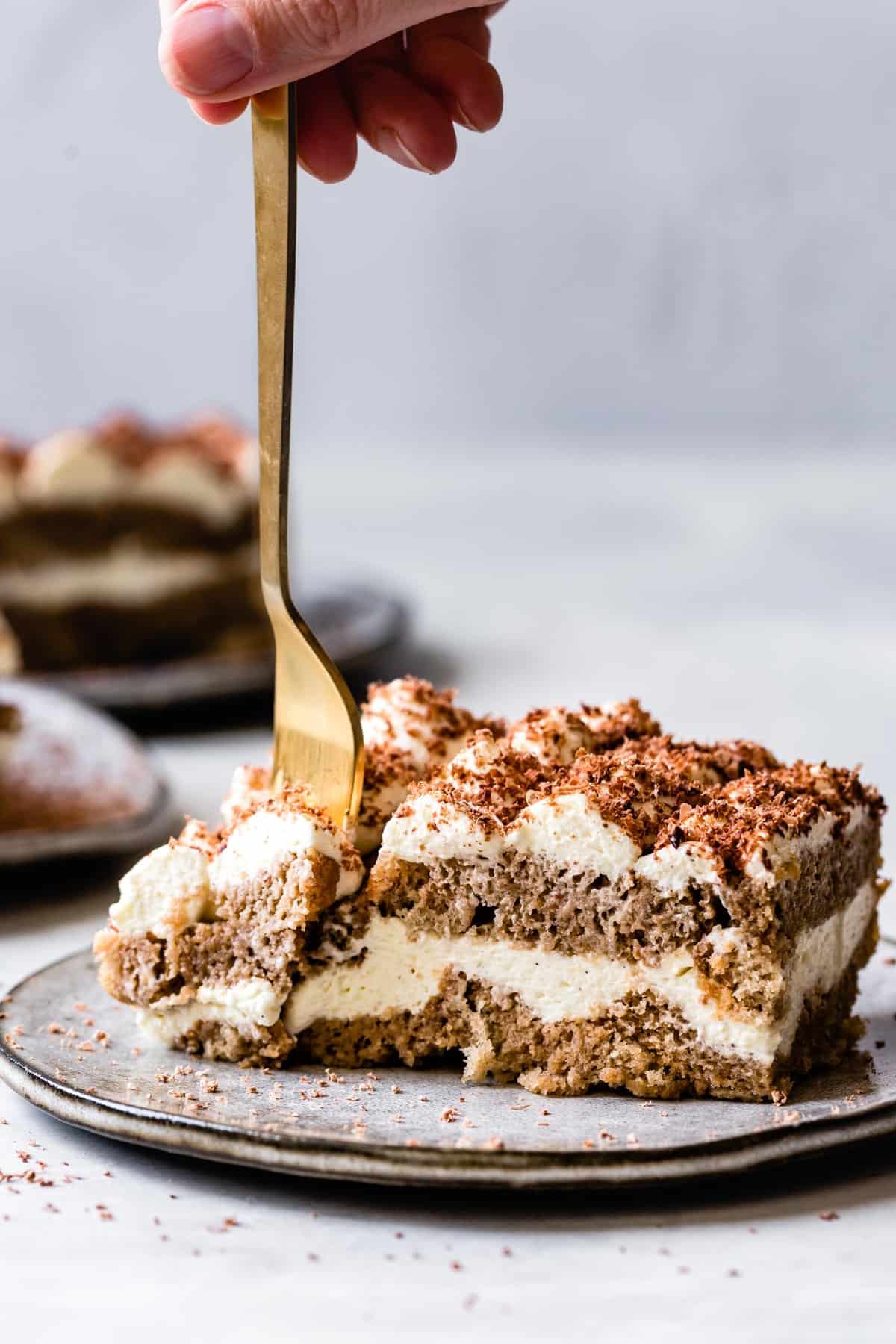 Hungry for more chocolate? Find more gluten-free chocolate dessert recipes here!
Fruity Cakes
Whatever the season, these fruity cakes make the best of local produce.
This paleo lemon cake boasts a springy crumb thanks to cassava and coconut flours, all sweetened with maple syrup. Top it with paleo cream cheese frosting for a fresh lemon dessert any day of the year.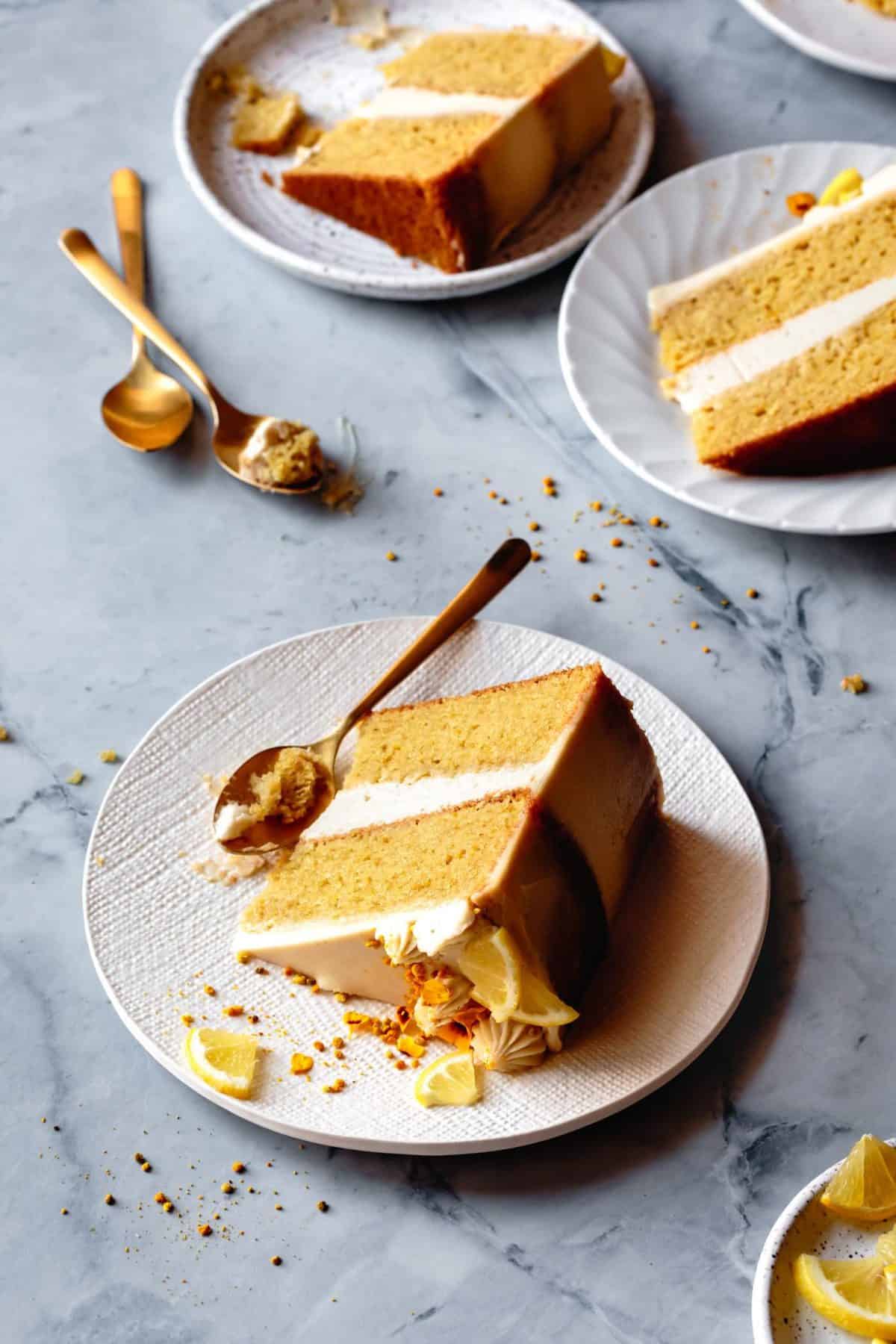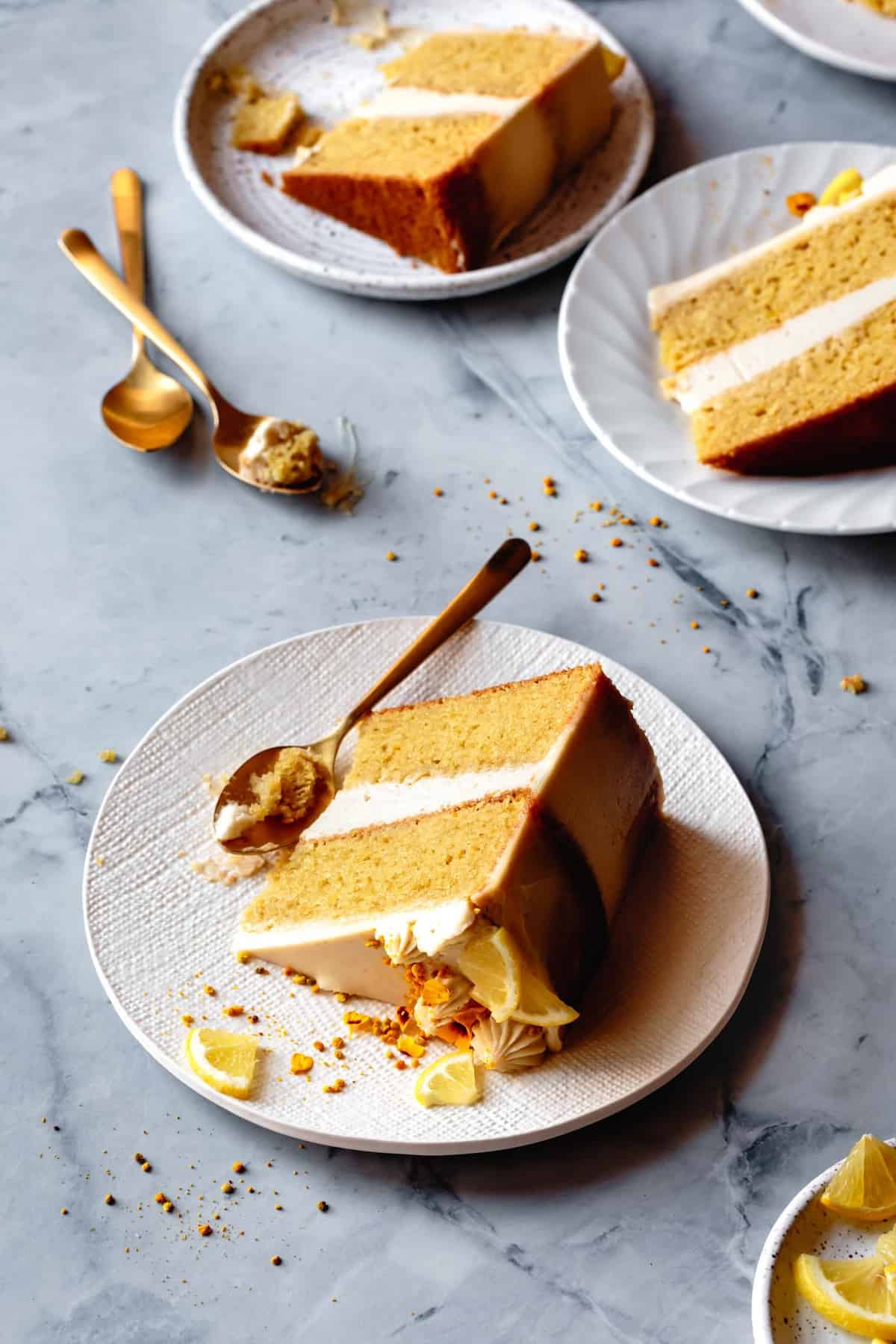 This feather-light gluten-free chiffon cake soaks up all kinds of luscious flavors, from berries and cream to trifle to tiramisù. With maple-sweetened, grain-free, dairy-free, and paleo-friendly options.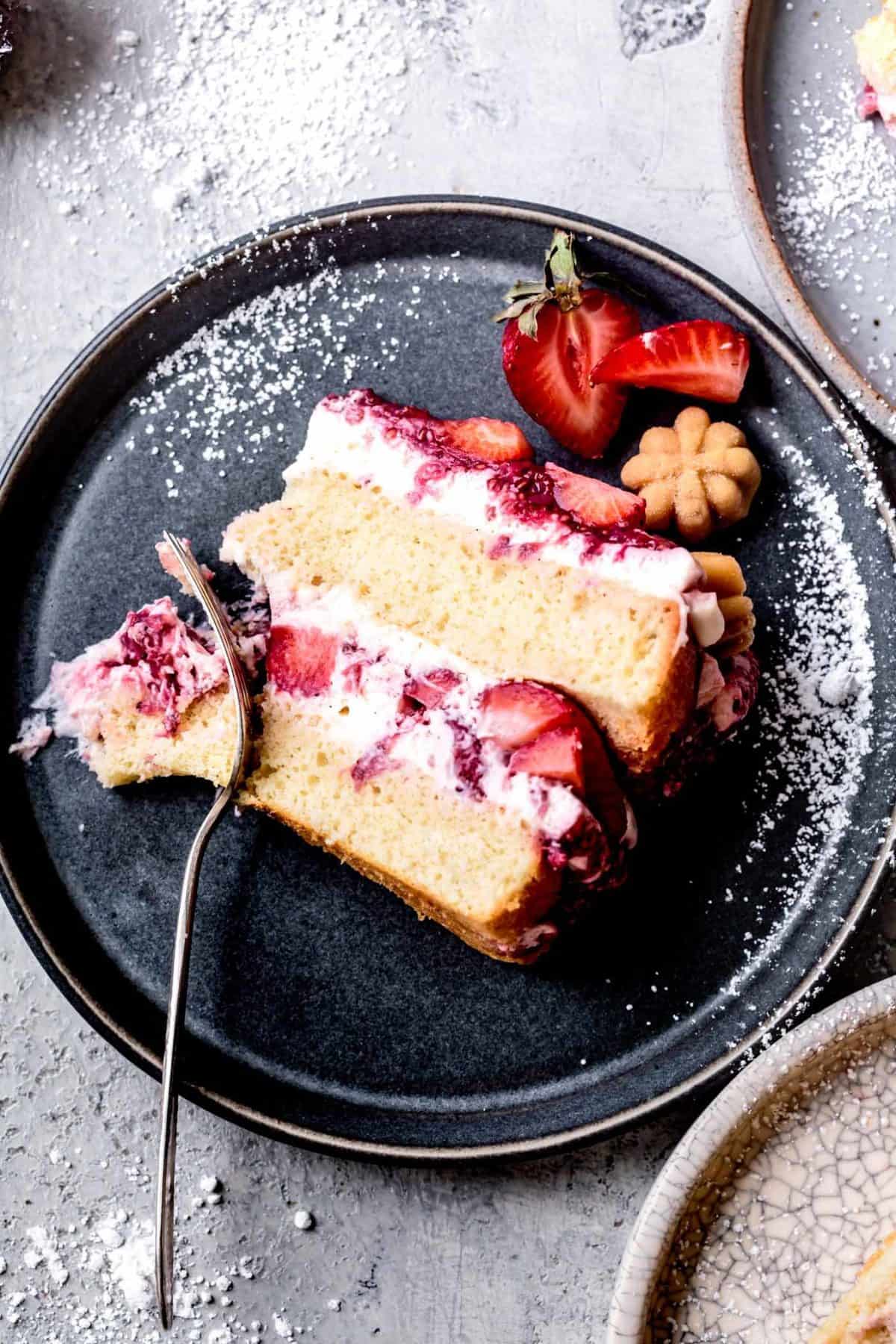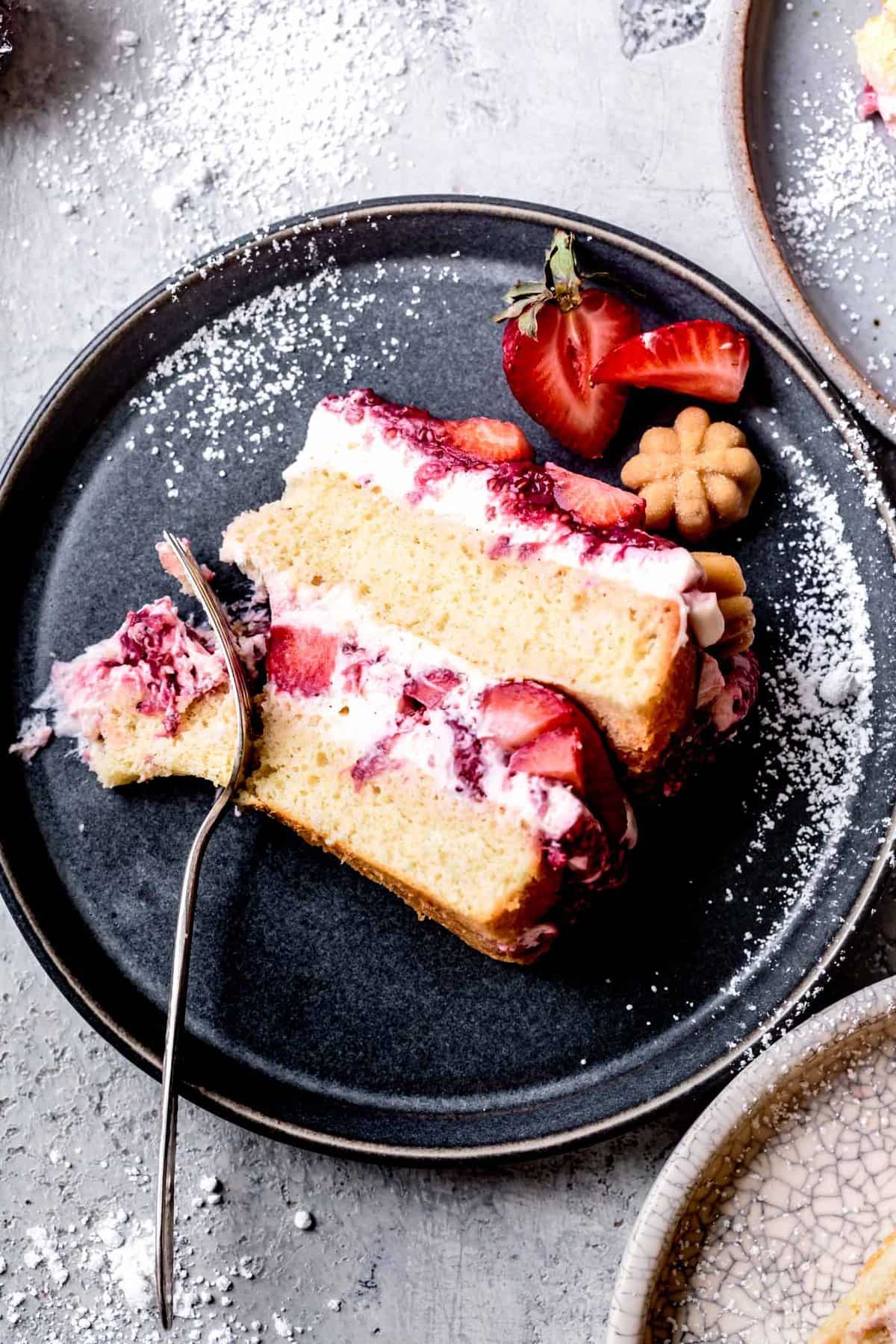 This updated coffee shop classic gets an ultra-tender crumb from butter and sour cream, earthy flavor from brown sugar, oat, and sorghum flours, plus jammy blueberries and salty-sweet streusel. Use frozen berries if you like, or swap in other berries, stone fruit, or rhubarb.
Make these easy little gluten-free loaf cake with blueberries, blackberries, raspberries, or huckleberries (should you be so lucky). Fresh lemon verbena adds an herbaceous twist if you've got some on hand, or use fresh mint or basil instead. Top with vanilla bean glaze for a teatime treat.
A French pudding cake of sorts, clafoutis melds fresh or frozen cherries with buttery vanilla-almond batter for a laid-back summertime dessert. Make this with other fruit such as peaches, apricots, plums, or pears and call it a flognarde.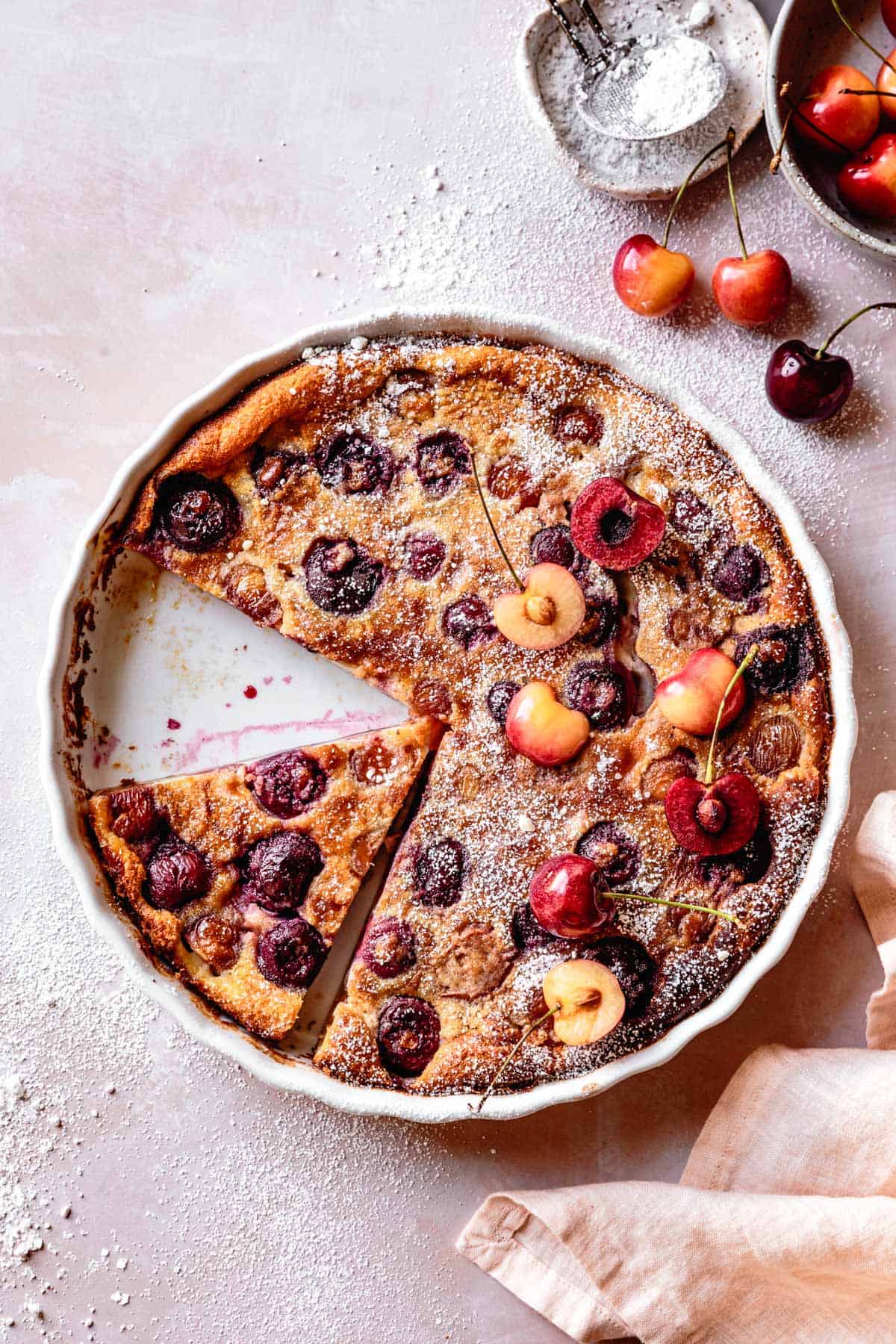 One of my all-time favorite recipes. This pillowy cake is redolent with warm banana flavor and smothered in a layer of boozy chocolate ganache. Gluten- and dairy-free.
If you need a chocolatey paleo vegan banana bread recipe, I've got you covered!
More banana love! This GF banana sheet cake gets big flavor from brown butter and teff flour, all topped with cream cheese frosting and a swirl of butterscotch sauce.
Or try this grain-free banana bread with cinnamon, dates, and walnuts.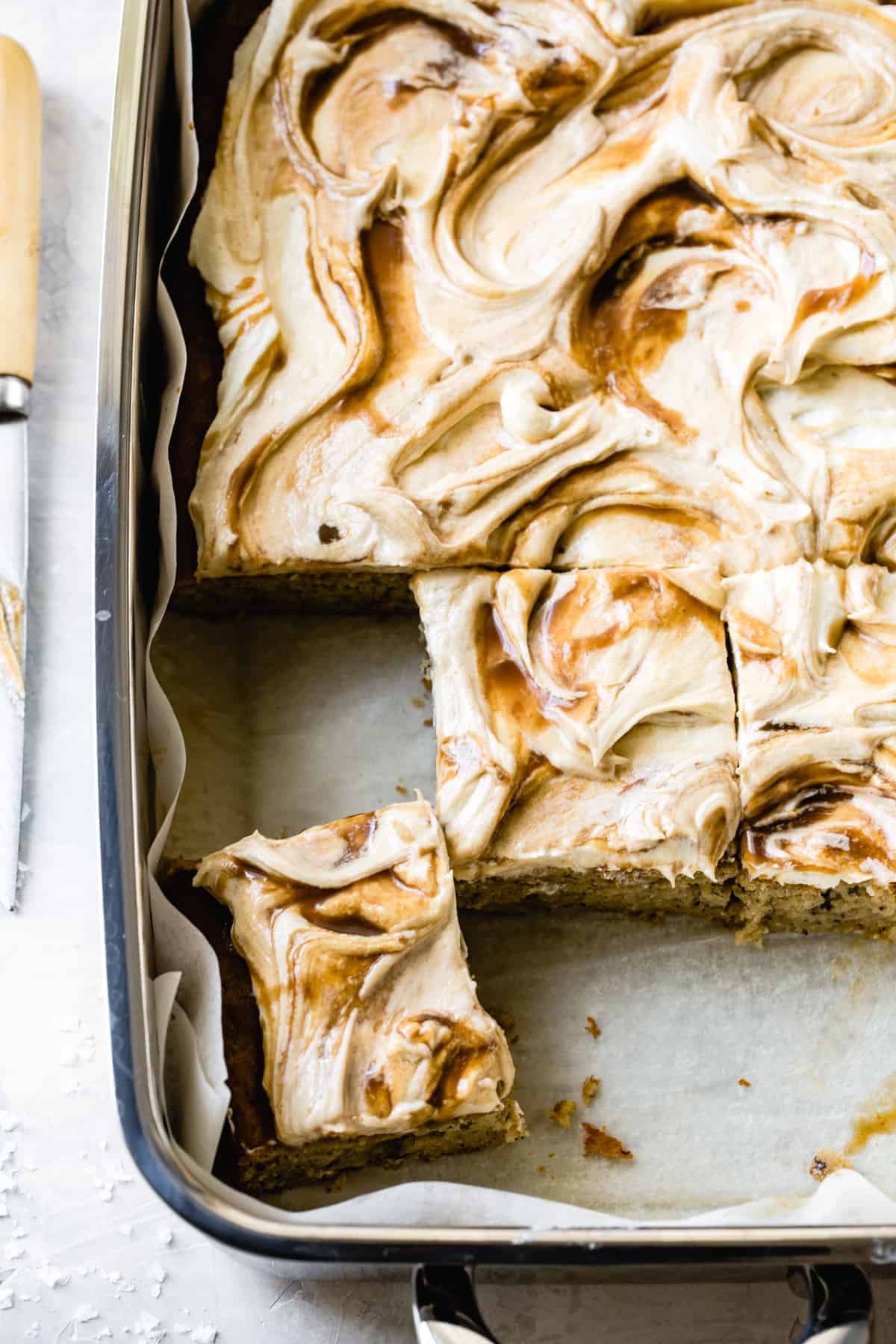 Fall on a plate! Gluten-free apple cake gets an upgrade with vanilla bean browned butter, cinnamon, hazelnut, and brown sugar all loaded with tangy apples and baked in a skillet. Serve slices of this beauty with crème fraiche or ice cream at Thanksgiving and all season long.
Layers of spiced persimmon cake, boozy cream cheese frosting, and diced persimmons make a unique December dessert.
Poached quince and fresh ginger combine with tender, buttery cake for a fall stunner. Feel free to make this gluten-free upside-down cake with mulled wine poached pears if you prefer.
For a summery variation, try this nectarine plum and almond upside-down cake, rosemary peach upside-down cake, or brown sugar peach upside-down cake.
With chai spices and ripe pears, this gluten-free cake makes a cozy fall dessert. Make this with peaches during summer months.
Spice Cakes
Sugar and spice make GF cakes nice! Cozy up to these fall-forward cakes when the weather turns cool... or any time of year.
I could eat this every day of the week and be perfectly content. This gf carrot cake has a moist, lofty crumb that's loaded with spices and grated carrots. Dairy-free with a paleo sugar-free option. Slather it with vegan cream cheese frosting or paleo cream cheese frosting for dairy-free or paleo-friendly cake.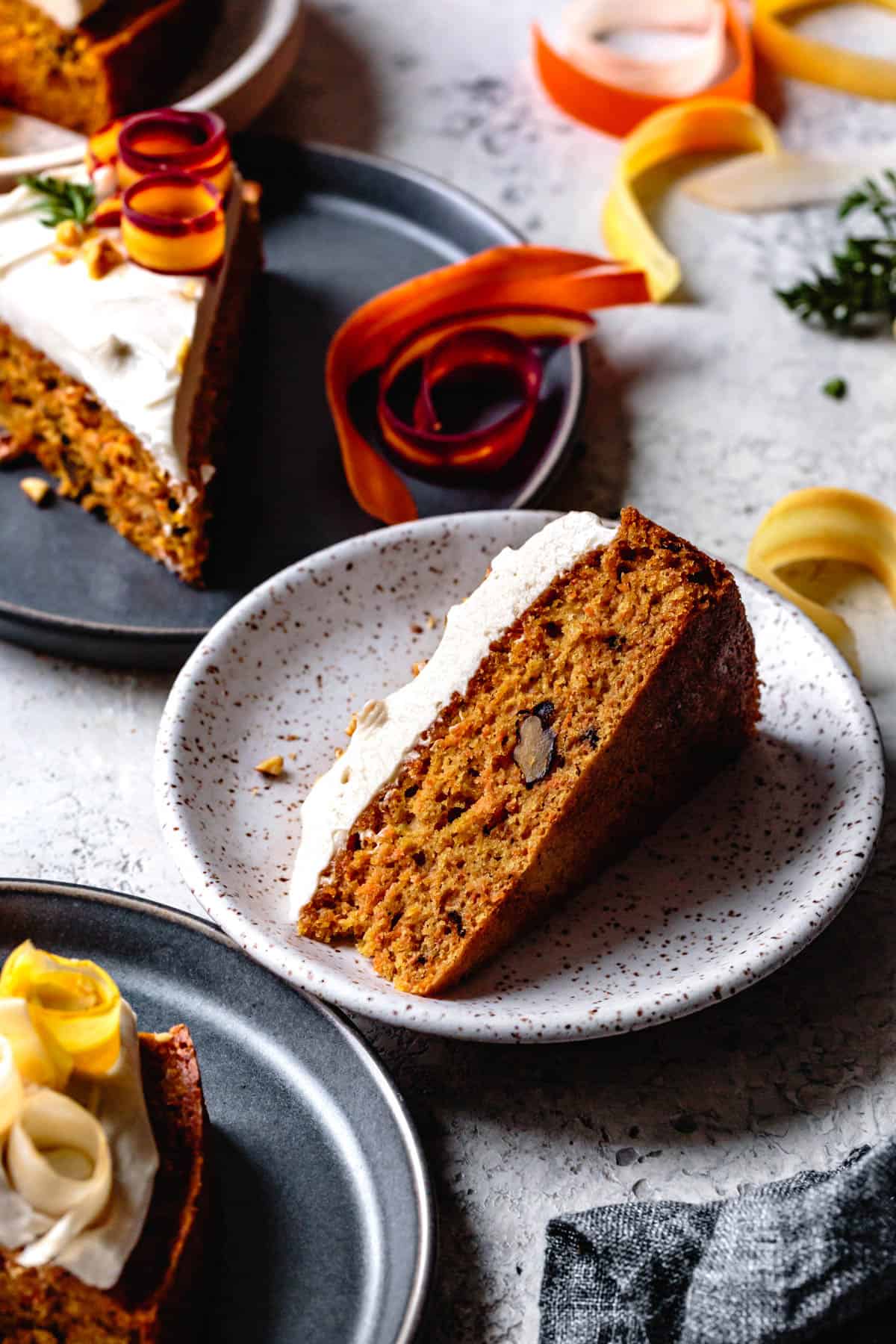 Cake in a loaf pan! This floofy gluten-free dairy-free pumpkin bread is a fan favorite here on TBG. Mix it up in one bowl and drizzle with maple glaze for a fall feast.
AKA chomeur, this gooey cake is a snap to make and even easier to eat. I've brought this to countless Thanksgiving dinners, sometimes made dairy-free, and it's always a huge hit. Spoon warm cake and gooey maple sauce into bowls and top with ice cream. Or try this version made with chestnut flour.
Nutty Cakes
Substantial, rich, moist and tender. These nutty cakes and gluten-free tortes sing with sophisticated flavor.
Gluten-free olive oil cake gets a flavor boost from lemon zest and almond flour, keeping it grain-free and dairy-free to boot. Enjoy this incredibly moist, tender, springy cake on its own, or serve it up with whipped cream and fresh spring berries.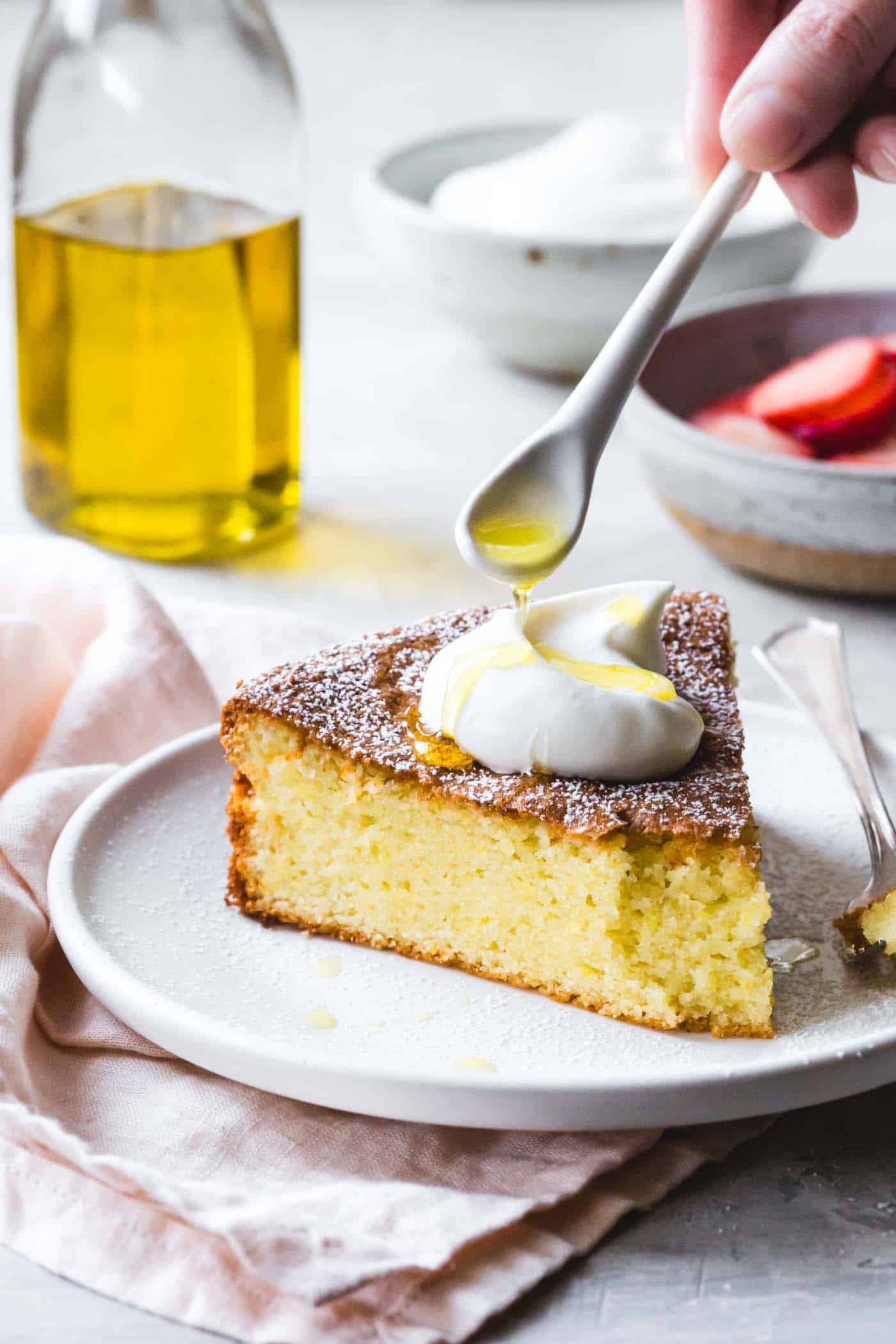 Not your typical rhubarb cake! This beauty gets a nubby crumb from almond flour loaded with the flavors of olive oil, lemon zest, and tart rhubarb. Switch out the rhubarb for berries, plums, figs, or any other seasonal fruit you like.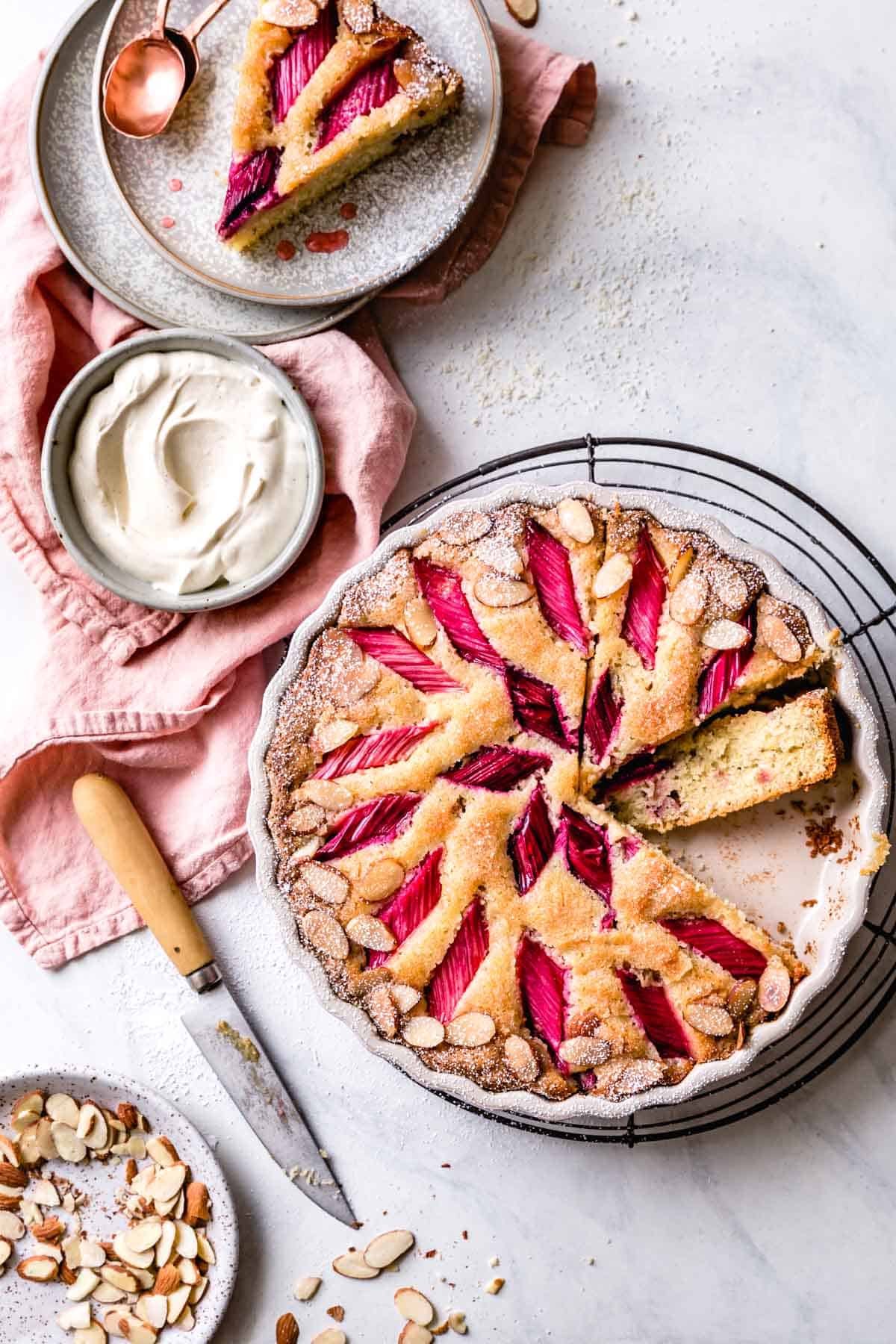 You might also like these nutty gluten-free cakes:
Gluten-Free Cheesecake
Tangy, rich, and moist, cheesecakes are ideal for those who crave salty-sweet goodness for dessert.
Baked in a loaf pan for when you just need a few servings. Use homemade gluten-free graham crackers if you like! Top with seasonal fruit of your choosing.
Or try these GF berry cheesecake bars or huckleberry cheesecake bars.
With a press-in cocoa-almond crust, rich chèvre-kissed filling, and a cream cheese topping, this dessert is sure to wow. Top it with seasonal fruit if you'd like to gild the lily.
Or try this chocolate raspberry number.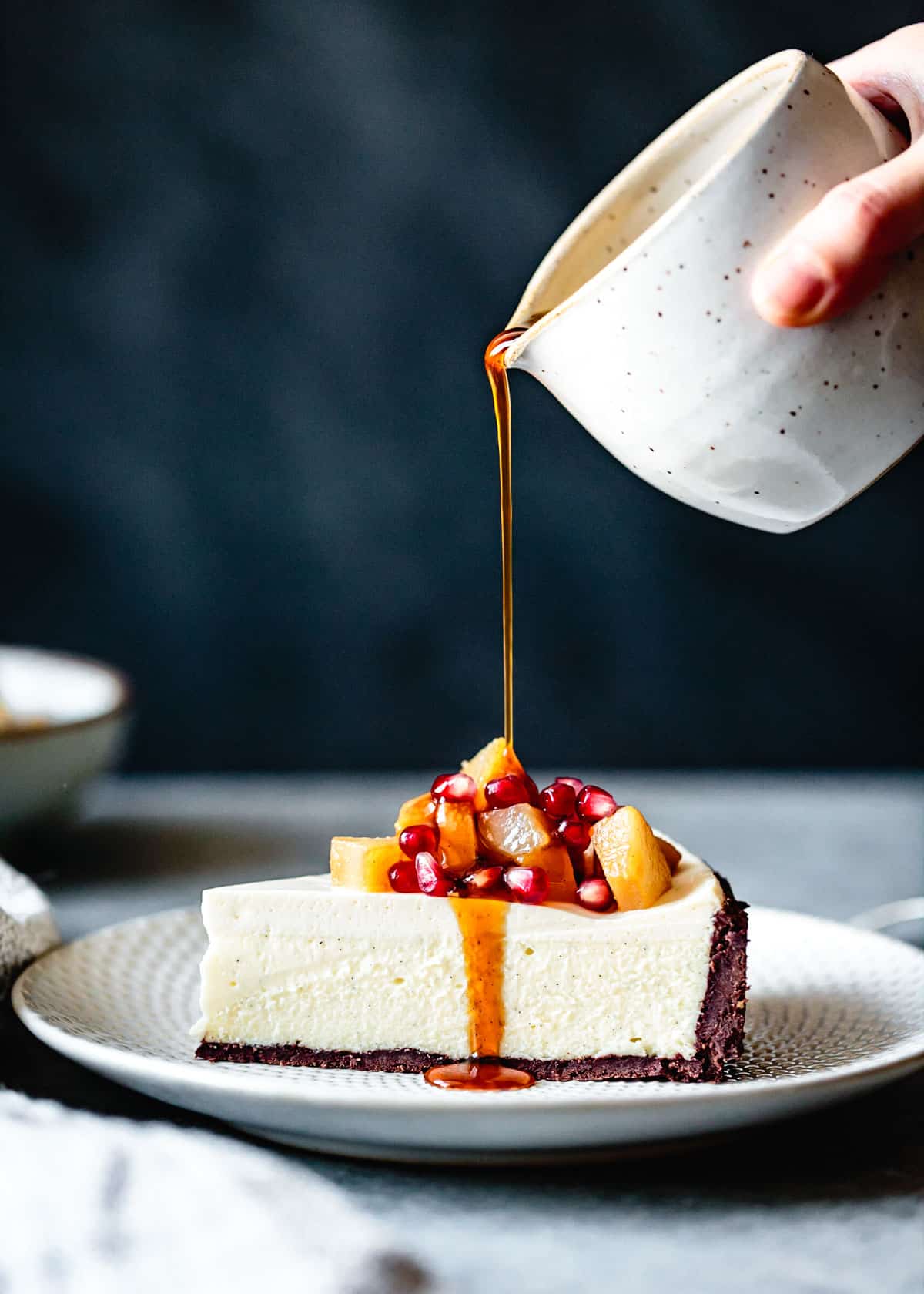 This no-bake cheesecake made from pantry staples is just the ticket when it's too hot to turn on the oven. Paleo, vegan, and sugar-free.
Or try this raw vegan pumpkin cheesecake.
Favorite Healthier Frostings and Toppings for Cakes
Don't ruin your perfect gluten-free cake with sickeningly sweet frosting; try these instead!
*Bojon appétit! For more Bojon Gourmet in your life, follow along on Instagram, Facebook, or Pinterest, purchase my gluten-free cookbook Alternative Baker, or subscribe to receive new posts via email. And if you make any of these gluten-free cake recipes, I'd love to know. Leave a comment and rating below, and tag your Instagram snaps @The_Bojon_Gourmet and #bojongourmet.*
Gluten-Free Cake: Chocolate Bundt Cake
Print Recipe
Pin Recipe
This gluten-free chocolate bundt cake gets its fudgy interior and fine crumb from nutrient-rich teff flour plus loads of butter and crème fraîche, all crowned with dark chocolate ganache. Serve slices with whipped cream.
Servings:
16
small but rich servings, makes one 10-inch bundt cake
Ingredients
Cake:
2

teaspoons

softened butter, for the pan

1 ½

cup

(233 g) GF teff flour, plus more for dusting the pan (or sub oat, chestnut, or AP flour by weight)

½

cup

(80 g) sweet white rice flour

¼

cup

(30 g) tapioca flour/starch (or an additional tablespoon sweet rice flour)

1

cup

+ 2 tablespoons (100 g) dutch-processed cocoa powder

2

teaspoons

baking powder

1

teaspoon

baking soda

1 ½

teaspoons

fine sea salt

2 ¼

cup

(530 g) packed organic light brown sugar

2

teaspoons

vanilla extract

1 ¼

cups

(300 ml) hot water

3

large eggs
Instructions
Make the cake:
Position a rack in the center of the oven and preheat to 350ºF. Use a pastry brush to very thoroughly butter the inside of a 9 or 10-inch (10 or 12-cup) bundt pan, being sure to get into all the little nooks and crannies. The butter should be at room temperature and the consistency of mayonnaise so that it clings to the pan, not melted which will run down the sides of non-stick pans and not do any good. When the pan is thoroughly coated, dust the pan with a few tablespoons of teff flour, tapping it around the the interior to cover every surface. Turn the pan over in the sink and gently tap the pan to remove any excess flour.

In a large mixing bowl, sift together the teff, sweet rice, and tapioca flours with the cocoa powder, baking powder, baking soda, and salt. Add the brown sugar, crème fraiche, melted butter, vanilla, and hot water to the batter. Add the eggs and quickly whisk the batter until smooth and no lumps remain.

Pour the batter into the prepared pan and bake until the top springs back to the touch and a toothpick comes out with moist crumbs, 45-55 minutes. Remove from the oven and let cool at least 10 minutes. Invert a wire rack over the bundt pan, grasp both with oven mitted hands, and flip the whole thing over. Remove the bundt pan and let the cake cool completely on the wire rack, about 1 hour.
Make the ganache:
In a small saucepan, bring the cream to a bare simmer over medium heat. Remove the pan from the heat and add the chocolate. Let sit until melted, about a minute, then gently whisk until smooth. Whisk in the crème fraîche, whiskey, vanilla and salt. The ganache should be thick but pourable; if it's too thin, let sit at room temperature to thicken up a bit. If it's too thick, warm over a low flame for a few seconds, stirring constantly.

Pour the ganache over the cake. Let set at room temperature until firm enough to slice, 20 minutes or so.
Notes
Nutritional values are based on one of sixteen servings.
Nutrition
Calories:
403
kcal
Carbohydrates:
53
g
Protein:
5
g
Fat:
21
g
Saturated Fat:
12
g
Cholesterol:
79
mg
Sodium:
358
mg
Potassium:
270
mg
Fiber:
4
g
Sugar:
34
g
Vitamin A:
590
IU
Vitamin C:
0.2
mg
Calcium:
116
mg
Iron:
2.5
mg