This gluten-free tiramisu starts with homemade gluten-free sponge cake which is easier than lady fingers! Layer it with 5-minute mascarpone cream and quick coffee syrup for a simpler take on the classic dessert recipe.
Dairy-free and grain-free options included!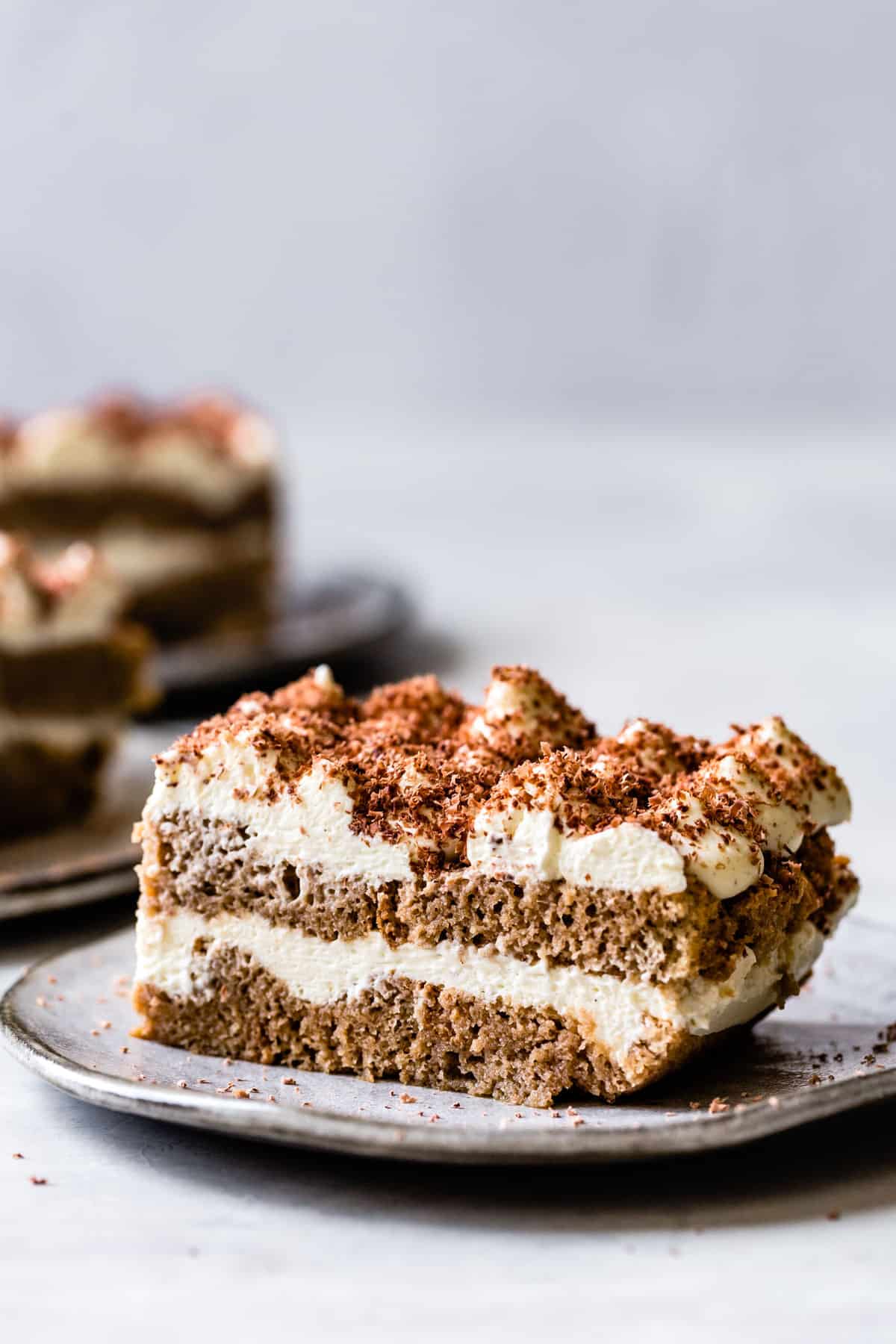 Tiramisù was one of the first desserts I learned to make professionally at a restaurant where I worked during high school. The chef, Serge, showed me how to cook the zabaglione, dip ladyfingers in coffee syrup, and layer the whole thing with whipped mascarpone. He did so while yelling at me in his thick southern French accent, then, in the next breath, pondering, unironically, why his children wouldn't go near the kitchen.
Somehow, Serge's abuse didn't deter me from working in restaurants or making tiramisù. Though I fled the restaurant industry in 2013 and never looked back, I continue to have a super soft spot for tiramisù today.
I've shared gluten-free tiramisù recipes in my cookbook, on Instagram, and on a brand partner's website, and the time has come to give my go-to formula a home here on TBG!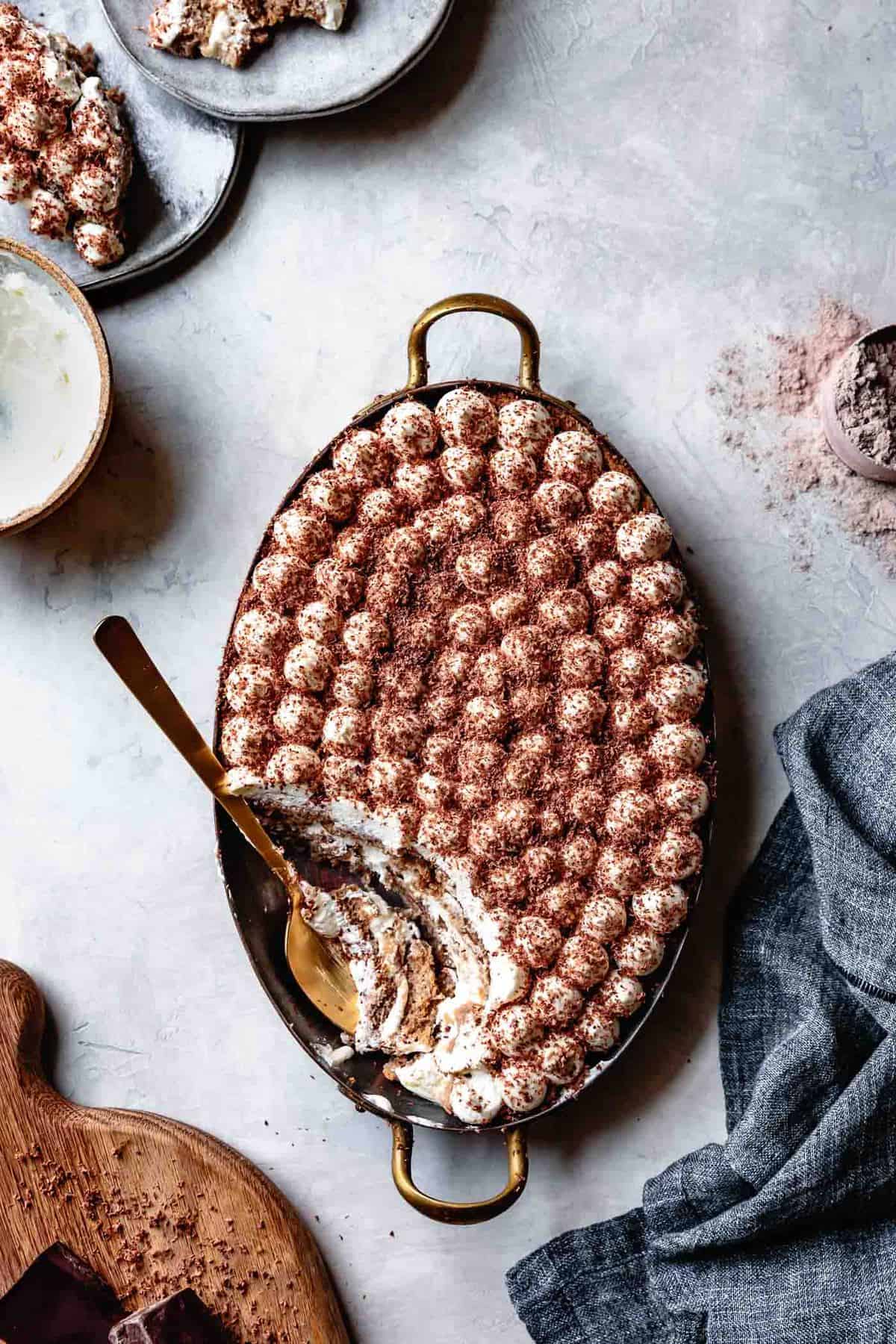 Easy Gluten-Free Tiramisù for Cheaters
This gluten-free tiramisù dessert recipe is a quasi-cheater version that would for sure get me yelled at by an ornery chef, but I stand by it nonetheless. Usually, you start with storebought ladyfingers, which you dunk in coffee syrup. Then you make a zabaglione (a.k.a. sabayon) from egg yolks whipped with sugar and booze in a bain marie until frothy and warm. This you fold into whipped mascarpone cream, which you layer with the soaked ladyfingers.
Some tiramisù recipes skip the zabaglione and just use raw egg yolks whipped with sugar, which I'm way too squeamish for.
I prefer to use my gluten-free sponge cake as the base for this recipe, baked in a square pan and cut into strips. This is because, as I learned in pastry school, piping homemade ladyfingers is not for the novice baker. But my foolproof gluten-free chiffon cake is!
Since I'm already asking you to make a cake from scratch, I choose to (*gasp*) skip the zabaglione, which I find to be the most tedious and least interesting part of the whole dessert. Plus this way, rather than ending up with a whole bunch of lonely egg whites, you only have a couple of extra yolks from the cake recipe. These are easy to get rid of in a scramble for breakfast the next day.
Instead, I drizzle the cake strips with boozy coffee syrup, smother the layers with whipped mascarpone, dust the top with grated chocolate, and call it a day. You still get tender bites of coffee-laden cake, the salty tang of billowy mascarpone cream, and a touch of chocolate goodness. (And if you need more chocolate still, try my chocolate hazelnut "nutella" tiramisu!)
That said, if you prefer to go more traditional, use the zabaglione recipe from this classic tiramisu from Ali at Gimme Some Oven.
Ingredients & Substitution Suggestions:
This recipe starts with making a batch of my gluten-free sponge cake or grain-free/paleo sponge cake; any variation will work! The one shown here is the classic (sugar-sweetened) version using sweet rice, oat, and teff flours.
Strongly brewed coffee or espresso gives this dessert its distinctive flavor and name (tiramisù means "pick-me-up" because of the caffeine!) Use decaf if you're sensitive like I am. Or use a coffee substitute such as Teecino or Rasa. You could also use strongly-brewed tea of your choice: Earl Grey, black tea, jasmine tea, masala chai, matcha, or any other flavor you love!
Booze: Marsala is the traditional spirit to use in the coffee syrup, but you can use dark or gold rum, bourbon or other whiskey, brandy, nocino (spiced green walnut liqueur), or any other flavorful spirit you like. If you want to skip the booze altogether, just use extra coffee.
Sugar sweetens the syrup, but feel free to use coconut sugar, maple syrup, date syrup, or any other sweetener you prefer. Use less sweetener if the alcohol you're using is sweet.
Mascarpone and heavy cream whipped together make for luscious layers. (Make this with paleo vegan cream cheese frosting for a dairy-free option!)
Vanilla, sugar, and salt sharpen the flavors. Feel free to use any other sweetener you prefer.
Dark chocolate, grated over the top, adds more earthy goodness. Unsweetened chocolate would work too, just be sure you have a bar of chocolate for grating ease. Cocoa powder works too.
How to make gf tiramisù: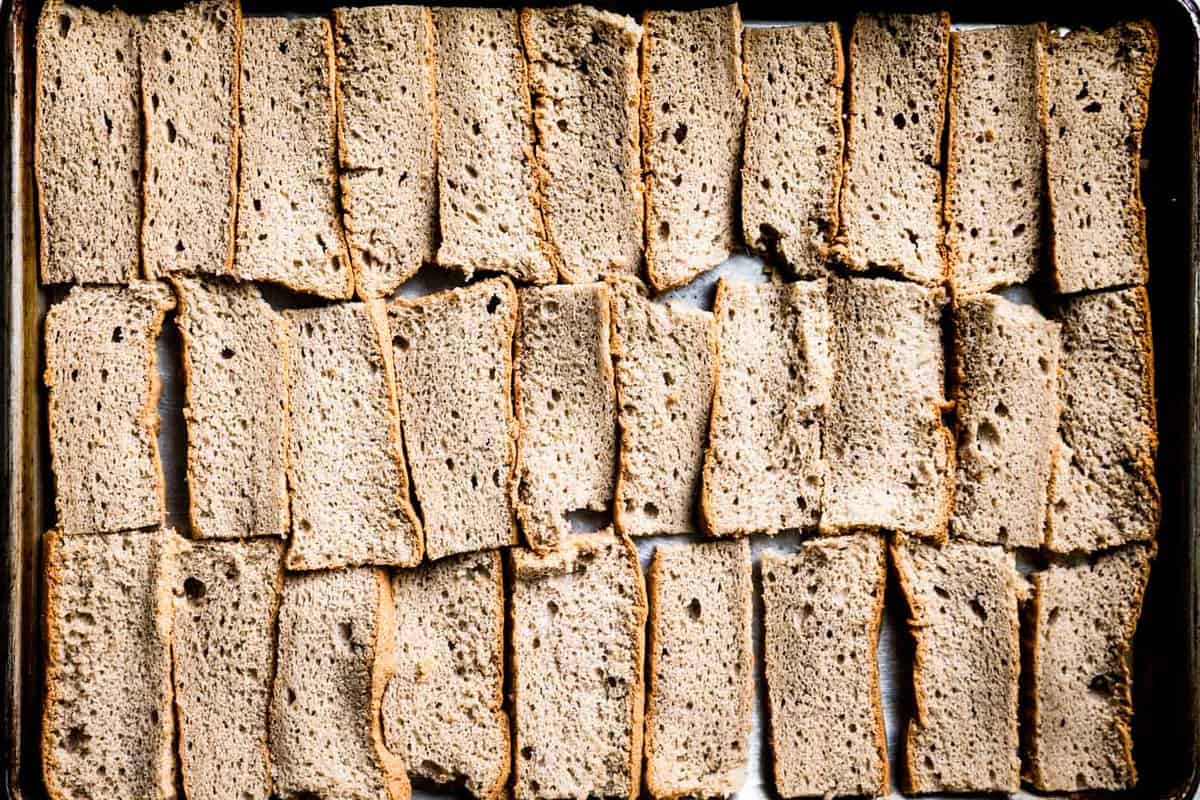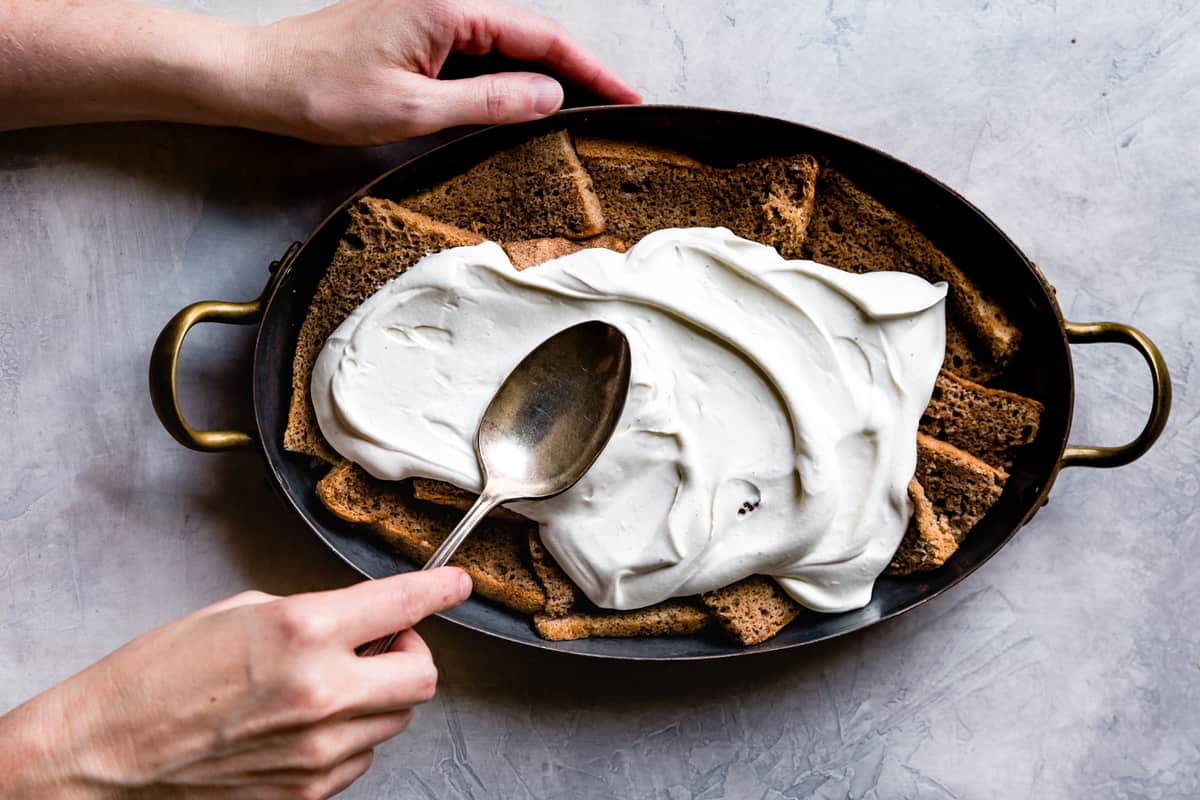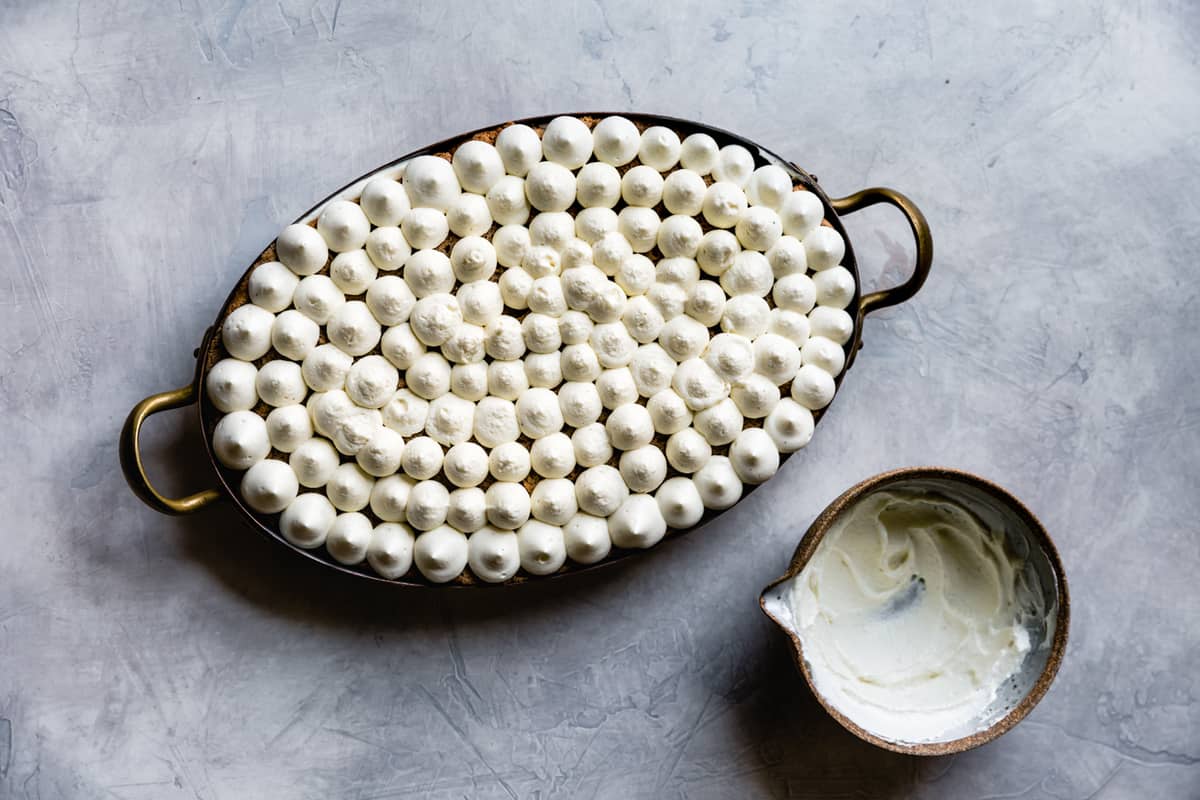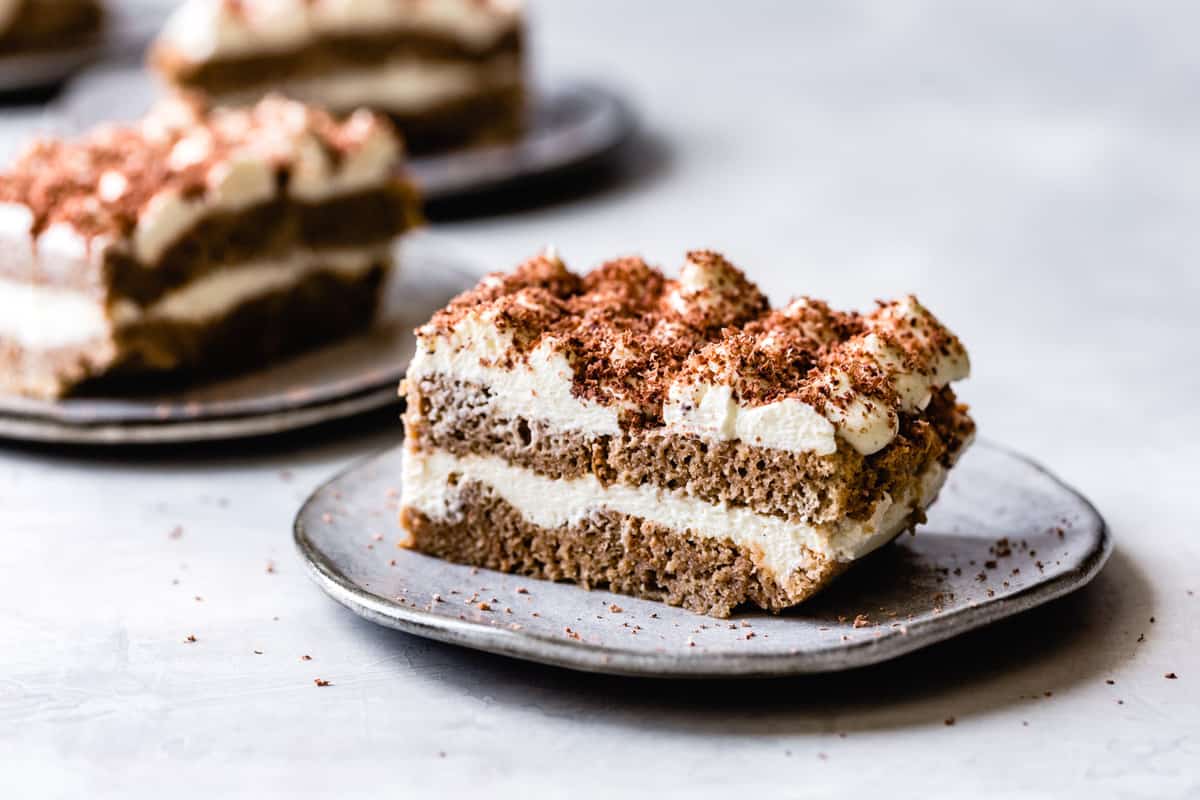 Fun with Gluten-Free Tiramisù: other options to try
Strawberry Tiramisù: Add layers of sliced or chopped strawberries.
Matcha Tiramisù: Omit the coffee syrup and use lightly sweetened brewed matcha to soak the cake. Add a teaspoon or two of matcha to the whipped mascarpone until you like the color and flavor.
Chocolate Hazelnut Tiramisù: Get the recipe here!
Tea-ramisù: Skip the coffee and use strong-brewed tea of your choice instead (Earl Grey, black tea, jasmine tea, masala chai, or any other flavor you love!) Coffee substitute such as Teeccino or Rasa would be delicious too!
Swap out the booze: Marsala is the traditional spirit to use in the coffee liqueur, but you can use dark or gold rum, bourbon or other whiskey, brandy, nocino, or any other flavorful spirit you like.
Gluten-Free Tiramisù Cake
If a layer cake is more your jam, this recipe is easy to convert. In fact, I made a similar chocolate chestnut layer cake here.
For GF tiramisu cake:
Bake the sponge cake in two round pans as directed.
Poke each layer all over with a skewer and brush the bottom layer with the coffee syrup until moistened but not soggy.
Spread the whipped mascarpone over the top, and grate chocolate over the mascarpone.
Place the second cake layer on top, brush with coffee syrup, and top with mascarpone and grated chocolate.
Chill for at least 2 hours and up to 1 day, then cut into slices and serve!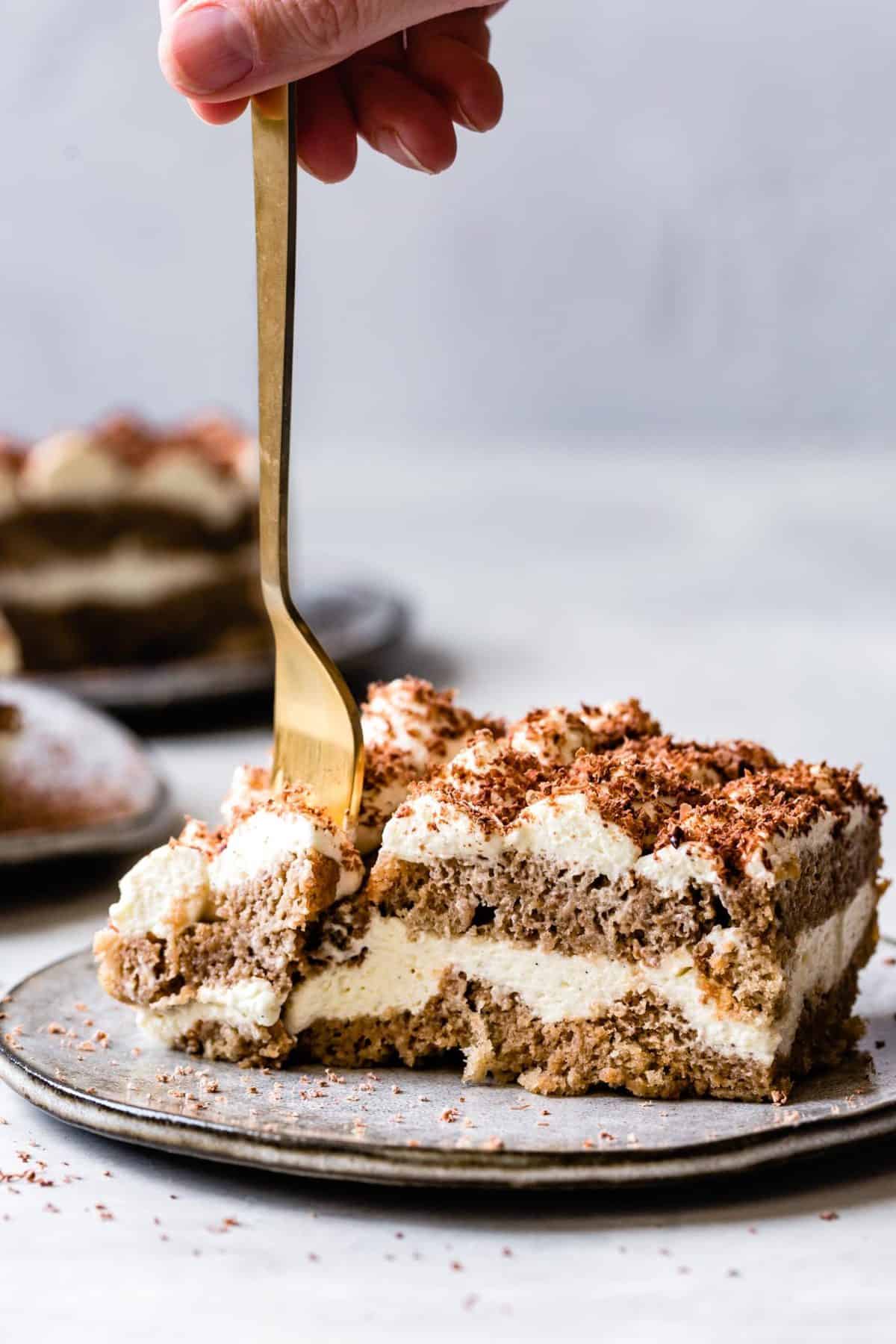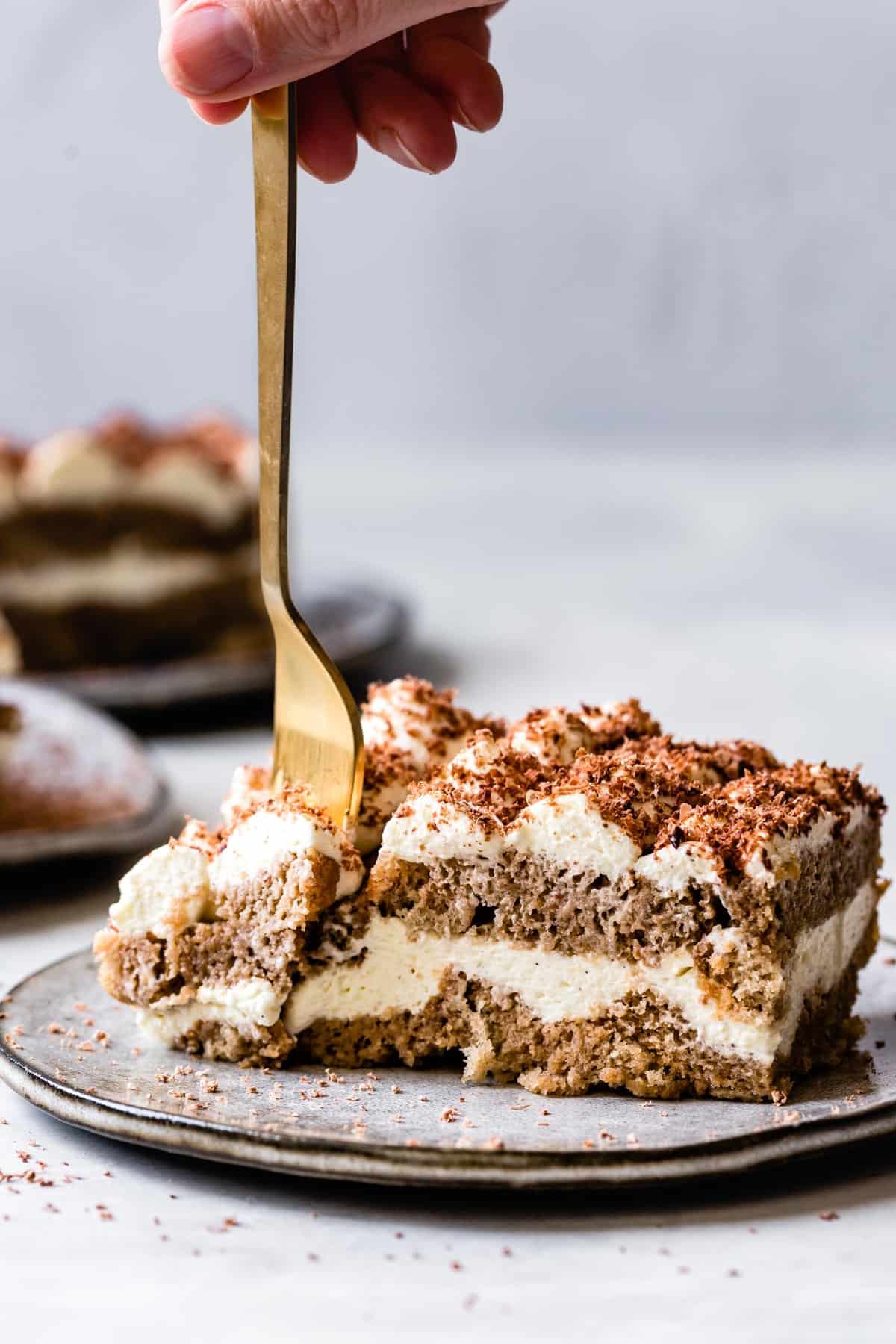 Gluten-Free Cake for Everyone
Looking for more ways to love gf sponge cake? Try my GF DF Tres Leches Cake or Chocolate Hazelnut Tiramisu. Find all my cake recipes here!
*Bojon appétit! For more Bojon Gourmet in your life, follow along on Instagram, Facebook, or Pinterest, purchase my gluten-free cookbook Alternative Baker, or subscribe to receive new posts via email. And if you make this gluten-free tiramisù recipe, I'd love to know. Leave a comment and rating below, and tag your Instagram snaps @The_Bojon_Gourmet and #bojongourmet.*
Rich & Creamy Gluten-Free Tiramisù
Print Recipe
Pin Recipe
This gluten-free tiramisu starts with homemade gluten-free sponge cake which is easier than lady fingers! Layer it with 5-minute mascarpone cream and quick coffee syrup for a simpler take on the classic dessert recipe.
Feel free to make this with any version of gluten-free sponge cake; the one here is the classic version made with sweet rice, teff, and oat flours. See the main post for ingredient substitution suggestions, how to make a GF tiramisu layer cake, and other flavor options.
Ingredients
1 ½

cups

strong-brewed coffee, hot or warm

¼

cup

plus 2 tablespoons dark rum, GF whiskey, brandy, or nocino liqueuer

¼

cup

plus 2 tablespoons organic granulated sugar or other sweetener (divided use)

8

ounces

mascarpone

1 ¼

cups

heavy cream

½

teaspoon

vanilla extract or paste

⅛

teaspoon

fine sea salt

2

ounce

bar bittersweet chocolate, for grating
Instructions
Make the chiffon cake batter and pour into an ungreased 8-inch square pan lined on the bottom with parchment paper. The cake batter will grip the sides of the pan as it bakes, helping it to rise high. Let cool completely in the pan.

Use a small offset spatula to loosen the edges of the cake. Turn out onto a cutting board and peel away the parchment paper. Turn right side up. Cut the cake in half, then cut crosswise into 1⁄2-inch thick slices.

Stir together the coffee, booze, and 2 tablespoons of the sugar until the sugar is dissolved.

In the bowl of a stand mixer fitted with the whisk attachment, whip together the mascarpone, cream, vanilla, ¼ cup sugar, and salt until the mixture just holds firm peaks. Cover and chill until needed.

Lay 1 layer of cake slices cut side up in an 8- or 9-inch square pan or the equivalent. Drizzle with half of the coffee syrup. Spread the soaked cake with half of the whipped mascarpone and grate a good layer of chocolate directly over the cream, about 1 ounce (28 g).

Repeat the layering process once more. If you like, use a large, plain pastry tip to pipe on the top layer of mascarpone. Top with more grated chocolate.

Serve right away with a spoon, or chill for 1–2 hours or up to 1 day and cut into slices to serve.
Notes
Tiramisù keeps well, refrigerated airtight, for up to 3 days.
Dairy-Free Tiramisù:
Omit the whipped mascarpone and use a double batch of Paleo Cream Cheese Frosting in its place.
Nutrition facts are for 1 of 10 servings. Values are approximate.
Nutrition
Calories:
470
kcal
Carbohydrates:
38
g
Protein:
6
g
Fat:
31
g
Saturated Fat:
16
g
Trans Fat:
1
g
Cholesterol:
127
mg
Sodium:
215
mg
Potassium:
102
mg
Fiber:
1
g
Sugar:
25
g
Vitamin A:
804
IU
Vitamin C:
1
mg
Calcium:
76
mg
Iron:
1
mg