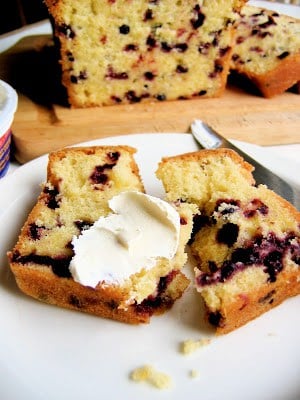 To me, an ideal Bojon day consists of several components:
1) Waking up after 9 am, naturally (i.e.,not to any of the following: alarm clock, barking dogs, squalling babies, or loud construction workers)
2) A relaxed breakfast with a cup of Samovar tea
3) Several hours spent in nature; preferably in a forest, though the beach will do in a pinch
4) Some degree of physical activity, i.e., a hike or a walk
5) A congratulatory post-physical-exertion glass of micro-brewed beer at a brewpub
6) Pizza, french fries or ice cream to accompany or chase said beer, respectively
7) A bath or soak in a hot tub, preferably with a trashy chick-lit novel, optionally about teen witches
During the fall, a favorite Bojon activity of ours has become huckleberry hunting. Last Tuesday, we packed up a couple of sandwiches, some triple chocolate chili cookies (recipe coming soon!), and our hucklebuckets and headed to an undisclosed location for an afternoon of hanging out under the tan oaks and redwoods, breathing in the crisp, fall air. Though nearing the end of the season, we were pleasantly surprised to find loads of the little fruits still clinging to their bushes.
After picking several pints (of huckles), we headed for a couple pints (of beer) at Mill Valley Beerworks, a groovy new brewpub specializing in Belgian ales and housemade pretzels slathered in tangy-sweet mustard. I sipped the eupohoric red ale on tap, which tasted of tart cherries; Jay had their rich and toasty house-brewed stout. We then hopped over to Small Shed Flatbreads for a spelt and cornmeal-crusted pizza (roasted eggplant), a salad (beets and Cypress Hill chevre), and a piece of pumpkin cheesecake with gingersnap crust (not unlike this one). After dance rehearsal, I capped things off with a bath and a good book. (Not the Good Book; something a bit more juicy.)
All in all, a perfect Bojon day, with enough huckles to last the winter to show for it.
Blueberries seem like such a luxury around here. Come June and July, the organic ones are so expensive that baking them into a sweet seems like a crime. Instead, I hoard them to add to bowls of fruit with yogurt and granola for breakfasts, and they rarely make it into a baked good, despite the pie, tart and cheesecake recipes I bookmark all year long.
Huckleberries, on the other hand, are free, if you know where to find them. Since Jay and I stumbled on a patch of them last fall, I've finally been living out my blueberry-baking dreams. Huckles have a stronger flavor than blueberries, they are smaller and more dense, similar to wild blueberries (or so I've heard; I think they're an East Coast thing) and therefore quite conducive to baking. They come into season September through November, whereas blues peter out around August, extending berry season into the crisp days of fall.They freeze very well, and throwing handfuls of them into apple and pear desserts during the dark, deprived days of January and February can help break up the monotony of winter cookery.
This week, I baked some of them into a teacake loaded with lemon zest and brushed with a lemon glaze, adapted from a Fine Cooking recipe I clipped several years ago. The secret weapon here is cream cheese, which gets whipped with the butter and sugar, creating a dough sturdy enough to support the berries, but still rich and delicate. The moist cake keeps well for up to a week, and makes a lovely mid-day snack with a cup of tea.
This versatile cake would lend itself to myriad variations.Meyer lemons, with their softer flavor and floral notes, compliment the huckles, while regular lemons, with a more pronounced tang, work equally well. Orange, tangerine, or even lime would likely be delicious substitutions.You can substitute blueberries during the summer, and I won't tell if you use frozen ones in the winter. For a holiday variation, substitute orange zest and juice for the lemon and fresh or frozen cranberries for the huckles. Or omit the berries altogether for a classic lemon pound cake.
Regardless of which variation you try, I hope you manage to fit in a stroll in the woods as well. Or at least a nice glass of beer.
Berry good:
Maple Blueberry Buckwheat Scones
Berry Peach Oven Pancake
Huckleberry Chèvre Cheesecake Squares
One year ago:
Sweet Potato Cinnamon Buns, with Panela, Rum and Coconut Milk
Lemon Huckleberry Cream Cheese Tea Cake
Adapted from Fine Cooking
Makes one 8×4 or 9×5″ loaf, 8-10 servings
4 ounces (1 stick, 1/2 cup) unsalted butter, at room temperature, plus a bit for greasing the pan
3 ounces (1/4 cup plus 2 tablespoons) cream cheese, at room temperature
1 1/4 cups sugar
zest of 2 lemons
3 eggs, at room temperature
1 teaspoon vanilla extract
1 1/2 cups flour
1/2 teaspoon baking powder
1/2 teaspoon salt
1 1/2 cups fresh or frozen huckles (if frozen, don't defrost first)
Glaze:
1/2 cup powdered sugar (sifted if clumpy)
juice of 1/2 a lemon, or enough to make a thin glaze
Position a rack in the center of the oven and preheat to 325º. Line an 8×4 or 9×5″ loaf pan with a sling of parchment paper. Lightly grease the parchment and exposed ends of the pan. (Lacking parchment, you can generously grease the pan and dust it with flour.)
Combine the butter, cream cheese, sugar and lemon zest in the bowl of a stand mixer fitted with the paddle attachment. Beat on medium until light and fluffy, 3 – 4 minutes. Add the eggs one at a time, beating until combined after each addition, and scraping down the sides of the bowl and the paddle as needed. (The mixture may break, and that's ok.) Stir in the vanilla. Sift together the flour, baking powder and salt, then stir into the batter on low speed until just combined. Fold the batter a few times with a rubber spatula, scraping the paddle and bottom of the bowl, to make sure the batter is thoroughly combined, and that any lemon zest clumps are distributed throughout the batter. Gently fold in the huckleberries. Scrape the batter into the pan and smooth.
Bake the cake until a tester inserted into the center comes out clean, or with a few moist crumbs attached, 1 1/4 – 1 1/2 hours. Let the cake cool for 10 or 15 minutes, then remove from the pan.
While the cake is cooling, whisk together the powdered sugar and lemon juice. Brush all over the top and sides of the cake. Let cool completely, at least one hour.
The cake keeps well, wrapped, at room temperature or in the fridge, for up to a week.