Rich & tender oat biscuits with crispy, craggy tops. Jammy blueberries. Scoops of melty vanilla ice cream. This easy gluten-free blueberry cobbler recipe is laid-back enough for weeknight baking, but special enough for weekend guests. With dairy-free, vegan, and paleo options! Updated: August 2021.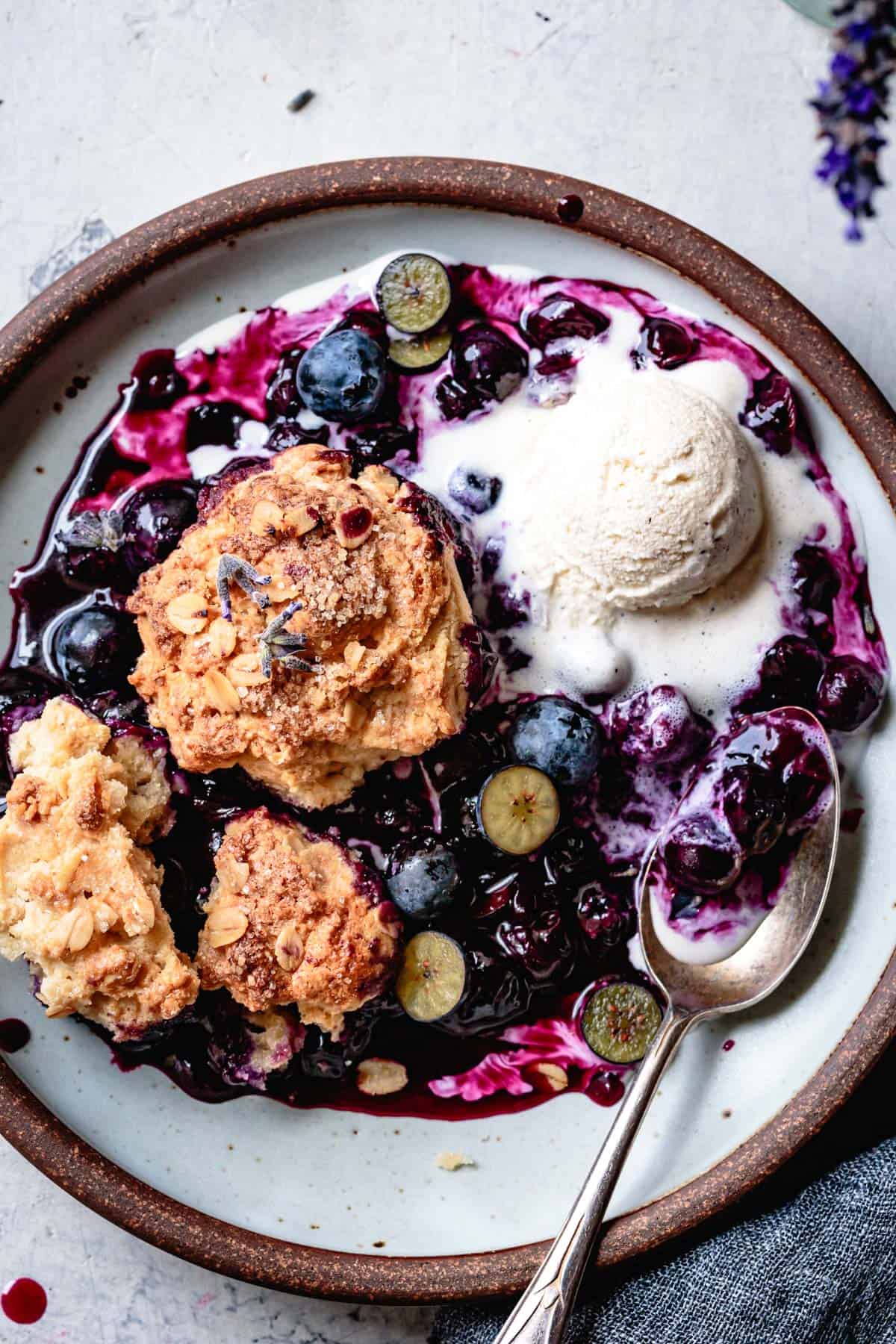 Gluten-Free Cobbler Vs. Crisp
In the world of rustic fruit desserts, cobblers and crisps are the most common. I used to be firmly on Team Crisp, and I've shared many recipes of this ilk over the years, from peach crisp to rhubarb crisp to apple crisp (and apple rhubarb crisp). and even cranberry persimmon crisp. I mean how can you compete with brown sugar streusel studded with oats and nuts and kissed with baking spices and plenty of salt?
While developing recipes for Alternative Baker, I (somewhat reluctantly) set out to make a gluten free cobbler I didn't hate. From tight wads of dough resembling meatballs to dry, cut-out biscuits, to a batter that baked up looking like pieces of poop, I tested recipe after recipe. Luckily an amazing volunteer recipe tester Caterina came to my rescue with an odd technique: heat the dairy before adding it to the cold butter/flour mixture to give the cobbler biscuits an instant lift.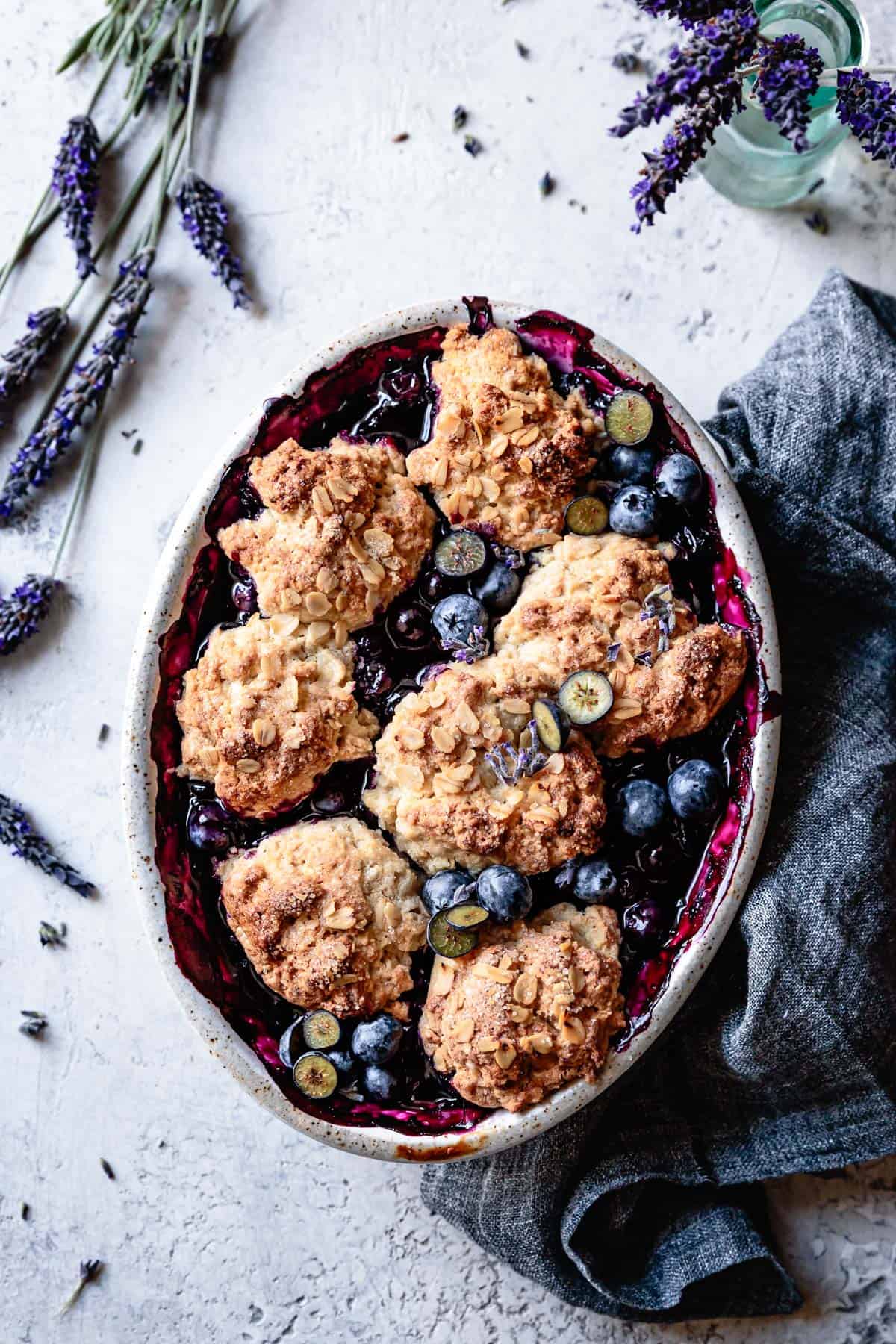 I was highly skeptical but I did as she suggested and voilà. I ate the most perfect gluten-free cobbler I could have ever imagined, complete with tender, craggy biscuits. I can honestly say that I now crave gluten-free cobbler as much as I do crisp. And this gluten-free blueberry cobbler recipe crowned with oat biscuits is a new favorite.
Types of Fruit Cobblers: Biscuit Cobbler vs. Southern-Style Cobbler
Cobbler desserts take on many different forms. This version, sometimes called a biscuit cobbler, consists of fruit compote topped with biscuit dough. The biscuit portion can range from a soft dough that melds together as it bakes, to firmer drop biscuits, to very firm biscuits that are rolled out and cut before being placed over the fruit. My version uses the drop biscuit method for biscuits that slump softly into the fruit as they bake but hold their round shape on top. I've also shared the following gluten-free cobbler recipes: blueberry plum cobbler, apple rhubarb cobbler, and strawberry rhubarb cobbler.
Southern-style cobblers are the inverse, more like a soft cake batter topped with fruit. I shared a gluten free southern-style peach cobbler a few years ago based on my friend Amelia's family recipe with peaches, maple, and bourbon. I'm guessing this version would taste delicious topped with berries or other summer fruit too.
Gluten-Free Blueberry Desserts
Throughout most of the year, blueberries come in tiny half-pint clamshells that go for $6 a pop. Usually making an entire blueberry dessert feels like a huge extravagance and my soul cringes at putting all the plastic in the recycling bin. Only a small percentage of plastic actually gets recycled and the rest of it goes to landfill. But there's a short window in late May and early June when blueberries appear en masse in eco-friendlier, reusable pint containers.
This year I wasted no time: to date I've made three batches of this gluten free blueberry cobbler. And I'm hoping to squeeze in another gluten-free blueberry dessert this year too. (Update: I made gluten-free blueberry coffee cake!)
To thicken the blueberry filling I add a good dose of cornstarch. Cornstarch cooks up clear, with a clean neutral flavor, adding body to the blueberry compote. A small amount of sugar gently sweetens the fruit, while lemon zest and juice sharpen the flavor.
But for times when blueberries are not in abundance, this recipe works beautifully with frozen blueberries. No need to defrost the berries first, just bake the cobbler a bit longer if need be.
Moar Gluten-Free Cobblers
This recipe will work with a mix of berries too. Make a gluten-free berry cobbler by using equal amounts of blueberries, blackberries, raspberries, and strawberries. You could make gluten-free peach cobbler, or gluten-free strawberry rhubarb cobbler by trading the fruit and adjusting the sweetness as needed. Trade half of the blueberries for peaches and you have gluten-free blueberry peach cobbler.
How to Make Gluten-Free Cobbler Topping & Ingredients
These gluten-free biscuits use my three go-to alternative flours:
millet flour – finely ground with a grassy, buttery flavor
oat flour – light and tender with earthy notes
sweet rice flour – fine, sticky, and neutral to help hold things together
Baking powder leavens the biscuits, while sugar and salt boost flavor. I've added rolled oats to these biscuits to give them a bit of heft, and some oats on top create craggy tops. To this dry mixture, cut in cubes of cold butter until the butter resembles small peas, and set the mixture in the fridge to chill for a few minutes.
Next, heat together some cream and Greek yogurt until hot. Quickly stir the hot dairy into the cold flour/butter mixture to form a thick dough. The warm dairy gives the biscuits an instant lift. Drop this dough over the fruit, brush with cream, and sprinkle with sugar and oats. Bake until the biscuits are deeply golden, nearly cooked through, and the fruit is bubbling vigorously. Let them cool to warm, as the biscuits are still cooking from residual heat.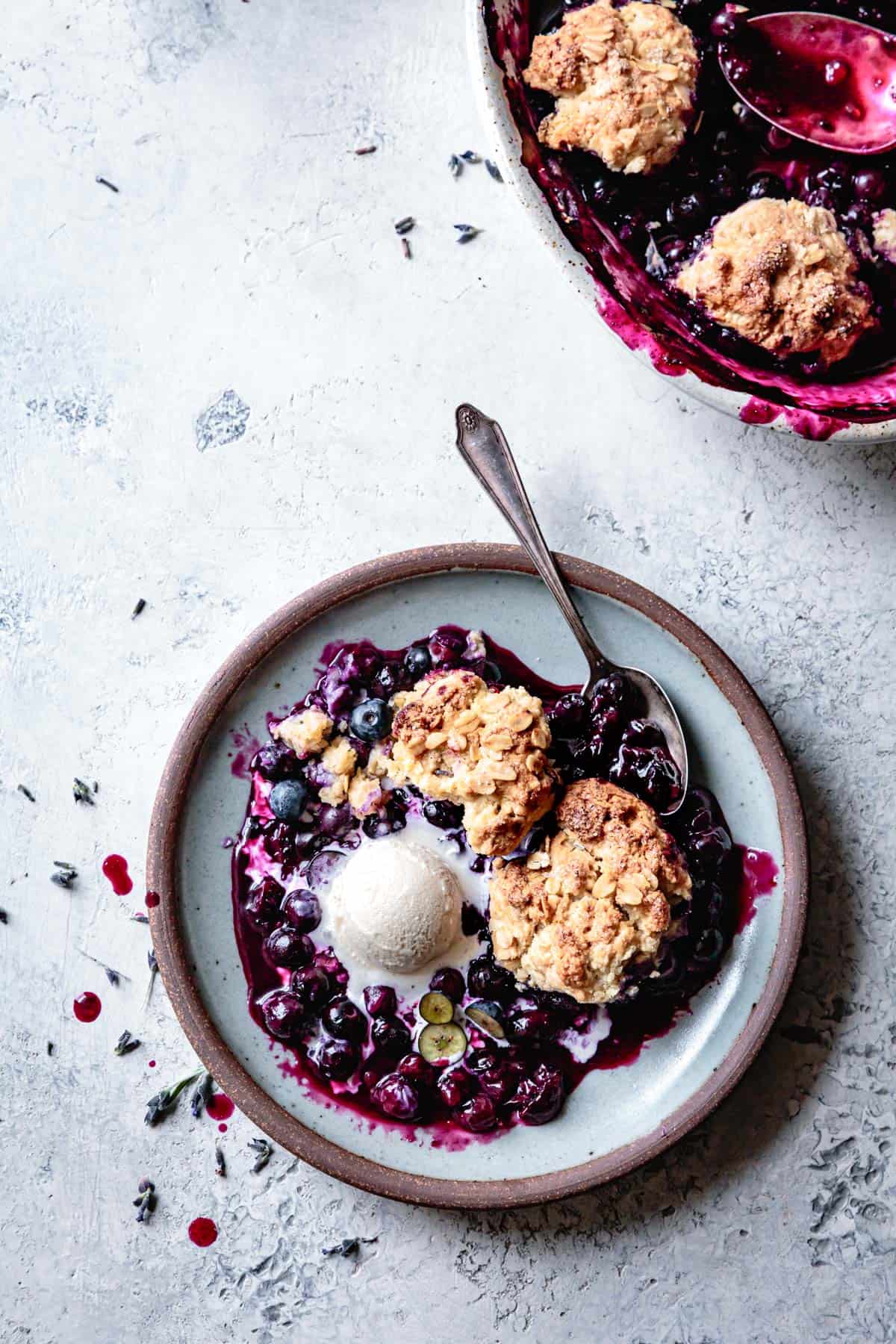 Gluten-Free Dairy-Free Blueberry Cobbler
If vegan blueberry cobbler is what you need, just use vegan butter in the biscuits, plant yogurt in place of the dairy yogurt, and coconut cream in place of the heavy cream.
Paleo Blueberry Cobbler
If a grain-free and refined sugar-free cobbler is your jam, use maple syrup or coconut sugar in place of the sugar in the blueberry compote. Top with these paleo cobbler biscuits made with cassava and almond flours.
Easy Gluten-Free Blueberry Cobbler for Dessert... or Breakfast!
Spoon warm biscuits and blueberry compote into bowls and top with scoops of vanilla ice cream for a cozy spring or summer treat. Every bite will include:
deep, inky blueberry compote
rich biscuits with craggy, crispy tops and middles that yield tenderly to the tip of a spoon, packed with the warm earthy flavors of oats and butter, with a bit of tang from yogurt
melty ice cream that bridges all of these delicious flavors together
If you wake up the next morning craving cobbler for breakfast, there's no shame in eating a bowl cold from the fridge with a scoop of yogurt. It's basically toast and jam!
Gluten-Free Blueberry Cobbler with Lavender
If you want to get fancy, sometimes I add a little culinary lavender to this gluten-free blueberry cobbler recipe for some beautiful floral notes. Look for edible dried lavender buds that are free of pesticides. I get mine in bulk at our amazing co-op Rainbow Grocery. Grind these in a clean coffee grinder or spice grinder with a bit of sugar to help the mixture process and toss it into the berry filling.
If eating lavender isn't your idea of a good time, leave it off and add a teaspoon of vanilla paste or vanilla extract instead for a floral kick.
Looking for more gluten-free crisps and cobblers? Try these:
Looking for more gluten-free blueberry recipes? Try these:
*Bojon appétit! For more Bojon Gourmet in your life, follow along on Instagram, Facebook, or Pinterest, purchase my gluten-free cookbook Alternative Baker, or subscribe to receive new posts via email. And if you make this gluten free blueberry cobbler recipe, I'd love to see. Tag your Instagram snaps @The_Bojon_Gourmet and #bojongourmet.*
Gluten-Free Blueberry Cobbler with Oat Biscuits
Print Recipe
Pin Recipe
Rich & tender oat biscuits with crispy, craggy tops. Gooey blueberries kissed with lemon and lavender or vanilla. Scoops of melty vanilla ice cream. Meet your dream summer dessert that's easy enough for weeknight baking, but special enough for guests.
Ingredients
Filling
1/4

cup

(55 g) organic granulated cane sugar

1 ½

teaspoons

culinary dried lavender buds OR 1 teaspoon vanilla paste or extract

2

pint

baskets fresh blueberries (4 cups, 600 g)

2 ½

tablespoons

(18 g) cornstarch

Finely grated zest and juice from ½ of a medium lemon

Big pinch fine sea salt
Biscuits
1/3

cup

(40 g) GF oat flour

1/3

cup

(55 g) sweet white rice flour

1/4

cup

(32 g) millet flour

1/3

cup

(36 g) old fashioned rolled oats, plus more for sprinkling

2

tablespoons

(27 g) organic granulated sugar, plus 1 teaspoon for sprinkling

1

teaspoon

baking powder

1/4

teaspoon fine sea salt

4

tablespoons

(56 g) cold, unsalted butter, in 1⁄4" dice

¼

cup

plain, whole-milk Greek yogurt

¼

cup

heavy cream, plus 1 tablespoon for brushing the biscuits
Instructions
Position a rack in the center of the oven and preheat to 400ºF.

If using the lavender, combine with half of the sugar in a clean spice or coffee grinder and grind finely.

Combine the berries in a large bowl with the lavender sugar (or vanilla, if using), remaining sugar, cornstarch, lemon zest and juice, and salt. Toss to combine.

Scrape the fruit and juices into an 8 or 9-inch round baking dish or the equivalent (I used a 7x10-inch oval with 2-inch high sides). Place the dish on a rimmed baking sheet to catch any drips.

In a large bowl, combine the oat, sweet rice, and millet flours with the oats, 2 tablespoons sugar, baking powder and salt.

Add the cold butter and rub with your fingertips or cut in with a pastry blender until the butter is somewhat worked in with lots of little pea-sized butter bits. Chill this mixture until cold, 10 – 20 minutes.

Combine the yogurt and 1/4 cup cream in a small saucepan. Place over medium heat, stirring frequently, until the mixture is hot and steamy, 1–2 minutes (don't let it boil or it might separate).

Quickly but gently stir the hot dairy into the butter/flour mixture, stirring just until combined, evenly moistened, and no floury bits remain; do not overstir.

Use a tablespoon to drop the batter onto the fruit, creating 6-8 rough mounds. Immediately dab and brush the tops with the remaining tablespoon of cream and sprinkle with oats and sugar.

Bake the cobbler until the biscuits are golden on top and the fruit is bubbling thickly, 30 – 35 minutes. Let the cobbler cool for at least 20 minutes to allow the fruit to thicken slightly and the biscuits to finish baking from residual heat.

Scoop into bowls and serve warm, topped with vanilla ice cream.

The cobbler is best within a few hours of baking, but leftovers can be refrigerated airtight for up to 3 days. Reheat before serving.
Notes
Make-Ahead: This cobbler is best served fresh from the oven, but you can bake it an hour or two ahead and reheat in a 350ºF oven to warm it up.
Storage: Extra cobbler keeps well, refrigerated, for up to a few days. Reheat leftovers in a 350ºF oven until warm.
Frozen berries: If fresh berries aren't available, you can use frozen berries. No need to defrost first, just go ahead with the recipe, baking the cobbler 5 or 10 minutes longer if need be.
Gluten-Free Berry Cobbler: You can use other berries here if you like; I've tested this with a mix of blueberries, raspberries, strawberries, and blackberries.
Gluten-Free Blueberry Peach Cobbler: Trade half of the blueberries for sliced peaches.
Dairy-Free Vegan Blueberry Cobbler: use vegan butter in the biscuits, plant yogurt in place of the dairy yogurt, and coconut cream in place of the heavy cream. Serve with vegan vanilla ice cream.
Paleo Blueberry Cobbler: Use maple syrup or coconut sugar in the fruit and top it with these paleo cobbler biscuits.
Nutritional values are based on one of six servings.
Nutrition
Calories:
353
kcal
Carbohydrates:
58
g
Protein:
5
g
Fat:
13
g
Saturated Fat:
7
g
Cholesterol:
34
mg
Sodium:
114
mg
Potassium:
279
mg
Fiber:
5
g
Sugar:
29
g
Vitamin A:
465
IU
Vitamin C:
20
mg
Calcium:
65
mg
Iron:
1.2
mg