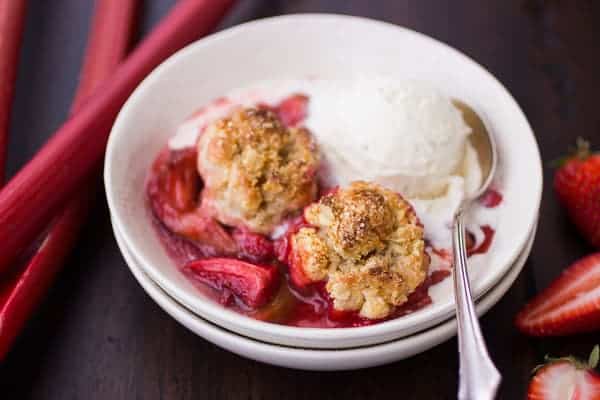 Please note: if you go to Trader Joe's alone at noon on a Tuesday and get in the express lane with nothing but a bottle of bourbon, the checker will give you a disconcerting and somewhat sassy look that says, "I know an alcoholic when I see one." It doesn't matter that it's not the cheapest or biggest bottle in the store. Don't try to dissuade her by smiling extra bright, or acting really friendly. Don't babble wildly while fumbling for your wallet, saying something like, "Oh that bottle of bourbon? That's just for a strawberry rhubarb cobbler. I'm not going to duck around the corner and guzzle the whole bottle on my lunch break. I'm a baker, not an alcoholic, haha!" She will just sigh and ask if you need a bag, and the people behind you will shift uncomfortably and avoid eye contact as you slink away, back to your apartment to not guzzle a bottle of bourbon.
Trust me: you're better off going to BevMo where the checkers won't bat an eye if you show up in line midday with two jugs of whiskey and a bottle of Everclear. (The Everclear was for making these bergamot bitters. Honest!)
I used to be really anti-cobbler. The few I made had a disproportionate fruit-to-crust ratio, with soggy-bottomed biscuits perching atop steamed fruit. But then I saw this gorgeous post on Sprouted Kitchen which made me realize that if cobbler were more crisp-like, I might change my mind about the whole business.
I got the idea to combine my favorite spring fruit/veg combo with a splash of bourbon from this delicious-looking pie (and very sweet blog). I read up on cobblers from the folks at Cook's Illustrated, who recommended roasting the fruit by itself before topping it with sturdy drop biscuits.
I cobbled together this recipe, and to my delight, it baked into the cobbler of my dreams: thick fruit compote under a fleet of crunchy, tender biscuits. I've made it twice since, and I think I need to make a fourth, just to use up the excess ice cream in the freezer. It's the responsible thing to do.
The topping, made with whole grain flour, oats, candied ginger, and greek yogurt, bakes up into a bunch of nubby biscuits that stand up to the juicy fruit. Their craggy, bronzed tops give way to pillowy centers that are closer in texture to creamy, crumbly scones than to biscuits – "cobblescones," if you will.
The rhubarb retains its puckery tartness while kicking it with its sweet friend, the strawberry. The bourbon adds a whiff of tangy spice that plays off the ginger in the biscuits. A swirl of melty vanilla ice cream is always welcome on fruit desserts, and this one is no exception. A bowl of this loveliness – cool ice cream, tender biscuits and jammy fruit – reminds me of a really excellent strawberry shortcake.
If I lived in a cruel world in where I were forced to choose between crisps and cobblers, I still can't say I'd choose the cobbler. Maybe I would. Luckily, there can be room in my life for both of these heaven-sent fruit desserts. And for now, this one makes me really happy.
If you love rhubarb as much as I do, you might also enjoy ogling my Rhubarb Love pinboard.
Rhubarb Berry Bliss:
Strawberry Rhubarb Crème Fraîche Crumble Pie
Gluten-Free Strawberry Rhubarb Crumble
Plum, Rhubarb and Raspberry Cardamom Crisp
One year ago:
Rhubarb Chutney (on goat cheese crostini)
Two years ago:
Apple Rhubarb Pandowdy
with Honey Yogurt Ice Cream
Three years ago:
Panela Rum Buttercrunch Toffee
Strawberry Rhubarb Bourbon Cobbler with Ginger Oat Scones
With inspiration from Sprouted Kitchen and Foodologie
The fruit in this cobbler gets baked twice; once by itself, and once with the biscuits. This ensures a properly thickened filling, and it prevents the biscuits from getting soggy. If you don't wish to use bourbon, substitute an equal amount of orange or blood orange juice. I think this would also be superb made with peaches. I baked this in an oval dish that measures 10″ long, 6 1/2″ wide, and 1 1/2″ high, but it should also work in an 8 or 9″ round pie plate or 8″ square pan. You want the uncooked fruit to come just to the top of whatever pan you use.
The cobbler is best when it has been out of the oven for 30-60 minutes (a short rest helps the fruit juices thicken), but leftovers keep pretty well in the fridge and reheat well in an oven or toaster oven. The biscuit dough can be made ahead and stored in the refrigerator for a day, and the fruit can be prepared and given its first bake ahead of time, too. Be sure to have some high quality store-bought or homemade vanilla ice cream on hand for serving. All ounce measurements here are by weight.
Makes 5-6 servings, enough to fill a 10″ oval baking dish
Filling:
12 ounces trimmed rhubarb, sliced 1/2″ thick (3 cups)
8 ounces hulled strawberries, quartered if large (halved if small – 2 cups)
3 tablespoons bourbon whiskey
1/3 cup organic cane sugar
1 1/2 tablespoons cornstarch
pinch salt
Ginger Oat Scones:
1/2 cup (2 1/4 ounces) all-purpose flour
1/4 cup (1 ounce) whole spelt (or whole wheat pastry, or barley) flour
1/3 cup (1 1/2 ounces) old-fashioned rolled oats
2 tablespoons (1 ounce) sugar
3/4 teaspoon baking powder
1/4 teaspoon salt
2 tablespoons (3/4 ounces) finely chopped candied ginger
4 tablespoons (2 ounces) cold, unsalted butter, in 1/4″ dice
6 tablespoons (3 ounces) greek yogurt (whole milk)
coarse (turbinado) sugar for sprinkling
vanilla ice cream, for serving
Make the filling:
Position a rack in the center of the oven and preheat to 425ºF.
Combine the rhubarb, strawberries, bourbon, sugar, cornstarch and salt in a large bowl, and toss until combined. Scrape the fruit and any juices into a 10×7″ oval baking dish or the equivalent, and place the dish on a rimmed baking sheet to catch any drips. Bake the fruit until it is somewhat broken down and bubbling, 15-20 minutes. While the fruit bakes…
Make the scone dough:
In a large bowl, combine the flours, oats, sugar, baking powder, salt and ginger. Add the butter, and rub with your fingertips or cut in with a pastry blender until the mixture looks like gravel with some pea-sized butter bits. Add the yogurt and mix with a wooden spoon until the dough begins to come together, kneading a few times with your hands to form a loose ball. Chill the dough while the fruit bakes.
Bake the cobbler:
When the fruit is bubbling, remove the dish from the oven. Divide the biscuit dough into 12 rough balls (rustic looks good), about an inch in diameter, and place them evenly over the hot fruit, spacing them about 1″ apart. Sprinkle the tops with a dusting of coarse sugar.
Bake the cobbler until the biscuits are golden on top and the fruit is bubbling thickly, 15-20 more minutes. Let the cobbler cool at least 20 minutes to allow the fruit to thicken up. Serve the cobbler warm, topped with scoops of vanilla ice cream. Leftovers can be stored in the refrigerator for a day or two and reheated in an oven or toaster oven.