This gluten free rhubarb crisp recipe (a.k.a. rhubarb crumble) combines tangy rhubarb laced with vanilla and lemon with a crunchy streusel topping studded with oats and almonds.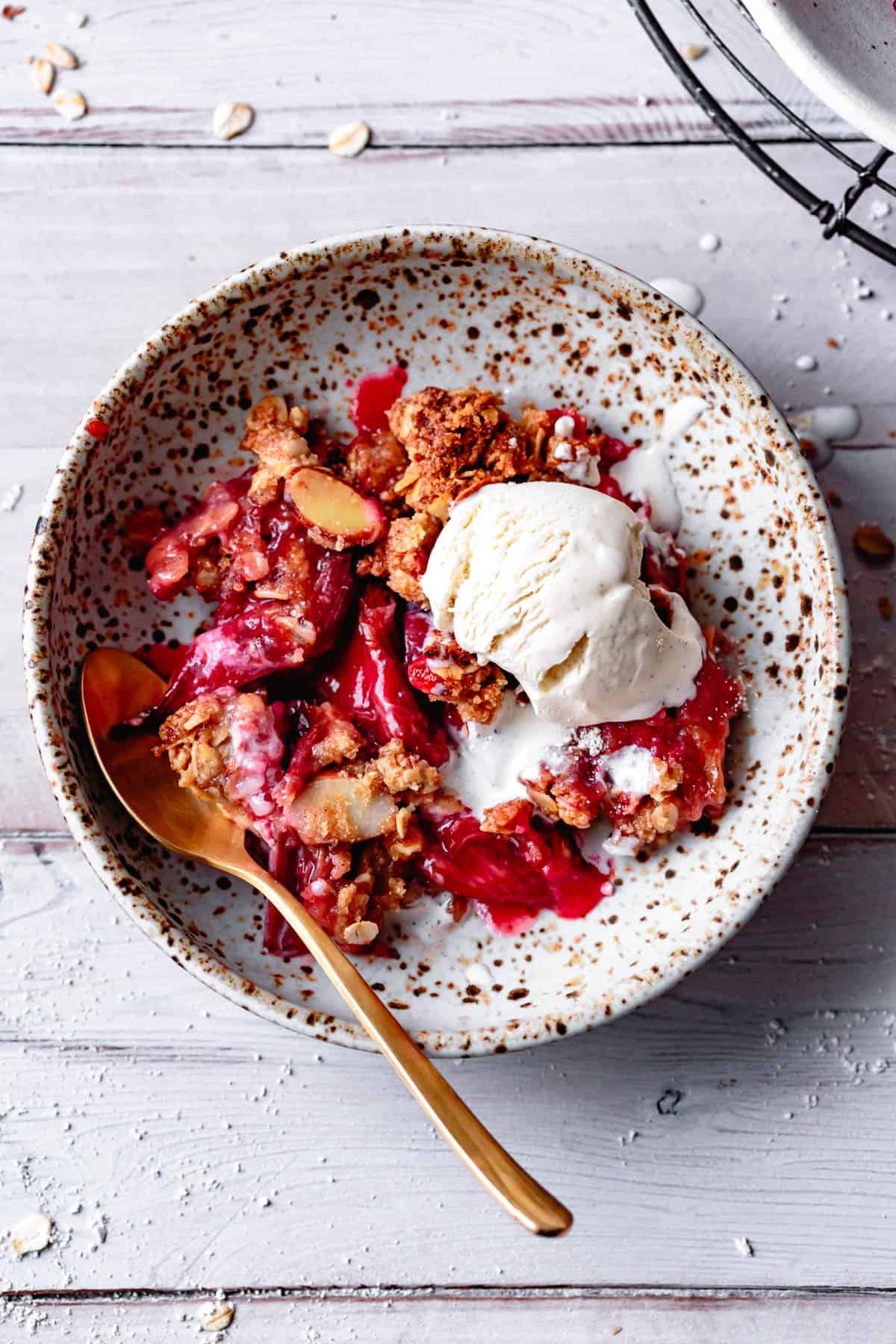 An Ode to Gluten Free Crisp
If I had to pick a single dessert to make and eat for the rest of my life, it would be crisps and crumbles. (But only if I could also eat chocolate.) I never tire of thick, saucy fruit lidded with salty brown sugar streusel laced with nuts, oats, and spices. Ice cream is mandatory. That space where melty ice cream meets warm compote and buttery streusel is pure bliss.
Fruit crisp is easy to make both gluten free and vegan, meaning you can please the majority of your guests with a single dessert. Crisp is decadent enough to feel like a true treat, but it still has some nutritional value from fresh fruit, whole grains, and nuts. Cold crisp topped with plain yogurt makes an ace breakfast if you're lucky enough to have leftovers the following day.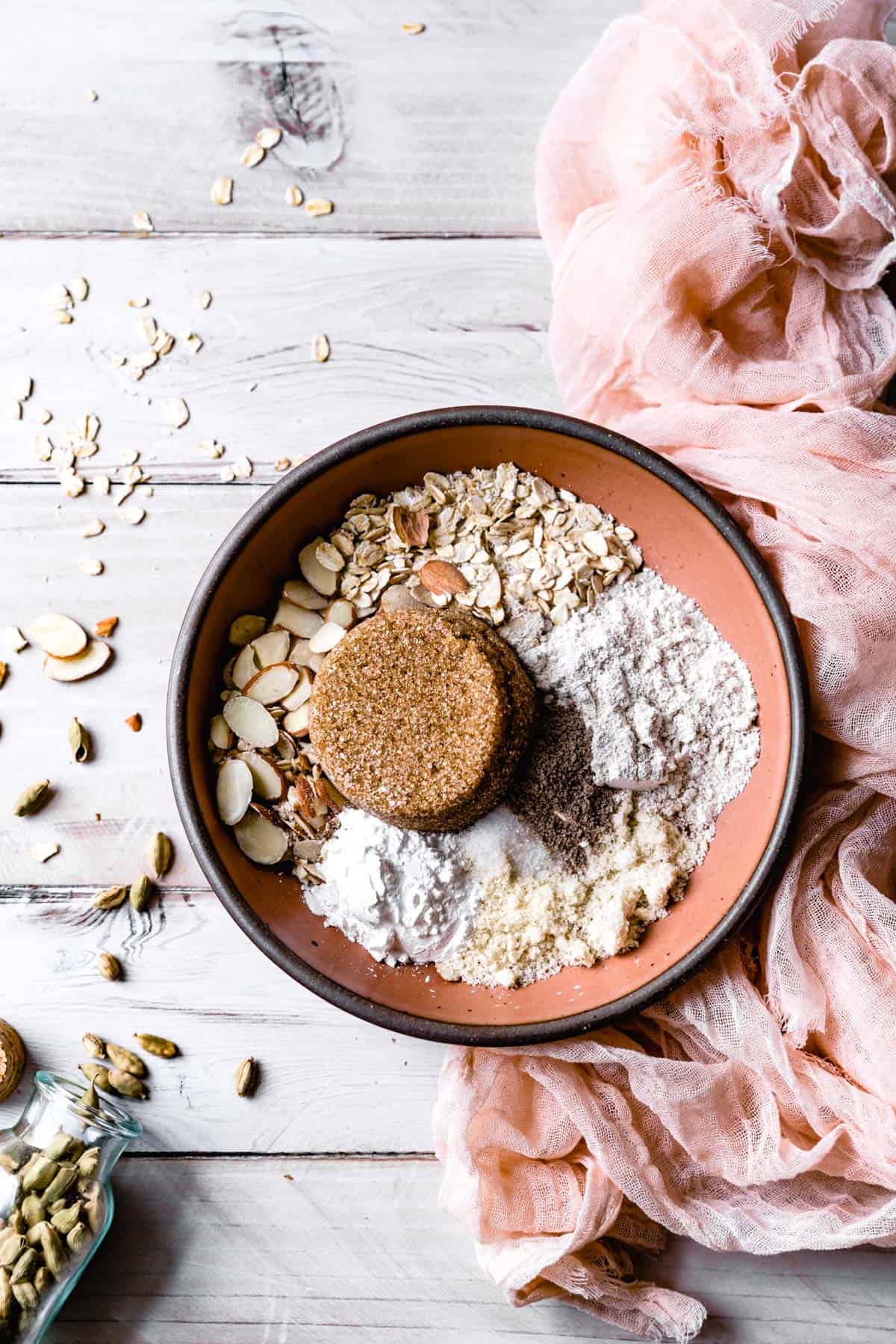 As a bonus, fruit crisps are stupid easy to throw together, making them amenable to weeknight baking. Just toss the fruit with sugar and a little starch to help the juices thicken, and roast until bubbling. This releases some steam from the fruit, keeping the topping true to its name. Stir together the streusel ingredients and crumble it over the fruit. Bake until golden and bubbly. Devour!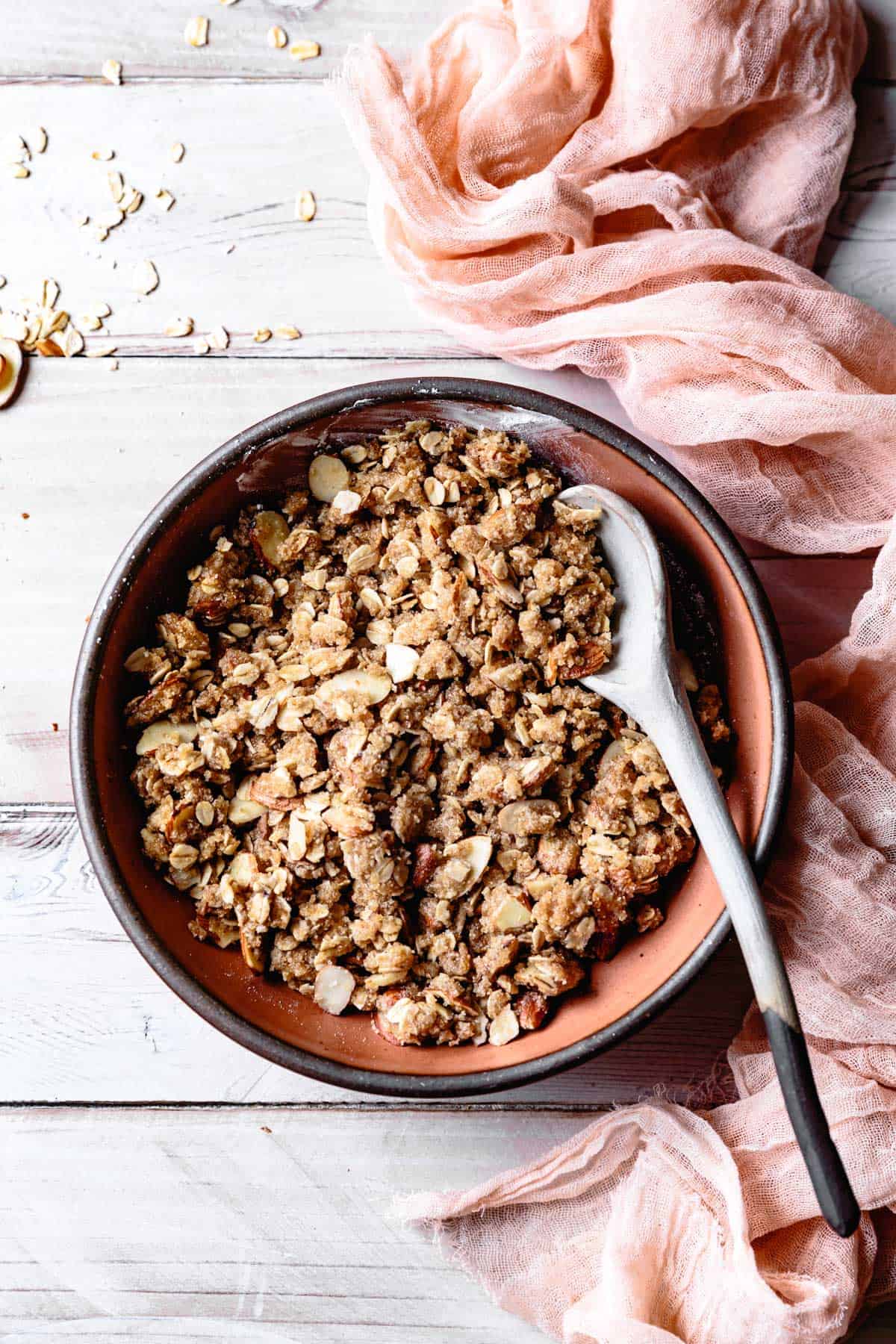 Gluten Free Rhubarb Crisp... or is it Rhubarb Crumble?!
It's both! In the US, the terms are interchangeable, with crisp being the more common term. Call this a rhubarb crisp or a rhubarb crumble – just don't call it late for dinner. Or maybe do, because it's a dessert...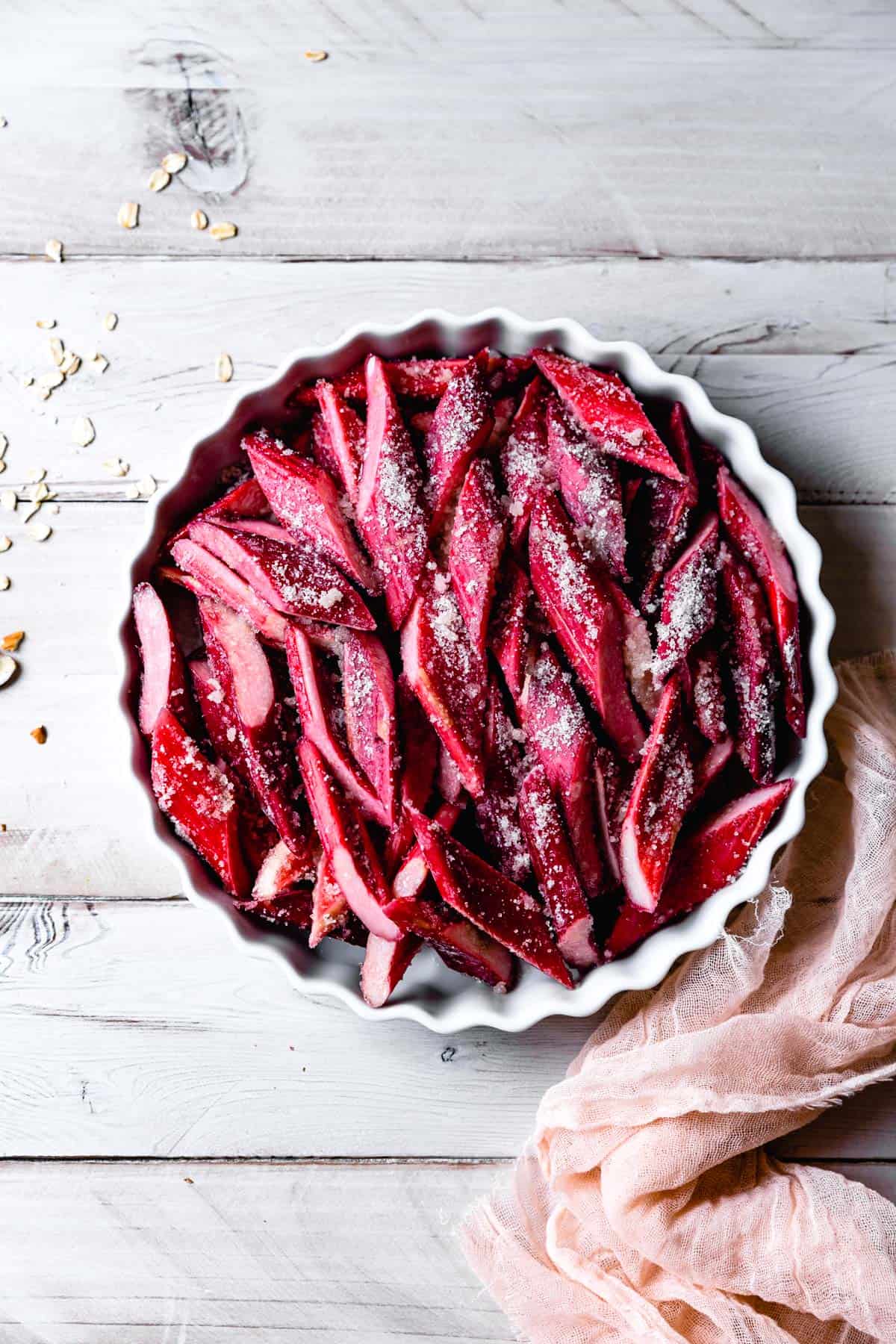 Rhubarb Varieties: Field Rhubarb vs. Forced Rhubarb
Rhubarb grows in patches of slender stalks crowned with large, green leaves. The leaves are toxic if consumed in large quantities (and they can be toxic to cats and dogs too), so be sure to trim them away.
In warmer climates like coastal California, field rhubarb can grow outdoors much of the year, though it's happiest in the spring and fall during mild weather. Field rhubarb comes in varieties that range in hue from green to bright red and everywhere in between. In California, I've only ever found red stalks tinged with green. When cooked, the color can look drab, which is why I often use only the lower reddest parts of the stalks. I'll sometimes add red-hued ingredients such as beet or hibiscus powder or blood orange juice as well. A handful of red berries adds color and flavor too.
In cooler climates such as the UK, forced rhubarb is commonly grown in dark hothouses. Stalks can grow quickly in these conditions – up to four inches per day – and are harvested by candlelight. With no light for the leaves to photosynthesize, the leaves stay small and pale yellow. These stalks are bright magenta all the way through.
Forced rhubarb is hard to come by in California, perhaps because our hothouses are occupied by more profitable berries and lettuces. I was lucky enough to find some forced rhubarb from Washington State, which I used to shoot the process photos for this vegan & gluten free rhubarb crisp. But then I overbaked my crisp and had to make it a second time using field rhubarb (which I was lucky enough to harvest from my mother-in-law's garden). To this version, I added a spoonful of beet powder and little fresh raspberry puree to bump up the color.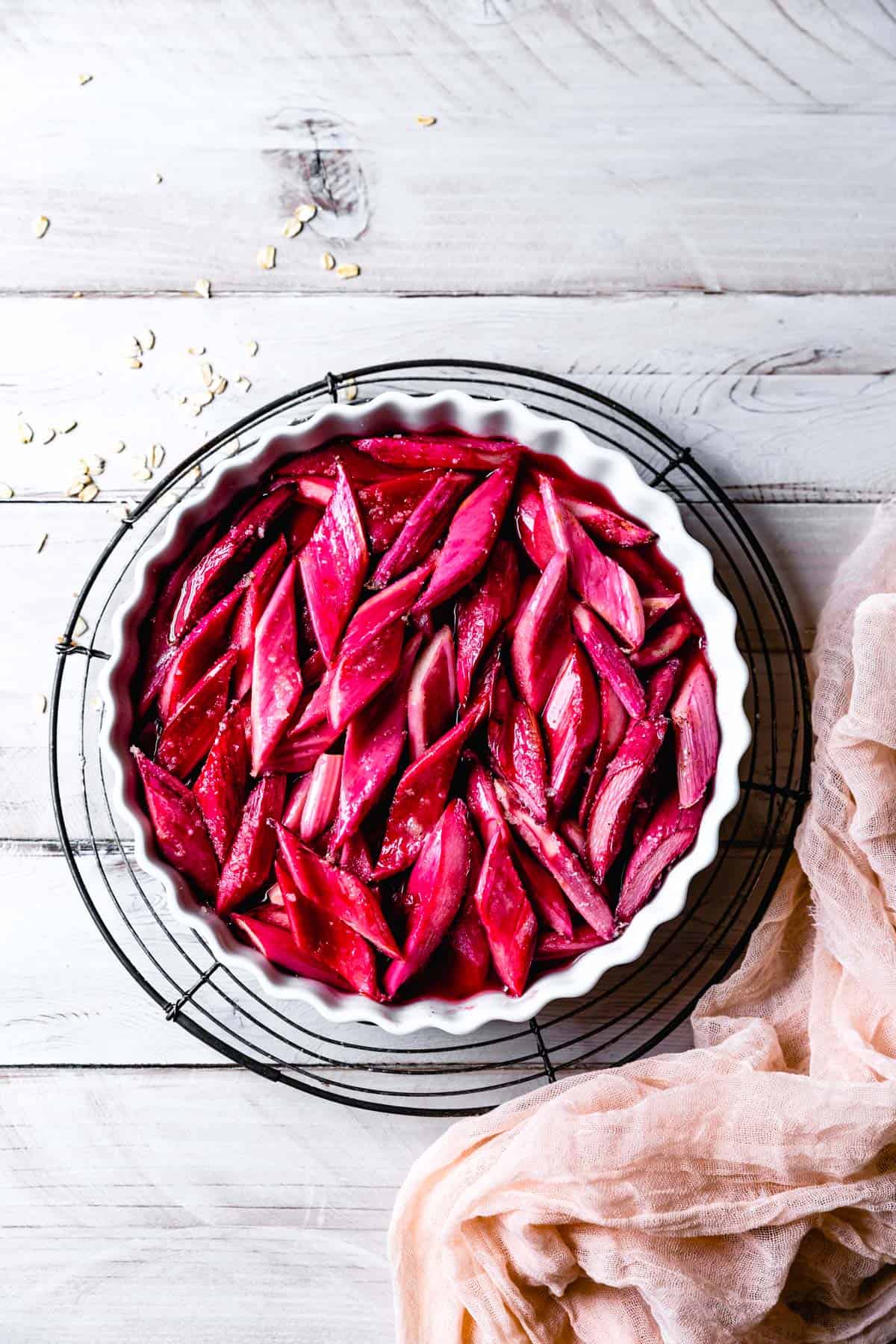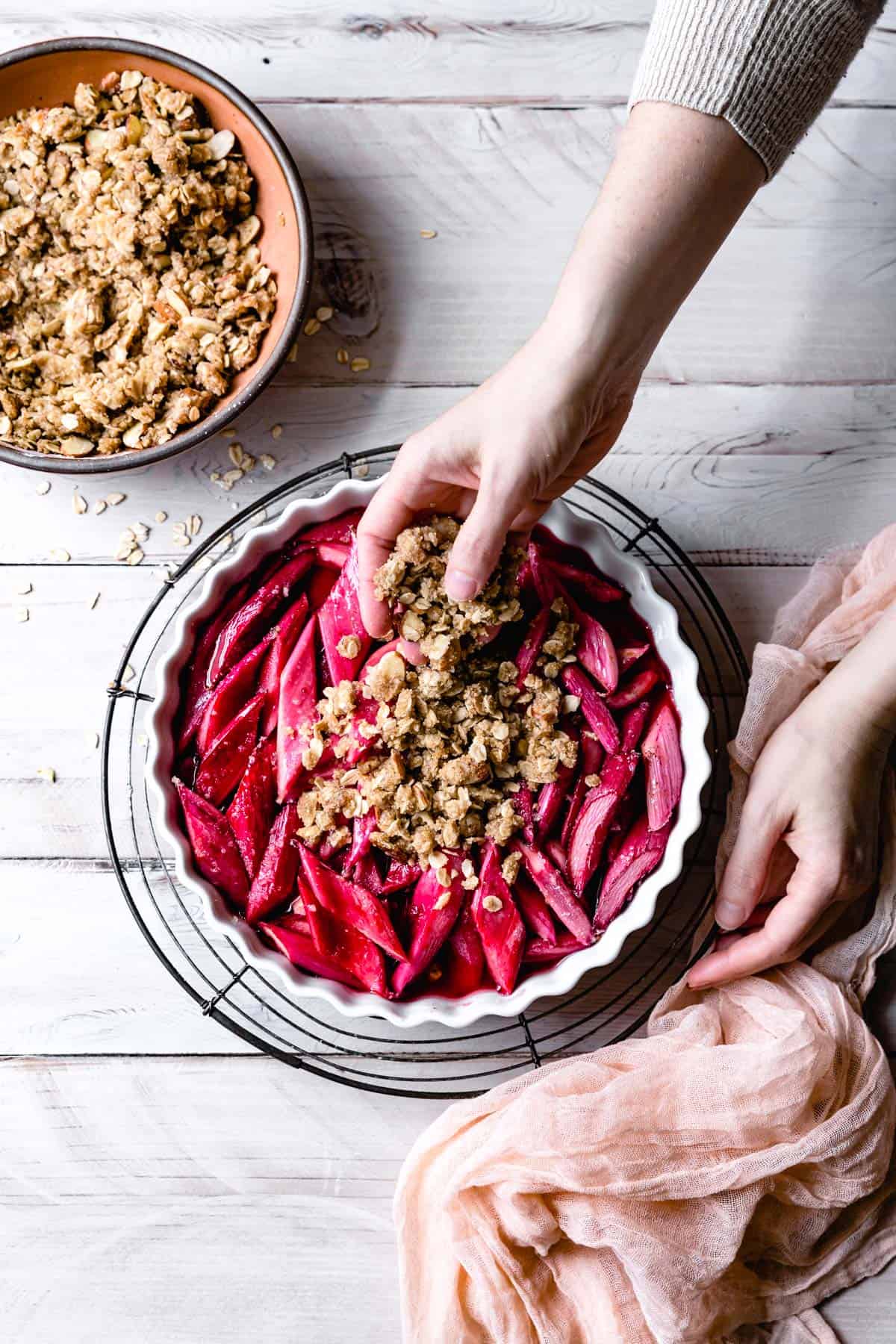 The Key to Truly Crisp Gluten Free Fruit Crisp
I've made my fair share of soggy fruit crisps. Over the years, I've developed a recipe and process that yields a crunchy, clumpy topping every time.
First, I give the fruit an initial bake in the oven. This releases some steam from the fruit, meaning there's less to sog up the topping when it's added. Next I add just enough starch to help the filling form a thick compote. If the fruit is too watery, more moisture will absorb into the topping. I prefer cornstarch (as opposed to flour or tapioca) for its thickening power, neutral flavor, and light mouthfeel. Sugar also helps the fruit juices thicken (think: boiling jam until it reaches its setting point). Here I use just enough sugar to keep the rhubarb tangy but still lusciously thick.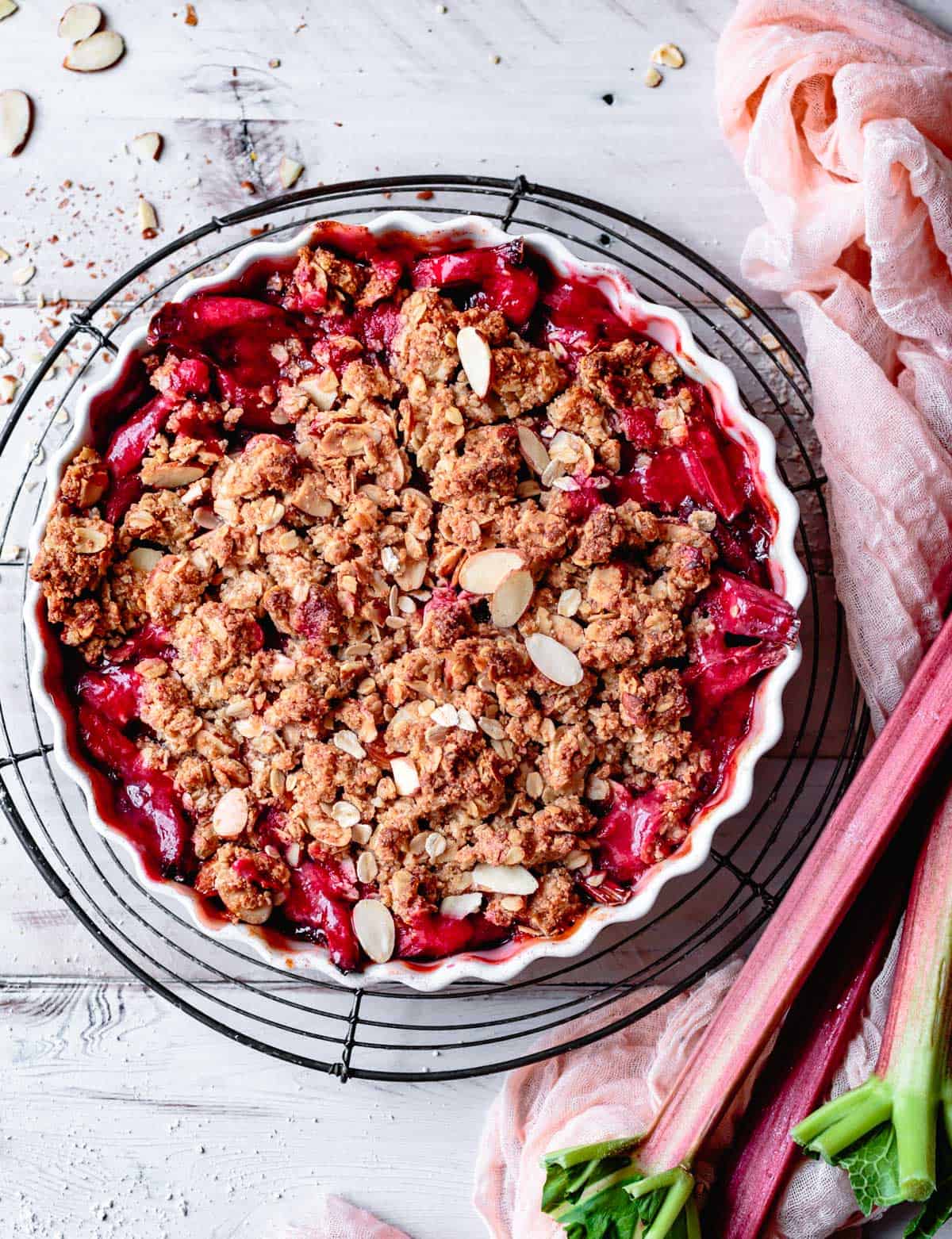 Flours for Gluten Free Crisp Topping
The next step is making sure the topping is sturdy enough to stand up to the fruit. Gluten free flours are more delicate than wheat flour and more prone to falling apart and getting soggy in crisp. It's essential to use enough sticky ingredients to hold it together in clusters so that the topping forms a solid lid rather than sinking into the fruit. Here I use tapioca flour for stickiness, almond flour which helps the topping form crunchy clusters, and oat flour to create a delicate, streusel-like consistency.
Rolled oats and almonds give the crisp topping nubby texture, while brown sugar adds earthy sweetness. Melted butter brings the ingredients together into clumps. I like a good hit of salt in my streusel, and I also add a whiff of cardamom, which pairs nicely with the rhubarb.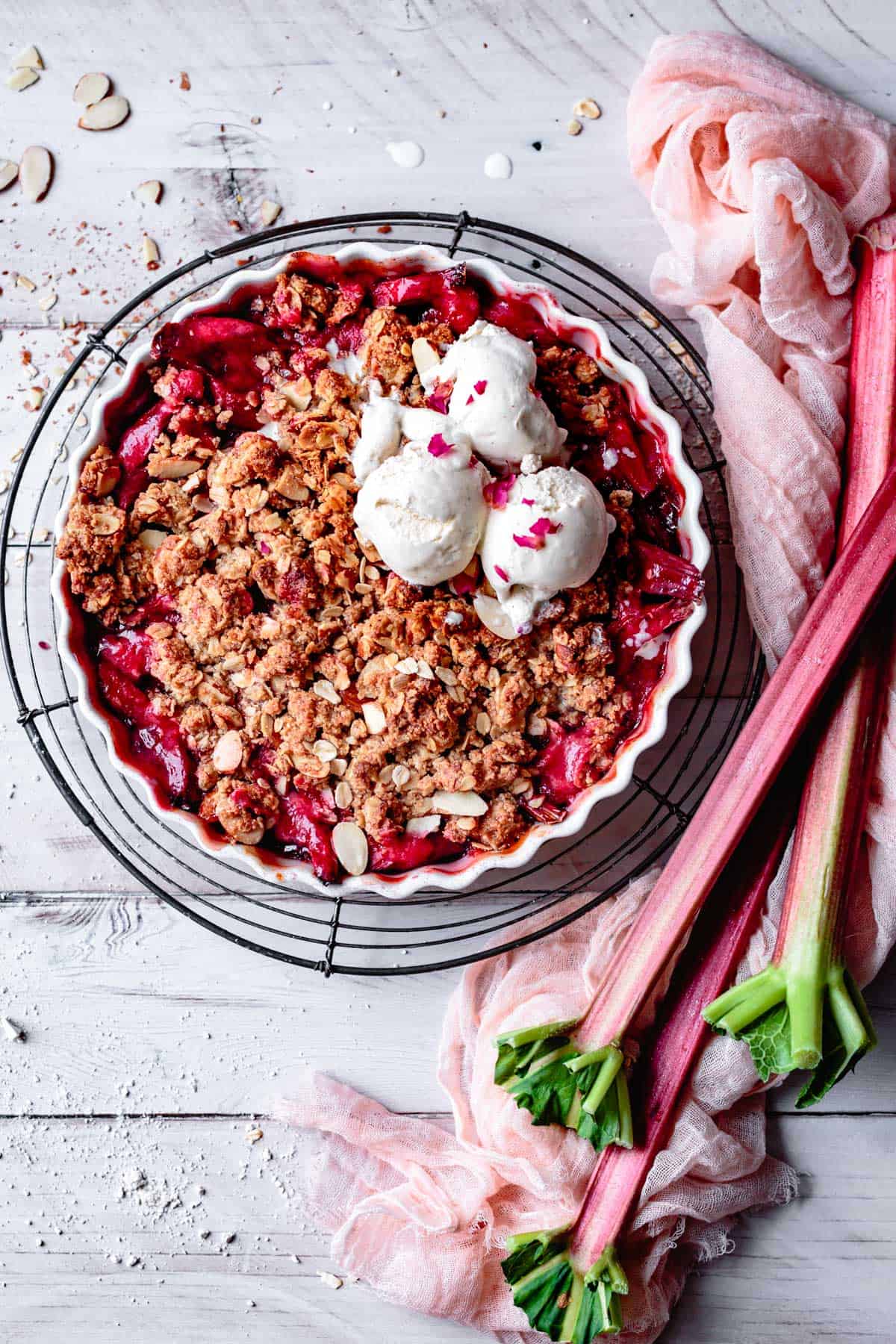 Vegan Rhubarb Crisp...or not!
Use a good plant-based butter to make vegan rhubarb crumble. I'm obsessed with Miyoko's vegan butter, which is made from cashews and coconut and cultured so it has a salty tang. Serve with a vegan vanilla ice cream that you love. A couple that I'm partial to are Green Girl and Nada Moo.
If you prefer to go dairy all the way, use dairy butter and ice cream. I've tried it both ways and it's delicious!
Looking for a grain-free paleo rhubarb crisp? Use maple sugar in the filling and top it with my almond flour crumble topping.
*Bojon appétit! For more Bojon Gourmet in your life, follow along on Instagram, Facebook, or Pinterest, purchase my gluten-free cookbook Alternative Baker, or subscribe to receive new posts via email. And if you make this gluten-free rhubarb crisp, I'd love to see. Tag your Instagram snaps @The_Bojon_Gourmet and #bojongourmet.*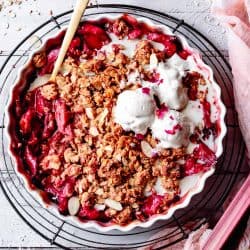 Homemade Gluten-Free Rhubarb Crisp
Print Recipe
Pin Recipe
This gluten free rhubarb crisp recipe (a.k.a. rhubarb crumble) combines tangy rhubarb laced with vanilla and lemon with a crunchy streusel topping studded with oats and almonds.
Ingredients
Rhubarb:
5

cups

(600 g) rhubarb, leaves trimmed away, cut into 1-inch pieces on the diagonal

zest and juice of ½ large lemon (preferably Meyer)

½

cup

(100 g) organic granulated sugar

2

tablespoons

(15 g) cornstarch

1

teaspoon

vanilla paste or extract
Topping:
½

cup

(55 g) almond flour

½

cup

(50 g) GF old-fashioned rolled oats

½

cup

(55 g) sliced almonds

¼

cup

(25 g) oat flour

1 ½

tablespoons

(11 g) tapioca flour

½

cup

(110 g) packed organic light brown sugar

½

teaspoon

ground cardamom or cinnamon

¼ - ½

teaspoon

fine sea salt (I like my streusel salty with ½ teaspoon, but use the smaller amount if you prefer!)

5

tablespoons

(70 g) unsalted dairy or vegan butter (such as Miyoko's), melted
Instructions
Position a rack in the center of the oven and preheat to 350ºF.

In a large bowl, toss the rhubarb with the lemon zest and juice, sugar, cornstarch, and vanilla. Scrape the mixture into a 9- or 10-inch round baking dish, pie plate, or ovenproof skillet. Place the baking dish on a rimmed baking sheet to catch any drips, and bake until the rhubarb starts to bubble, 25-30 minutes. Gently stir the rhubarb to redistribute.

To make the topping, combine the almond flour, oats, almonds, oat flour, tapioca flour, brown sugar, cardamom, and salt in a medium bowl (you can reuse the rhubarb bowl if you scraped it clean enough). Stir in the melted butter until the mixture forms large clumps.

When the rhubarb has baked, sprinkle the topping over the fruit. Return to the oven and bake until deep golden and bubbling furiously, about 25-35 more minutes. Let cool for a few minutes or to room temperature. Scoop into bowls and serve with ice cream and a sprinkle of rose petals if you like.

The crisp is best when freshly baked, but leftovers keep, covered and chilled, for up to 3 days. Enjoy cold or warm.
Notes
Don't skip the ice cream: that space where melty ice cream meets warm compote and buttery streusel is pure bliss. Try this with homemade vanilla, fresh ginger, or creme fraiche ice cream.
If your rhubarb is on the less-pink side, you can boost the color by adding any of the following: ½ - 1 teaspoon beet or hibiscus powder, the juice from a blood orange, or a handful of strawberries or raspberries.
For a paleo rhubarb crisp or crumble, use maple sugar or maple syrup in the filling and top the crisp with this paleo crisp topping. Serve with a paleo-friendly ice cream such as Vixen Kitchen.
Nutritional values are based on one of six servings.
Nutrition
Calories:
428
kcal
Carbohydrates:
57
g
Protein:
7
g
Fat:
21
g
Saturated Fat:
7
g
Cholesterol:
25
mg
Sodium:
191
mg
Potassium:
457
mg
Fiber:
6
g
Sugar:
37
g
Vitamin A:
395
IU
Vitamin C:
12.9
mg
Calcium:
165
mg
Iron:
1.7
mg