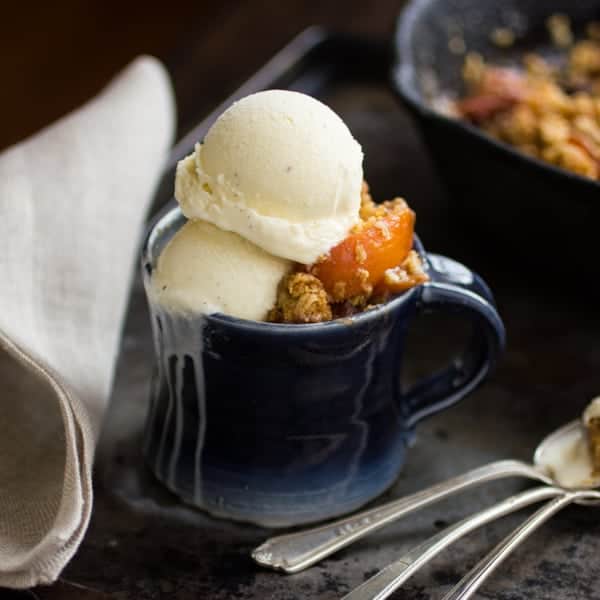 It can be difficult to remember what season it is here in San Francisco when our typical foggy summer is in full swing. It actually drizzled this morning – unheard of in August.
But the produce section at our co-op tells a different story. Baskets brim with summer squash, eggplants, peppers, fresh beans and okra, not to mention half a dozen varieties of peaches.
And yet I found myself eying the winter squash, apples and sweet potatoes today, and dreaming of hearty soups made with beans and greens.
The joke will be on us come October, when we're sweltering through Indian Summer and wishing for berries and corn again.
But peaches seem to have finally hit their stride. These bright red and orange guys, courtesy of Blossom Bluff Orchards, were perfectly fragrant with juicy, firm flesh. I managed to refrain from eating a few and baked them into this crisp, a good compromise between summer and fall.
I toss the peach slices with bourbon, vanilla bean and maple sugar. The bourbon functions like a cross between vanilla extract and lemon juice; a little tart, a little spicy, with a backbone of complexity and age. (Did that sound like an on-line dating profile, or is it just me?)
I added butter, browned with vanilla bean until it smells like everything good in the world, to the topping along with more maple sugar and quick oats. The texture turned out slightly softer than the original recipe from The Farm via Leite's Culinaria that I doctored up this time last year with cardamom, plums, rhubarb and raspberries. I'm guessing the softness is due to the maple sugar, or perhaps the brown butter that I refused to chill back down and work in as per the original recipe, choosing to stir it into the topping willy-nilly. Even so, I wouldn't change a thing. The crumbles clump, and the nubbier bits retain crunch even after a day or two in the fridge.
Crisp without ice cream is an abomination, so I churned up a batch of my favorite Dreamy Vanilla to serve with it.
It's quite possibly my favorite dessert, ever. Summer comfort food. Though I bet it would be great made with apples or pears when it's fall for real.
Peachy Keen:
Berry Peach Oven Pancake
Brown Butter Peach Buckle
Nectarine Crème Fraîche Pie
Crispy Crumbles:
Plum, Rhubarb, and Raspberry Cardamom Crisp
Ginger Plum Crumble
Gluten-Free Strawberry Rhubarb Crumble
One year ago:
Chocolate Bourbon Banana Cream Tart
Two years ago:
Three years ago:
Maple Sugar, Bourbon, and Brown Butter Peach Crisp
If you like nuts in your crisp, I think this topping would be tasty with 1/4 cup of chopped, toasted pecans. If you don't have a vanilla bean on hand, add 1/2 teaspoon of vanilla extract to the cooled, browned butter, and another 1/2 teaspoon to the filling along with the bourbon. I used Bulleit bourbon here, but any brand will do. If you don't have or can't find maple sugar, substitute an equal amount of light or dark brown sugar, or an unrefined sugar such as Alter Eco, in the topping, and maple syrup in the filling. And if you only have old-fashioned rolled oats, David Leite says you can whiz them in a coffee grinder to break them up a bit.
Makes 8 servings
Maple Sugar and Brown Butter Crumble Topping:
8 tablespoons (1 stick / 4 ounces) unsalted butter
1/2 of a vanilla bean, split lengthwise and scraped
3/4 cup all-purpose flour
3/4 cup quick (a.k.a. baby) oats
1/2 cup maple sugar (or brown sugar)
1/2 teaspoon fine sea or kosher salt
1/8 teaspoon freshly grated nutmeg
flaky salt and coarse sugar for sprinkling
Bourbon Peach Filling:
2 pounds ripe but firm peaches (6-8 peaches / 6 cups sliced)
1/4 cup bourbon whiskey (such as Bulleit)
1/4 cup maple sugar
1 tablespoon cornstarch
1/2 of a vanilla bean, split lengthwise and scraped
Dreamy Vanilla Ice Cream, for serving
Brown the butter:
Combine the butter and vanilla pod half and seeds in a small saucepan. Melt the butter over medium heat, and continue to cook until the butter turns golden with dark brown flecks, about 5 minutes, swirling frequently. Toward the end, the butter will foam up dramatically; watch it closely at this point. Let the browned butter cool at room temperature while you prepare the filling. (If the butter is at risk of over-browning, pour it into a heatproof bowl or measuring cup to stop the cooking.) Remove the pod and discard (or wash, dry, and save it for another use).
Prepare the filling:
Position a rack in the upper third of the oven and preheat to 375º. Have a 10″ oven-proof skillet (or a 10″ solid tart or pie pan, or something equivalent) at the ready
Cut the peaches in half, then cut each half into six to eight slices. Place in a large bowl (or right into the baking vessel) and sprinkle with the bourbon.
In a small bowl, combine the maple sugar and vanilla pod and scrapings, rubbing the seeds into the sugar to distribute them evenly. Remove and discard the pod (or save it for another use). Stir the cornstarch into the sugar, then add to the bourbony peaches, tossing gently to coat. Distribute the peaches evenly in the baking vessel.
Make the topping:
In a large bowl, combine the flour, oats, maple sugar, nutmeg and salt. Stir in the melted, cooled brown butter, stirring with a spoon or your hands until the mixture forms large clumps.
Scatter the crumble topping over the peaches, taking the time to form some of it into small, hazelnut-sized balls. Scatter a bit of flaky salt over the top, as well as some coarse sugar.
Bake the crisp until the topping is golden and the fruit is bubbling, 45-60 minutes. Let cool at least 20 minutes. Serve warm or at room temperature, preferably with vanilla ice cream. (Leftovers make a tasty breakfast, cold from the fridge, with yogurt instead of ice cream.)