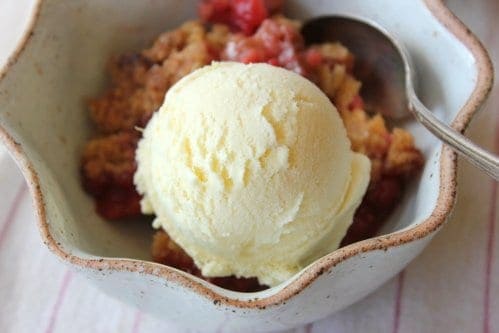 The word "complement" means "to complete or bring to perfection," and that is precisely how I feel about melty ice cream regarding gooey-warm fruit desserts. You can't go wrong with vanilla, but ginger is another flavor that pairs with every fruit I can think of – apples, pears and quince; berries, figs, melons, peaches, apricots and plums; tropical fruits; all citrus; and even chocolate (which is made from the seed of a fruit). My favorite of all is not really a fruit, but a vegetable: rhubarb.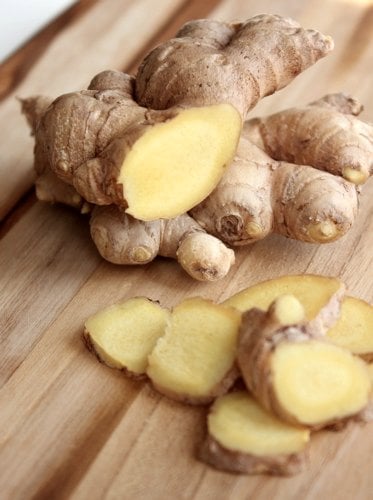 Ginger conveys some of the lovely floral notes that vanilla does, but hints at savoriness with its spicy heat. Thecontrast of the cool ice cream flavored with warming ginger is eye-opening.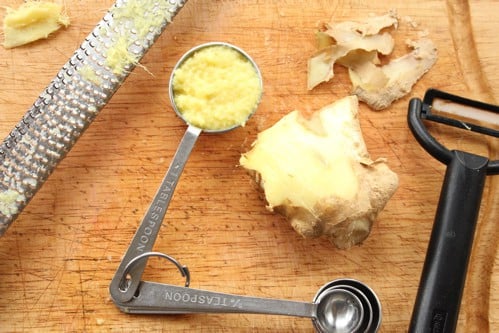 For my first try, I followed David Lebovitz' instructions and steeped blanched slices of ginger in hot cream for an hour. (As I learned the hard way, failing to blanch the ginger in boiling water before heating it with the dairy results in cheese-like curds forming from the acids in the ginger.) The finished ice cream had a soft, floral flavor, which was delicious, but I missed the spicy heat of fresh ginger. At Jay's suggestion, I used a microplane to grate a bit of fresh ginger over the finished ice cream, which gave it the punch I wanted.
For trial 2, I skipped the blanching and steeping processes altogether and stirred up a batch of plain ice cream base. To the chilled base I added fresh ginger, grated to a juicy pulp on a microplane.This method produced an ice cream with the kick I was after, and took less time to make, too. The churned ice cream remains surprisingly smooth; though I do enjoy an occasional fleck of ginger warming the back of my throat.
Serve this on its own, with some crispy cookies (I'm eyeing the black sesame tuiles from David L's Ready For Dessert), or bring it to perfection with a warm crumble ,pandowdy, turnover, rustic tart, or chocolate cake.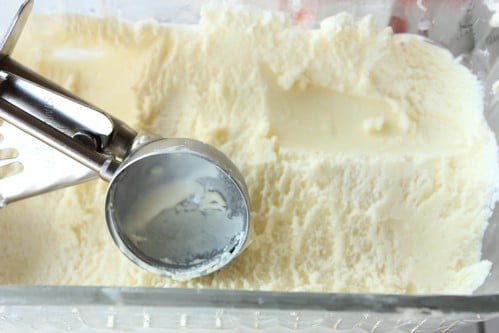 We all scream for:
Chocolate Mint Chip Ice Cream
Tarragon Olive Oil Ice Cream
Cacao Nib Ice Cream
Fresh Ginger Ice Cream
Cooking the ice cream base first, then grating in fresh ginger, eliminates the need to blanch the ginger, which would curdle the cream if heated together. This makes a pleasantly spiced ice cream, with sweet floral notes and a kicky afterglow. You can use 1 1/2 cups heavy cream and 1 cup whole milk in place of the dairy listed if you prefer. Feel free to fold in some minced candied ginger post-churning if you like that sort of thing. I use a microplane grater to get my ginger to a pulpy consistency.
Makes about 1 quart, 6-8 servings
1 cup heavy cream
1 1/2 cups half and half (divided use)
4 large egg yolks
1/2 cup sugar
pinch salt
2 tablespoons peeled, very finely grated fresh ginger (see headnote)
Cook the custard:
Place the heavy cream and 1/2 cup of the half and half in a heat-proof 1-quart capacity container or bowl and place a fine mesh strainer over the container. Set aside. Place the egg yolks in a medium bowl anchored on a damp towel and set aside.
In a medium saucepan, warm theremaining cup of half and half, sugar and salt over a medium flame, swirling the pot occasionally until the mixture is steaming and small bubbles form on the bottom of the pan, a few minutes.
Dribble the hot half and half mixture into the yolks, whisking constantly. Return the mixture to the pot, place over a low flame, and cook, stirring constantly with a heat-proof silicone spatula, scraping the sides and bottom of the pan, until the mixture begins to "stick" (form a film on) the bottom of the pan, and/or measures 170ºF on an instant-read thermometer, justa few minutes.
Immediately remove the pot from the heat and pour the hot custard through the strainer and into the cold cream mixture. Stir in the grated ginger and its juice, and chill for at least 4 hours, and up to 2 days. (If you're in a hurry, you can place the mixture in an ice water bath and stir until it is very cold.)
Churn the ice cream:
Place the ice cream base in the freezer for 20-30 minutes to get it really cold, shaking or stirring it every 10 minutes (this will make for a smoother ice cream). Spin the ice cream in an ice cream maker until it is the consistency of a thick milkshake. Transfer the ice cream to a storage container (preferably one that has been chilled in the freezer) and freeze for at least 2 hours for a scoopable consistency.
The ice cream is best within a few weeks of being made, but will keep for several months. To prevent ice crystals from forming, press a piece of parchment right on the surface of the ice cream, and store in a covered container.