Rhubarb recipes that go beyond strawberry rhubarb pie. Wondering what to do with rhubarb? These unique rhubarb recipes from 12 years of TBG are for the true "rhu-ficionados" among us. There's cake, pie, galettes, tarts, bars, cocktails, popsicles, and more. With gluten-free and vegan options.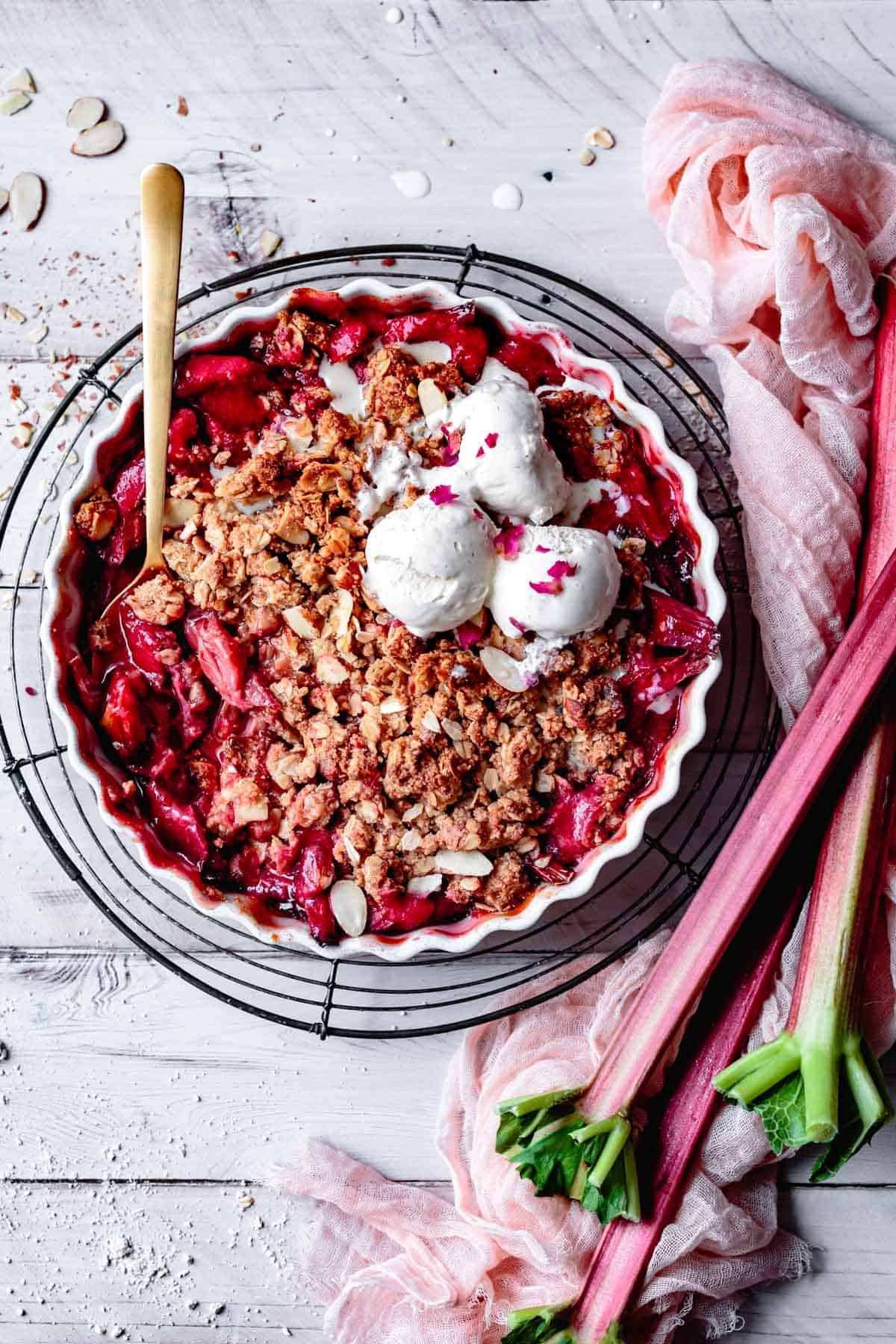 Rhubarb, with its pretty-in-pink stalks and springy flavors of berries and flowers, can never come too soon after a cold, dark winter. It's one of the first "fruits" to emerge as citrus season fades but berries have yet to arrive.
I don't remember tasting rhubarb until I moved from the LA area up to Northern California for college. There I immediately fell in love with its tart, floral flavor. Luckily for me, I also fell in love with a guy whose mom grows an abundance of rhubarb in her garden!
Thanks to this bounty, I've made loads and loads of rhubarb recipes over the years, which I had fun compiling here. There are easy rhubarb recipes that use wheat flour; gluten-free rhubarb recipes that use all the flours (or no flour); and there are even some dairy-free, egg-free, and vegan rhubarb recipes. Most are rhubarb desserts, plus a rhubarb cocktail and savory-sweet rhubarb chutney.
Please let me know if you give any of them a try! But first...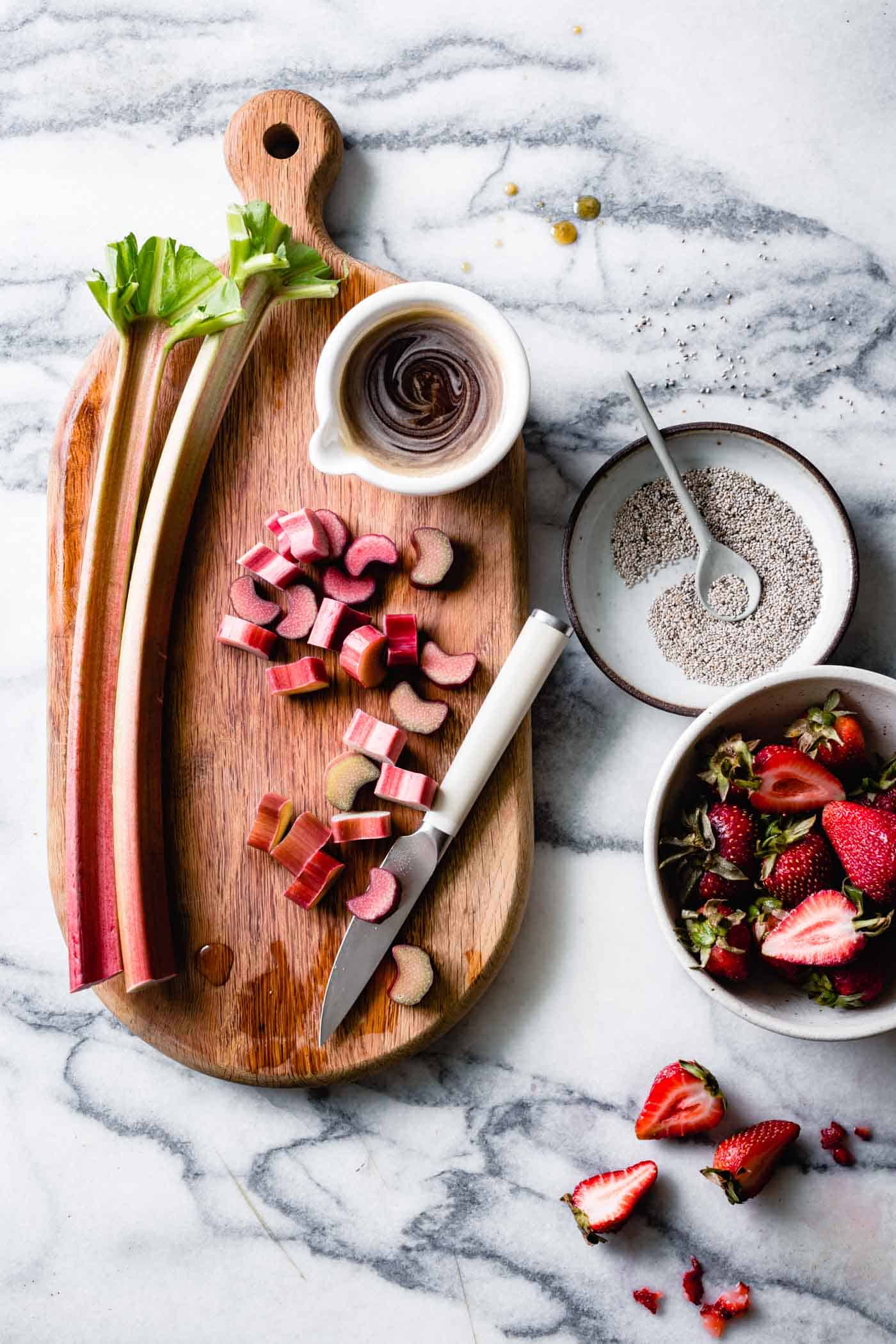 All About Rhubarb
Is rhubarb a fruit or vegetable?
Sometimes called "pie plant," rhubarb isn't a fruit, but a vegetable in the same family as the plant that produces buckwheat. The fleshy stalks are deliciously edible, but the leaves are toxic, so be sure to trim them all away.
Though technically a vegetable, rhubarb is primarily used as a fruit in the West, where it adds its unmistakeable flavor to rhubarb desserts. It's commonly paired with strawberries, and when you try them together you'll understand why. Strawberries add color and sweetness, while rhubarb adds body and depth. The two are a match made in heaven.
What does rhubarb taste like?
Rhubarb tastes deliciously tart, with notes of rose, red berries, and citrus. Sweeteners bring out its beguiling flavors, turning it into a dessert-worthy ingredient.
Forced vs. Field Rhubarb
In cooler climates such as the UK, forced rhubarb is commonly grown in dark hothouses. Stalks can grow quickly in these conditions – up to four inches per day! – and are harvested by candlelight. With no light for the leaves to photosynthesize, the leaves stay small and pale yellow. These stalks are bright magenta all the way through.
In warmer climates like coastal California, field rhubarb can grow outdoors much of the year, though it's happiest in the spring and fall during mild weather. Field rhubarb comes in varieties that range in hue from green to bright red and everywhere in between. In California, I've only ever found red stalks tinged with green. When cooked, the color can look drab, which is why I often use only the lower reddest parts of the stalks. I'll sometimes add red-hued ingredients such as beet or hibiscus powder or blood orange juice as well. A handful of red berries (fresh or frozen) will add color and flavor too.
Where to Buy Rhubarb
Look for fresh rhubarb at farmers markets and well-stocked grocers from February through July. In California, I most often see it in stores from April through June.
Look for frozen rhubarb at grocery stores alongside other frozen fruit. Frozen rhubarb can be used interchangeably in most recipes. No need to defrost it first, but you may need to extend the baking time a bit.
How to Store Rhubarb
Rhubarb stalks keep well for a week or two in the refrigerator. I prefer to store them in a plastic bag in the crisper drawer.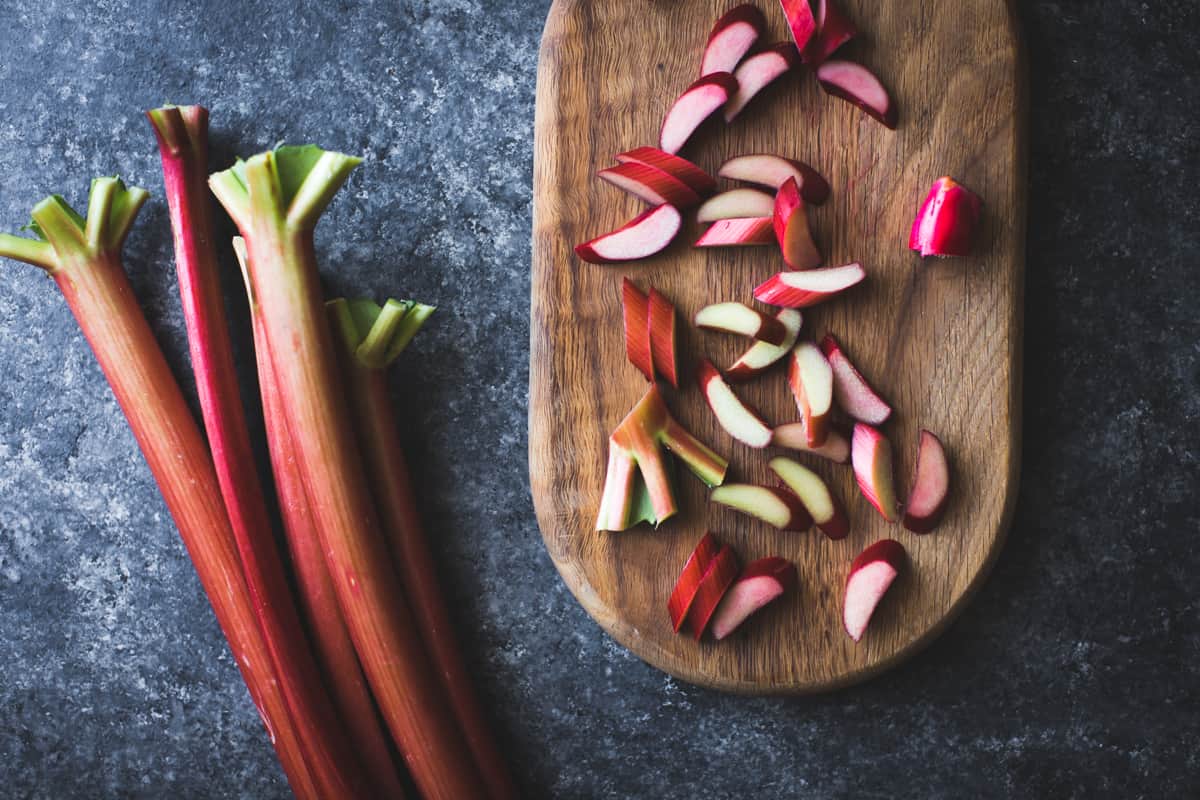 Preparing Rhubarb for Recipes
There's usually no need to peel rhubarb, unless the stalks are massive and the skin is tough to cut through.
Trim away all leaves and discard; these are toxic in high enough quantities.
Trim away any ragged ends from the root side of the stalk.
Cut per the recipe instructions: slice crosswise or on the diagonal, dice, or cut into long strips or batons.
While most rhubarb is cooked before using (poached, baked, or simmered into a compote), rhubarb *can* be eaten raw. I've had it pickled in salads!
How to Freeze Rhubarb
After you've trimmed the stalks, cut them crosswise or diagonally into 1-inch lengths.
Spread on a small rimmed baking sheet lined with parchment paper until firm, 30 - 60 minutes.
Once frozen, transfer to airtight containers or freezer bags and freeze for up to 3 months.
My Favorite Flavor Pairings for Rhubarb Desserts
berries (strawberries, raspberries, blueberries)
stone fruit (cherries, peaches, plums)
citrus fruits (lemon, orange, tangerine, kumquats)
apples
vanilla
ginger (especially fresh), cinnamon, nutmeg, cardamom
hibiscus, rose, orange blossom
oats, whole grains, nuts
brown sugar, honey, maple syrup
yogurt, sour cream, crème fraiche, goat cheese
coconut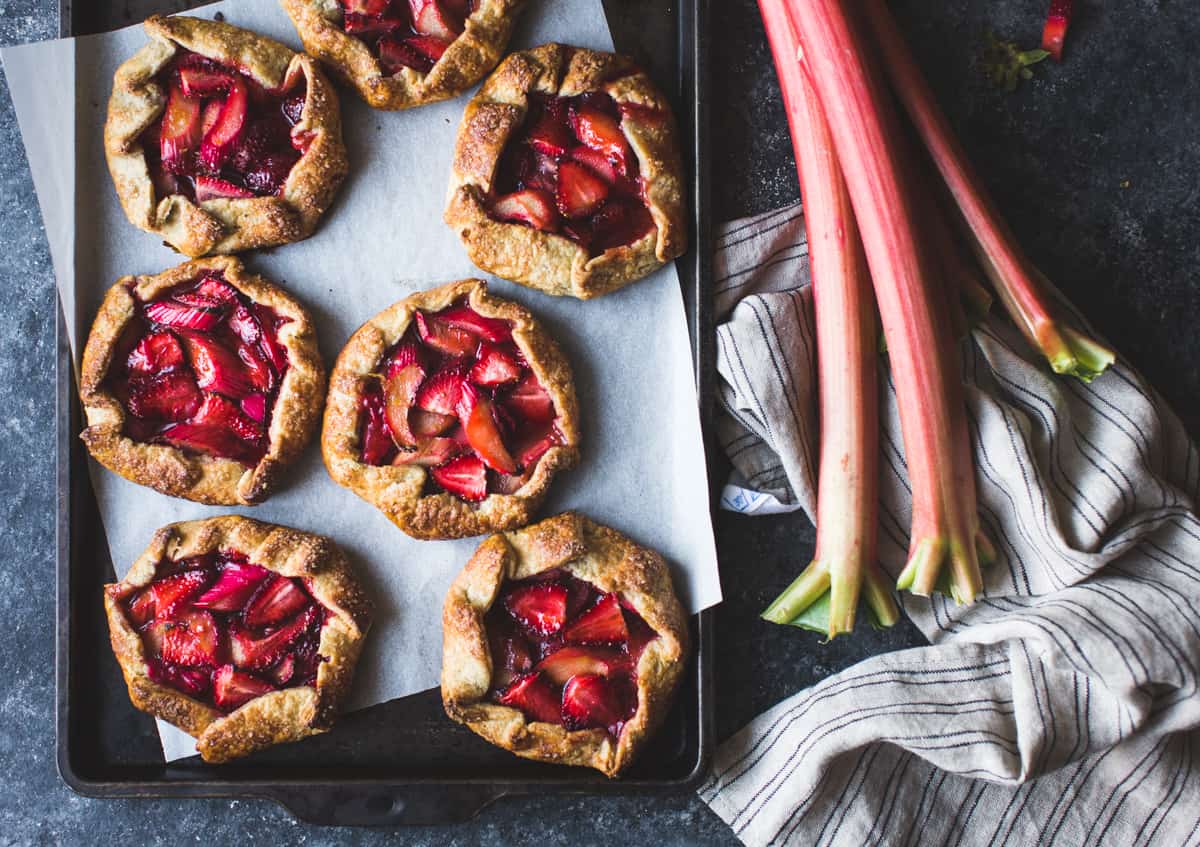 Easy Rhubarb Recipes & Rhubarb Desserts
These simple rhubarb recipes are easy on prep but big on flavor.
This four-ingredient strawberry rhubarb jam gets sweetness from maple syrup and a soft set from chia seed, no canning required. Spread it on toast or biscuits, swirl it into yogurt, or spoon it over crepes or pancakes.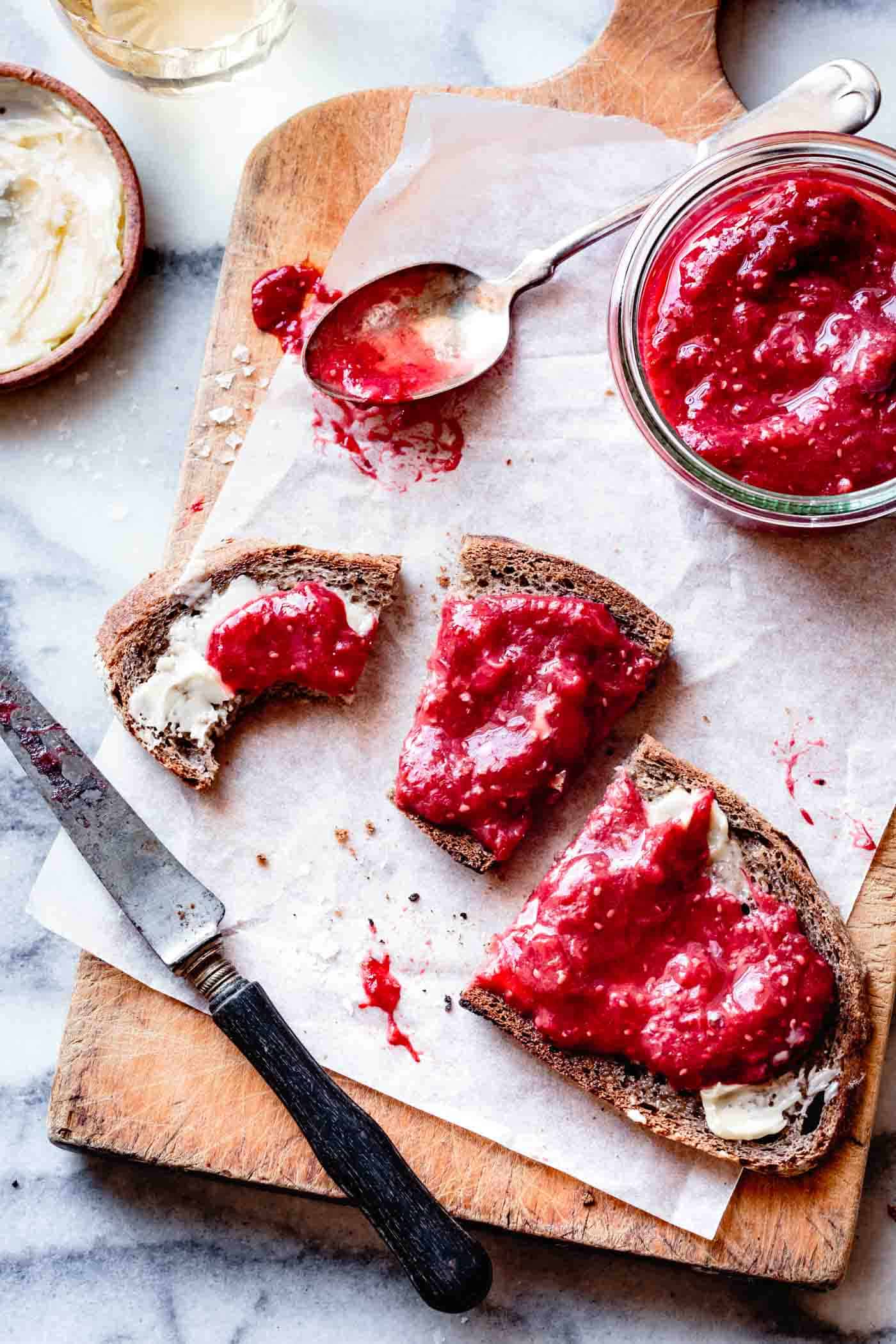 This maple-sweetened apple rhubarb crisp gets sweet-tart flavor from pink rhubarb, a bit of zip from fresh ginger, and oat-flecked cobbles of salty streusel.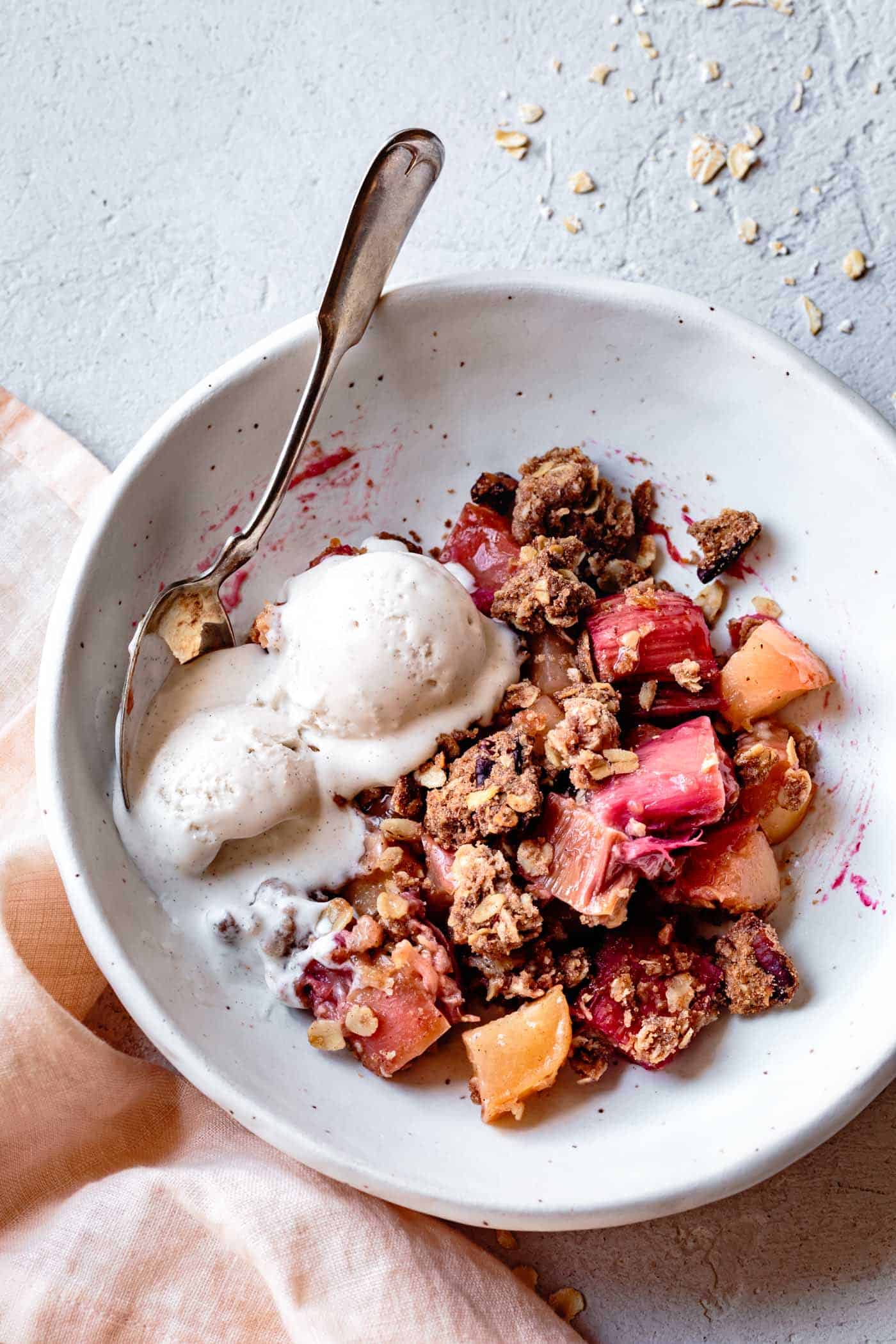 Rhubarb Coffee Cake is one of my oldest (as you can see from the photo!) and most made-recipes. This version uses wheat flour. If you're looking for a GF option, try the rhubarb variation of this gluten-free coffee cake that tastes equally delicious. You might also like this rhubarb buckle recipe; similar to coffee cake but with a higher rhubarb ratio.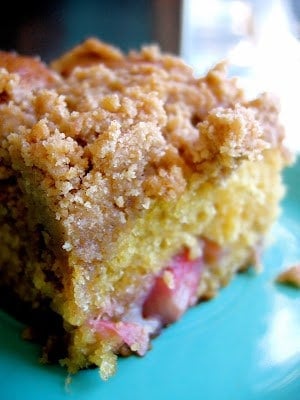 This rhubarb dessert may sound fancy, but it's actually super simple to make thanks to a press-in crust and buttery filling. The hardest part is browning the butter... and trying not to eat it all yourself! Make it gluten-free by using my GF tart crust and swapping sweet rice flour and rum or brandy in the filling.
Are rhubarb bars more your speed? Try these brown butter rhubarb bars or rhubarb crumb bars instead.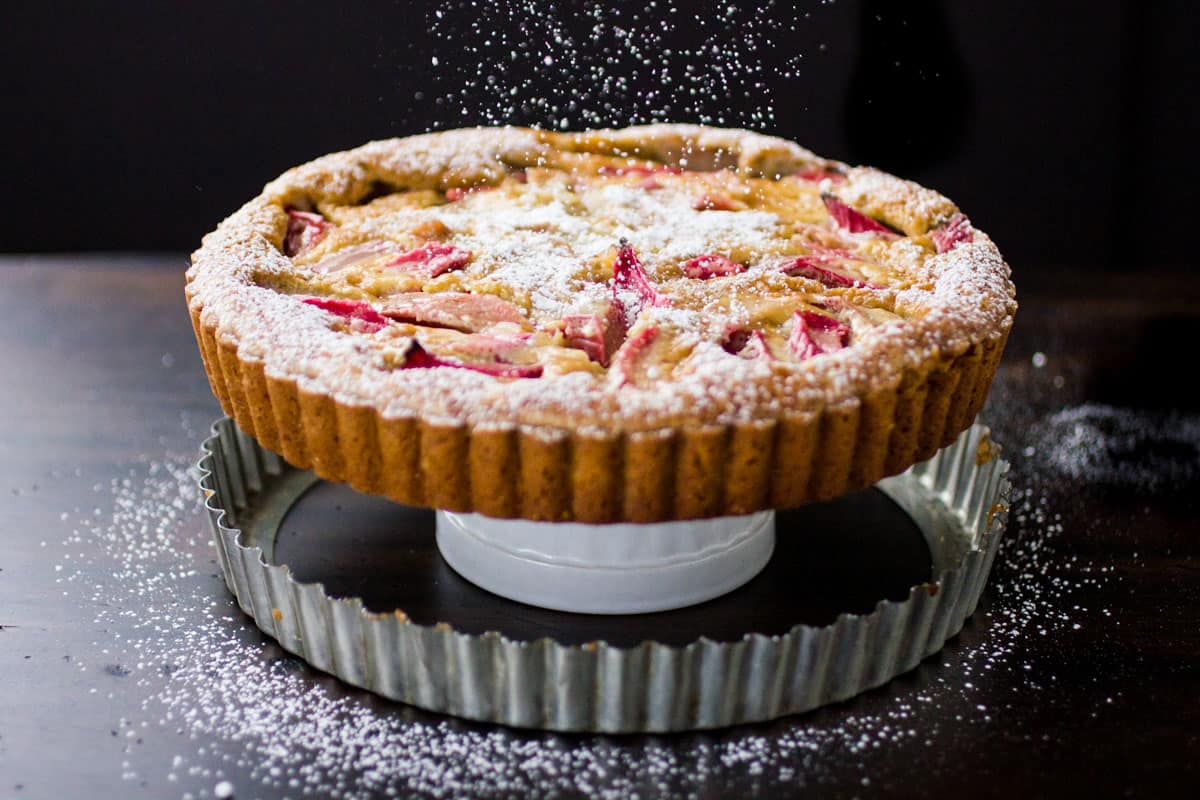 For a twist on strawberry rhubarb cobbler, try this version. It gets a kick from bourbon and is topped with thick ginger-oat biscuits to sop up the juices.
For dairy- and grain-free biscuits, try this paleo cobbler recipe.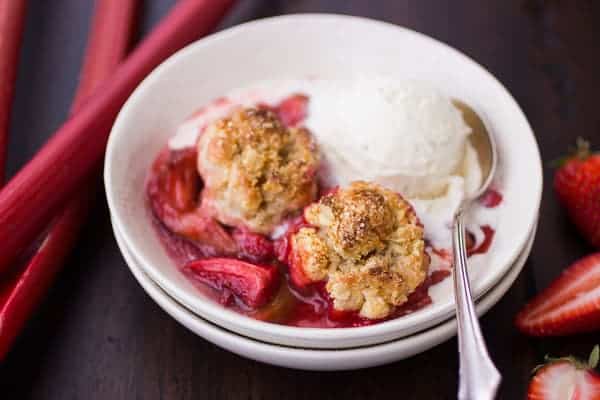 When you've had your fill of strawberries and rhubarb, try this fruit-filled crisp with cardamom-scented streusel instead. A unique rhubarb recipe for the true rhu-ficionado.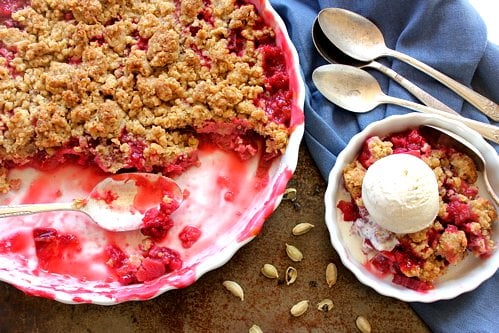 If you're craving pie but prefer a simpler version, try this apple rhubarb pandowdy. Apples and rhubarb topped with pie crust cut-outs bake in a skillet for a deceptively simple rhubarb dessert. Make it GF by using my gluten-free pie crust recipe or paleo pie crust recipe.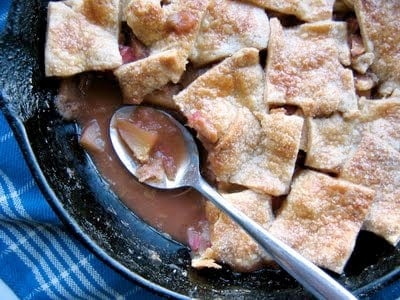 Get to know the savory side of rhubarb with this rhubarb chutney. Kissed with ginger, garlic, honey, onion, and white wine, this sweet-tart chutney tastes divine with goat cheese and crostini for an eye-opening starter.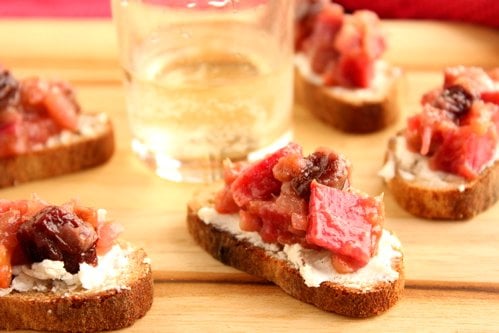 Gluten-Free Rhubarb Recipes
No gluten? No problem! These GF rhubarb recipes will satisfy everyone's dessert cravings.
This pretty little cake gets a flavor boost from almond flour, lemon, and olive oil. A light, springy, and not-too-sweet cake for snacktime or anytime!
Prefer GF rhubarb coffee cake? Try the rhubarb variation in this GF coffee cake recipe.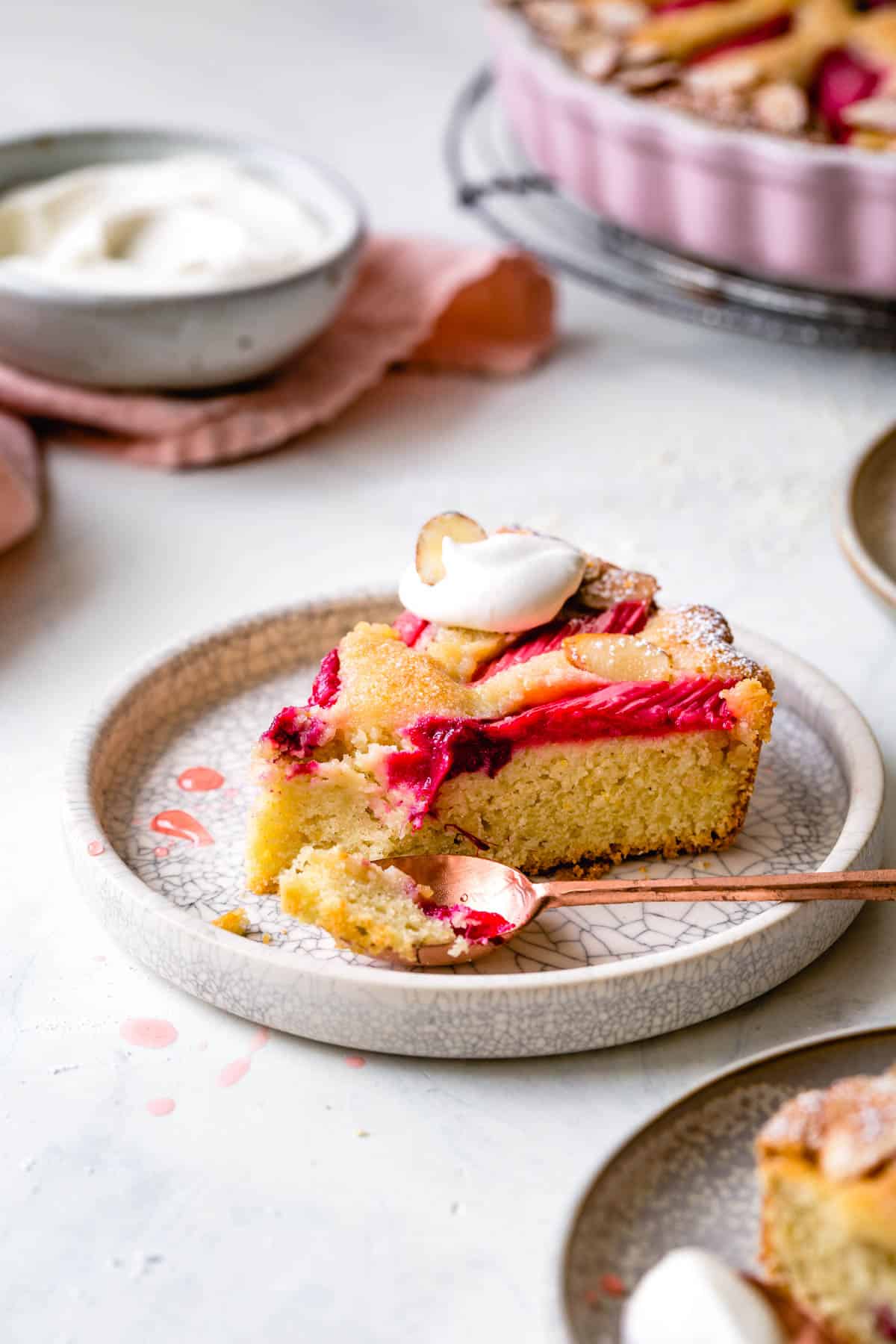 Elevated with a splash of rosewater and vanilla bean, all wrapped in a gloriously flaky GF crust.
Or you might like these rhubarb goat cheese galettes, which get a cheesecake vibe from sweetened chèvre filling.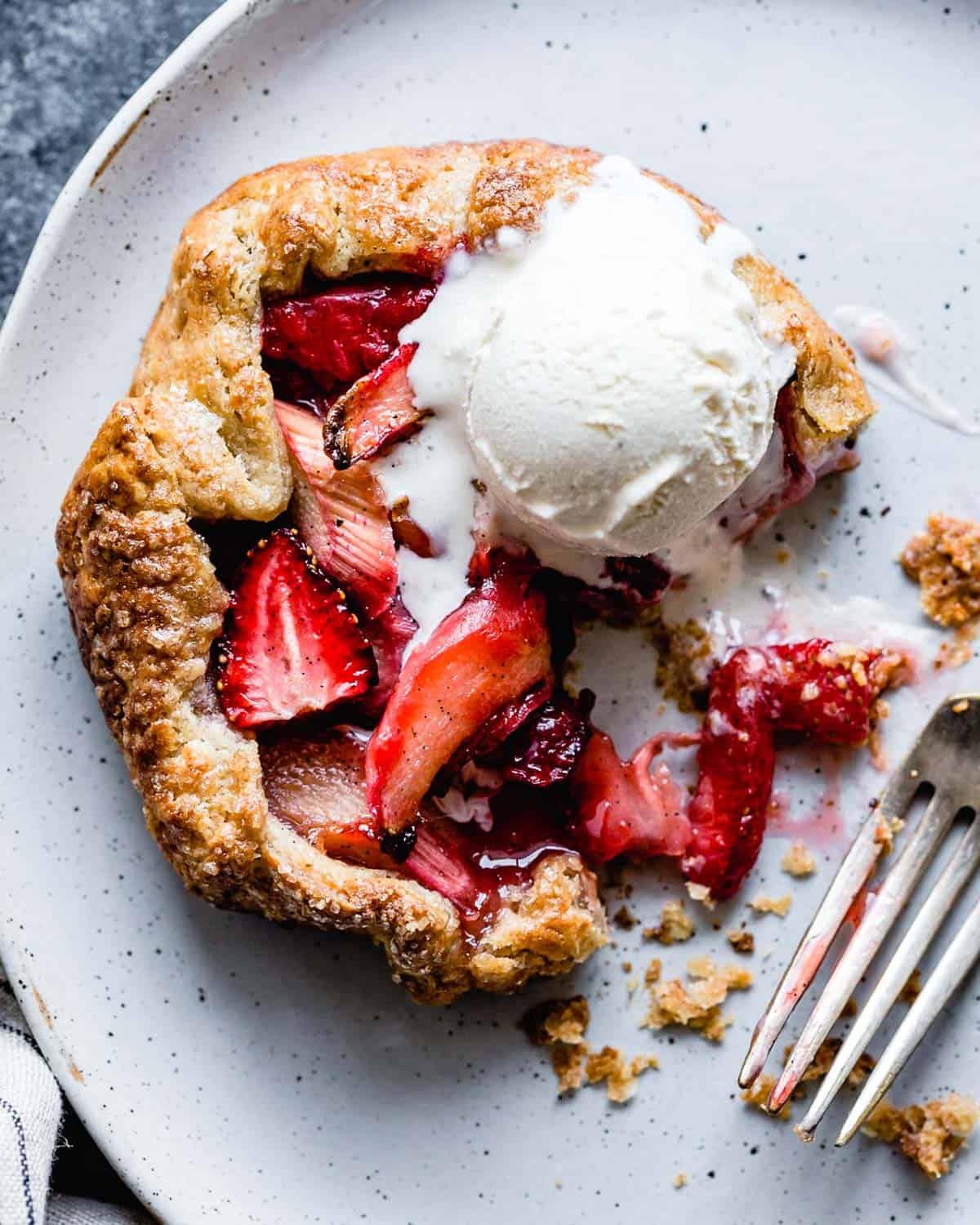 Maple-sweetened fruit crowned with tender, gluten-free, whole-grain biscuits treads the line between nourishing and decadent. Top with scoops of maple ice cream if you like.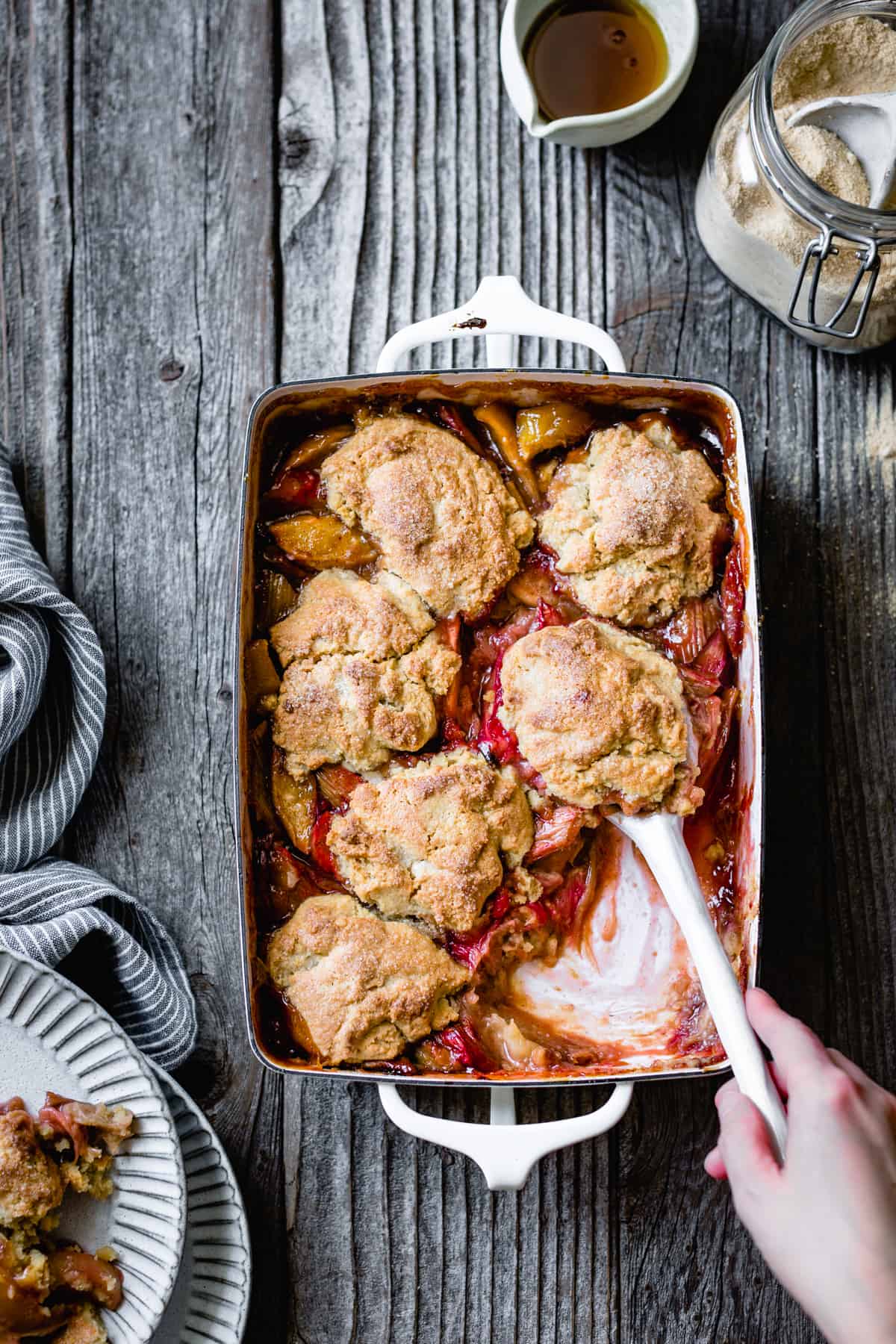 This GF rhubarb treat tastes like a fancy French pastry but it's easier than pie. Just roll out the crust, slather with almond frangipane, and top with strips of rhubarb. Finish slices with a drizzle of honey.
Rhubarb Popsicles
These frosty ice pops combine layers of creamy yogurt with silky rhubarb compote for a delightfully cold rhubarb dessert.
This topping has a secret ingredient that gives it a crispy, chewy, sturdy texture akin to oatmeal cookies. Top it with fresh ginger ice cream if you want to get extra fancy!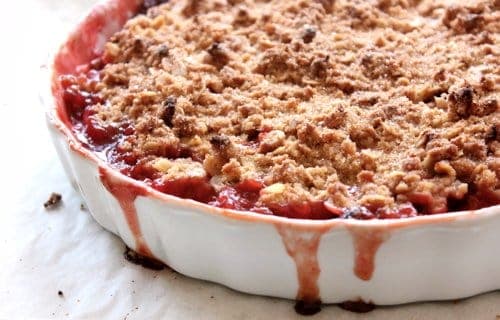 Strawberry Raspberry Rhubarb Pie
Get this version of the classic in my gluten-free cookbook Alternative Baker, where it graces the cover! You'll also find recipes for gluten-free strawberry rhubarb cobbler and GF rhubarb roulade cake, plus 100+ baking recipes for gluten-free desserts made with flavorful flours and fresh produce.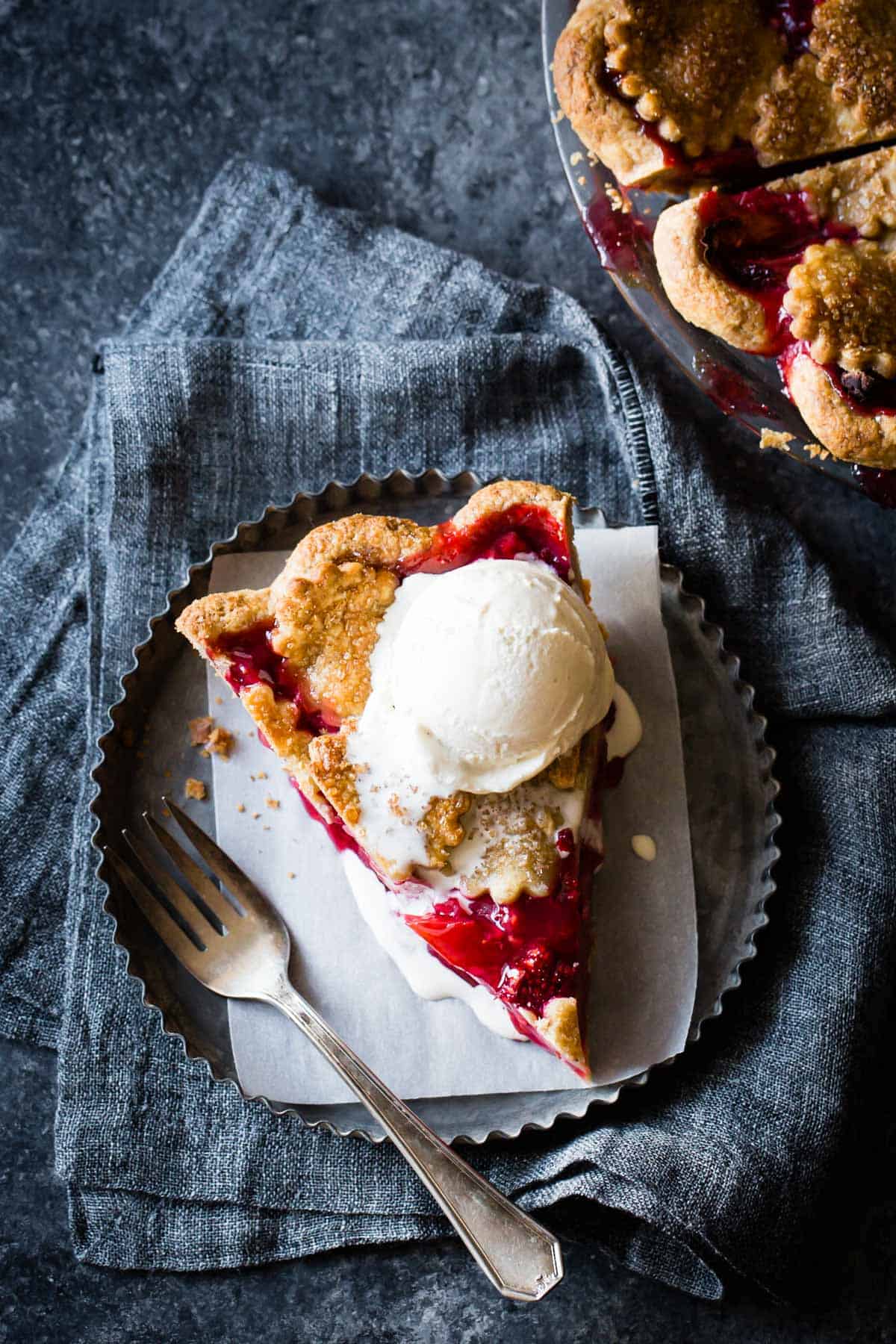 Vegan Rhubarb Recipes
Sneakily plant-based versions of rhubarb goodness.
This rhubarb crisp can easily go vegan by using a good-quality plant butter. Top bowls of tender rhubarb and crunchy streusel with your favorite vanilla ice cream (dairy or plant-based). See recipe below!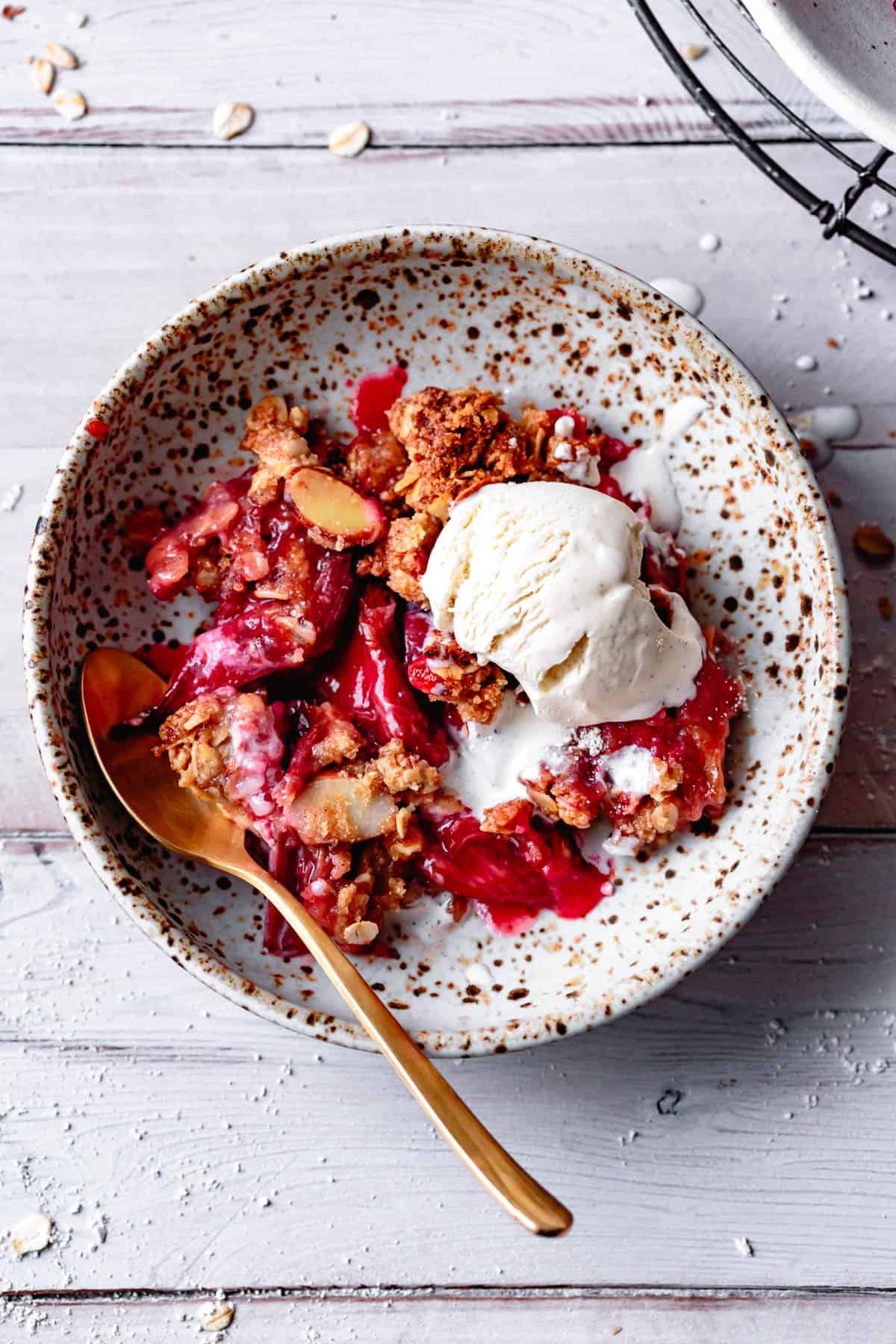 Tahini chia pudding tastes like PBJ when layered with strawberry rhubarb chia jam in these lusciously nourishing cups.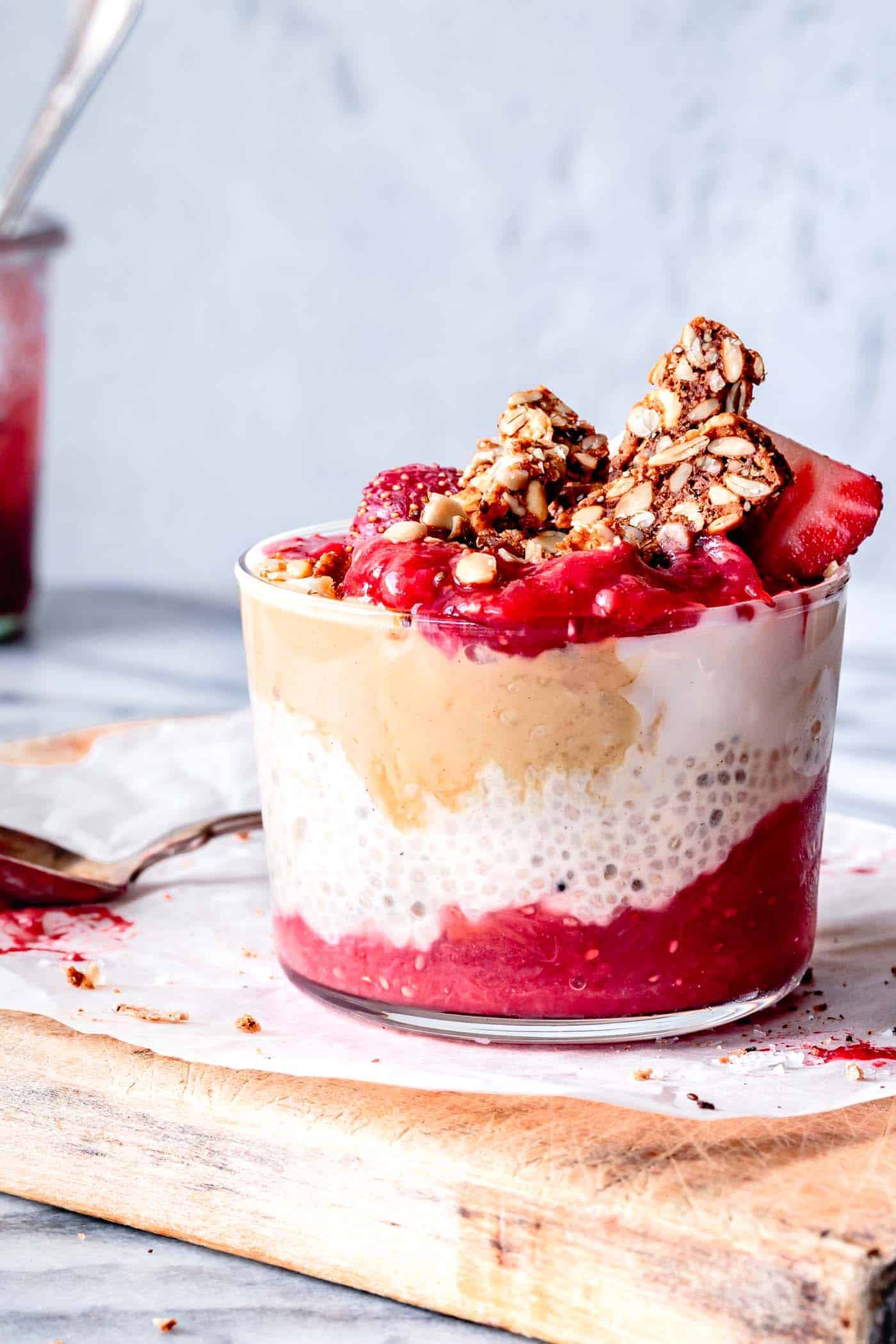 For a sublime vegan rhubarb dessert, whip up this vibrant hibiscus-poached rhubarb to top vanilla coconut pudding. Hibiscus brightens both the color and flavor of the rhubarb, all offset by creamy coconut custard.
It's happy hour somewhere, so whip up a batch of these sweet-tart rhubarb cocktails. Inspired by the Bee's Knees cocktail, this combines honey rhubarb syrup with fresh ginger and gin for a kicky cocktail.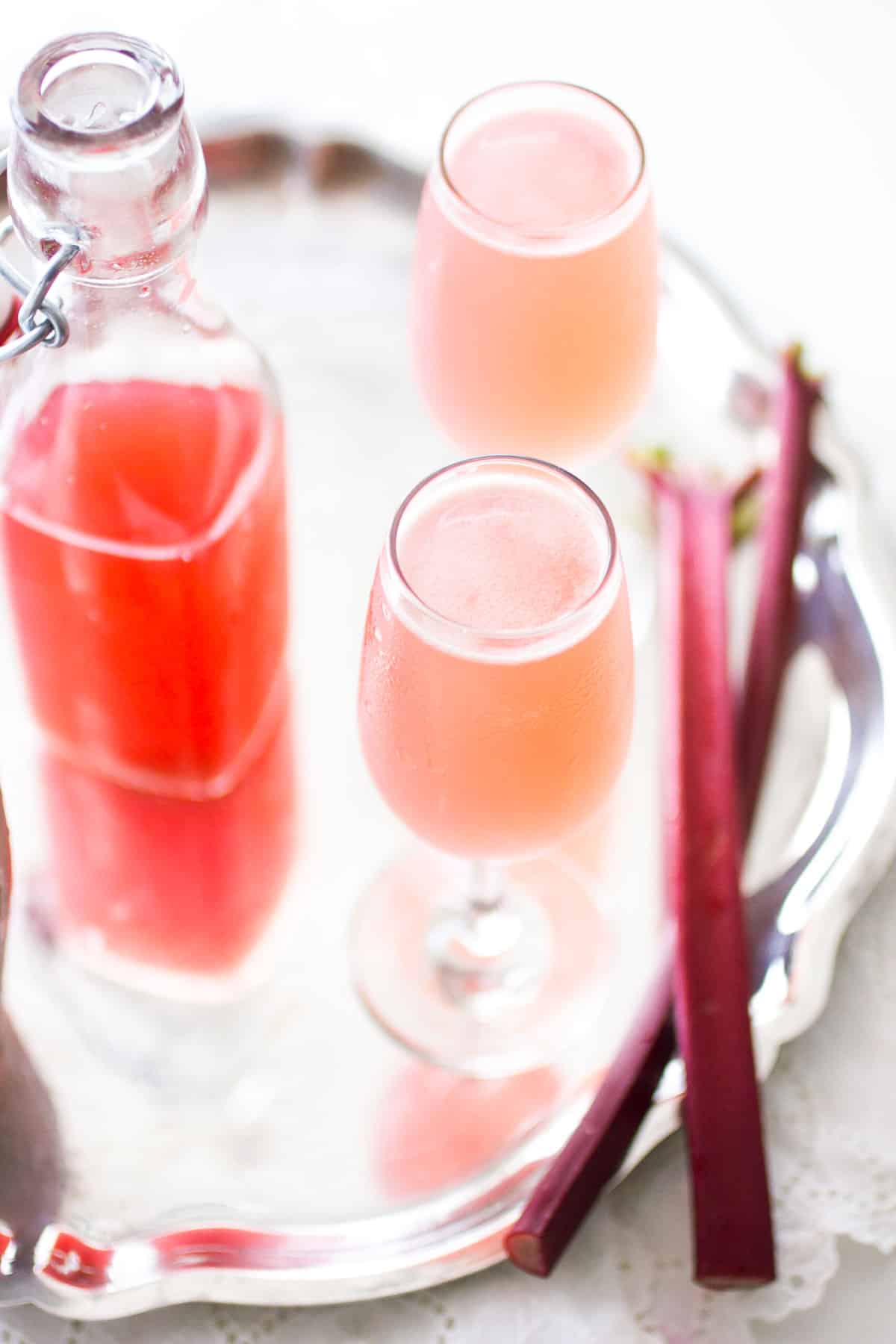 What are you favorite ways to use rhubarb? Let me know in the comments below!
*Bojon appétit! For more Bojon Gourmet in your life, follow along on Instagram, Facebook, or Pinterest, purchase my gluten-free cookbook Alternative Baker, or subscribe to receive new posts via email. And if you make one of these rhubarb dessert recipes, I'd love to know. Leave a comment and rating below, and tag your Instagram snaps @The_Bojon_Gourmet and #bojongourmet.*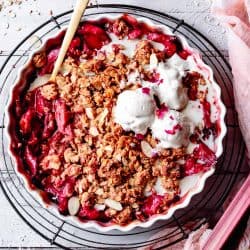 Rhubarb Recipe: Rhubarb Crisp (GF & Vegan)
Print Recipe
Pin Recipe
The perfect way to use a surplus of rhubarb! This rhubarb crisp recipe combines tangy rhubarb laced with vanilla and lemon with a salty-sweet streusel topping. Gluten-free and vegan options! If gluten isn't an issue, use all-purpose flour in place of the oat flour and tapioca flour.
Ingredients
Rhubarb:
5

cups

(600 g) rhubarb, leaves trimmed away, cut into 1-inch pieces on the diagonal

zest and juice of ½ large lemon

1/2

cup

(100 g) organic granulated sugar

2

tablespoons

(15 g) cornstarch or tapioca flour

1

teaspoon

vanilla paste or extract
Topping:
1/2

cup

(55 g) almond flour

1/2

cup

(50 g) GF old-fashioned rolled oats

1/2

cup

(55 g) sliced almonds

¼

cup

(25 g) oat flour

1 ½

tablespoons

(11 g) tapioca flour

1/2

cup

(110 g) packed organic light brown sugar

½

teaspoon

ground cardamom (or cinnamon)

¼ - ½

teaspoon

fine sea salt (I like my streusel salty with ½ teaspoon, but use the smaller amount if you prefer!)

5

tablespoons

(70 g) unsalted dairy or vegan butter (such as Miyoko's), melted

Dairy or non-dairy vanilla ice cream, for serving

Dried rose petals for decoration (optional)
Instructions
Position a rack in the center of the oven and preheat to 350ºF.

In a large bowl, toss the rhubarb with the lemon zest and juice, sugar, cornstarch, and vanilla. Scrape the mixture into a 9- or 10-inch round baking dish, pie plate, or ovenproof skillet. Place the baking dish on a rimmed baking sheet to catch any drips, and bake until the rhubarb starts to bubble, 25-30 minutes. Gently stir the rhubarb to redistribute.

To make the topping, combine the almond flour, oats, almonds, oat flour, tapioca flour, brown sugar, cardamom, and salt in a medium bowl (you can reuse the rhubarb bowl if you scraped it clean enough). Stir in the melted butter until the mixture forms large clumps.

When the rhubarb has baked, sprinkle the topping over the fruit. Return to the oven and bake until deep golden and bubbling furiously, about 25-35 more minutes. Let cool for a few minutes or to room temperature. Scoop into bowls and serve with ice cream and a sprinkle of rose petals if you like.

The crisp is best when freshly baked, but leftovers keep, covered and chilled, for up to 3 days. Enjoy cold or warm.
Notes
Don't skip the ice cream: that space where melty ice cream meets warm compote and buttery streusel is pure bliss.
If your rhubarb is on the less-pink side, you can boost the color by adding any of the following: ½ - 1 teaspoon beet or hibiscus powder, the juice from a blood orange, or a handful of strawberries or raspberries.
Nutritional values are based on one of six servings.
Nutrition
Calories:
428
kcal
Carbohydrates:
57
g
Protein:
7
g
Fat:
21
g
Saturated Fat:
7
g
Cholesterol:
25
mg
Sodium:
191
mg
Potassium:
457
mg
Fiber:
6
g
Sugar:
37
g
Vitamin A:
395
IU
Vitamin C:
12.9
mg
Calcium:
165
mg
Iron:
1.7
mg