These ricotta crepes have double ricotta love. There's ricotta added into the batter for a tender, nubby texture, plus a topping of whipped ricotta, citrus, and honey.
Whip these up for a festive winter brunch or dessert, or serve them with berries or poached rhubarb in the spring, or with sautéd pears in the fall.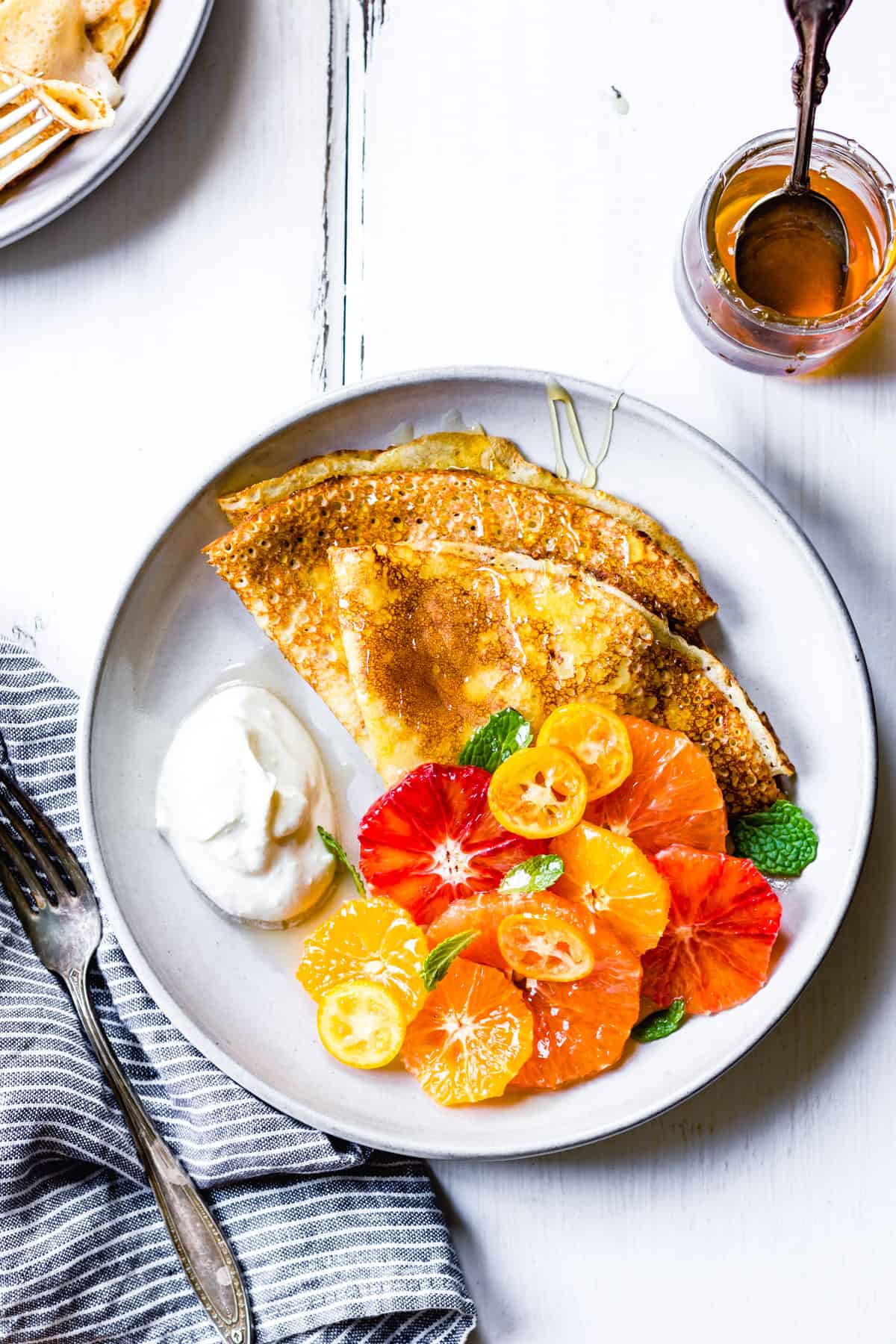 These vibrant ricotta crepes were originally a guest post for my friend Kris over at 80twenty! Kris's site is one of the blogs I most look forward to seeing in my feed each week and her recipes, from soup to bread to drinks never fail to make me swoon.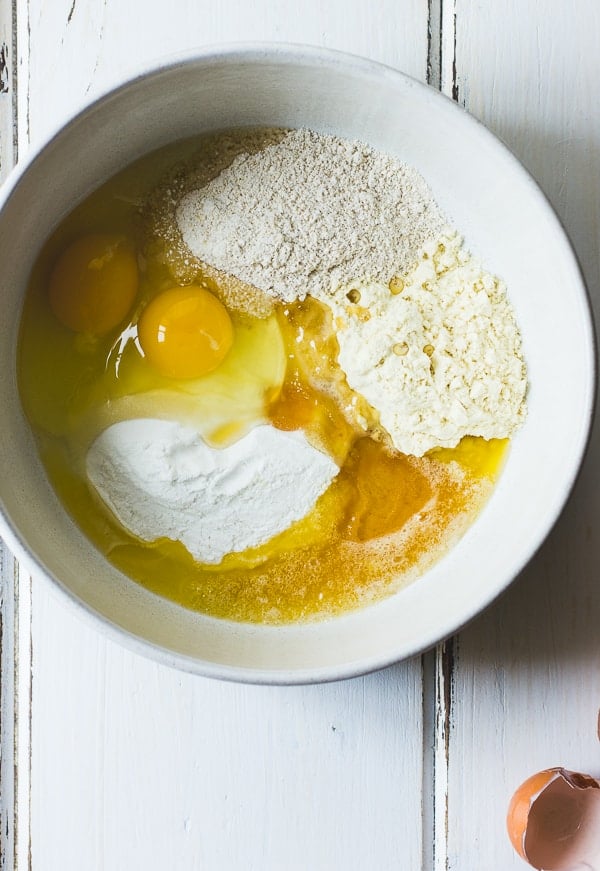 I made a batch of ricotta crèpes to celebrate the French holiday Chandeleur, which embraces the light returning after a long winter. Also known as Crèpe Day, on February second thin pancakes representing the sun are traditionally eaten together with crocks of hard cider. What's not to love?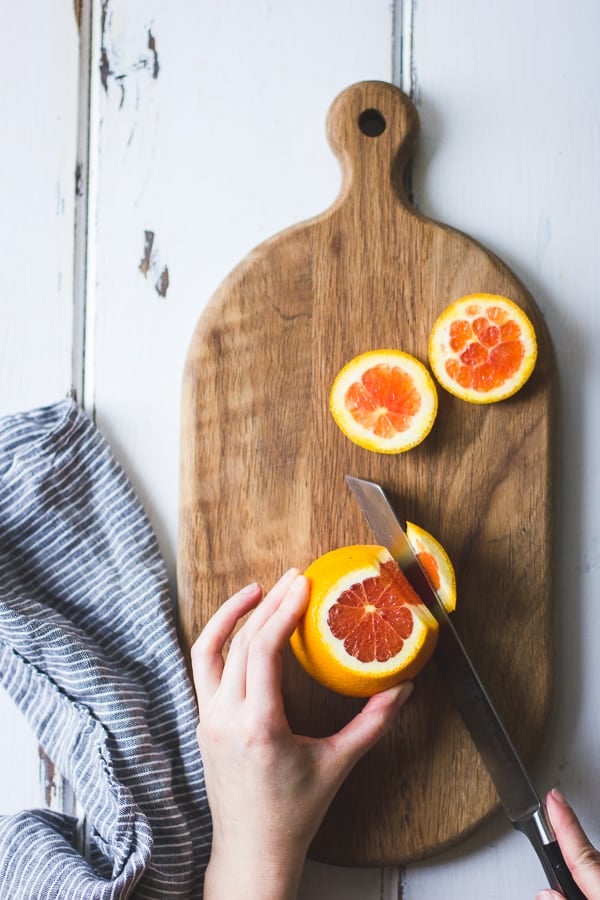 The inspiration for this ricotta crepe recipe came from Kim Boyce's Good to the Grain. I traded the original gluteny flours for gluten-free ones: equal parts oat flour, millet flour, and sweet rice flour, and it worked brilliantly. The crepes cook up soft and lacy, studded with curds of ricotta and full of protein.
To the pliant gluten free crepes I add sunny rounds of citrus – cara cara and blood oranges, tangerines, and kumquat – a billow of ricotta whipped cream, a drizzle of honey, and a flutter of mint leaves. All together, it makes for a dish that's as bright visually as it is in flavor.
Try these gluten free ricotta crepes with berries during the spring, peaches and basil in the summer, or sautéed pears and thyme in the fall. They're sure to be a hit for a special brunch.
Orbs of citrus satisfy my craving for color during winter months, but no matter the weather, it's always a good time to get your crèpe on! Get the recipe, below, originally published on 80Twenty.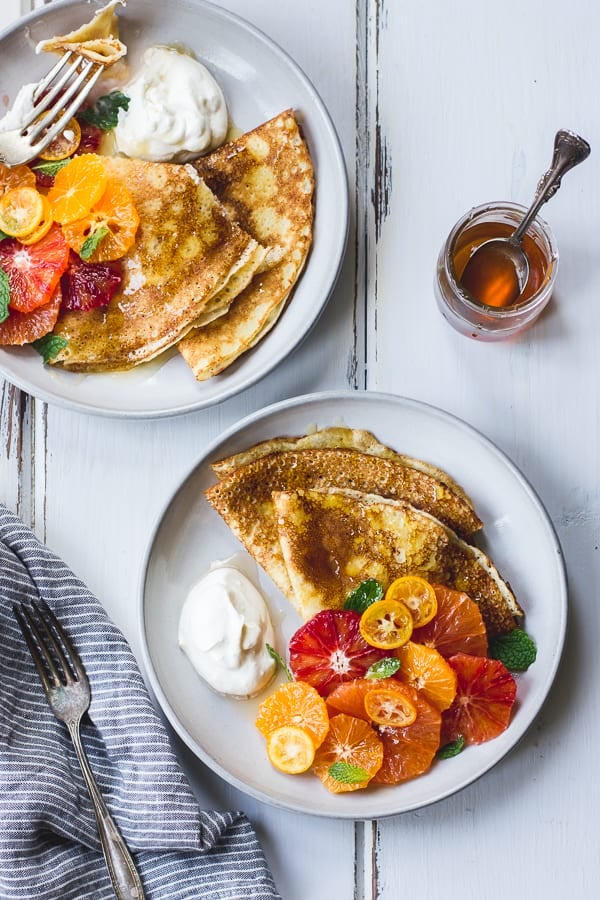 Cheers!
More Crepe & Pancake Recipes:
*Bojon appétit! For more Bojon Gourmet in your life, follow along on Instagram, Facebook, or Pinterest, purchase my gluten-free cookbook Alternative Baker, or subscribe to receive new posts via email. And if you make these ricotta crepes, I'd love to know. Leave a comment and rating below, and tag your Instagram snaps @The_Bojon_Gourmet and #bojongourmet.*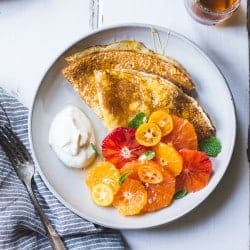 Gluten Free Crèpes with Ricotta, Citrus & Honey
Print Recipe
Pin Recipe
Lacy gluten-free ricotta crèpes are topped with ricotta whipped cream, rounds of winter citrus, torn mint leaves, and a generous drizzle of honey.
Ingredients
Crepes:
1/3

cup

GF oat flour

(1.25 ounces / 35 grams)

1/3

cup

millet flour

(1.5 ounces / 45 grams)

1/3

cup

sweet white rice flour

(1.75 ounces / 50 grams)

3/4

teaspoon

fine sea or kosher salt

2

large eggs

2

tablespoons

unsalted butter, melted and slightly cooled

1

tablespoon

honey

1

cup

whole milk (more as needed)

(8 ounces / 235 ml)

1

cup

whole milk ricotta

(8 ounces / 235 ml)

ghee or butter, for cooking the crèpes
Ricotta Whipped Cream:
1/2

cup

heavy cream

(4 ounces / 120 ml)

1/2

cup

whole milk ricotta

(4 ounces / 120 ml)

1

tablespoon

honey

1/2

teaspoon

vanilla extract
Toppings:
2

Cara Cara (or navel) oranges

2

blood oranges

4

small tangerines

8

small kumquats

a handful of small, pretty mint leaves

a few tablespoons honey, for drizzling
Instructions
Let's make crèpes!:
In a large bowl, whisk together the oat, millet and sweet rice flours with the salt. Add the eggs, butter, honey, and 1/4 cup of the milk and whisk to form a smooth, thick batter. Gradually whisk in the remaining milk, then the ricotta. If the batter is thick, add a tablespoon or two of more milk to thin it. (I usually add an additional 2 tablespoons, but I recommend making a tester first to make sure you need it.)

Heat an 8-inch crèpe pan or skillet over medium heat. Add a small pat of ghee to the pan and use a scrunched up paper towel to wipe it around the pan; you just want a super-thin layer of ghee to prevent stickage, but not so much that the batter slips and slides all over the place when you swirl it around the pan. When the pan is hot, grasp it in your left hand (if right-handed) and pour 1/3 cup of batter onto the left side of the pan. Quickly tilt the pan to the right, shuffling it to spread the batter evenly into a thin layer that coats the bottom of the pan.

Place the pan back on the flame and cook the crèpe on the first side until the edges are golden and the top is fairly dry, about 2 minutes. Slide a thin metal spatula under the crèpe to make sure it hasn't stuck (I like using a tiny offset spatula), then grasp an edge with both sets of fingers and flip it over. (Or use a wide metal spatula to flip if you haven't burned off all your fingerprints yet flipping crèpes.) Cook the crepe briefly on the second side until cooked through, about 1 minute. Fold the crèpe into quarters and slide it onto a large, covered plate to keep it warm.

As you work, adjust the heat under the pan as needed. You want enough heat to give the crèpes a lacy look, but not so much that the pan smokes or the batter goes crazy when you pour it into the pan.

Cook the remaining crèpes, repeating the ghee-spreading, batter-shuffling, finger-burning process. It will take a good half hour to get them all cooked.

Meanwhile, make the ricotta whipped cream:

In the bowl of a stand mixer fitted with the whip attachment, combine the heavy cream, ricotta, honey, and vanilla. Whip on medium-high until the mixture holds soft peaks. Cover and chill until needed.
Prepare the citrus:
Rinse and dry the fruits.

Cut the ends off of an orange. Place the orange cut-side down on a cutting board and use a sharp chef's or serrated knife to pare away the skin and pith, following the curve of the fruit. Turn the orange on its side and cut into thin rounds, removing any seeds. Repeat with the other oranges and tangerines. Slice the kumquats into thin rounds and remove the seeds.
Serve:
Re-warm the cooked crèpes in the hot pan, and place two on each of four plates. Divide the citrus rounds over the crèpes and top with some pretty, small mint leaves (or tear large ones into pieces). Spoon some ricotta whipped cream to the side of each crèpe and drizzle the whole thing with a bit of honey. Serve immediately.
Notes
The crèpe batter can be made up to 1 day ahead and chilled. Give it a stir before cooking. Cooked crèpes will also keep, refrigerated airtight, for up to two days. Reheat before serving.
Nutritional values are based on one of four servings.
Nutrition
Calories:
618
kcal
Carbohydrates:
76
g
Protein:
21
g
Fat:
39
g
Saturated Fat:
23
g
Cholesterol:
200
mg
Sodium:
593
mg
Potassium:
644
mg
Fiber:
7
g
Sugar:
40
g
Vitamin A:
2190
IU
Vitamin C:
85.4
mg
Calcium:
389
mg
Iron:
2.2
mg
Super Citrus:
Black Sesame Kumquat Financiers {Gluten-Free}
Fresh Bergamot Truffles
Grapefruit, Ginger and Lemongrass Sake Cocktails
One year ago:
Lavender Kumquat Shrub {Drinking Vinegar}
Two years ago:
Gluten-Free Chocolate Almond Olive Oil Cake
Three years ago:
(Gluten-Free) Über Chocolate Cookies
Four years ago:
White Bean, Kale and Farro Soup with Parsley Pesto
Five years ago:
Breakfast Bars with Tart Cherries, Chocolate and Pecans
Banana Brown Sugar Pecan Scones