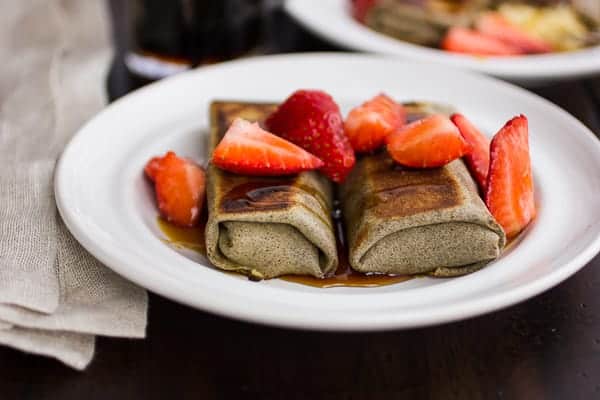 As far as I'm concerned, cheese blintzes are the world's most perfect food. Can it get much better than a thin crepe wrapped around lightly sweetened cheese and then fried in butter? This dairy-lover thinks not.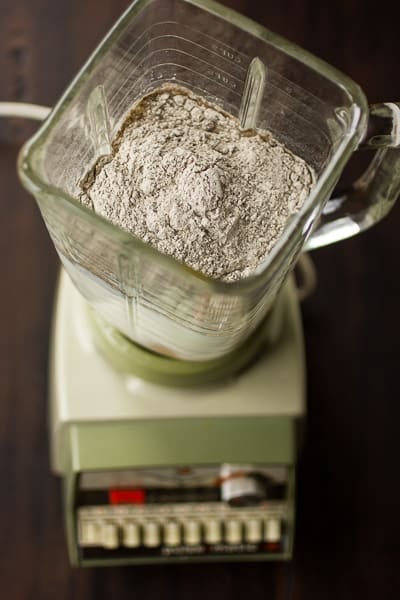 My paternal grandmother, whom we all called Bubba, used to gift us packages of her homemade blintzes, which my mom would serve up topped with applesauce and sour cream. They even gained a reputation among a few of my lucky friends (one shiksa routinely referred to them as "blitzens").
No one managed to get Bubba's blintz recipe out of her before she passed away seventeen years ago. (I miss you, Bubba!) Though I've been a crepe-making fool for a while now, I've been afraid to brave the blintz – there was no way they would ever measure up to Bubba's.
I couldn't even remember the last time I'd had a blintz before last weekend, but I practically plotzed for joy when I spied them on the menu at Homemade Cafe, which serves up old-school breakfasts just around the corner from my brother's house in Oakland. Of course, the blintzes were no match for Bubba's. But as I devoured them (hey, a sweet cheese-filled crepe fried in butter is a sweet cheese-filled crepe fried in butter) my mom reminisced about making blintzes with her mother. She gave me courage.
While the ten-year-old me did not care if I ate sugar, cheese, butter, sour cream and white flour for entire meals on end, the 30-something me can't wrap my head around doing such a thing, so I decided to assuage my guilt a bit by adding some whole grain flour to my blintzes. They were never going to measure up to Bubba's, so it would be a futile exercise to try to make them identical anyway. So I added buckwheat flour, and loved the rustic color and assertive flavor that it gave them. I based the recipe on one from Bon Appetit that looked pretty solid, and they were quite the success, covered in sugared strawberries for breakfast.
The second time around, I decided to make the crepes gluten-free, so I used a blend of oat, sweet rice, and buckwheat flours. These were even more delicate and pliant, easier to wrap around the cheese, and more blintz-like. I traded the sugar in the berries for a drizzle of maple syrup, which complements the hearty buckwheat flour perfectly. The filling in these is so creamy, they don't even need the dollop of sour cream that I previously would have insisted you add to the top.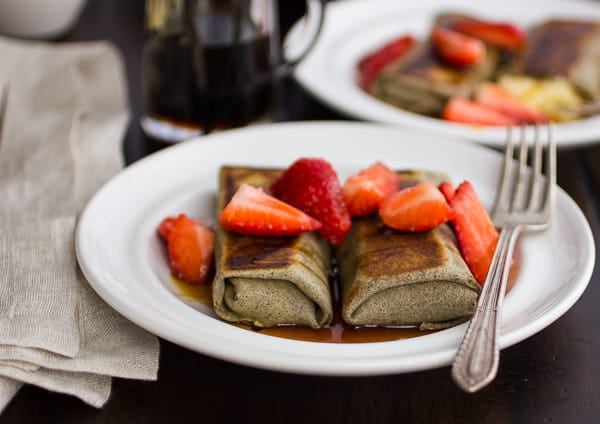 After many blintz-free years, I'm finally making up for lost time. My kitchen is now under siege by cheese and crepes for breakfast, lunch, and dinner; it is a veritable blintzkrieg.
They're easier to make than I thought they would be. A little too easy. In fact, I may start developing Bubba-esque tendencies to give packages of blintzes to everyone I know. So watch out.
Bucking the trend:
Buckwheat Chocolate Chip Cookies
Gluten-Free Banana Buckwheat Pancakes
Maple Blueberry Buckwheat Scones
Jew food:
Chocolate Pistachio Rugelach
Pumpkin Challah
Coconut, Almond and Brown Butter Macaroons
Gluten-Free Buckwheat Cheese Blintzes
Adapted a whole lot from Bon Appetit
A few notes: If gluten isn't an issue for you, feel free to use 1/4 cup each all-purpose and whole wheat flours in place of the rice and oat flours. Farmer (or "pot") cheese is similar in texture to ricotta, but with a tangier flavor and made using a different process. If you can't find farmer's cheese, you can make it yourself, or try using ricotta instead. I love these with strawberries in the spring, but any in-season berry would be delicious here. Try them with apple, quince or pear compote in the fall. All ounce measurements here are by weight.
Makes about 12 blintzes, 4-6 servings
Gluten-Free Buckwheat Crepes:
1 cup (8 ounces) milk (I use whole)
4 large eggs
1 tablespoon (1/2 ounce) sugar
1/4 teaspoon fine sea salt
1/2 cup (2 1/2 ounces) buckwheat flour
1/4 cup (1 1/2 ounces) sweet rice flour (such as Mochiko brand)
1/4 cup (1 ounce) gluten-free oat flour
1 tablespoon melted butter
Cheese filling:
1 pound (about 2 cups) farmer cheese (the soft, spoonable kind with a ricotta-like texture)
1 1/2 tablespoons sugar
1 egg yolk
big pinch of salt (1/16 teaspoon)
1 tablespoon melted butter
For frying and serving the crepes:
2 tablespoons butter or ghee
1 pint basket of strawberries, hulled and sliced (see headnote for more suggestions)
maple syrup
greek yogurt, sour cream or crème fraîche
Make the crepes:
In a blender, combine the milk, eggs, sugar, salt and flours, and mix on low to combine, scraping down the sides of the blender if flour sticks to them. With the motor running, blend in the melted butter.
Heat an 8″ crepe pan over a medium flame, and use a scrunched up paper towel to swipe it with a bit of butter. (Too much butter will cause the batter to slip.) As you make your crepes, you'll want to stir the batter to incorporate the flecks of buckwheat which tend to sink to the bottom, so pour the batter into a measuring pitcher or bowl and stick a spatula in there. I like to pour the batter into a 1/4 cup measure, and rest the measure on a small plate to catch the drips. Also have a large plate by the stove on which to stack the cooked crepes.
Pour a scant 1/4 cup of batter onto the crepe pan, tilting, swirling, and shuffling to coat it evenly with a thin layer of batter. Cook the crepe until just barely set on top, 30-60 seconds. Use a thin, metal spatula to ease the edges of the crepe up off the pan, then slide (or drag) the crepe onto the plate, cooked side down. It should be barely colored on the bottom.
Continue cooking the crepes, swiping the pan with a bit of butter between crepes, and adjusting the heat so that the pan doesn't burn but the crepes cook in 30-60 seconds each.
Make the filling:
In a medium bowl, stir together the cheese, sugar, egg yolk, and salt. Quickly stir in the melted butter.
Fill the blintzes:
Place 2 1/2 tablespoons of cheese filling on the lower third of a crepe. fold the bottom up over the cheese. Fold the sides in so that they just touch, then roll from the filled end up to form something that looks like an egg roll. (See photos in post above.) Stack the filled blintzes on another plate.
When the blintzes have all been filled, melt some butter or ghee in your crepe pan over medium heat (or use another large skillet if you like). (Preheat your oven to 200º if you're making these for a crowd and need to keep them warm while you fry the next batch.) Fry the blintzes until they are golden on the bottom, about 2 minutes, then flip and brown on the second side, another 2 minutes. Have the heat low enough so that the filling heats through without the bottoms burning.
Eat the blintzes!
Serve the warm blintzes with berries, maple syrup, and optionally a dollop of yogurt, sour cream or crème fraîche.
Extra blintzes keep brilliantly, fried or un-fried, in the refrigerator (for up to 3 days) or freezer (for up to 2 months).