Amaranth, millet, and brown rice flours team up to make tender tortillas, perfect for dressing up with beans, cheese, tomatoes, and poached eggs for breakfast. From The Homemade Flour Cookbook by Erin Alderson. PLUS! We're giving away an alternative flour starter package today, complete with 6 types of Bob's Red Mill grains/flours, and a copy of Alternative Baker and The Homemade Flour Cookbook. See below to enter.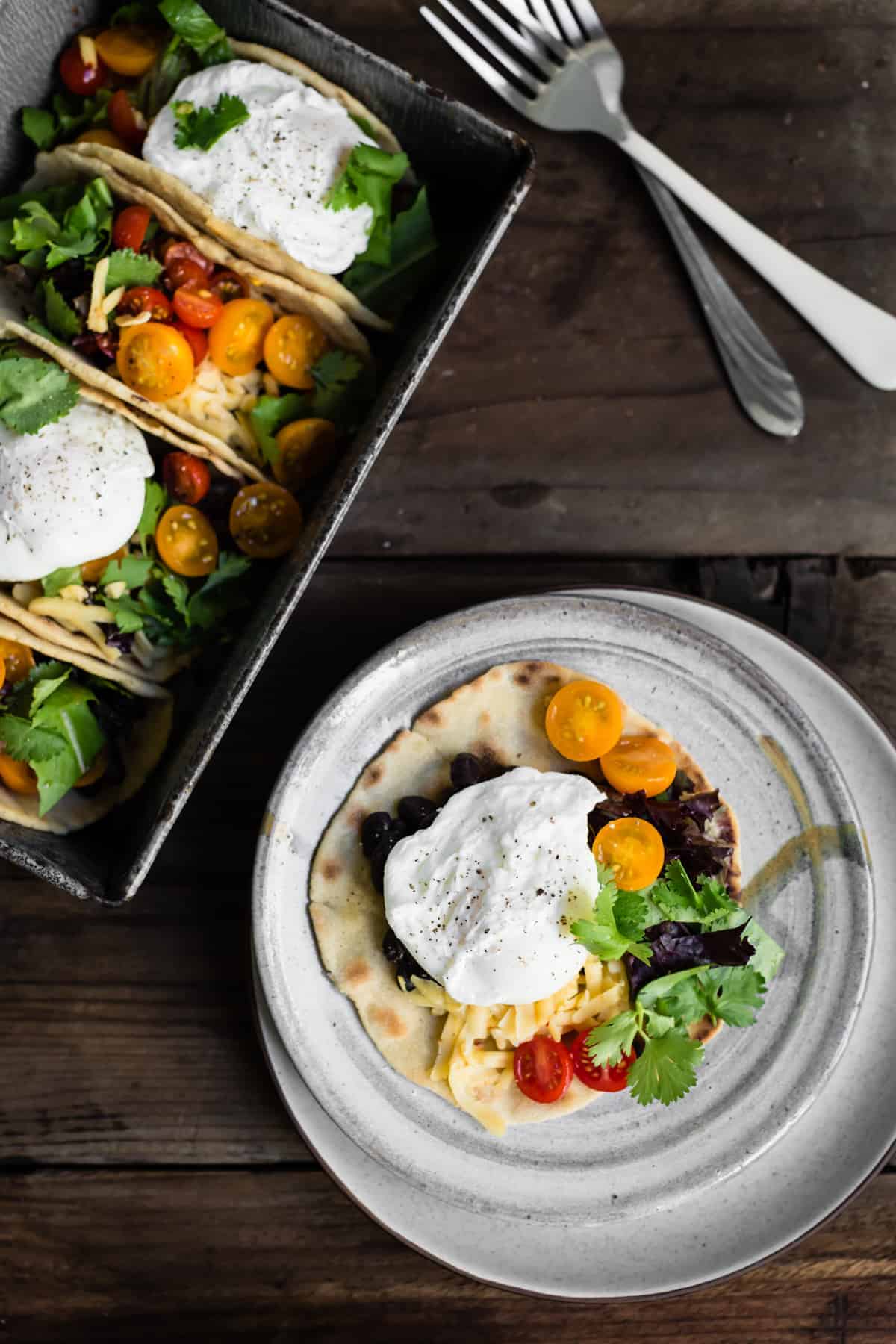 One of the bigger surprises that came as I was working on recipes for Alternative Baker was that not all alternative flours are created equal. I began my testing using whatever flours my co-op stocked in their (awesome) bulk section. Partway through testing, it occurred to me that these flours might differ from one another in grind, and that this might affect recipes. I was tipped off by a bag of buckwheat flour. The base of flour was a creamy beige, with big flecks of charcoal-hued grain and powder-fine clumps. I noticed that this flour differed greatly from Bob's Red Mill brand, which had an even, heathered charcoal look and slightly coarser grind that didn't clump. At that point, I decided that I'd have to standardize my flour selection for the book, so I began only working with Bob's flours, with a few exceptions. You'll find the recommended brand of flour in the back of Alternative Baker in the Alternative Grains and Flours section.
(And if you want to nerd out on alternative flours with me, come to Litquake's Eat, Drink, and Be Literary in San Francisco on Sunday October 9th, 2016. I'll be signing books, too! Details and tickets here.)
In the end, I had to retest many recipes. For instance, the Oatmeal Teff Cookies and Teff Peach Cobbler needed several tweaks with the coarser variety of teff flour. And my sorghum peach oven pancake required that the milk be reduced by 1/4 cup since the coarser sorghum flour didn't absorb as much liquid. After all of this, you'd think I would have learned my lesson and shied away from the bulk bin. But no.
So when Erin asked me to bring flours to her home in Sacramento to play with, I didn't think twice before measuring my powder-fine bulk bin sorghum flour into a jar for the oven pancake.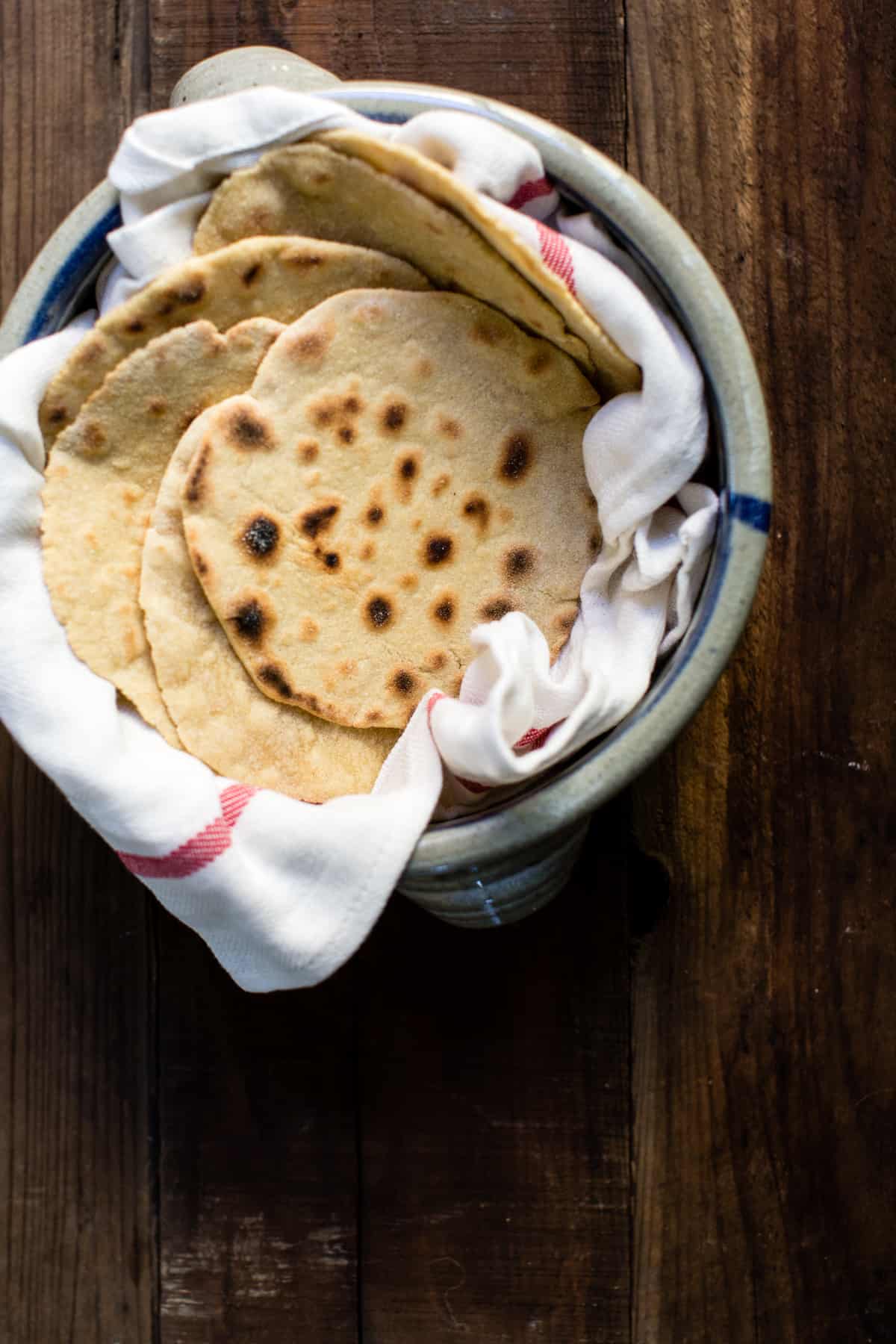 Erin sauteed pears, blended the pancake batter, poured it into a skillet, and stuck it in the oven. "Does it puff up like a wheat-based oven pancake?" she asked. "A little less," I said, confidant that the pancake would rise and puff, the pears floating to the top, creating a lovely mosaic of fruit slices.
But the pancake hardly moved, and the pears stayed resolutely hidden beneath a layer of pancake. It was then that I realized my mistake, and remembered the hours of testing that went into perfecting the dry-to-liquid ratio of this very recipe with Bob's sorghum flour. Luckily, Erin was game to improvise, and cooked up some additional pear slices to serve atop the pancake. She drizzled the whole thing with honey, cinnamon, and a dollop of Greek yogurt. In the end, it didn't matter much – it still boasted a crackly top, tender middle, and mild flavor, if a bit more dense than the original.
On a more successful note, we made Erin's quinoa tortillas from The Homemade Flour Cookbook, subbing in amaranth for the quinoa flour just for fun. Since amaranth and quinoa are closely related, with similar flavors and textures when ground to flour, and the same weight per volume, no changes were needed to make the tortillas. Homemade tortillas are heads and tails above storebought, and I was thrilled to learn Erin's techniques for making them, no tortilla press needed. She simply rolls hers out using a nifty rolling tool that looks like this, then fries them up in a dry skillet, stacking them within a damp cloth to help keep them bendy.
Onto the tortillas we piled Erin's spiced black beans, some late-season cherry tomatoes, and poached eggs (Erin's genius idea since we both prefer them to fried eggs). The complexity of the amaranth comes through in these, softened by brown rice and millet flours, and a good dose of salt. Paired with gently spiced black beans, they make me think of amaranth's Aztec roots. (Another bomb amaranth recipe = Sarah's amaranth waffles!)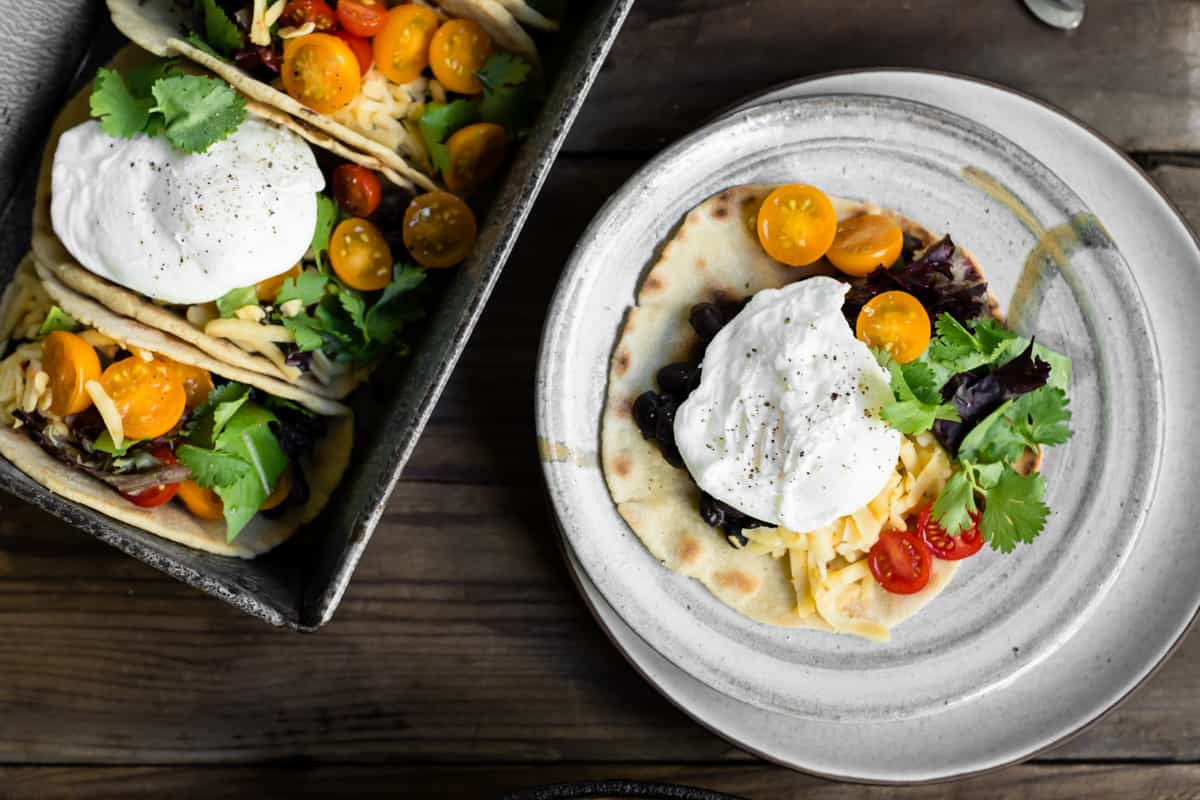 Now that I know how easy it is to make whole-grain, gluten-free tortillas, I'll be making these on the regular. And so can you! Because today we're giving away the grains and flours needed to make these recipes.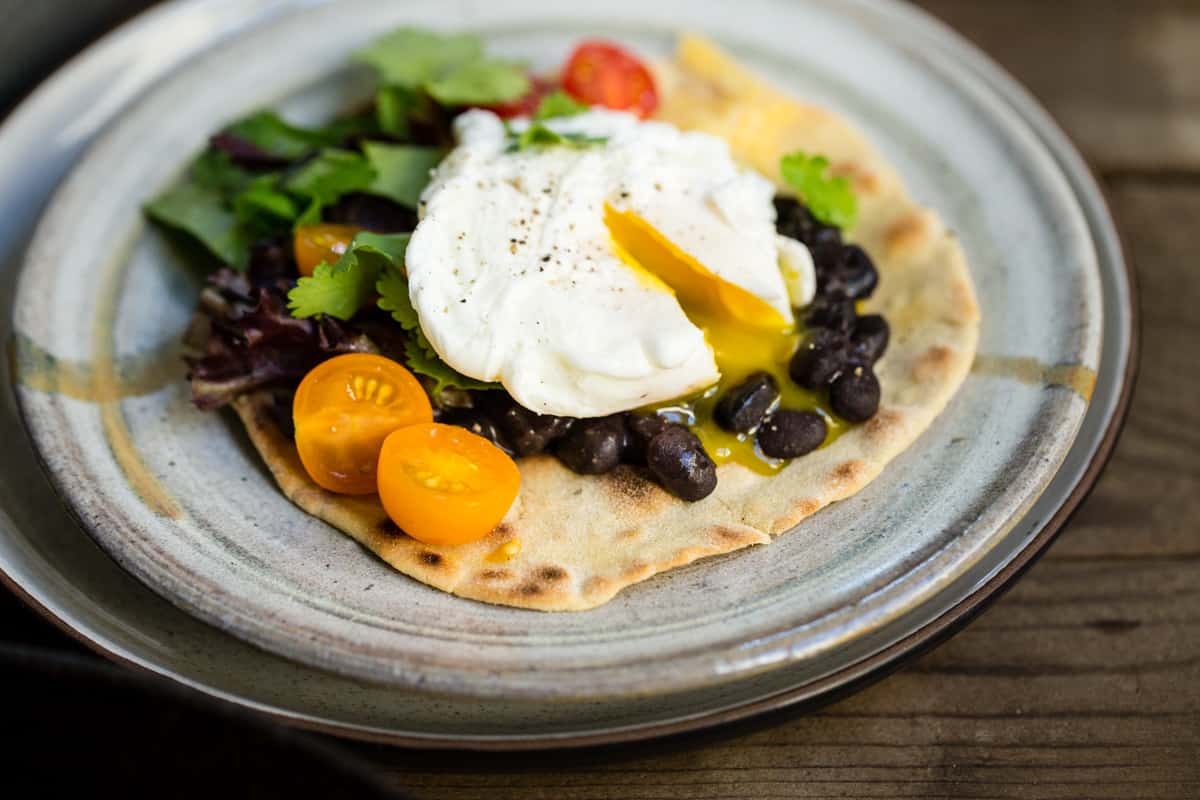 *THE GIVEAWAY IS NOW CLOSED*: We're each giving away a set of Bob's Red Mill grains/flours – everything you need to make these recipes (Sorghum Flour, Sweet Rice Flour, Oat Flour, Millet (grain), Amaranth (grain), Brown Rice (grain)) and a copy of The Homemade Flour Cookbook and Alternative Baker.
TO ENTER: Leave a comment below about your favorite grain/flour OR leave a comment about a grain/flour you would like to know more about! For your second chance to enter, pop over to Naturally Ella!
THE DETAILS: Open to residents in the U.S. and Canada. Giveaway will run from Sunday, October 2nd through Wednesday, October 5th, 2016. Winners will be notified by email by Tuesday, October 11th.
Get the recipe for the Sorghum Pear Oven Pancake over at Naturally Ella.
More Breakfast Recipes:
*Bojon appétit! For more Bojon Gourmet in your life, follow along on Instagram, Facebook, or Pinterest, purchase my gluten-free cookbook Alternative Baker, or subscribe to receive new posts via email. And if you make this vegetarian breakfast taco recipe, I'd love to know. Leave a comment and rating below, and tag your Instagram snaps @The_Bojon_Gourmet and #bojongourmet.*
Gluten-Free Amaranth Tortillas + Vegetarian Breakfast Tacos
Print Recipe
Pin Recipe
Amaranth adds its beguiling flavor as well as loads of protein and nutrients to these easy vegetarian breakfast tacos loaded with all the fixings.
Ingredients
Tortillas:
½

cup

(55 g) amaranth flour (or quinoa flour, as per the original recipe)

¼

cup

plus 2 tablespoons (45 g) millet flour, plus more for rolling the tortillas

¼

cup

(36 g) brown rice flour

2

tablespoons

(16 g) tapioca flour

2

tablespoons

(16 g) cornstarch

½

teaspoon

fine sea salt

½

teaspoon

baking powder

½

cup

(118 ml) cool water

2

tablespoons

(30 ml) olive oil
Fillings:
salt, as needed

1

tablespoon

rice vinegar (or other neutral vinegar)

8

super good eggs

1 ½

cups

cooked black beans (or 1 15-ounce can)

1/2

teaspoon

ground cumin

1/2

teaspoon

ground coriander

1/2

teaspoon

garlic powder

¼

teaspoon

smoked paprika

8

ounces

pepper jack or other tasty melting cheese, grated

handful cilantro leaves

1

cup

cherry tomatoes, halved

1

large ripe avocado, peeled, pitted, sliced

lime wedges

salsa

sour cream or Greek yogurt
Instructions
Make the tortillas:
In a large bowl, whisk together the amaranth, millet, brown rice, and tapioca flours with the cornstarch, salt, and baking powder. Pour in the water and olive oil and stir with a wooden spoon until the dough comes together in a ball; the dough will be fairly soft. Let rest for 5 minutes.

Preheat a griddle or large skillet over medium heat. Generously flour your work surface with millet flour and divide the dough into 8 equal portions. Roll each ball of dough out into a thin round, using a metal bench scraper to move the dough around, dusting with more millet flour to prevent sticking, into a 5-inch round about 1/8-inch thick. Use the bench scraper to transfer the tortilla to the griddle and cook on each side until lightly golden and forming air pockets, 1-2 minutes per side. Take care not to overcook or the tortillas will become too brittle. Repeat with the remaining tortillas. As you work, stack the tortillas in a clean, damp kitchen towel to keep them soft and pliant.
Make the tacos:
In a wide, stainless steel skillet, bring 2-3 inches lightly salted water to a boil. Reduce the heat to keep the water at a bare simmer and add the vinegar. Crack 4 of the eggs into 4 small bowls. Holding a bowl close to the surface of the water, slip in an egg; repeat with the remaining eggs. Cook the eggs 4 minutes for a medium poach, then remove with a slotted spoon to paper towels to drain. Repeat with the remaining eggs.

Heat the beans in their liquid in a small saucepan set over medium heat, adding the cumin, chilli powder, and salt to taste, and a splash of water to keep them moist. Cover and keep warm.

Layer each taco with a scoop of beans (drained if watery), sprinkle of cheese, handful of cherry tomatoes, and a few avocado slices. Top with a poached egg. Serve immediately, passing salsa, sour cream, and lime wedges at the table.
Notes
When making the tortillas, you'll want to have a metal bench scraper to help transfer the delicate things to the pan. And be sure to use plenty of flour to roll them out, lest they stick. If they break pre-cooking, don't fret - just squish the dough back together and start again.
Tortillas adapted from The Homemade Flour Cookbook by Erin Alderson, tacos made in collaboration with Erin.
Nutritional values are based on one of eight servings.
Nutrition
Calories:
378
kcal
Carbohydrates:
28
g
Protein:
18
g
Fat:
22
g
Saturated Fat:
9
g
Cholesterol:
192
mg
Sodium:
440
mg
Potassium:
458
mg
Fiber:
6
g
Sugar:
2
g
Vitamin A:
780
IU
Vitamin C:
10.1
mg
Calcium:
283
mg
Iron:
2.9
mg