Everything you love about egg salad, made vegan with crumbled tofu. A simple technique gives this vegan "egg" salad loads of flavor. This post is sponsored by Soy Connection and the United Soybean Board; all opinions are my own.
For a chance to win a $250 gift card, enter Soy Connection's Soy Delish Recipe Contest with your favorite original recipe that includes any type of soy as an ingredient (tofu, tempeh, tamari, soymilk, etc.). Don't forget to share your recipe on social media with #SoyDelishRecipeContest!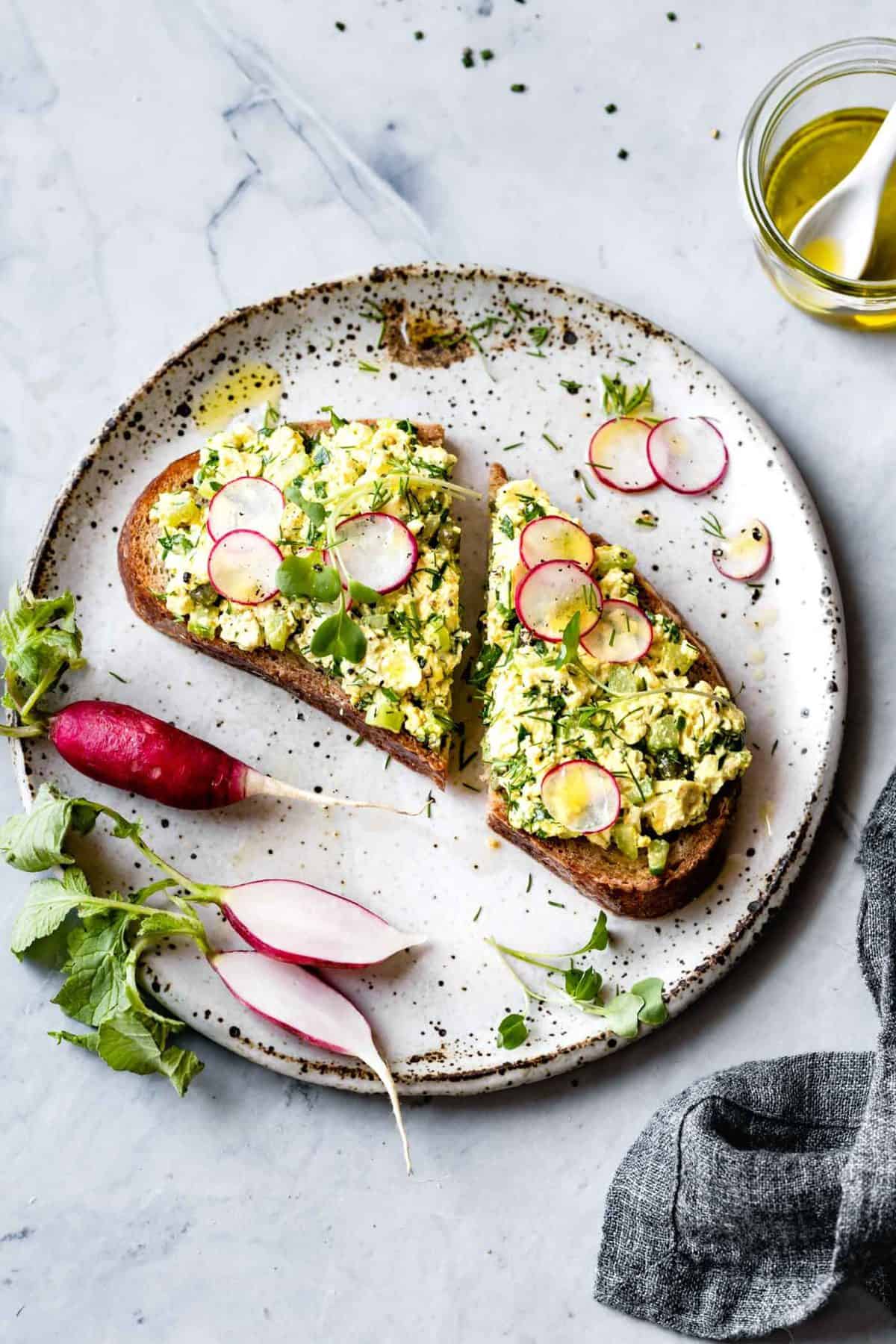 If you've been following TBG for a bit, you already know my love for tofu. A versatile plant-based source of protein, tofu can star in almost any dish from vegetarian cobb salad to tofu curry to sushi burritos.
I love tofu marinated, grilled, pan-fried, and roasted. With hot noodles, cold noodles, curried noodles and *as* noodles in miso soup. And I've even been known to sneak bites of it raw, enjoying its clean taste and cheese-like texture.
Today I'm sharing yet another way to prepare this functional vegetarian staple: curried tofu salad.
Tofu "Egg" Salad
I've been making variations of this vegan tofu "egg" salad for about 15 years. The base recipe comes from Deborah Madison's Vegetarian Cooking for Everyone, which I've merged with some of my favorite egg salad ingredients.
The result is an über-flavorful dish that you can dip, spread, or layer. It travels beautifully to picnics, parks, hikes, road trips, and campouts. Use it as a dip for crackers and veggies, spread it on rice cakes for a snack, or smear it on toast or bread for sandwiches or tartines.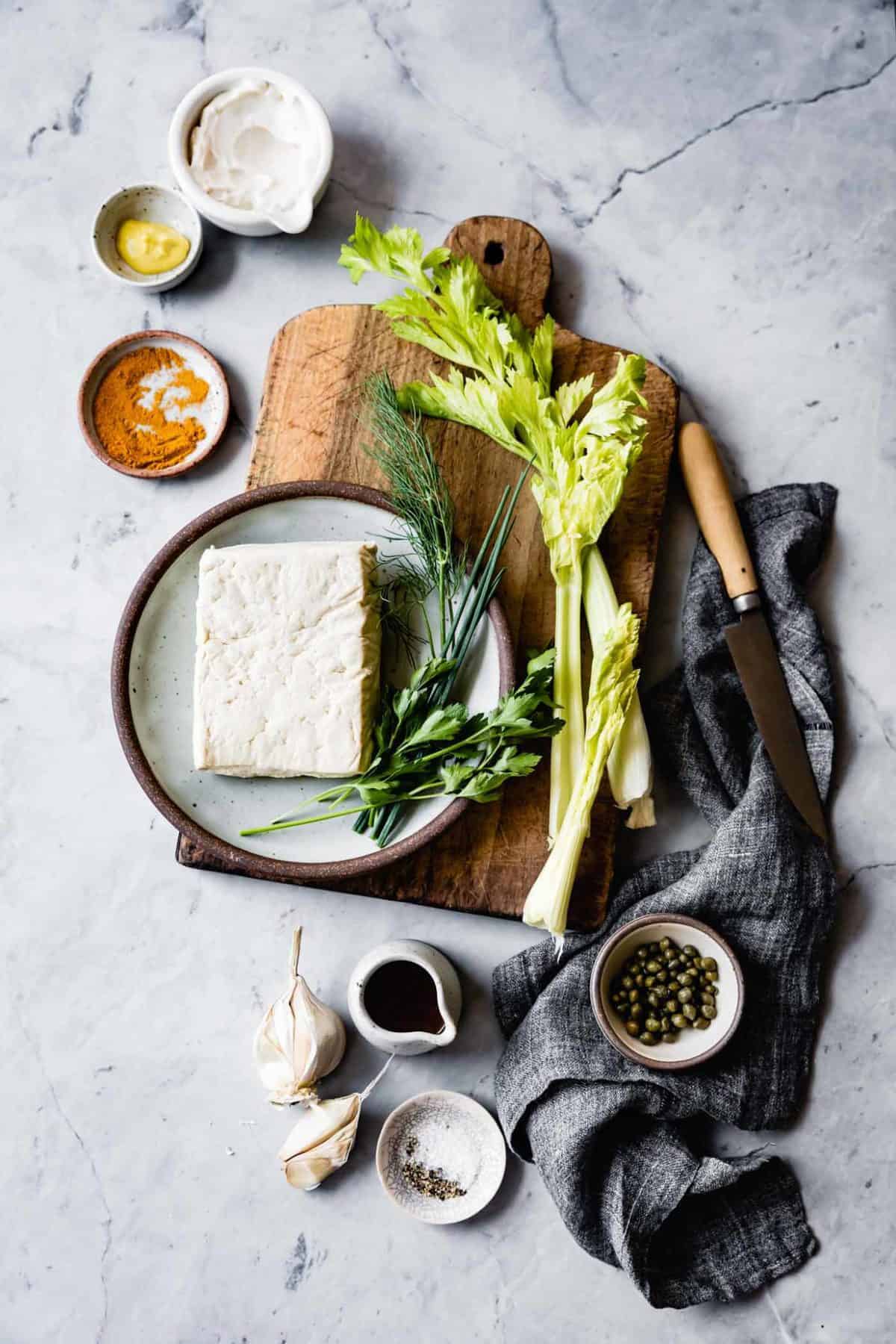 Ingredients & Substitution Suggestions
Firm or extra-firm tofu makes a hearty base that offers a complete source of plant-based protein.
Celery adds crunch. Feel free to swap or add in other crunchy vegetables such as carrot, radish, fennel, or bell pepper.
Vegan mayonnaise adds richness.
Fresh herbs add flavor and substance. I used dill, chives, and parsley here, but feel free to use just one or two, or any other soft herbs you have on hand. Marjoram, chervil, and tarragon are all nice too.
Garlic, mustard, and curry powder deepen the flavor and give the salad a pretty golden hue. You can use a smaller amount of turmeric if you prefer.
Capers and vinegar add brightness. You can use chopped pickles and pickle brine if you like.
How to Make Curried Tofu Salad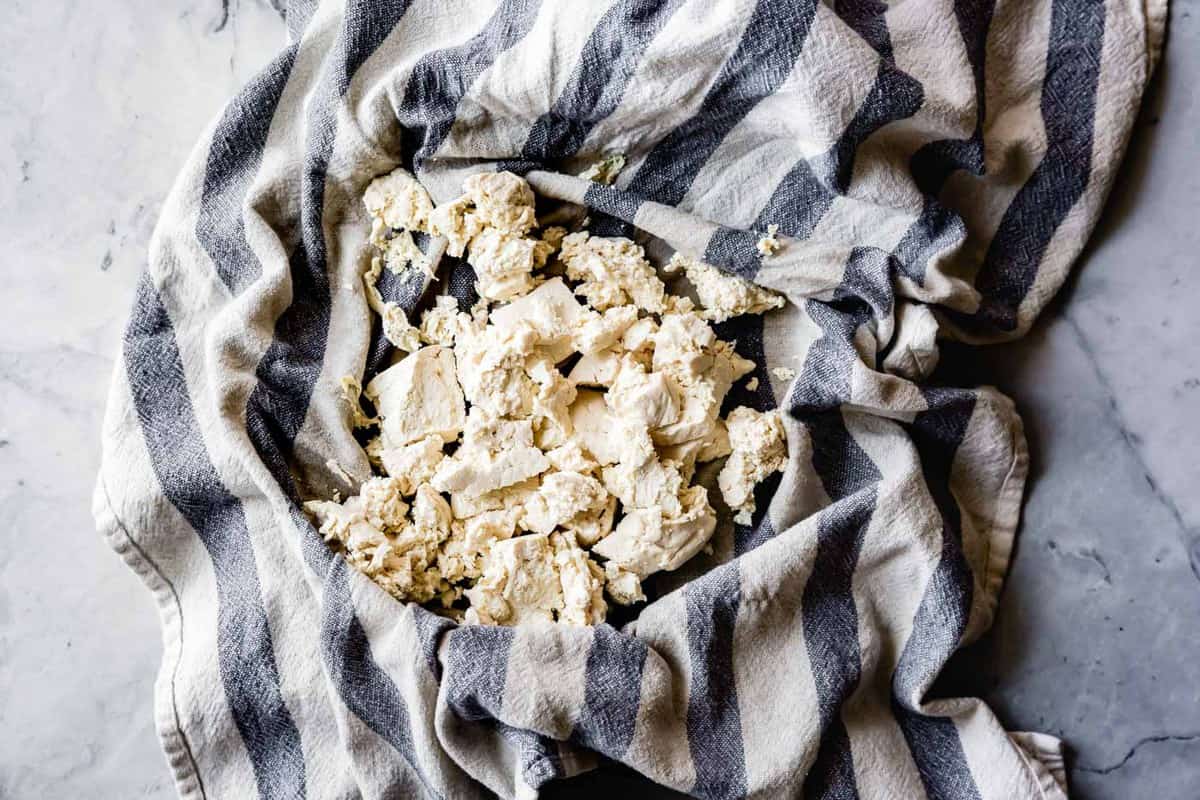 Step 1: Break the tofu into chunks and wring it out in a clean kitchen cloth to remove excess moisture. This helps the tofu absorb flavor and prevents the salad from getting watery.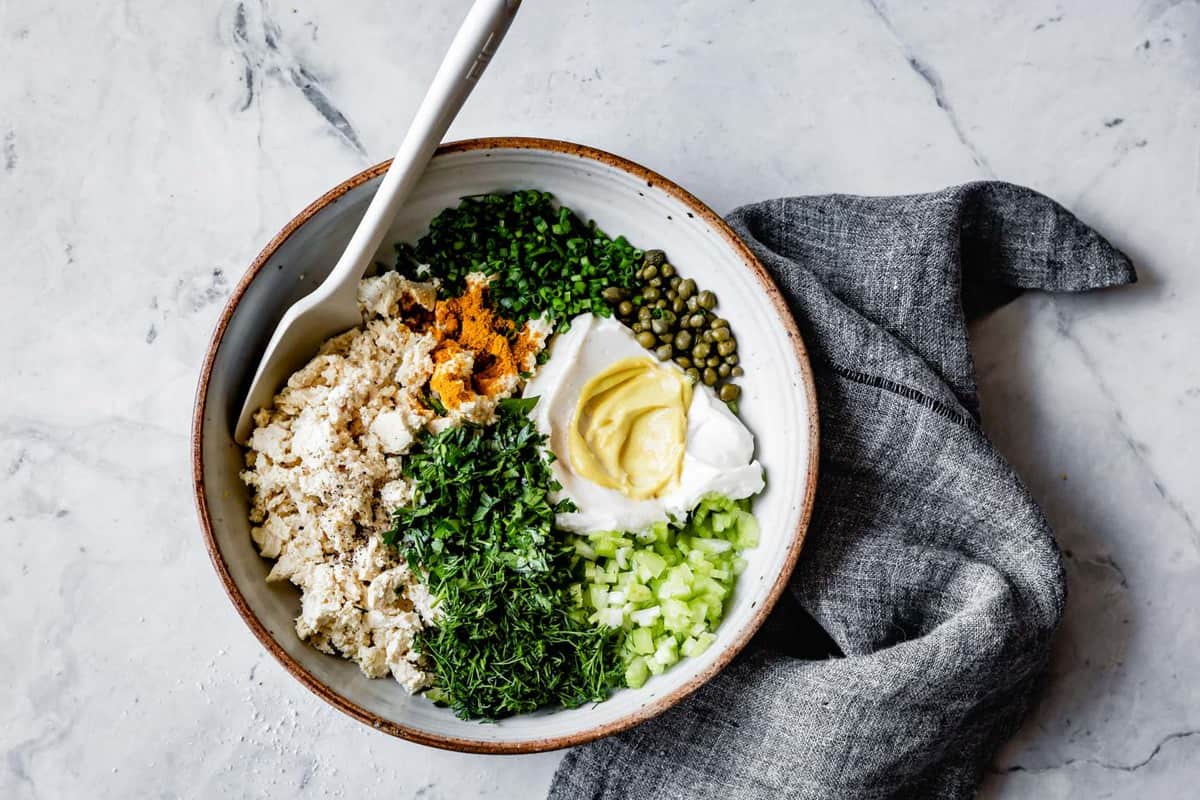 Step 2: Crumble the tofu into a bowl and add the other ingredients.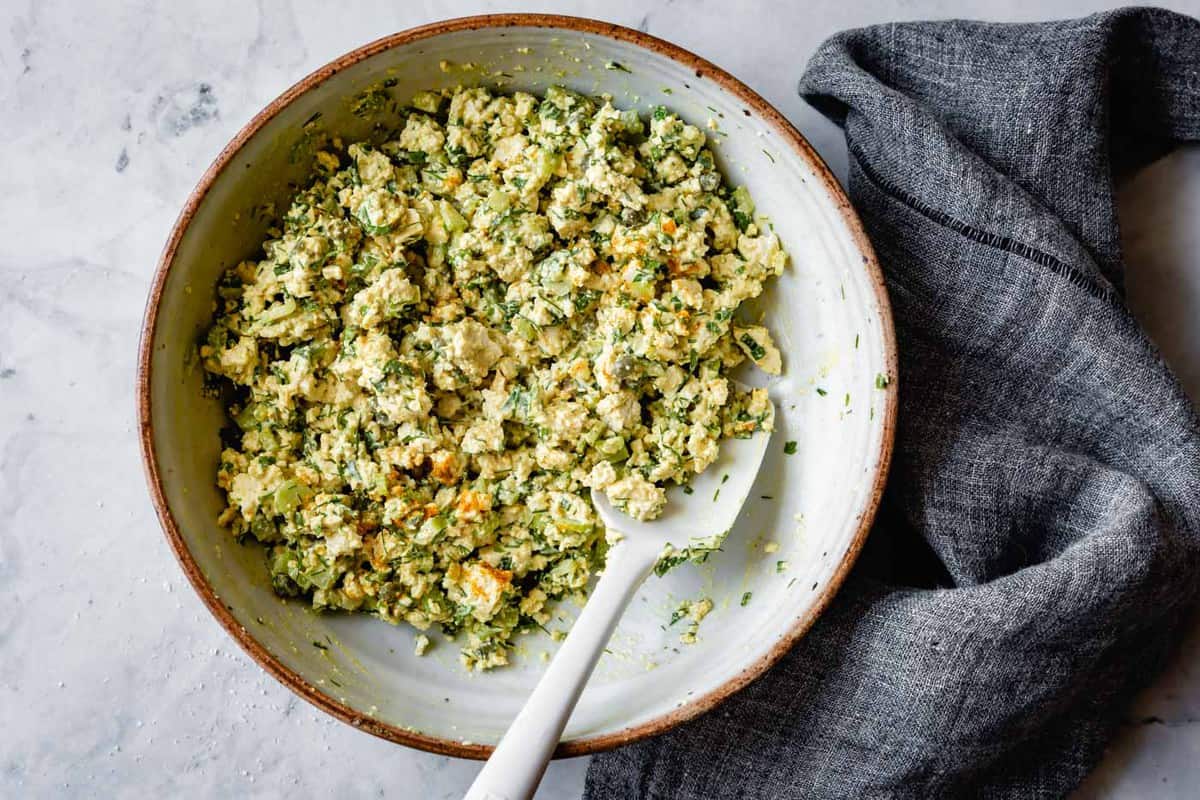 Step 3: Stir and mash to combine. Serve right away, or chill for a day or two. Leftovers keep well for to 2 or 3 days.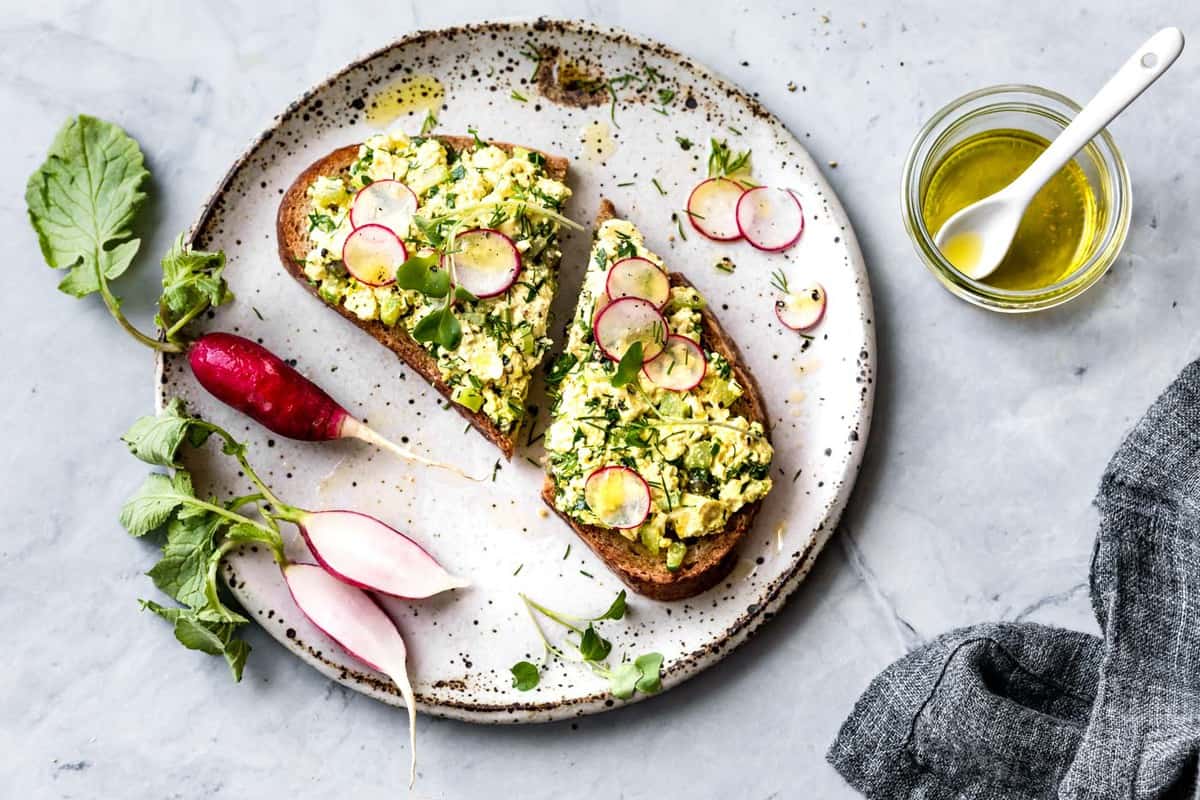 Vegan "Egg" Salad / Sandwich
Try this tofu "egg" salad:
as a dip or spread with veggies, crackers, or rice cakes
as a sandwich between slices of bread with sprouts, grated carrots, sliced cucumbers, lettuce, or other fixings
on toast for tartines topped with sprouts, radish slivers, olive oil, and herbs
scooped over greens for a nourishing main-dish salad
Try one of my homemade bread or cracker recipes to pair with tofu "egg" salad:
Gluten-ful & Whole-Grain:
Gluten-Free:
However you serve it up, I hope you love this recipe as much as we do!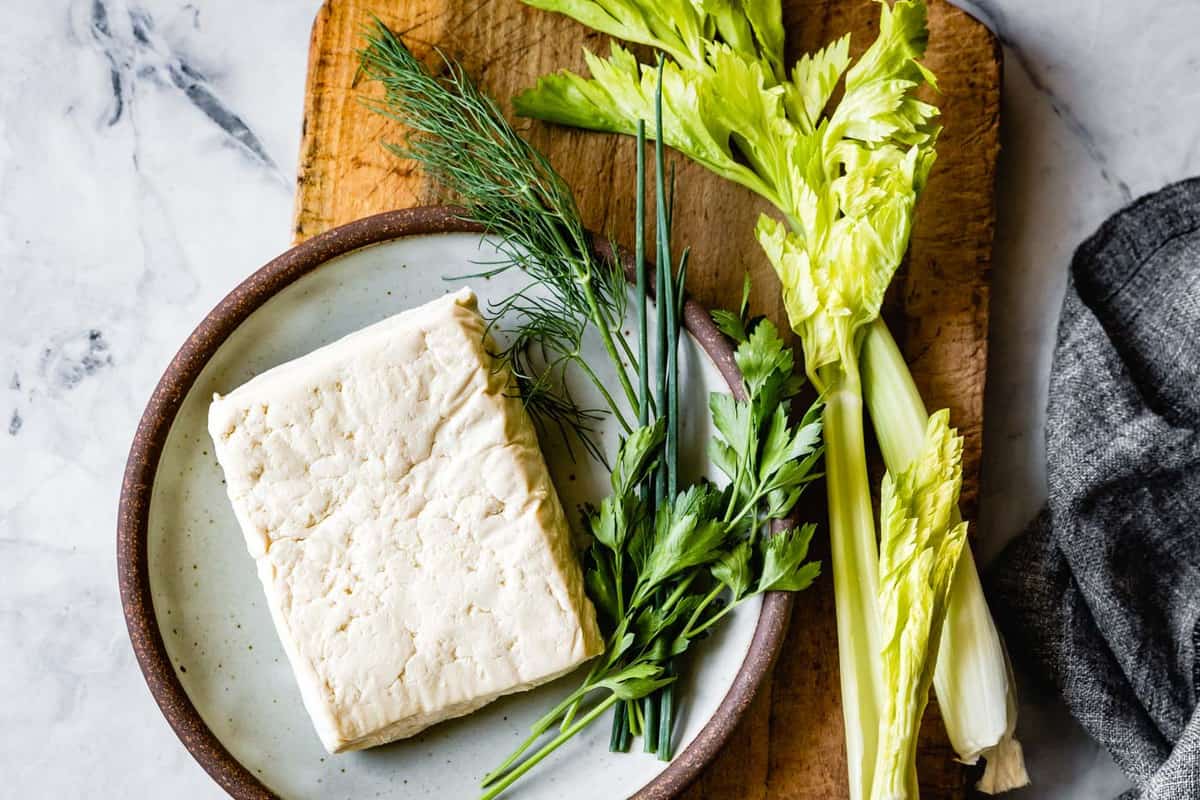 Tofu Facts
How is Tofu Made?
Tofu is made from soybeans that have been blended with water to make soymilk. A coagulant is then added to bind the curds together, similarly to making cheese. Excess moisture is pressed out leaving behind the protein curd.
If you'd like a fun project, try making my friend Sarah's Oboro Tofu from scratch! It's delicious and so magical to watch the process happen.
Is Tofu Good for You?
Yes! It has folate, potassium, and fiber and it's naturally gluten-free.
Does Tofu have Protein?
Tofu is a good source of plant-based protein. Depending on the brand of tofu, a serving contains about 6-8 grams of protein. Tofu also contains all nine essential amino acids, making it comparable to animal protein.
Is tofu gluten-free?
Tofu is naturally gluten-free! If you are highly sensitive to gluten, check labels to make sure the tofu you're buying has "gluten-free" on the label.
Is tofu vegan?
Plain tofu is naturally vegan. It's made from just a few ingredients: soybeans, water, and vegan-friendly coagulants (the most common of which are derived from salts).
What does tofu taste like?
Tofu has a mild, neutral, clean taste that makes it suitable for soaking up all kinds of delicious flavors from spices, marinades, and sauces.
More Firm Tofu Recipes:
More Vegetarian Dips and Spreads:
*Bojon appétit! For more Bojon Gourmet in your life, follow along on Instagram, Facebook, or Pinterest, purchase my gluten-free cookbook Alternative Baker, or subscribe to receive new posts via email. And if you make this vegan "egg" salad recipe, I'd love to know. Leave a comment and rating below, and tag your Instagram snaps @The_Bojon_Gourmet and #bojongourmet.*
Vegan "Egg" Salad with Tofu
Print Recipe
Pin Recipe
An easy vegetarian or vegan lunch! Serve this spread with veggies and crackers for dipping, on bread for sandwiches, or scooped over greens for a nourishing salad. This recipe is quite versatile, so feel free to change up the herbs and spices to your liking.
Ingredients
10

ounces

firm or extra-firm tofu

½

cup

finely diced celery

⅓

cup

vegan mayonnaise

2

tablespoons

finely chopped chives or scallion greens

2

tablespoons

chopped dill

2

tablespoons

chopped parsley or celery leaves

1

large garlic clove, put through a press

1 ¼

teaspoons

curry powder, or 1/8 teaspoon turmeric

1

tablespoon

capers, drained and chopped, or chopped pickles (or both!)

1

tablespoon

apple cider vinegar

2

teaspoons

Dijon mustard

¼

teaspoon

fine or kosher salt, or to taste

¼

teaspoon

freshly ground black pepper
Instructions
Break the tofu into large chunks. Place in a clean kitchen towel and twist to squeeze out excess liquid.

Crumble the dry tofu in a large bowl. Add the remaining ingredients and mash everything together with a fork.

Taste, adding more salt, spices, herbs, or vinegar if you feel the salad needs it.

Serve right away or chill for a day or two to allow the flavors to blend.
Notes
This recipe makes 4 small or 2-3 large servings. Nutrition values are for 1 of 4 servings. 
Nutrition
Calories:
169
kcal
Carbohydrates:
4
g
Protein:
6
g
Fat:
14
g
Saturated Fat:
2
g
Polyunsaturated Fat:
1
g
Monounsaturated Fat:
1
g
Sodium:
392
mg
Potassium:
180
mg
Fiber:
1
g
Sugar:
1
g
Vitamin A:
317
IU
Vitamin C:
5
mg
Calcium:
39
mg
Iron:
1
mg