I have a soft spot in my heart for egg salad. During my barista days at Farley's on Potrero Hill, I used to sneak up to Klein's deli on my lunch break. Needing respite from the sugary baked treats and sweet coffee drinks I'd snack on throughout the day, I'd order a big bowl of greens topped with a scoop of egg salad. The egg salad was butter yellow and chunky, a little tangy with mustard and creamy from a judicious amount of mayo. It was just right.
Also needing a break from people, I'd bury my nose in a food magazine borrowed from Farley's formidable rack while I ate, trying to stretch my break as long as possible as I crunched my way through lunch. Thus, I grew to associate egg salad with peace and nourishment, as a haven from stress, sugar and PITA customers.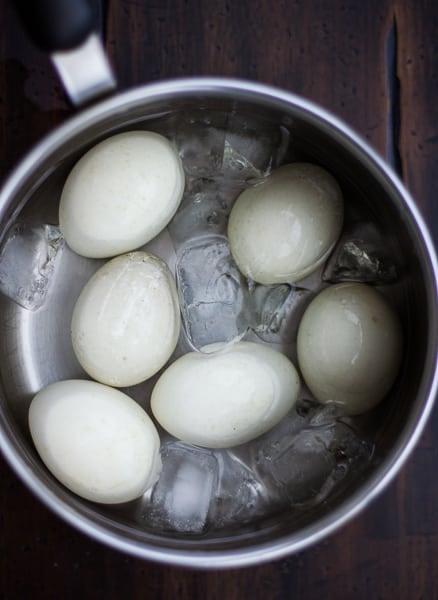 One day after ordering the usual, I learned from the woman at the counter, also a Farley's customer, that Klein's would be closing in a week due to a steep rent increase. "The owners doubled the rent," she told me. "We've been here for decades."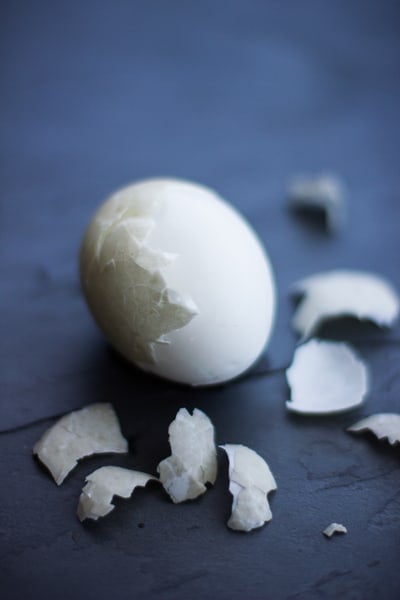 To the outrage of the neighborhood, Klein's closed its doors. The owners renovated the space and opened an organic wine bar that was always devoid of customers, in stark contrast to Klein's bustling clientele. The menu was devoid of egg salad. Trying to be open-minded, I went there one day on my break and ordered a green salad which seemed to be a plate of plain mixed greens with nothing on them. The place was certainly peaceful (i.e., empty) but to me it just felt depressing. I never went back. The new business closed soon after.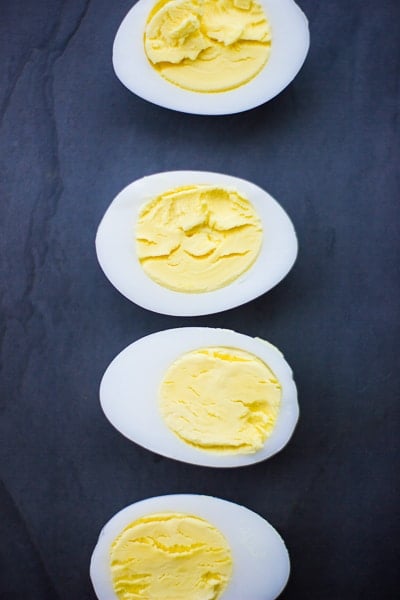 I learned how to make my own egg salad.
This is a bit of a fancied-up version, thanks to my friend Amelia whose co-op house keeps ducks. Their mottled eggs are larger than hen's eggs, with a fat yolk that's full of creamy richness. Being careful with the cooking time keeps the whites from becoming rubbery and prevents that unsightly blue ring that can form around the yolk.
I like putting tons of herbs (chives and dill) and crunchy stuff (red onion, radish and celery) in my egg salad, and capers for some salty brine. I add mustard, mayonnaise and a dash or two of tabasco, plus a spoonful of curry powder which lends a pretty golden hue and hint of spice.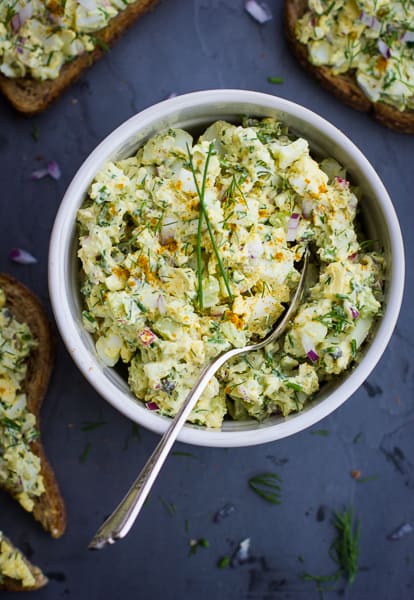 Smash it onto a piece of toast and you have a snack; sandwich it between two pieces, add avocado and lettuce, and you have lunch. Or you can add a scoop to a green salad.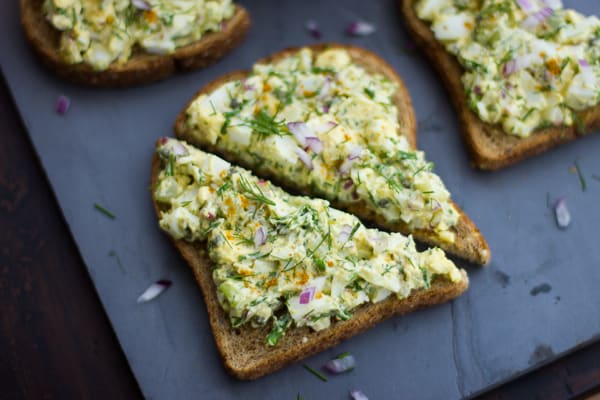 Duck eggs seem to be increasingly available; I've seen them at farmer's markets and at our co-op. But you can easily make this with hen's eggs instead – I've given instructions in the headnote below.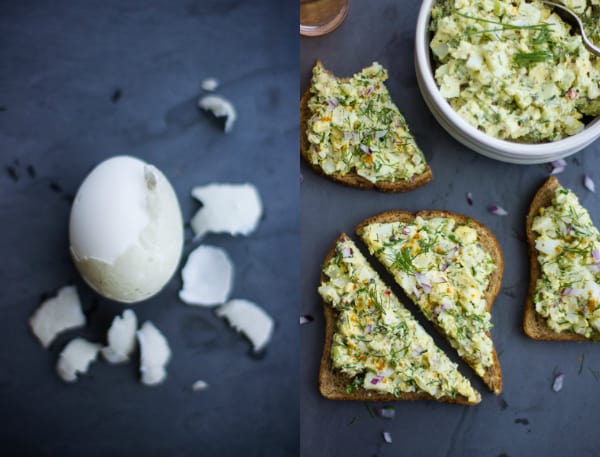 Bon Appetit.
Eggs-istentialism:
Spring Vegetable Fried Rice
Shakshouka
Pasta Alla Carbonara
One year ago:
Soft and Chewy Gluten-Free Chocolate Chip Cookies
Two years ago:
Three years ago:
Four years ago:
Duck Egg Salad with Curry and Dill
If you don't have access to duck eggs, you can make this with 8 large hen's eggs. If you do so, reduce the boiling time to 1 minute and the steeping time to 9 minutes. I like Spectrum's olive oil mayonnaise, and tiny capers that have been packed in salt. Leftover dill is good in this farro cucumber salad; extra celery makes excellent Mint and Celery Soda.
Makes 4-6 servings
6 duck eggs
4 tablespoons mayonnaise
1 tablespoon mustard (such as stone-ground)
2 tablespoons small capers (preferably salt-packed) rinsed and drained
a few dashes Tabasco or other hot sauce
1/2 teaspoon curry powder
1/4 cup finely chopped red onion
1/4 cup finely chopped radish
1/4 cup finely chopped celery or fennel
1/4 cup finely chopped chives
1/4 cup finely chopped dill
salt, as needed
Place the duck eggs in a medium saucepan and add enough hot tap water to cover by one inch. Place over medium-high heat, and bring to a gentle boil. Reduce the heat and simmer for 2 minutes (set a timer), then remove from the heat, cover, and let stand 10 minutes. Drain the eggs and cover them with ice and cool water to stop the cooking. Let cool completely, then peel and rinse the eggs. Chop the eggs. (I like to cut each egg in half lengthwise, then each half into long quarters, then cut the quarters crosswise into 1/4″ thick pieces.)
Place the chopped eggs in a large bowl. Add the mayonnaise, mustard, capers, tabasco, curry powder, red onion, radish, celery, chives, and dill. Stir to combine, mashing the eggs a bit with a large fork. Taste for seasoning, adding more salt, Tabasco, or mustard if the salad needs more pop.
Serve the egg salad on sandwiches, or atop a green salad. It will keep, airtight in the fridge, for up to 3 days.