When I was young(er), my dad would brine a turkey every Thanksgiving and fire up the smoker in ourTopanga Canyon yard. I wish I could convey more details of the doubtlessly laborious endeavor of smoking a whole turkey, or describe to youthe intoxicating smell of the meat orthe taste of the succulent flesh, but the only thing I truly remember of my childhood Thanksgivings are the pumpkin pie and cinnamon ice cream that we'd have for dessert.
(Sorry, Dad, that's just the kind of Bojon Gourmet I am.)

Now that I'm (ahem – slightly) older, and live in an apartment with about 2 square feet of outdoor space (fire escape), I can more fully appreciate things like smokers, laborious endeavors, and even dads.

Speaking of things I never fully appreciated, my dad's mom, who we called Bubba, was an amazing and dedicated cook. I wish I had learned to make her blintzes before she passed away 15 years ago. Like most kids, I didn't care much for eggplant, but if I had, I would have also hit her up for her baba ganouj recipe. (Instead I was forced to consult my two veg cooking gurus, Deborah Madison and Molly Katzen.)
Traditionally, an eggplant is roasted over an open flame or grilled in hot coals until collapsing and charred all over, which imparts a rich smokiness to the sultry puree of eggplant, tahini, lemon, and garlic. Bubba lived in an apartment, too, so I'm not sure how she cooked her eggplant, but her baba ganouj was still delish.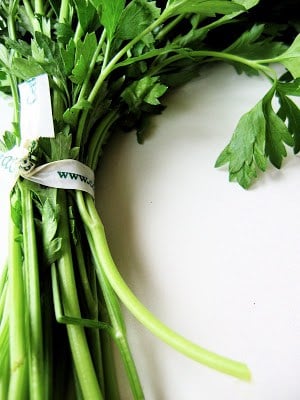 For apartment dwellers everywhere cursed with merely an oven and gas (or worse – electric) range, a cheater way to add smoky flavor to your baba ganouj is by adding pimenton de la vera, or smoked paprika.
I adore this spice in bacon and smoked cheddar scones, maple-bacon butter cookies and corn and poblano chowder, and it is no letdown here either. The beautiful brick-red powder adds a touch of umami and also imparts a warm hue to the often dingy, grey spread.

Baba ganouj is a tasty way to take advantage of eggplant, with which the markets and boxes are practically bursting these days. It makes a nice change from the standard hummus for an appetizer or snack. By all means, if you have a grill, go ahead and use it to roast the eggplant.Make a mediterranean meze platter with dolmas, kalamata olives, and some sliced tomatoes and cucumbers drizzled with olive oil and a sprinkling of sea salt.Serve the baba ganouj with pita wedges,sourdough crackers or focaccia, or slices of sourdough or olive bread brushed with olive oil and toasted.
Or grilled, should you be so lucky.
Eggplant Endeavors:
Roasted Eggplant Parmesan
Roasted Summer Vegetable Caponata
Smoky Baba Ganouj
Adapted from Vegetarian Cooking for Everyone, by Deborah Madison, and the New Moosewood Cookbook, by Molly Katzen
Molly Katzen says you can vary this dip by adding 1/2 cup greek yogurt and 1/2 teaspoon ground cumin. Yum!
1 large (1 1/4 pounds) globe eggplant, halved lengthwise
3 cloves garlic, peeled and crushed
3 tablespoons tahini
1 tablespoon good olive oil, plus extra for serving
3/4 teaspoon smoked paprika
1/2 – 3/4 teaspoon salt
juice of 1 – 1 1/2 lemons
small handful parsley leaves for garnish
Preheat the oven to 425º. Place the eggplant halves cut side down on a baking sheet and roast until very soft to the point of collapsing, about 30 minutes. Let cool until handleable, then scoop out the flesh, placing in a food processor. Add the garlic and tahini, and puree smooth. Add the olive oil, paprika, and the smaller amounts of salt and lemon. Puree, adding more salt or lemon to taste, if necessary. (Alternatively, you can mash the garlic and salt together to a paste in a mortar and pestle or with a fork on a cutting board. Mash everything together in a bowl, leaving it slightly chunky.)
Chill for an hour or so if you have the time, to let the flavors meld. The garlic in particular will become more pronounced as it sits.
To serve, mound the baba ganouj in a bowl, make a well with the back of a spoon, and drizzle with olive oil. Top with plenty of parsley and a few pinches of smoked paprika.
The baba ganouj will keep, refrigerated, for at least several days.