This vegan pâté recipe gets body from lentils and toasted walnuts and big flavor from a few unusual suspects: miso, mirin, and umeboshi. Serve it up with cornichons, baguette, cassava crackers, or slices of quick sourdough focaccia.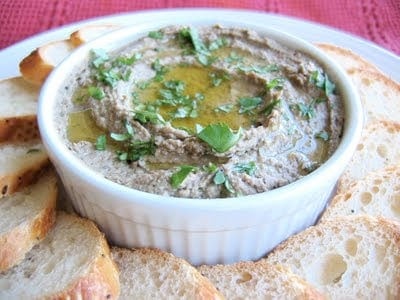 Vegan Pâté that Tastes Like the Real Deal
Growing up, my dad would often set out a container of Trader Joe's pâté with cheese and crackers for a snack (he's a classy guy!) Years later I discovered this plant-based walnut lentil pâté recipe that tastes exactly the way I remember the traditional stuff, only with none of the same ingredients. Read on!
Turning Vegetarian-ish
The first job I had in San Francisco was at a gluten- and dairy-free wholesale bakery called Crave. The company consisted of myself, another baker, and the owner. We baked out of a communal kitchen in the 'Dogpatch' district of San Francisco, which housed a couple of other caterers and a (now well-known) San Francisco charcuterie maker.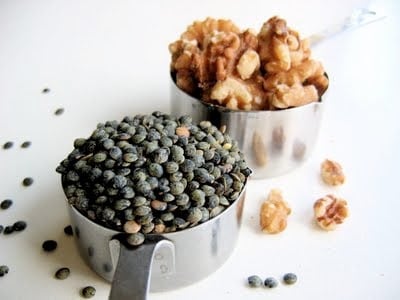 Our table sat next to 'the pig guy,' as I called him in my head, and while Amber and I were cutting up hundreds of pretty little organic brownies on our steel table, the pig guy would be hacking up a whole pig four feet away on the next table over. Being incredibly squeamish, I found this horrifying, and oftenhad to stare at the grisly deed for hours until I'd pluck up the courage to ask Amber to switch sides with me.

Sometimes I would open the compost bin to dump in our eggshells and used parchment paper, and the vacant eyes of a pig's head would stare back at me (when the pig guy wasn't using it to make headcheese, that is). One day, the pig guy brought a vat of burgundy liquid into the walk-in. Innocently thinking it was some kind of red wine reduction, I asked after the contents. 'You don't want to know,' he said darkly. And I'll never forget themorning when the bell rang before the pig guy had arrived for his daily butchering and grinding. A man stood outside with a pig in a large plastic bag, which Amber and I had to drag into the kitchen ourselves.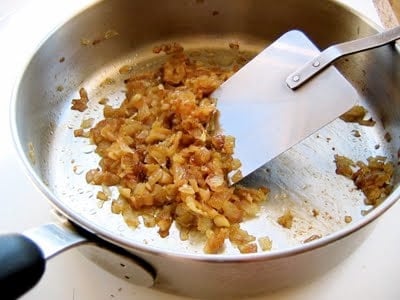 Now I wish I hadn't been so squeamish, because I would have liked to taste his now renowned sausages. But the sight put me off meat (particularly pork) for a good while.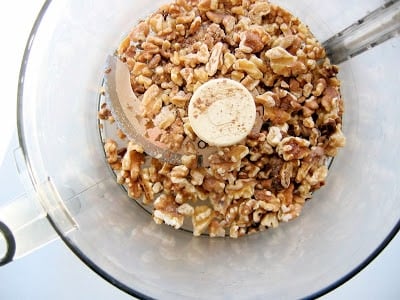 When I moved in with my vegetarian partner Jay, I used it as an excuse to invest in many plant-based cookbooks. Everything by Deborah Madison found its way onto my shelf, in addition to Chez Panisse Vegetables, The Moosewood Cookbook and Enchanted Broccoli Forest, and Everyday Greens, to name just a few. When I learned that Real Food Daily, a vegan restaurant in my old haunts of Santa Monica, had come out with a collection of tantalizing recipes and photography, I snapped it up.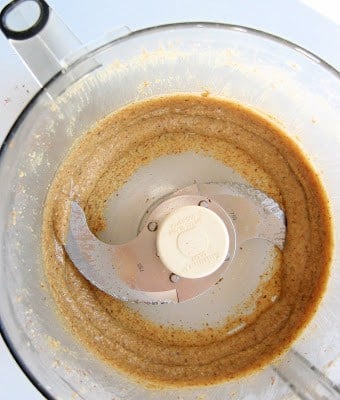 Vegan Walnut Lentil Pâté
It had been many years since I had eaten real pâté when I pureed up this walnut lentil pâté for the first time. When I tasted it, a million memories rushed back of eating the Trader Joe's pâté my dad used to buy, with cornichons (tiny, tangy pickles) and stone-ground, whole-wheat crackers. It tasted exactly the way I remembered the meaty stuff: sweet, meaty and rich, with the texture of velvet on the tongue.
While sherry and liver gave the pâté with which I was familiar its characteristically complex taste, a stealthy trio of Japanese ingredients flavor this vegan spread. First, caramelized onions and garlic are deglazed with Mirin, a sweet cooking wine. Bay leaf-scented lentils and toasted walnuts are then blended with umeboshi, a pink puree made from pickled sour plums, and miso, fermented soybean paste. A handful of fresh herbs adds further depth and flecks of color. The recipe does require several steps - sauteing onions, toasting the nuts, cooking the lentils - but in the end, this vegan pâté recipe comes together in minutes with the help of a food processor.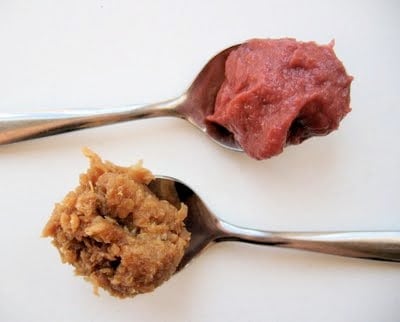 Top: umeboshi (pickled plum) paste Bottom: yellow miso
I've made this vegan pâté many times, for many events, varying the herbs, adding a bit of olive oil for moisture, but keeping the rest exactly the same. Every skeptical mouth that tastes this unassuming spread smiles in rapturous surprise; most go on to ask for the recipe.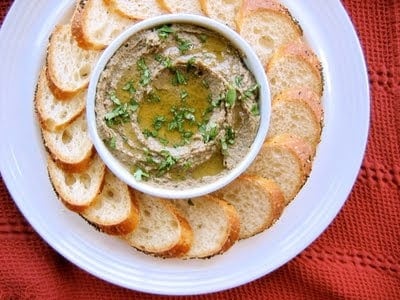 And I'm always happy to tell them that no pigs were harmed in the making of this plant-based walnut lentil pâté.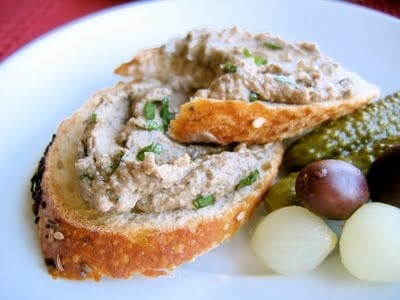 *Bojon appétit! For more Bojon Gourmet in your life, follow along on Instagram, Facebook, or Pinterest, purchase my gluten-free cookbook Alternative Baker, or subscribe to receive new posts via email. And if you make this lentil walnut pate recipe, I'd love to know. Leave a comment and rating below, and tag your Instagram snaps @The_Bojon_Gourmet and #bojongourmet.*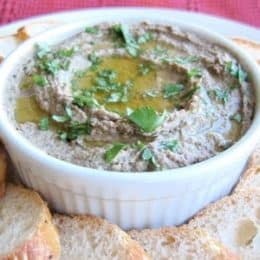 Vegan Lentil Walnut Pâté
Print Recipe
Pin Recipe
Servings:
8
to 10 appetizer servings (makes about 3 cups)
Ingredients
3/4

cup

dried green lentils (lentils de puy)

3

cups

water

1

bay leaf

3

tablespoons

olive oil (divided use)

1

small, yellow onion, chopped

6

cloves

garlic, peeled and coarsely chopped

1

tablespoon

mirin

1 1/4

cups

walnuts, lightly toasted (for 6 - 12 minutes at 350º) and cooled

1/3

cup

fresh cilantro, basil or parsley, plus extra for garnish, chopped

1

tablespoon

chopped fresh thyme, oregano or marjoram, chopped

3

tablespoons

white or yellow miso paste

1 1/2

tablespoons

umeboshi paste

3/4

teaspoon

freshly ground black pepper

extra olive oil, for drizzling
Instructions
In a medium saucepan, combine the lentils, water and bay leaf. Bring to a boil, then reduce to a simmer and cook, partially covered and stirring occasionally, until the lentils are very tender (but not falling apart), 20 - 30 minutes. Drain, discard the bay leaf, and cool completely (you can speed this up by spreading the lentils out on a plate and sticking them in the fridge).

Meanwhile, heat 2 tablespoons of the olive oil in a heavy skillet over medium heat. Add the onion and garlic and saute, stirring frequently and reducing the heat if necessary, until the onions are golden, about 15 minutes. Stir in the mirin and remove from the heat. Cool completely (to speed up the process, see lentils, above).

Place the toasted and cooled walnuts in the bowl of a food processor and puree until it looks like nut butter, scraping the sides of the bowl as needed. Add the cooled lentils and the onion mixture and puree smooth. Add in the herbs, miso, umeboshi, pepper, and remaining tablespoon of olive oil, and blend until smooth.

Serve immediately, or store in the refrigerator for up to a week. Drizzle with olive oil and chopped fresh herbs, and serve with crackers or sliced baguette and cornichons or olives.
Notes
Adapted from the Real Food Daily Cookbook.
Miso, umeboshi paste and mirin can all be found in hippy health food stores/Whole Foods in the Asian foods aisle, or at Asian (Japanese) markets. Look for miso that is stored in the refrigerator rather than shelf stable, as it will contain all the beneficial bacteria and probiotics of which miso is full.
Don't worry about the pâté's lack of salt - the miso and umeboshi paste both contain the salt needed to give the pâté just the right amount of flavor.
Nutritional values are based on one of eight servings.
Nutrition
Calories:
263
kcal
Carbohydrates:
19
g
Protein:
8
g
Fat:
18
g
Saturated Fat:
2
g
Sodium:
262
mg
Potassium:
311
mg
Fiber:
7
g
Sugar:
2
g
Vitamin A:
95
IU
Vitamin C:
4.8
mg
Calcium:
45
mg
Iron:
2.3
mg