Vegan paleo banana bread made with one bowl in an hour! This healthy banana bread gets its tender crumb from almond flour and cassava flour, sweetness from maple syrup and coconut sugar, and moist texture from nut butter, all studded with bittersweet chocolate flecks. Super moist, gooey, decadent-tasting, yet deceptively healthy.
Thanks to Bob's Red Mill for sponsoring this post! Find recipes for all my favorite quickbreads and loaves here.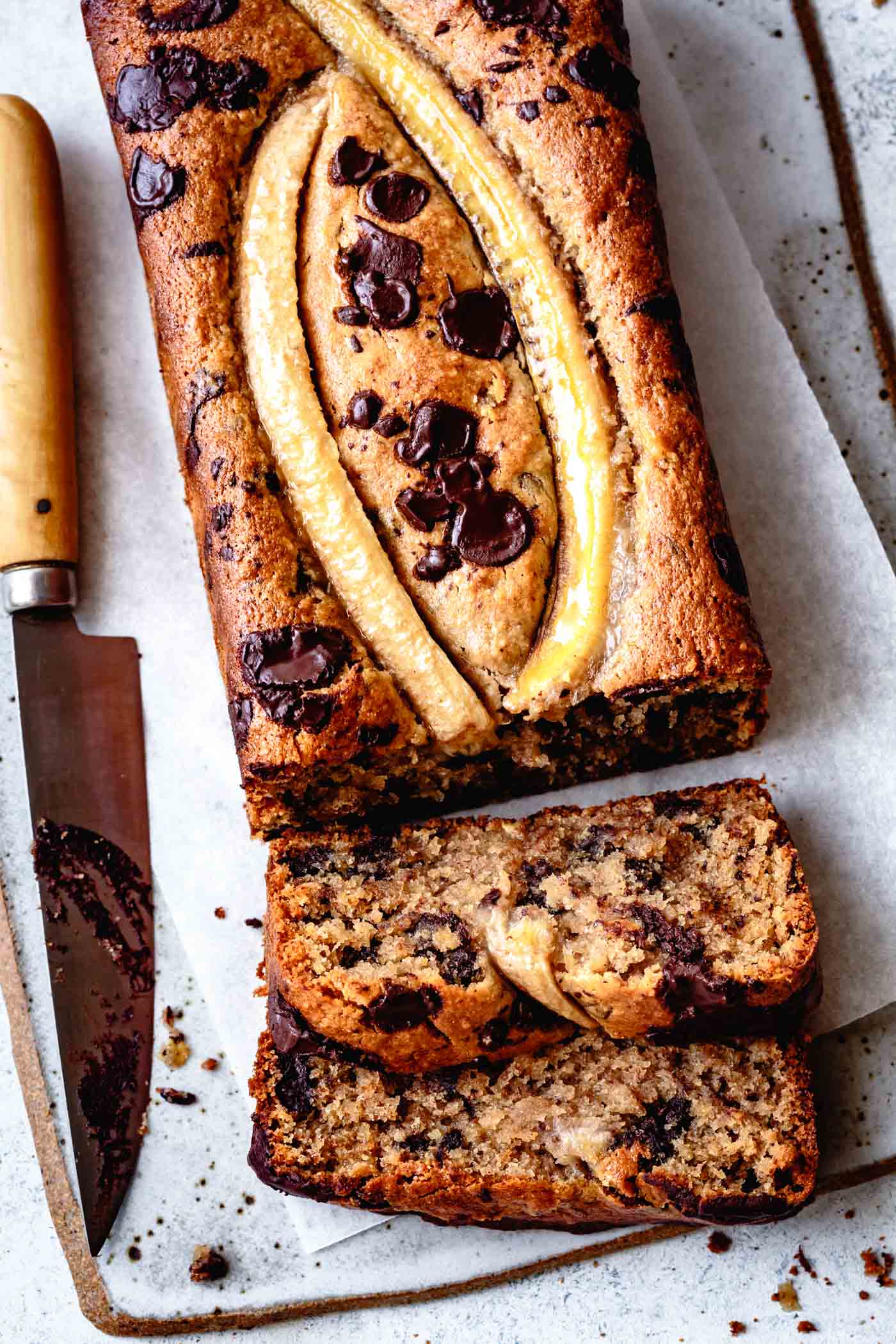 I've shared lots of banana dessert recipes here on TBG, but for some reason, this is the first banana bread recipe! It helps that it's the best banana bread I've ever tasted.
This healthy banana bread is:
rich and tender
full of butterscotchy banana notes
loaded with chocolate
free of grains, dairy, eggs, and refined sugar (and optionally nuts)
friendly to many diets & food intolerances
so decadant-tasting!
I've made this recipe 8 times in the last few weeks. They're short little loaves, but still – Jay and I can't stop.
How I Developed This Paleo Banana Bread Recipe
Oddly enough, I actually adapted this recipe from this vegan paleo chocolate chip cookie formula. I had some overripe bananas and wondered whether adding in banana, plant milk, and extra leavening would make a tasty banana bread. I was blown over by the results! If you give this recipe a try, I hope you are too.
This grain-free banana bread recipe is part of a year-long partnership with Bob's Red Mill. Since I was a youngster in my mom's kitchen poking my nose into bags of buckwheat and rye, I've loved experimenting with their abundance of alternative flours. I even wrote a whole cookbook about Bob's Red Mill gluten-free flours (plus a few other flours too).
Lately I've been exploring new-to-me cassava flour since going on a grain-free elimination diet, and I'm loving it! Find more cassava flour recipes here.
Ingredients & Substitution Suggestions
This cassava flour banana bread recipe comes together with a handful of pantry-friendly ingredients.
Naturally, this recipe starts with bananas! Make sure they're nice and ripe – yellow with black spots. I've also used frozen overripe bananas, defrosted and mashed, and they work like a charm!
Nut butter forms of the base of this recipe. I use cashew butter, which gives the bread luscious caramel notes, but almond butter works wonderfully too. Make this nut-free by swapping tahini.
Melted coconut oil adds richness. You can use ghee for a non-vegan option.
Maple syrup and coconut sugar sweeten and moisten the batter, adding rich toffee notes.
Vanilla perfumes the batter and salt sharpens the flavors.
Plant milk adds moisture. Anything will work – almond, coconut, oat, or even water.
Baking powder and baking soda lift the batter.
Bittersweet chocolate studs the dough. I use Hu Kitchen chocolate here, which is sweetened with coconut sugar. If you prefer to leave it out you can, or swap in some toasted pecans or other nuts instead.
Grain-Free Flours
Blanched almond flour and cassava flour work together to create a moist, tender crumb. Tapioca flour adds a bit of chew. I use Bob's Red Mill brand for all three, which can be ordered online or found in your local healthy foodie store.
You can use Bob's hazelnut meal or natural almond flour in place of the blanched almond flour, or use tiger nut flour for a nut-free option. If you don't have cassava flour on hand and you eat grains, you can try sweet rice flour or Bob's 1 to 1 gluten-free baking flour instead.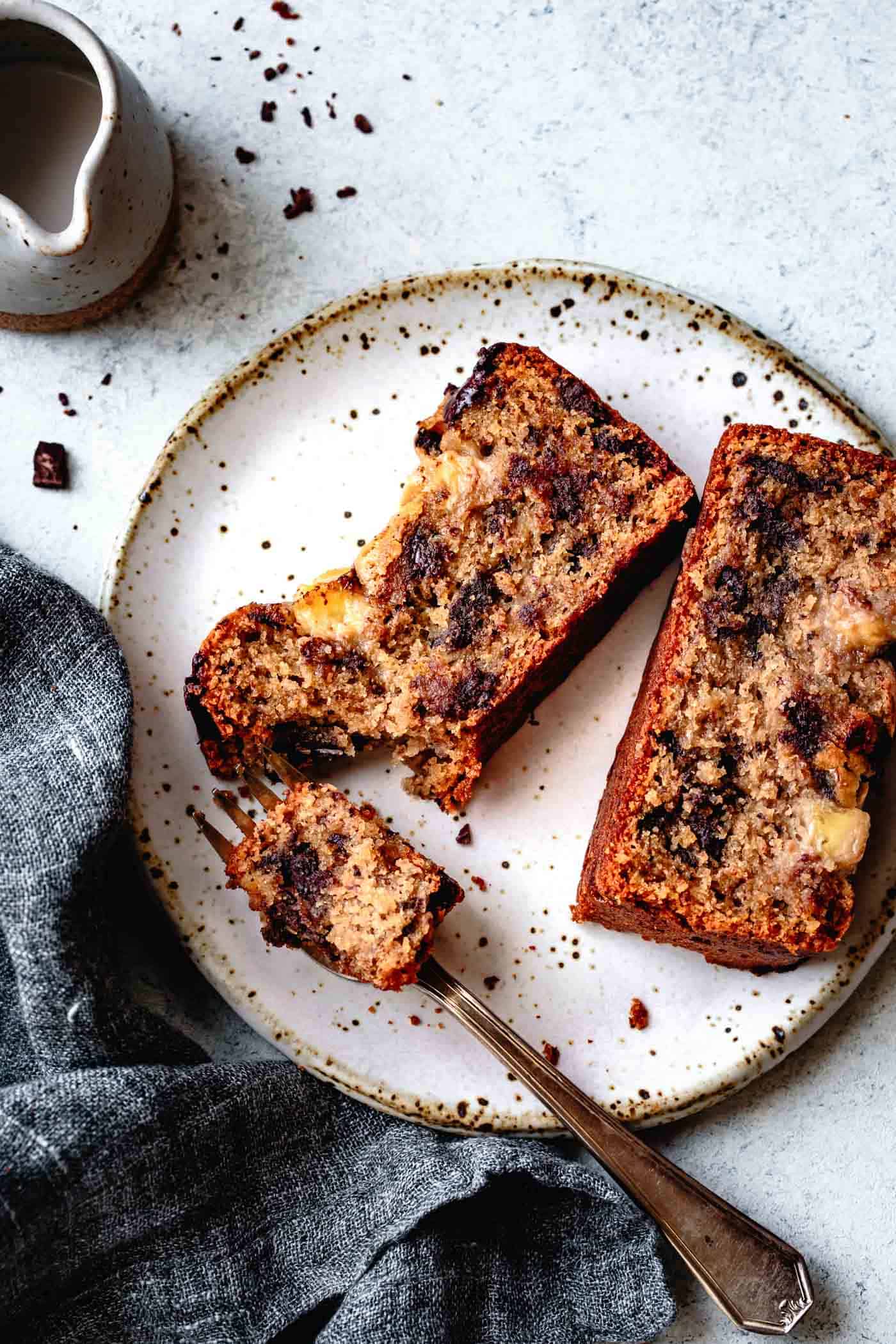 How to Make Paleo Banana Bread
This paleo vegan banana bread is simple to make with just one bowl and a whisk and 10 minutes of active time. It makes a petit loaf that serves 6-8.
Here's the process in visual form: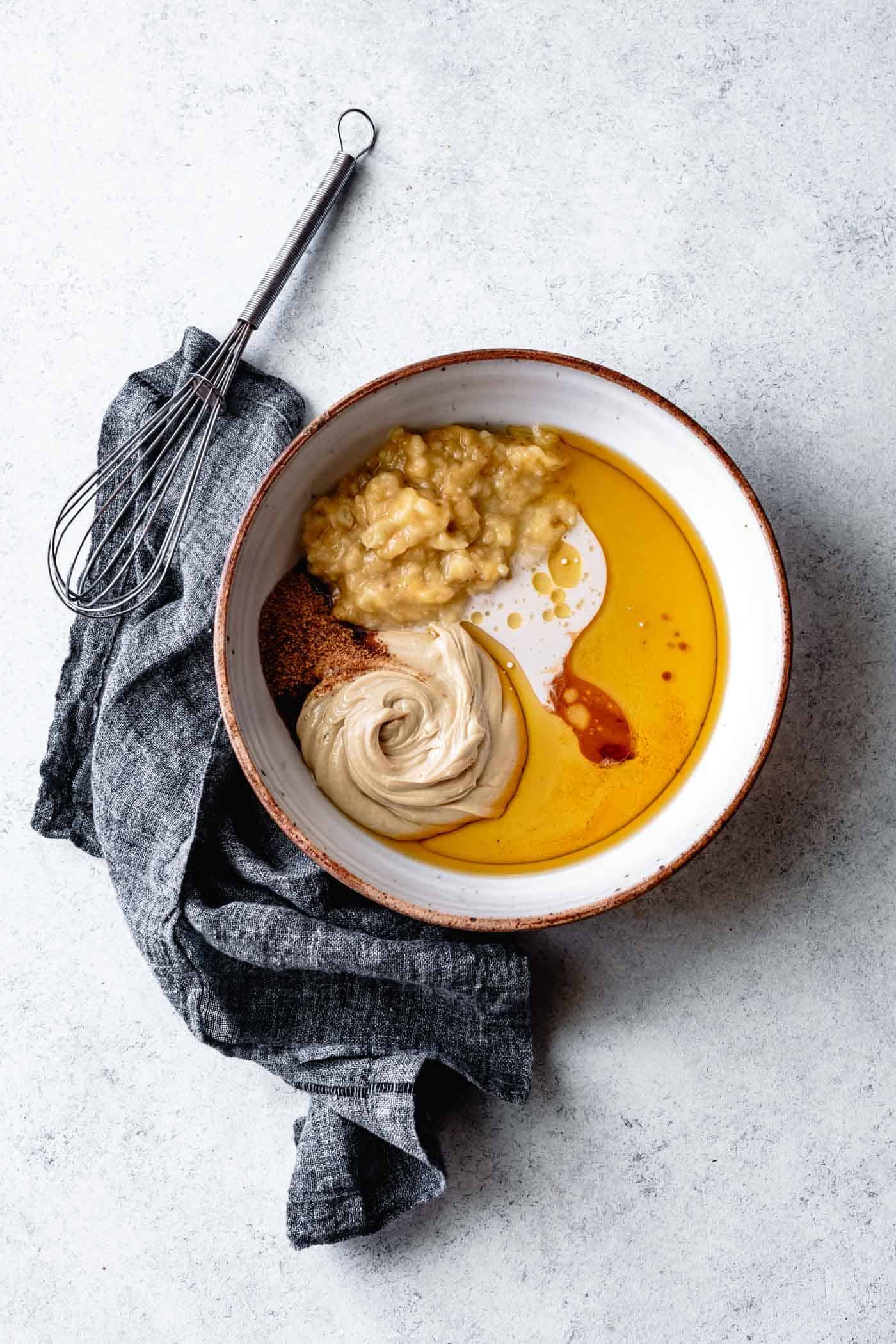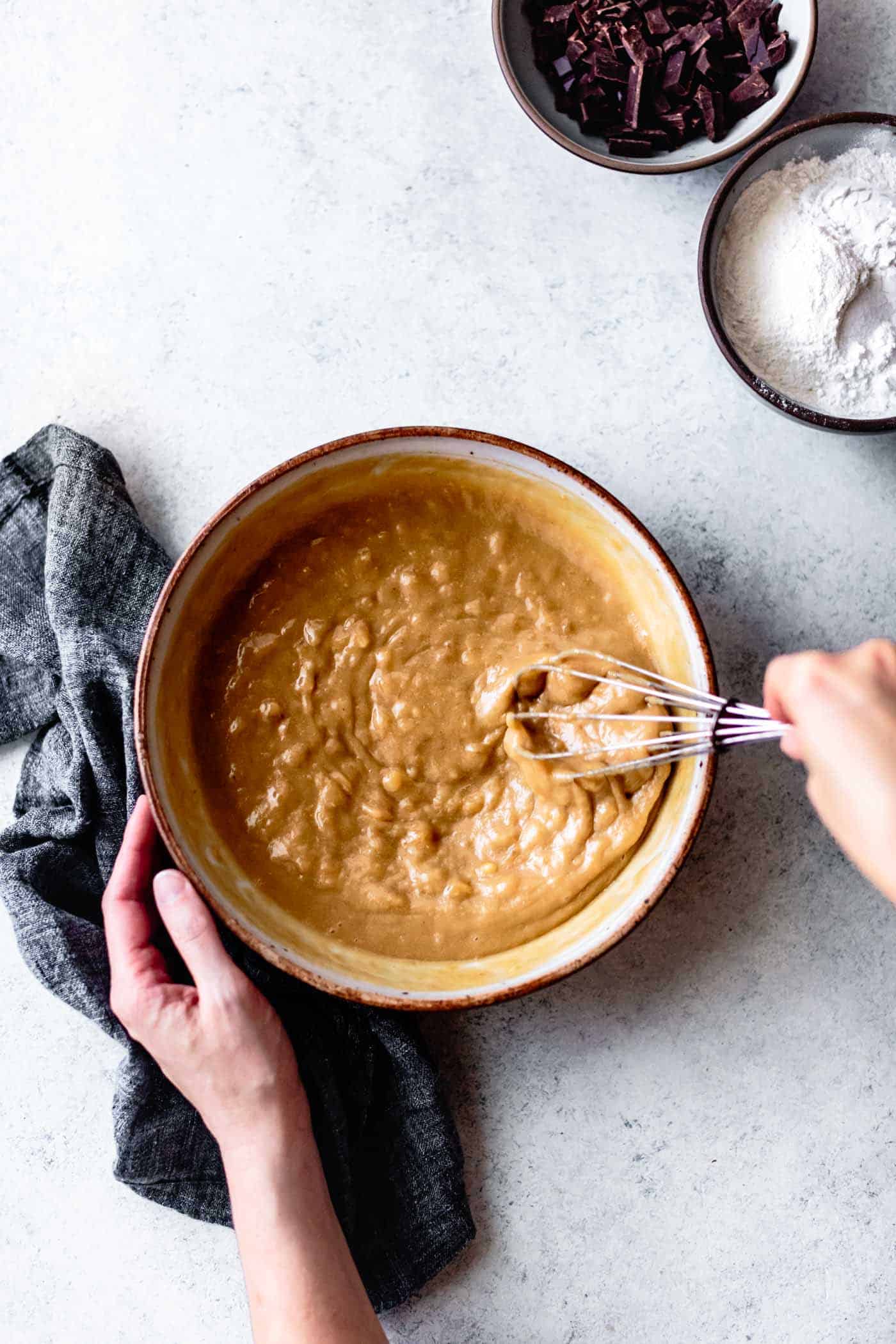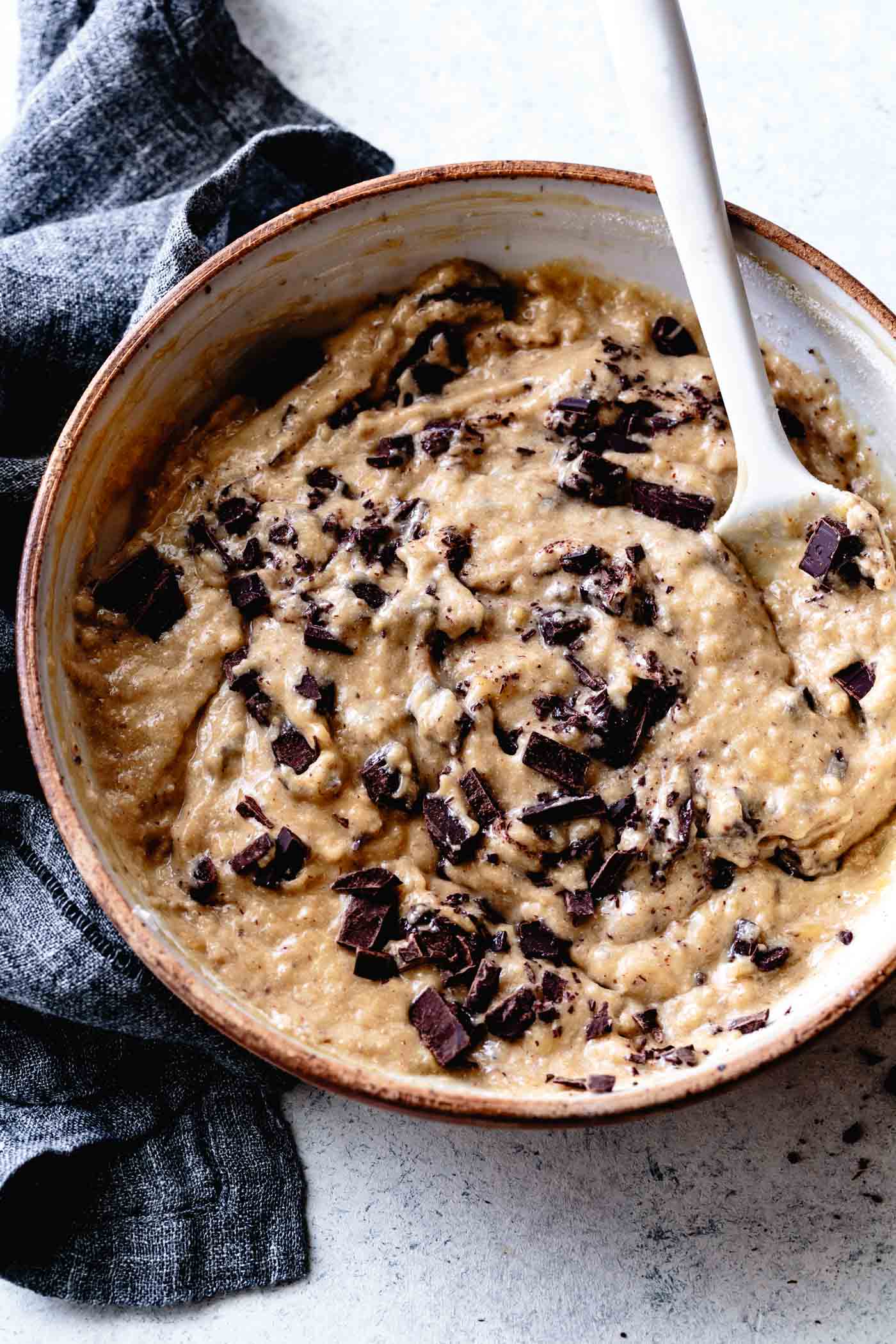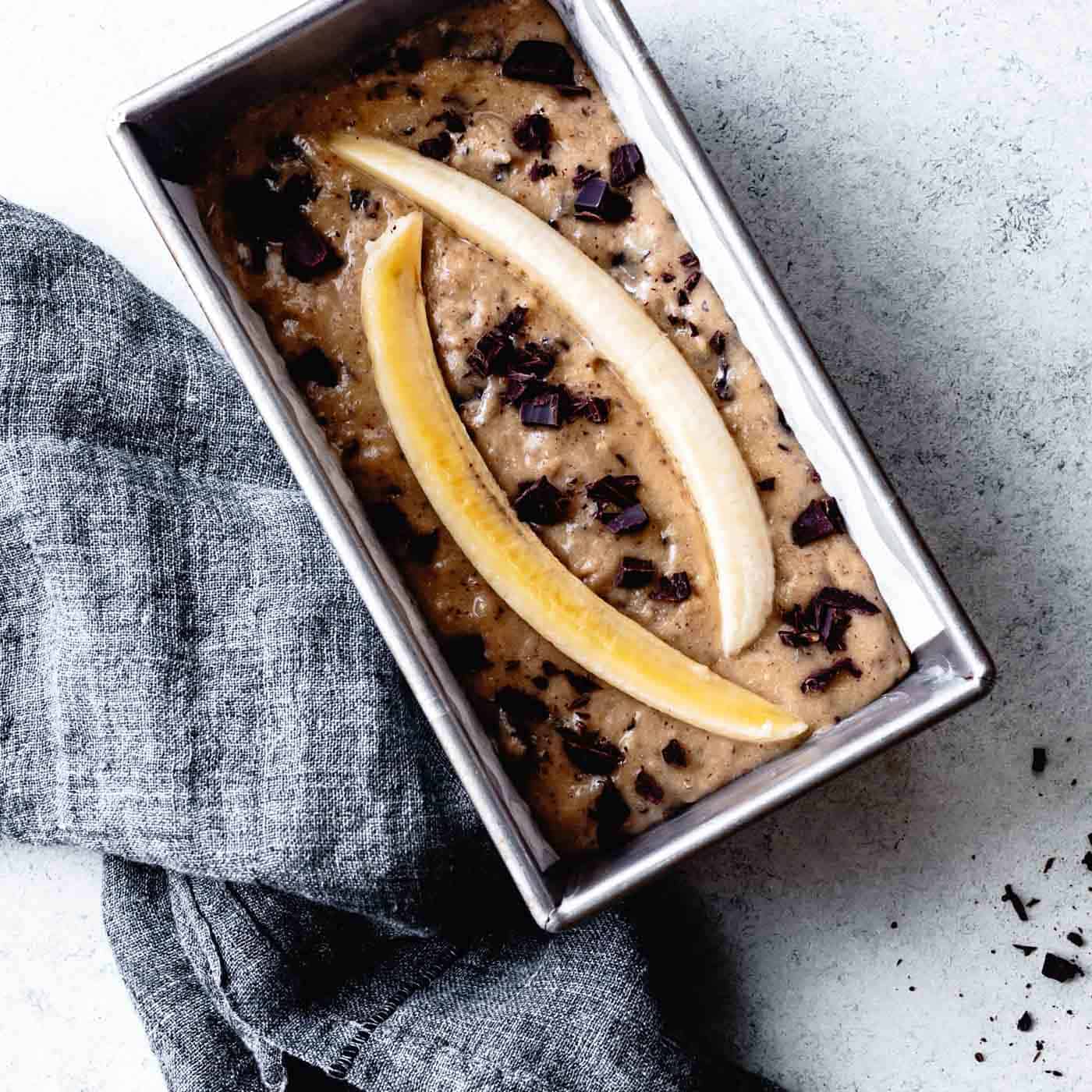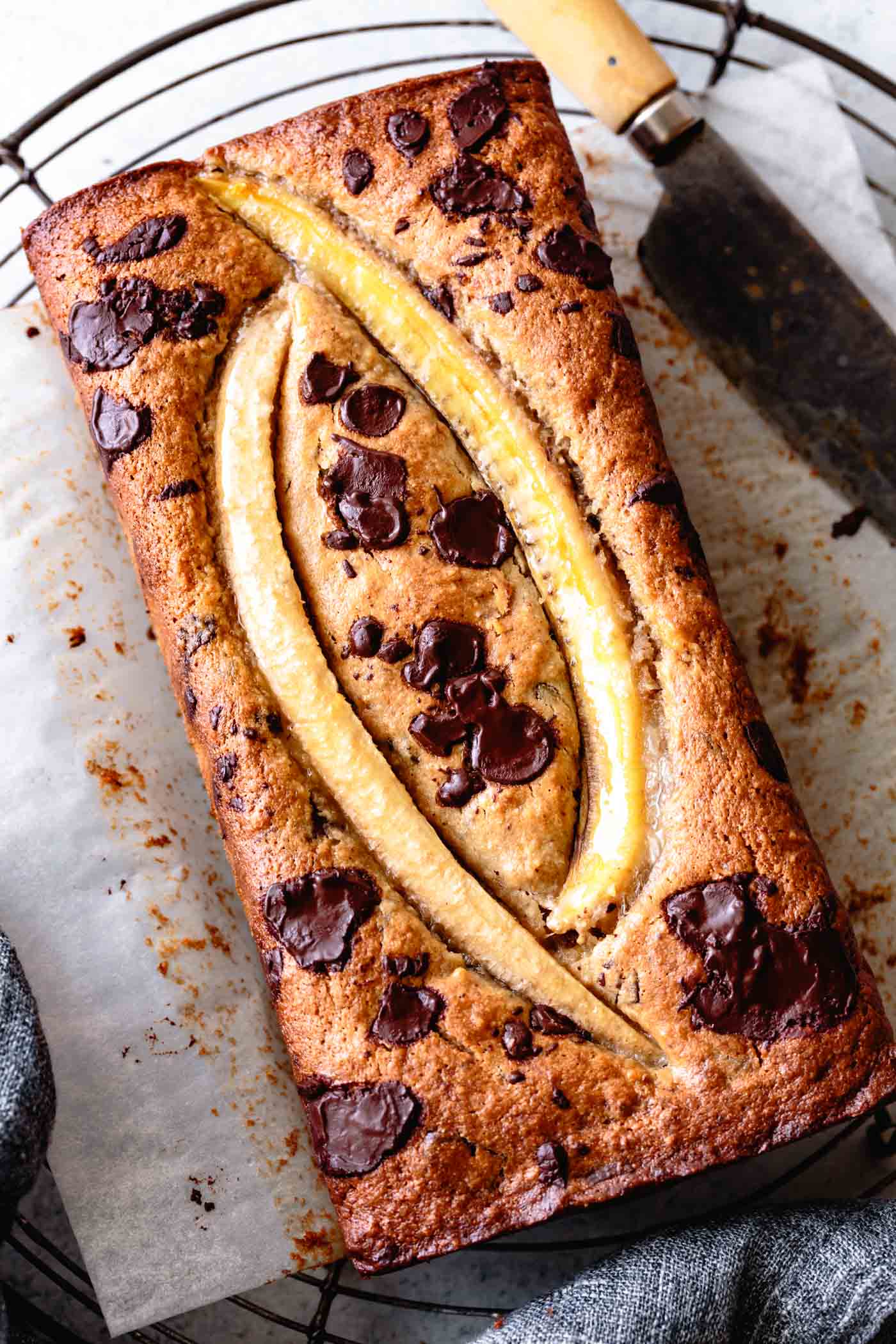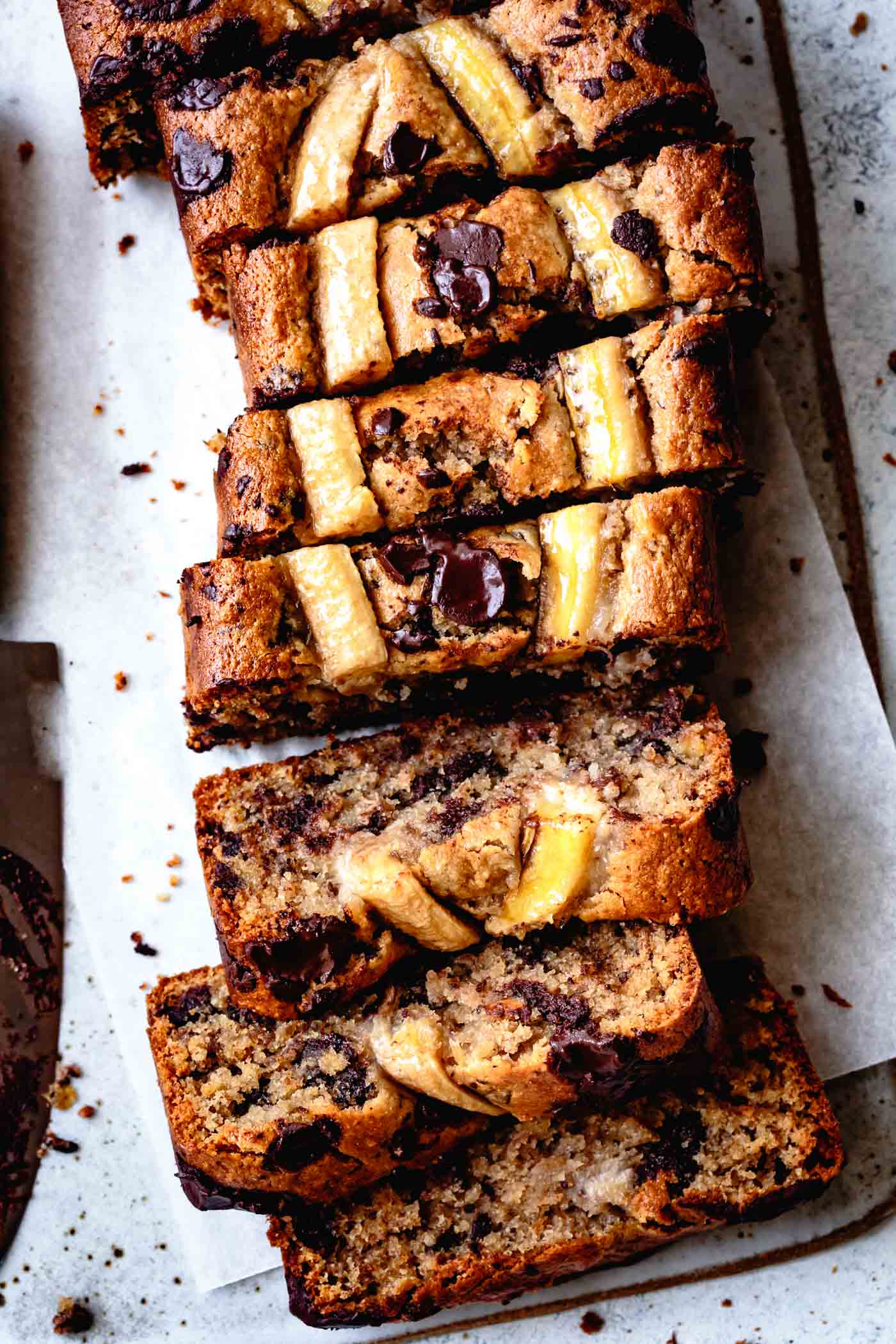 How to Store Banana Bread
This vegan paleo banana bread stores beautifully:
at room temperature for up to 2 days
refrigerated for up to 1 week (bring to room temperature or warm in a toaster oven for best results)
frozen for up to several months (but...why? How?)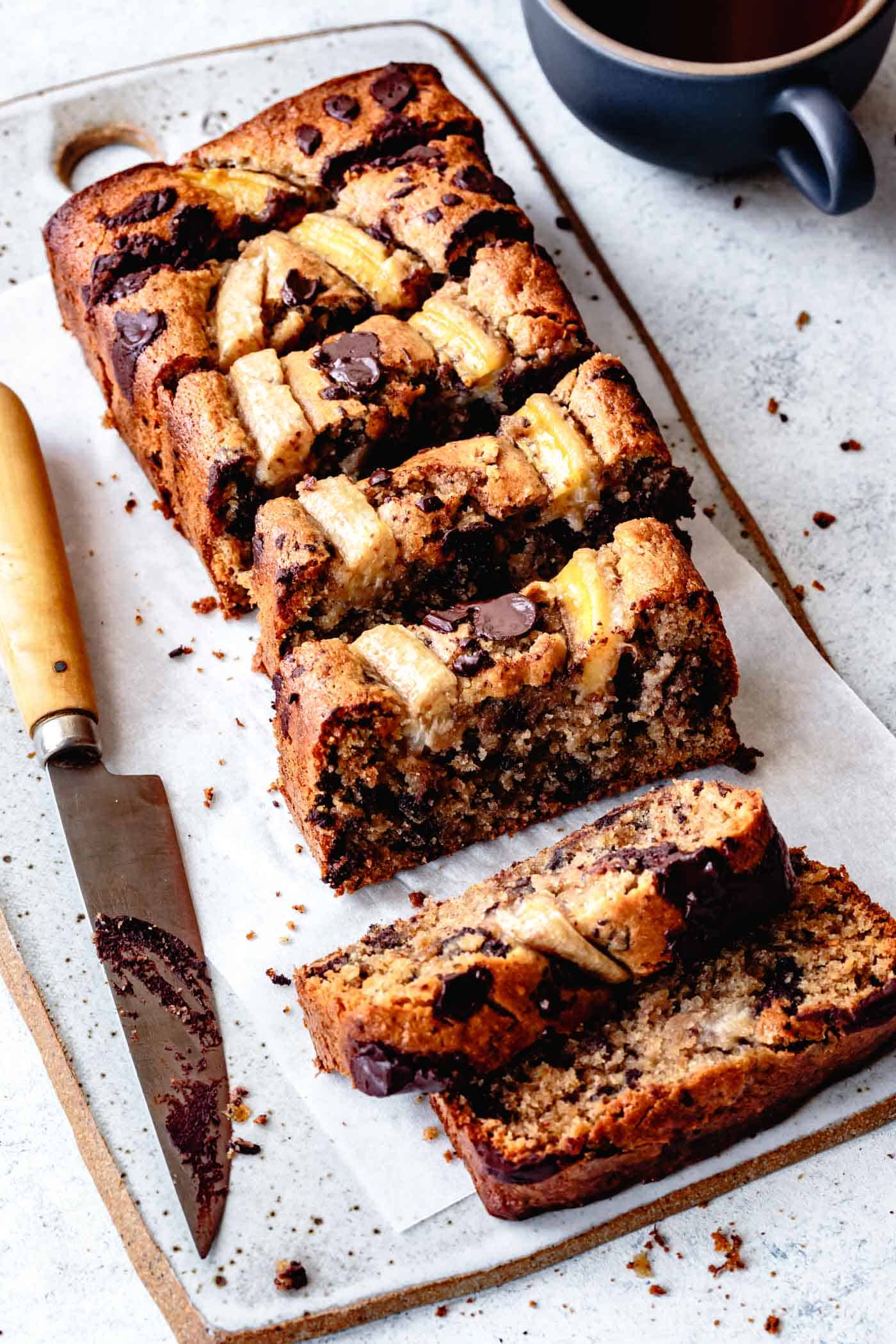 Cassava Flour Banana Bread
Cassava comes from the root of the yuca plant which has been used traditionally in cuisines of South America, Asia, and Africa. It's recently gained popularity throughout the West in grain-free diets. Cassava is also prebiotic, meaning that it helps to create a happy home for good bacteria in your gut.
The fine, starchy flour is a joy to bake with. I've found that it blends well with a coarser flour, such as almond flour, coconut flour, or tiger nut flour in baking recipes. Here, it helps the banana bread hold together and gives it a smooth, moist, springy crumb.
You can find more cassava flour recipes here!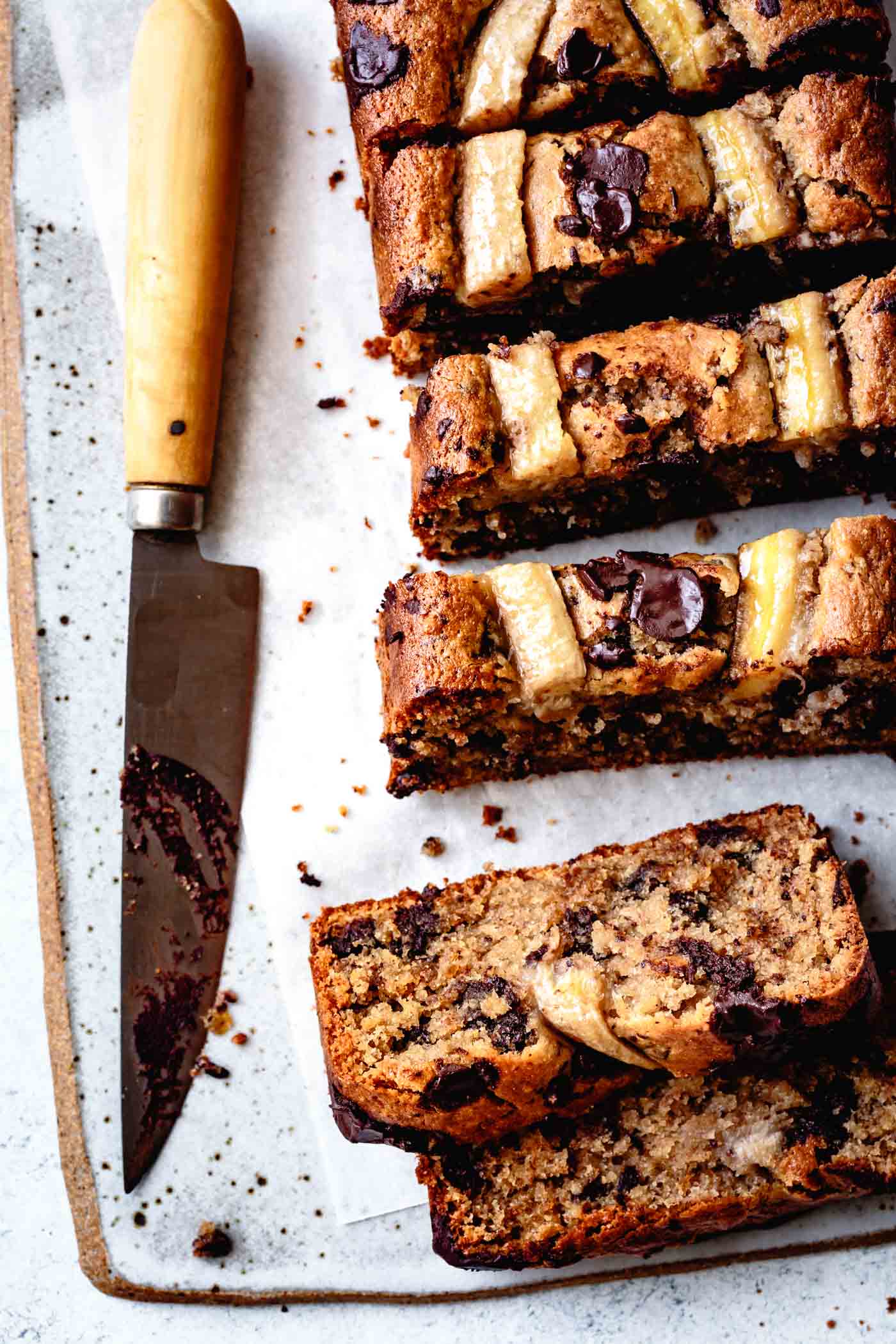 Paleo Chocolate Chip Banana Bread... or not!
In my opinion, banana bread is just a vessel for chocolate. But if you prefer your vegan paleo banana bread chocolate-free, you can leave it off and just enjoy the light, butterscotchy notes of this bread without the earthy flavor of chocolate getting in the way.
Paleo Banana Bread Muffins
To make muffins, divide the batter between 9 or 10 individual muffin cups with paper liners, filling them about two-thirds full. Decrease the baking time as needed; begin testing for doneness at 25 minutes.
*Bojon appétit! For more Bojon Gourmet in your life, follow along on Instagram, Facebook, or Pinterest, purchase my gluten-free cookbook Alternative Baker, or subscribe to receive new posts via email. And if you make this vegan paleo banana bread recipe, I'd love to see. Tag your Instagram snaps @The_Bojon_Gourmet and #bojongourmet.*
Vegan Paleo Banana Bread with Cassava Flour
Print Recipe
Pin Recipe
Vegan paleo banana bread that's super moist, gooey, decadent-tasting, yet deceptively healthy. Made with one bowl and 10 minutes of active time.
Instructions
Position a rack in the center of the oven and preheat to 350ºF. Lightly rub an 8x4 or 9x5-inch loaf pan with coconut oil and line with a sling of parchment paper.

In a large bowl, whisk together the nut butter, maple syrup, coconut sugar, and coconut oil until smooth. Whisk in the banana, plant milk, and vanilla until smooth.

Sift in the cassava flour, almond flour, tapioca flour, baking powder, baking soda, and salt, adding back anything left in the strainer (the almond flour is fairly coarse so just do your best here!) Stir the batter until smooth and well-combined, then stir in the chocolate.

Scrape the batter into the pan. Top with two of the banana quarters and sprinkle with a few chunks of chocolate.

Bake until a tester inserted near the center comes out with moist crumbs, 40-50 minutes. Let cool to warm or room temperature, remove from the pan, and peel away the parchment.

Slice and devour with a cold glass of plant milk.
Notes
Store at room temperature for up to 2 days, refrigerate for up to a week, or freeze for longer storage.
(Nut-Free) Double Chocolate Tahini Banana Bread
Use tahini in place of the cashew butter. Omit the almond flour and use 1/4 cup dutch-process cocoa powder and 2 more tablespoons tapioca flour.
Nutrition facts are for 1 of 8 servings.
Nutrition
Calories:
294
kcal
Carbohydrates:
29
g
Protein:
5
g
Fat:
19
g
Saturated Fat:
9
g
Cholesterol:
1
mg
Sodium:
121
mg
Potassium:
285
mg
Fiber:
2
g
Sugar:
14
g
Vitamin A:
9
IU
Vitamin C:
2
mg
Calcium:
58
mg
Iron:
2
mg