Matcha green tea and fresh mint marry bittersweet chocolate in this homemade ice cream recipe.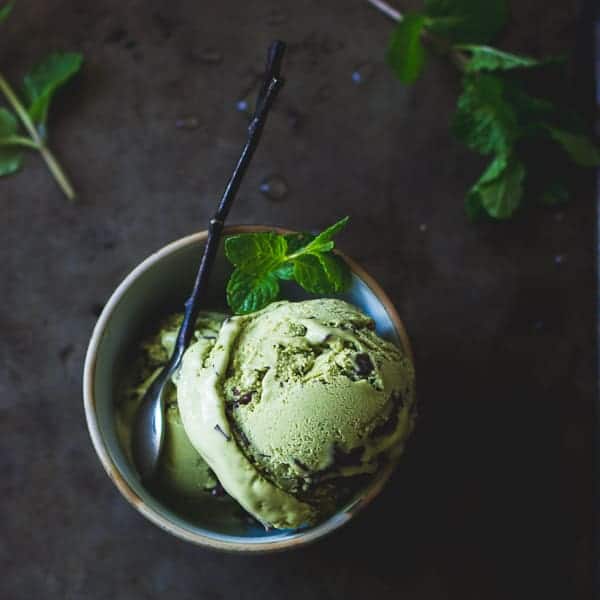 *Many thanks to my fabulous friends at Vermeulen & Co. for sponsoring the site this month! These gals make the most exquisite vintage-inspired clothing from eco-friendly fabrics in Oakland, California. Show them some love and peruse their delicious pieces here.*
When people complain about having lovely herbs like mint and lemon balm overtaking their gardens, I want to hit them. With no outdoor space save a 1-foot-square fire escape, and no gardening talent to speak of, I often dream of tending a lush garden filled with edibles that actually grow rather than getting savaged by aphids and dying. It's a bit like that pesky friend who complains that she "just can't seem to gain weight" and wolfs down a plate of nachos and a large pizza in front of you while you pick at a salad and stare angrily at her CGI-like waistline. But unlike the effortlessly thin, green-thumbed friends can actually serve a purpose other than to simply annoy the crap out of you.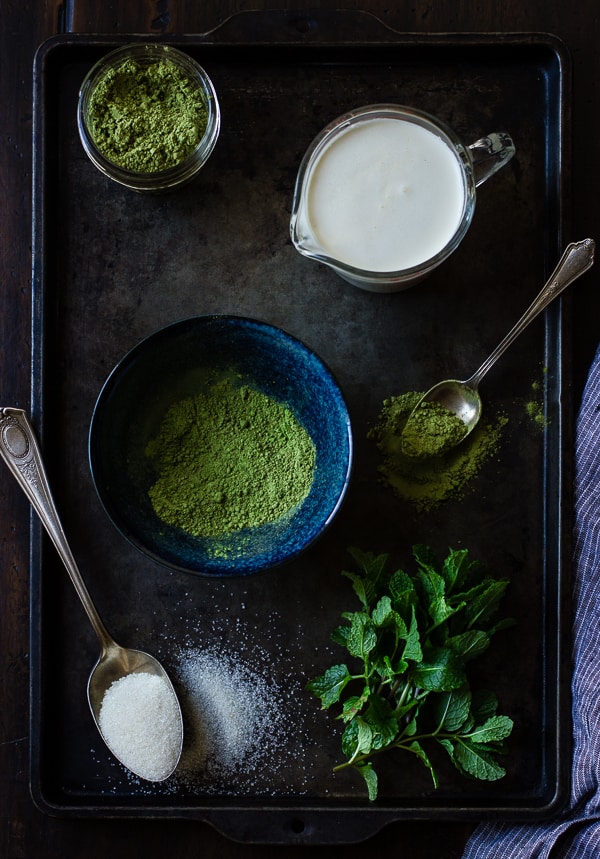 Case in point, my buddy Calvaleigh, creator of the best cocktail in existence, sent us home with a giant bag of Moroccan mint that is currently taking over her enviable vegetable garden. We've been using the sprigs to garnish Mumbai Mules, to steep into Matcha Mint Juleps, and to blend into this, our new favorite ice cream.
I'm a long time fan of matcha ice cream, with its silky texture and bright green notes with a hint of bitterness, and mint chip is an all-time favorite of both mine and Jay's. Inspired by a couple of scoops enjoyed from Bi-Rite, I decided to combine the two. Enzo kindly sent me half a pound (!!) of the green stuff, so I churned some up into this ice cream. (And gave a bunch to Sarah who is a matcha maven!)
To incorporate the mint, I use a technique I learned during my pastry chef days wherein the mint is blanched, shocked, squeezed, and blended into the base. This delivers maximum color and flavor. Scribbling the chocolate into layers of ice cream results in pleasantly uneven chips that shatter and crunch before melting into chocolatey bliss. I have David Lebovitz to thank for this method.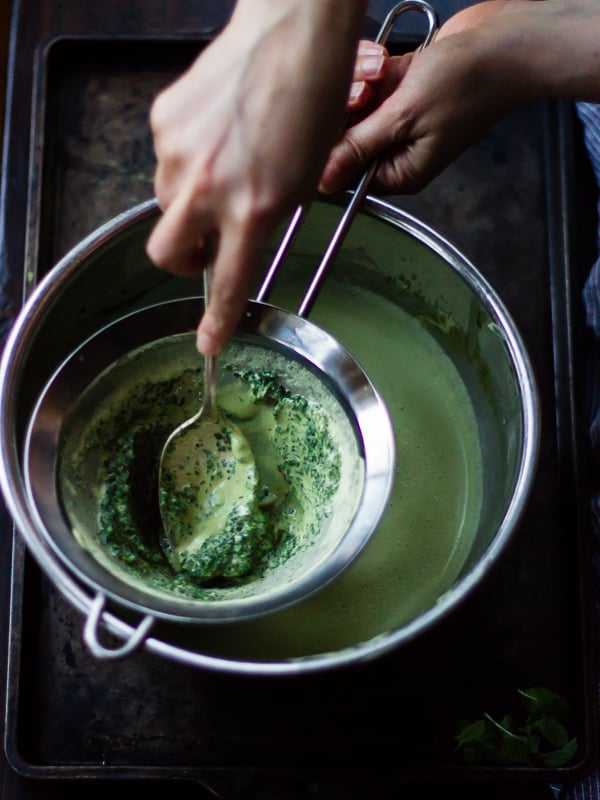 Matcha pairs well with both mint and chocolate, and this dessert strikes a nice balance of the three.  A touch of peppermint extract sharpens the mint notes bringing it up to the same level as the matcha. I like the freshness that mint adds to rich ice cream, and matcha's slight bitterness blends beautifully, all offset by earthy bittersweet chocolate. We can't keep our spoons out of the ice cream jar when this stuff is around.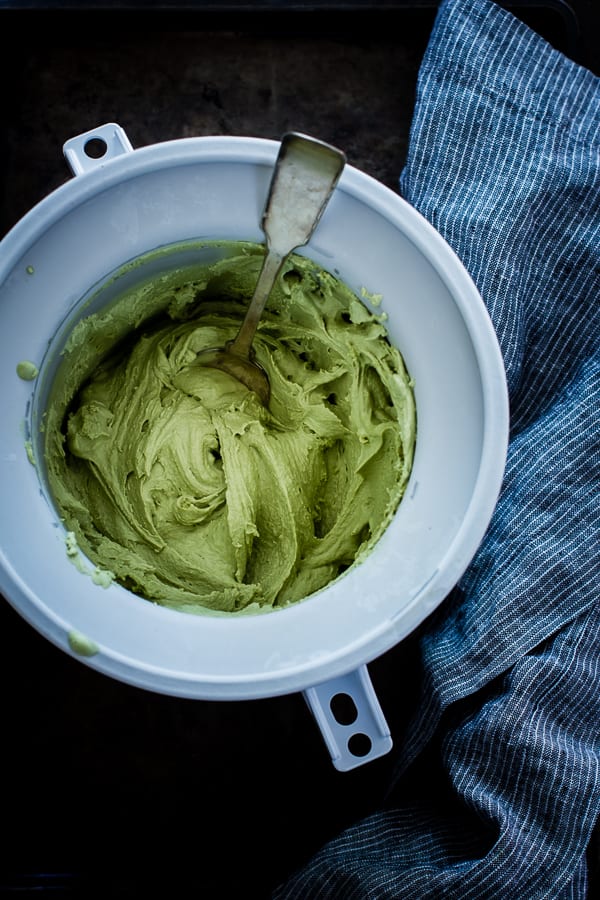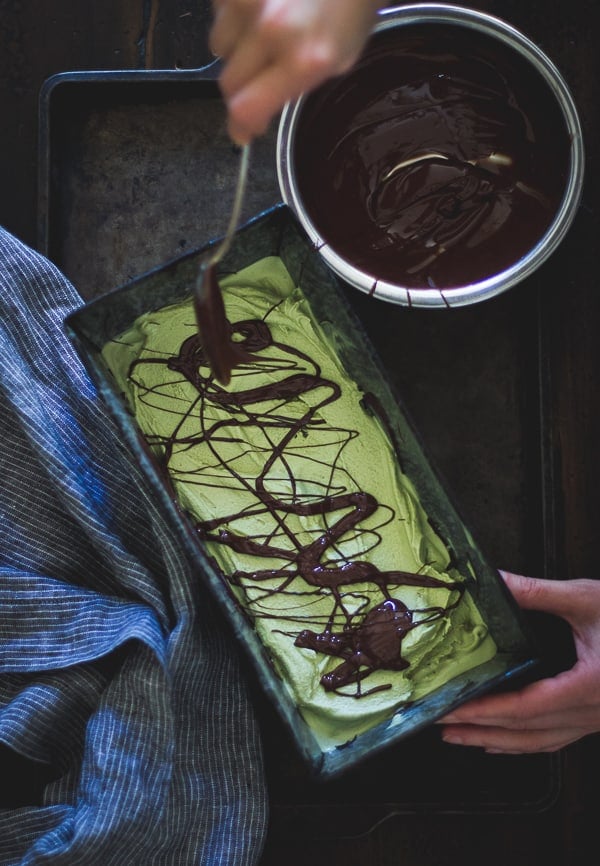 Ice cream takes a bit of planning ahead, but once you get going, it's actually one of the more simple desserts to prepare. Homemade ice cream is always tastier than the store-bought stuff – denser and less sweet – and the sky's the limit in terms of flavor options. I can't imagine life without an ice cream maker. If you're on the hunt, I really like my Kitchen-Aid stand mixer attachment.
I love how the interwebs get overtaken by green and boozy treats for the holiday tomorrow, so here are some favorites from the archives appropriate for St. Patrick's Day. Cheers!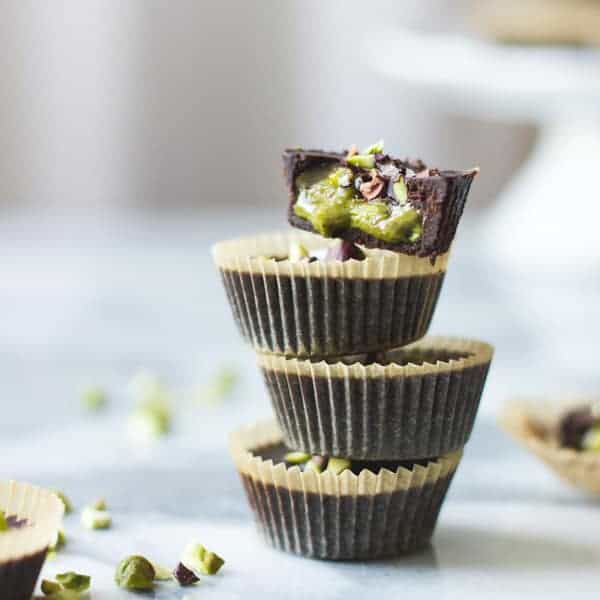 Raw Chocolate Pistachio Butter Cups
Oatmeal Chocolate Stout Ice Cream Sandwiches
Thanks for reading! For more Bojon Gourmet in your life, follow along on Facebook, Instagram, Pinterest, Bloglovin', or Twitter, subscribe to receive new posts via email, make a donation, or become a sponsor. This post contains affiliate links to Amazon which means that I get a teeny tiny commission at no extra cost to you when you start your search here. Yay!
Screaming for:
Black Sesame + Dark Milk Chocolate Chip Ice Cream
Smoked Cardamom Ice Cream + Salty Honey Caramel Swirl
Chocolate Mint Chip Ice Cream
One year ago:
Miso-Roasted Asparagus and Pickled Carrot Sushi Bowls
Two years ago:
GF Chocolate Banana Buckwheat Muffins 
Miso Harissa Roasted Carrot and Two-Potato Salad 
Three years ago:
Irish Coffee Ice Cream
Meyer Lemon Buttermilk Pie
Irish Soda Scones 
Four years ago:
Gluten-Free Apple Crisple
Potato, Leek and Celeriac Soup
Five years ago:
Salted Pecan Candy Cap Sables 
Vegan Chocolate Coconut Milk Tapioca Pudding
Matcha Mint Chip Ice Cream
Ice cream is simple to make, but do allow yourself several hours for chilling various stages of this recipe; most of the time is hands-off. Matcha comes in different grades, and the less expensive stuff intended for cooking and baking works fine here. Peppermint extracts can vary in strength so you may wish to add it drop by drop to taste if using a different brand. To churn the ice cream, I'm fond of my Kitchen Aid stand mixer ice cream making attachment, available here. 
Makes about 1 quart
1 1/2 cups (350 ml) heavy cream
4 teaspoons matcha (green tea powder)
1 cup (235 ml) whole milk
4 large egg yolks
1/2 cup (3.5 ounces / 50 grams) organic blonde cane sugar
pinch salt
leaves from 1 large bunch mint (1 cup packed)
1/4 teaspoon natural peppermint flavor (such as Frontier)
4 ounces (115 grams) bittersweet chocolate (60-70% cacao mass), chopped
In a large bowl, whisk together the heavy cream and matcha until combined (it's ok if it's lumpy – we'll smooth it out later).
Place the egg yolks in a medium bowl and whisk in the sugar and salt until combined. Heat the milk in a medium, heavy-bottomed saucepan until hot and steamy, swirling occasionally. Whisking constantly, slowly add the hot milk to the egg mixture. Return the pot to the stove and cook over medium-low heat, stirring constantly with a flexible heat-proof spatula, until the custard begins to "stick" to (form a film on) the bottom of the pot and/or registers 170ºF on an instant read thermometer. Immediately pour the custard into the cold matcha-y cream to stop the cooking. Cover and chill until cold, 2-4 hours or overnight.
When the custard is cold, bring a small kettle of water to a boil. Fill a medium bowl partway with ice and cool water and place the mint leaves in a strainer. When the water comes to a boil, pour the water over the mint to wilt it, and immediately plunge the wilted leaves into the ice bath. Drain the mint and squeeze dry.
Place the wilted and dried mint leaves in a blender and add half of the ice cream base. Blend until very smooth, gradually adding the rest of the base. Strain the mixture through a fine-mesh strainer, pressing on the solids to extract all the good stuff. Stir in the peppermint flavor. Chill the mixture again until very cold, 1-2 hours and up to overnight.
Place a loaf pan or other vessel in the freezer to chill. When the ice cream base is cold, churn the ice cream in an ice cream maker according to the manufacturer's instructions. While the ice cream churns, place the chocolate in a small, heatproof bowl set over a small pot of steaming (not simmering) water. Stir until just melted and let cool slightly. The chocolate should be cool but drizzleable by the time the ice cream is done churning.
Remove the loaf pan from the freezer and drizzle some of the melted chocolate over the bottom and sides. Spread 1/3 of the ice cream over the chocolate, and drizzle with more chocolate. Repeat until you've used up all the ice cream and chocolate, then freeze until, well, frozen, a few hours. When firm, scoop and serve!
Store the ice cream tightly covered and with parchment paper pressed directly onto the surface to discourage ice crystals from forming. Enjoy within a month or so.