A matcha cocktail to best all matcha cocktails! Grassy matcha green tea meets mint syrup and bourbon for a verdant take on the mint julep.
Caffeinated Cocktails
One of the wilder nights of my youth began with Red Bull and vodka cocktails at a bar in Bath, England. While my Swedish hostel-mates were none to pleased to hear me stagger in at 3am, laughing hysterically in my drunk/wired state, I greatly enjoyed playing pool all night in the common area downstairs, then taking a sobering walk around the park as the sun rose, and later quelling a burgeoning hangover with Sally Lunn buns and tea.
The Swedes had the last laugh, however: the hostel's lockout hours forced me to wander around town all day trying desperately to stay awake until we were allowed to return to our rooms later that evening.
I have yet to touch Red Bull since, now that I'm older and... older. But I still get a kick out of caffeinated cocktails now and then, though I tend to reserve them for a little afternoon pick-me-up rather than to fuel late-night antics in foreign countries. These minty bourbon matcha cocktails spiked with powdered green tea do the trick.
Mint Julep Cocktails
The Kentucky Derby is upon us (not literally, I hope) which I know next to nothing about besides the fact that it gives free rein (pun intended) to quaff mint-flavored bourbon at any time of the day (or so I've decided).
The mint julep, a mixture of mint, sugar, and bourbon, is the signature beverage of the so-called Most Exciting Two Minutes In Sports, where it is traditionally served in a silver cup over crushed ice.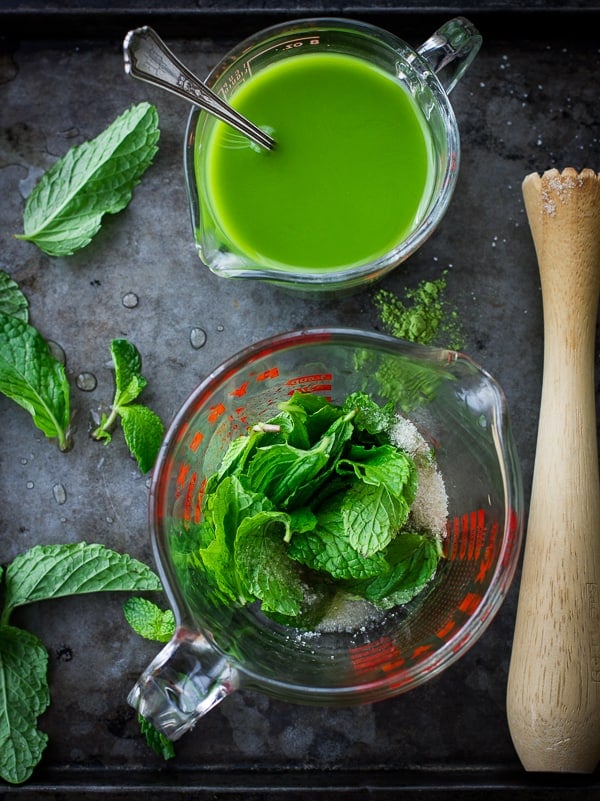 I tried my first genuine mint julep a few years ago during a spring heatwave when Jay and I ventured to Alembic, a fabulous whiskey bar in the Haight district of San Francisco. (Alembic was also where my favorite chartreuse cocktail originated.) Temperatures stayed sweltering late into the night, a rare occurrence in these foggy parts and one that warrants late night journeys to whiskey bars for icy cold cocktails.
When I took my first sip from the pewter tumbler filled with hand-crushed ice (the bartender wrapped cubes in a towel and went at it with a hammer right then and there), I understood why mint juleps exist. It was like diving into an icy cold lake on a scorching hot day.
I would have happily stayed there all night drinking julep after julep, no doubt incurring the wrath of a fatigued bartender. (And this time, there would be no Swedish hostel-mates to object). But we went home and went to sleep instead. (We're old.)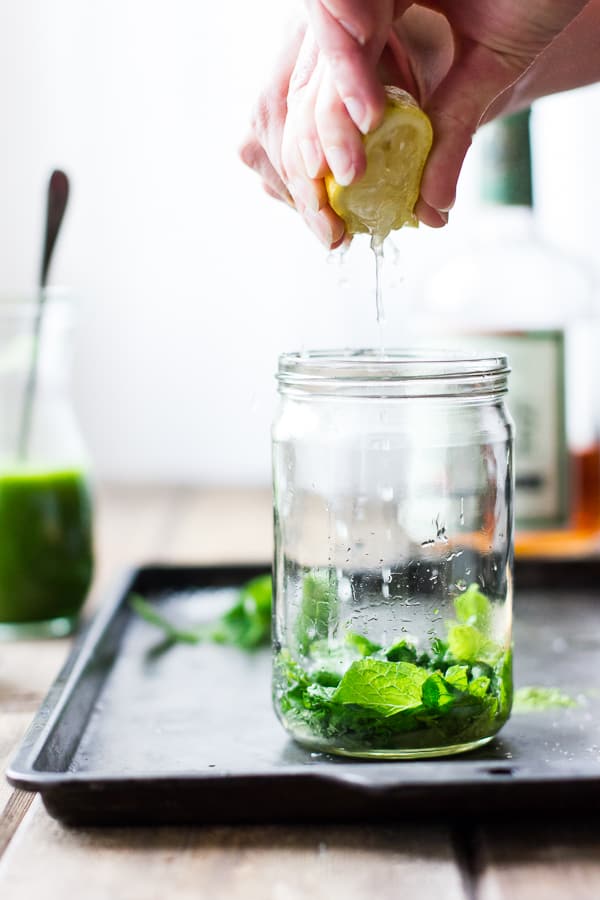 Matcha Cocktail Meets Mint Julep
This matcha cocktail is a cross between the classic mint julep and a drink I've tried at a few different bars (not that I go to that many bars anymore) made from green tea, whiskey, and lemon. I was inspired by this too-pretty-for-words Matcha Mint Iced Tea from Love and Lemons and some matcha left over from matcha shortbread cookies I posted a million (4) years ago.
Tip #1: don't drink four-year-old matcha. It's not so good.
Despite the ancient, bitter matcha, the beverage had promise. I liked the creamy, grassy notes mingling with smooth bourbon, mint, and lemon. So I got some new stuff from our co-op called Sá, which is organic (and can be purchased here). I took a tip from Janine at Love and Lemons and used the less expensive food-grade matcha rather than the pricier ceremonial grade, whose more refined flavor would likely get lost amid the booze and citrus.
How to Make Matcha Cocktails
I work the matcha into a paste with a bit of water (if you add the water too fast, it clumps up impossibly – I learned this the hard way), muddle fresh mint with sugar to extract its essential oils, add a squeeze of lemon, a bunch of bourbon, and the matcha mixture. Strained over ice, it makes a velvety green drink that I can't seem to get enough of these afternoons.
The sugar rounds out the bitter notes of the matcha, which has a fresh, grassy flavor and manages to taste like a meal; nourishing and substantial. For my non-traditional julep, I used Cyrus Noble Bourbon, which is aged in San Francisco. The creamy matcha blends nicely with this buttery-soft whiskey, the mint and lemon adding a bit of zip to the not-too-sweet drink.
Though not traditional, these matcha cocktails still refresh on a warm spring day.... or night.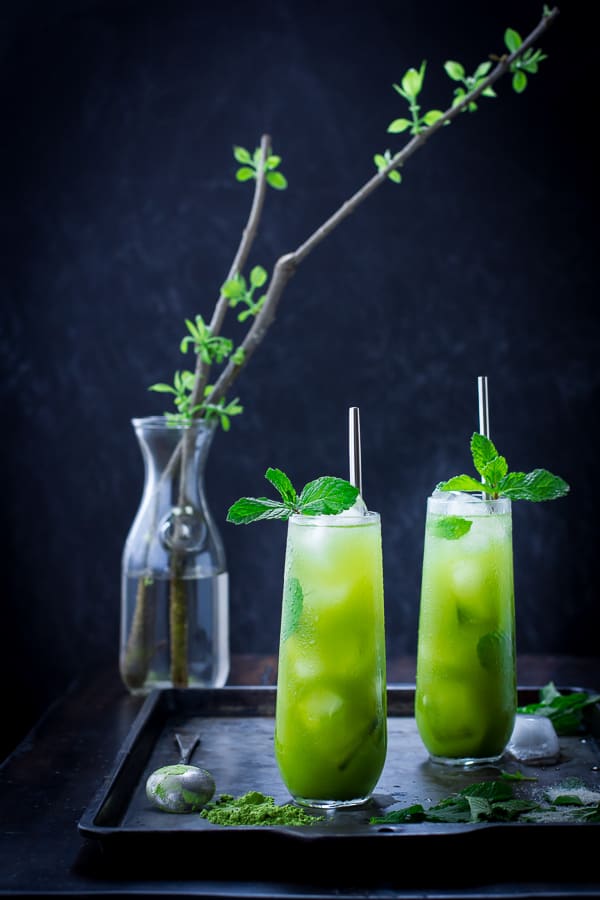 And they taste a heck of a lot better than Red Bull and vodka, too.
More Cocktail Recipes:
More Matcha Recipes:
*Bojon appétit! For more Bojon Gourmet in your life, follow along on Instagram, Facebook, or Pinterest, purchase my gluten-free cookbook Alternative Baker, or subscribe to receive new posts via email. And if you make these mint julep matcha cocktails, I'd love to know. Leave a comment and rating below, and tag your Instagram snaps @The_Bojon_Gourmet and #bojongourmet.*
Matcha Mint Juleps
Print Recipe
Pin Recipe
Though not traditional, these cocktails still refresh on a warm spring day.... or night.

Ingredients
2

teaspoons

matcha (food grade is fine)

3/4

cup

cool water

1/2

cup

lightly packed fresh spearmint leaves, plus a few sprigs for garnish

2

tablespoons

organic blonde cane sugar

1-2

tablespoons

fresh lemon juice

1/2

cup

bourbon whiskey

ice
Instructions
Place the matcha in a bowl, and gradually work in a tablespoon of the water drop by drop, stirring constantly, until the matcha is a smooth paste. Gradually stir in the rest of the water.

Place the mint leaves and sugar in a jar or measuring pitcher, and mash with a muddler (or the back of a wooden spoountil the sugar is dissolved and the leaves are bruised. Stir in 1 tablespoon of the lemon juice, and all of the bourbon and the matcha mixture. Strain the mixture through a fine mesh sieve, pressing on the mint to extract all the good stuff. Taste, adding more lemon if you feel the drink needs it, then pour into two ice-filled tumblers and garnish with a few mint leaves.
Notes
I used Sá organic daily matcha here and Cyrus Noble bourbon, though I suspect any kind of either will work fine.
Do make sure your matcha is on the fresh side.
If serving these over the more traditional crushed ice, reduce the water in the matcha; crushed ice melts more quickly, diluting the drink. You can shake the cocktail mixture with ice before straining it into the glasses if you want it extra cold.
Nutritional values are based on one of two drinks.
Nutrition
Calories:
215
kcal
Carbohydrates:
14
g
Protein:
2
g
Fat:
1
g
Saturated Fat:
1
g
Sodium:
9
mg
Potassium:
64
mg
Fiber:
1
g
Sugar:
12
g
Vitamin A:
680
IU
Vitamin C:
6.5
mg
Calcium:
27
mg
Iron:
1.3
mg