This creamy homemade horchata ice cream sings with the comforting flavors of cinnamon and toasted rice. Enjoy it solo, or atop warm apple pie or brownies.
Here's an IG reel from Mauricio's Kitchen making this recipe!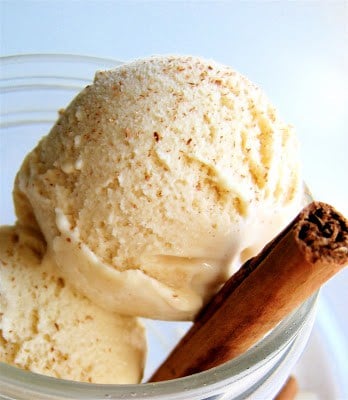 My Very Original Horchata Ice Cream Recipe
I first shared this recipe back in 2009, the first year that TBG existed. At the time, there were no horchata ice cream recipes online, and I'd never seen one in an ice cream shop or grocery store. But I imagined that the flavors of toasted rice and cinnamon would make a dreamy ice cream flavor, and I was so happy with the results!
Now if you do an internet search for "horchata ice cream" a bunch of recipes come up. This version has stood the test of time, become a reader favorite, and has been in regular rotation here in our kitchen. I hope you love it too! You can find more homemade ice cream recipes here.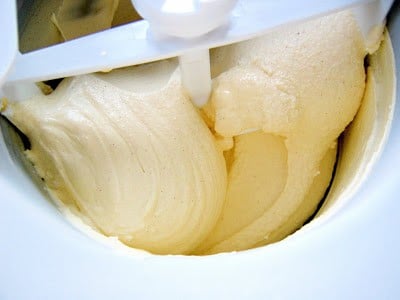 The search for the perfect horchata recipe
Horchata, the traditional Mexican rice-based beverage flavored with cinnamon, can be the perfect drink for putting out the fire in your mouth while you put away a spicy taco or chile relleno. Imagine those sweet, delicate flavors conveyed in a buttery soft scoop of ice cream, and you'll know what's currently taunting me in my freezer.
I made a batch of coconut milk horchata a couple years ago, from a recipe clipped from a magazine, and found it quite satisfactory. But when I gave a sample to a Mexican friend, he balked at the flavor of 'raw rice.' When I tried to wrangle a recipe from him, all he would divulge was the toasting of the rice in a skillet.
I recently asked another coworker, who knows everything about the cuisine of his culture, how to make the stuff; he only shook his head, saying it was 'muy complicado'.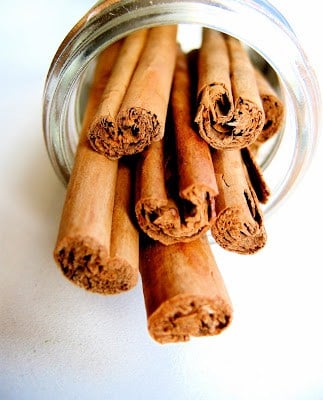 I still have yet to make a classic horchata, although I did share a ginger pumpkin seed horchata, which is dreamy. But I decided to make something I know a lot about instead: ice cream.
Contrary to what you may think, ice cream is one of the easiest desserts to make. All you need is an ice cream maker (this is the one I use) and a few techniques which I break down in the recipe instructions below.
Ingredients
This horchata ice cream recipe comes together with just 6 main ingredients.
Uncooked rice gives the ice cream its signature flavor. Make sure to use regular raw white rice (medium or long grain, such as Jasmine or Basmati) and *not* rice that's been parboiled, like Uncle Ben's, as this will absorb too much liquid while steeping in the milk (I'm guessing this was the reason that some readers had trouble with this recipe when I first posted it)
Cinnamon sticks and ground cinnamon steep in the cream mixture, adding spicy goodness.
Whole milk and heavy cream form the base of the ice cream. You can replace the milk with half and half if that's what you have on hand for a richer ice cream. I'm guessing you could replace both the milk and cream with full-fat canned coconut milk for a dairy-free version, though I haven't tested this!
Egg yolks stabilize the base. I don't recommend swapping these. Although if you're allergic to eggs, you could try omitting the eggs (and skipping the tempering step) and making a Philadelphia-style (eggless) ice cream instead.
Sugar sweetens the ice cream. I use organic granulated sugar, but any granulated sugar will work. Other sweeteners such as maple syrup/sugar and coconut sugar will work (best to sub by weight), but they would need to be added with the cream since they contain more acidity and can make the ice cream curdle while cooking.
A pinch of salt sharpens the flavors – a trick I learned in my pastry chef days!
How to Make Horchata Ice Cream
This recipe makes about 6 servings (3 cups) of ice cream. Feel free to increase the recipe as your ice cream maker will accommodate if you like! It takes about 30 minutes of active time, plus some chilling time.
Ideally, make the ice cream base a day ahead and let it hang out in the fridge until the next day. This will make a super-smooth ice cream.
For this horchata ice cream recipe, the rice gets toasted in a skillet until golden, then steeped in milk with a cinnamon stick. The custard gets cooked briefly with sugar and egg yolks, mixed with heavy cream, strained, chilled, and spun into ice cream.
Here's an IG reel from Mauricio's Kitchen making this recipe! He shows the process beautifully.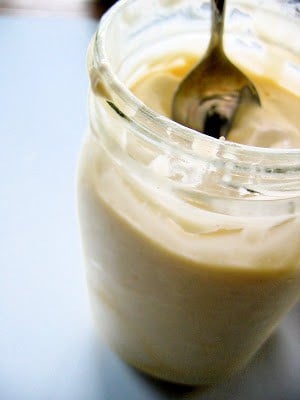 Horchata Ice Cream = Frozen Creamy Rice Pudding
I am fascinated by ice creams and custards which, though frozen, taste of warming flavors. In this horchata ice cream recipe, the toasty rice and spicy cinnamon accomplish just that, making it welcome on either a hot summer day or chilly winter night. A spoonful reminds me of classic rice pudding.
As an added bonus, the rice starch, which soaks into the custard base, works as would gums or stabilizers in commercial ice creams, or cornstarch in gelato. It stabilizes the custard and lends a voluptuous mouthfeel, making the cream soft and pliable right from the freezer.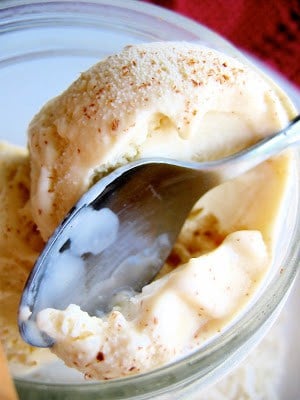 What to pair with horchata ice cream?
Horchata ice cream is delicious served on its own, with a bit of cinnamon grated over the top, especially after a hot and spicy meal. But here are some other ways to enjoy it:
Need to use up your extra egg whites? Try these recipes: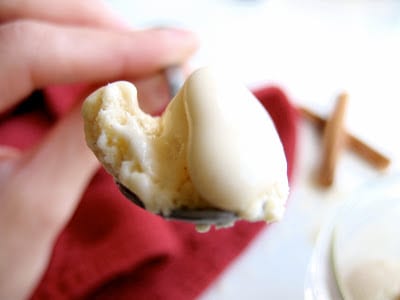 *Bojon appétit! For more Bojon Gourmet in your life, follow along on Instagram, Facebook, or Pinterest, purchase my gluten-free cookbook Alternative Baker, or subscribe to receive new posts via email. And if you make this horchata ice cream recipe, I'd love to see. Tag your Instagram snaps @The_Bojon_Gourmet and #bojongourmet.*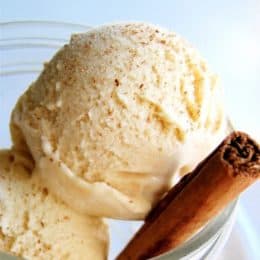 Horchata Ice Cream
Print Recipe
Pin Recipe
The delicate flavors of horchata (rice and cinnamon) flavor this dreamy ice cream! This recipe has been updated based on reader feedback.
Servings:
6
servings (3 cups)
Ingredients
⅓

cup

(65 g) uncooked medium or long grain white rice

1½

cups

(300 ml) whole milk

2

cinnamon sticks (3 inches each), plus an extra one for grating over the finished ice cream (optional)

4

large egg yolks

½

cup

(100 g) sugar

¼

teaspoon

ground cinnamon

pinch

salt

1¼

cup

(300 ml) heavy cream
Instructions
In a dry, medium saucepan, toast the rice and cinnamon stick over medium-low heat until the rice is fragrant and barely golden, 2-4 minutes. Remove from the heat and carefully pour in the milk (it will bubble furiously when it first hits the hot pan). Return to medium-low heat until the milk is hot and steamy, stirring occasionally. Remove from the heat, cover and steep for 20 minutes. Strain through a mesh sieve and reserve the hot milk; you should have 1 ⅓ cups. If the rice has absorbed more milk, add more milk to make 1 ⅓ cup. Discard the rice and cinnamon stick.

Pour the cream into a metal bowl and set a fine mesh strainer over the top. Prepare an ice water bath and place the bowl with the cream in it into the ice water bath.

When the milk has steeped, whisk together the egg yolks, sugar, cinnamon and salt in a medium bowl to combine. Slowly pour the warm milk into the egg yolk mixture, whisking constantly. Pour the milk mixture back into the pan and cook over medium-low heat, stirring constantly with a wooden spoon or heatproof silicone spatula, until the mixture just starts to thicken on the bottom of the pan (170º). Immediately strain into the cold cream, stirring to combine. Stir occasionally until the mixture is cold.

Refrigerate the ice cream base for at least four hours or up to a couple of days. Spin in an ice cream maker until the ice cream reaches the consistency of a very thick milkshake. Scrape the churned ice cream into a container and freeze until firm enough to scoop, 2 - 3 hours or up to several weeks. Grate a bit of cinnamon stick over the ice cream to serve, if desired.
Notes
Start this recipe at least a day before you want to serve it. Ice cream base should be chilled for at least 4 hours before churning, but chilling it overnight will yield a smoother, creamier texture and improved flavor. The ice cream needs to 'cure' in the freezer for a few hours after churning, too, unless you'd rather put the ice cream maker on the table, with spoons, and let your guests eat out of it like pigs feeding from a trough (my personal preference!).
Nutritional values are based on one of six servings.
Nutrition
Calories:
303
kcal
Carbohydrates:
28
g
Protein:
4
g
Fat:
19
g
Saturated Fat:
11
g
Cholesterol:
188
mg
Sodium:
43
mg
Potassium:
108
mg
Sugar:
18
g
Vitamin A:
820
IU
Vitamin C:
0.2
mg
Calcium:
96
mg
Iron:
0.5
mg